New York is one of the most important states in the global fashion industry. Fashion designers are most in demand in New York City–more than any other city in the USA. Thanks to New York Fashion Week and the myriad of designers in NYC, manufacturers of clothing brands flock to the Big Apple to collaborate with apparel companies.
Since there's a huge fashion push in the Big Apple, there are numerous New York apparel manufacturers that fashion companies can work with. Here are the 10 best clothing manufacturers in New York.
1. Royal Apparel - Best Clothing Manufacturer Overall

Royal Apparel is the main New York's clothing manufacturer we recommend because they offer solutions for all fashion brands. They make everything from men's, women's, and kid's clothing to fashion accessories.
This is largely a wholesale company selling affordable clothing to retailers. All items follow the latest trends, and businesses can easily shop for seasonal collections. Royal Apparel sells many sustainable fabric options, such as RPET, organic cotton, bamboo, and hemp.
However, Royal Apparel offers customization services, such as screen printing, if you need more than wholesale. They have different private label options and require 1200-1800 minimums per color, style, and design.
Pros
Wholesale and customization options
Multiple private label service options
Affordable pricing
Cons
Limited services, compared to other manufacturers on this list
Not the lowest MOQs
2. Apparel Production NY - Best for One-Stop Shop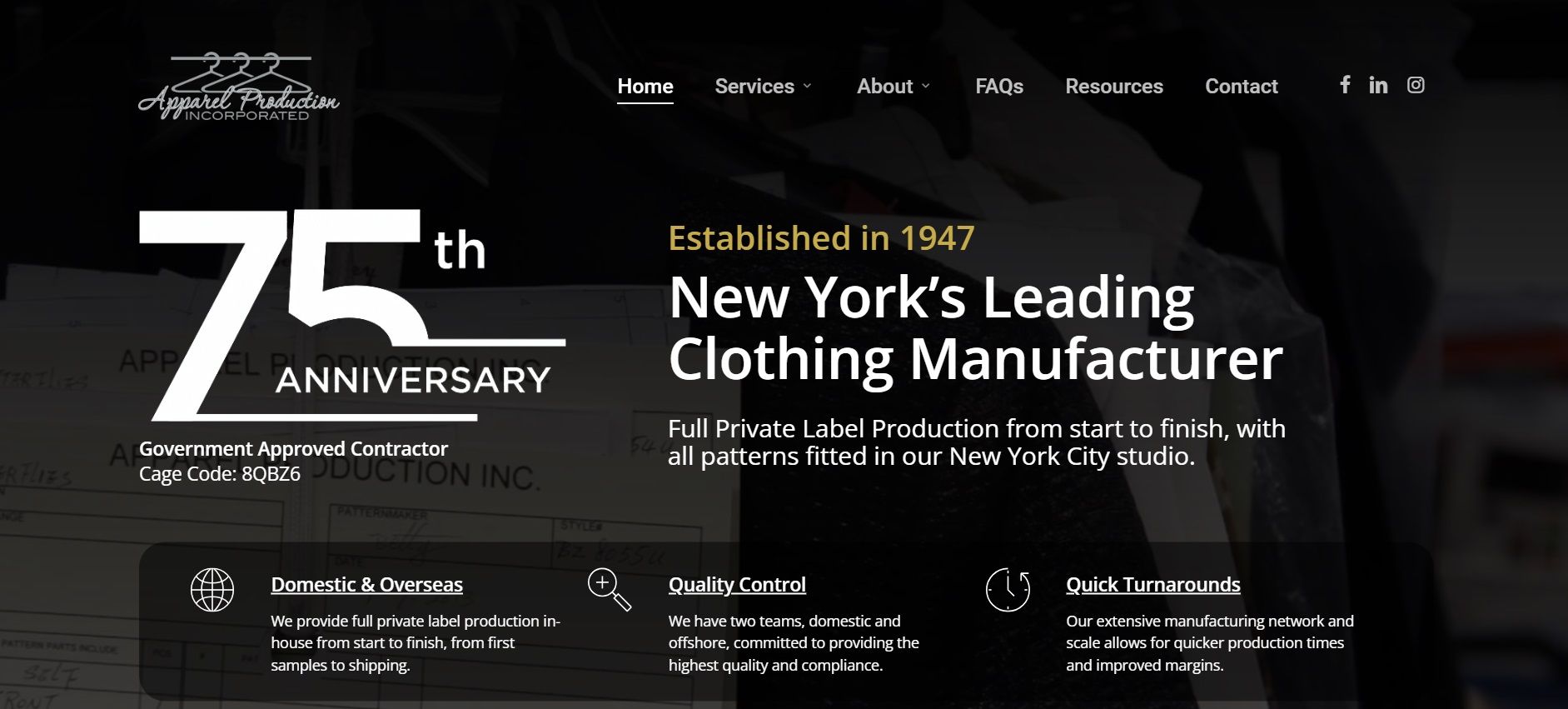 Apparel Production NY is a full-service clothing manufacturer offering different packages so fashion brands can save money on garments. Their services include sampling and pattern making, and have a strict quality control process. Apparel Production NY offers private labeling, so you can make your garments unique to your brand.
They have been in business since 1947 and have developed a reputation for being one of the highest-quality clothing manufacturers in New York. Apparel Production NY has worked with some of the biggest fashion lines, from Liz Claiborne to Ralph Lauren.
In addition, Apparel Production NY has services for startups; new designers can take advantage of their consulting to plan every detail in their first line. When you work with Apparel Production NY, you can collaborate with their R&D department to ensure you get the garments you dream about.
Even though they work with many designers, Apparel Production NY offers quick turnaround times and affordable package options. From swimsuits to sweaters, they work across a wide range of clothing types, ensuring that they can meet almost any fashion need..
Pros
Full-production clothing manufacturer
Skilled R&D team
Strict quality control process
Solutions for startups
Reputable company
Private label services
Quick turnarounds
Works with some of the biggest fashion brands
Can make different garment types
Cons
Doesn't have the lowest MOQs
3. NYC Factory, Inc. - Best for Made in the USA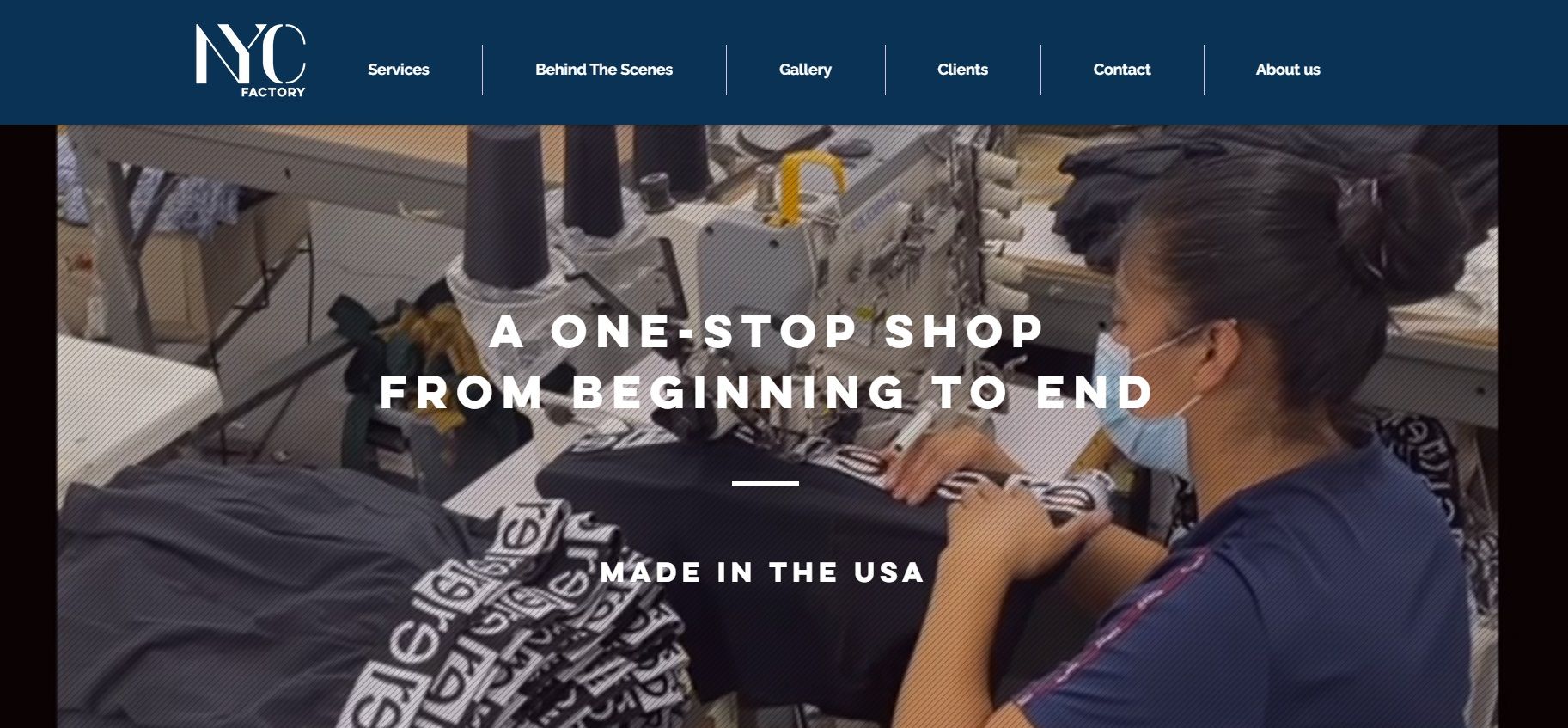 The "Made in the USA" label is important for American brands. Choose NYC Factory, Inc. to ensure your clothing is made in America.
Every step of their manufacturing process is done in their NYC facility. They combine new technology with traditional manufacturing to ensure your garments are of the highest quality. NYC Factory, Inc. offers many services, including custom print, wholesale, embroidery, and DTG printing.
Pros
Made in the USA
Offers numerous services
Quick turnaround times
Affordable
Can make different clothing types
Cons
4. 4 Seasons Fashion - Best for Samples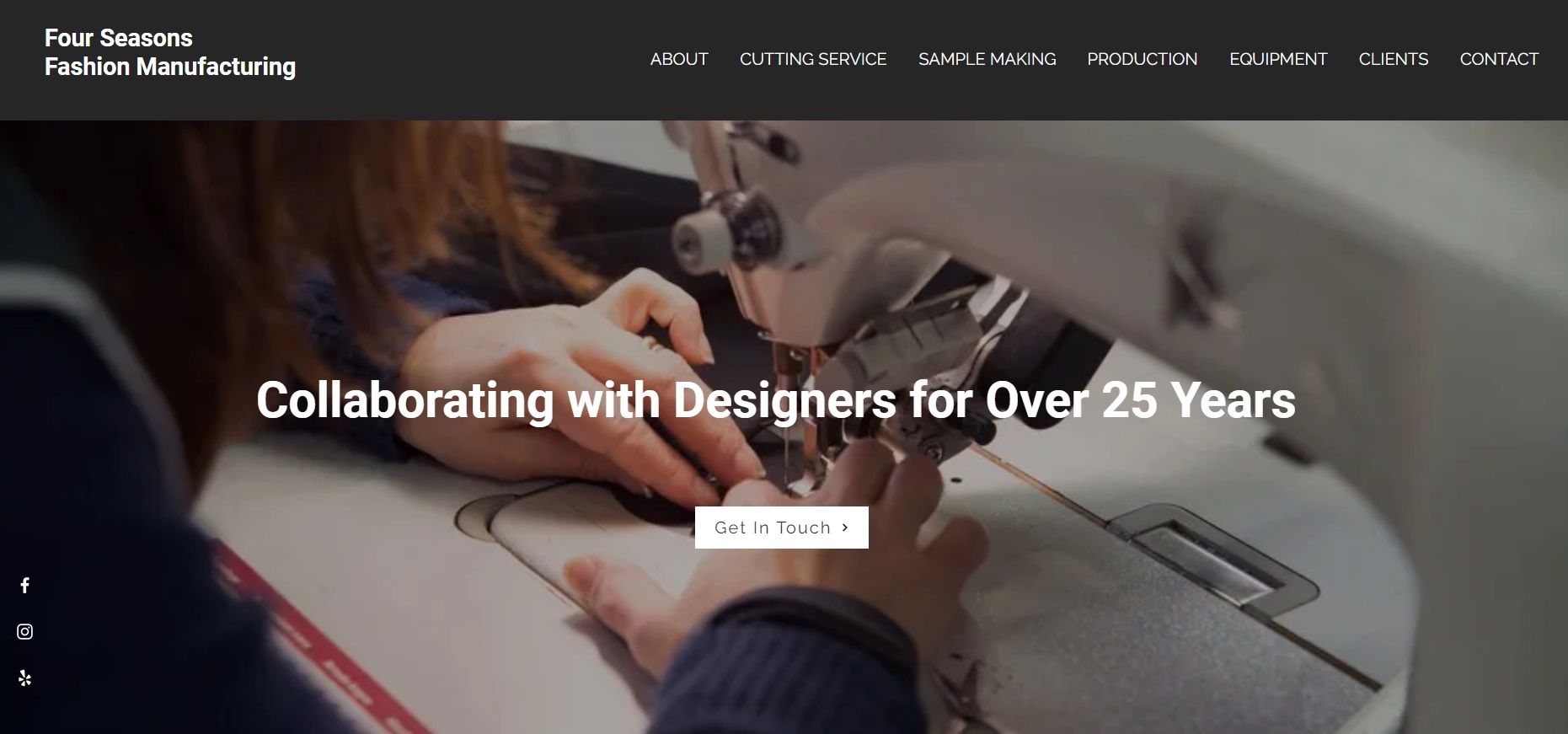 Located in the heart of the NYC garment district, 4 Seasons Fashion is a full-production clothing manufacturer that uses the latest equipment to finish your pieces in a quick amount of time.
Sample making is one of the most important steps in the pre-production process, 4 Seasons Fashion stands out because they can make your samples in two days. All samples are made in their NYC facility by highly skilled pattern makers, each with decades of specialized experience. Besides, they're willing to handle pattern corrections and fittings, ensuring that the final product meets your expectations.
Working with renowned brands such as Rag & Bone and DKNY, 4 Seasons Fashion has become one of the most trusted companies in the fashion manufacturing industry. Their track record of working with top brands shows that they are committed to maintaining high standards and delivering exceptional results.
Pros
Full-production manufacturer
Expert sample makers
Uses state-of-the-art equipment
Works with the biggest fashion companies
Over 25 years of experience
Expert team
Cons
Doesn't offer discounts for bulk orders
5. POD Group NYC - Best for Bulk Orders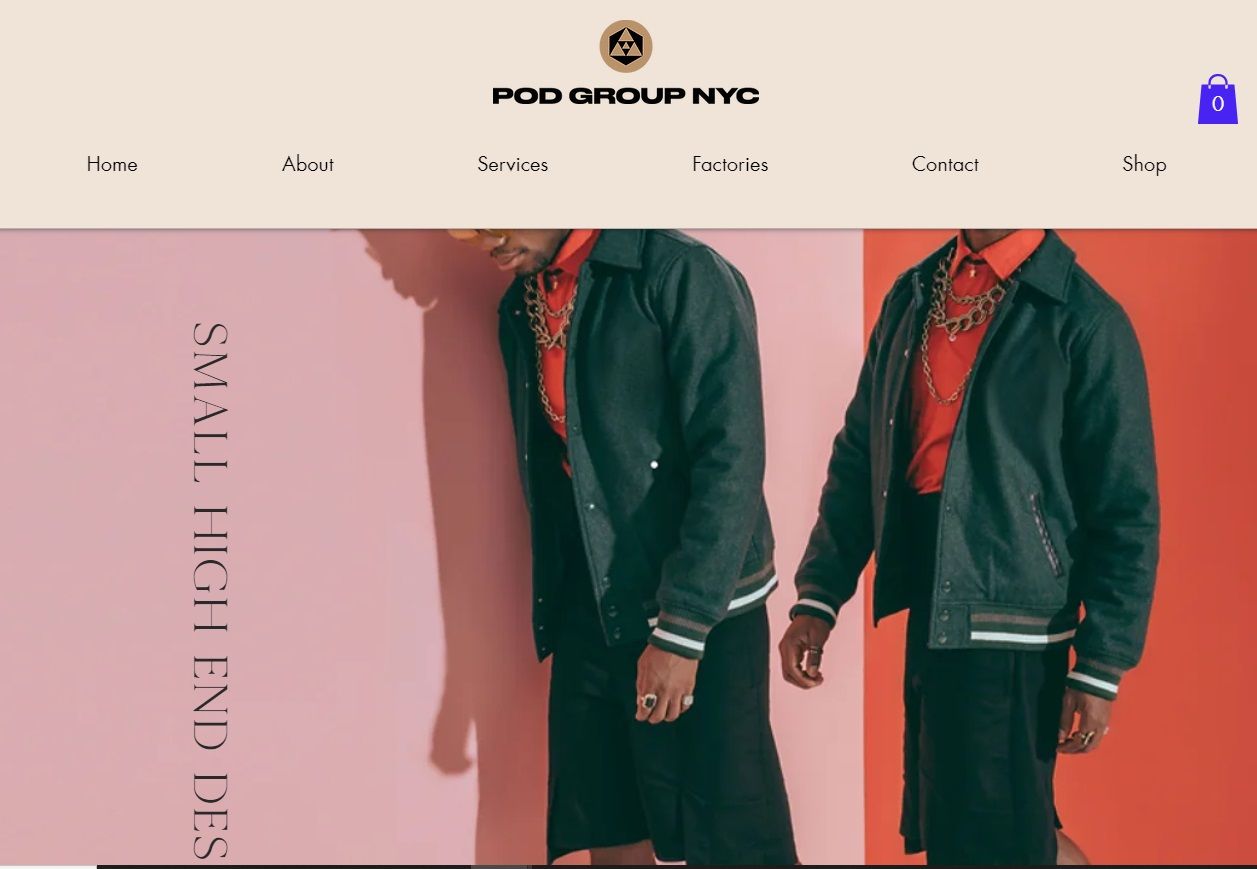 If you need to produce bulk clothing orders, POD Group NYC is your best bet. While they have low minimums of 50 pieces per color, they can also produce mass orders for high-end designers and labels.
POD Group NYC is committed to maintaining quality in mass production. They utilize grading and marking services to ensure that garments are sized accurately. This attention to detail helps provide garments that meet customer expectations.
These are all effective services for major designers, but POD Group NYC is also a great solution for startups. They offer affordable tech packs and digital drawings before making samples so you can visualize your ideas before receiving your garments.
Pros
Solutions for startups
Ability to produce bulk orders
Also offers low MOQs
Grading and marking services for accurate sizing
Digital drawing to visualize your styles
Cons
They produce some items overseas
6. InStyle USA - Best for High-End Clothing

If you own a high-end fashion brand, producing the best quality clothing is essential for your business. InStyle USA has over 30 years of experience producing the highest quality items. They offer design services to make your dream garments a reality.
This is a full-service and private-label manufacturing company. They handle all services under one roof, and every item will be customized to fit your brand. InStyle USA has been trusted by some of the biggest designers, such as Tory Burch and Ann Taylor.
Pros
Over 30 years of experience
Private labeling services
Garment design
Works with major designers
Cons
Does not have the lowest MOQs
7. Quick Turn Clothing - Best for Fast Turnaround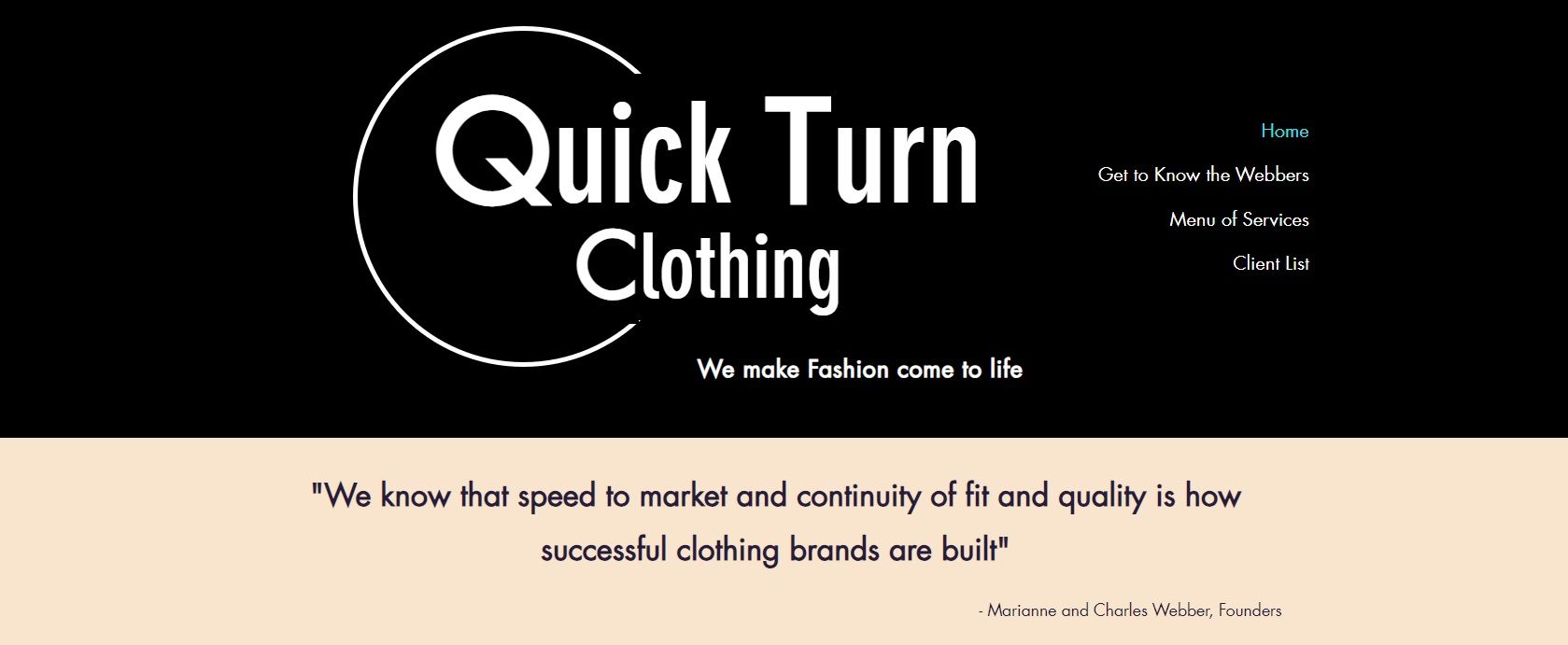 Quick Turn Clothing lives by its name–they offer fast turnarounds for clients, no matter the size of your order. Just because they produce orders quickly doesn't mean they compromise quality. They offer in-house product development where designers can take advantage of their creative team, fittings, manufacturing, embellishments, marking, and grading.
Quick Turn Clothing has been in business since 1996, becoming one of the most recognizable names in the New York garment district. They're also one of the best solutions for new designers, offering no minimums!
You can trust Quick Turn Clothing for all your apparel needs. They can manufacture all garments including skirts, jackets, evening wear, and athletic wear. Designers can get all these benefits at a lower cost.
Pros
Fast turnaround
In-house production
Huge product catalog
Cost-effective
Cons
Produces some items overseas
8. Jenny Fashion, Inc. - Best for Technical Fashion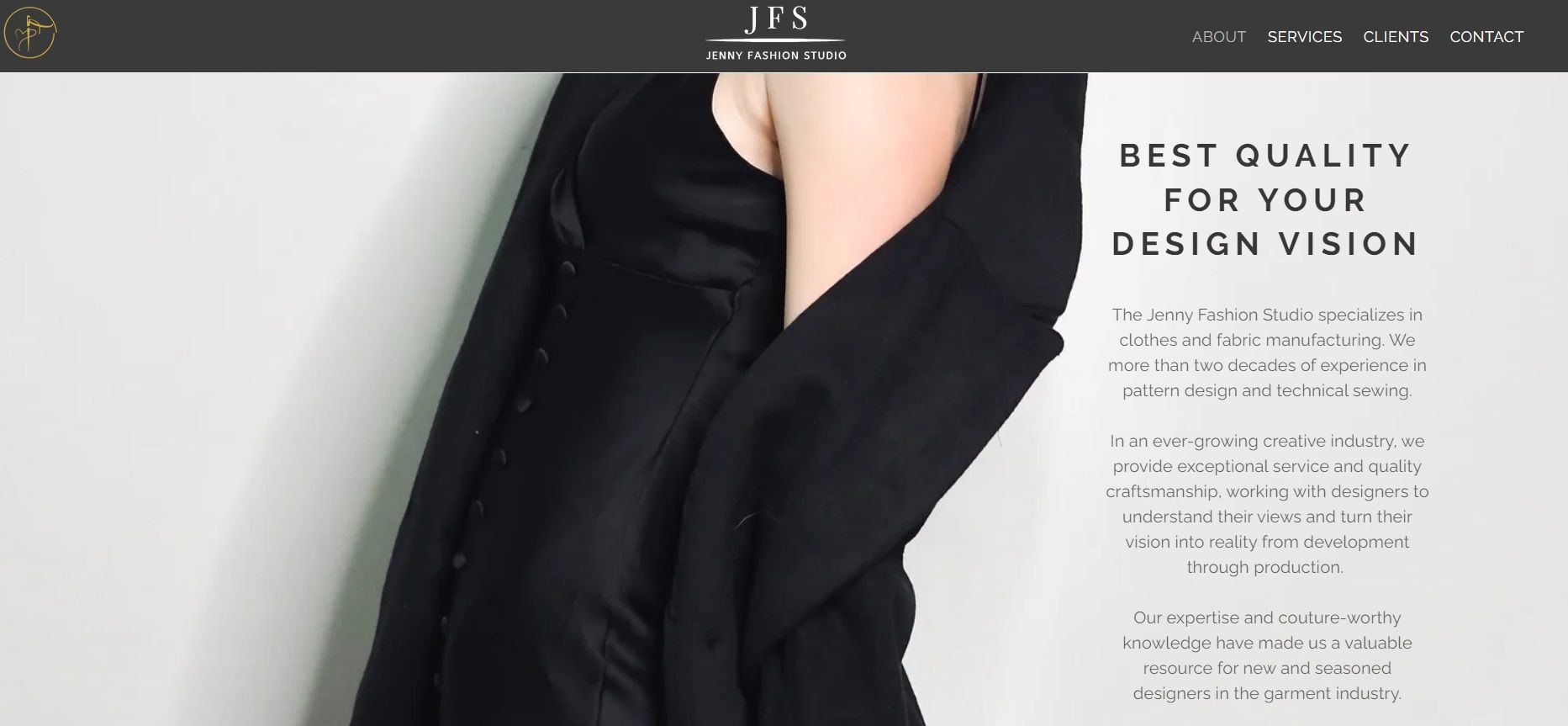 If your brand creates high-performance garments, you'll need a manufacturer that offers technical fashion solutions. Jenny Fashion, Inc. is the ideal choice with over two decades of experience combining technical sewing with pattern design to create the trendiest and most durable garments for both men and women.
This all-in-one service manufacturer can make mass-produced garments and specialty items for runways.
They can work with seasoned designers and new brands, creating a partnership between the client and their skilled creative team. This collaboration ensures that each garment is realized as envisioned. Furthermore, their collaboration with renowned designers such as Oscar de la Renta exemplifies the company's expertise.
Pros
All-in-one clothing manufacturer
Makes men's and women's garments
Works with major designers and small fashion brands
Cons
Items are sewn by hand and may take longer to produce
9. 3Crowns - Best for Startups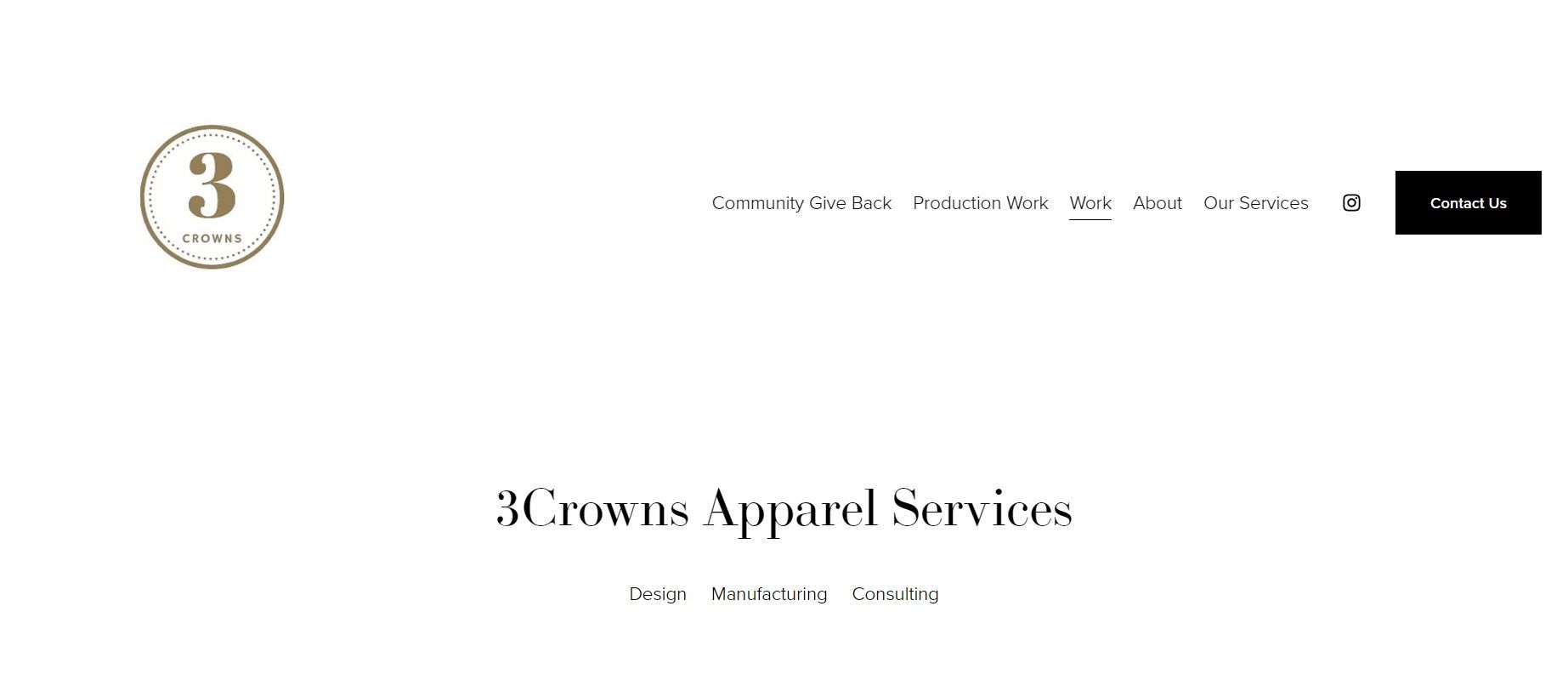 3Crowns Apparel is a unique manufacturer that specializes in new fashion brands and aims to provide a space for startup apparel companies to thrive.
3Crowns Apparel is a one-stop shop supplier offering consulting, design, and manufacturing. They have a team of skilled designers who work with new designers to kickstart their careers. 3 Crowns can make various clothing types but specializes in men's, activewear, winter, accessories, and kid's clothing.
Their services include measuring, cutting, pattern making, sewing, fabric sourcing, concept development, line development, and production. They also make all samples and patterns in-house. 3 Crowns also offers mentorships and marketing consultations to new designers. Their facility is located in Brooklyn, NY, specializing in private label items.
Pros
All-in-one clothing producer
Services designed for new fashion designers
Cons
This business is temporarily closed
10. Tailored Industry - Best for Affordability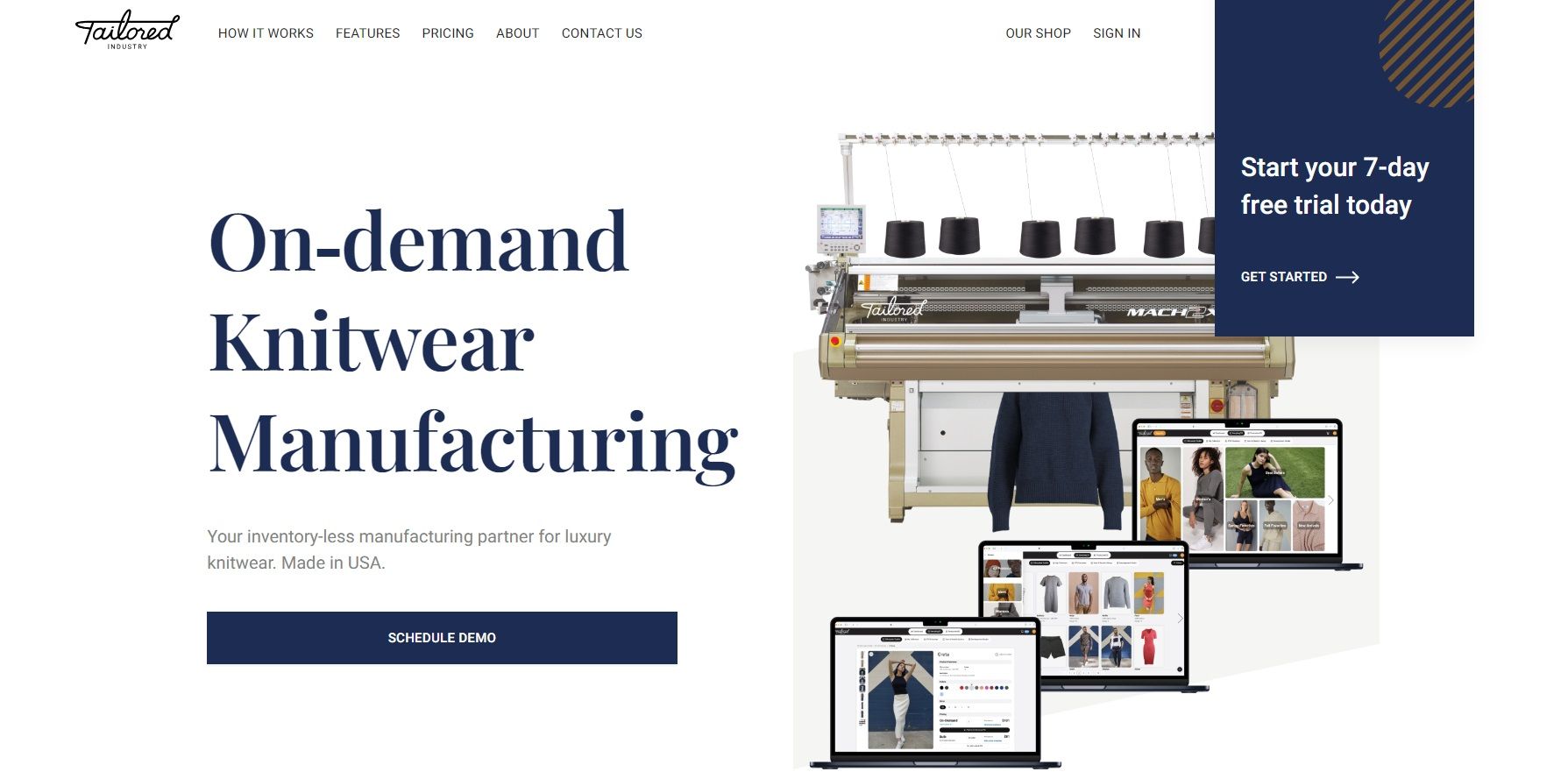 Tailored Industry offers a unique, cost-effective dropshipping solution for clothing businesses. Unlike traditional apparel factories, they host an on-demand platform where you order garments whenever you get an order–no need to store inventory in a warehouse. Dropshipping is also an eco-friendly solution since printing on demand reduces waste.
Tailored Industry integrates with your Shopify store, thereby streamlining the process and ensuring that items are shipped in a timely manner whenever you get an order. The pay-per-trial pricing structure makes the solution especially suitable for new startups.
As a technology-driven solution, Tailored Industry allows you to fully control the creative and private labeling process. You can look through their inventory and select the items you want while even uploading your labels and/or requesting customizations to make your garments unique to your brand. You can also use this development studio to build custom tech packs and create samples.
Since this is a technology-forward company, you can manage your account from any device.
Pros
Dropshipping-meets-manufacturing solution
Affordable
Development studio leaves you in full creative control
Can create tech packs and samples
Technologically driven
Fast turnaround times
Less wasted clothing, more eco-friendly
Made in the USA
Cons
Don't have the biggest collection of fabrics
Find NY-Based Clothing Manufacturers Challenging? Uncover the Answers With Appareify!
There was a time when New York City produced 95% of clothing in the USA. Now, only a fraction of American clothing comes from NYC manufacturers. Why is that? This can be attributed to a number of factors, including the changing needs of modern fashion designers and broader changes in American manufacturing.
If you feel that NYC manufacturers lack production or aren't fitting your needs, Appareify has a solution.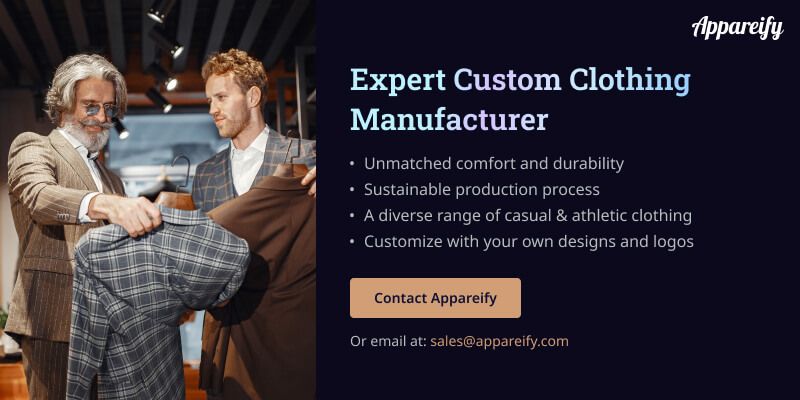 Appareify is a China-based custom clothing manufacturer that specializes in mass production and uses the latest manufacturing technology to enhance efficiency and streamline production, regardless of the complexity of your garments. For bulk orders, we offer discounts as well.
In addition, we always offer a fast turnaround time–most businesses receive orders in 7-20 working days. For time-sensitive products, Appareify can even expedite orders to deliver within three days.
Conclusion
As one of the world's fashion capitals, New York is home to some of the most iconic clothing manufacturers. Royal Apparel is our top pick because it offers solutions for various fashion brands. However, they're more of a wholesaler than a full-production clothing manufacturer.
If you're looking for a full-service clothing manufacturer, consider Appareify. We're a sustainable and ethical clothing manufacturer offering biodegradable fabrics and materials in our catalog. When you partner with us, you can collaborate with our skilled designers, R&D professionals, and craftspeople to make your garments come to life.