No doubt, partnering with the right clothing manufacturer makes all the difference regarding style, quality, and overall satisfaction—especially for startup businesses.
To avoid making failed partnerships, this article will highlight ten of the best clothing manufacturers and factories offering exceptional designs, high-quality materials, and a commitment to sustainability and ethical manufacturing practices.
1. Appareify - Best Clothing Manufacturer Overall
Appareify is the best clothing manufacturer that exports the topmost garments worldwide. Weaving ideas into reality while leading a revolution in sustainable design, they have creative control over customer's orders.
Appareify excels in the custom clothing industry with a monthly production capacity exceeding 400,00 outfits crafted within 7 to 20 days. It is dedicated to reducing its carbon footprint, recycling, and delivering its eco-friendly, biodegradable clothing lines worldwide. They prioritize eco-friendly packaging and other diverse printing and embroidery options. Their partnership with ASOS, Metro, Dunhill, and Tesco is evidence of their dedication to quality work.
Appareify provides both OEM and private labeling services. Customers who use OEM services can specify their exact needs, and Appareify will manage every step of the custom order process. Buyers can add their brand name and logo by using private labeling services. With Appareify, customers may easily build their own distinctive private-label clothing collection from design to packing.

Here are some of the benefits of choosing Appareify:
Eco-friendly fabrics (e.g., organic cotton, recycled polyester).
Recyclable, biodegradable packaging.
Carbon emission is offset through renewable energy projects.
Fast Production:
Typically, 7 to 20 days turnaround.
Enabled by a skilled workforce and advanced manufacturing facilities.
Commitment to Quality:
Use of premium materials.
Rigorous quality control.
Trusted collaborations with brands like ASOS, Metro, Dunhill, and Tesco.
Comprehensive Services:
Enhanced Product Quality:
Eco-friendly fabrics offer durability.
Reduced shrinkage and fading.
Ethical production ensures fair treatment of workers.
Primary products
Cons
On-site inspection might be difficult as the factories are located in China.
Click here to start offering your customers more and access competitive trade prices with Appareify.
2. AEL Apparel - Best Factory for Custom Clothing
AEL Apparel is an exceptional custom clothing manufacturer that offers high-quality and trendy apparel. This fashion-first manufacturer is a top choice for small and large fashion brands that want an extensive clothing range in different fabrics, customization, and sizing.
This manufacturer also offers free consultation and support for businesses needing help choosing the best design techniques or garment collections.
AEL Apparel applies different technology methods to meet brand requirements, like embroidery (for businesses that want their logo or typography on their apparel), sublimation, and screen printing (for businesses that prefer unique custom clothing).
They also tick the box for a fast turnaround time of around 7 - 20 days or three days for urgent requests and a private label option. Moreover, AEL Apparel provides a hassle-free four-step process of ordering that involves a complete end-to-end solution, from the brand's specifications to the final product.
Primary products
Activewear
Kids Clothing
T-shirts
Denim
Loungewear
Swimwear
Hoodies and sweatshirts
Pros
Wide range of quality custom clothing
Private label options
Ethical production process
Fast turnaround time
Cons
Turnaround times may be longer for large quantities
Check AEL Apparel for a range of quality custom apparel.
3. KidsBlanks by Zoe - Best Children's Clothing Supplier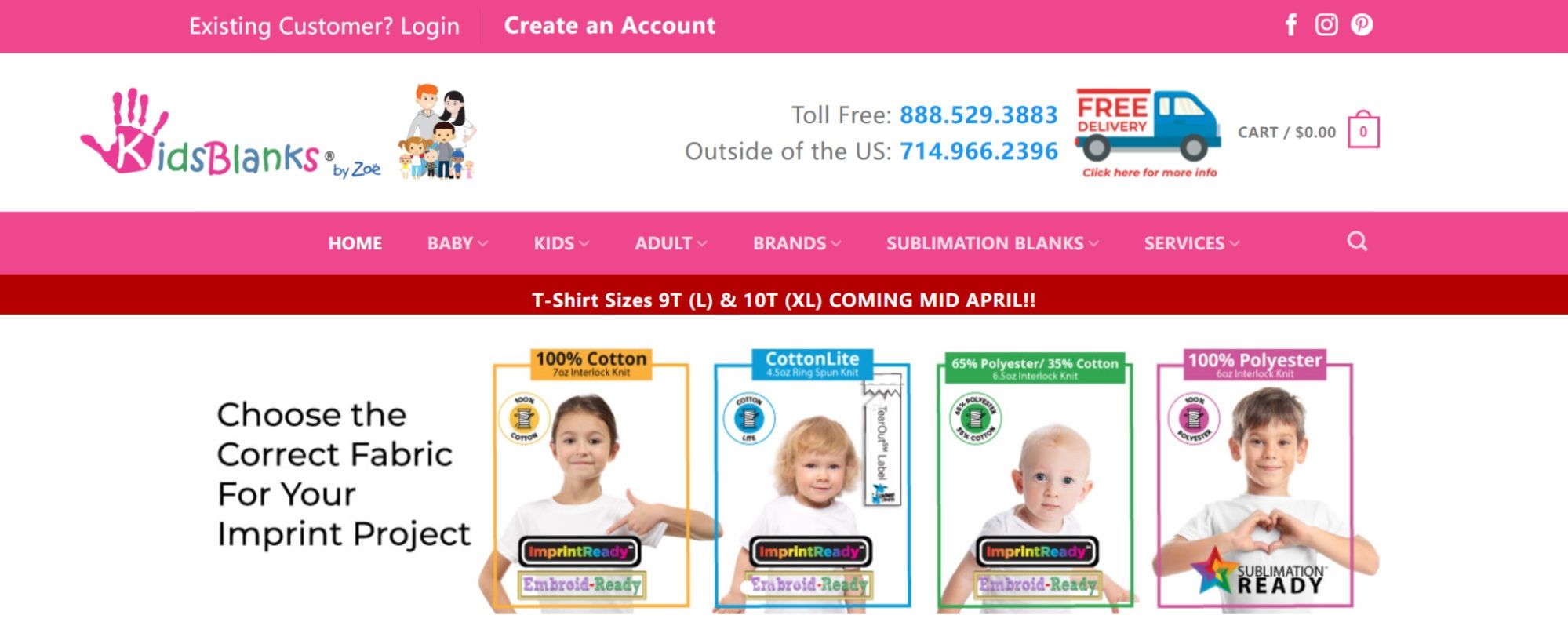 KidsBlanks by Zoe produces high-quality blank garments for babies and children in various colors and sizes while prioritizing environmentally friendly manufacturing and fair practices for all employees. Their exceptional customer service makes them a reliable and trustworthy choice for businesses in the children's clothing industry.
Primary Products
T-shirts
Hoodies
Sleep gowns
Onesies
Pros
Committed to quality and pays attention to detail
Helpful and responsive customer service
Focuses on tenable manufacturing practices
Provides various options regarding color and size
Cons
Only focused on the children's clothing industry
Visit KidsBlanks by Zoe to order high-quality children's blank garments >>
4. Apparel Empire - Best for T-shirts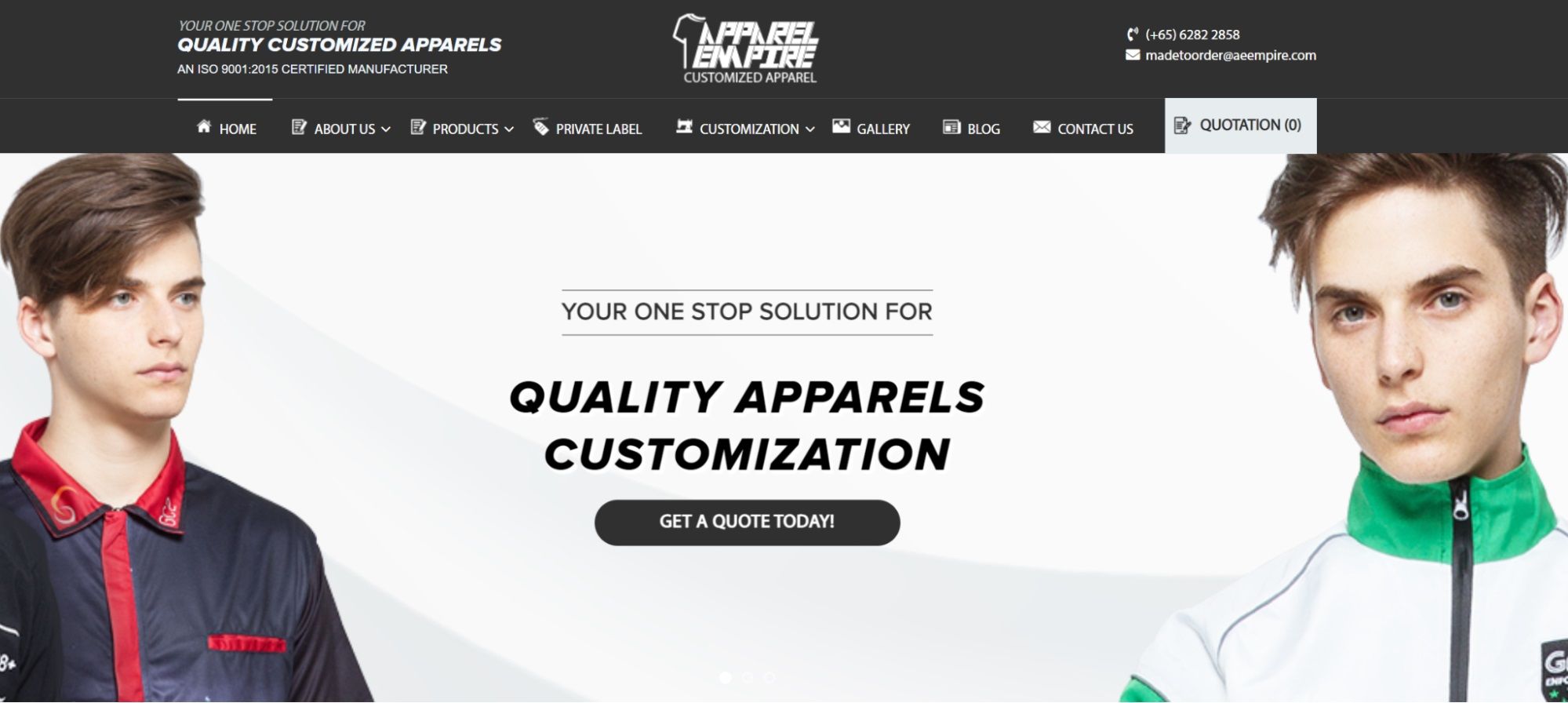 Apparel Empire offers a wide range of fashionable clothing for men, women, and kids. They create diverse clothing items, including T-shirts, pants, and jackets. With affordable prices, reliable customer service, and trendy styles, Apparel Empire is a go-to choice for businesses with fashion-savvy consumers.
Primary Products
T-shirts & polo
Jackets and outerwear
Pants
Sportswear
Pros
Fully customized and unique designs
Advanced fabric, printing, and RFID technology
One-stop streamlined manufacturing process
Private label options
Cons
Possible sizing and fit issues
Some items may not have high quality
Partner with Apparel Empire for trendy, affordable fashion >>
5. Thunderpantsusa - Best for Underwear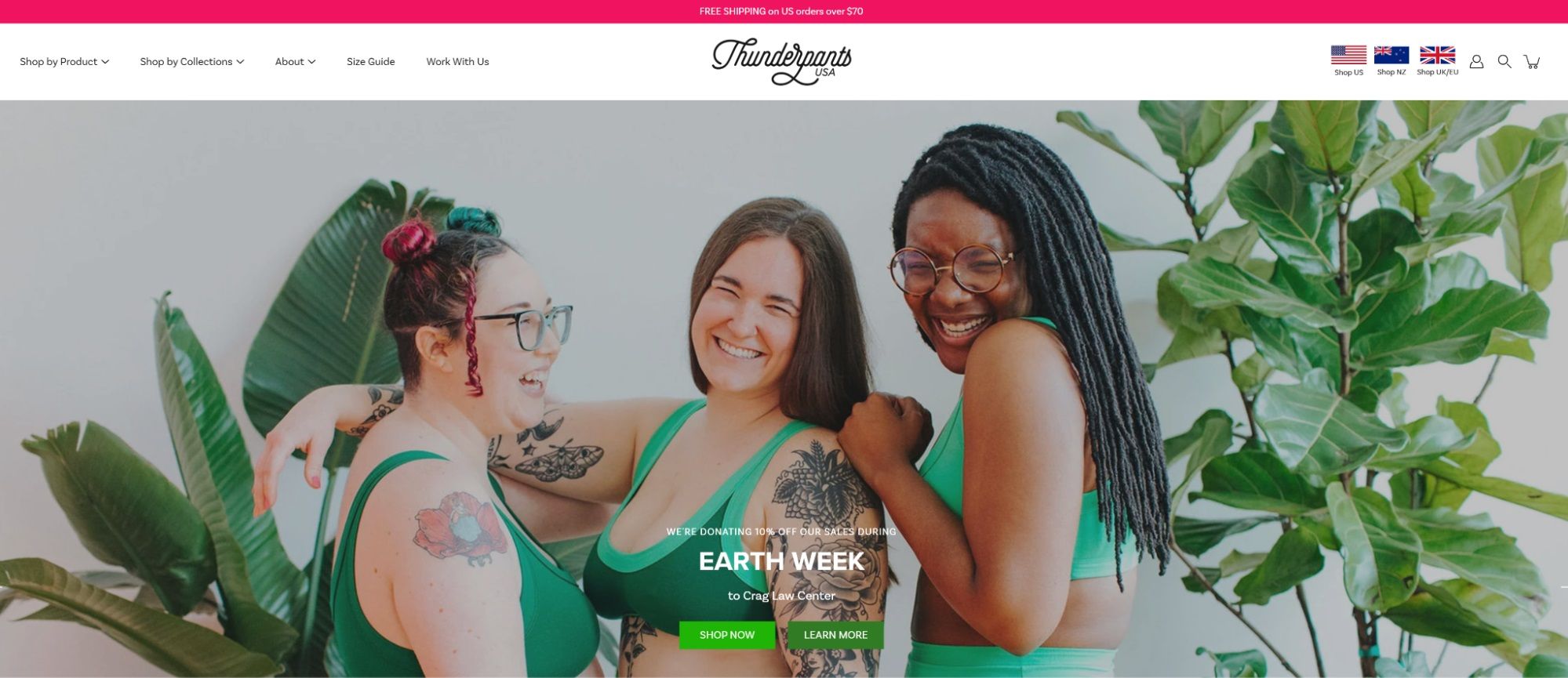 Thunderpantsusa deals in comfortable and durable undergarments and activewear for women. The brand prioritizes creating garments from eco-friendly materials that are both comfortable and stylish.
They're committed to ethical production practices and produce all their products in the USA.
Primary Products
Underwear
Camisoles
Swimwear
Leggings
Pros
Provides only comfortable and premium undies
Responsive customer support team
Wide range of stylish designs and colors
Ethical production practices and eco-friendly materials
Cons
Premium prices that may not be affordable for all businesses
The company also offers a limited selection
Looking for provable comfort for your clothing? Partner with Thunderpantsusa >>
6. Billoomi Fashion - Best for Private Label Clothing Manufacturing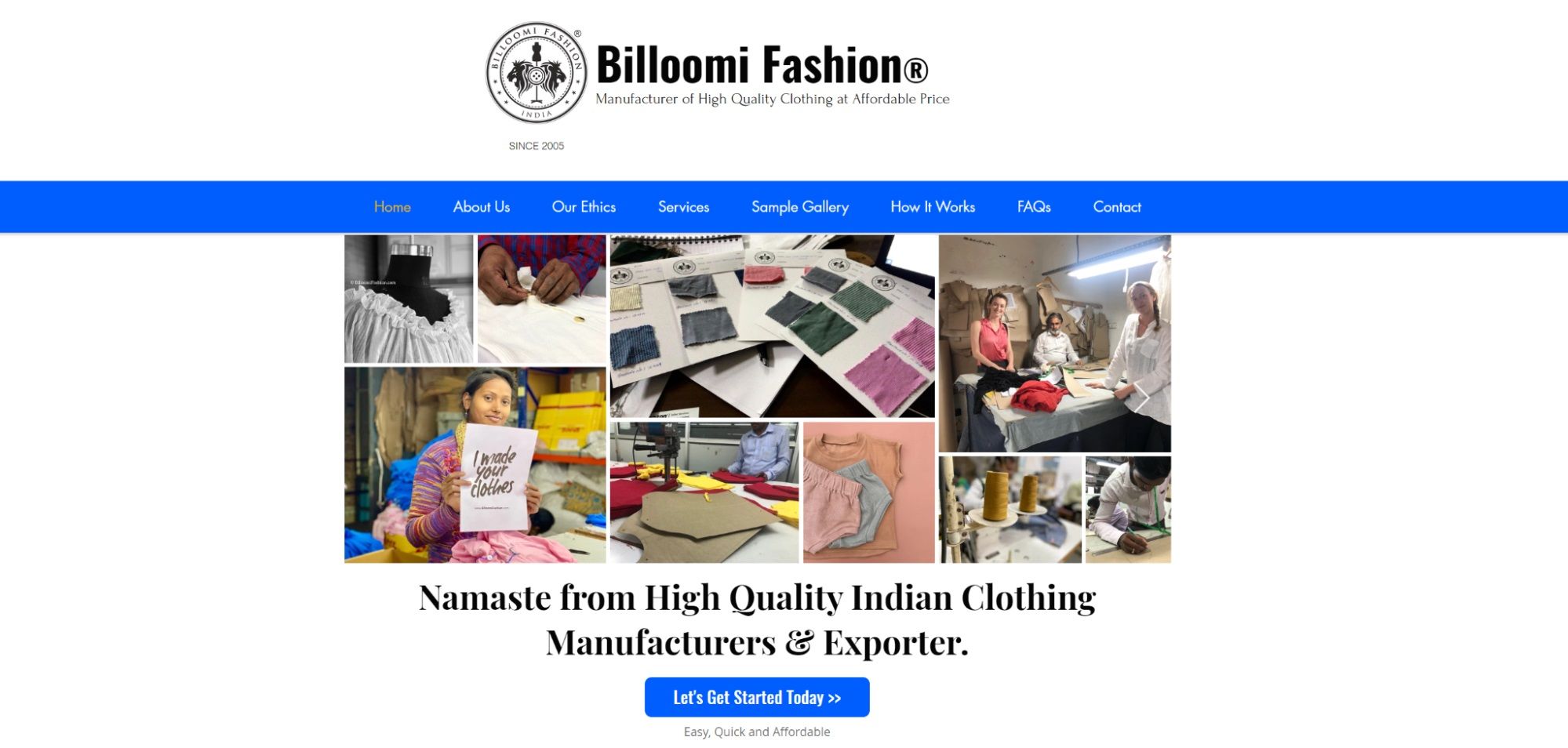 Billoomi Fashion is a leading apparel manufacturer and exporter based in India. They provide a variety of viable clothing manufacturing services to businesses worldwide.
The brand specializes in everything from design and prototyping to production and shipping, making Billoomi Fashion a one-stop shop for all clothing manufacturing needs.
Primary Products
Women's clothing
Men's clothing
Children's clothing
Pros
Billoomi Fashion guarantees extraordinary quality
All design details remain confidential
Prioritizes viable business practices
Offers small quantity orders
Cons
Prices for small orders are slightly expensive
Some clients may experience language and cultural challenges
Explore different clothing possibilities with Billoomi Fashion >>
7. Lefty Production Co. - Best Clothing Manufacturer in the USA

The Los Angeles-based clothing manufacturer, Lefty Production Co., offers various services to bring clients' apparel ideas to life, including design, development, sourcing, and manufacturing.
Their high-quality and custom-made clothing, with a deep commitment to longevity, makes Lefty Production Co. one of the best clothing manufacturers in the USA. They also cater to the growing environmentally conscious trend.
Primary Products
Men's wear
Women's wear
Children's wear
Swimwear & bikinis
Athletic wear
Pros
One-stop shop for apparel and accessories manufacturing
Ensures beautiful products and quality service
Provides lots of satisfied customer reviews and testimonials
Made the official uniform for the Netflix series "Ultimate Beastmaster"
Cons
Prices may be too expensive for small order businesses.
Bring your apparel ideas to life today with Lefty Productions Co. >>
8. Anbu Safety - Best Safety Clothing Manufacturer in China

Anbu Safety deals in a different kind of clothing manufacturing, they steer away from fashion-focused apparel to manufacturing and supplying personal protective equipment (PPE).
Their products are also fit for industrial and commercial use. Anbu Safety exports various safety products to over 30 countries, like the USA, Germany, the UK, and Africa.
Primary Products
Work shirts
Reflective vest
Safety coverall
Pros
Competitive factory prices
Quick shipping periods
Excellent quality control
Custom OEM designs
Cons
Limited to only clients looking for safety gear
9. NYC Factory - Best Clothing Manufacturer in NYC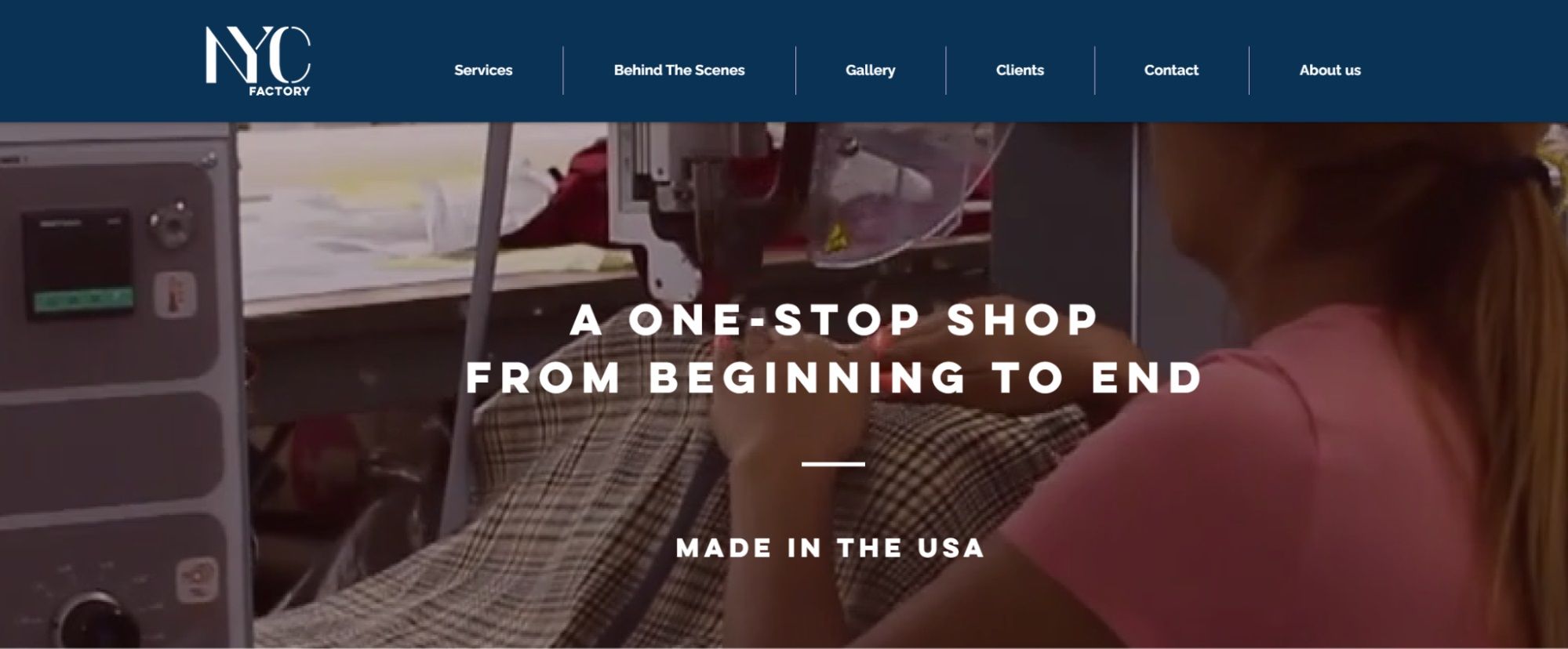 NYC Factory creates various New York-inspired clothing and fabrics at affordable prices. The studio revolves around developing and manufacturing high-quality products by combining traditional construction methods with modern technology.
With a highly qualified team, NYC Factory strives for an entirely American-made process from conception to completion. They're ever-ready to make your vision a reality.
Primary Products
Custom prints online
Women's Clothing
DTG printing services
Shirts screen printings
Pros
High attention to detail and durability
Affordable prices
Products draw inspiration from New York City
Fast and reliable shipping worldwide
Cons
Products are limited to NYC-inspired designs
The brand also offers limited sizes
Market the NYC pride now with NYC Factory >>
10. Bomme Studio - Best Clothing Manufacturer in Los Angeles

It's tough to beat Bomme Studio regarding its uniqueness and stylishness. The clothing manufacturer's sole goal is to give customers what they need for steady business growth, resulting in its position as the best clothing manufacturer in Los Angeles.
Bomme Studio focuses on creating value for its clients and providing revolutionary supply chain solutions. They also tailor their services to meet their customers' needs.
Primary Products
Custom sweatshirts
T-shirts
Kids Clothing
Activewear
Sportswear
Swimwear
Joggers
Pros
Backed by a team of industry experts
Promotes ethical work practices
Lesser environmental impact
Provides an option to work with standard materials
Cons
Focuses more on outfits and costumes for women
Work with Bomme Studio for sturdy and stylish clothing >>
How to Find Clothing Manufacturers
Here are some of the best ways to find clothing manufacturers for your business:
Online research:

Search engines and directories like Google, Alibaba, ThomasNet, or Makers Row can list available clothing manufacturers.

Trade shows:

Attending industry-specific trade shows, like Texworld USA or MAGIC, can help you find various clothing manufacturers under one roof.

Local directories:

You can check local business directories to find clothing manufacturers in your area.

Referrals:

Asking for referrals from industry associations or other fashion businesses is a great way to find clothing manufacturers.

Social media:

Use social media platforms to ask for recommendations or search for clothing manufacturers. Some top platforms include Instagram, Facebook, and LinkedIn.
What Are the Best Countries to Find Clothing Manufacturers?
What countries offer the best clothing manufacturing services? Here are the top picks to help your search:
China:

China is the world's largest clothing exporter and manufacturer, providing various products at affordable prices.

India:

India tops the chart for its textile industry, offering diverse fabrics and textiles at competitive prices.

Bangladesh:

Bangladesh provides a large and affordable labor force, making it a prime location for clothing manufacturing.

Turkey:

Many high-end fashion brands reside in Turkey for their excellent quality and craftsmanship.
Things to Consider When Choosing a Clothing Manufacturer
You must evaluate several factors before working with any manufacturer to avoid misunderstandings. Below are a few factors to consider when choosing a clothing manufacturer:
Production Capabilities:

Ensure that your preferred manufacturer can create your desired products. Also, check if they have the necessary equipment and expertise to accomplish your tasks.

Quality standards:

Check if the manufacturer's standards and certifications satisfy your requirements.

Pricing:

Ask for detailed pricing information, including minimum order quantities and extra costs, to ensure you can afford the manufacturer.

Lead times:

Consider the manufacturer's lead times to see if they can meet your delivery schedule.

Communication:

A responsive and communicative manufacturer will provide regular updates on your order's progress and won't keep you in the dark.

Sustainability:

Examine the manufacturer's sustainability practices and certifications, ensuring they align with your brand's values.

Reputation:

Research the manufacturer's reputation to ensure reliability and trustworthiness.
How Do I Negotiate Pricing and Terms with Clothing Manufacturers?
The following are some tips on negotiating pricing and terms with clothing manufacturers:
Research:

Do your research on your product's market rates. The information will make your negotiations easier.

Build a relationship:

Balance being friendly and professional with your manufacturer to build a positive relationship.

Communicate clearly:

Always state your requirements clearly and concisely, including MOQ, pricing, and other extra costs.

Negotiate volume discounts:

Are you planning on placing large orders? Ensure you negotiate volume discounts to reduce the overall cost.

Be flexible:

Don't be rigid! Be willing to make compromises to reach a mutual agreement.

Document everything:

Ensure you document all terms properly, including pricing and delivery schedules.

Don't be sentimental:

Be prepared to walk away if negotiations fail or the manufacturer doesn't meet your requirements.
What Is the Process of Working with a Clothing Manufacturer?
Here are steps describing the process of working with a clothing manufacturer:
Make contact:

Reach out to the manufacturers you want to work with and send them your product requirements. Then, ask for a quote and production lead time.

Evaluate quotes:

Compare quotes from different manufacturers to see which offers the best price, quality, and lead time.

Start negotiations:

Negotiate the terms of your partnership with your chosen manufacturer.

Finalize the contract:

Wrap things up with the manufacturer once you agree to the terms. Remember to state all terms clearly to avoid misunderstandings.

Provide samples:

In addition to your product specifications, you can provide manufacturers with a sample.

Watch the process:

Monitor production to ensure the smooth progress of your order.

Quality control:

Catch any potential defects or issues by performing quality control inspections.
Conclusion
Finding the best clothing manufacturer requires careful research and evaluating multiple factors. By taking time to look through potential manufacturers and negotiate terms thoroughly, clothing brands can create long-term relationships with reliable partners to help produce high-quality products that satisfy their customers' needs.
Thankfully, our carefully curated list of ten fantastic clothing manufacturers will help streamline your research and make partnering with the perfect one easier and faster.