With over 17,000 garment makers, India has one of the largest clothing industries in the world. After all, massive attire production is the only way to meet the outfit needs of over 1.4 billion people.
But not every manufacturer is reliable. In fact, most of these companies make subpar garments that only last for a season, if not less. You need a more dependable brand to execute your fashion designs, and we'll help you find it.
Top 10 Indian Clothing Manufacturers
Coming up is a rundown of the 10 best clothing manufacturers in India.
Billoomi Fashion – Most Flexible Clothing Manufacturer in India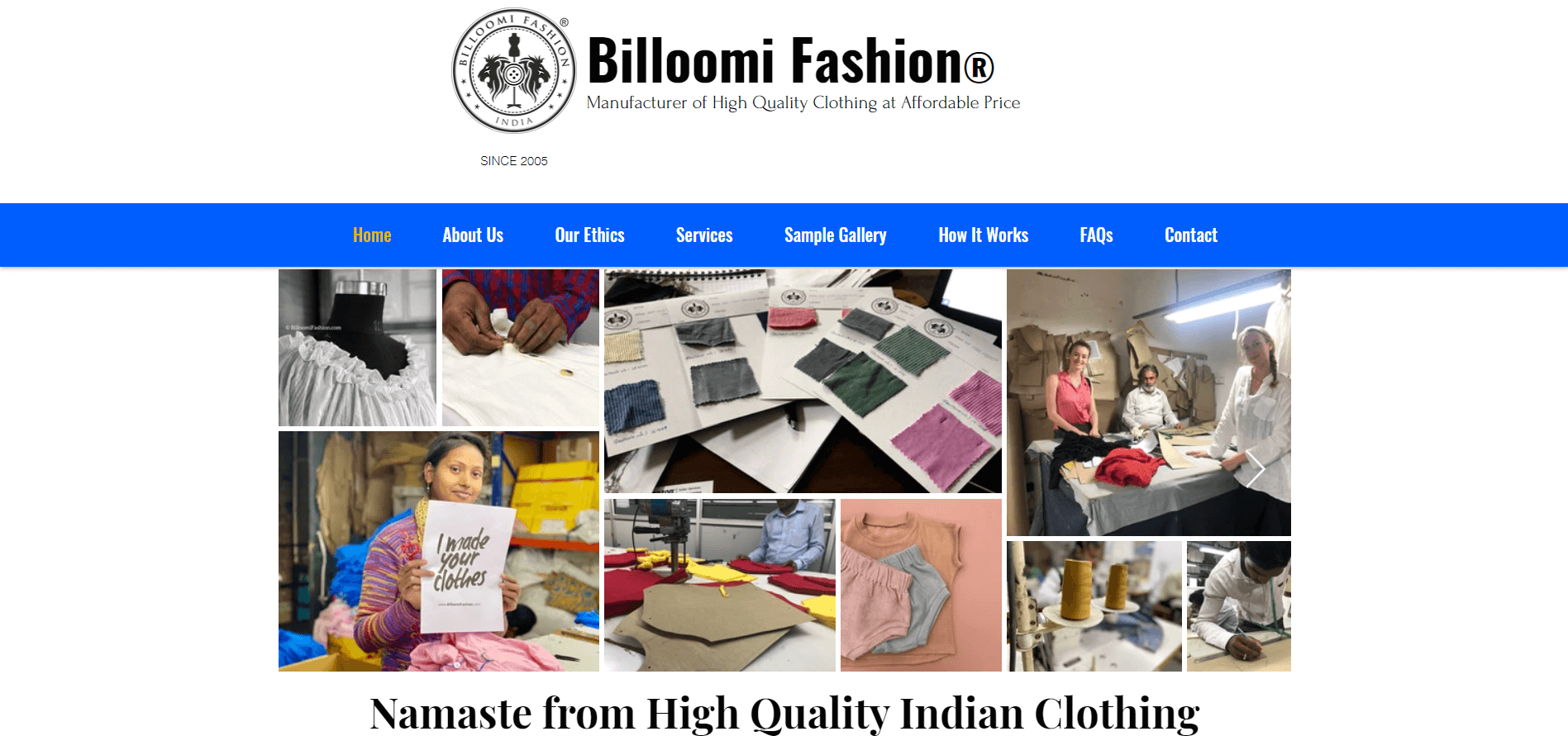 Billoomi Fashion is the go-to pick for many Indian clothing businesses. They work with a large number of aspiring and well-established brands, helping them implement their fashion plans.
The best thing about this manufacturer is its versatility. You're the one who determines the design, and they have the creativity and skills to pull it off. Their creators think outside the box to make sure each element harmonizes with the others. The services aren't limited to just one or two materials. Instead, they're well-versed in countless sustainable and standard solutions.
Another selling point of Billoomi Fashion is its customization options. If you want to spruce up your clothes with top-class zippers, buttons, or other trims, they have the resources to accommodate your needs.
Quality control is also admirable. Each garment goes through in-depth inspections before shipping to check for any inadequacies or manufacturing flaws. The company is fairly consistent in this respect, as most of their customers rarely return their products.
Pros:
Experienced tailors
Handling a variety of materials
Customization features
Stringent quality checks
Cons:
Pricey sampling
Tends to require hefty deposits
NG Apparels – India's Best Clothing Manufacturer for Custom-Made Options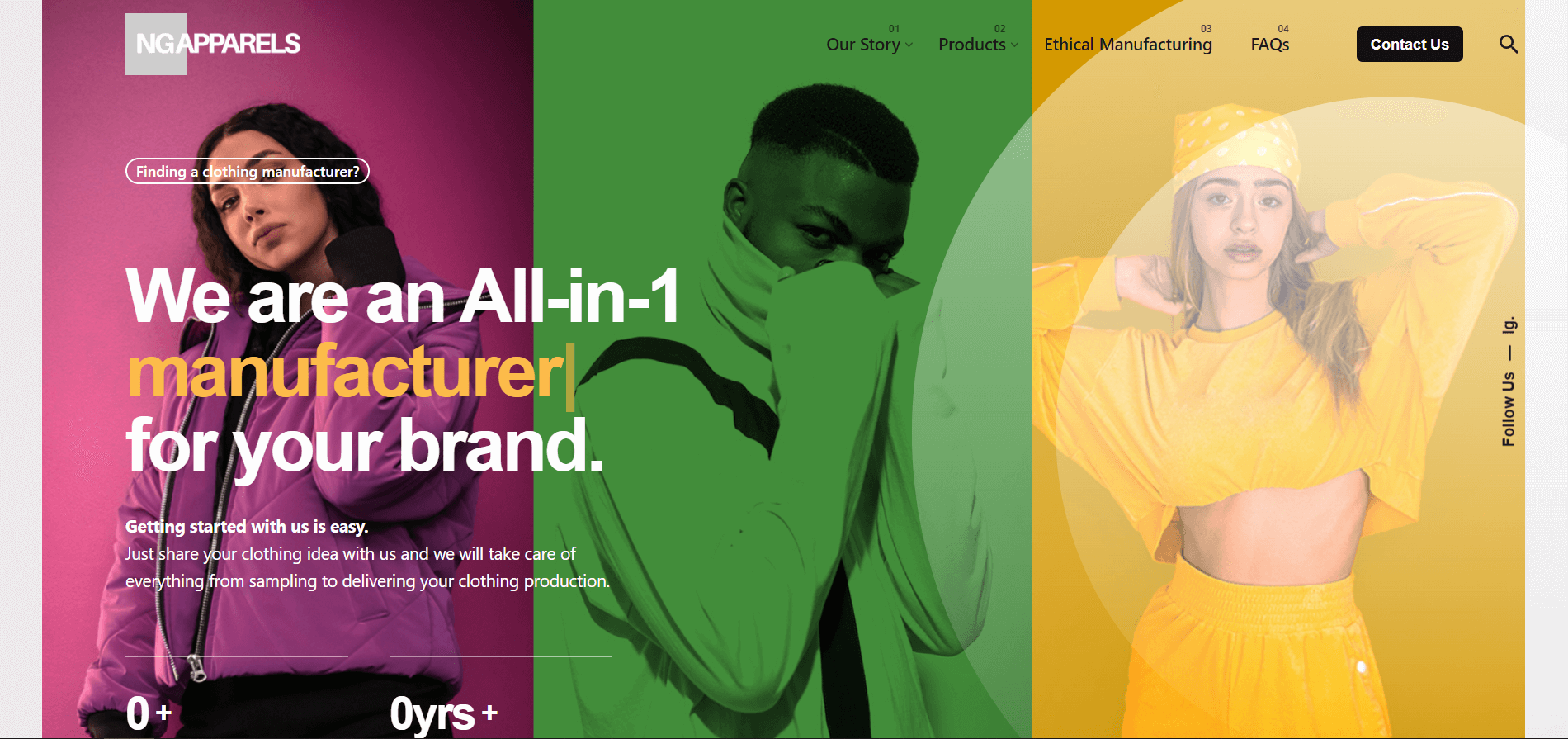 Next up on our rundown is NG Apparels. If you wish to stand out from the ocean of millions of clothes makers in your country, this could be a good choice. NG Apparels is known for its appeal to custom-made brands and has the tools to support its vision.
One of the most impressive qualities of this company is that you're in control of the entire design process. From materials and finishes to accessories and shipping, you dictate how your garments will be produced. As such, NG Apparels reduces the risk of mistakes and discrepancies in the requested design.
You may also consider NG Apparels if you want to upgrade your clothes with special features. Need to create a water-resistant finish? The manufacturer can make it happen thanks to advanced technologies and elevated sewing practices. They also provide other cutting-edge solutions, such as water-resistant fabrics, UV protection, and stain-repellant surfaces.
Finally, the production process is straightforward on paper. You feed the company information about the desired product, including the trim, design, and material. From there, they send you samples, and if everything checks out, bulk production is underway.
Pros:
Good for custom-made clothes
Aligns with your vision
A range of finishes and textures
Seemingly smooth process
Cons:
Impolite customer service
Pitch meetings are often canceled/postponed
Organic & More – India's Best Organic Clothing Manufacturer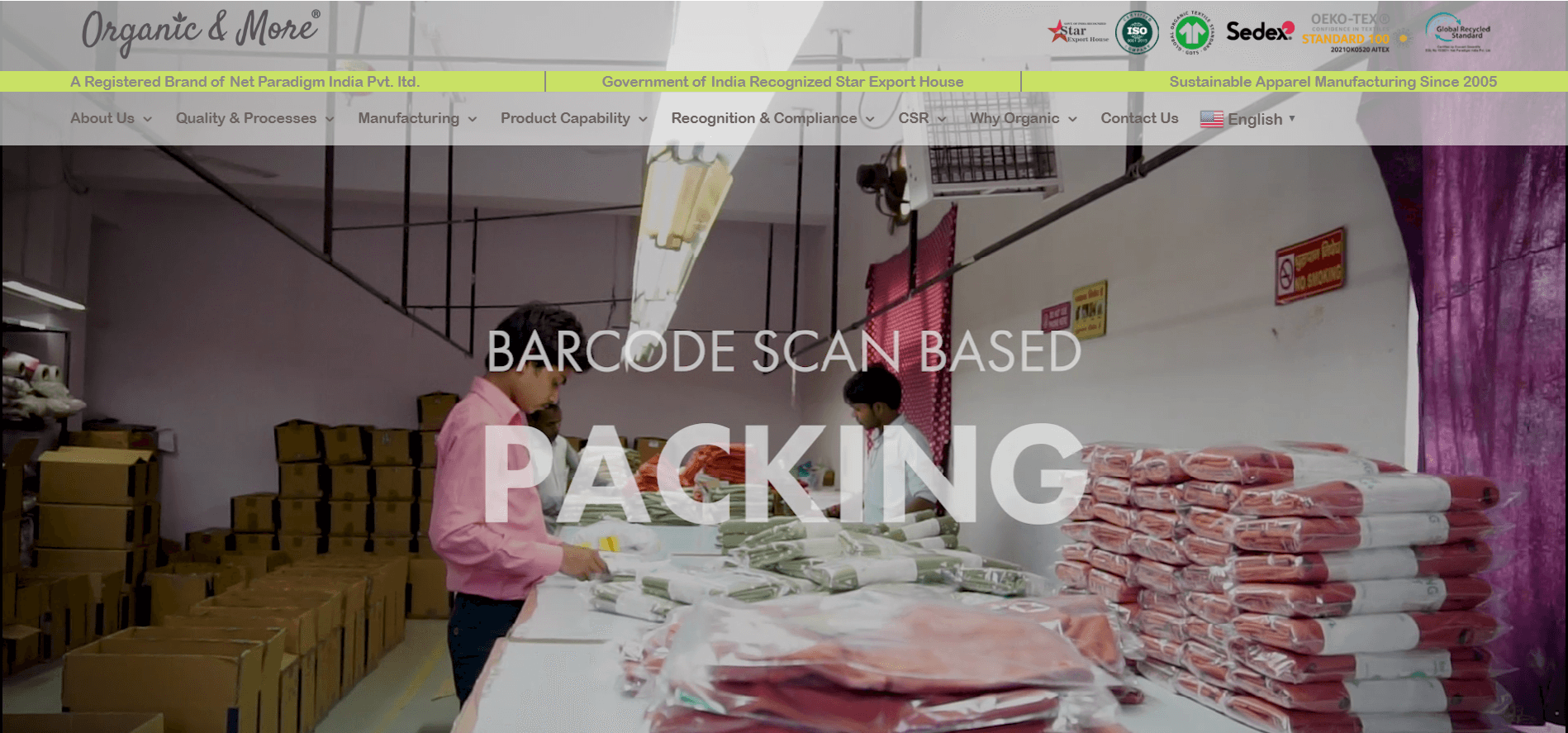 You can already tell by the name of this clothing manufacturer what they're all about: making organic garments. That's exactly what lies at the core of their practices. Since its establishment in 2005, they've gone the extra mile to maintain sustainable production.
Organic & More fosters eco-friendly initiatives across the board. As a Global Organic Textile Standard (GOTS)-certified company, they safely source raw materials without creating tons of waste. Most of their fabrics come from recycled alternatives, reducing the amount of textile waste in landfills.
Furthermore, the company takes great pride in its ethics. The workers seem to be fairly compensated for their work. Also, they empower women to join the workforce by providing relatively favorable remuneration and perks.
When it comes to the fabrics they utilize in the production process, organic solutions dominate the landscape. This makes the enterprise a solid option if your target audience is concerned about allergies, skin irritation, and other problems associated with traditional garments. Those manufactured by Organic & More aren't plagued by these issues.
No Organic & More discussion would be complete without mentioning their flexibility. Whether you need yoga apparel, kids' outfits, bedding, cotton sweaters, or newborn clothes, they have the resources and staff to deliver the good stuff.
Pros:
Sustainable manufacturing
Highly ethical company
Organic fabrics
Versatility
Cons:
Domestic clients often refused
Inconsistent quality
The ODD Factory – India's Best Manufacturer of Jackets and Embroidery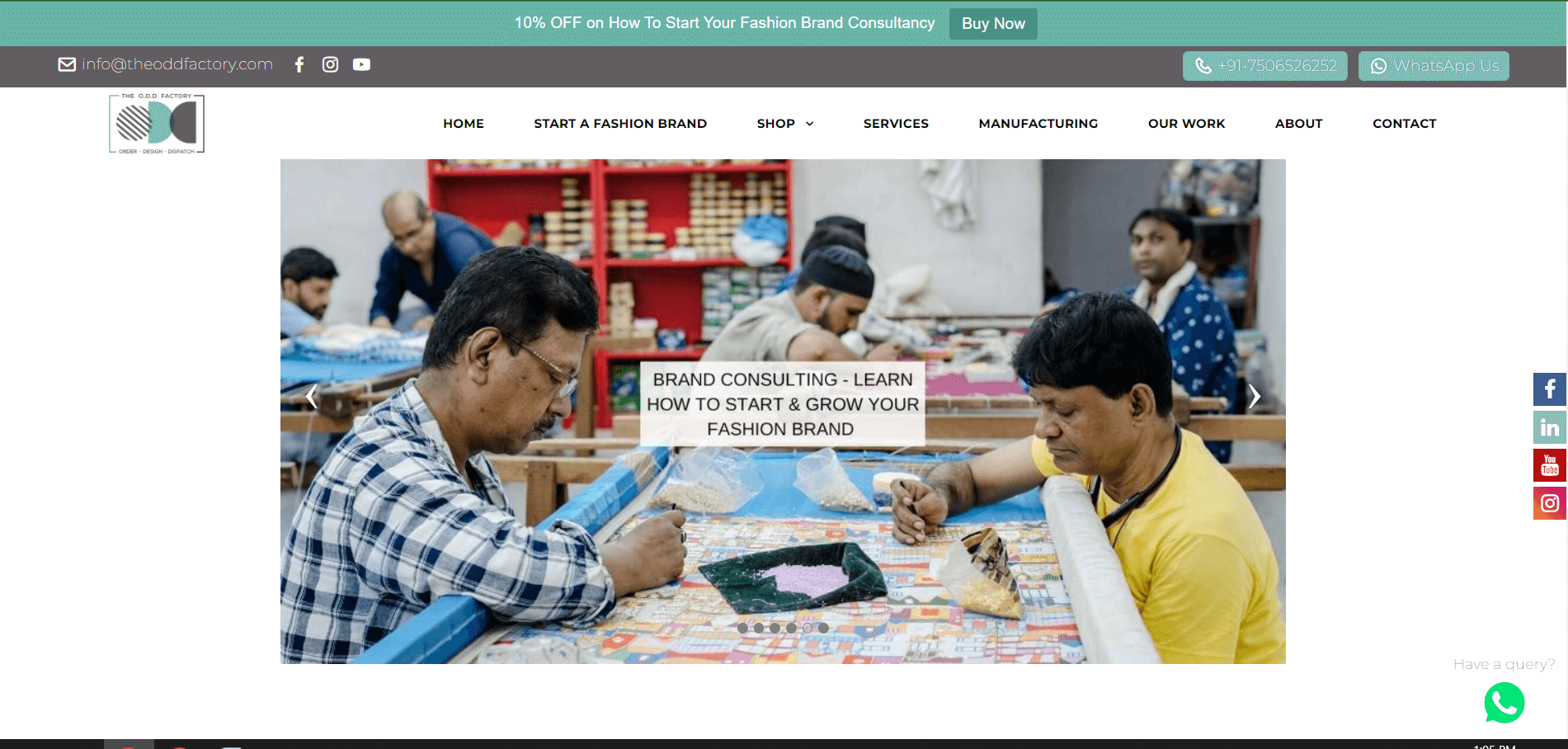 Continuing our list of sustainable clothing manufacturers is The ODD Factory. Like previous entries, this company holds organic manufacturing in high regard. If requested, they'll utilize a variety of organic fabrics to produce your clothes and eliminate the risk of skin irritation. This also decreases waste, allowing you to kill two birds with one stone.
But that's not the biggest perk of working with The ODD Factory. They're primarily known for their ability to make creative jackets and embroidery. Hence, if your ideal customer prefers warm jackets with eye-catching embellishments, consider The ODD Factory as your manufacturer. As for embroidery, they can implement a plethora of dazzling shapes to take your clothes to a whole new level.
It's also worth noting that The ODD Factory doesn't just specialize in human clothing. You can also commission them for pet clothes, making them highly versatile. They're skilled enough to pull off some of the most intricate details today's pets have on their garments.
Most of the credit goes to their staff. Namely, The ODD Factory appears to have fair wages and equal conditions for all genders and ethnicities. Such a wholesome environment motivates artists to implement their designs, no matter how complex they might seem.
Pros:
Well-versed in jackets and embroidery
Organic manufacturing
Prioritizes sustainability
Human and pet clothing production
Cons:
Sluggish sampling, prototyping, and approval
Doesn't accept refunds
Cheer Sagar – Best Automated Clothing Manufacturer in India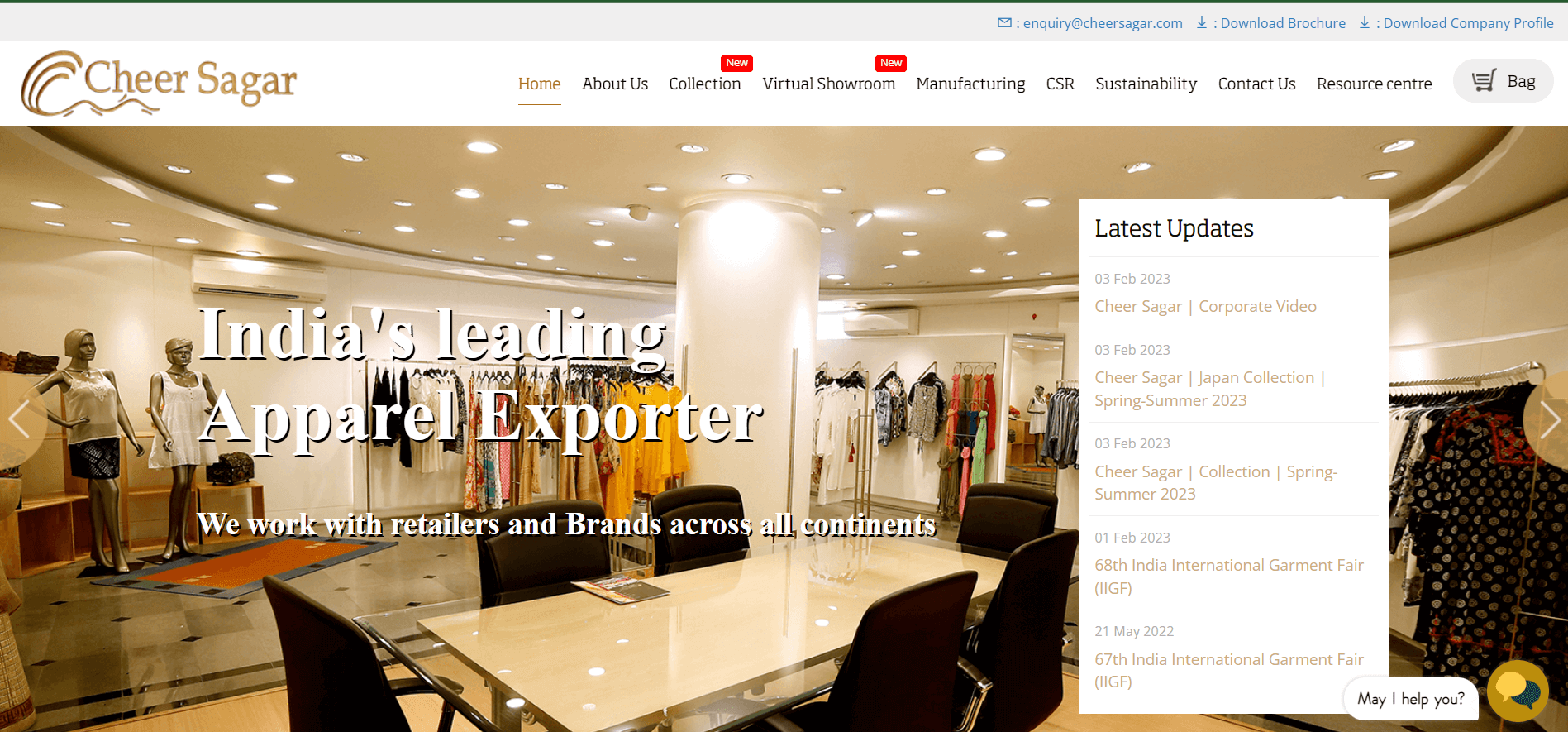 A speedy turnaround is a must in the clothing industry. Cheer Sagar recognizes this need, which is why most of their manufacturing is automated. They have state-of-the-art machines that help them provide samples and finished products faster, allowing you to break into your market sooner.
But what exactly can you hire Cheer Sagar for? A wide array of apparel is available, including those for women and children. Whether you're interested in making tracksuits, elegant attire, or jackets, they have the equipment and knowledge for your industry.
Accessories are a big plus. From ornate scarves to durable bags, they can make a number of accessories to complement your clients' outfits.
Lastly, they follow some of the highest organic production standards in the country. Each garment is sourced from sustainable, non-toxic sources that go easy on the skin. In addition, they can enhance your clothes with antimicrobial finishes.
Pros:
Automated manufacturing
Women's and kids' clothes
Accessory producer
Organic, sustainable garments
Cons:
Inconsistent turnaround time despite reliance on machines
Rude customer support at times
Shahi – India's Clothing Giant That Leaves no Stone Unturned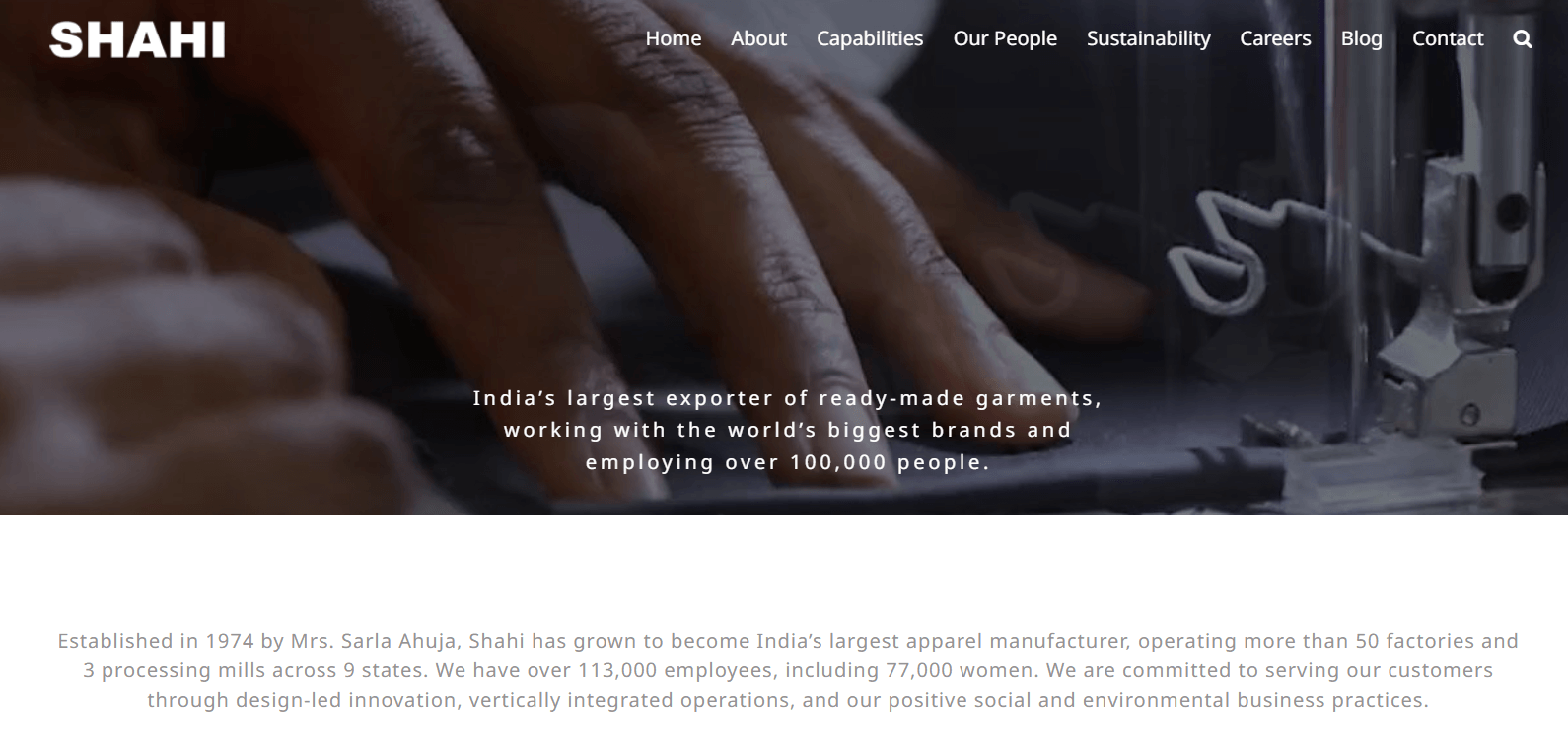 Shahi is another prominent Indian clothing manufacturer that takes the production game seriously. The company has a well-developed infrastructure with over 50 factories and three processing mills. As such, it's a reliable pick for most of your clothing needs. Whether you're into summer or winter apparel, Shahi can make it happen.
What sets Shahi apart from many other producers is their lab testing. Upon sourcing raw materials, they examine them for optimal fabric performance. In other words, they determine if the texture behaves correctly and whether it can be used in manufacturing. This lowers the risk of faulty fabrics and deficient products.
Given the size of the enterprise, a considerable number of professionals are required to meet the growing production needs. Shahi currently employs over 100K people, most of whom are women. Each worker undergoes in-depth training to ensure relatively consistent results.
Pros:
Large infrastructure
Lab testing
Female-dominated workforce
Comprehensive training
Cons:
Lack of customization
Minimal emphasis on organic production
Vritti Designs – India's Reliable Organic Manufacturer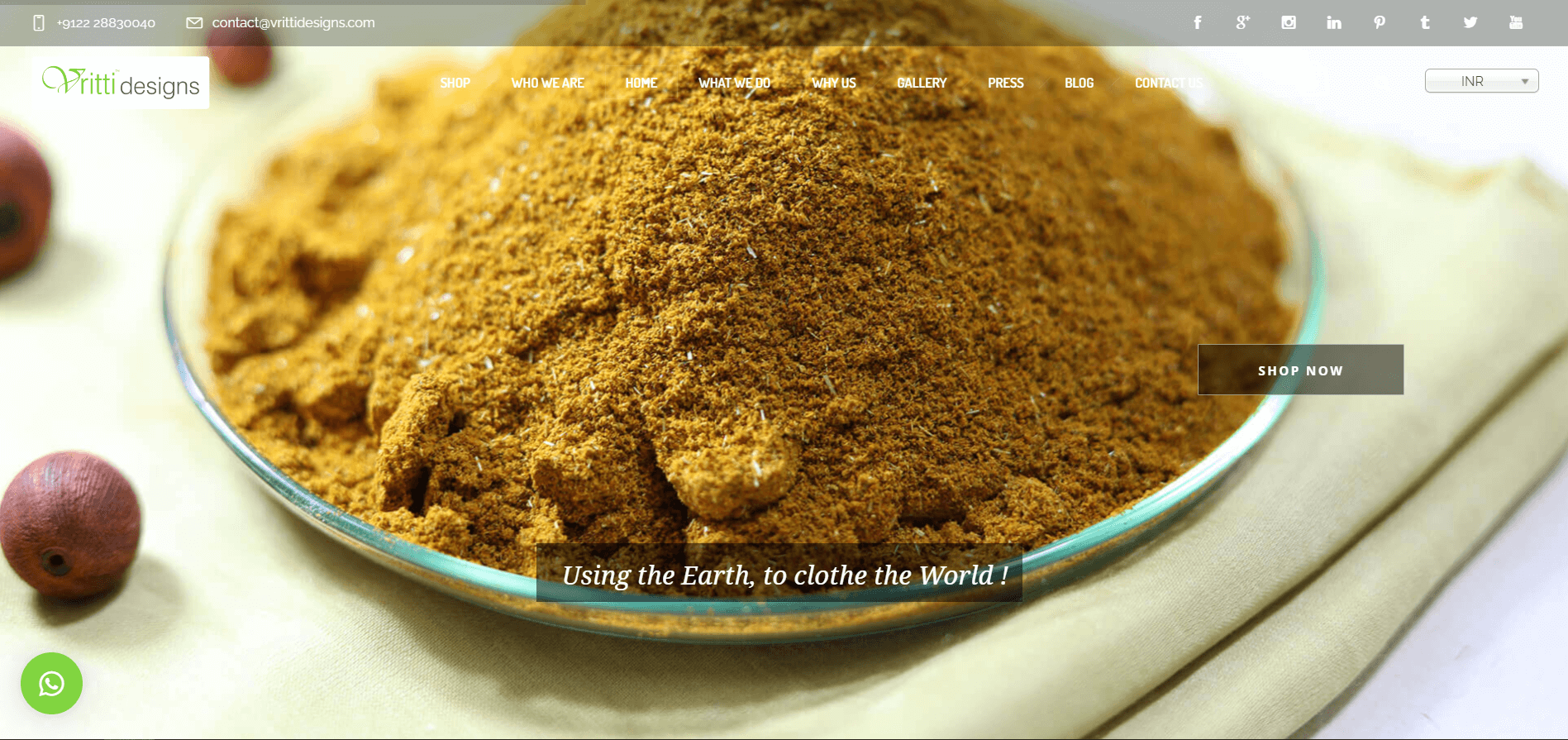 Vritti Designs joins the lineup of eco-friendly clothing makers in India. It's not as large as Shahi, but it brings many other appealing features to the table.
For starters, the manufacturer is fully committed to organic production. They source raw materials using eco-friendly methods and ensure each texture is non-toxic. Consequently, there's no need to worry about allergy complaints or other related concerns from your customers.
Just like you have your target audience, so does Vritti Designs. They typically partner with women's clothing brands. Be it jeans, pants, scarves, t-shirts, or other accessories and garments, women's pieces are their focus.
Last but not least, Vritti Designs invests in 100% eco-friendly materials. Working with them can be a major step in setting you up as a sustainable organization.
Pros:
Organic clothes maker
Sustainable manufacturing
Ideal for women's garments
Cons:
Hefty prices
Subpar turnaround time
Synerg – India's Best Manufacturer for All Populations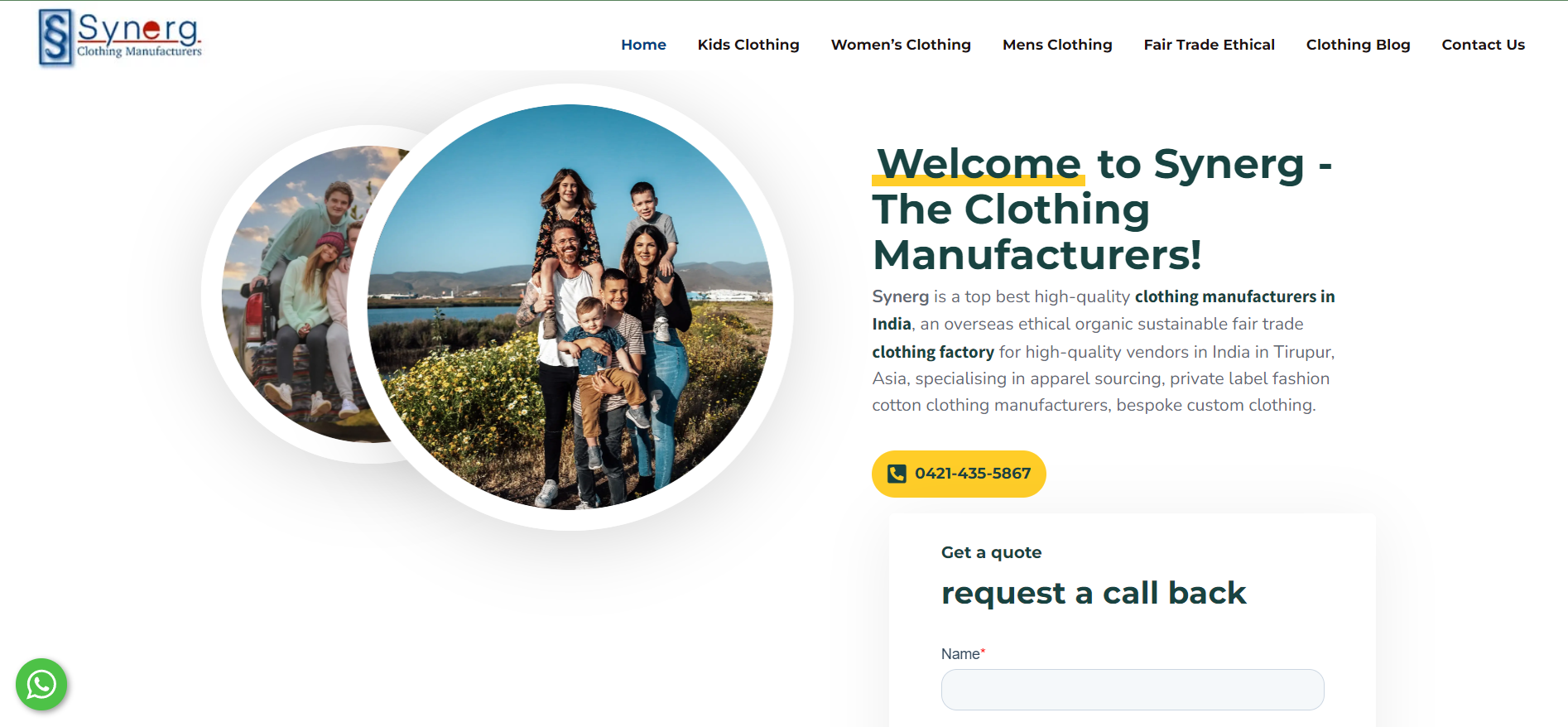 We've brought up versatility on several occasions, but the list would be incomplete without Synerg. It's one of the most flexible makers because it produces clothes for all demographics. Whether men, women, or kids are your target group, you can consider outsourcing your production to them.
Their organic approach is also commendable. They go to great lengths to source safe materials that feel great and last a long time.
Finally, you don't need to pay top dollar when manufacturing clothes with Synerg.
Pros:
Makes men's, women's, and kids' clothes
Organic
Affordable
Cons:
Customer service is sometimes unwilling to help
Inconsistent quality
Cotton Monk – India's Best Manufacturer for Real-Time Updates

If you want to stay in the loop about your clothes at all times, look no further than Cotton Monk. They provide timely updates about your samples and finished products from start to finish.
They're also highly transparent. When discussing your terms, Cotton Monk lays out the price and timeline beforehand, allowing you to decide if they're the right fit.
Finally, they provide a wide range of products. From men's shirts and T-shirts to women's leggings and sweaters, the company can pull off pretty much any design.
Pros:
Product tracking
Transparency
Skilled in different types of clothes
Cons:
Frequent yarn defects
Sluggish shipment
16th July Exports – India's Best Manufacturer for Global Shipping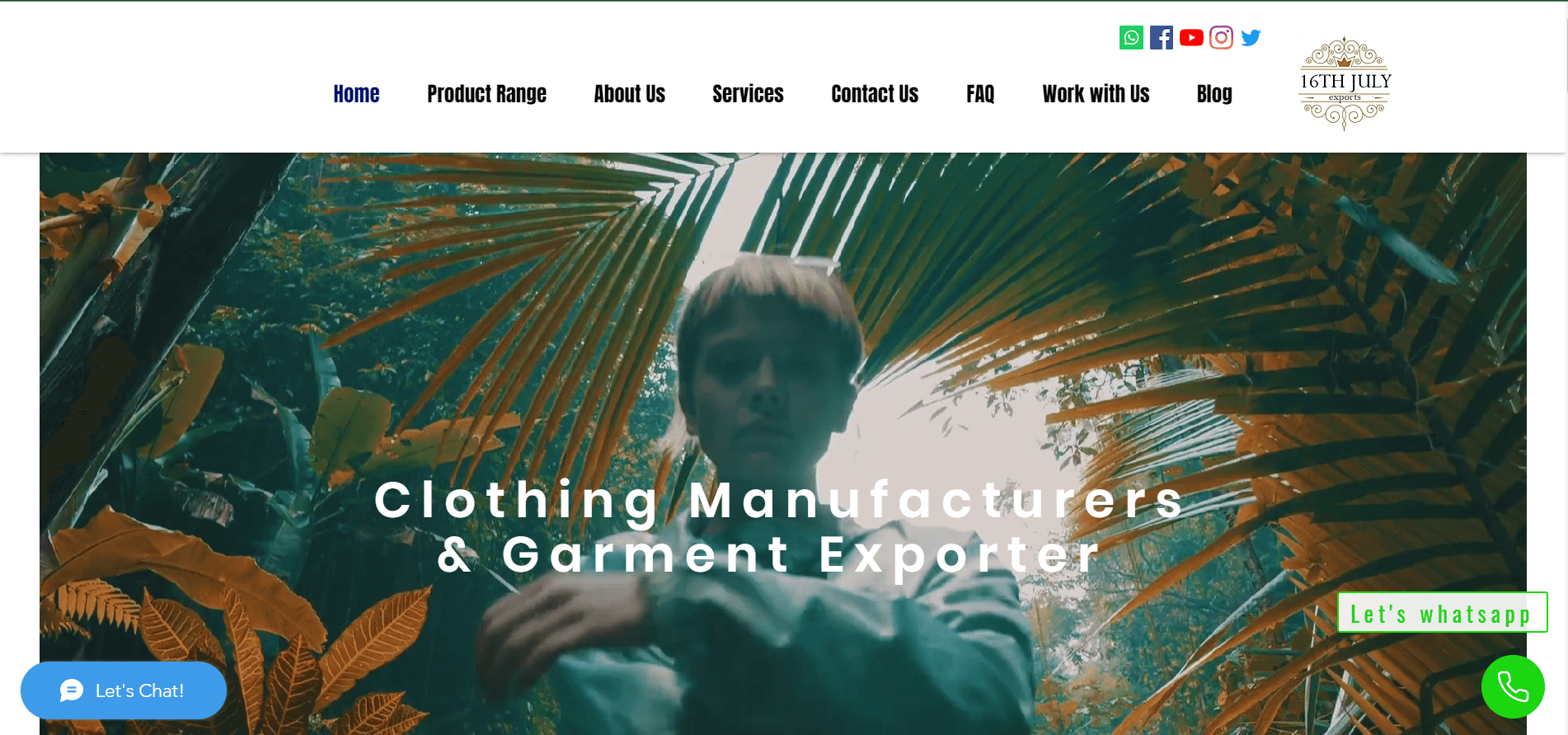 As the name suggests, 16th July Exports are largely about exports. Namely, they ship clothes worldwide, allowing you to start your clothing business from anywhere.
But what kind of garments do they make? For the most part, they're high-quality. They use reliable stitching methods and source excellent raw materials to ensure durability.
Moreover, organic fabrics are an option. If requested, they'll only use organic materials to make your apparel and help you target your audience more effectively.
Pros:
Global shipping
Solid materials
Organic production
Cons:
Slow shipments
Quality problems with products sent in bulk
What Are the Important Factors to Consider When Looking for a Reliable Clothes Manufacturer in India?
We've covered a variety of perks you may get when teaming up with a reliable Indian clothing manufacturer. Here's a quick overview of the key characteristics you should look for in Indian apparel makers:
They use high-quality, durable materials.
Their materials are sourced from reputable suppliers.
They use sustainable sourcing, storage, and manufacturing practices.
They offer organic solutions for sensitive customers.
They're reasonably priced, and offer refunds.
They send samples and finished products quickly.
Their workforce approach is ethical, and their staff is fairly compensated.
Are You Discontented With Indian Garment Manufacturing Companies? Discover Unparalleled Quality With Appareify!
The producers we've listed can be a decent solution, but notice how we mentioned consistency several times. That's one of the biggest problems for Indian makers. One batch turns out solid, while the others are a complete disaster. As a result, you need to return the clothes, which costs you time and money.
Language barriers are also a problem. Miscommunication is a common pitfall when working with Indian manufacturers, causing more delays. And although most makers are committed to ethical standards, worker exploitation remains a major concern.
You need to partner with someone more reliable. More trustworthy. More efficient.
That someone is Appareify. Our bespoke clothing solutions have been the light at the end of the tunnel for many aspiring brand owners. You can become one of them. Whether you want to produce jeans, activewear, kids' clothing, or hoodies, we're at your beck and call.
We utilize cutting-edge equipment from start to finish to speed up the process and source materials only from established suppliers. Moreover, we're 100% sustainable and affordable, keeping your budget under control.
Start Your Apparel Journey With the Right Manufacturer
Although you want to get your business underway as soon as possible, you shouldn't rush the launch. Finding a reliable manufacturer should be your priority. India has a few credible solutions, but they pale in comparison to Appareify. Our ultimate attention to detail and creativity will come through for you, no matter the complexity of your garments.
Once you team up with us, running your clothing enterprise will be a walk in the park. After all, why wouldn't it be, considering you've outsourced the most important segment to the industry leader? Just sit back and let the five-star reviews from your customers speak for themselves.
If you need to revise some of the designs, feel free to do so whenever necessary. We'll execute your strategy to a T, laying the groundwork for your market dominance.