Fashion is huge in the USA. The fashion industry is worth $343.70 billion, making it one of the most profitable businesses. Because fashion is so popular in America, the landscape is extremely competitive. You'll need a high-quality manufacturer delivering the most stylish garments to ensure your fashion brand stands out.
Whether you're a new designer or need another supplier, you understand numerous manufacturers are out there–and choosing the best one can be difficult.
In this guide, we will review the 10 best clothing manufacturers in the USA and what makes each one unique.
1. Affix Apparel - Best Manufacturer Overall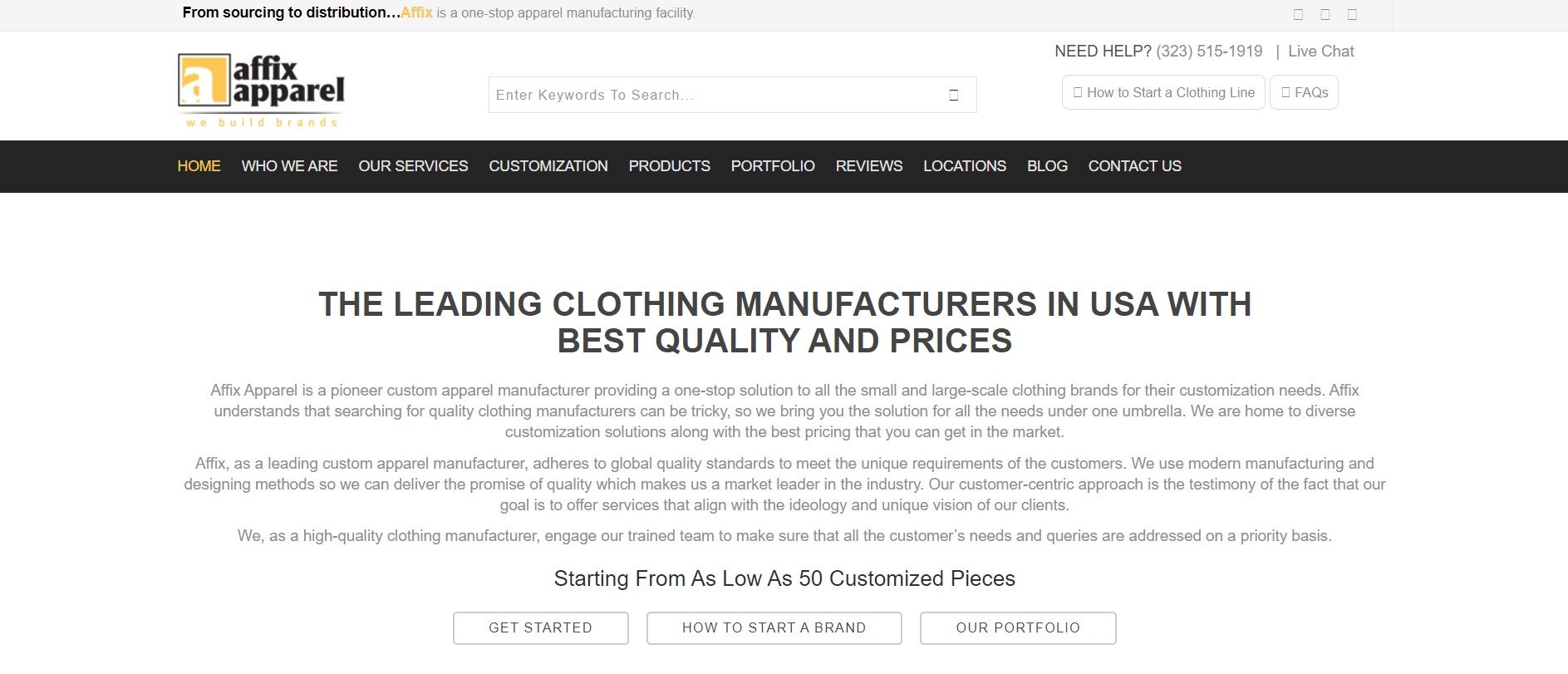 Our top USA clothing manufacturer pick is Affix Apparel. This is a one-stop shop for all clothing manufacturing needs, from sourcing fabric, cutting and sewing, to screen printing, private labeling, embroidery, and more.
As one of the best clothing manufacturers in the world, Affix Apparel has a robust portfolio and can create nearly any type of clothing. Their catalog is diverse–they can make anything, from t-shirts to bags. Besides, Affix Apparel has solutions for startup fashion brands and major companies. Their MOQs are low, and they offer some of the most competitive prices in the industry.
They use the latest manufacturing and design technology to ensure all garments are of the highest quality. Affix Apparel also provides abundant customization options, granting you complete creative control over your garments.
Pros
All-in-one manufacturer
Solutions for small and major fashion lines
Wide variety of clothing
Customization options
Uses the latest manufacturing and design technology
Competitive prices
Low MOQs
Diverse fabric selection
Cons
Has multiple manufacturing factories, and you may not know where your garments come from
2. Royal Apparel - Best for Wholesale

Do you own a retail clothing store? If so, you should consider partnering with a wholesaler. Royal Apparel is our wholesaler of choice. They offer a huge catalog of clothes for various customers, including unisex and kid's clothing. Royal Apparel also has sustainable clothing and accessories while following the latest trends.
Royal Apparel is a wholesaler but offers customization options to make their products your own. They offer low MOQs on relabeling and private label items and different services to make your garments unique to your brand. All items are made in the USA and come with fast turnaround times.
Royal Apparel offers the most competitive prices in the industry. They offer free shipping on certain orders, wholesale items for sale, weekly deals, and more.
Pros
Wholesale
Customization options
Many ways to save money
Huge catalog
Sustainability line
Cons
Limited manufacturing capabilities
3. Steve Apparel - Best for Customizations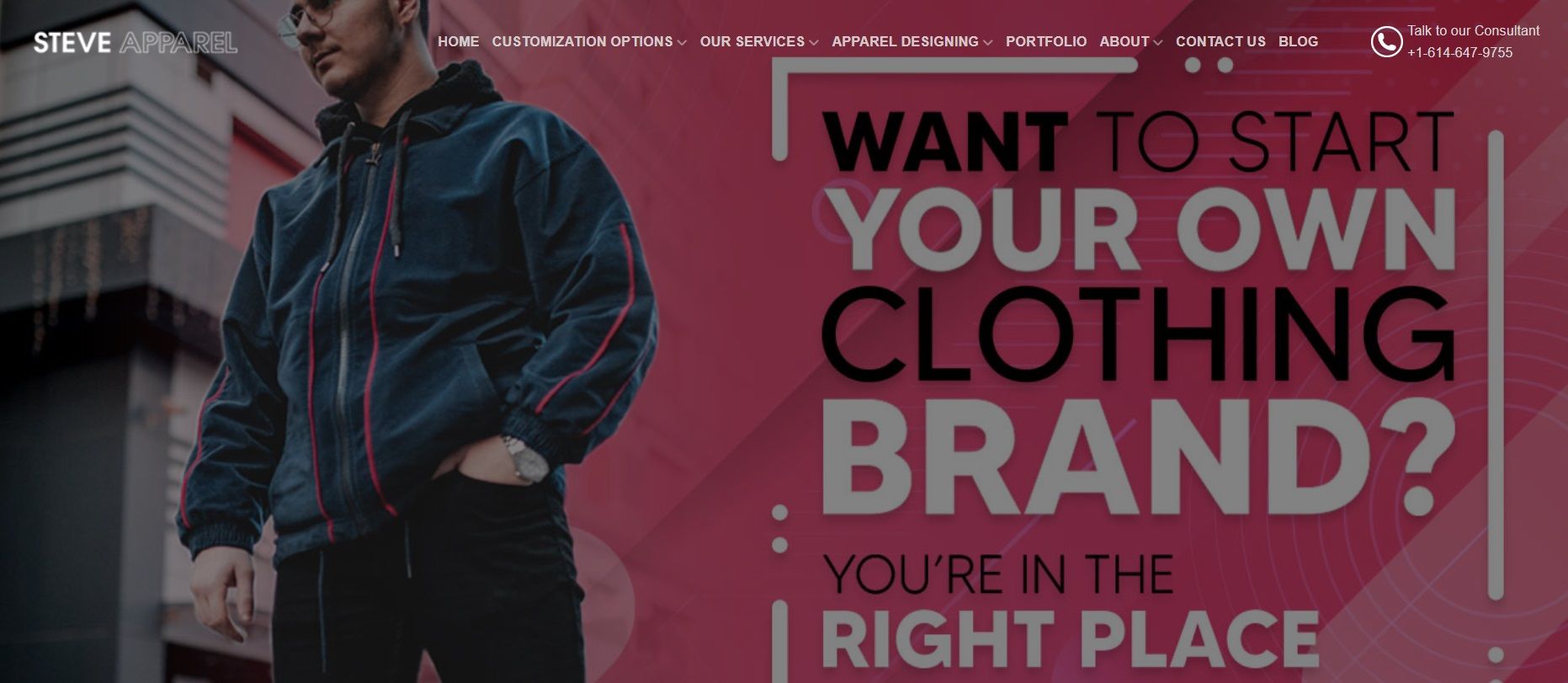 Steve Apparel offers numerous customization services. Their main services include sublimation printing, screen printing, private labeling, and embroidery. Not sure what you want? Steve Apparel offers customization packages to ensure you get all the services you need.
In addition to customizations, Steve Apparel operates as a one-stop shop. They can design a wide range of clothing, from leggings to hoodies. Steve Apparel offers all services in house, meaning you get a team of skilled professionals with every order. They also offer a multi-step quality control process to ensure you receive the garments you envision.
If you're a startup brand, you can take advantage of Steve Apparel's tech packs to get you started on your first designs. They also offer some of the lowest MOQs in the industry–50 designs per piece. Steve Apparel is budget-friendly enough for the newest designer; they offer affordable and simple pricing tiers, and you can take advantage of different discounts.
Pros
Multiple customization options
One-stop shop
Can make several types of clothing
Multi-step quality control process
Low MOQs
Budget-friendly
Experienced and knowledgeable in-house staff
Solutions for startups and new designers
Cons
Doesn't have the fastest turnaround
4. Prange Apparel - Best for Low MOQs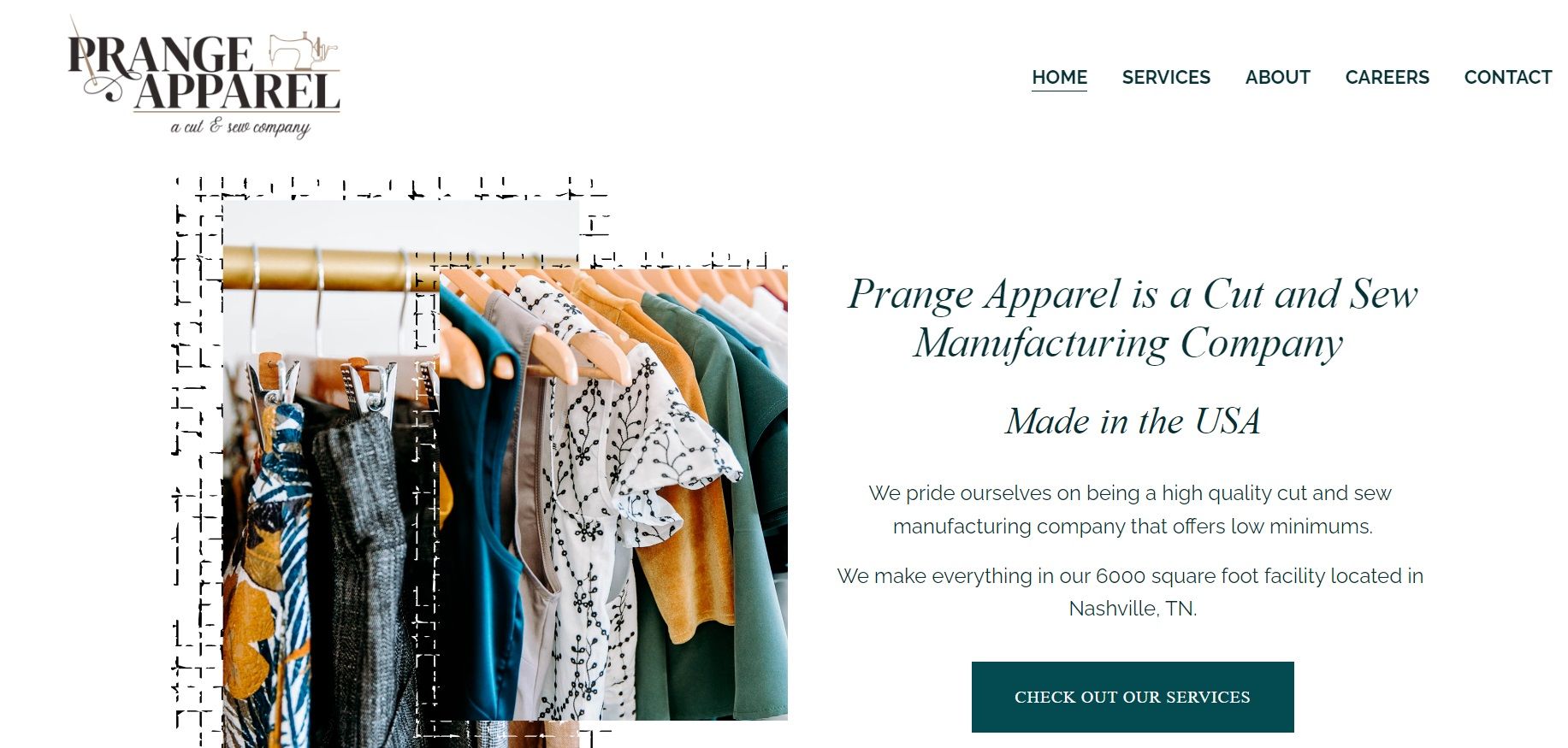 Prange Apparel is a cut-and-sew manufacturing company renowned for its low MOQs. They only require 50 units for apparel and 150 units for smaller apparel items and accessories.
Their specialty is woven garments, small accessories, and items for the home. Their main garments include women's clothing, specifically blouses, dresses, rompers, jumpsuits, shorts, and pants. Prange Apparel has over 40 industrial sewing machines and can alter and customize your garments in numerous ways.
Prange Apparel is also popular for other reasons, such as the fact that all items are made in the USA. No matter what you order, it will come from their warehouse in Nashville, TN.
Pros
Cut and sew manufacturing company
Made in the USA
Low MOQs
Cons
Doesn't have the biggest catalog
5. Pineapple Clothing - Best for Women and Children
If you own a niche clothing company, you'll need a manufacturer to supply your audience with the best styles. Pineapple Clothing is the perfect example. They specialize in clothing for women and children, including mommy-and-me matching styles.
Even though they make clothing for only women and children, their catalog is still diverse. Pineapple Clothing sells everything from dresses to activewear so that you can supply your store with endless styles.
It's important to note that Pineapple Clothing is a consumer-focused store, but they also offer a wholesale shop. While there's a minimum order amount of $500, they offer quick lead times. To order wholesale clothing, all you need to do is email the business with the required information.
Pros
Specializes in women's and children's clothing
Wide range of styles and clothing types, including mommy-and-me items
Diverse size range
Quick lead times
Easy to become a wholesaler
Affordable prices
Cons
Expensive order minimum
Limited customization options
6. USA Clothing Manufacturers - Best for Different Collections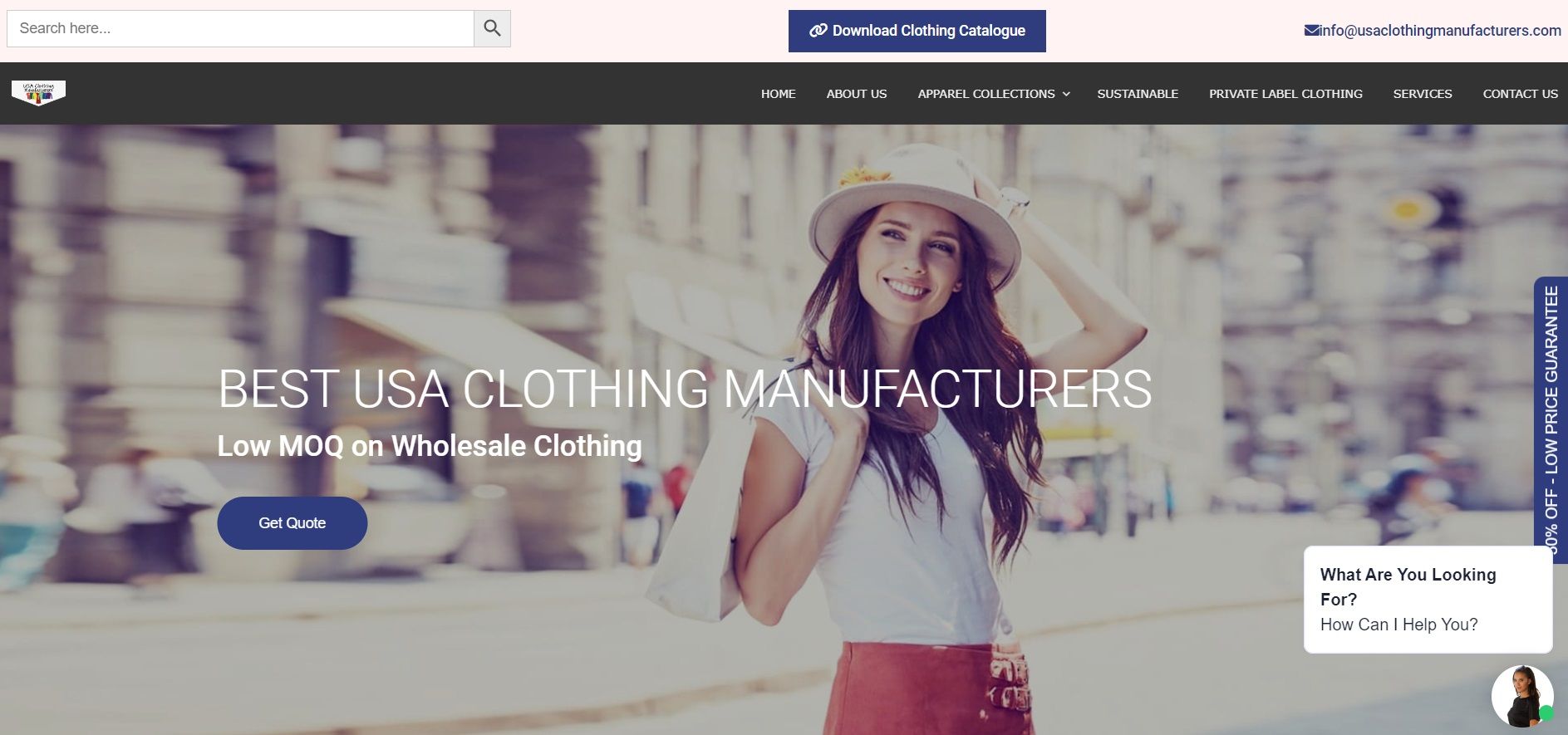 If your clothing store has a huge catalog, you'll need a manufacturer that can supply all the trendiest and most demanded styles. USA Clothing Manufacturers can fit this need. They sell everything from fitness wear to kid's clothing.
USA Clothing Manufacturers also has other benefits for businesses. They sell sustainable fabrics, offer private label services, and have low MOQs. If you need other sustainability benefits, USA Clothing Manufacturers has an eco-friendly supply chain using recycled materials in their fabric.
All their clothing is made in Los Angeles. Don't think this makes USA Clothing Manufacturers expensive–they still have competitive prices, especially when bulk ordering. They also offer fast shipping and pre-production clothing samples on bulk purchases.
Pros
Made in the USA
Huge clothing and style catalog
Sustainable business
Recyclable fabric options
Customizations
Low MOQs
Competitive prices
Bulk ordering process
Cons
Free samples are only available on bulk orders
7. Urth Apparel - Best for Startups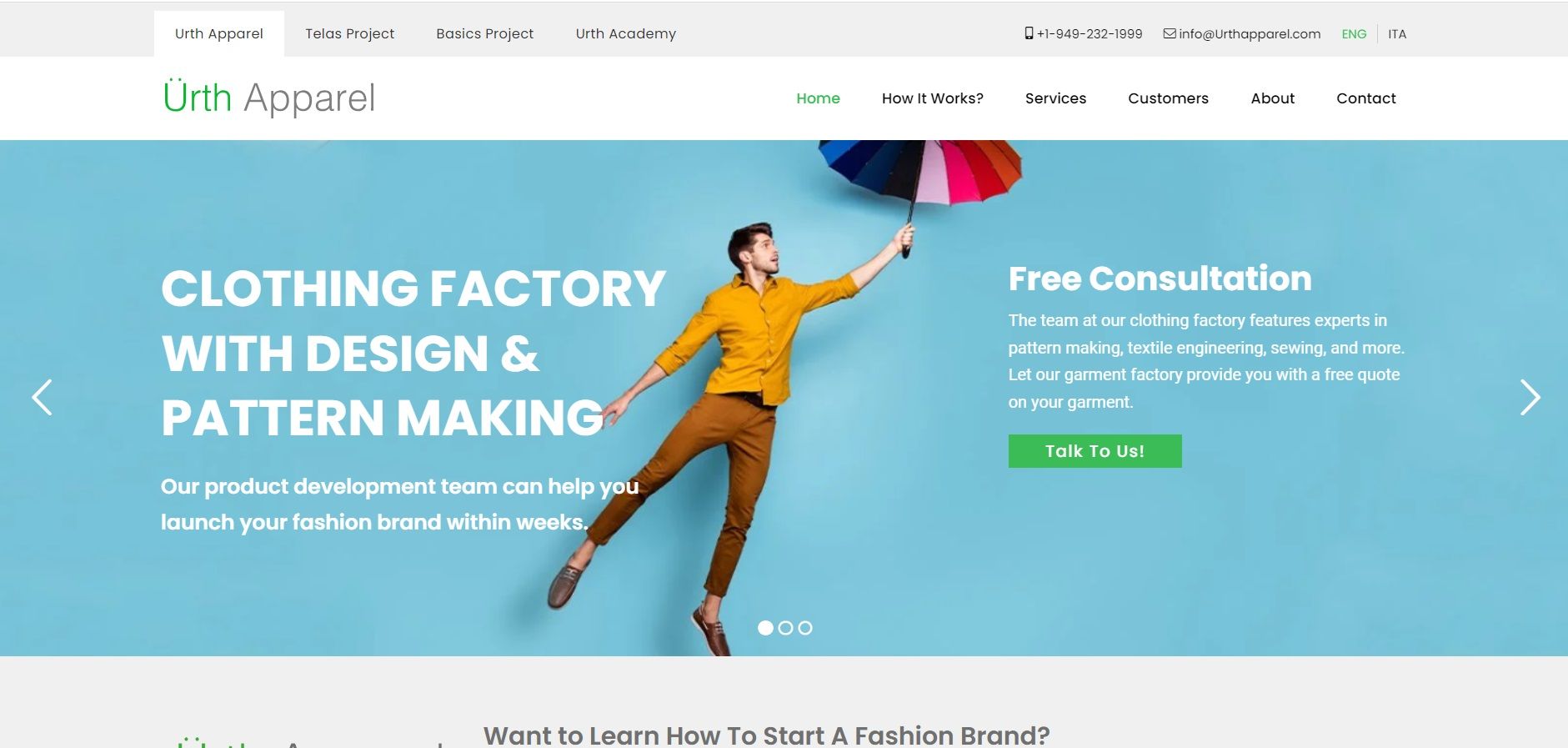 The industry can seem intimidating if you're starting your first fashion brand. It's best to partner with a manufacturer that offers the right knowledge for new brands. Urth Apparel is the best option for you in this situation. They offer a training program to get your brand off the ground.
Urth Apparel is also beneficial for startups since they're a one-stop shop. Their services include a simple three-step model to communicate your needs, receive samples, and produce garments.
Operated as an ethical company, they have sustainable and organic fabric options. Urth Apparel makes its clothing in the USA, but some items are also made in Peru and Italy. Urth Apparel can handle several services, such as fabric sourcing, design, sampling, and pattern making. They handle the entire production process and will stay in communication every step of the way.
Pros
Urth Academy for startups
Free consultation and quote
One-stop shop clothing manufacturer
Competitive pricing
Ethical and sustainable company
Cons
Doesn't have the lowest MOQs
8. Good Clothing Company - Best for Sustainability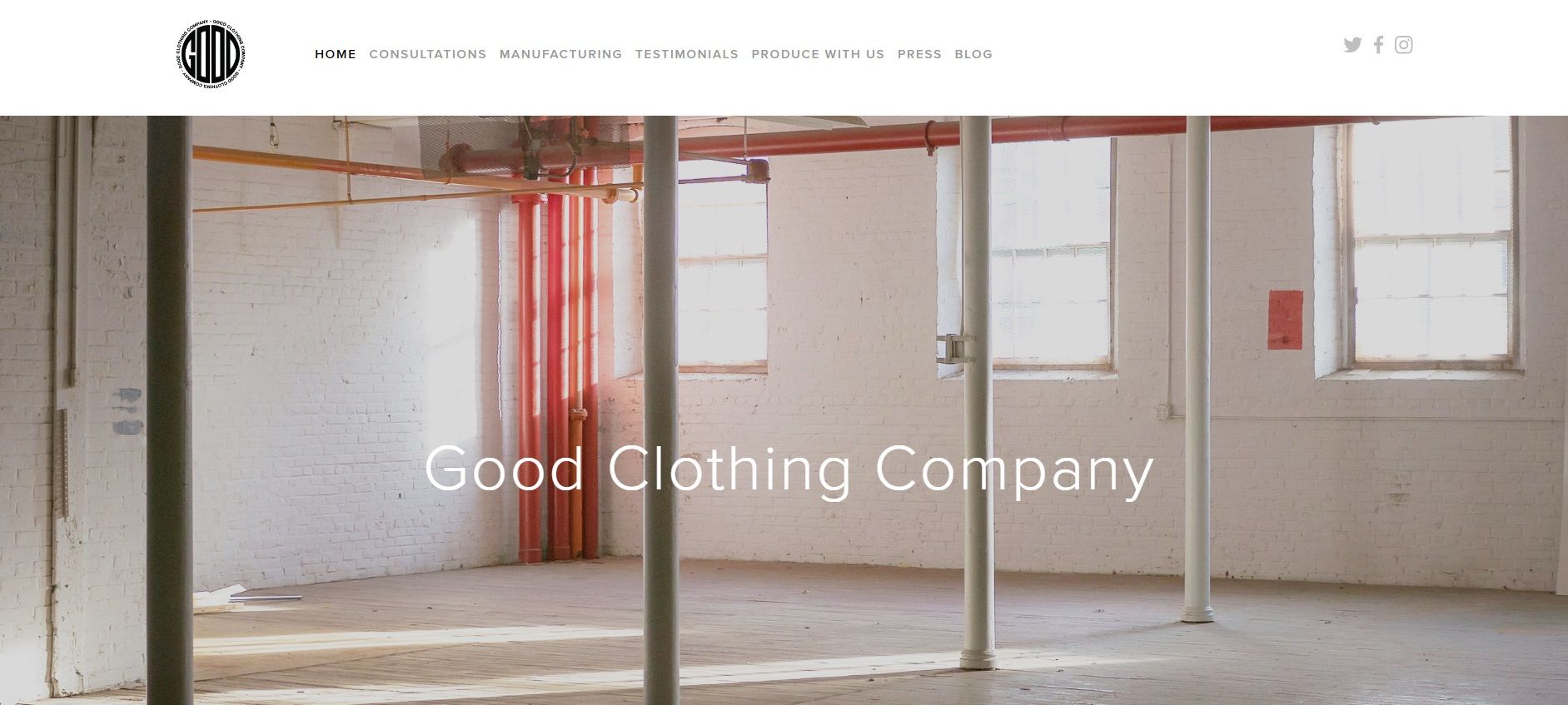 Sustainability and environmentalism are major concerns for the modern fashion business. Since sustainability starts with manufacturing, brands will need an eco-friendly solution. If you're looking for a sustainable U.S. manufacturer, Good Clothing Company should be your pick.
This company offers eco-friendly fabric options, and every step of the manufacturing process is sustainable. Good Clothing Company offers small-batch manufacturing to ensure you don't print more fabric than you need.
This business is also an ethical manufacturer. They pay all workers a fair wage, and all clothing items are made in the USA from their Fall River, MA facility.
Pros
Eco-friendly manufacturing process
Works with small designers and major brands
Ethical business
Made in the USA
Cons
Potential longer turnaround time
9. Zega Apparel - Best for Quality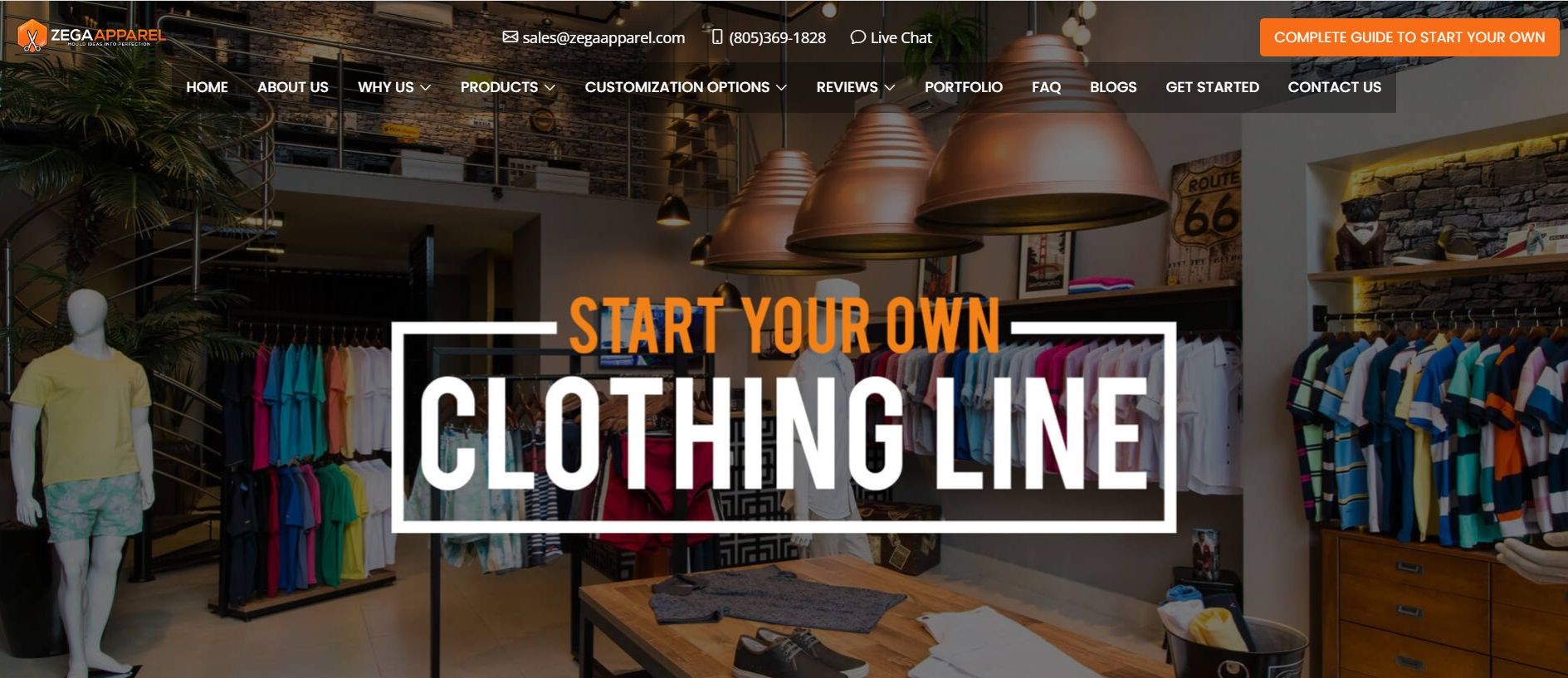 All fashion brands are concerned about clothing quality when partnering with a manufacturer. But are you looking for a quality-guaranteed solution? If so, Zega Apparel should be your choice.
This company offers a 100% quality guaranteed promise. This policy promises that your order will have no defects. These defects include loose threads, stains, stitching errors, printing mistakes, and sizing issues.
Zega Apparel also offers plenty of customization options, such as private labels. Zega Apparel uses the latest printing technology to accommodate any customizations you need.
With this advanced technology, they offer fast turnaround times–regardless of your order size. All items are accurate to the description and fit all customizations. This ensures you can sell your items the day you receive them.
Known for its huge catalog full of trending items, Zega Apparel sells everything from t-shirts to swimwear, appealing to various fashion brands. New designers can access additional services, such as tech packs. You can take advantage of their low MOQs and cost savings.
Pros
100% quality guaranteed policy
Diverse clothing catalog
Customization options
Low MOQs
Latest technology
Solutions for startups
Cons
Clothing isn't made in the USA
10. Mega Sports Apparel - Best for Fitness and Athleisure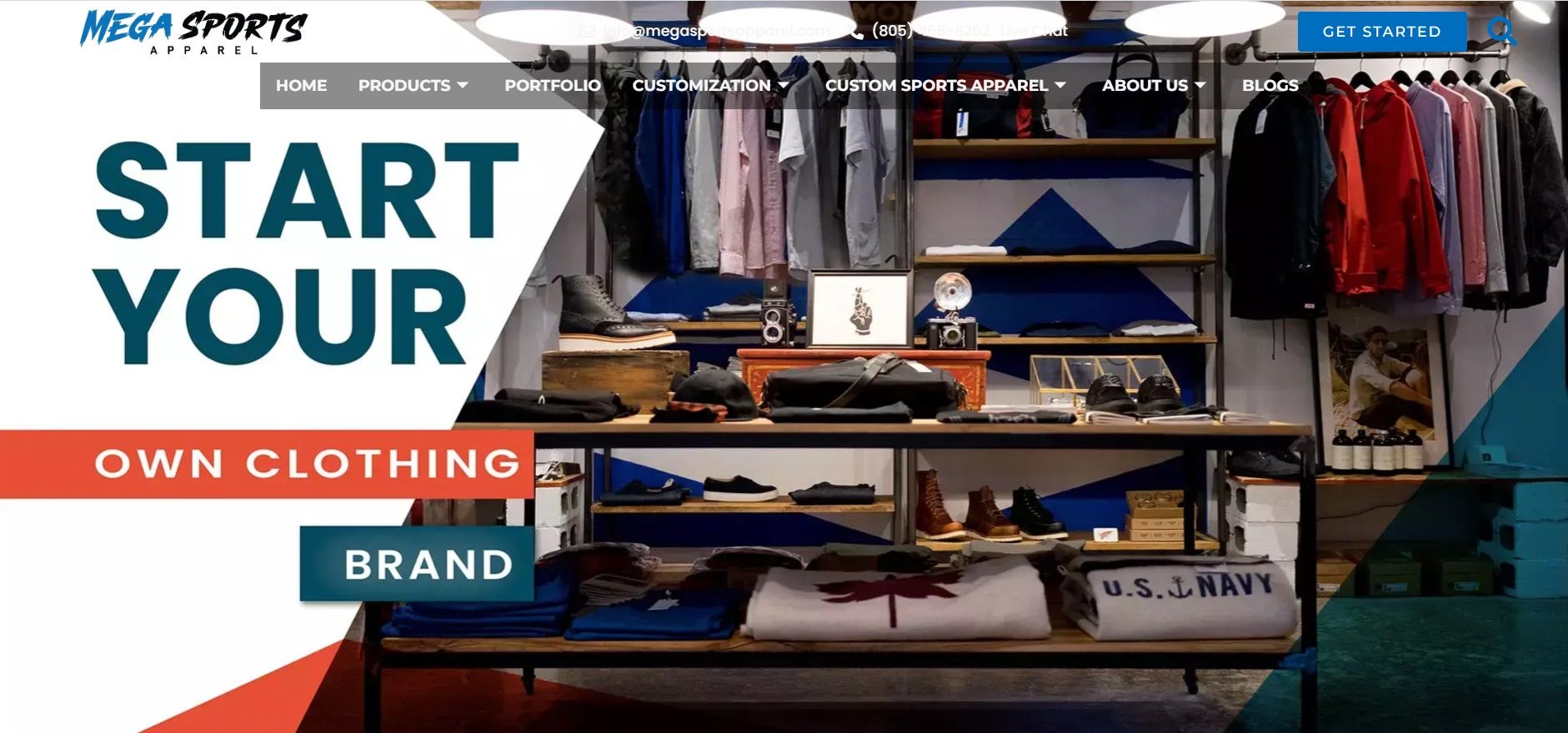 If you own a sports brand, you must sell the clothing styles and materials that athletes and gym enthusiasts need. Mega Sports Apparel can supply these items to you and more. They sell clothing items for sports such as tennis and golf and make items specifically for gym wear and casual exercise.
Mega Sports Apparel is a one-stop shop fitness wear manufacturer. They have a simple ordering process where you contact the brand with your requirements.
You can sell these high-performance clothing items with customization options, such as private labels and embroidery. Mega Sports Apparel uses the highest quality performance fabrics in their garments, ensuring you will have customers satisfied with their purchases.
Pros
Makes clothing for different sports and gym enthusiasts
Customization options
Affordable tech packs
One-stop shop manufacturing
Easy ordering process
Competitive prices
Superior high-performance fabrics
Fast delivery
Cons
Only been in business for five years
How to Find the Best Wholesale Clothing Manufacturers in the USA?
There are many ways to find the best clothing manufacturers in the USA. Some of the best options include:
Google
Trade shows
Fashion school
Referrals
B2B marketplaces
Directories
Library
With Google, trade shows, and referrals, you can find various clothing manufacturers who can meet your needs. Some manufacturers may also have good connections to fashion schools, and students can easily connect to these suppliers.
But if you want to work with a brand that makes items in the USA, B2B marketplaces and directories can introduce you to local manufacturers. You can also find directories at your local library.
Pros and Cons of Manufacturing in the USA
"Made in the USA" clothing is popular among American brands and desired by consumers. But knowing the pros and cons of clothing manufacturing in America is important.
Pros
High standards of labor and business ethics
High-quality manufacturing and fabric
Work with a brand in your time zone
Mindful of American culture, such as holidays
Excellent communication
Fast shipping
Better for branding and marketing (i.e., "Made in the USA" label)
More payment security
No duties and tariffs
Intellectual property protection
Cons
A small number of factories
High manufacturing costs
Fewer product choices
Encountering Difficulties with USA Clothing Manufacturers? Discover the Solution: Appareify!
While there are many benefits to having the "Made in the USA" label, choosing an American manufacturer won't work for all brands. There are limited factories, few product choices, and high costs associated with making clothing in the USA.Fortunately, Appareify is another option.
Recognized as the best clothing manufacturer in China, we're always affordable to suit all budgets–including those of budget-conscious new designers. Plus, we offer bulk pricing to save even more. Our collection is vast, including all kinds of casual, luxury, and athletic wear. We also use many sustainable fabrics, such as hemp, organic cotton, and linen.
Choose the Best Manufacturer
Since fashion is so popular in the USA, new American clothing brands are always forming. If you're a new designer, you're likely looking for an American clothing manufacturer to supply the styles your customers will love.
Affix Apparel is our top manufacturer of choice. They're a one-stop shop with solutions for startups and boast a versatile catalog. It's also important to note any requirements, such as private labeling and fabric sourcing.
As an alternative, consider Appareify. We're a custom clothing manufacturer that offers OEM, cut and sew, and private labeling services along with professional guidance every step of the way.