The U.S. has one of the largest textile industries on the planet. In 2022 alone, the country raked in approximately $34 billion from garment exports. Several companies contributed to this performance; some of the most famous clothes makers are based in Houston.
That's why you may want to outsource your apparel production to the Energy Capital of the World.
However, you shouldn't team up with just about any manufacturer. You need someone with a proven track record of delivering top-quality products.
This article will help you find the ideal partner. We'll review the 10 best clothing manufacturers in Houston.
Arcus Apparel Group – Best Clothing Manufacturer in Houston for Long-Lasting Patterns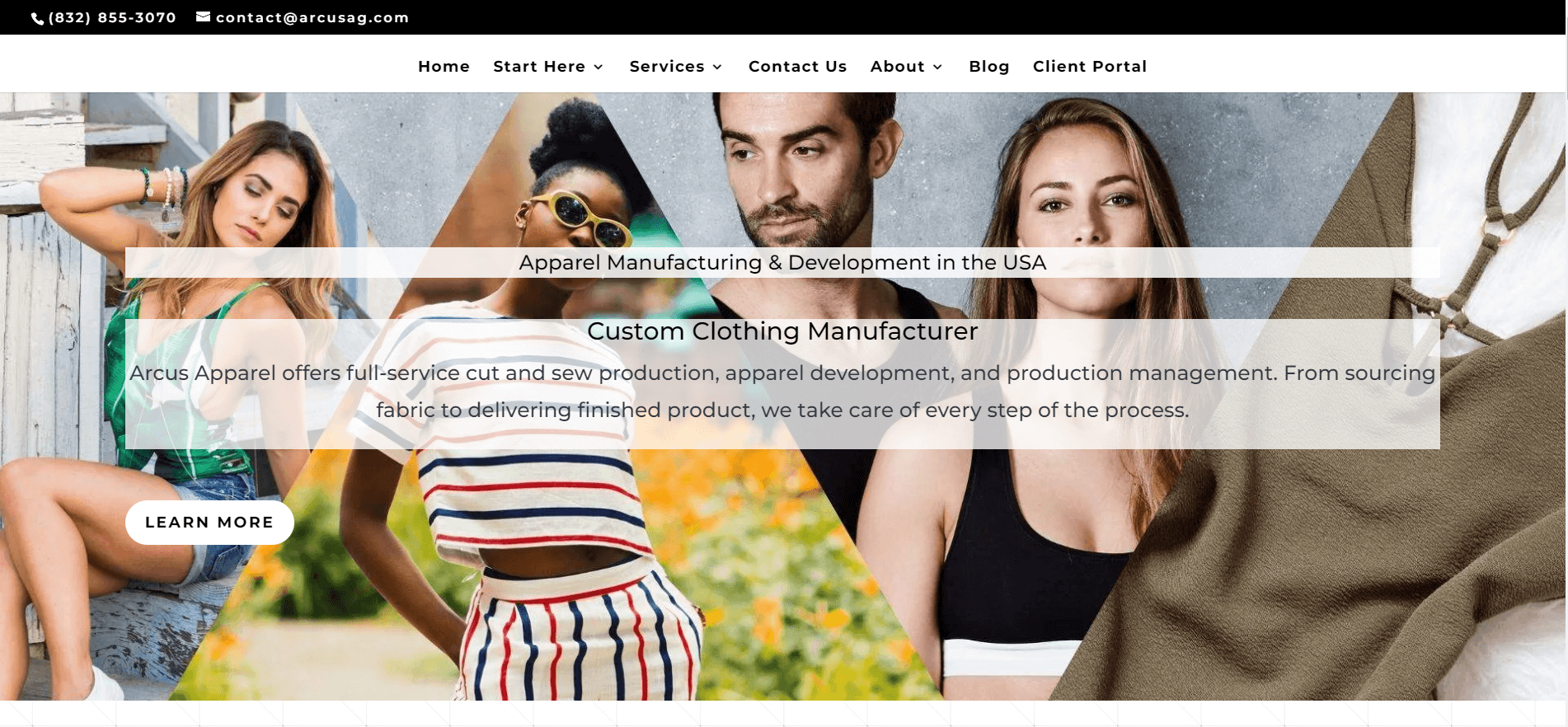 Arcus Apparel Group takes the fashion game seriously. One of their biggest selling points is dye sublimation. This technique allows colors to penetrate deep into the fabric for a more vivid appearance, which translates to higher paint quality and resistance to fading.
Another feature of this clothes manufacturer is that they offer design assistance. If you don't have ready-made tech packs, they can help you create the ideal pattern for your customers. Whether they use existing patterns or build ones from scratch, tailor-made apparel is guaranteed.
Finally, the company offers low minimum order quantities. By reducing the minimum amount, the brand provides greater flexibility.
Pros:
Superb color quality
Design assistance
Low minimum order quantities
In-house production for higher consistency
Cons:
Customer support by phone is often unresponsive
Poor shipment tracking
Clothing Manufacture & Rework - Best Clothing Manufacturer in Houston for Refurbished Garments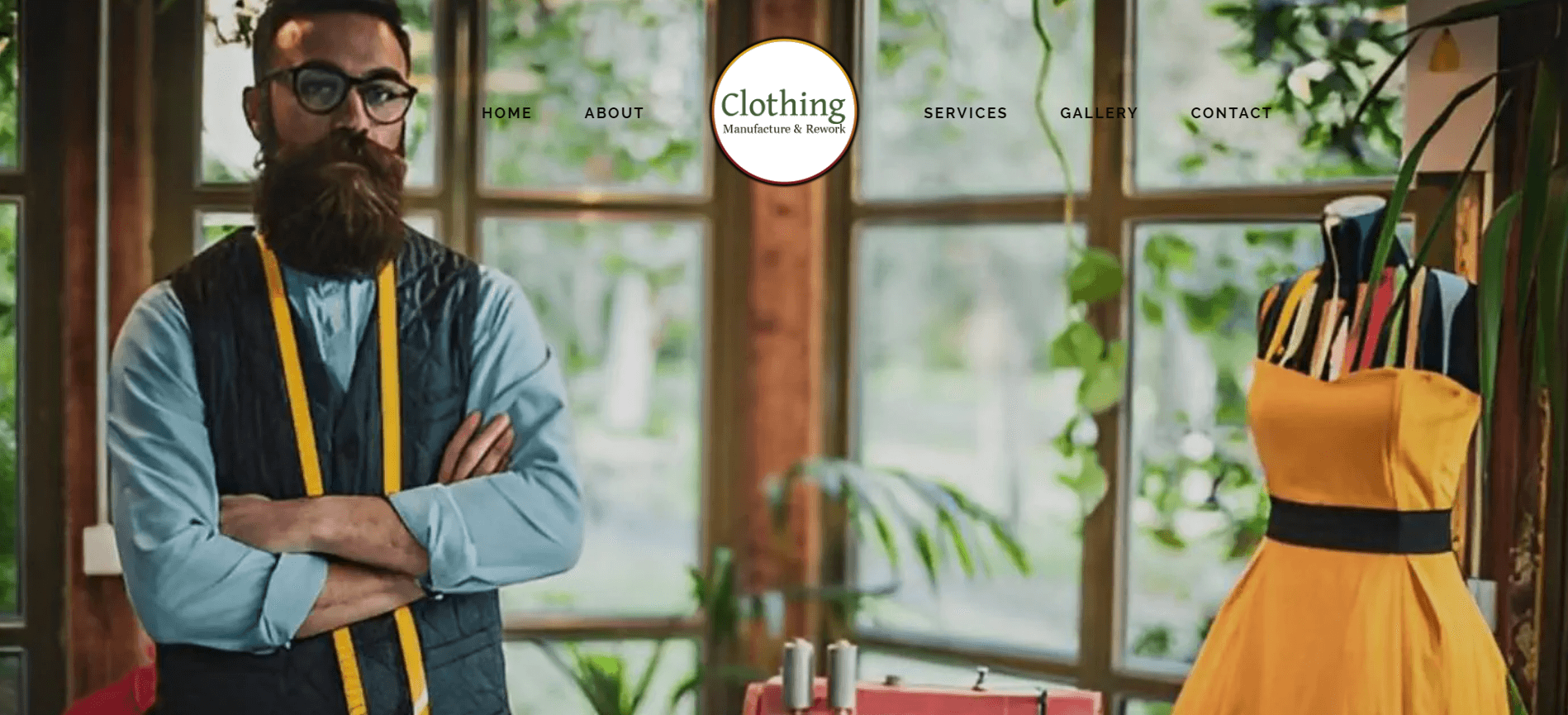 The name says it all – Clothing Manufacture & Rework is largely about repairing damaged fabrics. If you want to start a fashion brand with tons of used garments, send them to this company to have them returned to tip-top shape. They can also add a private label to help people distinguish you from other makers.
The manufacturing side of things is also solid. With some of the finest stitching practices in the city, the organization regularly provides top-quality models. Their fabrics are long-lasting and can even be used in harsh workplaces, allowing you to market your products to corporate users.
Additionally, the company offers fast shipping to the rest of North America.
Pros:
Optional textiles reworking
Private label services
Reliable quality
Customer support can help you with size guides
Cons:
Slow shipping if you're in Asia or Australia
Urgent shipping isn't available
Renovation Manufacturing – Best Clothing Manufacturer in Houston for Various Fabrics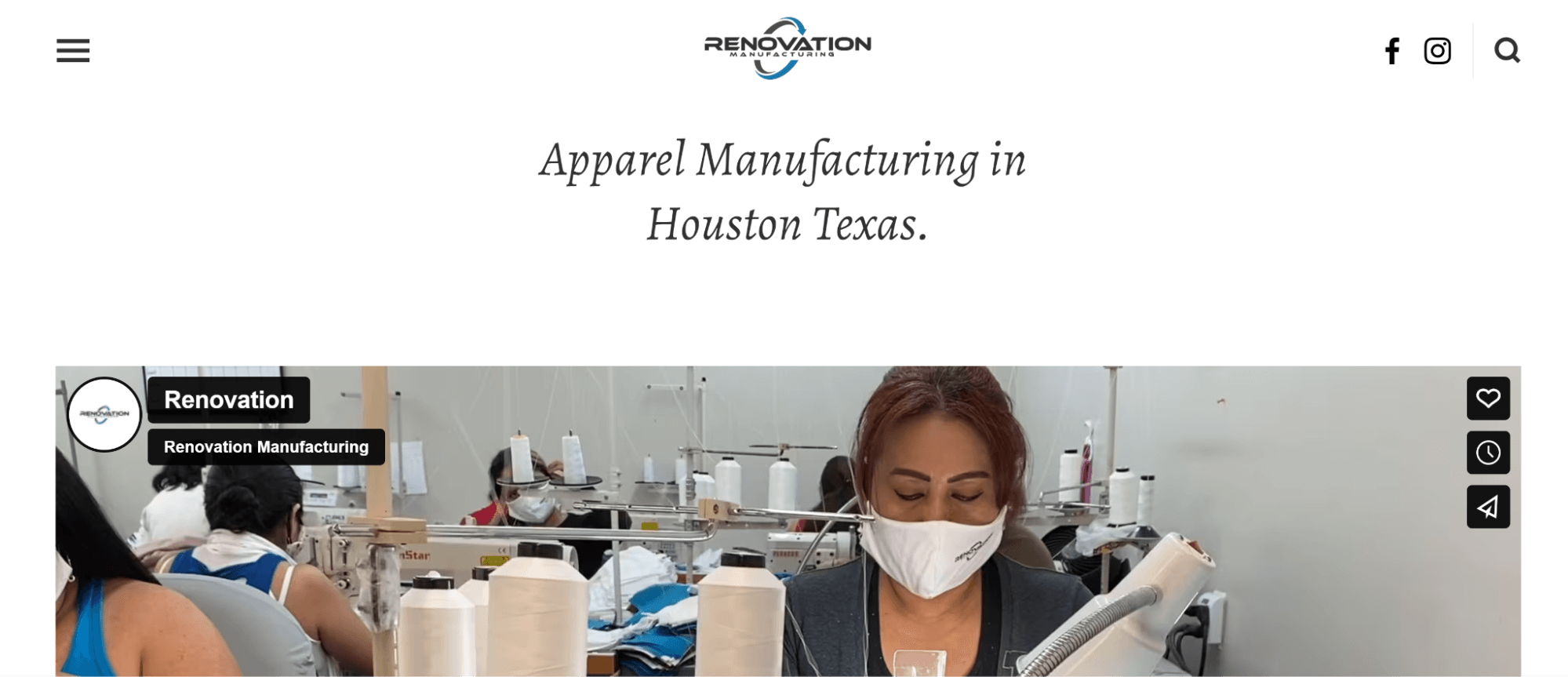 You've come up with the most amazing design, but what if your Houston clothes producer doesn't have the right fabrics? You won't have this problem with Renovation Manufacturing. Their factory is home to lots of textiles, but they don't mind sourcing more. If you request it, the company will find appropriate materials from reliable suppliers.
Another reason Renovation Manufacturing is one of the best clothing manufacturers in Houston is that they make different types of garments. From apparel knits and woven clothes to sportswear and activewear, they offer all kinds of outfits.
Also, there's no need to panic if you're having a design block. The company provides consulting services to help you overcome setbacks and inspire creativity.
Pros:
Fabric sourcing
Design consultation services
High-quality packaging
Cons:
Labels sometimes aren't stitched properly
Colors could be more vivid
Caught in Customs – Best Clothing Manufacturer in Houston for Screen-Printed and Digital-Printed Clothes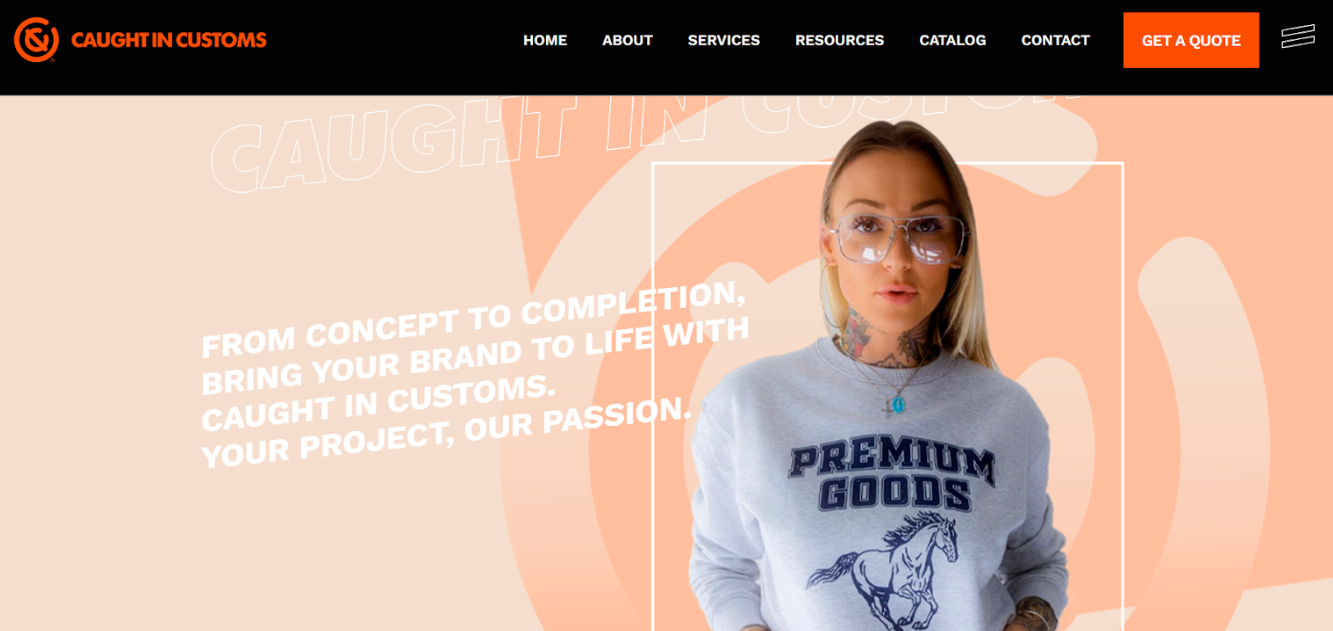 The ability to choose the preferred printing method makes a world of difference. That's precisely what Caught in Customs allows you to do.
Many fashion brands partner with this company for their screen printing. The colors inserted this way adhere to the fabric more securely. This gives you vivid colors that are less likely to wash away.
On the other end of the spectrum is digital printing. Caught in Customs can utilize this method if you prioritize fast bulk shipping. It also reduces sampling costs and waste.
What's also great about this brand is that it makes garments for all genders, including T-shirts, sweatshirts, jeans, pants, and accessories.
Pros:
Digital printing for speedy production
Screen printing for higher quality
Clothes for all populations
Over 50 colors available (including camouflage)
Cons:
Sampling takes a while
Not as sustainable as some other companies
MIYH Design – Best Clothing Manufacturer in Houston for Custom-Made Clothes Developed from Scratch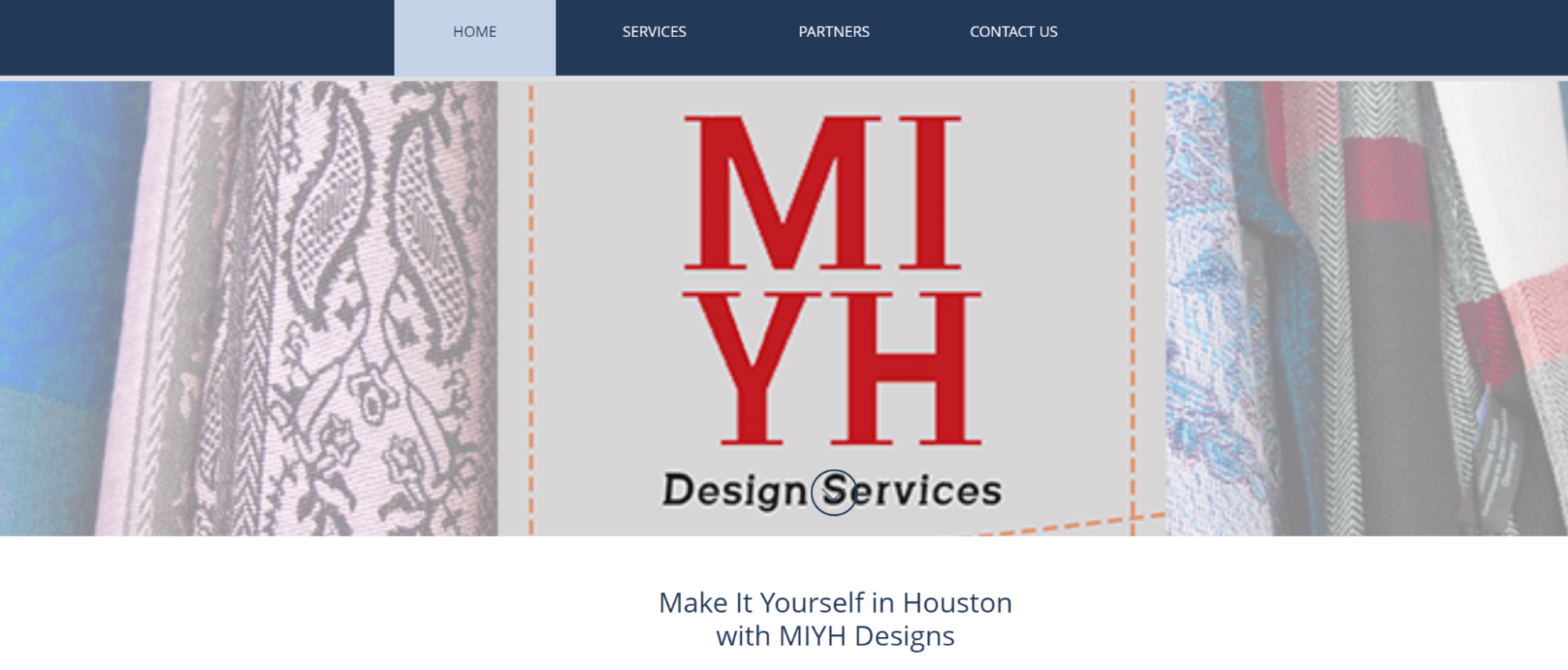 MIYH accepts detailed designs and follows them closely from start to finish. This ensures consistency with your target audience, allowing you to launch your brand faster.
But what if you can't think of a fashion line for your clients? MIYH saves the day with its ideation services. They first discuss your ideal customer, their style, and the aesthetics they look for in each garment. From there, they determine the suitable materials, meaning everything is covered. There's minimal input on your part if you take this route.
Furthermore, the enterprise doesn't operate under fixed production capacities. They generally manufacture approximately 30,000 items per client monthly, but you can arrange a larger amount.
Pros:
Closely adheres to your vision
Fashion line design assistance
Flexible production capacity
Merchandizing services
Cons:
Inconsistent color quality
Sometimes sends incorrect sizes
ILTEX Apparel – Best Clothing Manufacturer in Houston for Garments for Moms and Daughters

A great thing about having a fashion brand is that you can target pretty much any audience. One of your options is moms and daughters. ILTEX Apparel is one of the best clothing manufacturers in Houston that can support your enterprise.
If moms are your ideal customer, ILTEX is a premium choice. They can produce a wide variety of shirts and blouses that will keep your customers comfortable and looking great.
Their kids' collection is just as reliable. Featuring shirts, dresses, and onesies, it has plenty of garments to meet the needs of even the most demanding young girl.
Themed outfits are another lane you can take if you partner with ILTEX Apparel. For example, you can commission them to manufacture stylish Halloween clothes for moms and daughters.
Pros:
Great garments for moms
Appropriate clothes for young girls
Themed attire
Offers keychains and other accessories
Cons:
No pants, jeans, and activewear
Stitch Texas – Best Clothing Manufacturer in Houston for Versatile Apparel at Transparent Prices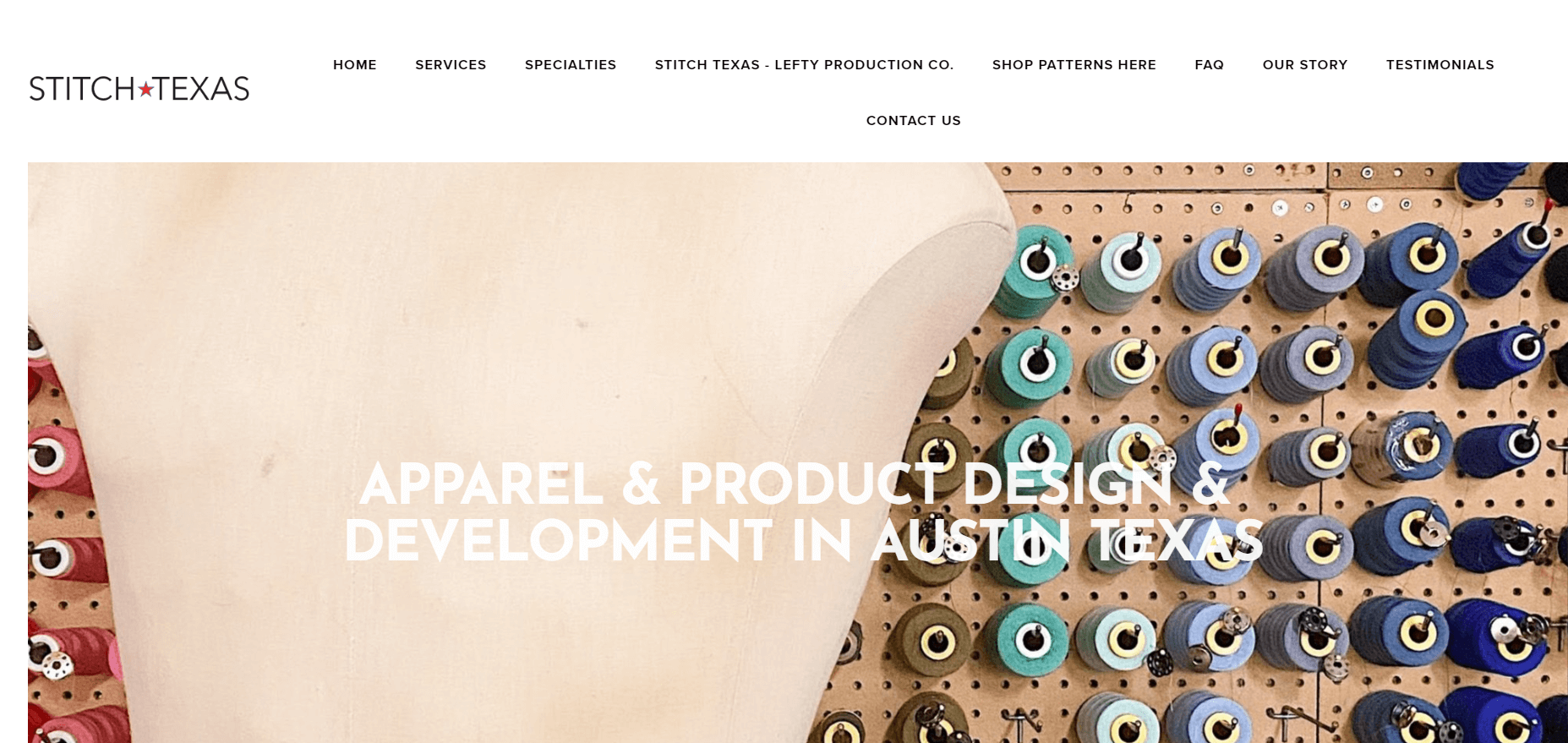 There's nothing worse than agreeing to one price when ordering your clothes and getting billed 20% higher when the products arrive. That's why you should only join forces with companies that offer transparent pricing.
One such company is Stitch Texas. Many fashion brands trust this organization due to their flat rates. In other words, they tell you exactly how much your production will cost without any hidden fees. This gives you more control over your budget since you don't have to plan for unforeseen expenses.
Another thing you can leverage is the company's fashion expertise. They've been in the business for a long time, so they can help you design your apparel.
Lastly, the firm specializes in a whole host of garments. Whether you need men's or women's shirts, athletic wear, or accessories, their production team will pull it off.
Pros:
Flat rates
Design consulting
Men's and women's garments
Logo design assistance
Cons:
Zig-zag sewing is less reliable than other types of sewing
Prolonged sampling
Vera Lee – Best Clothing Manufacturer in Houston for Women's Sleepwear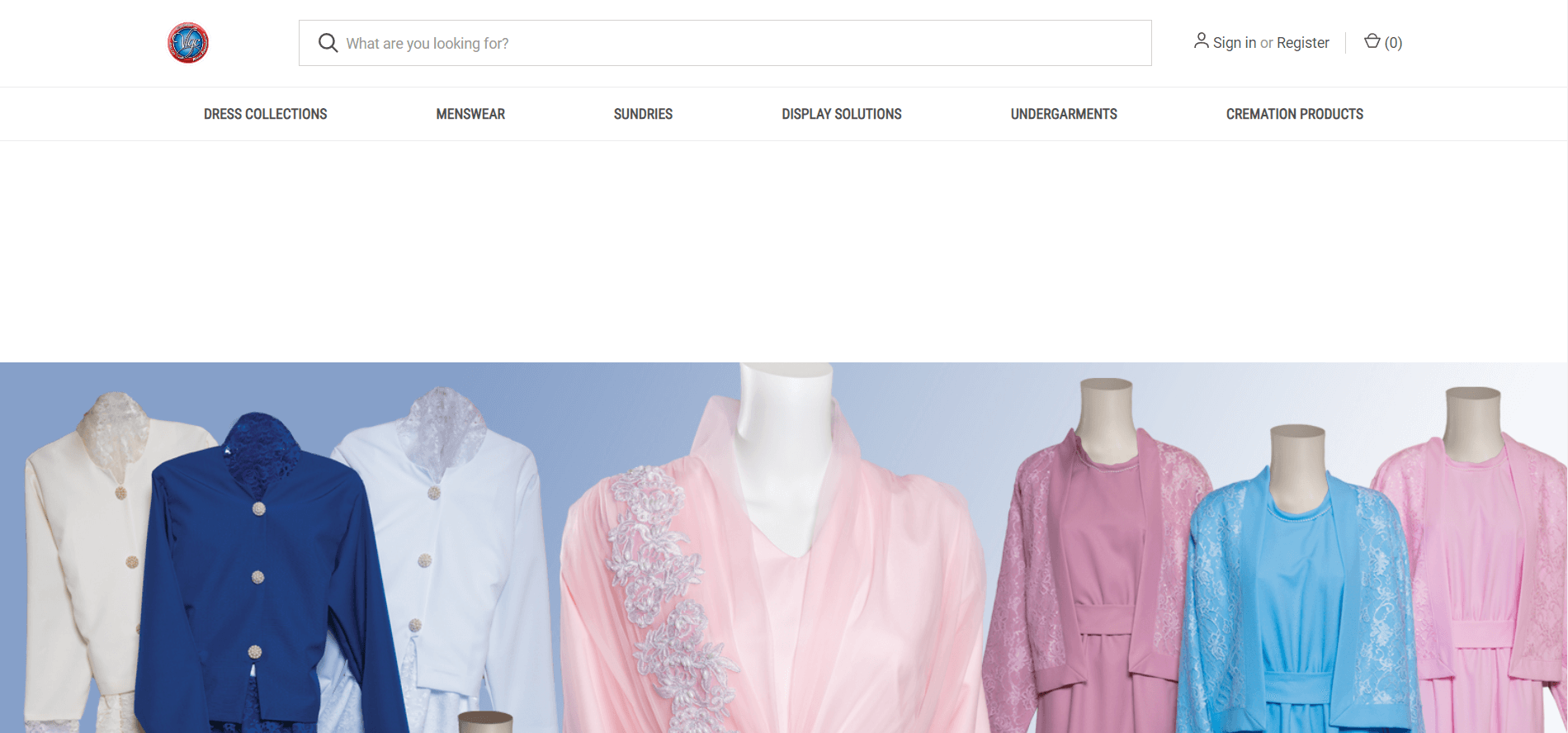 If most of your customers are women, why not provide them with comfortable sleepwear? You can do just that in partnership with Vera Lee.
Whether you choose Vera Lee or Rita Barber designs, this company has a bunch of nightgowns that look and feel great. They're also available in an array of colors. Each garment is silky-smooth and perfect for relaxation.
The brand is also good if you plan on selling accessories. Vera Lee offers many sundries, from gloves and jewelry bags to scarves and hankies.
Moreover, Vera Lee can help you set up your physical store. The organization sells mannequins, racks, and other display solutions.
Pros:
First-class sleepwear
Manufactures women's accessories
Display solutions
Undergarments available
Cons:
Might not have appropriate clothes for teenage girls
Trooper Clothing – Best Clothing Manufacturer in Houston for Military Garments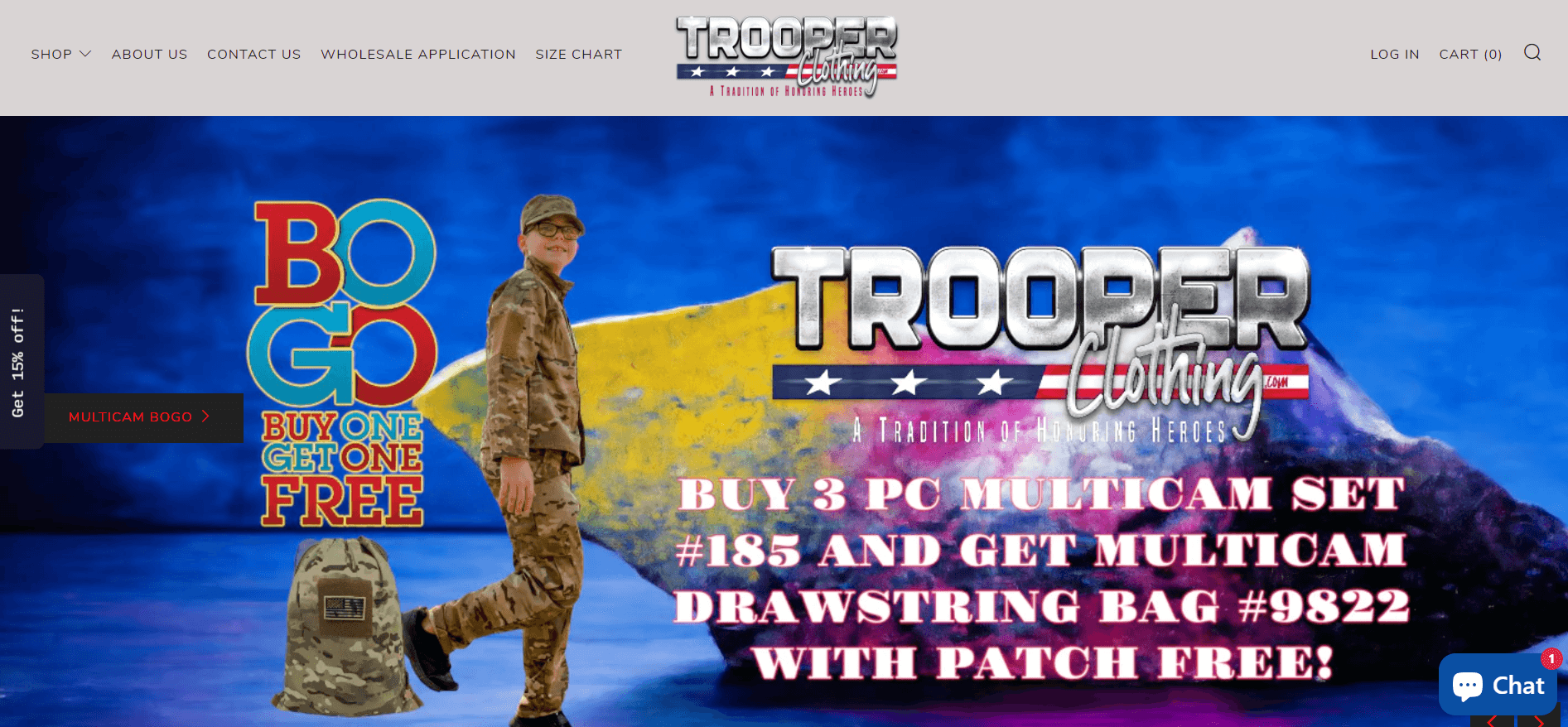 Some of your clients might be passionate about military uniforms. If that's the case, you can meet their dressing needs by teaming up with Trooper Clothing.
The brand is all about military-inspired wear. There are lots of camo suits that allow people to blend in with the surroundings. More importantly, they showcase support for brave patriots.
Also, Trooper Clothing makes garments for all genders and ages. If you want to sell your clothes to entire families, you can do just that. The company makes uniforms for men, women, teenagers, and toddlers.
Lastly, the manufacturer offers regular discounts. The more products you order, the more likely you will see your price slashed.
Pros:
High-quality military wear
Uniforms for the entire family
Discounts available
Backpacks and other accessories
Cons:
Lackluster wholesale request response time
Sluggish shipments
SND Manufacturing – Best Clothing Manufacturer in Houston for Sports-Themed Attire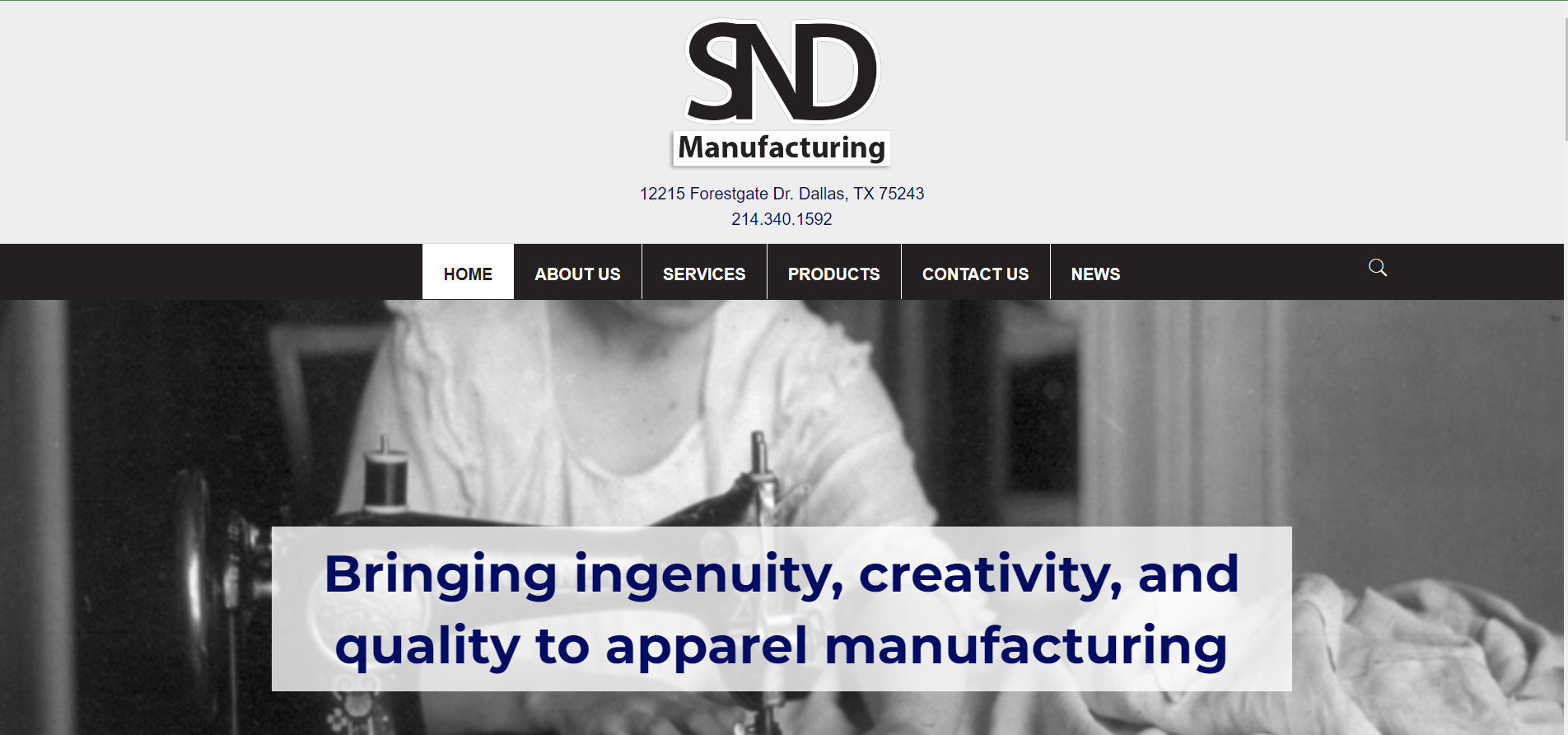 There's no shortage of fashion lovers who appreciate the aesthetics of sports-themed clothes. If you want to break into this market, SND Manufacturing can be an ace up your sleeve.
They make all sorts of sports garments. Whether you're looking for jerseys, baseball caps, football shirts, or tracksuits, this enterprise has the technology and staff to deliver the goods.
SND Manufacturing also produces special garments. For example, if you wish to sell top-quality hair stylists' aprons, this is the right firm for you.
Finally, their team can help you design your clothes more quickly with qualified staff and software, such as CAD.
Pros:
Perfect for sports-themed apparel
Special garments available
Hi-tech design assistance
Fast turnaround
Cons:
Batches often aren't of the same quality
Unresponsive technical support
Struggling to Identify Reliable Garment Producers in Houston? Streamline Your Search With Appareify!
There's no denying some value in teaming up with clothing manufacturers in Houston. However, the drawbacks outweigh the benefits for most brands.
You should be wary when considering Houston partners, too. That's because these enterprises are often plagued by various issues:
Higher cost – The wages in the U.S. are much higher than in most other parts of the world. As a result, the price of outsourcing your clothes production to this nation is also higher.
Inconsistency – Even if you join ranks with the crème de la crème of clothing manufacturers in Houston, quality inconsistencies are still an issue. In many cases, they send one top-quality batch, but the rest turn out subpar.
Sluggish shipping – The U.S. has a well-developed shipping network, but this doesn't mean products always arrive on time. The biggest problem is trade restrictions. Whether the U.S. is imposing them or another nation is blocking the U.S., the delay means it may take months for a maker to deliver your outfits.
Varying skill levels – The U.S. workforce is fairly compensated, but some factories hire part-time employees. These are often students looking for a summer job, and their motivation and skills aren't always up to par.
Now, we're not saying that Houston has no reliable garment makers. We're saying that the risk of partnering with an inconsistent organization is too high.
That being the case, it's time to look for a worthy replacement.
Is there an apparel manufacturer that delivers premium results each and every time?
Is there an apparel manufacturer with excellent customer support and low lead times?
There is, and the name of the brand is Appareify.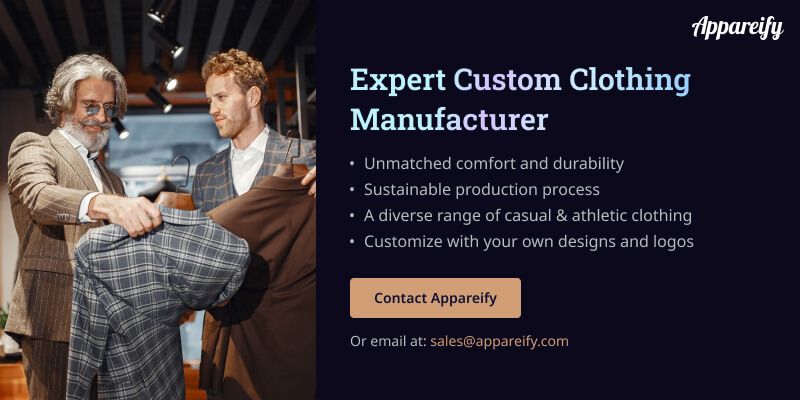 For over six years, Appareify has made tons of clothes for fashion brands worldwide. If there's one word that best describes the company, it's flexibility. Looking for OEM, cut and sew, or private labeling services? We have you covered. The same can also be said for the wide range of garment types we can handle - whether you need men's T-shirts, jeans, and jackets or women's sweatshirts, leggings, and accessories, we have the technology to make it happen.
Speaking of technology, Appareify utilizes state-of-the-art machines to accelerate production and maximize consistency. This ensures first-rate batches every single time and a minimal turnaround of seven to 20 days. If you want to consult experts or track your order, robust technical support is readily available.
Looking to Start a Trendsetting Fashion Brand? Clothing Manufacturers in Houston Aren't Your Only Option
The best thing about the manufacturing industry is its diversity. Companies worldwide vie for customers and go to great lengths to satisfy even the most demanding garment needs.
What this means for you is that you can choose from countless producers when starting your fashion business. You're not limited to these 10 clothing manufacturers in Houston. If none of them is your cup of tea, don't hit the panic button.
Instead, keep looking for an organization that can meet your standards. Find someone who makes a wide array of garments, sources the finest materials, respects your timetable, and has premium customer support.
It'll lay the groundwork for a trendsetting clothing line.