Embarking on a clothing brand journey can often seem like a daunting task that brings with it a multitude of challenges to face along the way. After all, while the fashion market is one of the fastest-growing niches in e-commerce, the fact is that it can often be notoriously difficult to penetrate with all that competition to deal with.
In such a saturated space, the only way to raise your chances of success is to make sure that you can find and partner with a reliable clothing manufacturer. This is what ensures that you can consistently deliver quality clothing products that not only satisfy your customers but also help you stand apart from your direct competitors.
However, with so many viable options in the European market to choose from, narrowing down that list to the one that matches perfectly with your company and products can be a hassle. So, we put together a detailed guide to the 10 best European clothing manufacturers that you should consider partnering with today.
So, let's begin!
Top 10 European Clothing Manufacturing Companies
Dive into our comprehensive list of the 10 leading manufacturers to work with when launching a clothing brand.
FUSH - Top experts in custom activewear and sportswear apparel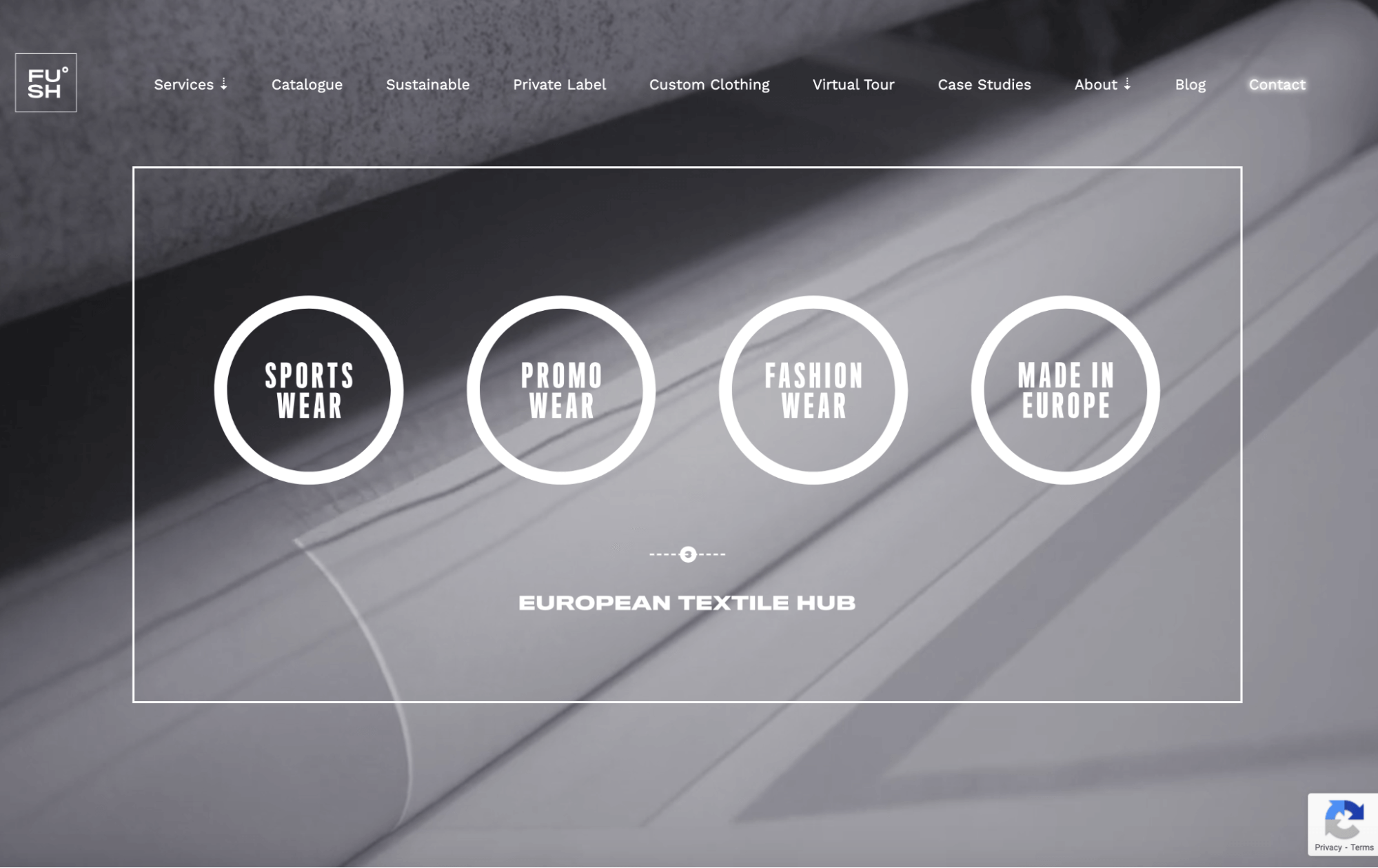 FUSH has been in the clothing manufacturing industry since 2005 and within that time, they have grown from a family-owned boutique to a large enterprise with 2 garment factories in Europe. The company specializes primarily in producing custom-made activewear and sportswear products but they manufacture casual wear and streetwear products such as T-shirts, polos, and hoodies, as well.
They provide a wide range of production techniques such as OEM, FPP, CMT, sublimation, screen printing, and more. FUSH even includes aspects like packing and delivery, as part of their services, which means brands can expect a full-service experience from start to finish. The manufacturer MOQs begin from 500 pieces per design with their monthly production range capable of handling up to 100,000 pieces per month, so they are well equipped to handle consistent bulk orders with little difficulty.
In addition, they are a sustainable and ethical clothing manufacturer, which is why it only utilizes organic fabrics and ensures that no toxic dyes and chemicals are used in the production of its garments.
Pros
Well-equipped for bulk production orders
Experts in activewear and sportswear apparel
Multiple production techniques are available
Cons
High MOQs
Production costs can be high
Contact FUSH To Order Quality Custom-Made Activewear In Bulk >>>
PROOD - Flexible manufacturer that specializes in cut-and-sew garments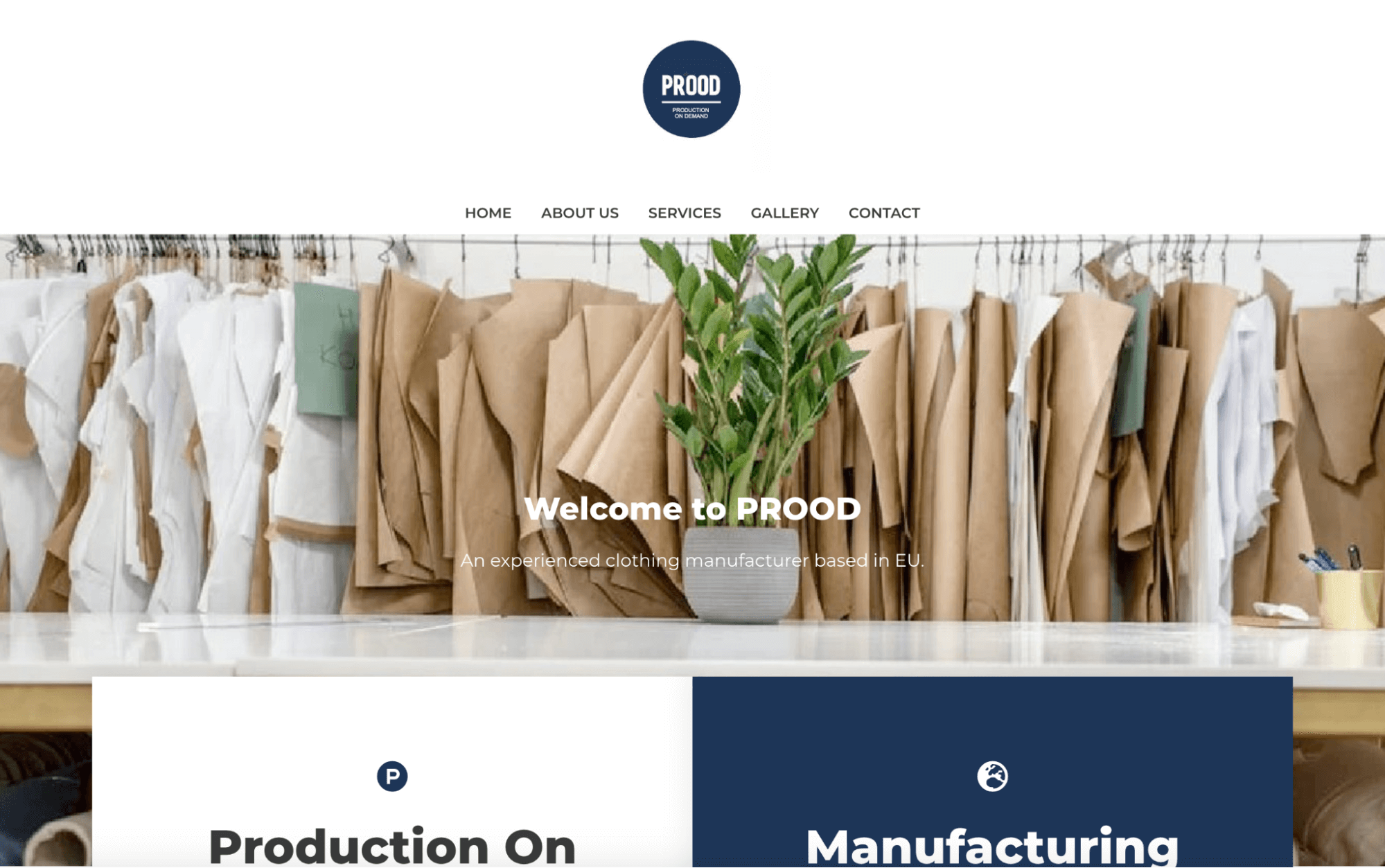 With 15+ years of industry experience, PROOD specializes in high-quality cut-and-sew apparel, which enables it to provide a wide range of products such as loungewear, workwear, sportswear, casual wear, swimwear, and more. The manufacturer even provides a wide range of other production services such as private labeling, OEM, ODM, etc. As a result, they are accommodating to both small and large-scale brands with low-quantity MOQs available.
The company offers eco-friendly solutions, which makes them a great choice for sustainability-driven brands. In addition, PROOD offers consultation services to any clients that may need assistance with design ideas to sourcing for materials. They have close partnerships with numerous textile manufacturers based in Europe, so you should have no trouble obtaining different raw materials and fabrics for your clothing collections.
Plus, with a direct presence and hands-on approach in the production process, the manufacturer can consistently guarantee short lead times and that product quality is maintained.
Pros
Low MOQs available
Experts in cut-and-sew apparel
Short product lead times
Cons
Pricing may be high for small orders
No clear information on international shipping
Rely on PROOD To Provide High-Quality Cut And Sew Clothing Products >>>
Custom Top - Leading manufacturer of custom-branded blank apparel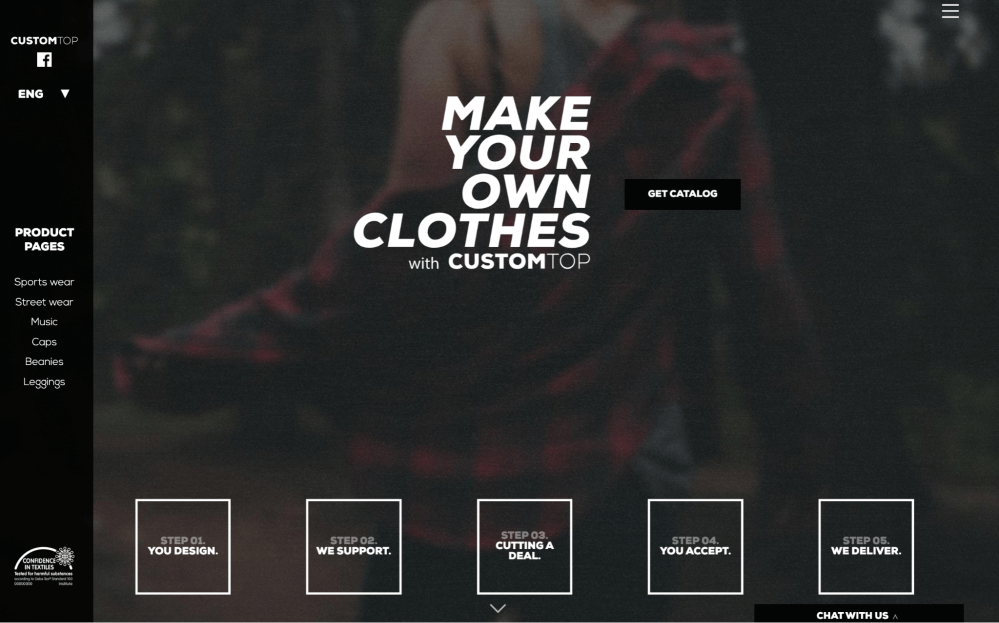 Custom Top has been in the clothing industry for over 10 years and is well-known for being one of Europe's top manufacturers of blank apparel. Based in Poland, the company is capable of producing clothing products like sportswear, t-shirts, caps, beanies, and much more, all of which can be easily customized to any brand's design needs and requirements.
The manufacturer has a low MOQ of just 50pcs, which caters well to small, independent brands but they are equipped to handle larger capacities for more established brands, as well. While clients have the option of using their well-tested cuts for branding purposes, they can still request custom-made garments made from scratch too.
Custom Top has access to numerous textile suppliers, so brands can easily source high-quality fabrics locally, which includes producing eco-friendly garments with no hassle. Plus, their team of design and production experts remain available to provide advice on which fabrics to use to the best sewing techniques, so all clients can expect a comprehensive experience from beginning to end.
Pros
Low order minimums available
Wide range of ready-made clothing
Offers competitive pricing
Cons
Payments made only by bank transfer
Not the best choice for high-end detailed garments
Depend On Custom Top For Quality Wholesale Blank Apparel >>>
Audimas Supply - Highly experienced supplier of outdoor clothing products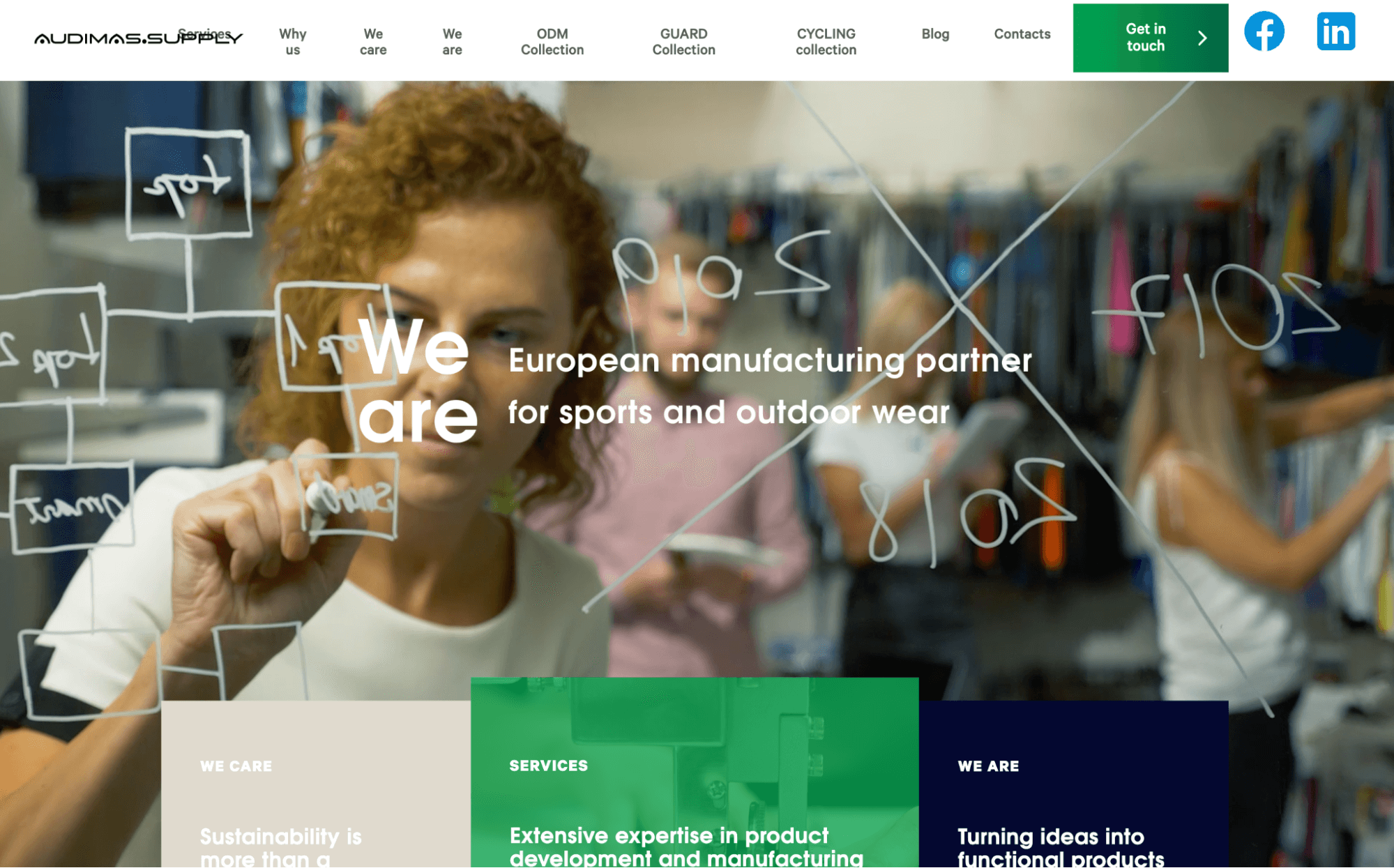 Audimas Supply is renowned in Europe, as one of the leading experts in the production of advanced sportswear and outdoor clothing. The manufacturer comes equipped with state-of-the-art modern technology that allows it to consistently produce high-quality garments. With a vast network of 250+ material suppliers, they do well to offer brands an extensive range of products to choose from such as leggings, jackets, hoodies, etc.
The company is built around a professional team of 400 loyal and dedicated specialists, all of whom are well-experienced in a wide range of production methods such as embroidery, direct printing, heat transfers, dye sublimation, and more. Brands have the added option of personalized ODM collection, which can often be more cost-efficient and faster to produce than custom garments made from scratch.
Plus, they have an extensive network of 250+ material suppliers worldwide, which means that their clients can benefit from having more options and dealing with shorter sourcing lead times.
Pros
Customizable ODM collection available
Experts in sportswear and outdoor clothing
Numerous production options to choose from
Cons
High MOQs
Produces outdoor garments only
Order Top-Notch Custom-Made Outdoor Clothing From Audimas Supply >>>
ASBX - Top manufacturer of trendy streetwear clothing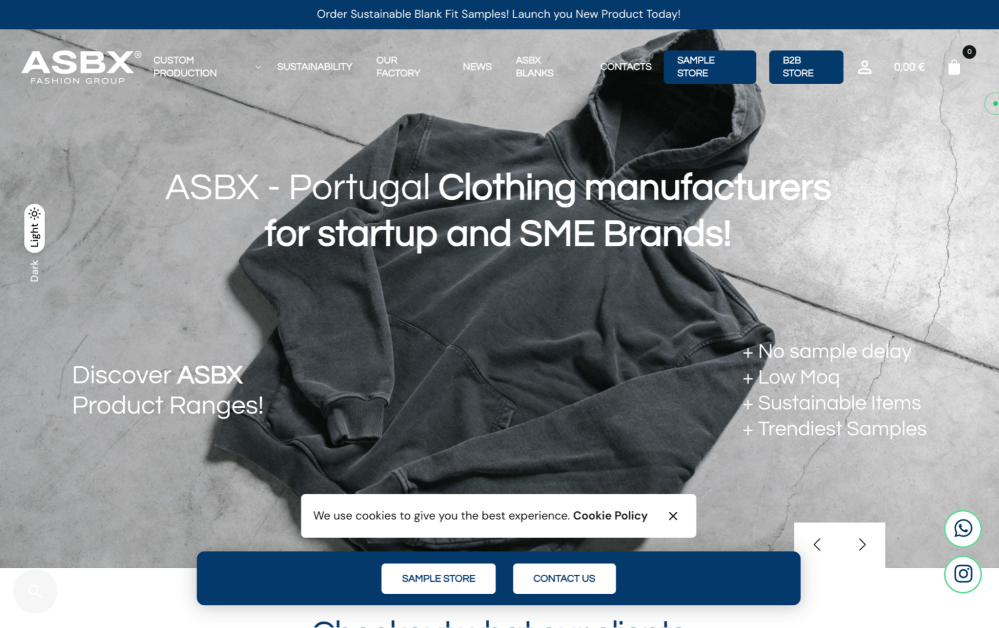 When it comes to streetwear clothing ASBX is the best choice to work with, as they offer a wide range of production techniques for custom-made apparel such as block print, embroidery, 3D embroidery, DTG, and much more. On top of that, the Portugal-based manufacturer offers a vast range of pre-developed products that brands can easily personalise with their logos, prints or embroidery.
Whether it be t-shirts, hoodies, shorts, jerseys, or sweaters, they've got you covered and the best part is that, compared to most other manufacturers, their blank apparel has no MOQ. This means even new brands can quickly launch their clothing collections without over-stretching their budget or inventory capacity. ASBX takes it a step further by allowing clients to conveniently purchase blank apparel online with ease.
Furthermore, the company is 100% eco-friendly certified, as they utilize ethical and sustainable fabrics, as well as printing and dyeing practices in their clothing production.
Pros
Specializes in streetwear clothing
Blank product range available with no MOQs
Online bulk purchases available
Cons
Shipping is solely the client's responsibility
Custom-made garments have high MOQs
Purchase High-Quality Streetwear Clothing Products From ASBX >>>
Nemo Sewing Factory - Manufacturing experts of women's high-end garments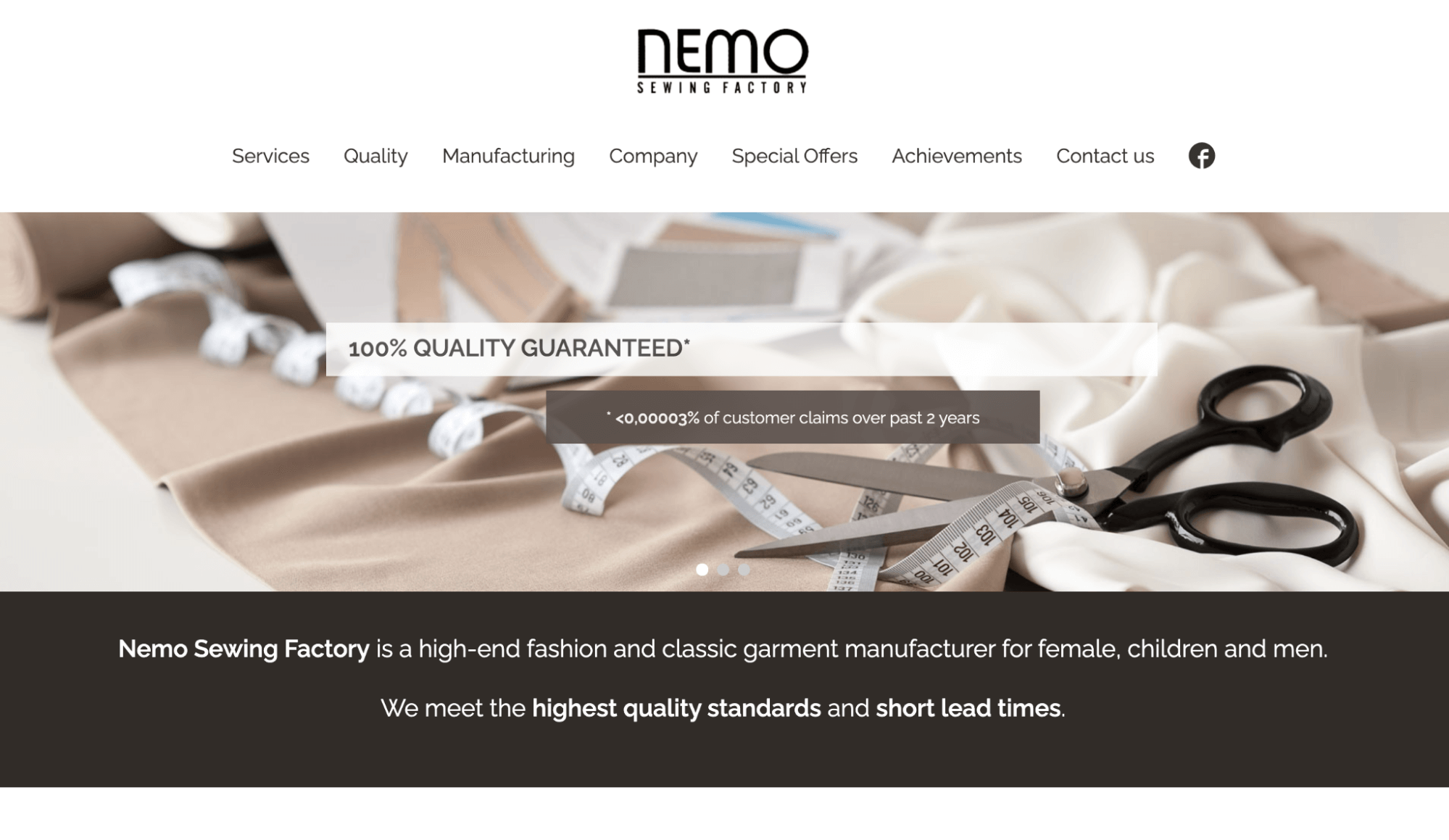 Established in 1971, Nemo Sewing Factory has been a leading European expert in the crafting of high-end fashion and classic garments for women, primarily tailored products such as coats, jackets, trousers, skirts, dresses, etc. However, the company does make products for both men and children, as well.
With a MOQ of 300pcs per style, the factory is capable of handling bulk custom-made orders, as well as providing a full-service experience that includes fabrics and trims sourcing, patternmaking, cutting, embroidery, sublimation, sewing, and more. In terms of product quality, the company boasts an extremely low return rate and has strict quality control measures in place to ensure that every item produced is flawless.
The manufacturer boasts a capacity of over 150 employees and a production rate of 240,000+ items per year. This makes them an ideal partner for brands that may need help producing bulk orders without compromising product quality or turnaround time.
Pros
Specializes in women's high-end garments
Large clothing production capacity
Several production techniques available
Cons
High MOQs
No clarity on international shipping
Launch A High-End Women's Clothing Collection With Nemo Sewing Factory >>>
Zeria Textile - Leaders in producing high-quality woven and tailored garments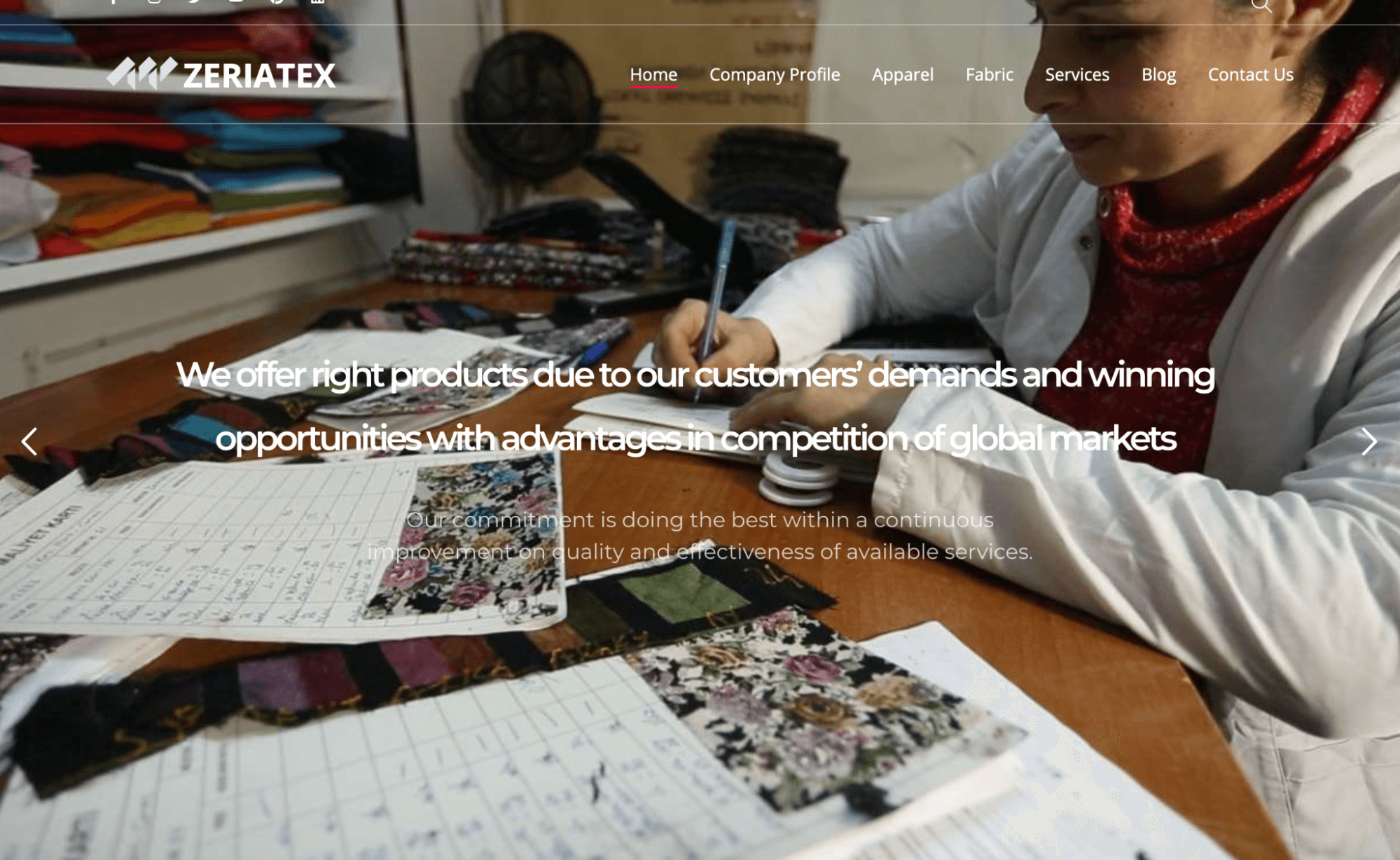 Based in Turkey, Zeria Textile has been in the fashion industry for over 45 years. Within that period, it has cultivated an extensive amount of knowledge and experience in producing a wide range of garment types for men, women, and kids such as t-shirts, cardigans, blouses, dresses, and so much more.
The company handles all production stages in-house from cutting and sewing to packaging and controlling, which often does well to keep production costs for clients low. With over 20,000+ completed orders, they even produce their fabrics and stock over 200 different types for brands to choose from.
The manufacturer is a major advocate of sustainability, hence why they typically utilize eco-friendly materials and fabrics such as natural silk, organic cotton, etc. This paired with their use of the latest advancements in production and the fact that all garments are developed within the framework of the ISO system, ensures that they can consistently meet client expectations without fail.
Pros
Experts in woven and tailored clothing
Multiple fabric options are available
Strict quality control measures
Cons
Low MOQs unavailable
Custom-made garments may be pricey
Use Zeria Textile To Produce High-Quality Woven And Tailored Garments >>>
Kauno Baltija - Produces high-quality cut-and-sew womenswear products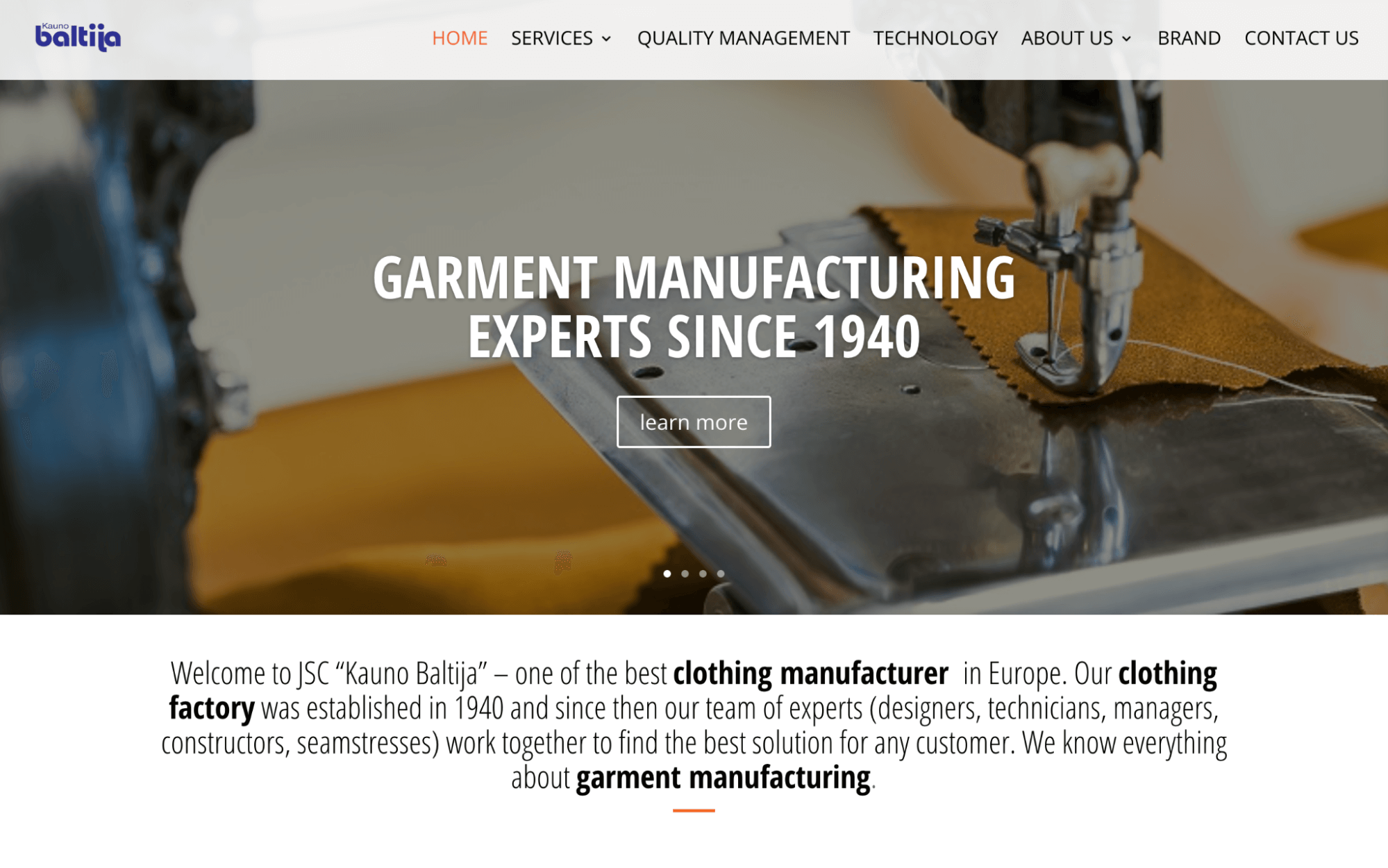 Kauno Baltija has over 50 years of experience in the clothing industry with its main focus being the production of high-quality cut-and-sew womenswear products. They can produce women's dresses, tops, coats, jackets, skirts, and trousers from a wide range of fabrics such as cotton, wool, polyester, silk, and more.
It is for this reason that the company has successfully built itself a stellar reputation amongst many notable brands such as Karen Millen, Gerard Darel, Cefinn, etc. In addition, the company has over 300 employees and a production capacity of over 500,000 pieces per year, which makes them well-suited for handling bulk order requests.
Besides CMT, they offer private labeling services and have a minimum quantity of 200 pcs/style. The manufacturer frequently updates its equipment to ensure consistent product quality and has a team of experienced quality controllers who check final garment details for flaws before shipping everything out for delivery.
Pros
Specialize in cut-and-sew women's clothing
Bulk production capable
Strict quality control measures
Cons
High order minimums
Not suitable for small independent brands
Partner With Kauno Baltija To Build Top-Notch Womenswear Collections >>>
Borélio - Boutique manufacturer that specializes in casual tailoring
Borélio is a boutique family-owned clothing manufacturer that is based in Romania and focuses on producing limited made-to-measure garments and ready-to-wear collections. Some of the products that they make include trousers, tailored jackets, and knitwear. When it comes to making customized clothing, they have keen attention to detail, which is why they carry their stock of linen, wool, cotton, denim, and even workwear fabrics.
The manufacturer is known to be heavily creative in their approach to production, as they tend to experiment a lot with different materials and colors, which makes them well-suited for brands looking to craft unique pieces. In addition, they produce private or white-label clothing, which makes it easy for designers and entrepreneurs to (co-)brand their clothing lines. When it comes to sustainability, Borélio typically recycles fabrics to avoid waste and excess production.
For purchases, the manufacturer provides its clients with a unique online ordering system that does well to streamline the entire process.
Pros
Extremely high attention to detail
Unique online ordering system available
Suited to high-end designer garments
Cons
Slow turnaround times
Not suited to mass-production
Reach Out To Borélio For Casual High-End Tailored Garments >>>
Kirpte - Experts in branded high-performance sportswear apparel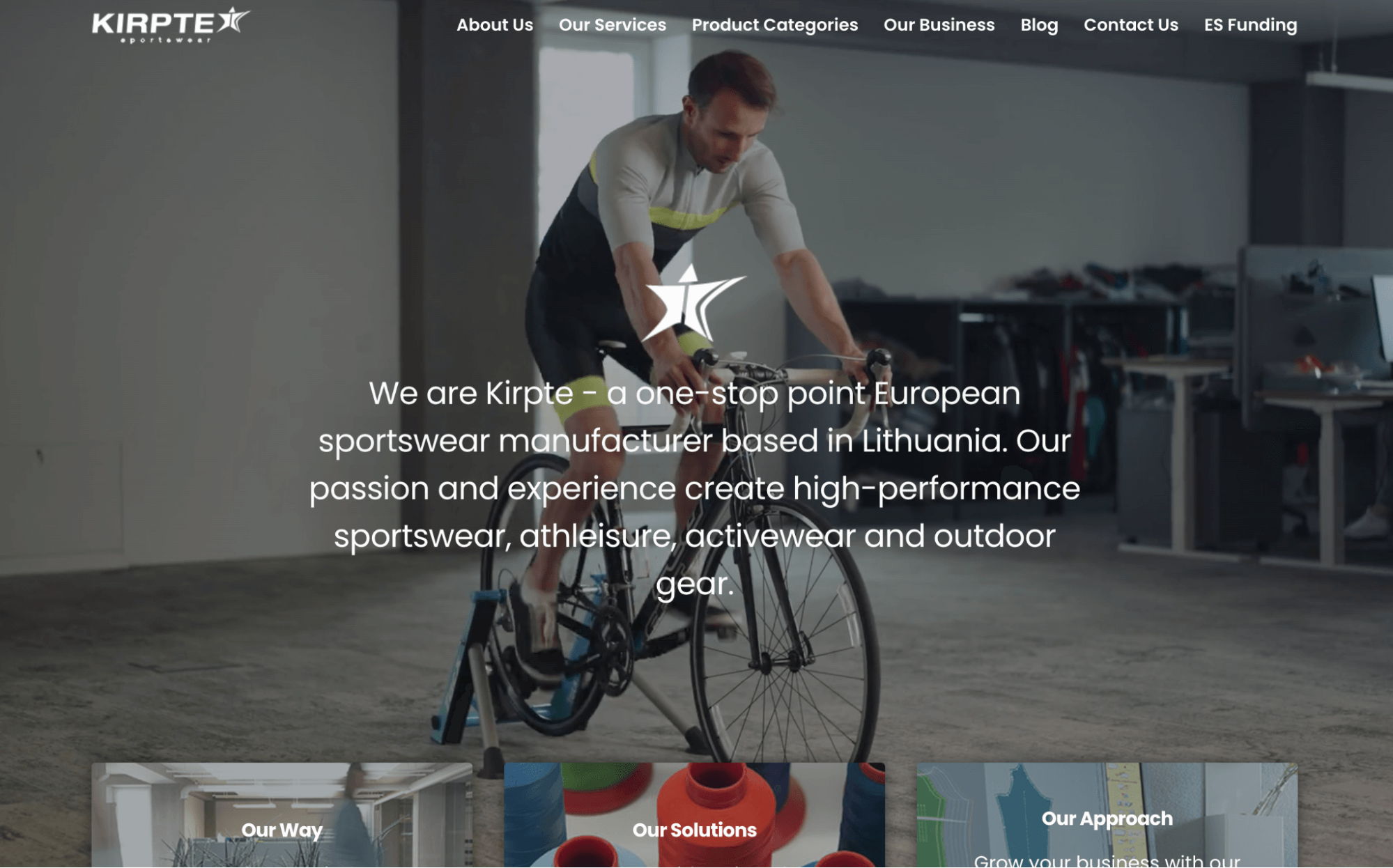 Kirpte is a Lithuanian-based clothing manufacturer that specializes in producing high-performance activewear and sportswear apparel.
This comes down to their utilization of some of the latest machinery and technology, which enables them to produce garments like shirts, tank tops, polos, jerseys, jackets, yoga wear, and swimwear, all of which are highly durable and functional. This explains why the company has a long client portfolio of teams across a wide range of sports such as cycling, hiking, skiing, mountaineering, and snowboarding.
Aside from that, Kirpte has a highly skilled development team that is experienced at finding effective solutions to extremely demanding constructions. As such, they can be relied upon for advice on the best fabrics, materials, and construction techniques that are required by your desired products.
When it comes to production, their factory is capable of churning out 50,000 pieces per month, so any bulk orders can be easily fulfilled within their given deadlines.
Pros
High-performance sportswear apparel
Handles large-scale bulk production
Advanced production methods and techniques
Cons
Not suitable for low minimum orders
Options are limited to only sportswear
Collaborate With Kirpte For Specially-Made High-Performance Sportswear >>>
Which Countries Produce the Most Clothing in Europe?
When it comes to clothing manufacturing, Spain is one of the leading hubs in Europe, as it holds over 8,600 enterprises across numerous cities such as Madrid, Barcelona, Seville, and Valencia. With various independent and historical fashion brands being founded there, it's only natural that Spain offers a ton of variety when it comes to its production lines and the types of garments that you can produce there.
Poland is another major European hub that offers brands access to a wide range of clothing manufacturers that can produce a diverse range of clothing. Cities like Warsaw, Gdansk, and Krakow are well-known to house apparel companies that typically utilize modern manufacturing processes and equipment to create high-quality designs. This paired with the country's highly-skilled labor force and it's easy to see why several domestic and international fashion houses choose to source their garments from there.
Another country to consider is the Netherlands, as its favorable government policies and rapid advancement in clothing production have led it to become a major fashion hotspot. The capital city of Amsterdam is even commonly referred to as the Denim capital of the world with most local manufacturing companies being well-recognized for their high quality, quick response times, flexibility, and capacity to satisfy both small and large-scale brands.
Other countries in Europe that show tons of potential in this industry include Estonia, which is especially renowned for its use of the most advanced sewing technologies in the world. Portugal is another garment manufacturing leader that is especially well-suited to companies that commit to ethical and sustainable fashion.
Unsatisfied with European Garment Manufacturing Firms? Delve into Appareify!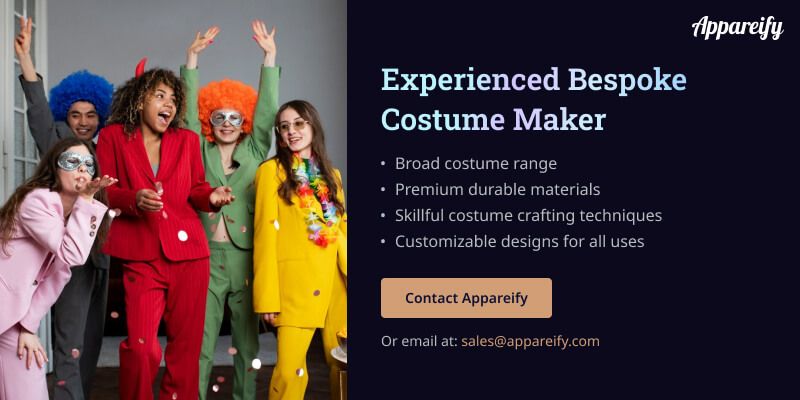 Working with local European manufacturing firms can often be a frustrating process for several reasons. For one, the cost of production can be expensive because the cost of human labor in these regions is much higher than in most other internationally-based countries. Furthermore, most of the clothing suppliers in Europe tend to import their fabrics and materials, which not only raises the cost of production but can often lead to manufacturing delays, as well.
Instead, working with an overseas manufacturer like Appareify tends to be far more practical because they are based in China, where the cost of labor is cheaper and the access to skilled workers is better. Also, since the country is known to export a lot of fabrics and raw materials, there is less chance of having to deal with production inconsistencies that can negatively impact your supply chain. Plus, you will also have more product variety to work with.
On top of that, the company itself has been in the garment industry for many years and within that period, it has worked extensively with numerous brands, both small and large-scale. As a result, they can be relied on to consistently deliver quality garments and be flexible with your orders. This makes them the ideal partner to launch a clothing brand with over the long term.
Conclusion
Finding success as a clothing brand comes with a lot of highs and lows, so you must choose a manufacturer that not only understands your needs but can also adapt to any changes accordingly. This list covers all the main clothing manufacturers in Europe that can offer you great value, so take the time to review and compare each one carefully.
This means taking into consideration company aspects like MOQs, prices, garment quality, product options, production capacity, etc. The more precise your needs and requirements are, the easier it will be to quickly identify the right one for your brand. However, do keep in mind that there are still other internationally-based options as well.
To this end, if you decide that you would rather work with an offshore manufacturer, then we suggest looking no further than Appareify for all your clothing production needs.