China dominates the clothing and apparel industry by exporting large quantities to Asia, Europe, and North America. The five major eastern coastal provinces of China contribute significantly to overall clothing production.
China's clothing manufacturing industry offers a diverse range of products, from casual wear to uniform basics. Additionally, Chinese clothing manufacturers have expanded their offerings from made-in-China clothing to include cutting and sewing products such as bags, caps, shoes, footwear, and briefcases.
With a robust supply chain and supporting systems, clothing manufacturers in China are well-equipped to help businesses take advantage of the expanding market opportunities.
10 Best Quality Clothing Manufacturers in China
Here are some of the best manufacturers you can count on.
Appareify - Best Overall Clothing Manufacturer in China
Appareify is a top-tier Chinese clothing manufacturer that exports high-quality garments to countries in Asia, North America, and Europe. With a monthly production capacity of 400,000 pieces, Appareify is widely regarded as one of China's premier clothing manufacturers.
At Appareify, each garment is produced with a focus on meeting the specific demands of the buyers. Customers can choose to personalize their garments through Appareify's private labeling service, which includes customizing the garment's color and fabric, as well as adding logos or branded labels. In addition, Appareify also provides OEM services to accurately realize the customer's own designs.
Appareify offers a production lead time of 10 to 15 days for privately labeled clothing designs, while custom designs take a maximum of 45 days to be delivered. Effective communication is crucial for success, and Appareify has a dedicated team to ensure this. Additionally, they prioritize ethical practices to ensure better sustainability and fair labor conditions.
Pros:
Large production capacity
Favorable production lead time delivery
Customization is available
A specialized team has got their back
Cons:
Factory inspection may be a problem for oversea fashion businesses since they are based in China
Need Help With Your Clothing Manufacturing? Contact Appareify Today!
AEL Apparel - Great for a Wide Selection of Made in China Clothing
This China-based clothing manufacturer was founded with the purpose of creating premium products with eco-friendly practices and a focus on innovation and technology. AEL Apparel offers an amazing selection of both private label and custom clothing options that are great for helping any customer create the clothing collection of their dreams.
This Chinese clothing manufacturer offers an all-inclusive service with a wide selection of styles for men, women, and children to choose from. They offer fast production, allowing customers to receive their order within 7 to 20 days, depending, of course, on what they order.
Pros:
Great options for customization
Sustainable production process
Eco-friendly materials
Quick production and delivery timeline
High-quality standards
Cons:
Shipping times may be longer than local suppliers
Interested in Creating the Perfect Custom Clothing? Reach Out to AEL Apparel Now!
Pattern Solution - Best for Custom-Made Women's Clothings
Being set up in 2009, Pattern Solution is a dedicated bunch of garment manufacturers based in Shanghai, China. They have 20 years of experience in customizing quality outcomes for overseas companies. They are versatile in dealing in any kind of bulk made-in-China clothing production be it in the short run or any on-demand.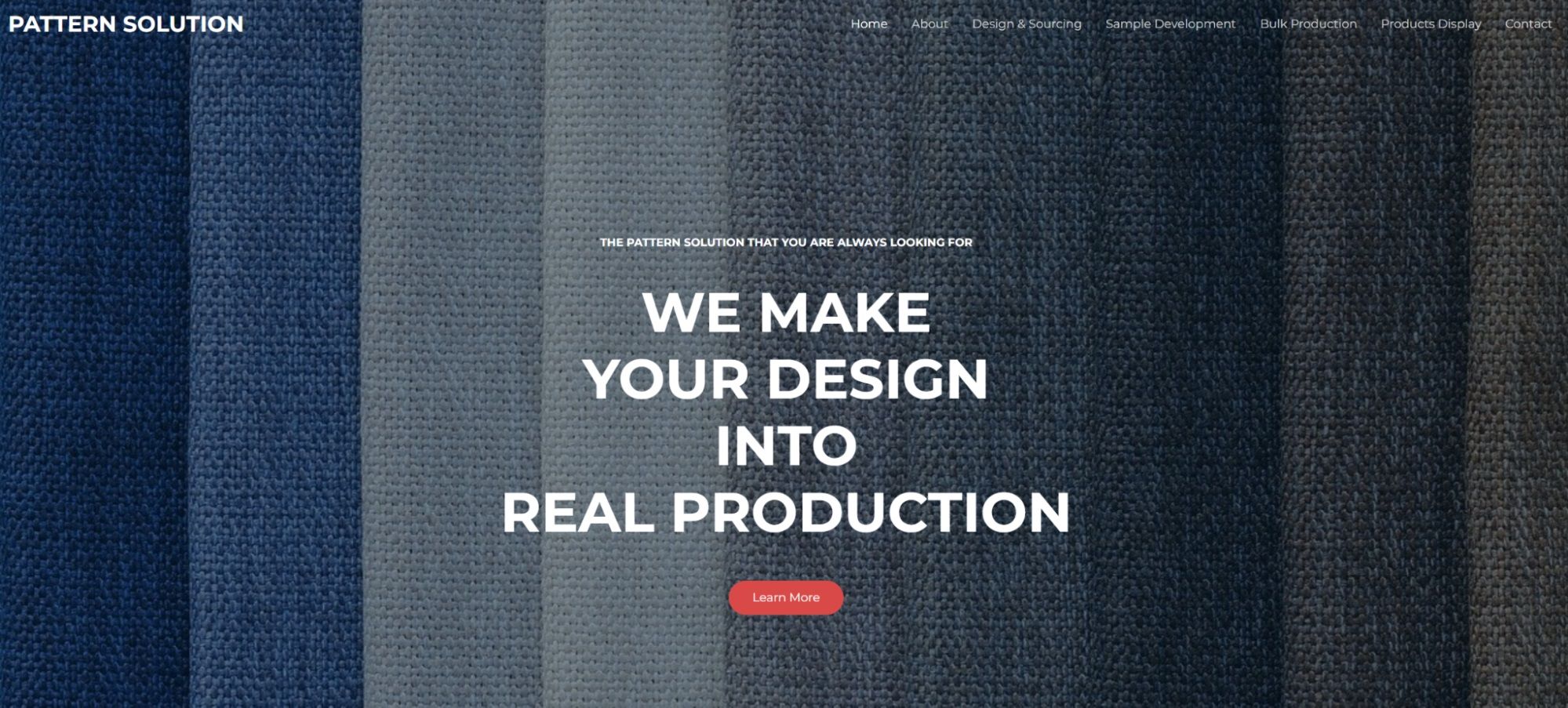 Besides, they accommodate your requirements to meet the high MOQ using the adoption of Cut, Make, and Trim (CMT), also a full-package product (FPP). Most of the clients that they have served are from Europe, USA, and Canada. Although their Chinese clothing manufacturing capacity is between 5000 to 8000 pieces, they can serve a wide range of clients.
Pros:
Best for customized design
Has expertise in the method of CMT and FPP
Affordable pricing
Cons:
The manufacturing capacity is 8000 at most, which is less than usual
Looking for a Reliable Clothing Manufacturer? Get in Touch With Pattern Solution Now!
H&FOURWING - Well-Known Chinese Clothing Manufacturer for High-End Women Dress
H&FOURWING, established in the year 2014, focuses on high-end women's clothing. They provide you with a full-package Chinese clothing manufacturing service starting from sourcing fabric to shipping. Each of the collections offers quality swatches of fabric that match the current fashion trends.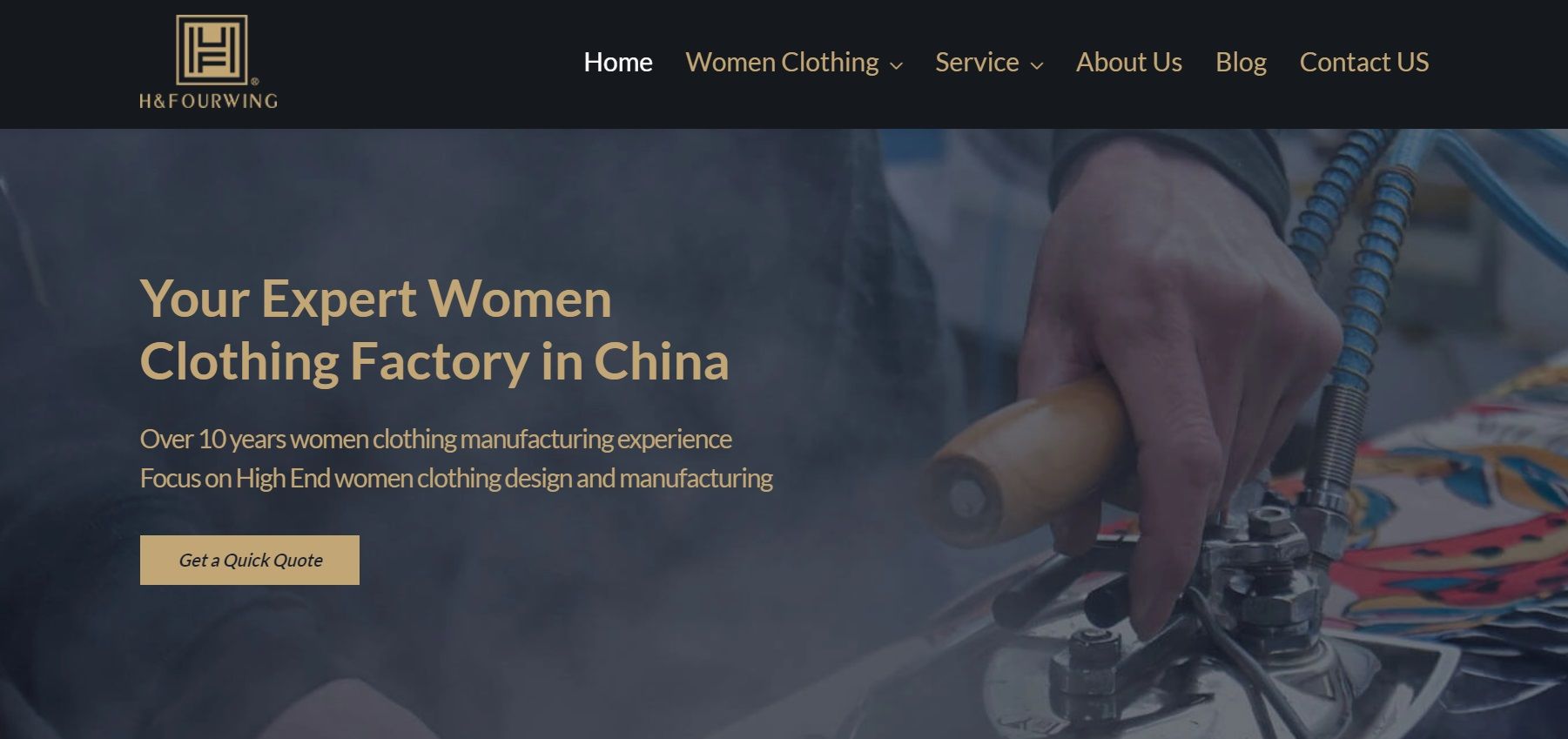 This China clothing factory has a professional design team (in-house) who works closely with each client and generates designs based on their given preference. It can also base your season inspiration for brands. Moreover, they have experience in Chinese clothing manufacturing for more than 10 years. The high level of professionalism that they maintain with clients is absolutely efficient!
Pros:
Has a professional manufacturing team
Has expertise in pattern making
Can customize any design based on your given idea
Cons:
They have a MOQ of 50 pcs with a high price which may not be suitable for many small business owners
Prices are not reasonable
H&FOURWING Is Your One-Stop Shop for Clothing Manufacturing Needs. Click to Learn More!
Yotex Apparel - Ideal for Functional Outdoor Made-in-China Clothing
Yotex Apparel is a reputable clothing manufacturer in China that offers comprehensive one-stop services. They primarily cater to buyers from the USA and EU. Yotex Apparel's services include material sourcing, production, development, bulk inspection, and delivery, all under a full-package solution.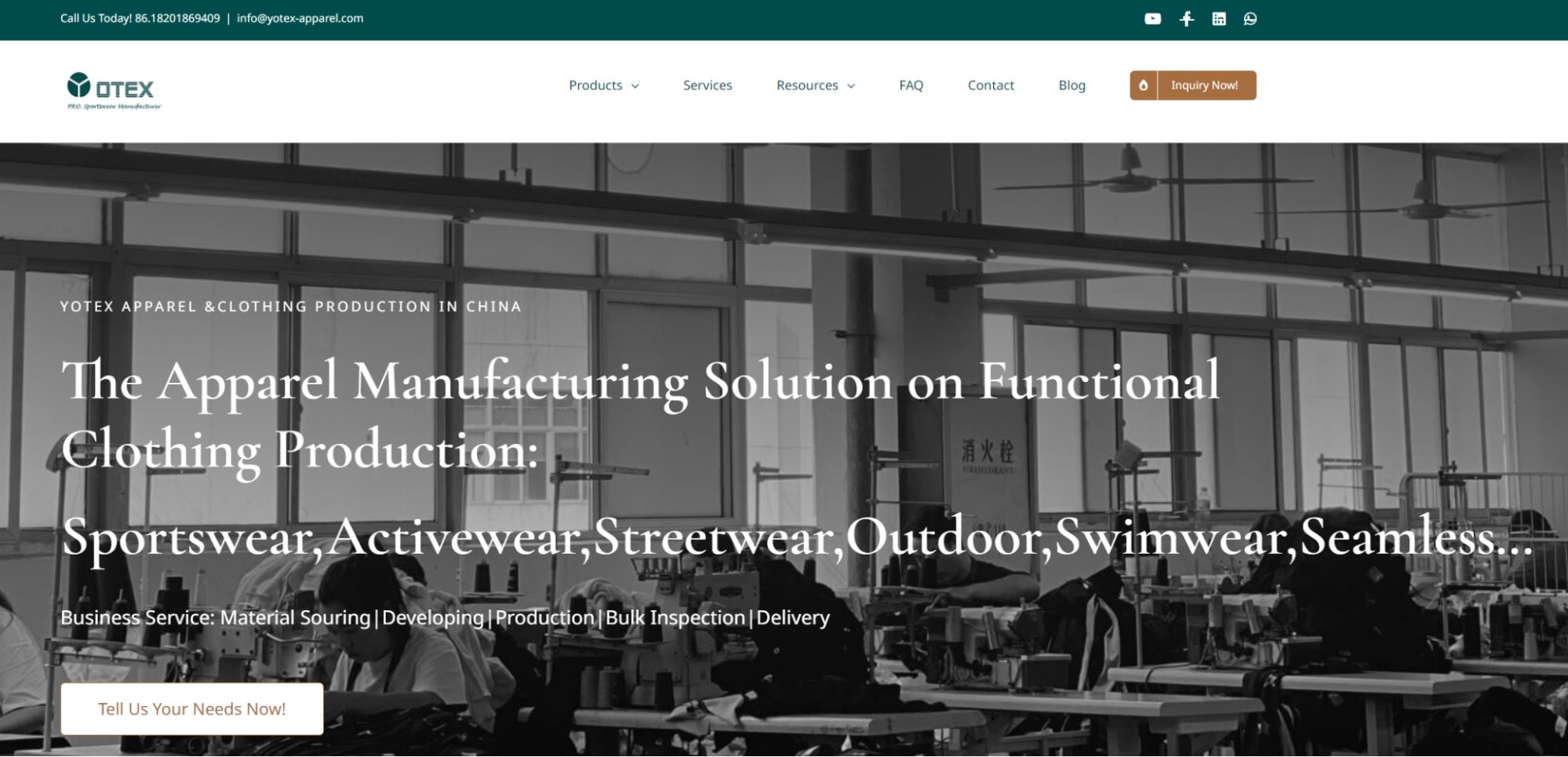 Also, product categories are diversified in nature such as jackets, swimsuits, sweatshirts, and leggings. Yotex Apparel delivers each and every order following the agreed deadlines. They always welcome professional fabric providers to cooperate with them in bringing the best made-in-China clothing.
Pros:
Serves a full package of services to designated markets
Fabric sourcing includes sustainable materials
Door-to-door services
Low prices for an online shop owner
Bulk order discounts
Cons:
They have sampling charges
Ready to Bring Your Clothing Designs to Life? Contact Yotex Apparel to Get Started!
Changda Garment - Best for Men's Organic Cotton Hoodie
Changda Garment boasts extensive experience in R&D, production, wholesale, and foreign trade gained through many years of operation. This Chinese clothing manufacturing company places quality as its top priority and is committed to providing customers with superior products and attentive services, earning a reputation for excellence within the industry. Its product offerings range from yoga clothes, sports pants, sports suits, and sports bras to plate-making services for brand companies.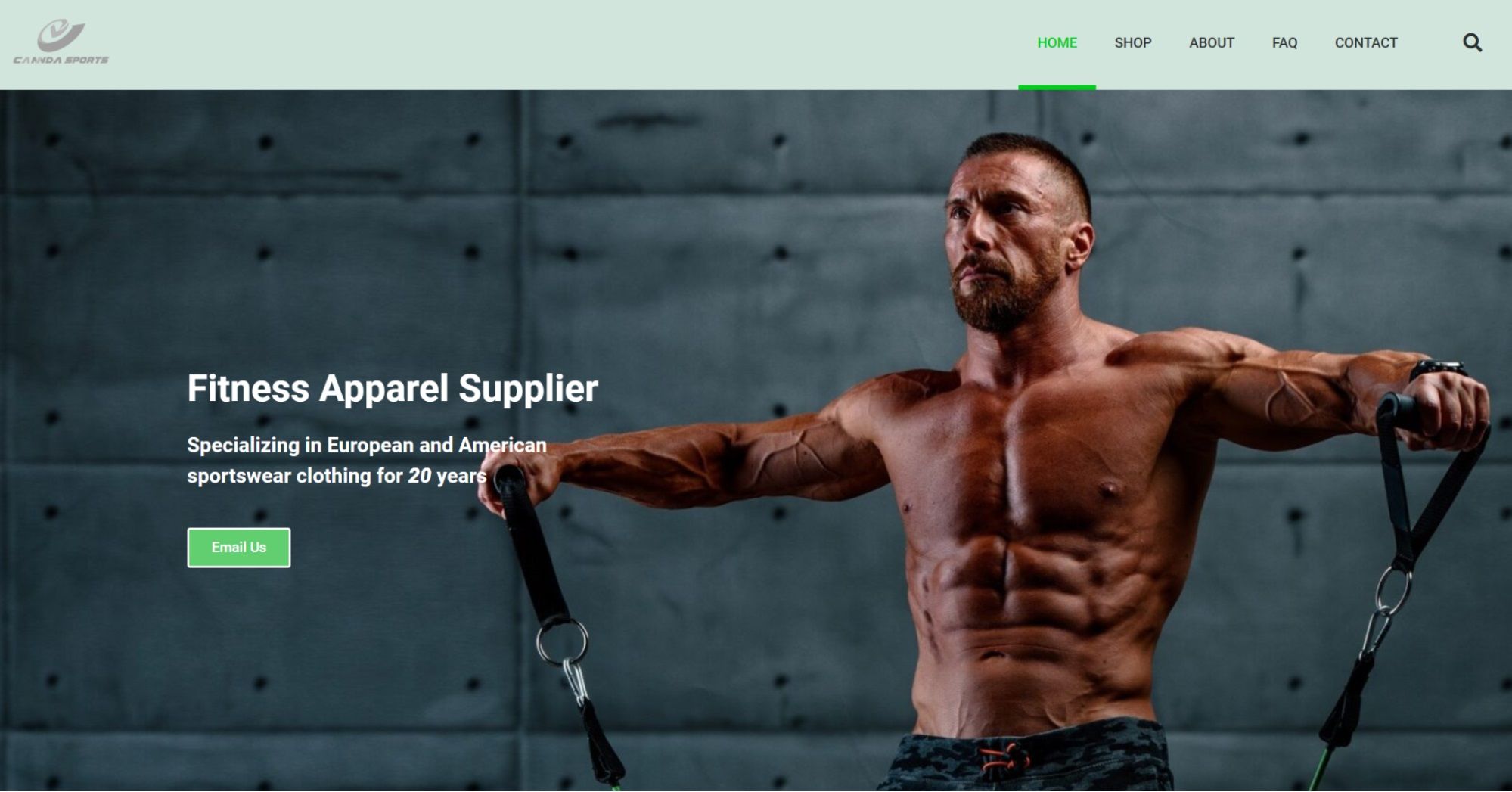 With over 20 years of experience catering to international clients, Changda Garment has established itself as a leading OEM/ODM supplier of casual wear, sports tracksuits, and children's wear in China.
Pros:
Excellent style design
Quality-oriented production technology
Humanistic concept of green environmental protection
24-hour services online
Cons:
Limited products compared with other fitness apparel suppliers
Let Changda Garment Take Care of Your Clothing Manufacturing - Click Here to Get Started!
KuanYangTex - Ideal for High-Quality Sports Fabrics
Wuxi Kuanyang Textile Technology, established in 1995, is a reputed clothing manufacturer in China. With more than 25 years of experience, KuanYangTex has been devoted to creating premium quality fabric. They also ensure the best services to their designated countries like America, European countries, and Australia to Southeast Asian countries.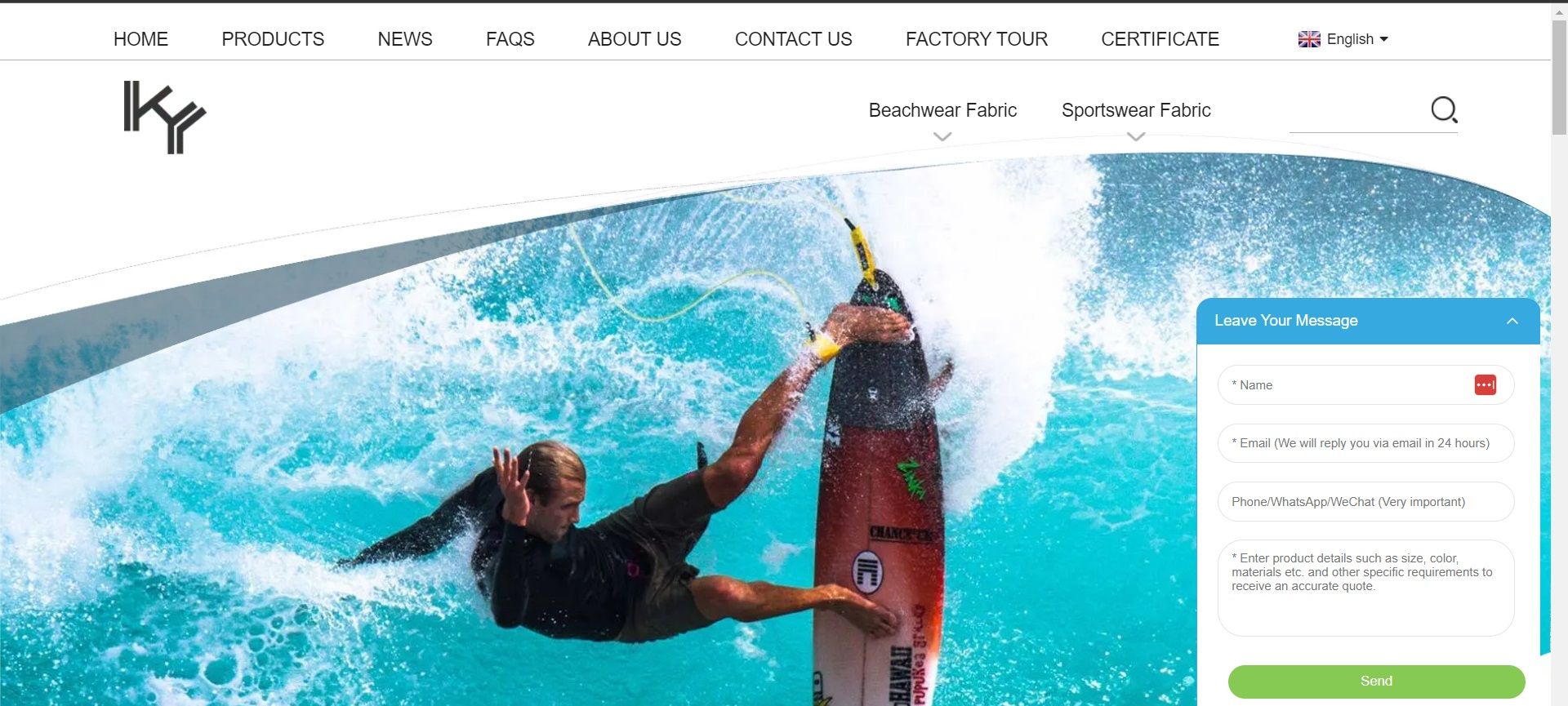 In addition to their expertise in producing fabrics for outdoor and indoor sports activities, KuanYang Tex has also developed an eco-friendly supply chain that prioritizes sustainability and renewability in every aspect of their operations. It's worth noting that beyond their specialization in sports fabrics, they are also capable of manufacturing a wide range of textile products.
Pros:
Affordable costs
Sustainable and eco-friendly
Use the best ethical sourcing as well as production methods
Better production capacity
Have skilled workers
Cons:
Product styles are limited
KuanYangTex Is Here to Help You With All Your Clothing Manufacturing Needs!
Ruiteng Garment - Well-Known for High-Quality Sports Garment
Dongguan Ruiteng Garment Co., Ltd. is a Chinese clothing manufacturer specializing in sport-specific clothing. With over 10 years of experience in this highly competitive market, they have established a reputation for producing high-quality gym wear, sportswear, and children's wear. In addition, they offer a variety of printing techniques and allow customers to choose from a range of options.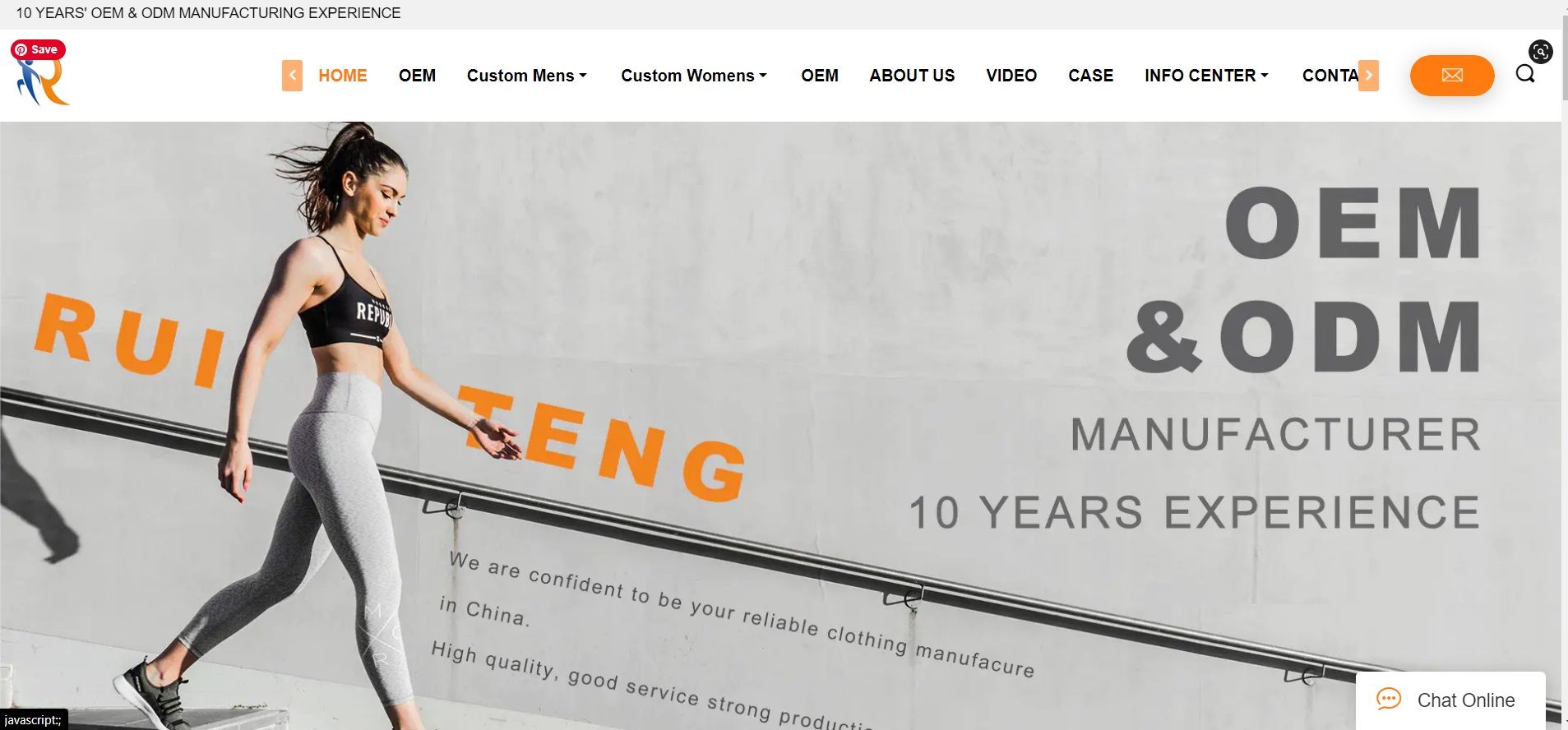 This Chinese clothing manufacturing company has a wide range of clothing production. They have been operating for years and still they are maintaining top-notch quality by using advanced machinery. No doubt, they are one of those reliable as well as reputed clothing manufacturers in China.
Pros:
High-quality product assurance
Highly efficient sampling designs
Frequent quality audit
Customer satisfaction is good
Works closely with clients
Affordable pricing
Cons:
After-sale need to be more responsive
Need a Partner for Your Clothing Manufacturing? Look No Further Than Ruiteng Garment!
Berunwear - Perfect for Lower-Cost Sportswear
Berunwear is another trusted China clothing manufacturer specializing in sportswear with customization facilities. They have more than 15 years of customization experience in this field of Chinese clothing manufacturing. The product quality is high. Prices are also affordable enough to place orders in bulk.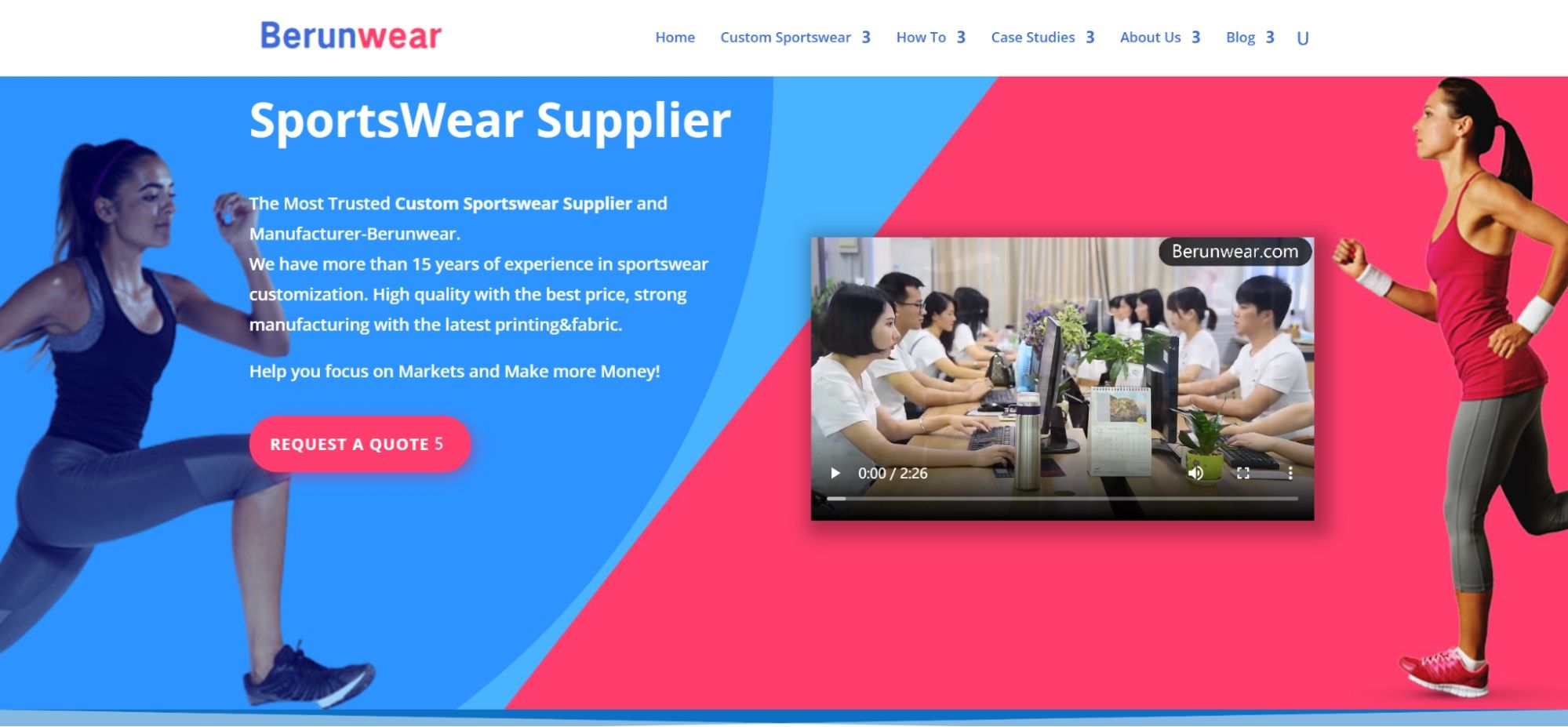 Berunwear's manufacturing capabilities have been bolstered by the latest printing and fabric techniques, allowing them to excel in producing high-quality sportswear. They are also highly proficient in creating leggings and fitness apparel. Their extensive product range includes cycling jerseys, athlete apparel, compression wear, and more. Berunwear has earned a reputation among sports enthusiasts for delivering outstanding quality and performance, making their products a worthwhile investment.
Pros:
Positive customer feedback
High levels of service
Advanced production technique
High-quality materials
Can produce clothes under extreme deadlines
Cons:
Slow delivery time regarding oversea orders
Berunwear Helps You Streamline Your Clothing Manufacturing Process - Get in Touch Today!
Doven Garments - Suitable for Durable & Functional Clothes
Doven Garments is a Chinese clothing manufacturer and exporter that takes great pride in their ability to customize products. Their work ethic and commitment to producing promotional clothing ensure that everything they make is flexible and tailored to the customer's needs. They specialize in a range of products, including T-shirts, jackets, hoodies, sweaters, tracksuits, windbreakers, and more.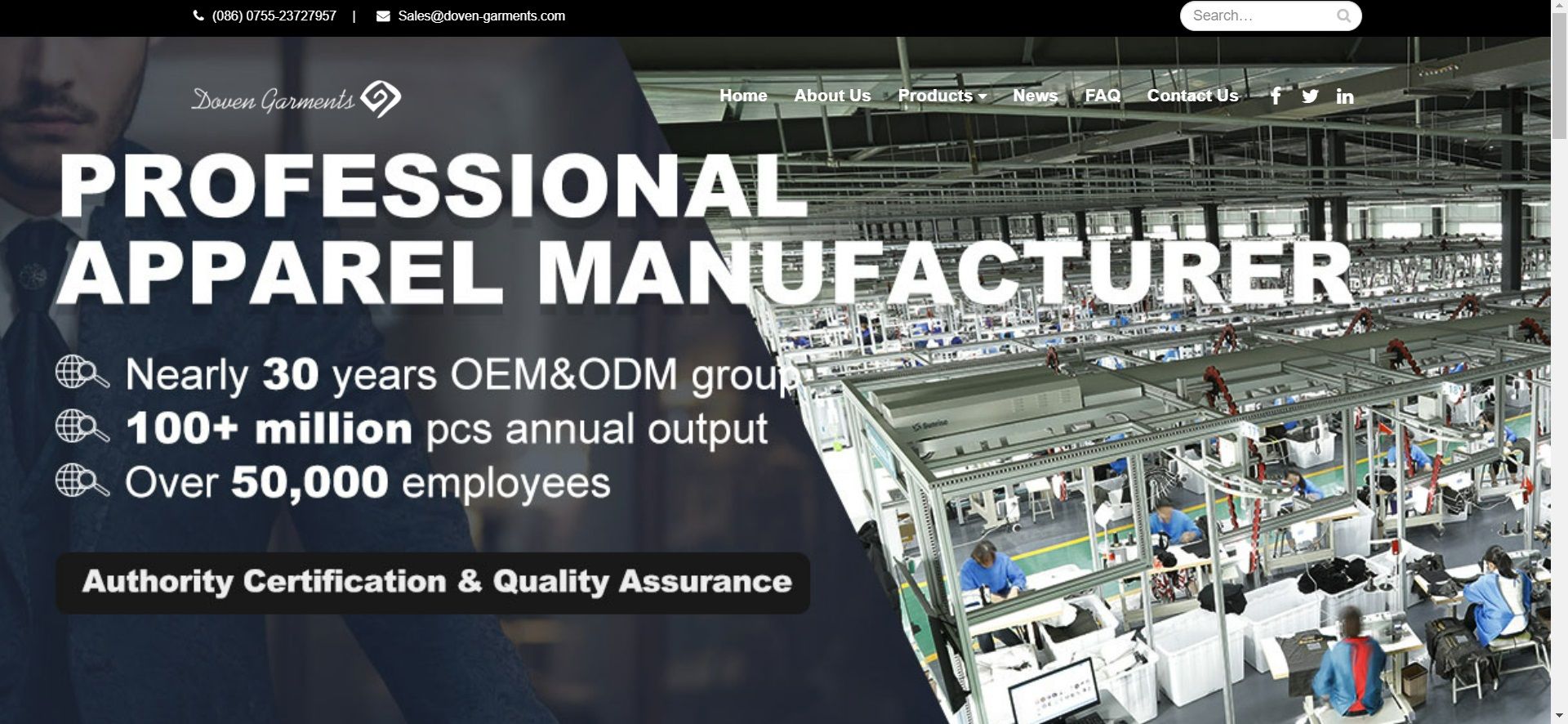 Currently, their products enjoy significant market shares in regions such as South Asia, North America, Europe, Africa, and the Middle East. Their MOQs are flexible, catering to the unique needs of each customer. Doven Garments is a dependable and efficient clothing partner that prioritizes sustainability in its made-in-China clothing. Their professional team is dedicated to protecting the environment through their products.
Pros:
Flexible team support
Professional customization
Inspection before delivery
Fast shipping
Strict product quality control measures
Cons:
Have bad reviews in terms of the customer support system
Don't Know Where to Start With Your Clothing Manufacturing? Let Doven Garments Guide You!
What Are the Benefits of Working With Clothing Manufacturers in China?
Chinese clothing manufacturers offer several advantages that buyers seek when sourcing clothes. While good experience, customization ability, and a suitable business ecosystem are crucial, there are other benefits to consider, including:
Lower Production Cost
Lower manufacturing costs in China's clothing industry can be attributed to several factors: low labor costs, a major producer of textile raw materials, supportive government policy, and modern infrastructure facilities. These allow the clothing manufacturers in China to keep their production costs low and remain competitive in the global marketplace. This way, China becomes a location for clothing production hub.
High Output in Less Time
China's clothing manufacturers rely on modern machinery and technology, such as sewing machines, computerized pattern-making systems, and automated cutting machines, to produce garments quickly and efficiently. Additionally, the expertise and experience of the skilled labor force contribute to the production of high-quality clothing.
A highly streamlined raw material supply chain enables the quick movement of clothing materials and finished apparel products, ensuring timely delivery. Efficient management practices are employed throughout the manufacturing process, minimizing waste and maximizing productivity. These practices contribute to the overall success of Chinese clothing manufacturers.
Easy Market Expansion Opportunities
China's extensive history in clothing manufacturing has created a well-established business ecosystem. Factories are closely located, reducing the shipping costs of the final product. With a streamlined supply chain and ample supporting systems, Chinese clothing manufacturers are well-equipped to help you expand your market opportunities with ease.
China's position as a recognized global hub for clothing is another reason for its superior supply chain and suitable ecosystem.
How Can I Find Clothing Manufacturers in China?
To help you assort suitable clothing suppliers that fulfill your requirements, we have brought you the following points. They are:
Sourcing Companies
This process is about locating China clothing vendors to find the most skilled player for you in the Chinese clothing manufacturing field. This can ensure that you partner with the right clothing manufacturer, ultimately saving you money that you can invest back into your business.
Trade Shows
Trade shows provide an excellent opportunity to meet numerous clothing manufacturers and learn about their latest developments. You can talk to each clothing manufacturer, negotiate your plans, and network with experienced clothing buyers from around the world.
Wholesale Markets
China's wholesale markets are vibrant centers of the clothing industry, where China's apparel manufacturers and buyers converge to exchange goods at competitive prices. These markets are essential sources of inventory for clothing manufacturers, both big and small, who need to keep up with the ever-changing fashion trends.
Among the most popular wholesale clothing markets in China are Yiwu Trade Center, Yiwu International Business & Trade Mission, Baima Wholesale Market, Guangda Shoes Plaza, New Asia International City, Yiwu Xixiang wholesale department, and many others.
Online B2B Marketplaces
Chinese clothing manufacturers are active on various web portals, including B2B marketplaces and online pages. Many of these marketplaces are well-known, such as Alibaba. In addition to Alibaba, you can find clothing manufacturers on other B2B marketplaces using the following details.
Global Source
Made in China
WholesaleCart
Why Are Clothes Made in China Cheaper?
As mentioned earlier, clothse made in China are often cheaper due to several factors, including:
Labor costs

: China has lower labor costs compared to many other countries, which means that the cost of producing clothing is lower.

Economies of scale

: Due to the large size of China's clothing industry, apparel manufacturers in China can take advantage of this to produce clothing at lower costs.

Raw materials

: China has access to a wide range of raw materials, including cotton, silk, and synthetic fibers, which are often available at lower prices.

Government support

: The Chinese government provides various incentives and subsidies to support its clothing industry, which helps to lower production costs.

Infrastructure

: China has a well-developed infrastructure, including transportation and logistics, which reduces the costs of shipping and distribution.
Overall, the combination of these factors allows Chinese clothing manufacturers to produce clothing at a lower cost, making them more competitive in the global market.
Are There Any Alternatives to China Clothing Manufacturers?
Yes, there are other countries that also offer competitive advantages for clothing production. Here are a few examples:
Bangladesh

manufacturers have been efficiently handling bulk orders with improved delivery times. Additionally, the domestic cotton supply in Bangladesh is abundant, providing significant benefits to the industry.

Vietnam

offers several advantages, including low labor costs, an ideal geographic position for shipping, and tariff-exempt free trade agreements.

India

has a significant advantage in its vast workforce, particularly in supporting the manufacturing of clothes in the apparel industry.