The clothing business is a highly competitive market with big brands and names. However, once you find the right strategy to penetrate this market, there is no limit to the success you can achieve. One of these strategies, if not the most important, is finding the best clothing manufacturers to work with.
Continue reading to learn more about finding clothing manufacturers for small businesses that are ready to work with your fashion brand, as well as some useful tips when choosing your manufacturer partners.
The Top 10 Custom Clothing Manufacturers For Startups
To help you get started, we've done all the legwork for you and compiled a list of the best custom clothing manufacturers around—and we're happy to share our results with you now! If you are a small business, this list of customer clothing manufacturers will help you along the way.
Appareify - Best Custom Clothing Manufacturer for Startups/Small Businesses Overall
As a professional fashion R&D and manufacturing facility, we offer a wide range of high-quality clothing production services for all-scale businesses. We are confident to become your trustable clothing manufacturer partner for your startup businesses. Here are some of the features that make us stand out among our competitors:
Cutting-edge Equipment
We leverage the latest technological advancements in the industry, which leads to faster turnaround times, lower production costs, and the ability to work with a wide selection of fabrics. Some of this equipment includes automated cutting machines, digital printing machines, and automated sewing machines, which can also improve the quality of our manufacturing processes.
State-of-the-Art Manufacturing Technique
Appareify is always at the forefront of using the latest technology to streamline production processes. In addition, we are committed to seeking new developments in the clothing industry, demonstrating our dedication to producing high-quality clothing products for our clients.
Tailored MOQ Policy for Businesses of All Scales
We at Appareify made a lot of effort to ensure that all business sizes are catered for. To achieve this, we adopt a small batch ordering policy while maintaining quality across the board and ensuring that small businesses can create and sell their own custom clothing without expensive upfront costs.
Sustainable and Eco-Friendly Production Practices
At the top of our ethical concern is the commitment to sustainable and eco-friendly clothing production. This is done through the use of sustainable materials, waste reduction measures, and the use of non-toxic materials during the production process.
Experience high-quality, sustainable clothing production with Appareify - Contact today to learn more!
AEL Apparel - Best China-based Custom Apparel Manufacturer for Small Clothing Businesses
AEL Apparel is a China-based custom clothing manufacturer tailored to small businesses on a budget. This professional clothing manufacturer has startup-friendly MOQ requirements, allowing newbie fashion entrepreneurs to start small without sacrificing quality.
Regarding quality, AEL Apparel delivers on its word by conceptualizing and producing garments that fit the specific needs of startup clothing vendors. And it's all thanks to AEL's high-end equipment and advanced technology that deliver unique cuts, high-resolution prints, and nicely-crafted embroidery that appeals to the end-users.
AEL apparel covers various clothing needs for startups, like activewear, hoodies, sweatshirts, leggings, T-shirts, children's clothing, swimwear, hoodies, and denim. Also, you can rely on their professional support—a team of experts willing to guide or advise you concerning your designs and production.
Aside from China, small business clothing vendors in the US and other European countries can use AEL's services because they ship globally. Plus, they have a fast turnaround time of 7 - 20 days—with three days for exceptional cases.
Kick off your small clothing business today with AEL Apparel!
Amazon Business - Best Online Clothing Manufacturer for Fashion Startups
Amazon doesn't need an introduction. The company is also among the most customer-focused ones. Amazon is a terrific option if you're searching for an online launch as a kickoff.
As a global online marketplace, Amazon Business offers a wide range of customization options that allow even small businesses to create unique and custom clothing products.
With Amazon Business, startup businesses can benefit from a flexible MOQ policy that allows them to order small quantities of custom clothing products. This helps to minimize risks and costs associated with large production runs, making it easier for online startups to launch their businesses.
Amazon Business also offers a variety of printing methods and materials, giving businesses the flexibility to choose the best options that suit their needs. Not to mention their top-notch shipment and logistics capabilities that can ensure the timely delivery of products to customers.
Use Amazon Business's to launch your online clothing business today!
Printiful - Best Manufacturer for Small Clothing Businesses in the US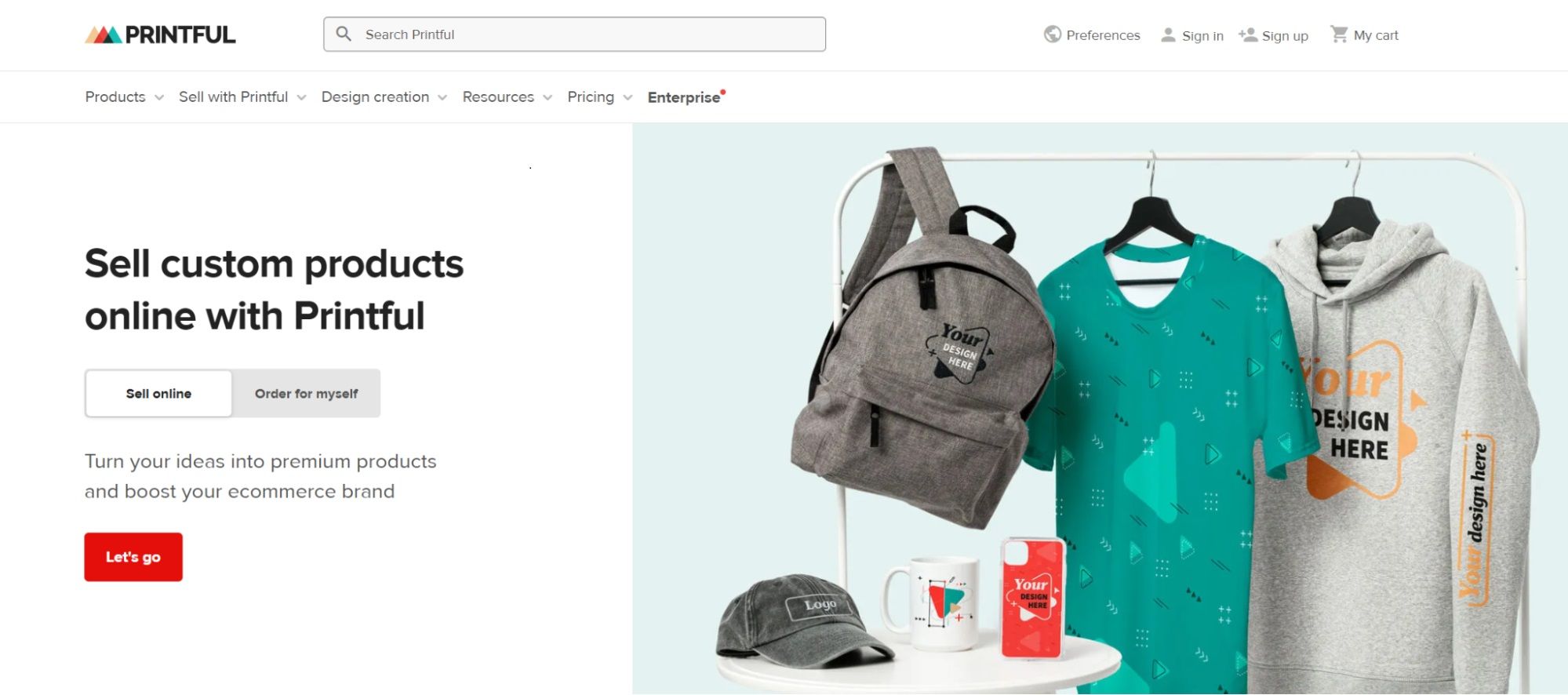 Printful is one of the best clothing manufacturers in the USA. They offer high-quality custom clothing products for small businesses. As the best clothing manufacturer in the US, Printful offers a wide range of printing methods and materials, ensuring that businesses can create unique and custom products that suit their needs.
Printful's MOQ policy is also flexible, which makes it possible for small business owners to order small quantities of custom clothing products without the need for large upfront investments. Their environmentally-friendly production processes also ensure that all products are made with sustainability in mind, aimed to reduce as much environmental impact as possible.
Printful's state-of-the-art manufacturing technology sets it apart, enabling it to produce high-quality products quickly and efficiently. They also offer fast and reliable shipping services, ensuring that products are delivered to customers on time.
Take your small business to the next level with Printful right now!
Thygesen Textile Vietnam - Best Manufacturer for Small Clothing Businesses in Vietnam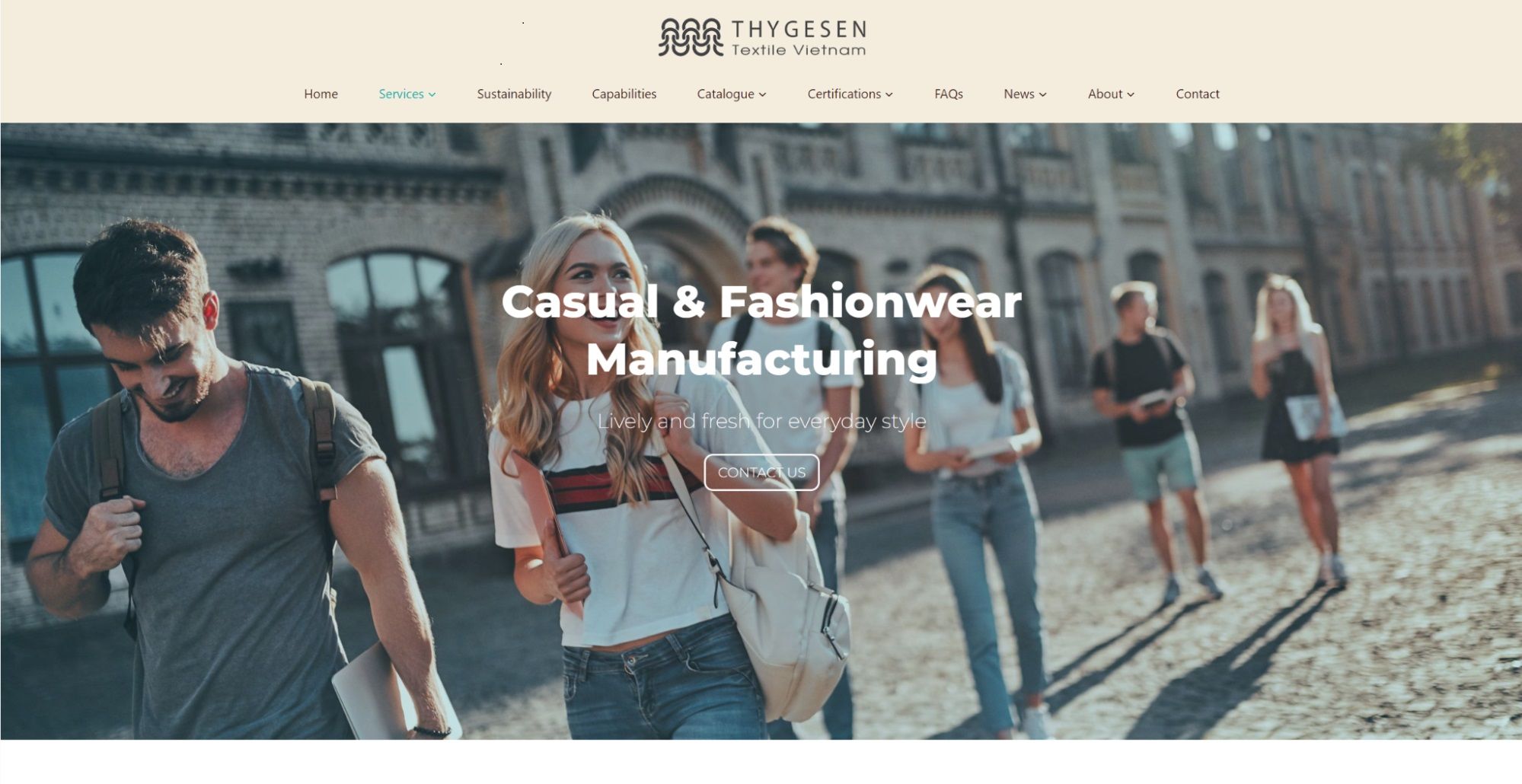 Thygesen Textile Vietnam is a leading clothing manufacturer based in Vietnam that offers top-quality custom clothing products for small businesses. As the best clothing manufacturer in Vietnam, Thygesen Textile Vietnam offers a wide range of customization options, including printing methods, materials, and designs.
Thygesen Textile Vietnam's MOQ policy is designed to work with clothing brands of any scale, allowing those small businesses to order small clothing quantities and launch their products at lower costs.
What sets Thygesen Textile Vietnam apart is their dedication to quality, reliability, and customer satisfaction. They use advanced manufacturing techniques to produce high-quality products without high MOQ requirements, and provide free samples that meet the needs of their clients.
With over 1400 employees in Denmark, Vietnam, Germany, Slovakia, Turkey, the USA, Mexico, China, Korea, and Japan, they also offer timely and comprehensive services for their clients all over the world.
Partner with Thygesen Textile Vietnam to custom clothing products for your small business.
NG Apparels - Best Clothing Manufacturer in India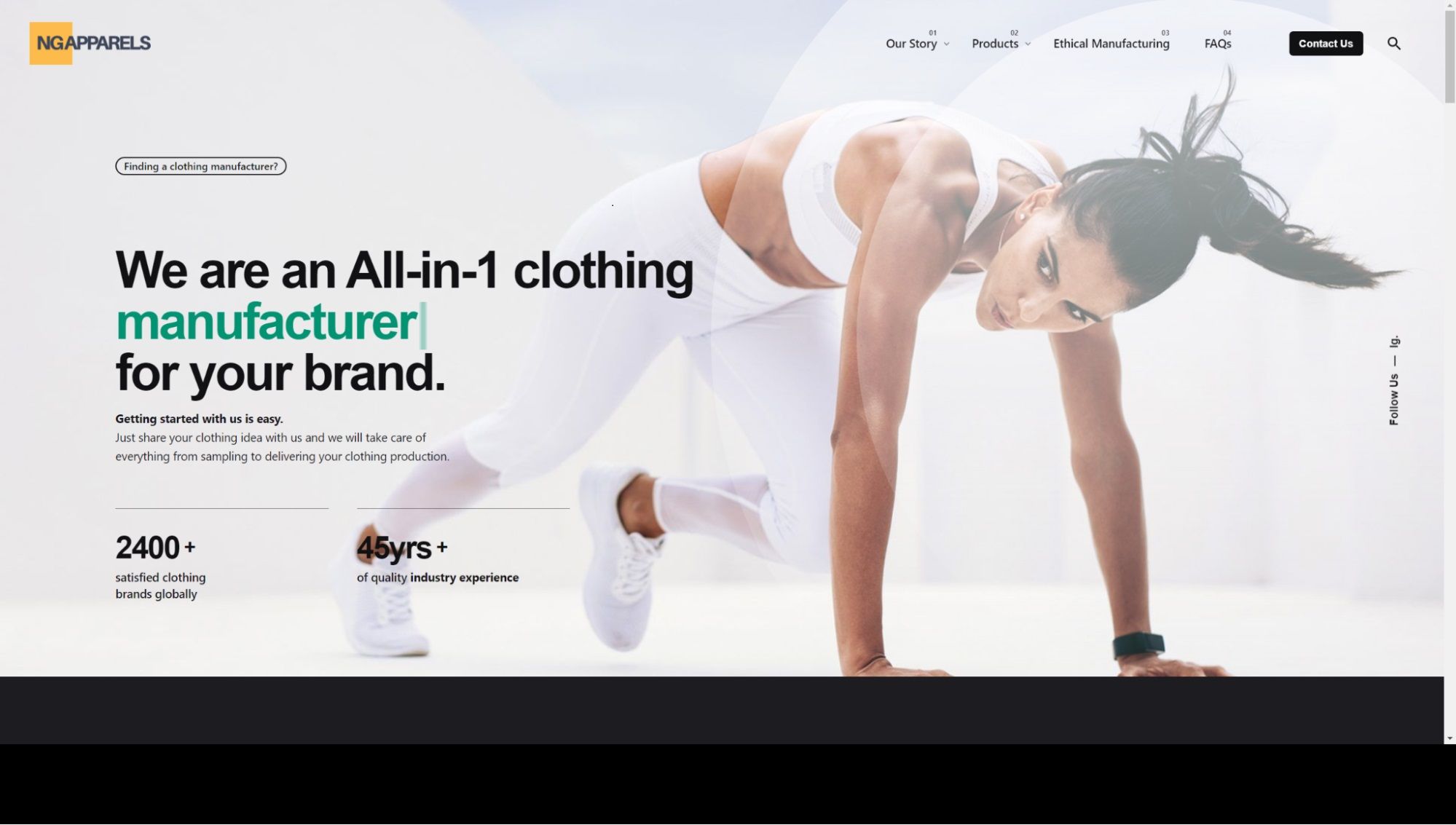 NG Apparels, established in 1995 in Ludhiana (Punjab, India), is a renowned producer, exporter, and supplier of all varieties of ready-made garments and fabrics available in various sizes, patterns, colors, and designs. Their finished products are praised for qualities including colorfastness, uniform dyeing, exquisite stitching, shrinkage resistance, and tear resistance.
They have established a cutting-edge production facility to create various custom outfits for businesses of all sizes following the precise requirements of their cherished consumers. NG Apparels designs these clothes using only 100% cotton, polyester, P/C, P/V, and other blended yarns/fabrics to retain the highest quality possible.
They can also acquire mill-made and power looms cloth thanks to their friendly relationships with reputable suppliers. Additionally, these are examined against the globally established quality standards.
Contact NG Apparels today to see how they exceed your expectations!
CustomCat - Best Jersey Clothing Manufacturer for Startups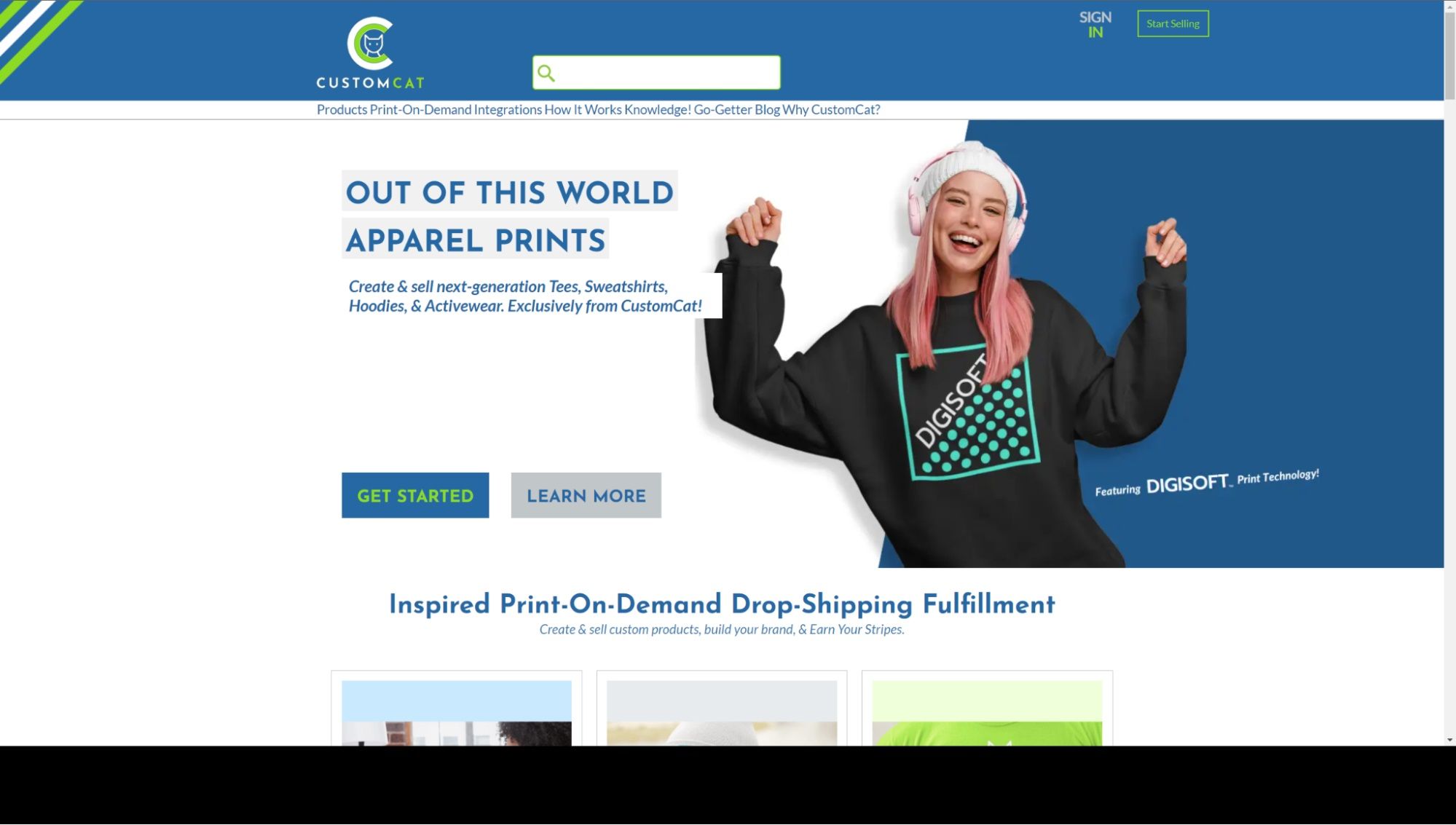 Another low MOQ clothing manufacturer that adopts the dropshipping model is CustomCat. Activewear of the highest caliber, including T-shirts, sweatpants, and sports jerseys, is what CustomCat is renowned for. It offers full order fulfillment services to both large and small fashion businesses, including printing, packaging, and shipping, and is simple to use.
Their Athletic apparel lineup, in specific, contains a variety of sports jerseys in various colors, styles, and sizes. Pick one from the basic jerseys selections and submit your designs. Once you are done modifying your preferred product, export them to your online stores, and you're ready to sell.
Additionally, depending on the delivery location, the delivery time can range from overnight up to four weeks. You just have to pay for the goods you sell; CustomCat is free to use. However, you can get 20% to 40% off all products when you subscribe to paid plans. The package has a 60-day free trial and costs just $30 per month.
Design and sell your own custom activewear effortlessly with CustomCat!
Landes Inc. - Best Cotton Clothing Manufacturer for Startups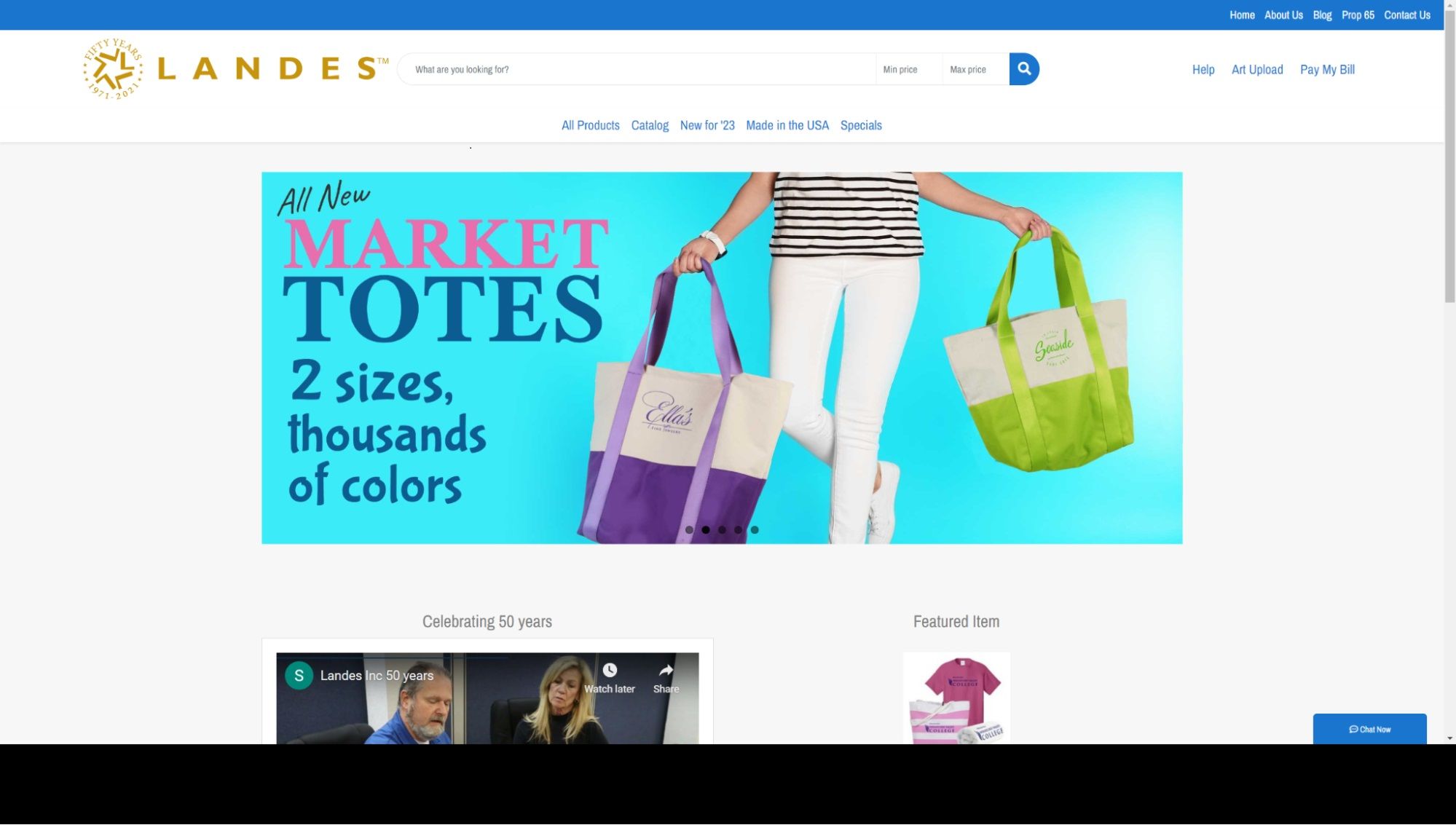 Landes Inc. is known to be a trusted sewing contractor that offers a variety of garments for both large clothing businesses as well as small and new fashion brands. Its product line consists of cotton t-shirts, cotton and denim aprons, nylon ponchos, polyester robes, and contract printing on T-shirts. The corporation was founded in 1971 and had its corporate headquarters in Houston, Texas.
Landes USA is committed to using only the highest quality cotton materials in its products. They also use advanced manufacturing techniques to produce high-quality products quickly and efficiently.
One of their fortes is fast and reliable shipping services, ensuring that products are delivered to customers on time. Production usually takes 7 to 10 business days or 5 to 7 for expedited services. Prices for products vary based on the number of products ordered.
Looking for high-quality garments with fast and reliable shipping? Check out Landes Inc. today!
Affix Apparel - Best Hoodies Manufacturer for Startups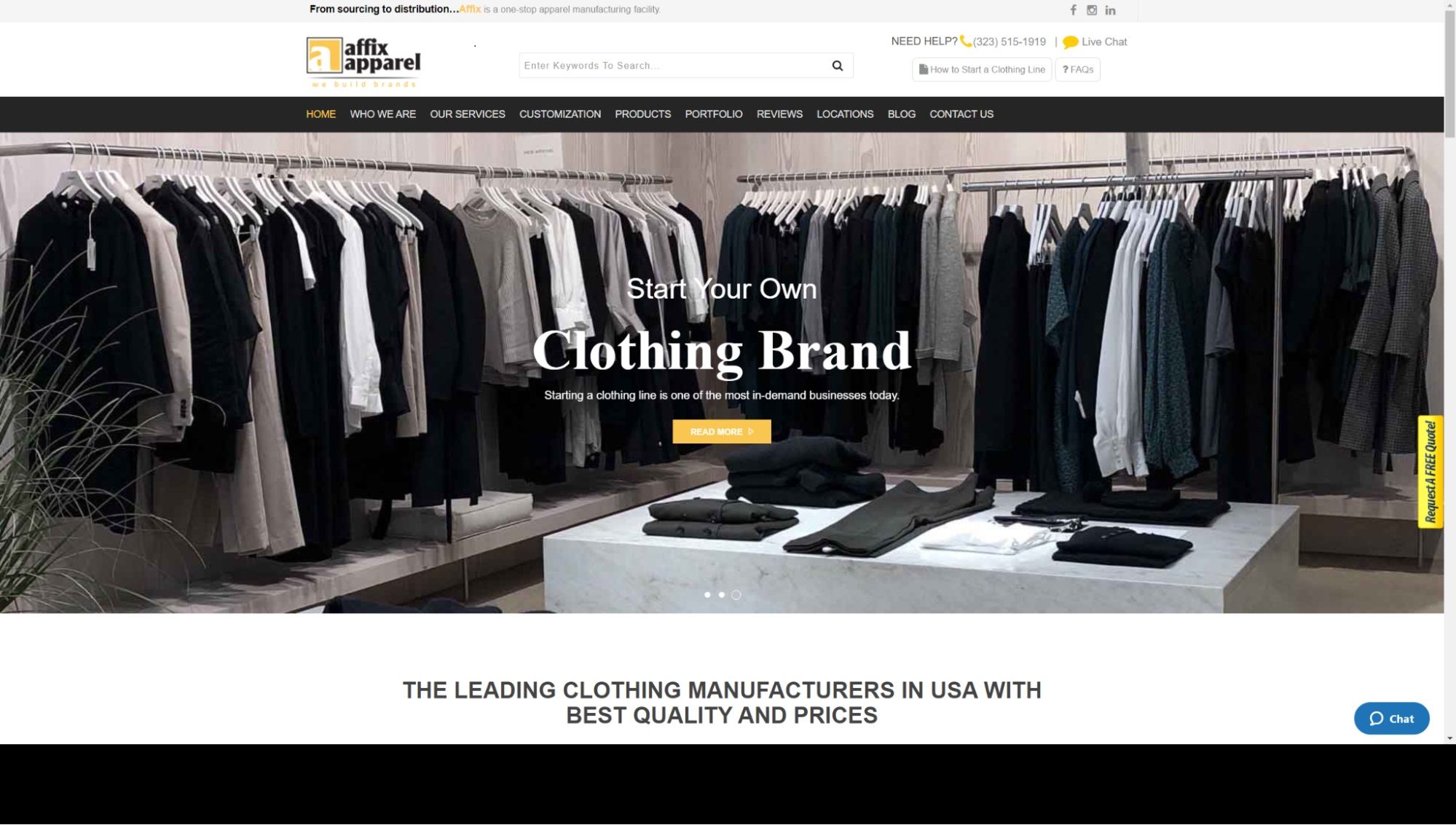 USA-based Affix Apparel is a young apparel firm that provides private labeling, sublimation printing, cut and sew, custom embroidery, and screen printing services to its clientele worldwide. Affix has been a significant player in the apparel market for the past ten years. It offers materials specifically designed to assist apparel manufacturers in establishing their market identities.
They provide services for various apparel items, including hoodies, kid's apparel, T-shirts, tops, jackets, and sportswear. Their main objective in the apparel business is to match their services to the requirements of various companies and provide them with the best possible quality.
Consider presenting companies with fresher, more powerful concepts to increase their visibility in the garment industry.
Affix offers a range of services, such as sourcing materials, grading, creating patterns, and shipping. They also provide free sizing samples to their clients, but only after receiving a production order deposit.
Their minimum order is flexible and ranges from as low as 50 to 72 pieces, based on the client's order, making them one of the perfect clothing manufacturer choices for startups and small fashion brands.
Transform your brand with Affix Apparel's customizable apparel services right now!
Oh Two Clothing - Best Long Sleeve T-shirt Manufacturer for Startups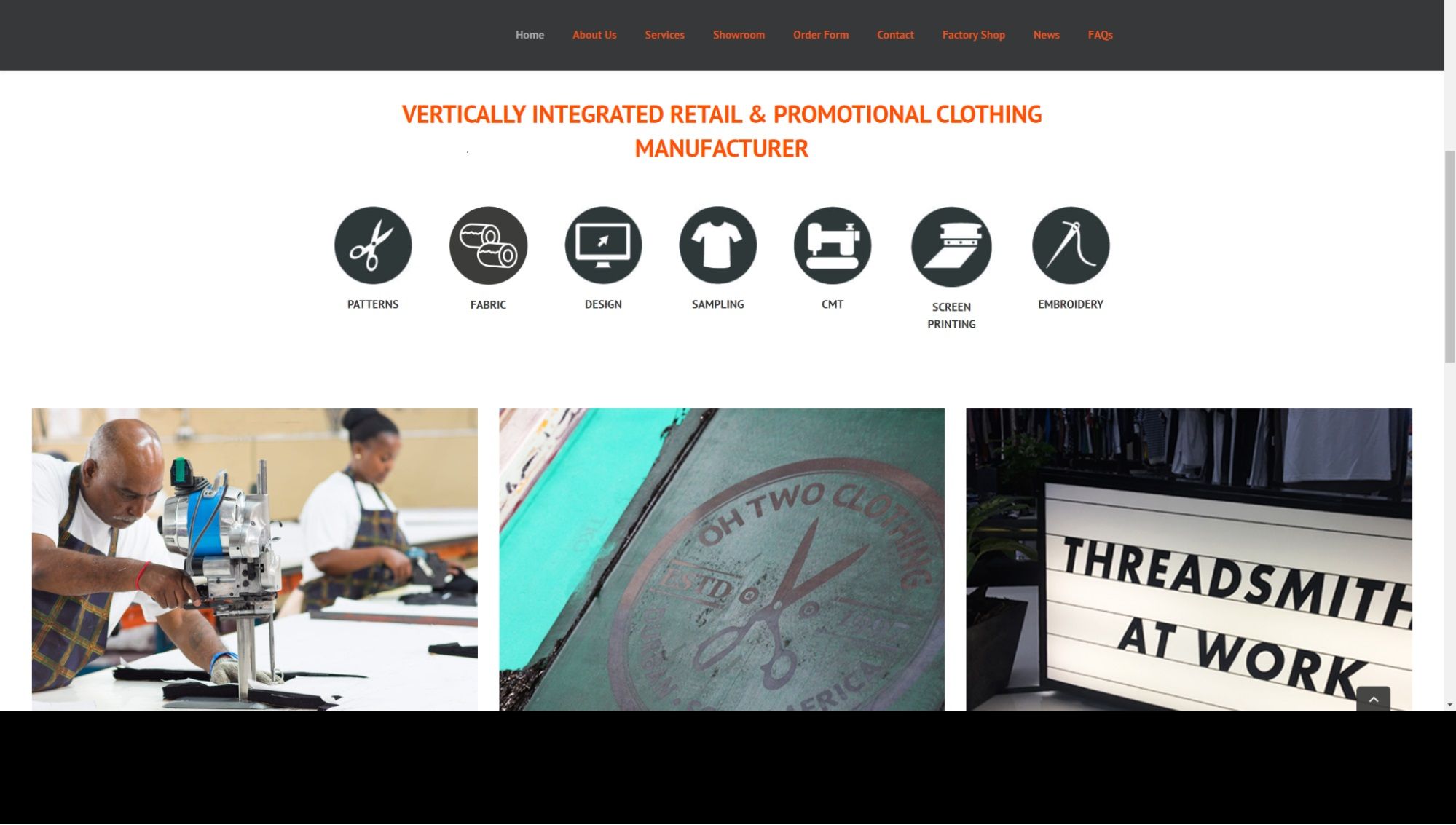 Oh Two Clothes has emerged as one of South Africa's top commercial clothes suppliers and small batch clothing manufacturers of both big and small clothing brands. Their family-run business, which is still run today by one pattern maker and six machinists, has expanded into a profitable enterprise with design, CMT, and screen printing.
They can manage quality and price from beginning to end because of their fully vertical operation. Oh Two distinguishes itself from rivals with a quick-response manufacturing approach and an adaptable infrastructure.
With a diverse portfolio in screen printing, garment production, fabric sourcing, and embroidery, Oh Two is a force to reckon with in the clothing line. Although Oh Two focuses on manufacturing golfers, hoodies, tracksuits, sweaters, and T-shirts for men, women, and children, they are flexible enough to produce other clothing based on the type and units required.
Get top-quality, fully vertical, and quick-response clothing production with Oh Two Clothes.
What Should I Look For From a Clothing Manufacturer for My Small Business?
Minimum Order Quality (MOQ)
Knowing the MOQ policy is essential when working with a clothes manufacturer as it states the minimum amount you must place for each order. On average, 200 to 2000 pieces of MOQ are quite common in the industry, while others may have lower or no MOQ requirements at all, in some cases.
Knowing the manufacturer's MOQ is crucial for you to ensure that you can afford the order prices and that you can sell them all without encountering inventory pressure later on.
Quality control
When assessing the quality control of a clothing factory, you can't just email them, ask about it, and take their word for it. To conduct your investigation, you can study internet reviews of the producer and go to the plant (if possible) to check everything out by yourself in person. Most important of all, always order samples before ordering.
It's important to keep in mind that the reputation of your start-up project depends on the standard of your apparel. Therefore, you should make sure your manufacturer creates their products with a regulated and monitored QC procedure.
Manufacturing experience
When searching for a clothing manufacturer for your small business, it is crucial to consider their manufacturing experience over the years. Look for a manufacturer with a track record of producing high-quality products and delivering them on time.
The success of your business largely depends on your products and they need to be made by someone who knows what they are doing. So, always choose a manufacturing company with experienced production capability.
Production Capacity and Turnover Time
Another factor to consider is production capacity and turnover time. Ensure that the manufacturer has the capacity to meet your business needs, whether you need small quantities at the beginning or larger volumes in the future.
Turnover time is also critical, and you need to make sure to offer timely services to your own clients, as shipping and delivery delays can impact business operations and customer satisfaction.
Factors to Consider When Starting Your Clothing Business
Business model
Having a suitable business model to get started is crucial as it not only provides adaptability for the future but can also minimize upfront costs.
While the wholesale model can potentially deliver more profit, it may not be the best option for startups due to high-risk factors including turnover time, inventory, and market demand.
Alternatively, a print-on-demand model can be a better choice, as it enables complete customization of products and allows for orders to be fulfilled and shipped directly to customers from the dropshipping service.
There are still other options available such as dropshipping, made-to-order, and resale. You should pick the right business model based on your needs, current capabilities, and budgets.
Printing methods
Next, evaluate the manufacturer's printing methods and ensure they align with your budgetary requirements. Some printing methods, such as screen printing, can be cost-effective for bulk orders, while others, such as direct-to-garment printing, are more suitable for smaller quantities.
Domestic or Oversea Factories?
You must choose between working with domestic manufacturers in your country or region and international manufacturers. Typically, this entails selecting between producers in Asia (typically China, Hong Kong, Taiwan, Vietnam, India, and Bangladesh), the United States, and Europe.
Even though it's relatively uncommon to discover commercially viable clothing producers in less developed nations, you might be able to make it work if being locally produced is important to you and your brand.
Which type of clothing is the most profitable for small business owners?
The most profitable type of clothing for small business owners depends on several factors, including market demand, production costs, and pricing strategy. Some types of clothing indeed tend to be more popular among consumers and can generate higher profits for small business owners.
For example, athleisure wear, such as yoga pants and sports bras, has grown in popularity in recent years and can be a profitable niche for small business owners. Additionally, customized or personalized clothing, such as graphic tees and embroidered jackets, can command higher prices and generate more significant profit margins.
Ultimately, the most profitable type of clothing for your start-up business will depend on your target customer and market, the production methods you want to apply, as well as your pricing positioning. Conducting market research and analyzing production costs can help identify profitable clothing options for your business based on your dedicated situation.
Conclusion
With so many options available, it can be challenging to determine which manufacturer to choose for a fashion business beginner. However, by considering factors such as clothing types, MOQ policy, production techniques, and fabric quality, you can narrow down your choices and find the perfect fit for your company's needs.
We hope that our list of the 10 best clothing manufacturers for startups has helped you in your search. Remember to do your investigation, ask questions, and choose a manufacturer that aligns with your brand values and goals. With the right partner, you can bring your fashion ideas to life and take your business to new heights.