With the Canadian apparel market in a state of constant growth, this presents a huge opportunity for Canadian entrepreneurs and designers to not only make their mark in fashion but also make a ton of profit in the process.
All you need is the right clothing manufacturer that can help to get the ball rolling, but this is easier said than done, especially since there are thousands of clothing manufacturers in Canada. It becomes difficult to even know where to start.
You also have to be able to evaluate different manufacturers based on specific criteria to ensure that you are choosing the right one for your brand or business. In this article, we've listed the 10 best clothing manufacturers in Canada to help simplify the process for you.
We've even gone a step further by breaking down each one of them to ensure that you can effectively identify the options that can best meet your precise needs. So, let's get into it, shall we?
Top 10 Canadian Clothing Manufacturers
Here is a list of the best clothing manufacturers in Canada.
In House Creations - Leading choice for highly-detailed & specialized garments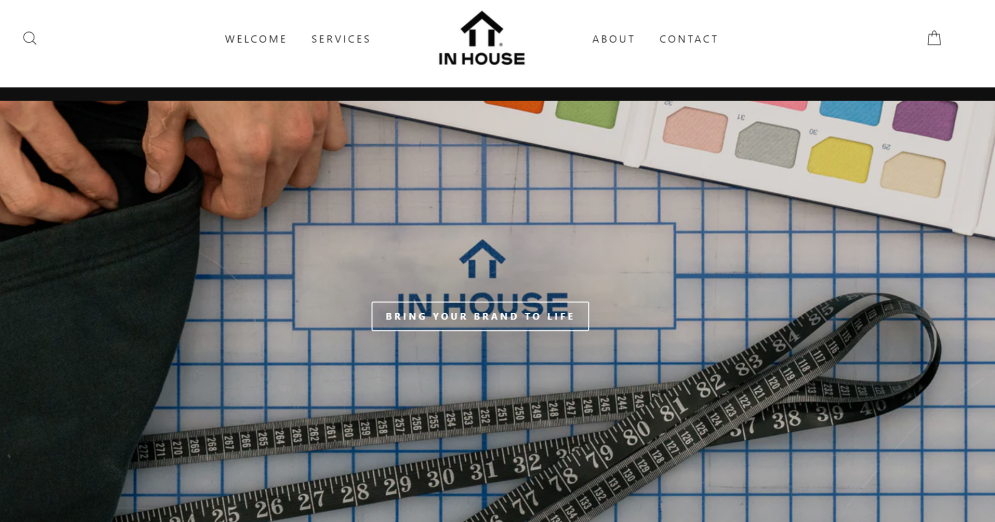 When it comes to producing custom clothing with extreme attention to detail and precision, In House Creations is a top choice. Built on the foundation of a tight-knit creative studio, this Canada-based clothing manufacturer has spent over a decade mastering the process of producing branded goods and merchandise specific to each client.
With a hands-on approach to developing products from scratch, they typically encourage creativity and experimentation in the concept and design stages. They even make an effort to guide new designers and entrepreneurs through all the critical steps of product development and manufacturing.
The company even limits the volume of project intake to ensure that the production needs of each brand are given a sufficient amount of time and attention. It is for this very reason that their client list is filled with new, up-and-coming brands actively seeking uncompromising quality and transparency in the manufacturing process.
They also offer a diverse range of clothing products, such as activewear, streetwear, loungewear, outerwear, and even eco-friendly clothing. They have also established relationships with renowned factories that have ties to global fashion brands such as Louis Vuitton, Off White, Kenzo, and more, which can help to elevate your brand image and credibility.
Pros
Experienced in custom wear and design
Diverse range of clothing products
Limited project intake for greater client focus
Highly-transparent production process
Cons
Not the best choice for bulk clothing orders
Not the fastest turnaround times
Contact In House Creations For Highly-Specialized Custom Clothing Designs >>>
Peros Garment Factory - Best cut and sew clothing manufacturer in Canada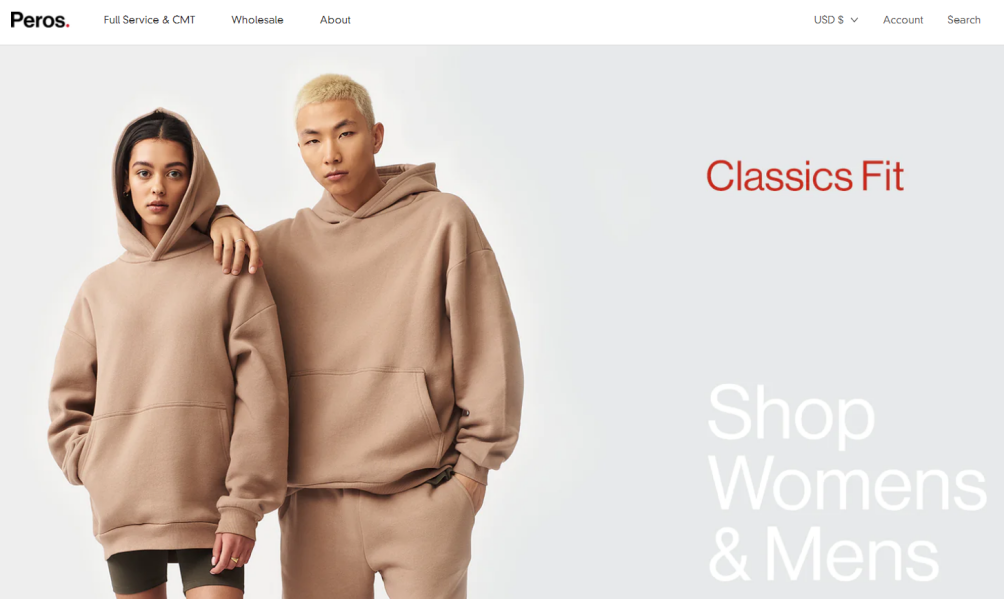 Since its inception in 2001, the Peros Garment Factory has continued to specialize in cut-and-sew manufacturing, with the company placing a heavy focus on crafting high-quality knit products. They also handle the entire production process in-house at their factory, which means that they can help you with everything from pattern development and fabric sourcing to packing and shipping.
This Canada's clothing manufacturer is also renowned for their extensive collection of ready-made designer blanks that are great for screen printing, embroidery, and DTG. From shirts, leggings, sweatshirts, sweaters, and even kidswear, they also cater to men, women, and unisex styles, which is why they are a highly-favored choice among brands that place a heavy value on aesthetics and customizability.
Peros Garment Factory also ensures that all its clothing materials are sourced ethically and sustainably, making it a great choice for eco-friendly brands. Aside from that, they have a 300 pc/style minimum order quantity requirement that caters to small and large-scale fashion brands, both domestically and internationally.
Pros
Extensive collection of blank clothing products
Experts in cut and sew production
Utilizes eco-friendly fabrics and materials
Cons
MOQ of 300pcs
Not ideal for crafting unique garments
Reach Out To Peros Garment Factory For Experienced Cut and Sew Production >>>
Eleventh Floor Apparel - Experienced specialists in crafting high-end garments
When it comes to crafting unique designer pieces, Eleventh Floor Apparel is one of the best Canada's clothing manufacturers to work with. The company houses some of the most highly skilled pattern makers and technicians, which explains why they have collaborated with some of the most notable and high-profile designer brands in Canada.
In addition to working with established designers, Eleventh Floor Apparel is dedicated to meeting the diverse needs of small and emerging brands. Therefore, they offer a comprehensive range of products and services that covers everything from production to shipping.
The manufacturer also implements advanced clothing production techniques and solutions such as automatic spreading and cutting, as well as digitized pattern making. As a result, they can create a customized manufacturing program for every client that is specific to their needs for supreme quality assurance.
Plus, being a local Canadian apparel manufacturer, they are often able to offer shorter lead times.
Pros
Short production lead times
Specialists in manufacturing high-end clothing
Utilize advanced clothing production techniques
Cons
Premium pricing for clothing production
Not well-suited for general bulk production
Craft High-End Garment Collections With Help From Eleventh Floor Apparel >>>
WS & Company Ltd - Top clothing manufacturer for tailor-made custom apparel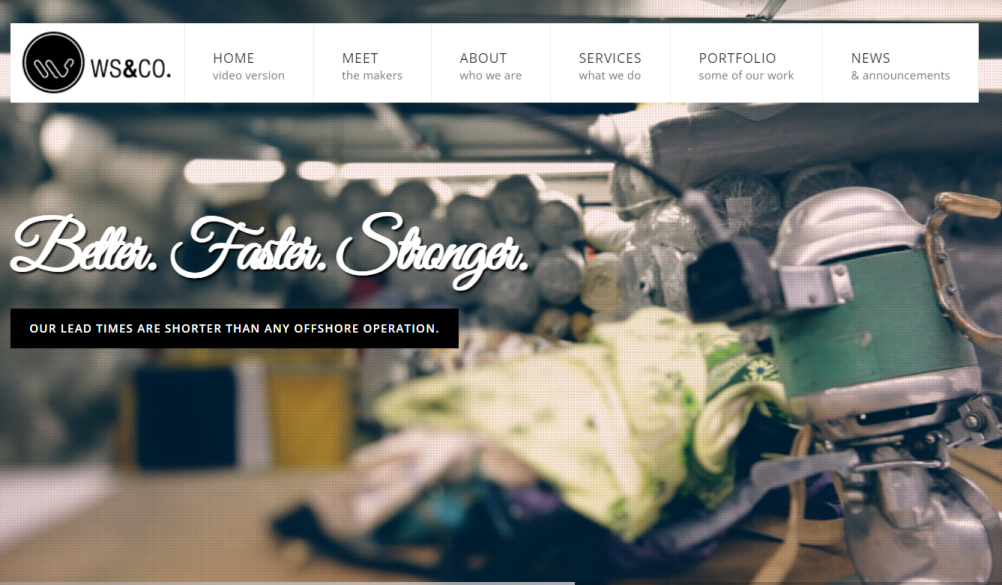 WS & Company Ltd. is a family-run boutique-style clothing manufacturer in Canada that offers brands a more traditional and personalized client experience than most modern companies. Since its founding, the company has steadily built a stellar reputation for itself by producing high-quality clothing.
However, the company's main highlight is its Knit In-Stock Fabric Program, which garnered the company a lot of attention as it offers brands access to trending in-stock fabrications that can be custom dyed. As a result, clients don't necessarily have to order in large quantities, which has led to several notable retail and designer brands joining their client roster from both local and international markets.
The clothing manufacturer is also made up of a team of experienced seamstresses and tailors who are dedicated to providing their clients with superior quality and consistency. And it is their attention to detail and use of highly specialized machines that have allowed them to flourish as the leading purveyor of tailor-made garments.
The company also includes aspects like pattern development, cutting/sewing, laundry/special washes, and packaging in its services. This makes them one of the best one-stop custom clothing partners that you could ever hope to work with in the industry.
Pros
Fast turnaround times
Offers in-stock fabrications
Experts in tailor-made garments
Extensive range of production services
Cons
Custom production costs may be high
Partner With WS & Company Ltd For High-Quality Tailor-made Garments >>>
Gabe Clothing - Highly experienced manufacturer of bespoke clothing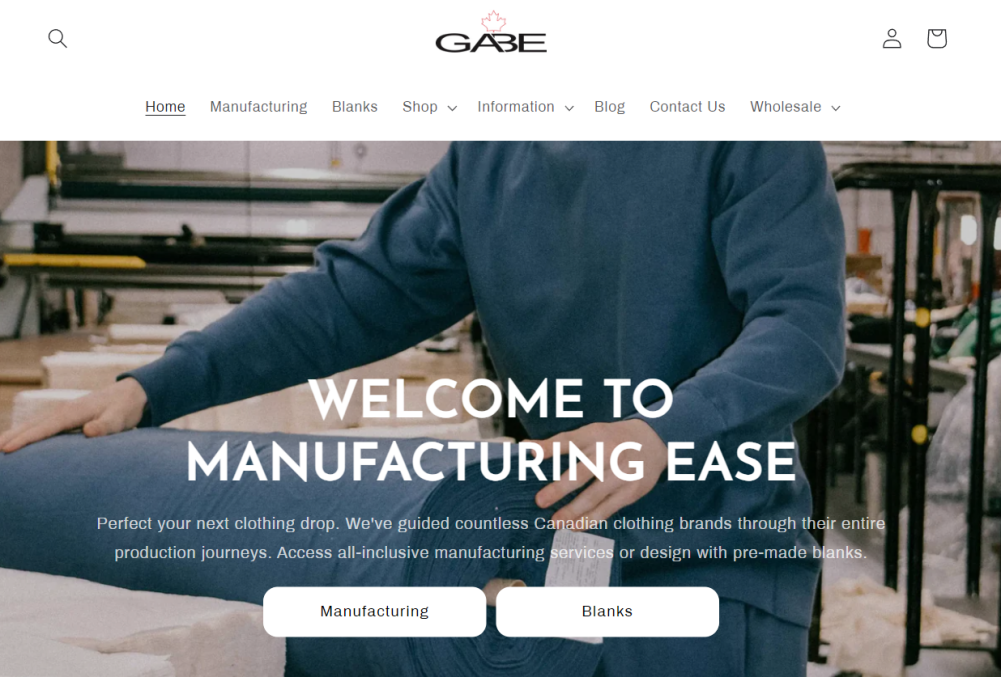 Gabe Clothing is a family-owned apparel factory in Canada that has been in the clothing industry since 1999 and places a huge amount of attention on following ethical labor and sustainable clothing practices. The manufacturer does well to offer its clients an extensive range of production services such as pattern making, PFD, CMT, and sublimation.
They are also equipped with some of the latest advancements in clothing production, such as laser cutters and seam sealing machines, as well as handcrafted techniques such as traditional sewing machines. This combination allows them to consistently deliver clothing of exceptional quality.
The company is also made up of a large team of professional tailors and artisans, who remain available to guide even the most inexperienced brands through every stage of the production process, such as concept design, material sourcing, packaging, and more. Plus, the company is known to offer sizable discounts for frequent clients who hold wholesale accounts with them.
Pros
Sustainable clothing available
24 years of industry experience
Utilizes both traditional and modern production techniques
Discount pricing for wholesale clients
Cons
Production costs may be high for small custom orders
Get Expert-Made Bespoke Garments Using Gabe Clothing >>>
Colour Alchemist Canada - Best suited to custom-design apparel for small brands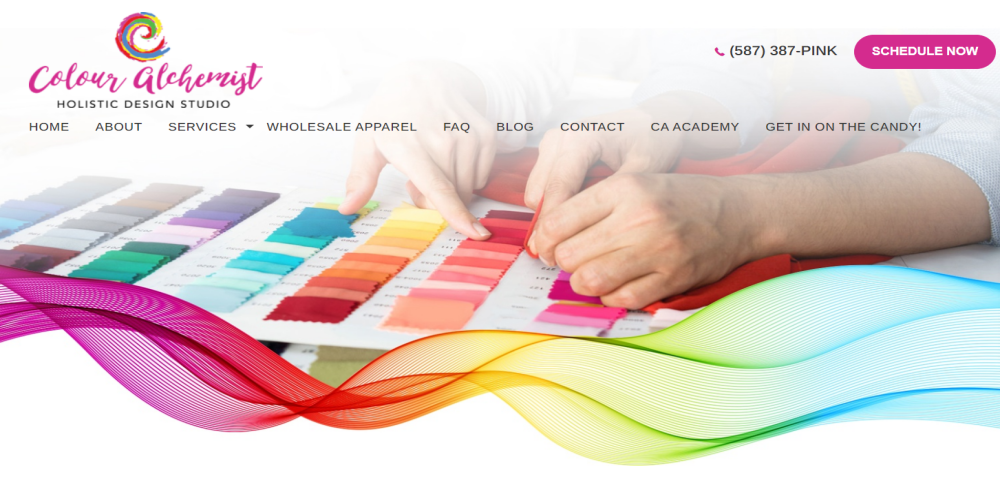 Colour Alchemist is a women-led boutique design studio and apparel manufacturer based in Canada. They provide a wide spectrum of production services to fashion designers and brands looking to craft superior clothing items from scratch. The company takes a holistic approach to design, ensuring that the garments it produces are both aesthetically pleasing and functional.
As a result, the company can consistently produce custom-made clothing that accurately fits the client's brand image and niche target customer base. This is in contrast to what most other clothing manufacturers do by using block patterns to develop generic clothing styles.
The company is also willing to accommodate start-ups and high-end slow fashion designers by facilitating low MOQ production. They even offer fashion consulting for new brands that may need help developing their collections. Also, since they don't utilize subcontractors to execute any commissioned production, everything is effectively handled in-house.
Pros
Offers low MOQs for small brands
Precise custom-fit brand designs
Design consultation services available
Cons
Unable to handle large-scale bulk orders
May have slow turnaround times
Access Low MOQs For Custom-Made Clothing via Colour Alchemist Canada >>>
Empire Clothing - Leader in the production of men's high-end designer suits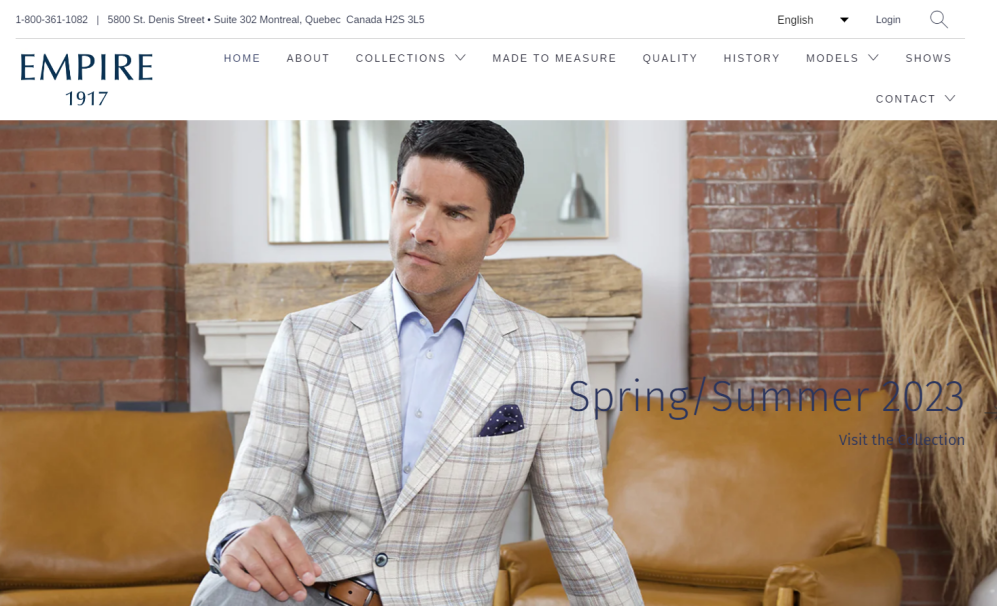 Empire Clothing is an industry leader when it comes to producing men's high-end designer suits. The family-owned business has been in this niche for over a century, and within that period, it has managed to continuously evolve its clothing designs to keep up with modern-day styles and preferences.
This Candadian clothing manufacturing company sources high-end fabrics like silks, cashmere, linens, fine wools, and cotton fabrics from some of the world's best mills located in countries like Scotland, Italy, England, and Ireland. These carefully selected materials are then used to craft the final products in their in-house factory. In this respect, clients can easily order custom-made pieces that are specifically tailored to their needs.
Plus, they have strict quality control measures in place, so every product that comes off the line is thoroughly inspected before delivery. This makes them the ideal partner if you ever need help launching a men's suit collection or clothing brand.
Pros
High-quality clothing fabrics
Highly-experienced suit design specialists
Custom-made garment production available
Cons
Limited to menswear
Limited to suit wear only
Use Empire Clothing To Create A Luxury Men's Designer Suit Collection >>>
Jerico Clothing - Reliable supplier of high-quality eco-friendly clothing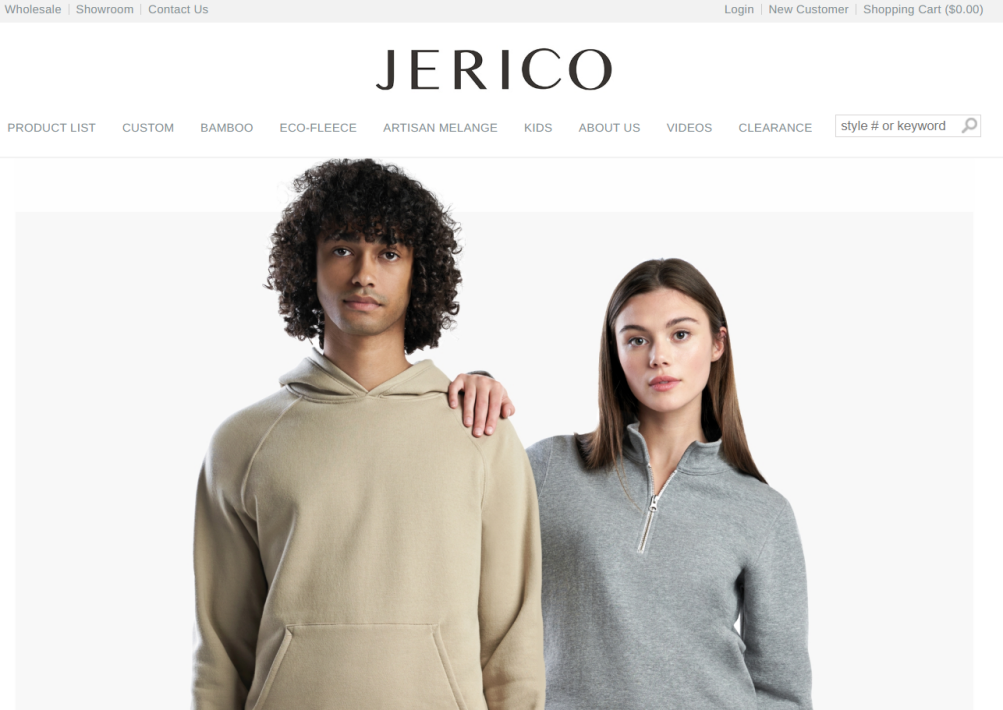 Founded in 1987, Jerico is a socially-conscious clothing manufacturer in Canada that produces a wide range of eco-friendly blank apparel products using fabrics like bamboo and organic cotton. The company also utilizes various production methods such as knitting, dyeing, and even 'cut and sew' to make a wide range of quality products.
Whether it's activewear, loungewear, golf wear, or even kidswear, Jerico Clothing provides its client base with ready-made items that can be easily customized to suit their branding needs. This makes them an excellent option for those who may have specific printing, colorway, or fabric requirements.
Aside from that, it helps that they are very transparent with how their production process works from start to finish, which provides clarity on their sustainability practices. Additionally, it's highly convenient that they allow their clients to organize and handle their orders via an online wholesale account for greater convenience.
Pros
Ready-made products available
Eco-friendly clothing
Fast turnaround times
Cons
Limited only to brands based in Canada or America
No shipping outside North America.
Rely On Jerico Clothing For Eco-Friendly Garments With Fast Turnaround Times >>>
Canadian Custom Apparel - Fast option for basic clothing customization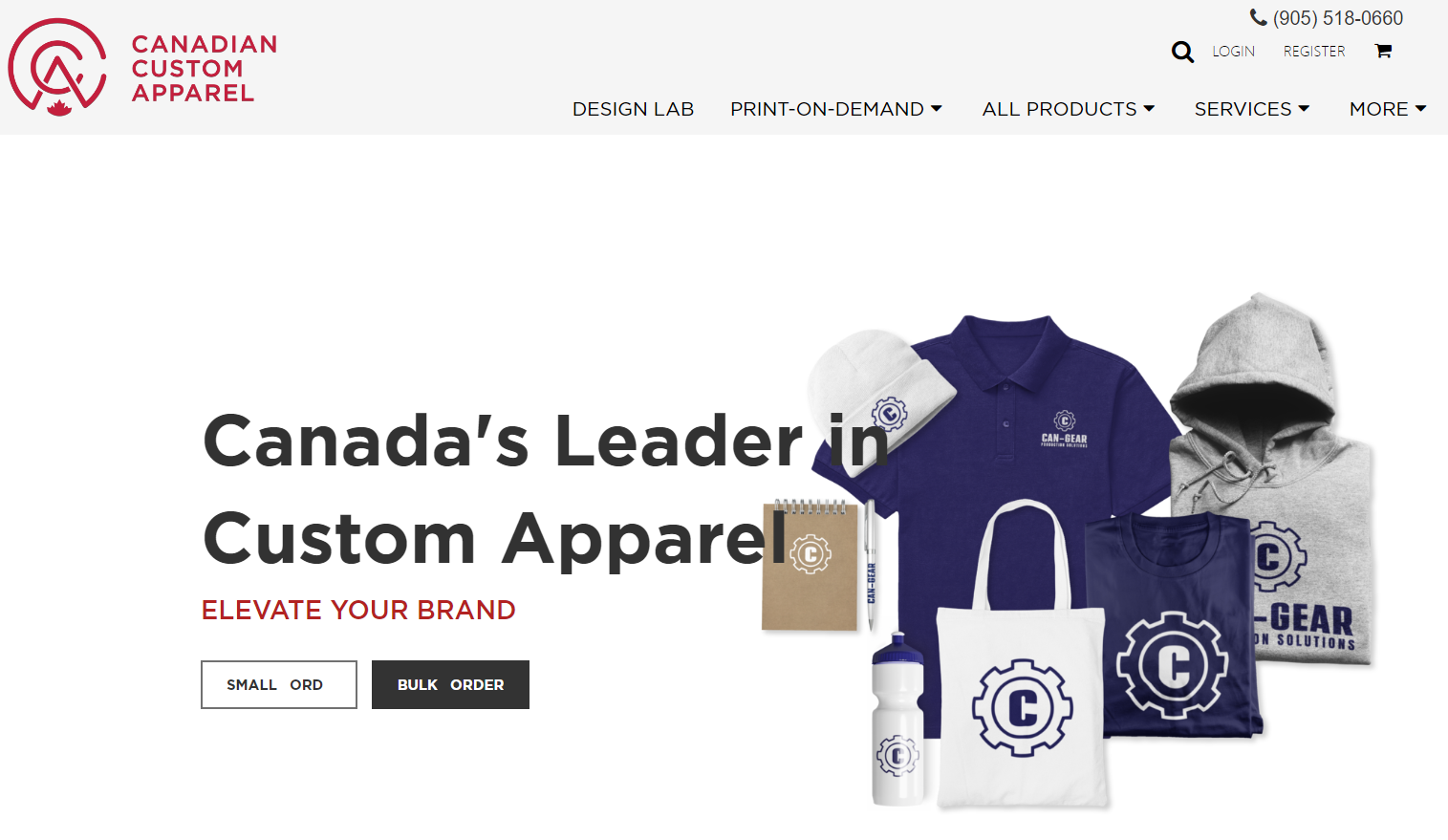 Established in 2009, Canadian Custom Apparel provides clients with access to an extensive range of production techniques such as embroidery, sublimation, digital printing, and screen printing.
They also have a wide selection of product options to choose from, be it T-shirts, hats, jerseys, polos, activewear, workwear, bags, totes, and so much more. Also, since the company facilitates print-on-demand services, which means that low quantity orders are available for small brands and companies.
However, what makes Canadian Custom Apparel unique is that it is one of the few wholesale clothing manufacturers in Canada that provides customers with an online interface to design and customize their clothing in real-time.
As a result, the bulk order process is fairly simple and quick, which makes it ideal for brands that simply want to mass-produce branded products in a hurry.
Pros
Facilitates bulk order processing
Offers online design and customization
Fast turnaround times
Cons
Only offers basic custom garments
Check Out Canadian Custom Apparel For Easy Bulk Clothing Orders >>>
Boardroom Clothing - Top garment supplier for specialized clothing products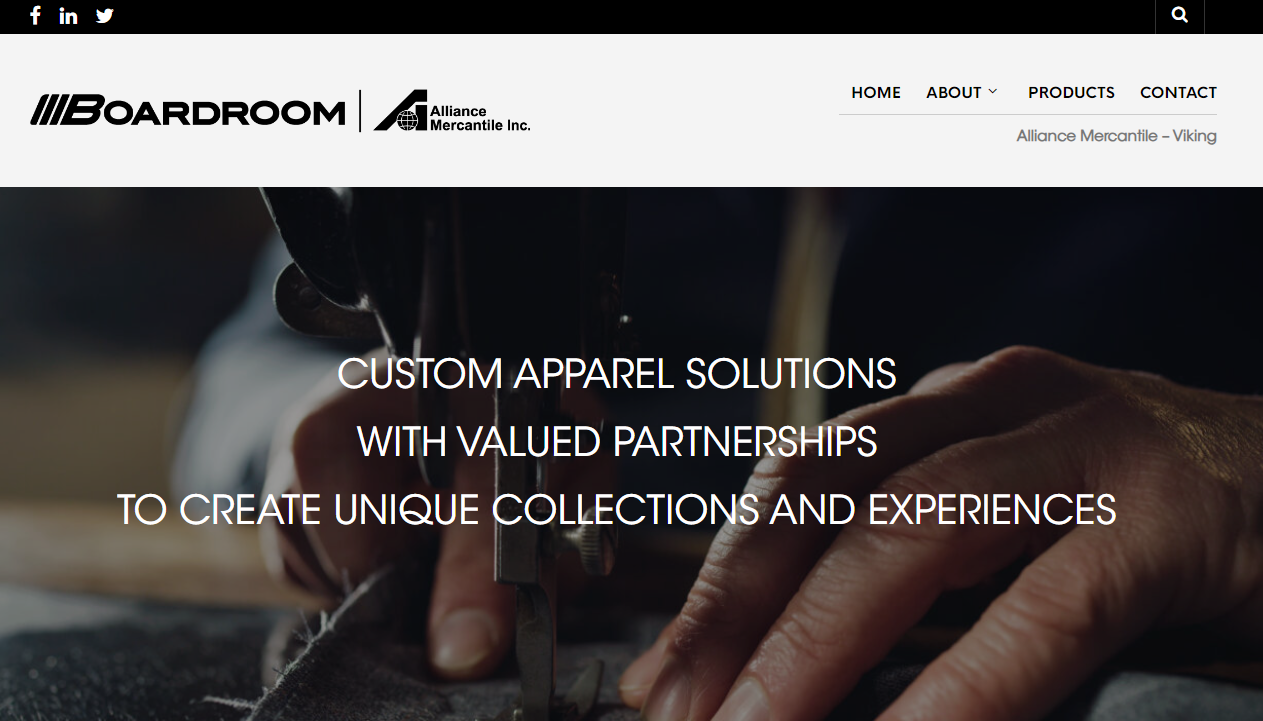 Boardroom Clothing is a full-service supplier that is well-recognized as a leading provider of custom-made, technical, and low-impact clothing products. From athleisure to casual wear, outerwear, and even masks, the manufacturer does well to cater to both men's and women's fashion across a wide range of product categories.
They also provide numerous branding options to choose from, such as heat transfer, embroidery, gel printing, and even screen printing. Furthermore, the company works with fabric engineers to develop proprietary fabrics for its garments, which provides brands with an opportunity to craft specialized garments with unique properties.
When it comes to custom clothing orders, they are accommodating to smaller brands, as their MOQ starts at 48 units with a domestic turnaround time of roughly 30 - 45 days. On the other hand, clients that require bulk orders of 600+ units will have to wait between 90 - 120 days.
This is because the company is unable to handle such orders domestically, which means outsourcing them through their offshore network of socially compliant, verified factories.
Pros
Develops proprietary fabrics for specialized products
Wide range of clothing products
Low MOQs available
Cons
Slow turnaround times for bulk orders
Order Specialized Clothing Products From Boardroom Clothing >>>
How to Find a Clothing Manufacturer in Canada?
Finding a clothing manufacturer in Canada can often be a tricky process because there are so many options to choose from out there. One way to get started is by reaching out to your professional network and asking other similar businesses for advice on how or where they found their suppliers.
Alternatively, you can go online and use your location to narrow down the list of manufacturers that are based closest to your area. You can even narrow down the search further by specifying your intended primary product, e.g., kidswear, activewear, eco-friendly clothing, etc.
You should be able to find a comprehensive list of viable options like this one within the search results. From that point, the next task is to determine which one among that list can cater to your brand's precise needs and requirements.
This means asking important questions like: What are the minimum order quantities? What clothing products do they specialize in? What production techniques do they offer? Do they mirror your brand's ethics? Can they be relied on to grow with you?
The more conscious you are of what you need, the faster you will be able to shorten that list to two or three good options. You can then reach out to these companies individually for more information on their products and services, or even visit their offices in person if possible.
You should also make sure to ask them for product samples in advance to review the quality of their garments before you decide to place any bulk orders.
Unveiling the Pitfalls of Relying on Canadian Factories for Apparel: A Shift Towards Appareify
While there are several benefits to ordering garments from local Canadian factories, the main ones being speed and convenience, there are also a few major downsides to using these manufacturers.
For starters, the production cost of using these companies tends to be far more expensive in comparison to using overseas manufacturers. Furthermore, most of these companies tend to be limited when it comes to fabric availability, which is why many of them still end up importing materials from overseas.
In addition, a vast number of them are not very accommodating to small order quantities, primarily because they have higher operating costs than most offshore manufacturers. Plus, Canadian-based suppliers are often more limited in terms of the production styles and techniques that they can use compared to internationally-based manufacturers.
Instead, it is often more practical to reach out to internationally-based clothing manufacturers like Appareify for all your clothing needs. They tend to be cheaper to work with, especially since they tend to offer high-quality garments at discounted wholesale prices. On top of that, they can provide a wide array of product options to choose from.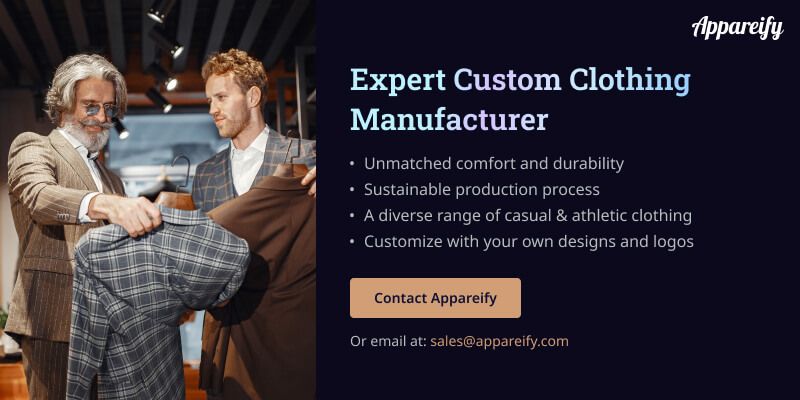 They are also able to offer more customized clothing design options, and you will have access to a wide variety of quality fabrics and materials to choose from when crafting your desired garments. Moreover, they typically work with numerous small-scale and large-scale brands, so they are usually far more flexible with their minimum order quantities.
Conclusion
Canada has a huge and thriving wholesale and retail industry, which is why there are an abundance of apparel manufacturing options to choose from. Each of these companies can be a great option to consider for your clothing brand, so make sure to review each of them carefully before making a decision.
However, it is also important to consider that while most of them can be counted on to produce high-quality garments, utilizing an offshore manufacturer can often be even more beneficial. This is especially relevant if you're launching a brand from the ground up and need quality clothing and extensive customization options at a reasonable price.
To this end, we would recommend checking out Appareify before you decide to make your final decision, as you may discover them to be a far more accommodating business partner over the long run.