If you are embarking on the initiation of a clothing line in the UK, identifying the best UK clothing manufacturers becomes a necessity. Nevertheless, given the plethora of options, unearthing a high-quality manufacturer that not only offers trendy designs but also aligns with your brand's ethics can prove challenging.
Therefore, we've undertaken the task of streamlining the top 10 manufacturers in the UK, aiding you in finding the best option closely situated. Each manufacturer's recommendation will depend on various aspects such as their styles, services, and so forth.
1. Hawthorn - Best Clothing Manufacturer Overall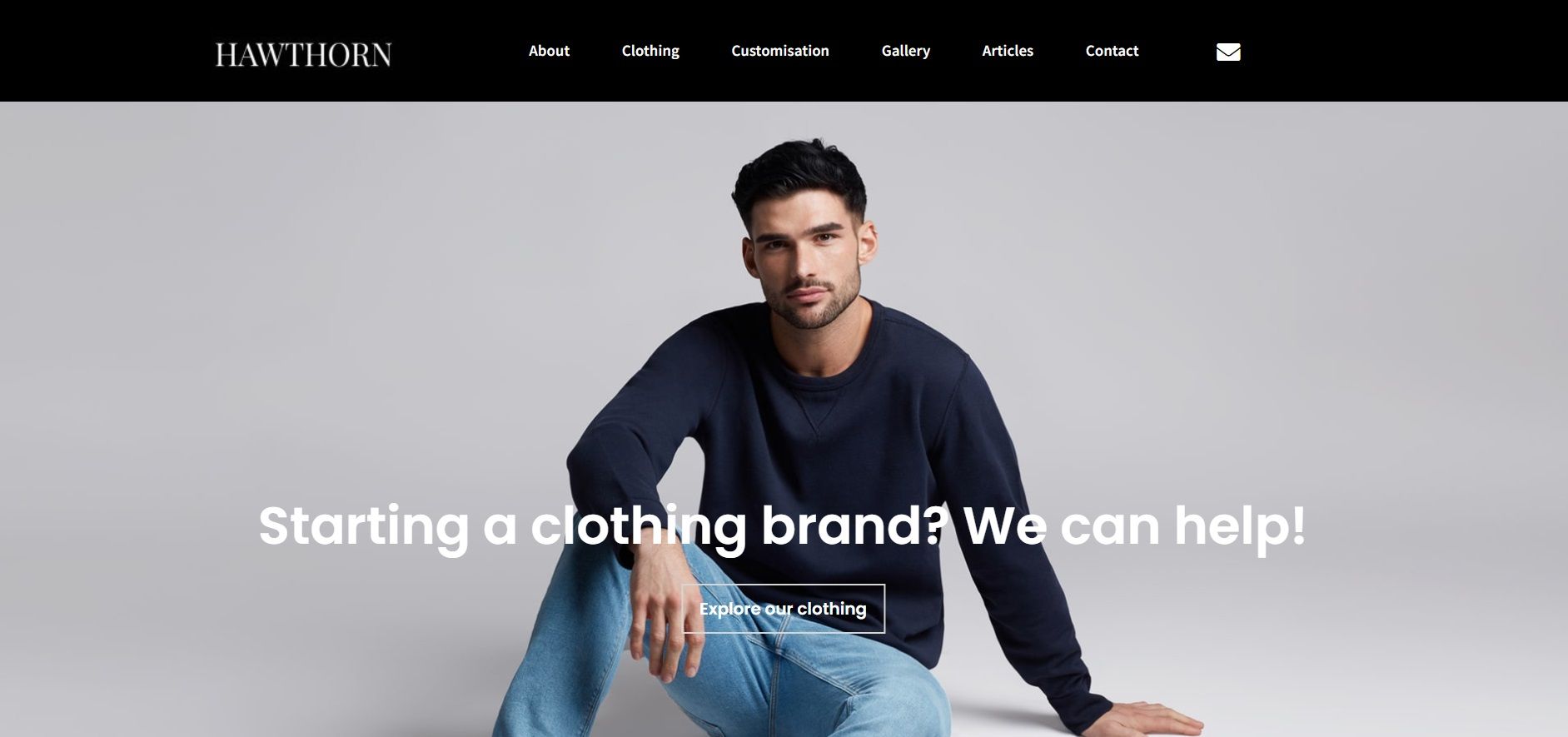 Hawthorn, an international clothing manufacturer based in London, stands out as the top manufacturer. They cater to fashion businesses of various sizes, particularly startups.
Know as one of the best clothing manufacturers, Hawthorn has collaborated with close to 700 startups, aiding them with design and production. Startups can leverage the high-quality fabric and low minimum order quantities (MOQs) provided by the brand, thus helping them decrease their overhead costs.
Not limited to new fashion brands, any business can utilize Hawthorn's broad-scale solutions. Hawthorn provides made-to-order garments with custom options. Each garment is hand-cut and stitched, and every piece undergoes a four-stage quality control process.
Pros
Solutions for fashion startups and emerging designers
Full-scale manufacturing services
Low MOQs
Cut, stitched and finished by hand
Made-to-order garments
Cons
Clothing is made overseas
2. Hook & Eye - Best Apparel Manufacturer for Bridge Brands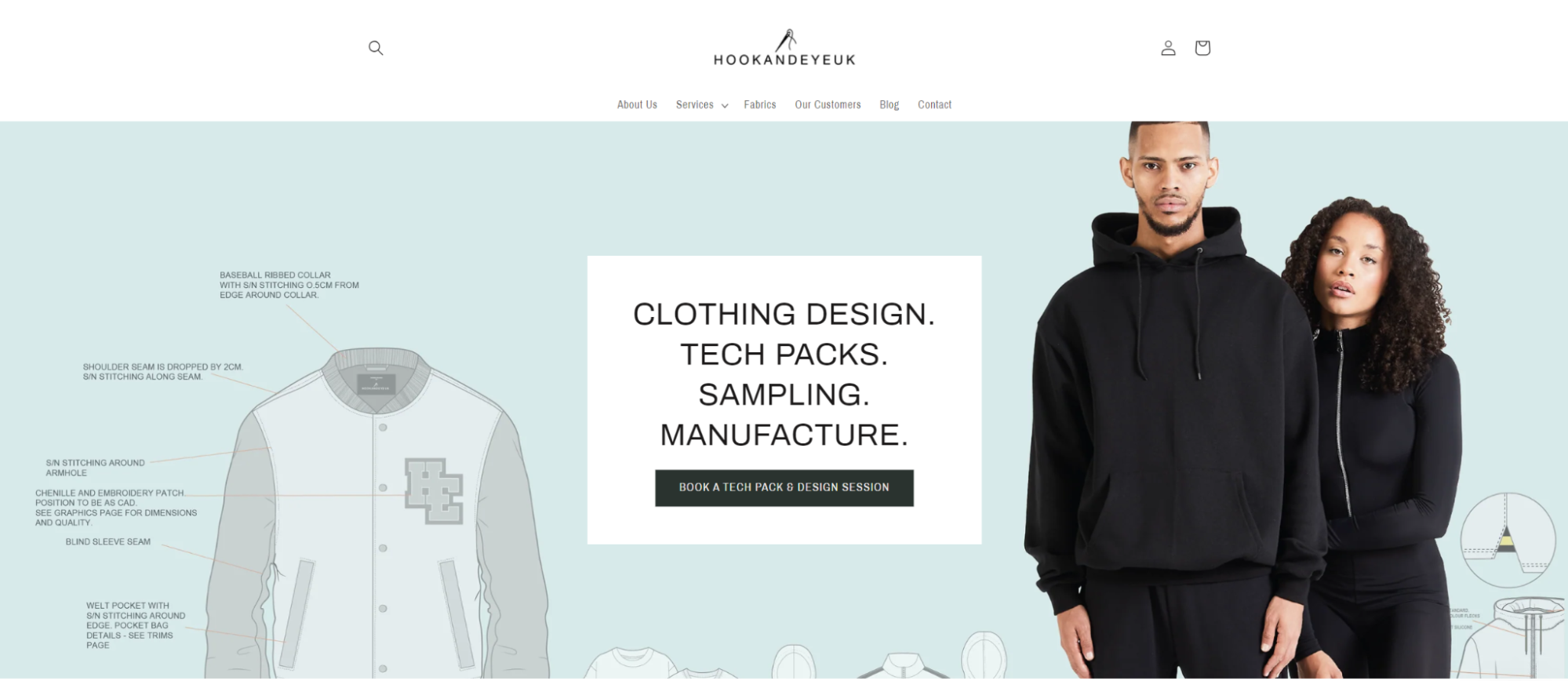 "Bridge brands" refer to fashion designers who create garments that seamlessly combine the extravagance of luxury designers with the edginess of street designers. As for manufacturing, Hook & Eye stands out as the optimal partner for these brands; they blend trendy street-style designs with an offering of premium services.
Hook & Eye can cater to all fashion brands, regardless of their size. They provide custom tech packs designed specifically for emerging designers looking to kick-start their journey in the world of fashion.
Offering bulk manufacturing facilities at competitive prices, Hook & Eye caters to brands both large and small. As for smaller orders, you can avail yourself of Hook & Eye's low minimum order quantities. With the added option of obtaining samples to guarantee satisfaction with your items, Hook & Eye stands as a promising choice. While they are situated in Birmingham, England, their client base spans across the globe.
Pros
Tech packs for new designers
Works with fashion brands of all sizes
Have clients worldwide
Offers clothing samples
Bulk manufacturing and pricing
Low MOQs
Can expedite bulk orders for existing clients
Cons
Long order wait times
Clothing is made overseas
3. White2Label Manufacturing - Best Clothing Company for White Label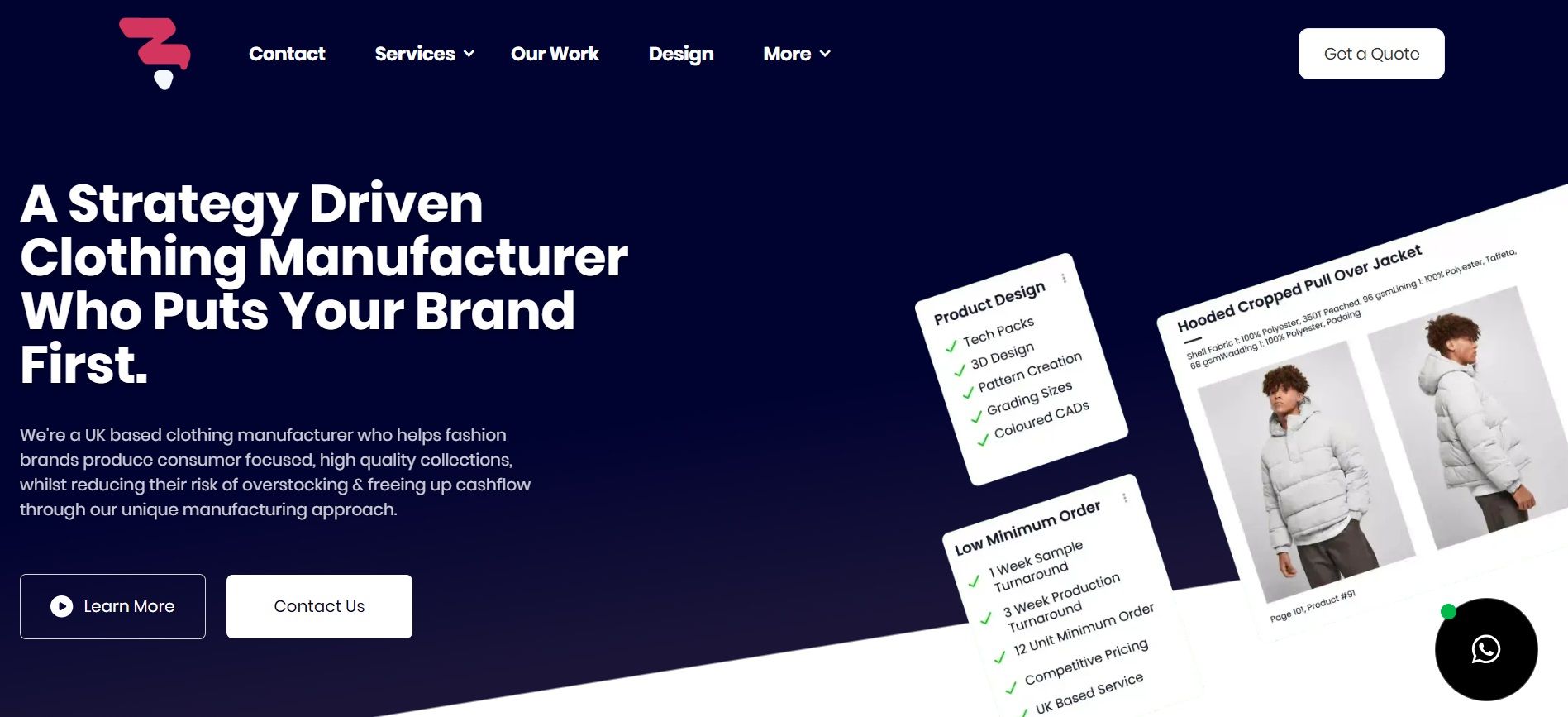 White-label solutions, such as custom branding and logos, are indispensable for fashion designers. If one is searching for a white-label manufacturer in the UK, White2Label is an optimal choice. Esteemed brands like Nike and Under Armour consider them reliable manufacturing partners due to their comprehensive selection of fabric options and their exceptional quality of service.
White2Label manufacturing offers nuanced solutions for startups requiring diverse branding options. Their low minimum order quantities and swift turnaround time enable new designers to manage stock levels without burdening overhead costs.
Additionally, emerging designers can benefit from custom tech packs and fabric consultations. White2Label provides a spectrum of custom manufacturing options, encompassing sizing, fabric selection, and designs.
Despite these numerous benefits, White2Label maintains its unwavering commitment to quality. They offer complete service solutions and a four-stage quality control process. All fabrics and materials they use are ethically sourced, and they demonstrate transparency regarding their supply chain. Moreover, they are accredited as a Living Wage Employer.
Pros
White label, custom, and bespoke services
Tech packs for startups
Ethical and transparent
360 solutions
Four-stage quality control process
Low MOQs
Fast turnaround
Works with major brands
Cons
Prices may vary
May lack clothing manufacturing experience
4. Clothing Manufacturers UK - Best Clothing Factory for Sustainability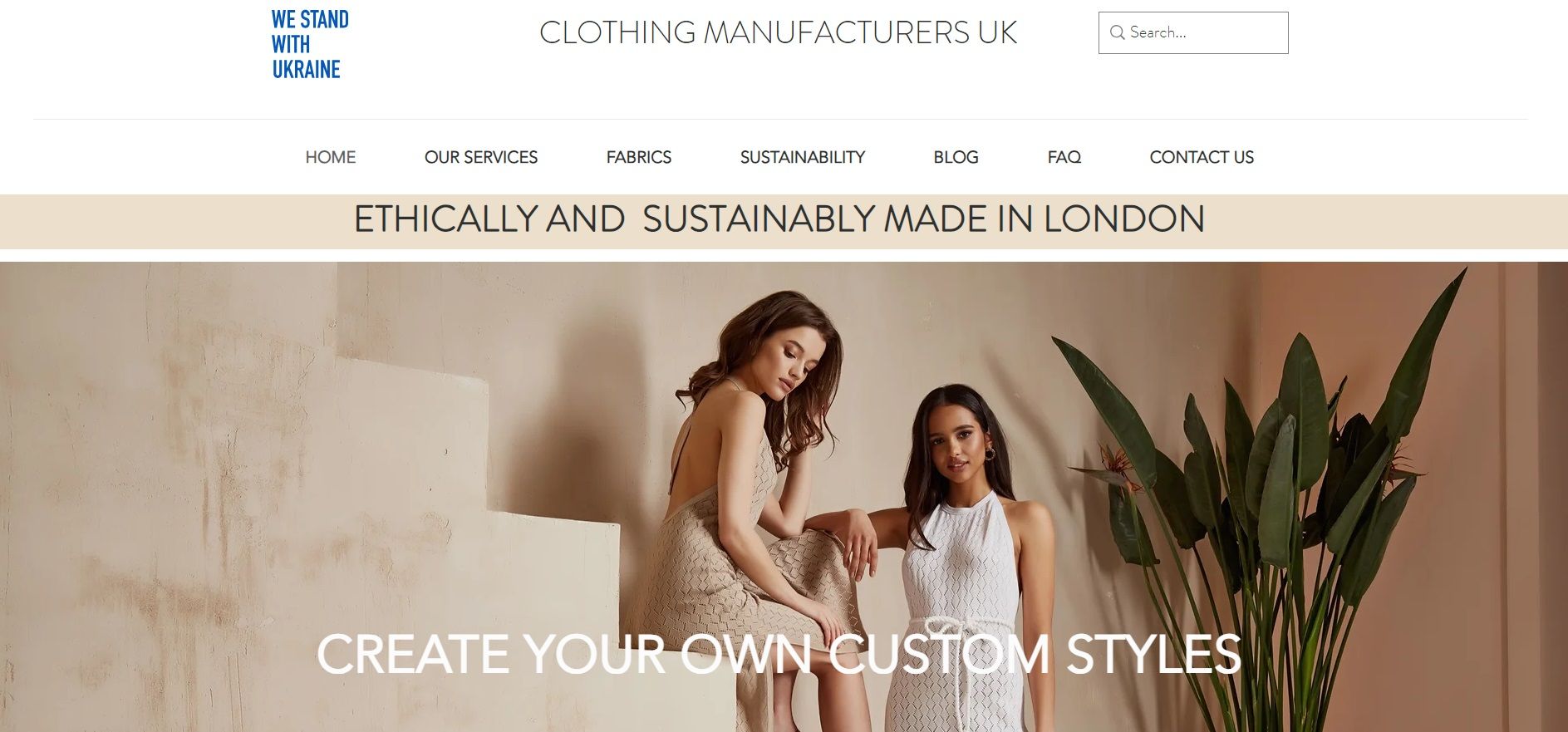 If sustainability is a primary aspect of your company's values, you will certainly appreciate what Clothing Manufacturers UK has to offer. Providing sustainable fabrics like hemp and bamboo, they stand out for their environmental consciousness.
What's more, the entire range of their items is manufactured and shipped from their London warehouse. This not only helps in reducing emissions associated with production and transportation processes but also offers UK fashion brands the advantage of quicker deliveries compared to overseas manufacturers.
Ensuring a healthy working environment, Clothing Manufacturers UK guarantees a livable wage and safe conditions for all its employees. Despite all these beneficial factors, they continue to offer affordable pricing and startup services such as business planning and budget strategy.
Pros
Sustainable and ethical brand
All clothing made in the UK
Custom options
Wide clothing and style selection
Startup services
Cons
Relatively high MOQ requirements
5. DSA Manufacturing UK - Best for Startups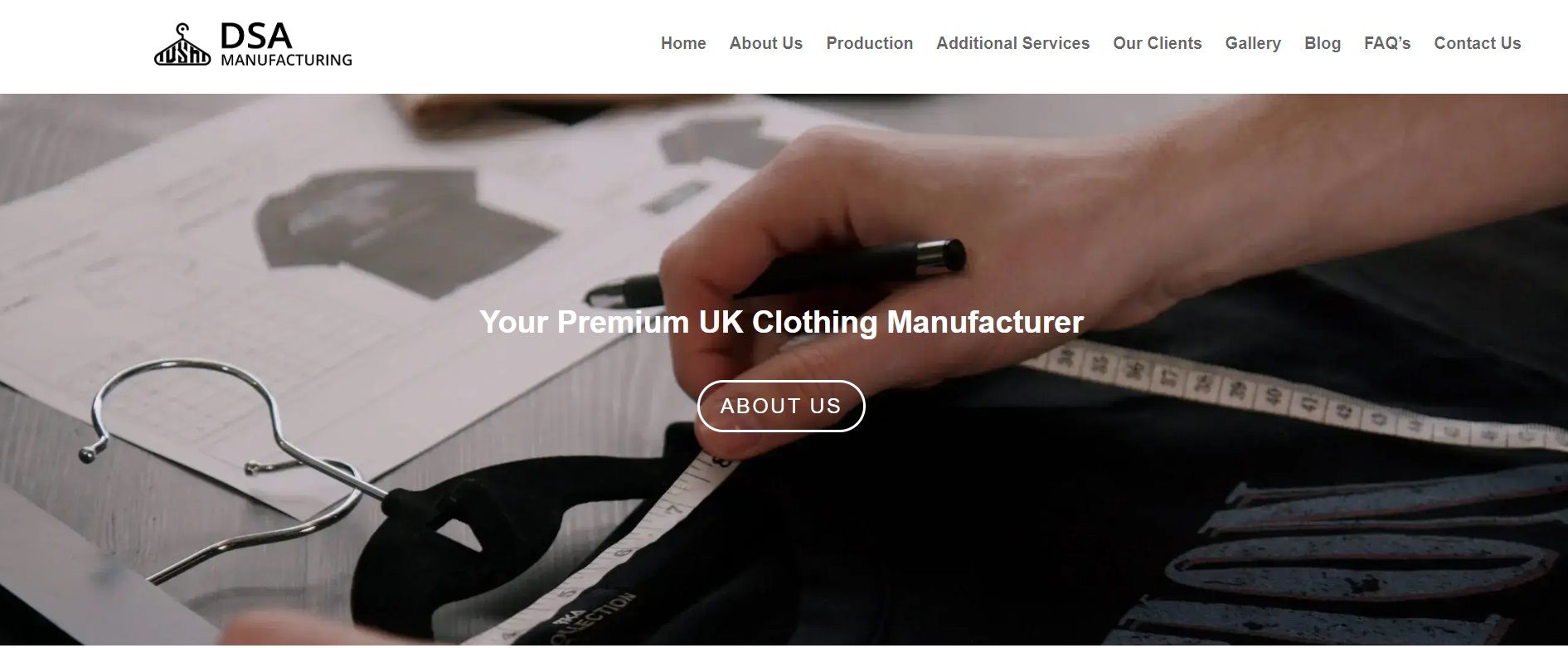 Most companies offer services for startups, however, DSA Manufacturing is specifically tailored for new designers. They can provide emerging brands with high-quality clothing and contribute to choosing fabrics, sketching designs, and configuring size charts.
New designers will particularly value DSA Manufacturing's low minimum order quantities (MOQs) and strong dedication to customer service. DSA Manufacturing can cater to fashion brands of varying sizes, serving as a comprehensive one-stop shop, regardless of the needs. They boast a vast product catalog and have the capacity to work with designers across the spectrum.
Even though DSA Manufacturing is based in Wales, they have the versatility to work with clients on a global scale, as well as those situated throughout the UK.
Pros
Solutions tailored for startups
High-quality garments
Low MOQs
Great customer service
One-stop shop
Can make nearly all clothing types and styles
Works with clients globally
Cons
Clothes are made overseas
6. FashionWorksLondon - Best Clothing Manufacturer for Low MOQs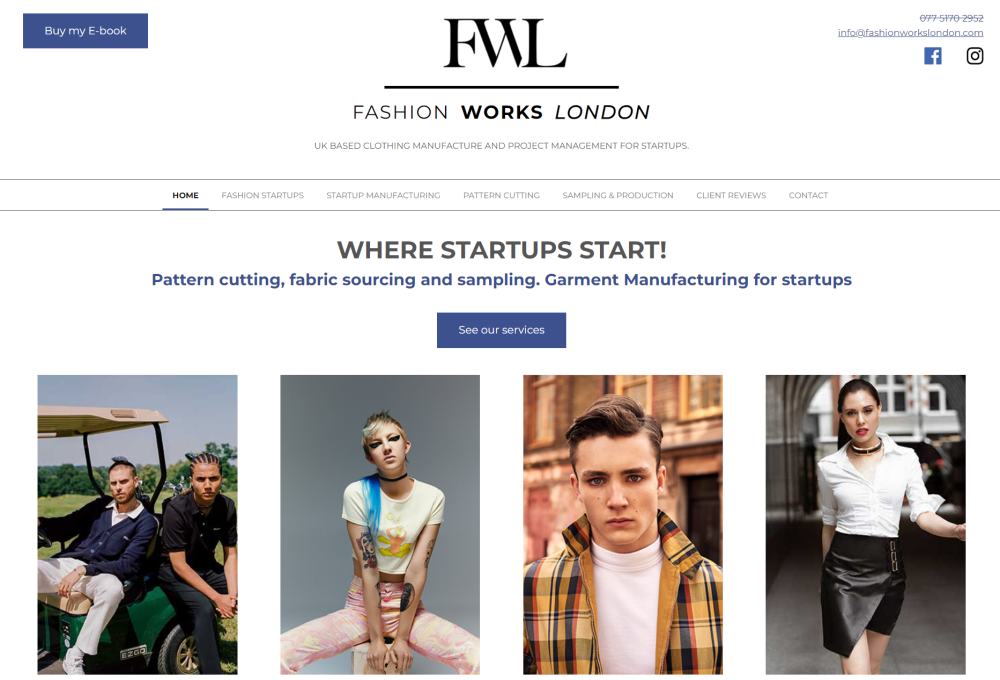 FashionWorksLondon is a company that offers solutions specifically tailored for startups. This company differentiates itself by ensuring that every step of its process is attuned to the unique needs of new designers. This includes low MOQs, tech packs, consultations, and in-house project management.
As FashionWorksLondon provides comprehensive services, it can function as a one-stop solution for all your brand's requirements. Some of its services encompass fabric sourcing, pattern cutting, and sampling.
Pros
Solutions for startups
One-stop shop
Low MOQs
In-house project management
Affordable
Clothing made in the UK
Can make nearly any clothing type
Offers samples
Ethical company
Cons
Don't offer all services in house
7. DSA Production Services LTD - Best Apparel Maker for Creativity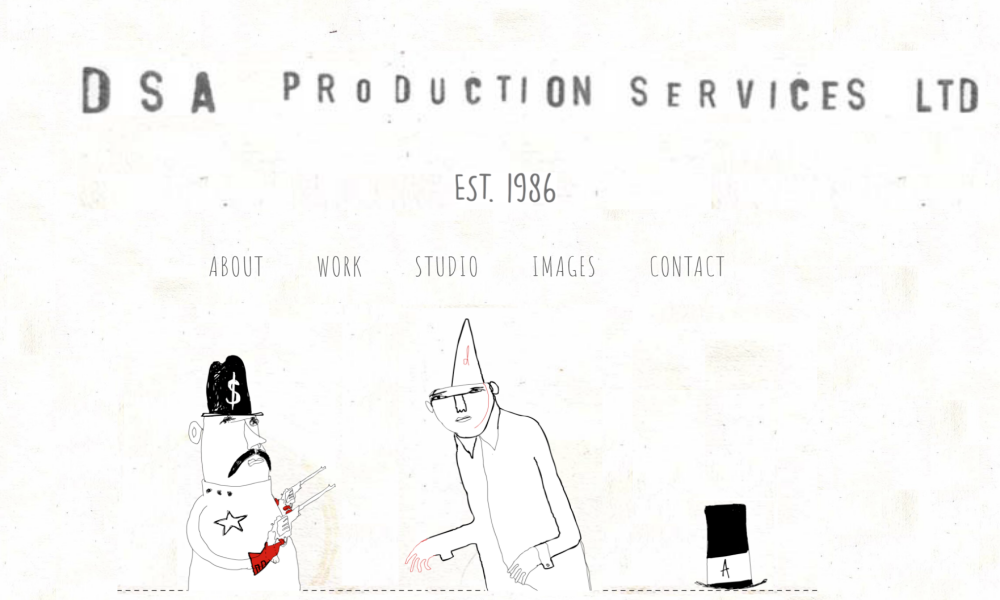 If you own a high-fashion brand, understanding the significance of a successful fashion show is paramount. The fashion brands must showcase their most unique and eye-catching pieces to stimulate conversations.
If such is your requirement, consider opting for DSA Production Services LTD. Specializing in designing and executing product launches and other fashion show services, including set building and lighting, they are a company to reckon with.
Wondering about the reputation of DSA Production Services LTD? They have liaised with major brands like Adidas and even partnered with events such as London Fashion Week.
Pros
Fashion show set-building services
Designs and makes product launches
Collaborated with major brands
Cons
Services are limited to fashion shows and events
8. Ro & Ritzy - Best Clothing Maker for Versatility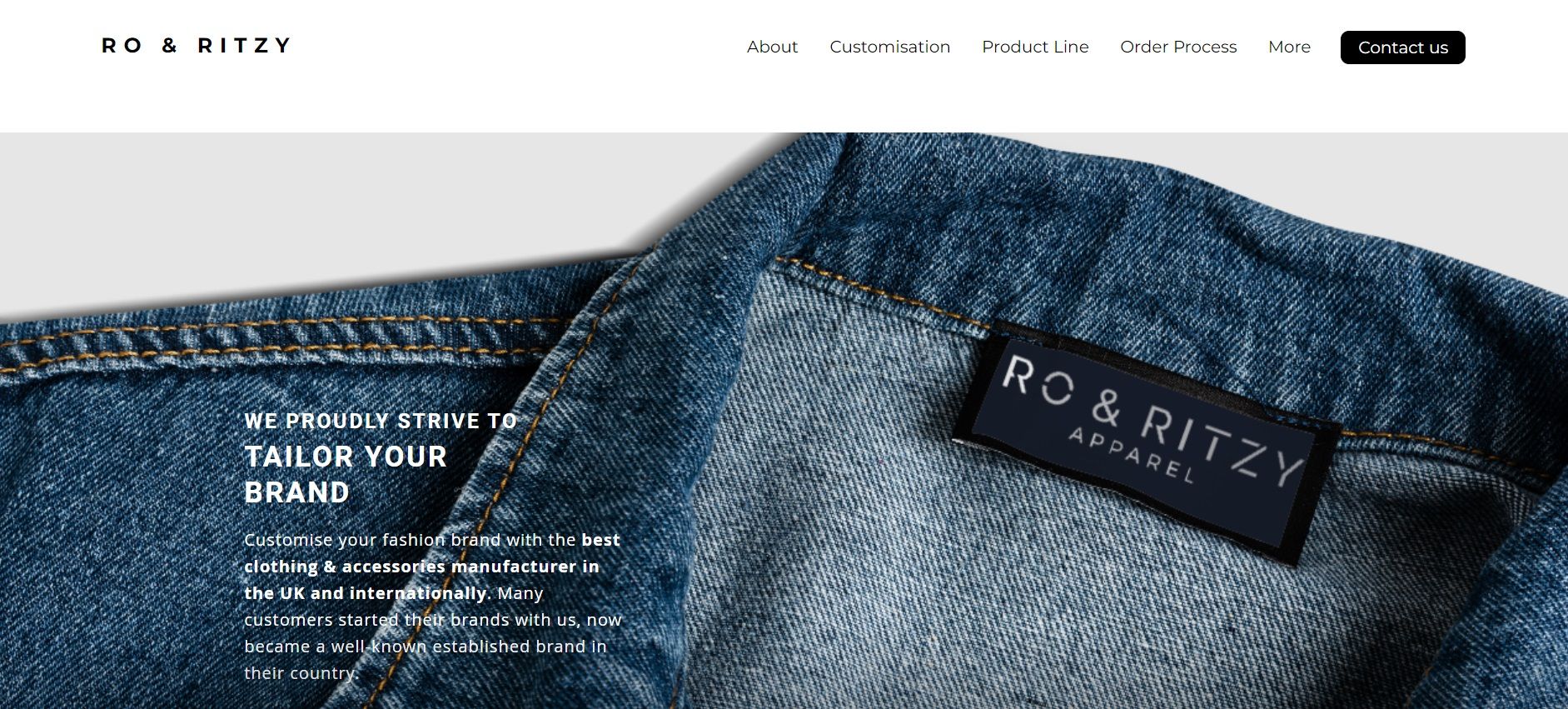 In steps Rio & Ritzy, an optimal solution for clothing brands both big and small. Offering a broad spectrum of apparel, the brand spans women's wear, men's wear, and everything in between. The contemporary and diverse catalog boasts activewear, t-shirts, denim, kid's wear, uniforms, and a range of accessories.
Rio & Ritzy is not just any manufacturer, it's a company committed to sustainability. Alongside its bulk manufacturing operations, the brand utilizes only natural dyes and fabrics that are certified organic or recycled in their products. In addition to their sustainable approach, they also provide services for clothing customization. These include private labeling, intricate embroidery, and high-quality screen printing, catering to diverse customization needs.
Catering to varying needs, Rio & Ritzy is affordable for small clothing brands, yet equally presents high-end options tailored for major fashion houses. Brands have the flexibility to either utilize their bulk ordering solutions or opt for low minimum order quantity (MOQ) requests for a more tailored approach.
The company is also equipped with the latest technology and an experienced team of staff members who manage large-scale orders proficiently. They simultaneously produce various kinds of garments, maintaining high production efficiency and ensuring that each piece of clothing, regardless of its nature, upholds a high standard of quality.
Pros
Customization options
High-quality and sustainable fabrics
Diverse product line
Fabric samples
Low MOQs
Bulk ordering options
Affordable
Use the latest technology and machinery
Hire trained and skilled staff members
Cons
Clothing is made overseas
9. F Chand & Co. - Best for Experience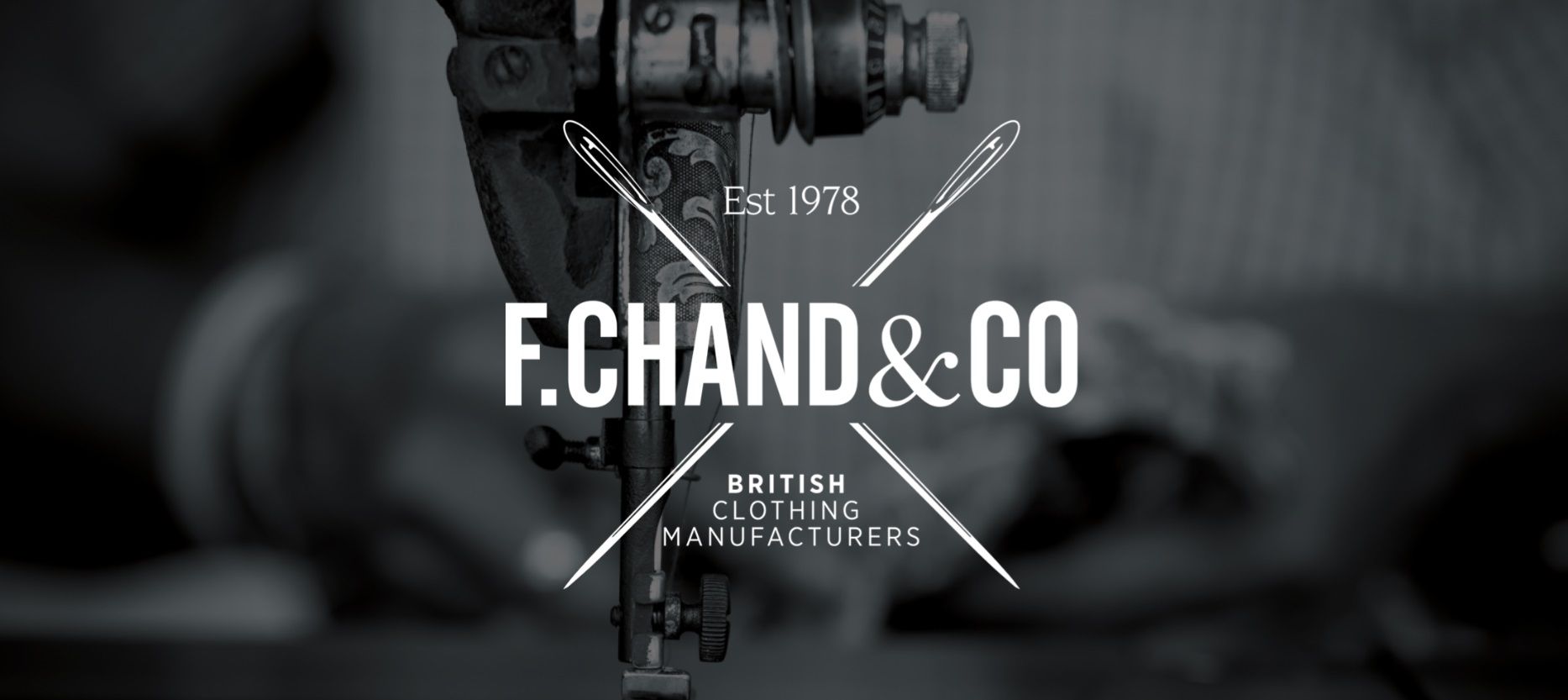 Even emerging clothing brands might consider partnering with a manufacturer that boasts decades of experience. If that aligns with your requirements, consider reaching out to F Chand & Co. Established in 1978, this company has worked with some of the world's most renowned fashion houses.
F Chand & Co. specializes in private-label clothing and offers a wide array of hand-crafted options. All garments are produced in the UK by a premiere team of specialized professionals, providing ample customization opportunities. Their commitment to quality control is strict, yet they uphold flexible Minimum Order Quantities (MOQs) and guarantee quick turnaround times.
F Chand & Co. has numerous services, including:
Tech packs
Designs
Samples
Pattern cutting
Pattern grading
Fitting
Cutting
Fabric and trim sourcing
Labeling
Packaging and distribution
F Chand & Co. is an ethical company and transparent in every phase of the supply chain. They offer the best working environment for their employees and reduce carbon emissions in production. F Chand & Co. also only works with suppliers that follow the international guidelines of ethical working.
Pros
Over 40 years as a company
Made in the UK
Ethical and sustainable company
Low MOQs
Skilled employees
Wide range of services
Cons
May restrict to only accommodating high-end brands
10. Fabrika - Best for High-End Brands

If you own a prominent fashion house, a capable manufacturer is vital to meet your apparel needs. In this regard, Fabrika can be the solution for you. Fabrika excels in producing luxury, bespoke, and contemporary garments. Their primary services include pattern making and sampling, ensuring each garment boasts exceptional attention to detail.
Fabrika is equipped to handle small to medium-sized orders efficiently. They provide rapid turnaround times and have the capacity for accelerated orders.
Pros
Perfect solution for high-end and boutique brands
Renowned for their pattern-cutting services
Low MOQs
Amazing quality and attention to detail
Cons
Not the best solution for bulk ordering
What Selection Criteria Was Used to Pick the UK Garment Manufacturers for This Article?
While various clothing manufacturers have their unique advantages and disadvantages, we employed specific criteria in choosing these 10 recommended companies. The criteria encompass:
Quality: The selected corporations possess rigorous quality control procedures and the appropriate certifications to ensure trust.
Production: Priority was given to manufacturers that provide low MOQs and utilize recent technology to fulfill large orders.
Lead times: The shortlisted brands have rapid turnarounds, with provisions to expedite orders.
Pricing: Not all entities disclose their pricing, however, we emphasized economical brands that provide discounts for startups and bulk orders.
Sustainability: The chosen brands offer eco-friendly materials, minimize emissions during production, and implement a sustainable transportation and delivery procedure.
Communication: All selected businesses excel in customer partnership by maintaining steady communication throughout the process. Many offer consultations for emerging fashion brands.
Reputation: Despite differing levels of experience, all selected corporations are reliable, and have earned their reputation within the industry.
Dissatisfied With UK Clothing Manufacturing Companies? Explore Appareify!
Although many British fashion brands may aspire to collaborate with local manufacturers, there can be certain drawbacks to such a partnership.
The United Kingdom faces a shortage of skilled labor in the fashion industry, making it challenging to find "Made in the UK" brands. Thus, numerous manufacturers in the UK opt to outsource their clothing production overseas. Also, UK manufacturers tend to charge premium rates, especially those specializing in high-end garments.
However, brands can still attain the benefits of local collaboration, and more, by partnering with Appareify. Appareify is a clothing manufacturer that provides a myriad of solutions for budding designers.
Being an affordable firm, we offer reductions for bulk orders. We undertake all clothing production in-house, leveraging the latest equipment to ensure seamless results. Consequently, we pride ourselves on having one of the fastest turnaround times in the industry; clients can anticipate receiving their items within 7 to 20 working days, and we also accommodate expedited orders within a three-day timeframe.
As one of the best clothing manufacturers in China, we have a skilled team of R&D professionals, craftspeople, and designers dedicated to meeting and exceeding your expectations, ensuring your complete satisfaction with your order.
Conclusion
Fashion holds significant popularity in the UK, making it necessary for British clothing brands to secure high-quality manufacturers to supply the most fashionable items. While many of these manufacturers are based in the UK, producing their clothing on-site, each option must be evaluated on its overall competencies.
Hawthorn stands out as the most effective manufacturer due to the extensive solutions they bring to many businesses. However, brands should also factor in unique aspects, like sustainability, when searching for an ideal manufacturer.
A majority of these companies also cater to startups by offering solutions like tech packs. Aside from that, certain manufacturers extend perks such as stringent quality control, which proves beneficial especially for high-end brands.
Nevertheless, there are instances when brands might need to explore manufacturers outside of their usual choices. Appareify, for example, produces high-quality, fashionable clothing at a fraction of the usual cost while offering sought-after services like white labeling and customization. Their low minimum order quantities and comprehensive services make them an excellent choice, particularly for emerging fashion startups.