Any thriving business in Pakistan needs a supplier that they can depend on if they want to thrive and this is especially true when it comes to fashion. You need to be confident that your quality standards and supply needs will be met and at a fairly reasonable price no less. However, every clothing manufacturer is different, as some specialize in certain garments, some have specific order requirements, others have unique pricing structures, etc.
This can often make it extremely difficult to know where to start or even how to make a good choice, which can negatively impact your apparel company's chances of success. So, we decided to put together a comprehensive list of the 10 best clothing manufacturers in Pakistan since they are renowned for their ability to produce high-quality goods at very low prices.
In this article, we will detail everything that you need to know about them, what they offer, their strengths and weaknesses, etc. So, make sure to read on if you want to secure yourself the perfect clothing partner today!
1. ZK International - Top Pakistan clothing manufacturer of knitted and woven garments
2. Axen Apparel - Leading experts in custom-made private-label products
3. Rijiz - Well-known manufacturer of detailed and specialized clothing
4. Fashion Villaz - Experienced clothing supplier of quality workwear garments
5. Experto - Offers the widest range of custom-made apparel products
6. MAB Custom Apparel - Offers the lowest MOQs for custom-made clothing
7. Rainbow Textile - Produces quality garments with extensive customization options
8. Extreme Sportswear - Expert sportswear supplier with a strong industry reputation
9. Apparel Zone - Specializes in manufacturing custom denim and knitwear products
10. Anis Apparel - Reputable manufacturer of trendy and high-quality loungewear
Top 10 Pakistan-Based Clothing Manufacturers To Rely On
Here's an in-depth list of the 10 leading clothing manufacturers in Pakistan to work with when launching a clothing brand today.
ZK International - Top manufacturer of knitted and woven garments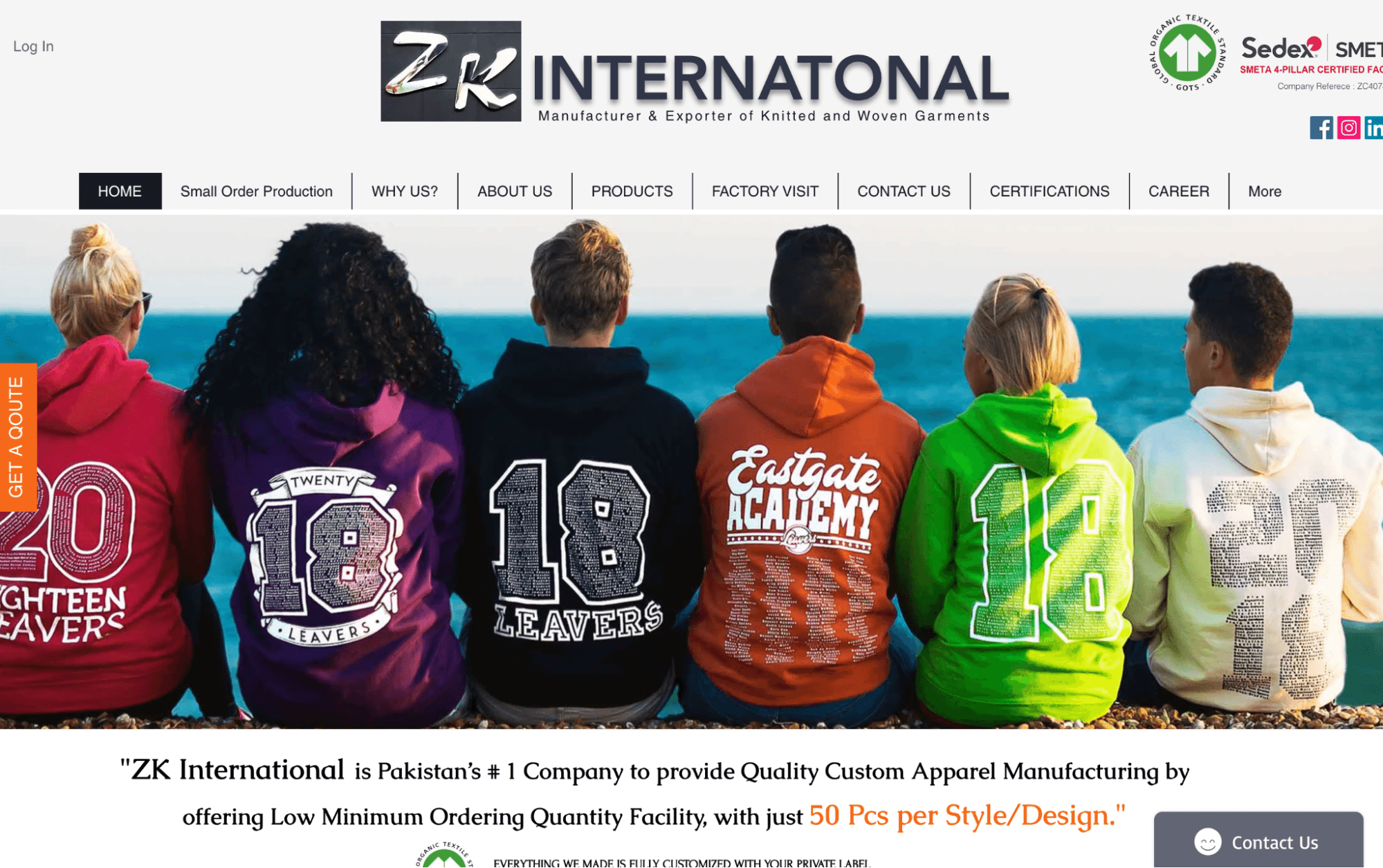 ZK International is the leading custom-clothing manufacturer in Pakistan that specializes in producing knitted and woven garments in the country in a wide range of organic fabrics. As a result, they have managed to build a long list of clients from several reputable international brands based in the UK, USA, Canada, and EU.
However, the main highlight of using this company is that they offer some of the lowest MOQs in the country with brands able to order custom-made clothing starting from just 50 pieces per style/design. From shirts, t-shirts, hoodies, polos, bombers, denim, sports bras, leggings, and more, ZK International can be relied upon to make it all.
ZK International is made up of design and clothing experts who have more than 20 years of experience in the apparel industry. In addition, the company offers multiple production options to choose from such as private labelling, screen printing, embroidery, and dye sublimation. This makes them an ideal clothing partner for any startup brands that may need a guiding hand to launch their first collections.
Pros
Specialists in knitted and woven clothing
Fast product turnarounds
Extremely low MOQs available
Suitable for large bulk orders
Cons
Doesn't cater to high-end tailor-made garments
Use ZK International To Order Wholesale Knitted and Woven Clothing >>>
Axen Apparel - Leading experts in custom-made private-label products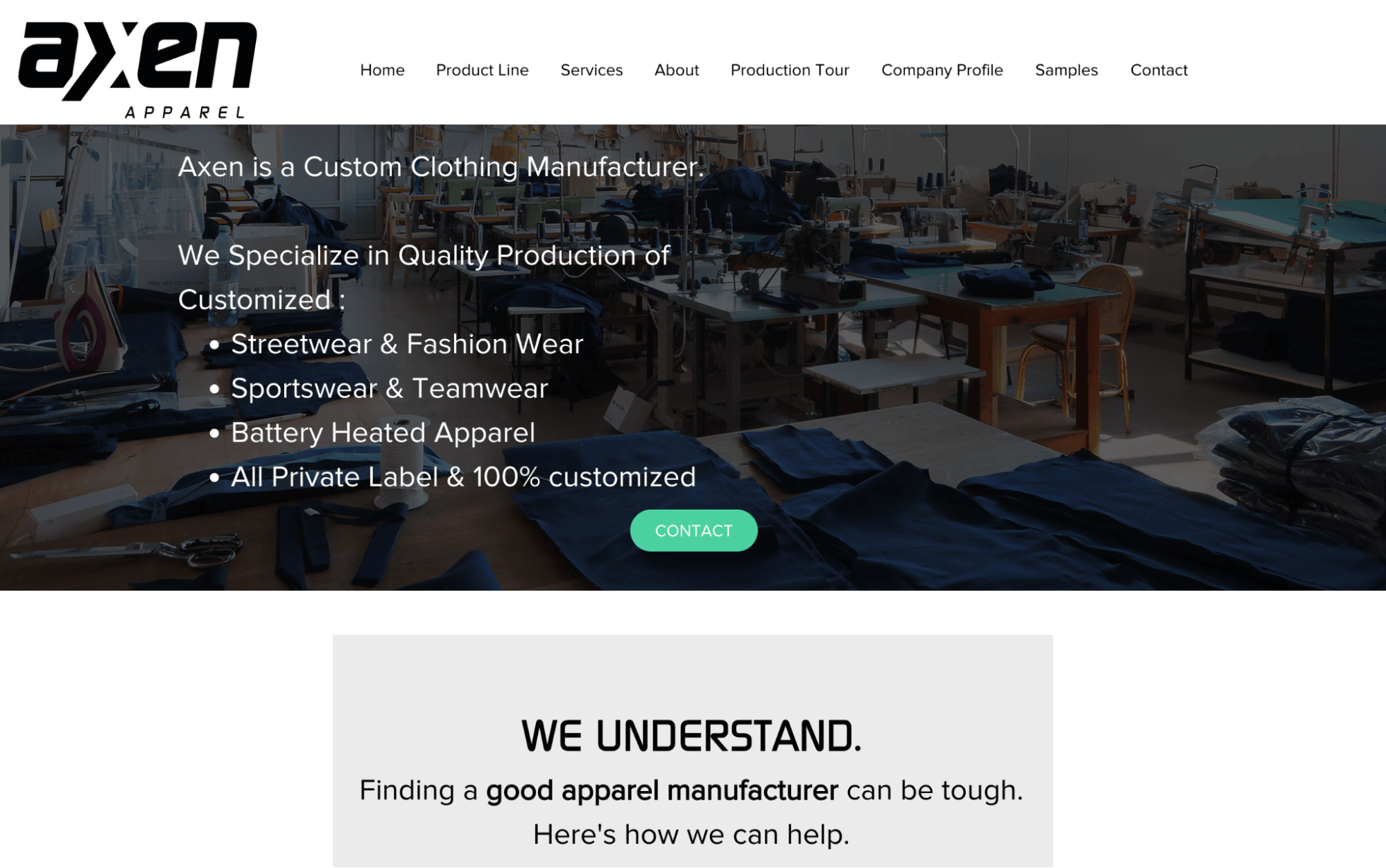 When it comes to private labelling, Axen Apparel is the leading choice to consider, as the company offers multiple product options to choose from. From streetwear and leather apparel to sportswear and heated clothing, they are a contemporary and dynamic manufacturer that has worked with numerous brands both small and large.
With long-term experience in the industry, a dedicated workforce of 200+ people, as well as an 8000 SQM factory, they offer multiple services under one roof. Whether it be product design, fabric sourcing, pattern making, customized packaging, or shipping, they are fully capable of providing brands with a full-service experience from start to finish.
In terms of product design, they are well-known to be experimental and creative, not to mention, versatile enough to offer numerous customization options. Some of these include heat transfer, sublimation printing, screen printing, embroidery, DTG printing, and more.
Pros
Experts in private-label clothing
Large-scale production available
Multiple apparel options to choose from
Cons
Slow turnaround times
High MOQs
Contact Axen Apparel For High-Quality Private-Label Garments >>>
Rijiz - Highly-reputable manufacturer of detailed and specialized clothing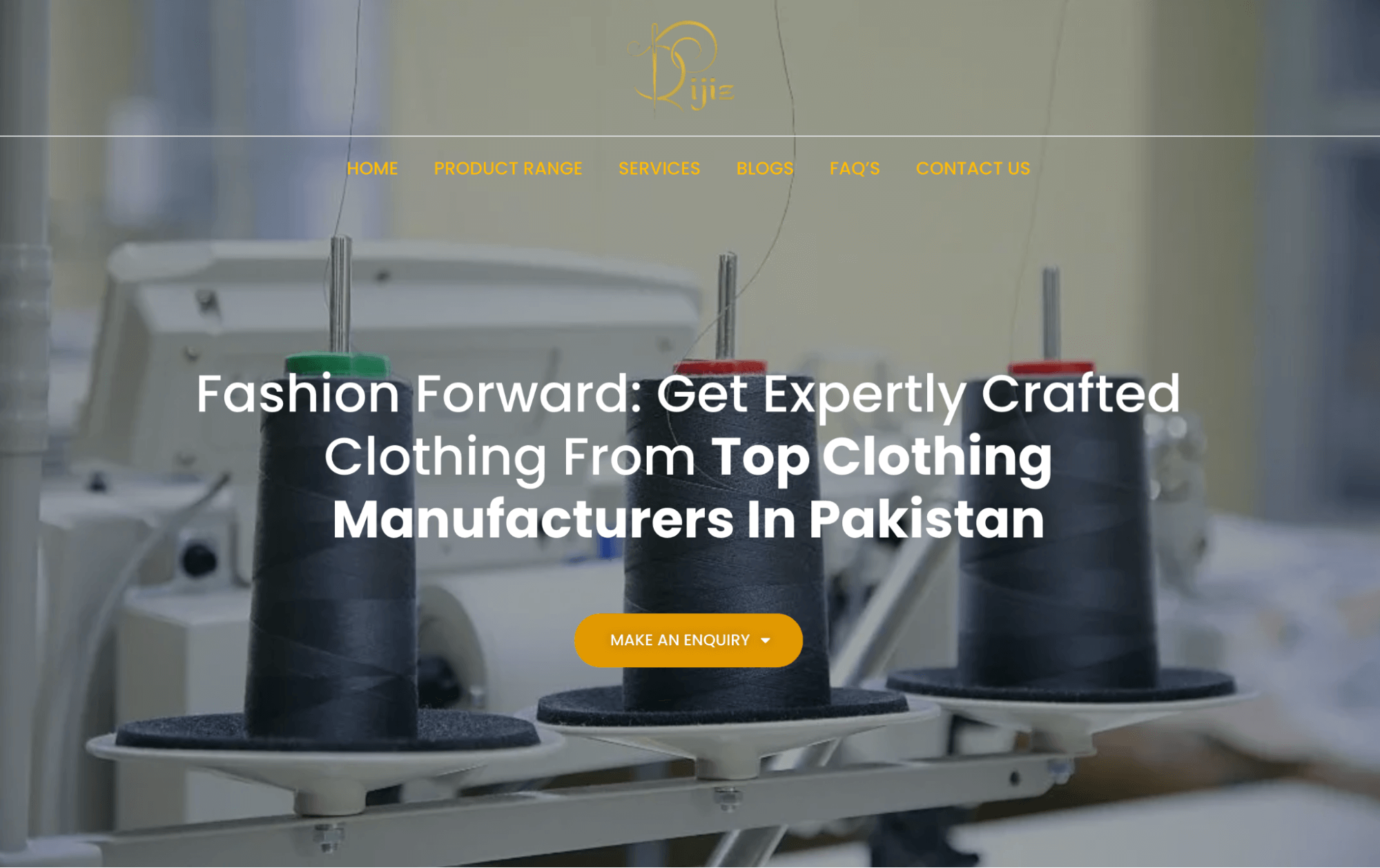 When it comes to crafting detailed and specialized clothing products, Rijiz is a leading Pakistan apparel manufacturer with a proven track record of providing brands with innovative and unique designs. The company offers an extensive range of exquisite custom styles such as screen printing and custom embroidery to cut and sew clothing manufacturing.
In addition, the manufacturer is extremely versatile, as they offer brands several different products to choose from. If you need custom-made streetwear, sportswear, fitness wear, or even jackets, they've got you covered. The company has a wide network of fabric and material suppliers, which means that they can source what you need for your garments with ease.
In terms of orders, their MOQs start at 100 pieces per style with an average production time of 30 working days. The manufacturer also accepts multiple payment types and facilitates international worldwide shipping, thereby making them a highly accessible company to work with.
Pros
Highly-experienced in crafting specialized clothing
Numerous fabric options available
Multiple custom styles on offer
Cons
Slow production times
High production costs
Source Highly-Detailed and Well-Crafted Custom-Made Garments From Rijiz >>>
Fashion Villaz - Experienced clothing supplier of quality workwear garments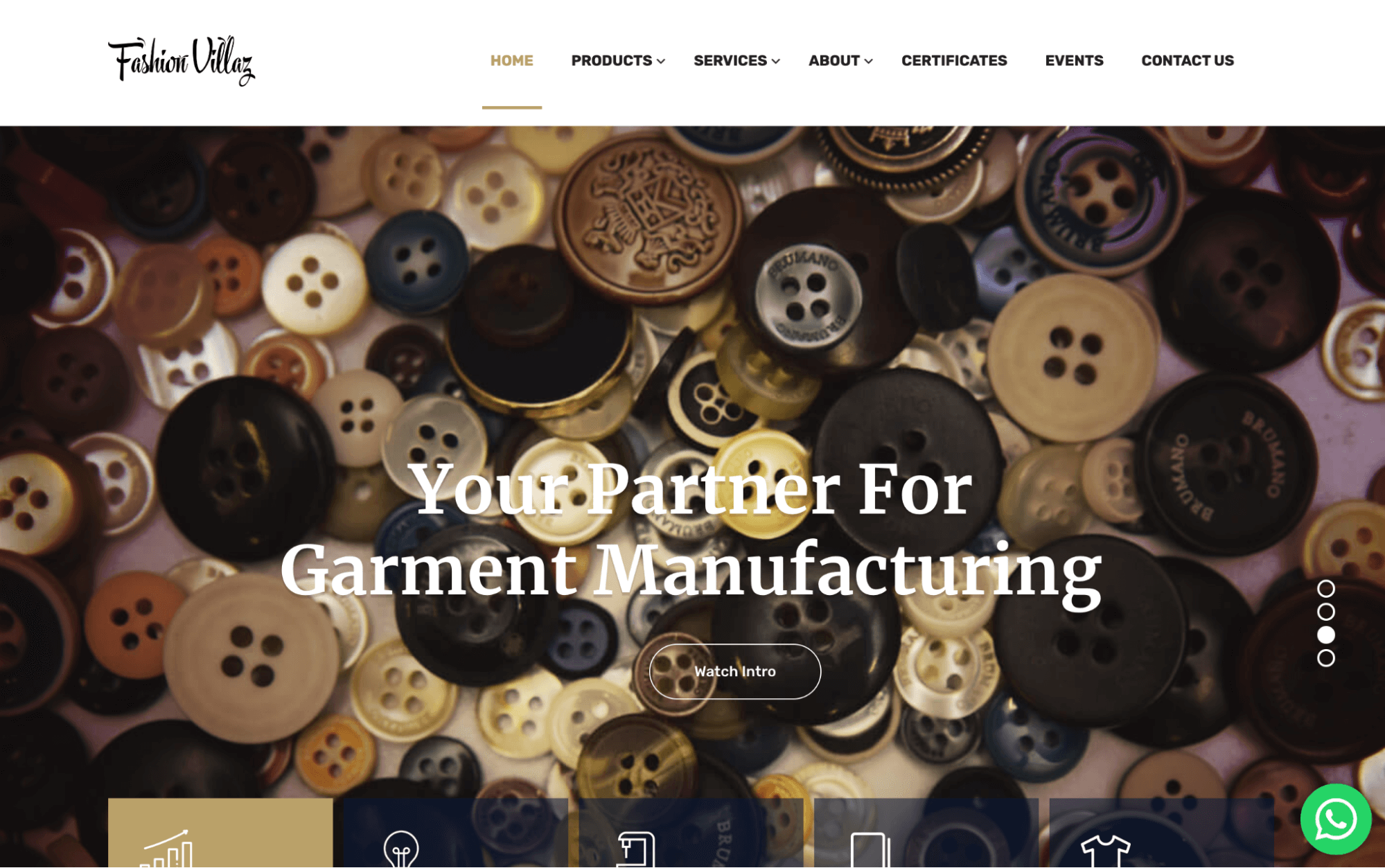 Fashion Villaz has been in the apparel industry for 20+ years and within that period, they have continued to produce high-quality workwear for several industries such as fire departments, police, plumbing, and more. This clothing manufacturer in Pakistan goes on to provide its clients with a comprehensive service by handling everything from sourcing and production to shipping and delivery.
For production, they have the latest machinery and equipment, which enables them to churn out over 40,000 units per month. This makes them a great choice for brands that need bulk production services but they are accommodating to small-scale brands that require limited pieces, as well.
Aside from that, the manufacturer tends to only source the best and finest materials, which ensures that their products are durable and functional, as well as comfortable. Plus, they employ strict industry-leading quality control protocols to ensure 100% client satisfaction.
Pros
Experienced in a wide range of workwear garments
Bulk production capable
Accommodates low-order quantities
Cons
Slow production times
Doesn't cater to other clothing styles like streetwear
Craft Quality Workwear Clothing With Expert Help From Fashion Villaz >>>
Experto - Offers the widest range of custom-made apparel products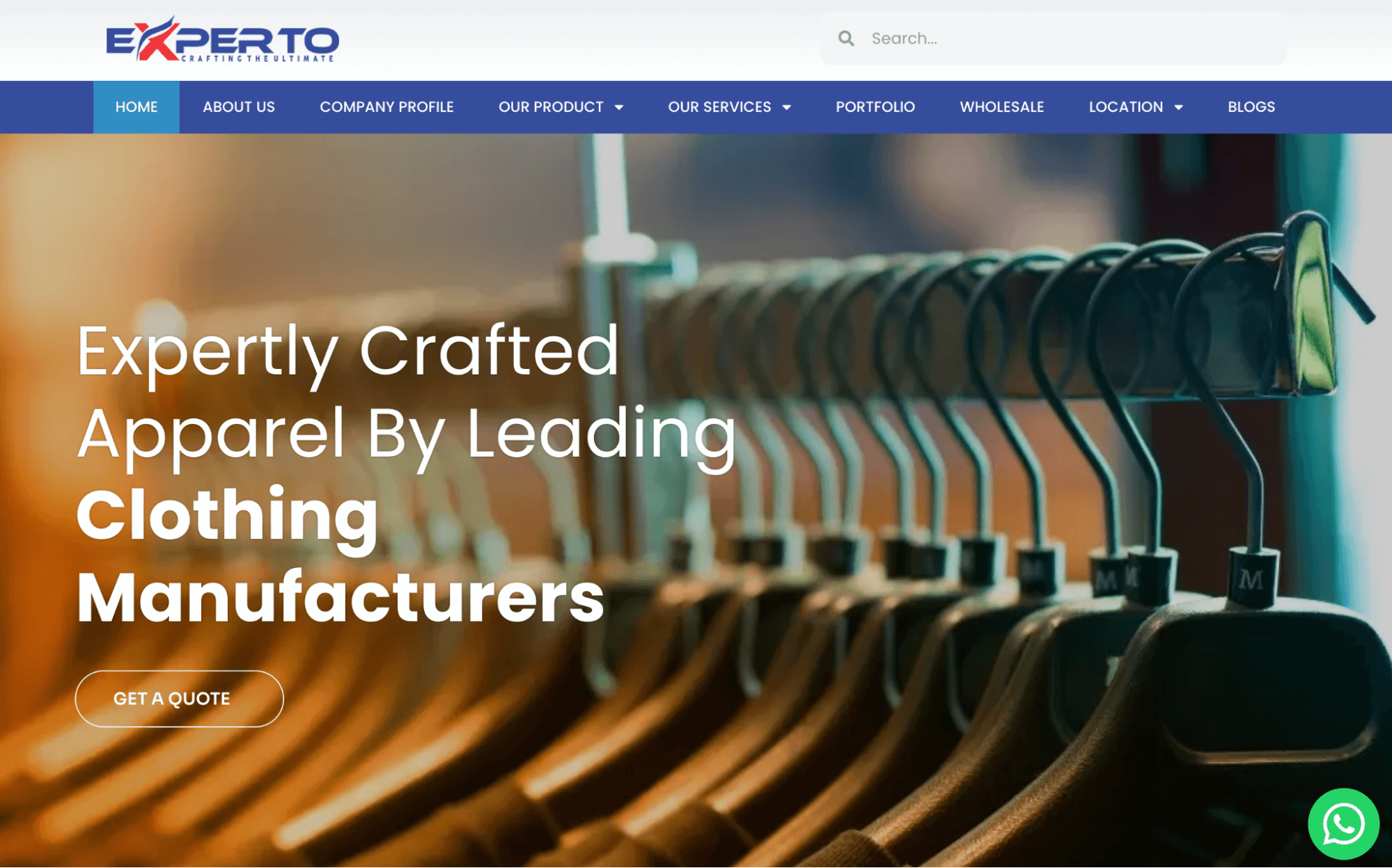 Launched in 2012, Experto is a renowned clothing manufacturer in Pakistan that works with many independent and established brands. This is down to the fact that they are one of the few companies that produce all types of clothing products. Regardless of the kind of garment that you need, the manufacturer is well-equipped to handle its production.
From t-shirts, jeans, jackets, sweatshirts, hats, shorts, hoodies, and sportswear to even martial arts clothing, the manufacturer can create it. On top of that, they offer all types of customization options such as private labelling, embroidery, sublimation, screen printing, etc. The company can even handle other aspects like custom packaging, labelling, and adding tags based on your precise requirements.
Experto is also known for its low production prices and with a highly experienced and professional team of experts in their factory, brands can access full design support and consultation services. Clients who open a wholesale account with the manufacturer can access large discounts on bulk orders, low MOQs, faster turnaround times, and more.
Pros
Affordable product prices
Extensive clothing products available
Free product samples on offer
Cons
Relatively new company, compared to others on this list
Doesn't cater to tailored and high-end clothing
Access A Wide Range of Well-Made Custom Clothing Products Using Experto >>>
MAB Custom Apparel - Offers the lowest MOQs for custom-made clothing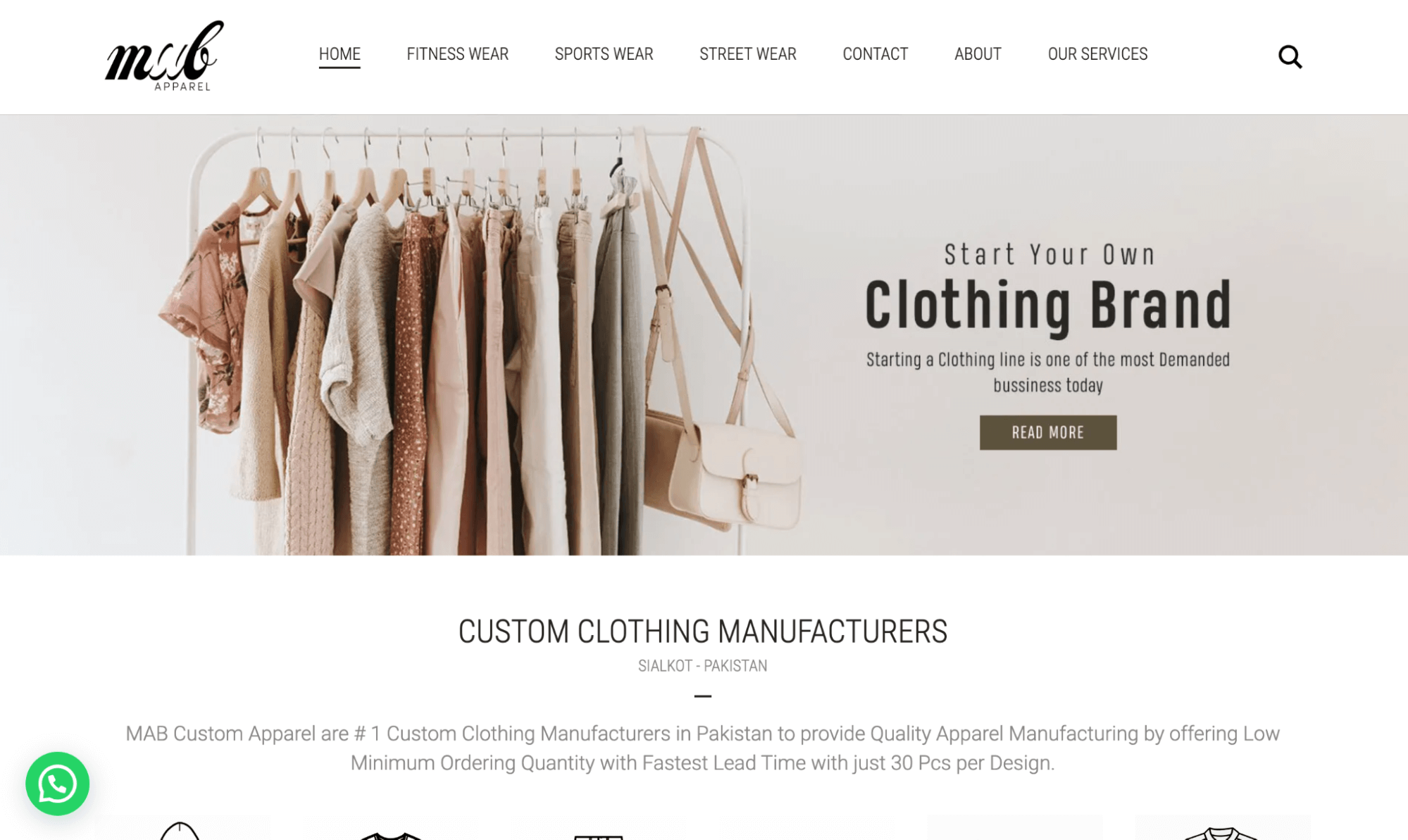 MAB is a custom clothing manufacturer in Pakistan that is renowned for its commitment to providing brands with exceptional made-to-order garments that remain available starting at an extremely low MOQ of just 30 pieces per design. It is for this reason that they are a popular choice among small and independent brands.
The manufacturer mostly focuses on developing streetwear, sportswear, and high-performance fitness wear with all the garments being cut, stitched and finished by hand. Compared to most other manufacturers, the company is fairly transparent and active on social media (Instagram), which often enables brands to get a better view of the products and quality on offer.
On top of that, the manufacturer pays great attention to detail in their production processes by giving the fabrics and materials additional treatments to ensure the quality matches your requirements.
Pros
Extremely low minimums available
Well-crafted clothing products
High attention to detail
Cons
No free samples
Product turnaround may be slow
Partner With MAB Custom Apparel To Get The Lowest MOQs For Custom Apparel >>>
Rainbow Textile - Produces quality garments with extensive customization options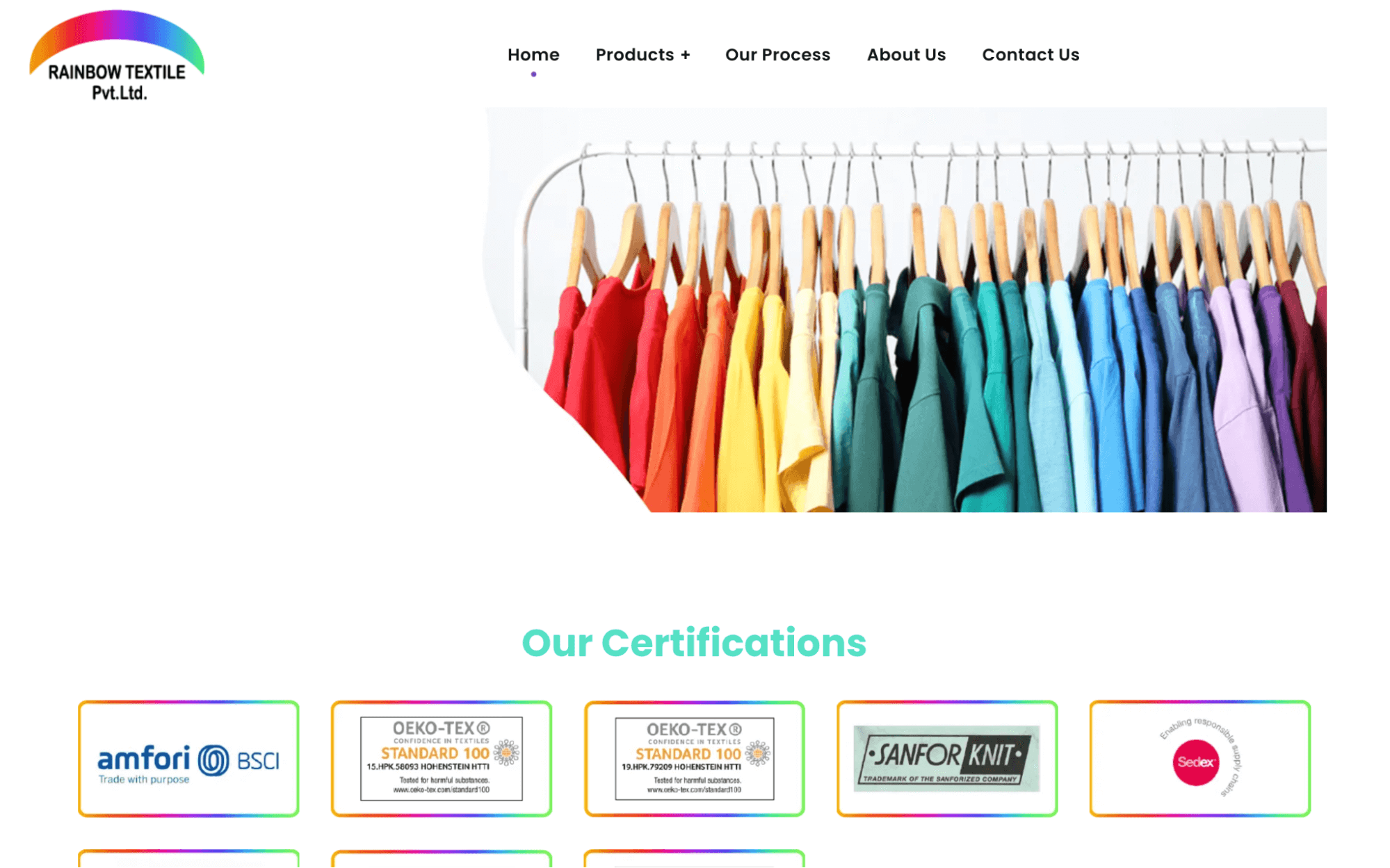 Established in 1992, Rainbow Textile is an all-in-one Pakistan apparel clothing manufacturer with an extensive client list based in many international markets such as the United States, Germany, the UK, South Africa, and even Australia. The company produces high-quality garments made from cotton, blended, and mixed-quality fabric that is easily customizable to suit your requirements by size or color.
They are capable of producing a wide range of clothing products for men, women and even children in bulk quantities such as polos, sweatshirts, hooded jackets, and more. Along with the bespoke apparel, the manufacturer offers private labelling services and since their factory is fully equipped with state-of-the-art machinery, this enables them to consistently produce apparel in different styles and finishes.
In addition, the company is known to have a rigorous quality control system to ensure every garment that comes off the line is manufactured with international standard quality to perform efficiently all year round.
Pros
International shipping available
Multiple product and style options
Produces high-quality garments
Cons
Limited eco-friendly products
Lack of low MOQs
Choose Rainbow Textile For Quality Garments In Unique Styles and Finishes >>>
Extreme Sportswear - Expert sportswear supplier with a strong industry reputation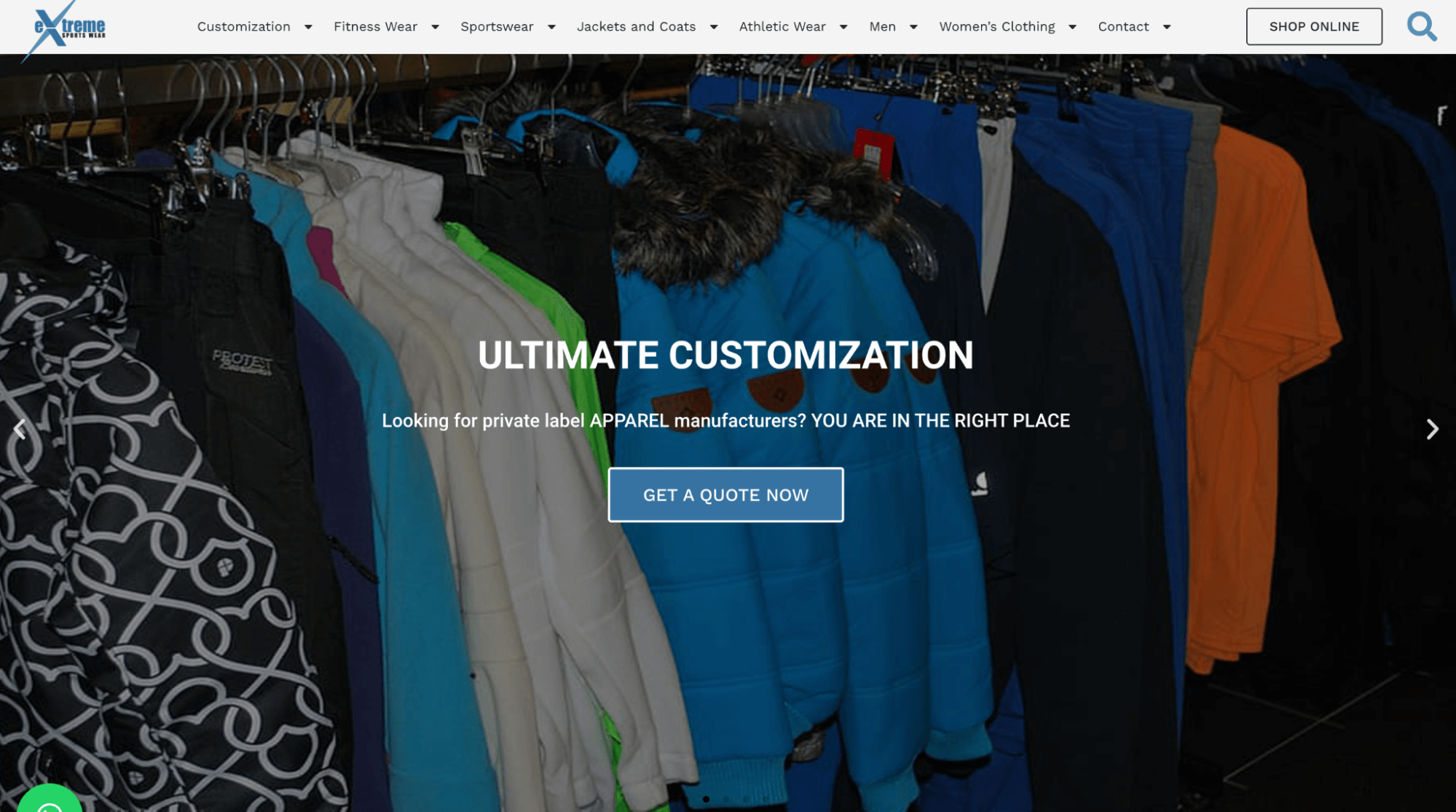 Extreme Sportswear has been in the Pakistan apparel manufacturing business since 2012 and has worked with over 2000 brands based in countries such as North America, Europe, Australia and Japan. The company primarily specializes in the production of functional workout clothes and sportswear for running, cycling, swimming, ski/snowboarding, and more.
In terms of customization, the manufacturer has access to several production techniques such as laser cutting, cut & sew, printing & embroidery, just to name a few. Brands can order clothing starting as low as 100 pieces per color and design with the manufacturer often utilizing organic cotton, recycled fabrics, and other natural blends in their product construction.
There are wholesale ready-made garments available for quick customization and with several fabrics to choose from such as cotton, spandex, nylon, gore-tex, and more, it is easier than ever for clients to order unique cut-and-sew collections, as well.
Pros
Facilitates international shipping
Ready-made and custom apparel available
Experienced in activewear and sportswear garments
Cons
No information online on product pricing
Secure Custom Sports Apparel For Your Brand With Extreme Sportswear >>>
Apparel Zone - Specializes in manufacturing custom denim and knitwear products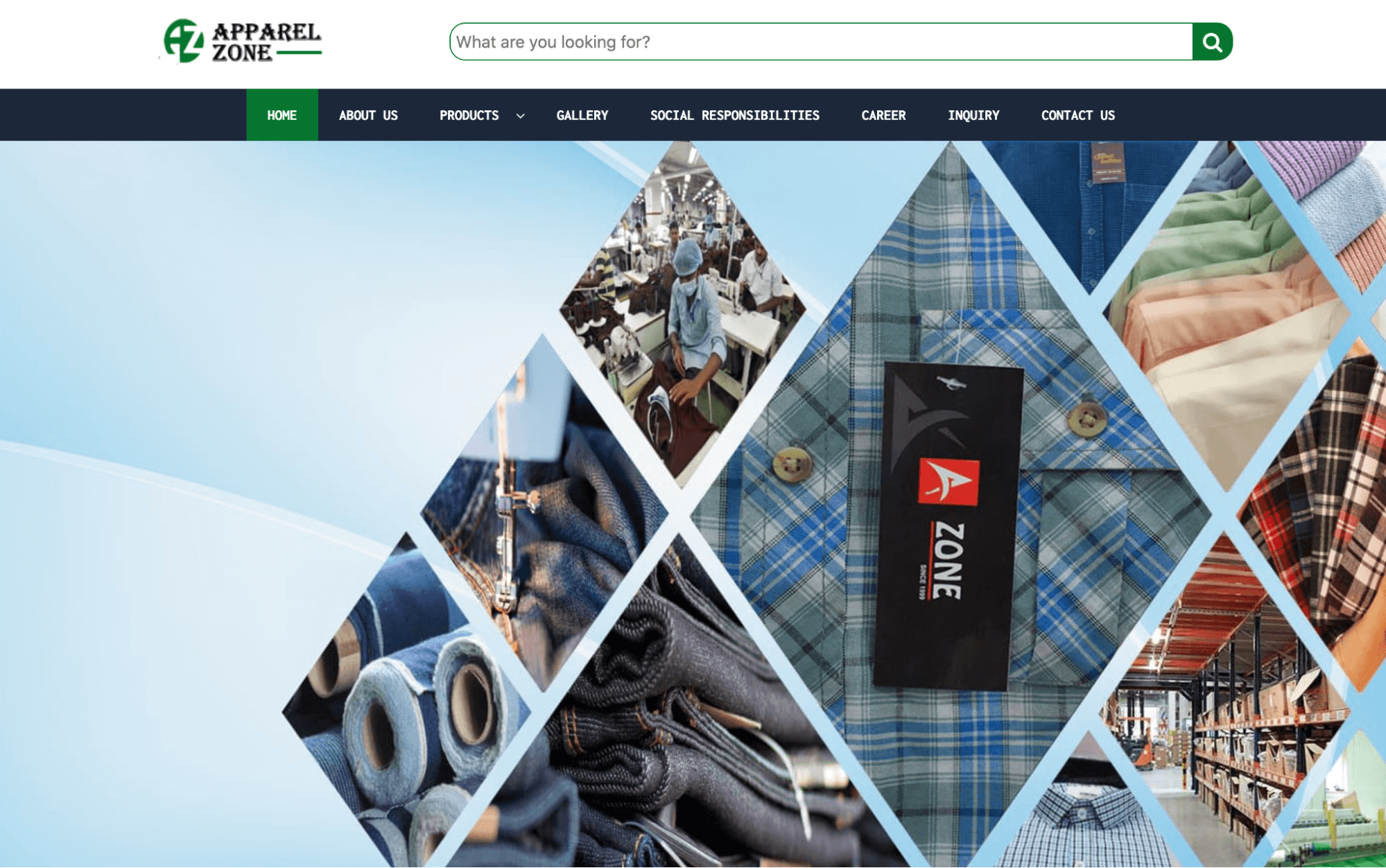 Apparel Zone is a Pakistan clothing manufacturer that specializes in producing knitted & woven garments such as jeans, shirts, shorts, and hoodies. The company is especially well-experienced in crafting quality denim wear and has worked with various brands across the Asia-Pacific, USA, and Europe, both small and large retailers.
Compared to most other manufacturers, they offer low MOQs and fairly competitive pricing, as well as following ethical and sustainable practices in their production processes. Aside from that, the company goes on to offer other additional services like custom packaging, labelling and tagging.
The manufacturer follows European and USA quality standards to ensure that their products can consistently meet client expectations. Plus, they tend to cater to any complicated customer designs or requests that you may have.
Pros
Experts in denim wear and knitted garments
Flexible and accommodating to unique design requests
Offers low order minimums
Cons
Limited products available
Not ideal for high-end clothing products
Obtain Custom-Made Denim And Knitted Clothing Products From Apparel Zone >>>
Anis Apparel - Reputable manufacturer of trendy and high-quality loungewear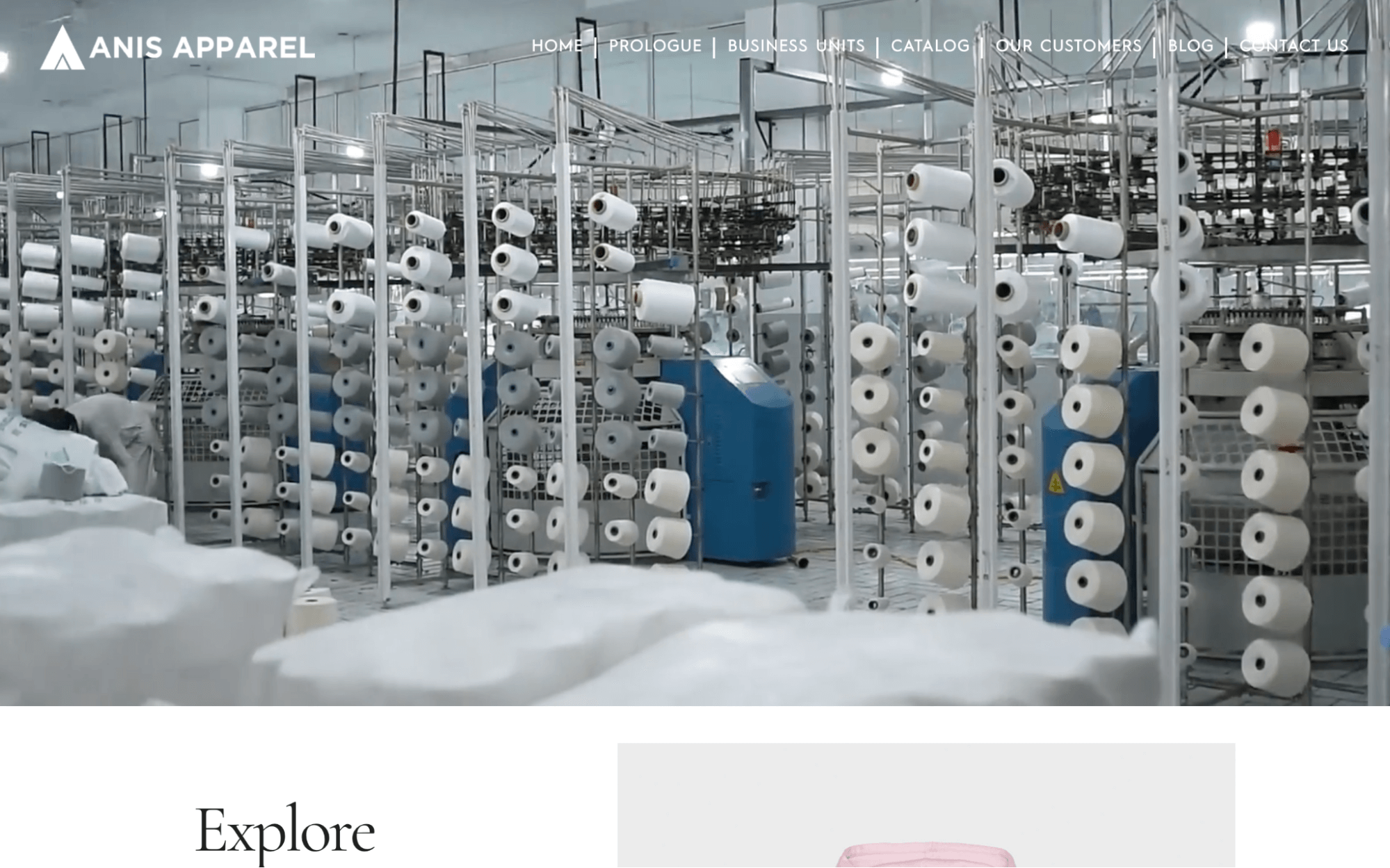 Anis Apparel is a robust clothing manufacturing company in Pakistan that specializes in making high-quality trendy loungewear such as hoodies, sweaters, pants, and crop tops. On top of that, they offer extensive customization options such as dye sublimation, screen printing, heat transfer, and more.
The manufacturer even has a dedicated research and development team that sources fabrics and ensures that the garment construction is made to your exact needs and specifications. This paired with their quality control unit ensures that they can be consistently relied upon to deliver bulk clothing orders without fail or compromising product quality.
Furthermore, the company has an extensive client list as well, having worked with several international brands such as Zara, Pull&Bear, Woolworths, Mango, and more. And since they utilize organic fabric and materials in their clothing products, this makes them a suitable partner for eco-conscious brands.
Pros
Specialists in producing loungewear clothing
Multiple customization options available
Cons
Limited to loungewear only
Not ideal for high-end clothing products
Reach Out To Anis Apparel For Well-Crafted And Trendy Loungewear Products >>>
How to Launch a Clothing Brand in Pakistan?
The first thing that you need to do is to identify a market niche. This is important because it is often easier to build an audience for your brand when you focus on a specific area rather than being generic with your products. For instance, you can opt to focus on yoga wear, gym wear, sportswear, etc.
The best way to narrow down the most promising niche is by reviewing your interests, as well as conducting research online to see what trends are taking over. You can check out what other local brands are selling, as well as ask your friends and family members what styles and designs they would be interested in. Once you have an idea of what you want to produce, you will need to start looking for a manufacturer.
The good news is that you can review the list of Pakistan apparel factory options above to quickly find one that can produce the quality garments you need at a reasonable price range. You must also get samples beforehand to ensure that you have made the right choice. You will also need to start putting together a solid business plan, which involves looking at aspects like market analysis, strategies, financial planning, etc.
This includes deciding whether to launch your clothing brand at a physical store or use an online e-commerce store. While physical stores allow customers to touch and see the products in person, online shopping offers wider access to both local and international buyers. Plus, it saves time and allows customers to easily compare prices while keeping your overhead costs low.
Once everything is in order, you can finalise the bulk order from your chosen manufacturer and get started on promoting and selling your clothing products.
Looking for Superior Alternatives to Pakistan Garment Manufacturers? Discover Appareify - Your Ideal Solution!
There's no question that Pakistan is one of the most popular apparel production countries in the world. This is primarily due to the lower production costs that most manufacturers in this region tend to offer international customers. However, there are also a few key issues to consider with using these companies.
For starters, the production lead times of apparel retail manufacturers in Pakistan tend to be high. Most of these delays are often because of complicated tariff policies, as well as poor road and rail network facilities. As a result, there is often a high risk of shipments not arriving on time, which can potentially lead to consumer dissatisfaction and loss of potential revenue for your clothing business.
In addition, there's a significant lack of investment in the apparel and textile industry in Pakistan, compared to most other countries like China and India. As such, there hasn't been a timely modernization of their production machinery and technology with most of these manufacturers still conducting a fair amount of work using manual labor.
It is for this reason that it is often preferable to opt for working with other offshore-based manufacturing companies like Appareify. Since they are based in countries like China, this ensures that they have not only adopted the newest technologies but can also guarantee timely product delivery due to more stable and efficient economic infrastructures.
Conclusion
All in all, finding the right manufacturing partner is never a straightforward process, as there are so many factors to consider before you can come to the final decision. However, with this list of options, you should have somewhere to start, which should help speed up the process significantly.
For the best results, we would suggest taking the time to first review your brand's requirements. This means assessing your desired product options, quality, pricing, and production speed. You can then compare these needs with what is on offer from the manufacturers on this list to pinpoint the best candidate for the job.
Alternatively, you can reach out to Appareify, which has a stellar reputation for being an extremely reliable, flexible, and efficient clothing manufacturer to partner with over the long term.