When it comes to Chicago fashion companies, the city's history is rich and deep. Men's clothing manufacturers were making tailored suits since the mid-19th century, and the industry kept expanding with each decade. From the early cut and sew manufacturers, Chicago clothing industry saw significant growth with industrialization and modern manufacturing standards.
The local clothing industry needed to contend with numerous competitors, including industries in New York and Philadelphia. Luckily, Chicago was up for the challenge, using the competitive environment to further develop its clothing industry and brave several low points in the clothing market. As a result, the city developed a strong tradition of clothing manufacturers that has left a trace in modern times.
This growth didn't save Chicago from losing a portion of its clothing industry during the Great Depression of the 1920s. But, while many manufacturers decided to leave the city in the following decades, the ones that remained helped preserve the original spirit of the local clothing industry.
Today, besides wholesale clothing vendors, Chicago boasts numerous women's and men's clothing manufacturers and fabric manufacturers for clothing.
Let's look at the top clothing manufacturers and fashion companies headquartered in Chicago.
1. GIL Sewing – Best Women and Men Clothing Manufacturer for Automated Solutions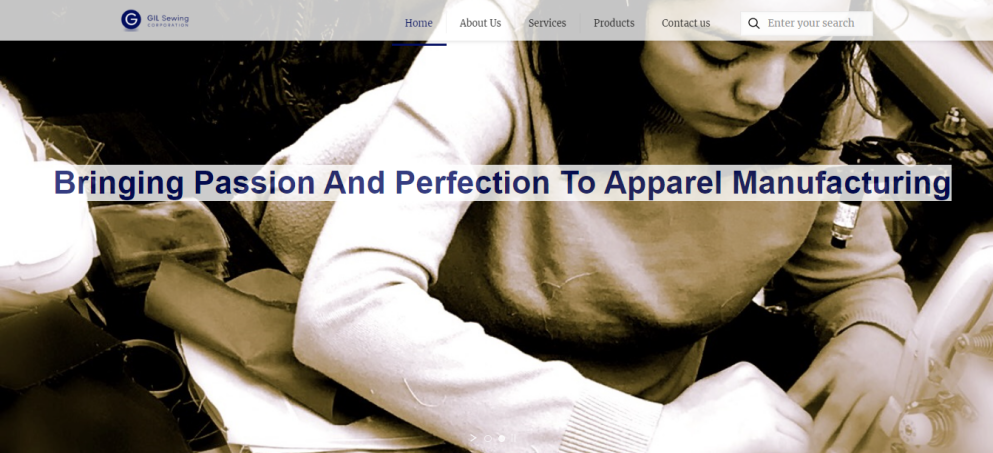 GIL Sewing counts among the fashion companies in Chicago with a long tradition. The manufacturer has been around for nearly three decades, accruing significant experience in dealing with various customers. During its history, the company has collaborated with leading brands and it continues to do so today.
GIL Sewing creates suits, dresses, shirts, pants, and jackets, but that's not all the company does. The manufacturer also has technical clothing, outerwear, and even fire-resistant apparel. In addition, the company offers custom embroidery to make each design truly unique.
With GIL Sewing, customers receive assistance when developing the exact designs. To that end, the manufacturer has a team of technical design experts that will help the client work out every detail of their desired clothing.
While GIL Sewing produces most of its clothing in the U.S., it partners with several manufacturers worldwide. The products are sourced from a total of nine countries (the U.S. included), and the company maintains the same level of quality regardless of the clothing's point of origin.
Pros:
Automated production process
Experienced manufacturer
Wide selection of products
Rapid turnover
Cons:
Fewer texture and print customization options
2. Art Flo – Best Clothing Manufacturer in Chicago for Custom Embroidery and Prints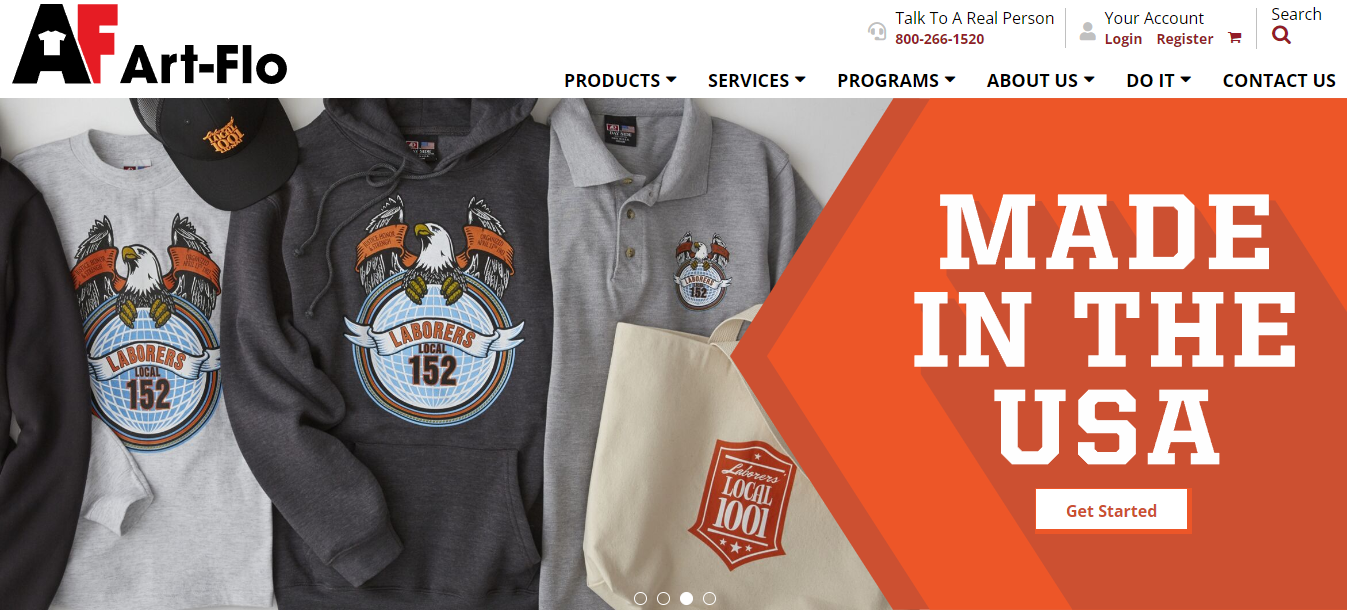 With Art Flo, the main focus is on design details and work and casual clothing. The manufacturer places a particular focus on polos, t-shirts, and outerwear, which goes in line with the company's aesthetic choices.
The best way to describe Art Flo would be as a manufacturer of urban products. The company has clotheslines for women, men, and kids, and accommodates all shapes and sizes, from S to 5XL and beyond. Additionally, Art Flo works with other products besides clothes. The company does prints on various promotional items, including cups, office supplies, desk clocks, and more.
Art Flo has a dedicated design department that will assist customers in getting custom graphics to reflect their brand visuals. Once the design is finished, the manufacturer will deliver the products in a relatively short period. Regular deliveries take about two weeks, while rush orders can be completed in a single week.
Pros:
Custom graphic design
Plenty of embroidery options
Expert screen printing
Cons:
3. Top Notch Sewing – Best Sewing Manufacturing Companies in Chicago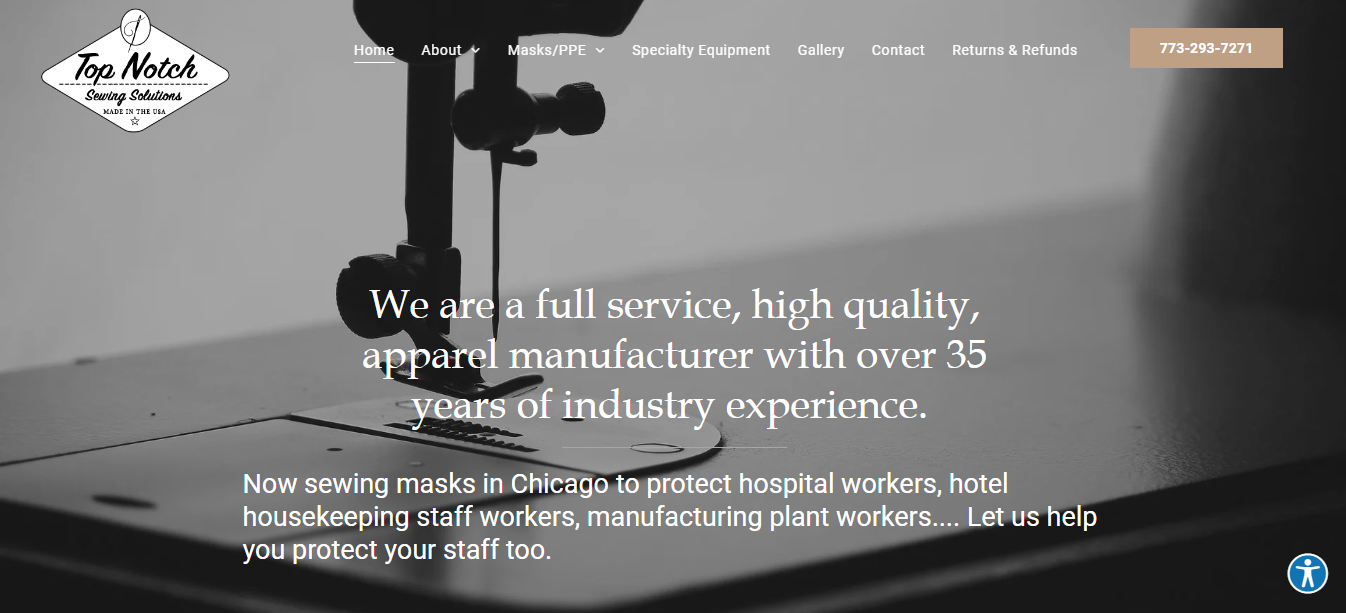 The main staple of Top Notch Sewing is the process the manufacturer employs to satisfy the customer's needs. In particular, the manufacturer has specialized equipment for different parts of the process as well as particular tasks.
When Top Notch Sewing starts the manufacturing process, the first step is to cut the fabric, which happens on an automated table. The company can then proceed to create buttonholes and pocket welts using machines specifically designed for those jobs. Likewise, Top Notch Sewing can attach buttons using the heat sealing method for extra safety and add embroidery with particular, specialized machines.
Top Notch Sewing also boasts cutting-edge pressing machines to ensure the products look flawless out of the box. And speaking of boxes, the company can package and deliver its products not only to the client (i.e. the store) but to their end-customer. In other words, the products can get delivered to actual buyers with your branding already in place. This can be a huge cost-saver since you will need less (or even no) physical warehousing to meet demands.
Pros:
Full-service manufacturer
Specialized manufacturing equipment
Custom pattern design and refinement
Cons:
4. Alanic – Best Custom Clothing Wholesale Manufacturer for Custom Sizes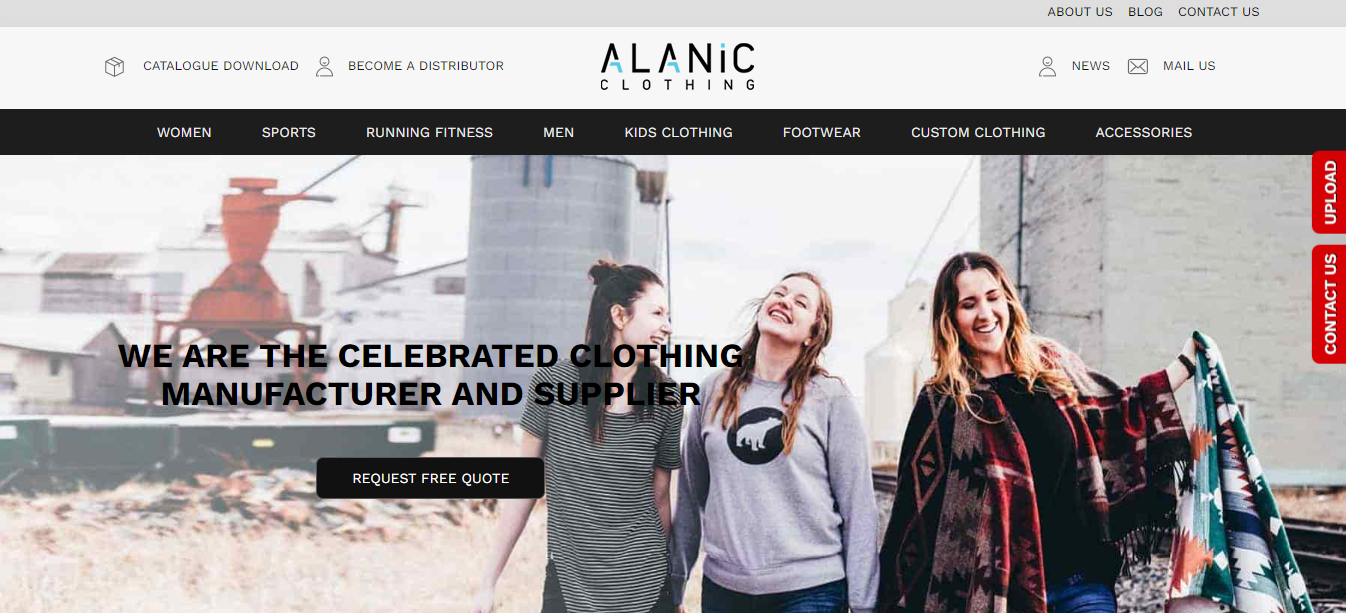 Alanic offers a straightforward service that can cover the needs of most customers. The manufacturer has numerous collections for women, men, and kids. Better yet, these collections include everything from underwear through casual attire to formalwear.
The complete manufacturing process takes place in the Alanic factory building. First, the materials are processed in the workshop, dyed, dried, and checked. Then, the material is cut and packaged before a second check. Once the product passes the check, it's ironed and excess threads are snipped off. Lastly, the clothing is sewn to produce the final product.
It's worth mentioning that, in addition to women's and men's underwear, jackets, pants, and more, Alanic also produces footwear – a relatively rare offer among general clothing manufacturers. This can be a boon if you want to diversify, but might mean you're paying extra for an option you will never use. The company is present in several international locations, including the U.S., UK, Canada, New Zealand, and Australia.
Pros:
Detailed manufacturing process
Caters to plus-sized customers
Wide selection of products
Cons:
No mentions of embroidery customization
5. VarCity Apparel – Best Chicago Clothing Manufacturers for Corporate Branding
Rather than simply manufacturing clothes, VarCity Apparel places particular emphasis on branding. This manufacturer specializes in promotional products, including custom limited edition clothing. To that end, VarCity Apparel has a complete process to achieve the desired design.
The process starts with getting the exact idea from the client. The manufacturer will offer advice and guidance when developing designs and work with the client until the best possible brand representation is chosen. This includes the precise message the client wants to send, the design to reflect that message, and fitting the agreed-upon design on particular products.
When the design solutions are specified, VarCity Apparel will develop the idea and present samples to the client. The actual production will start only after the client approves the design. After receiving the final order, VarCity Apparel will accommodate any deadlines, delivering the products in full packaging and on schedule.
Pros:
Custom brand designs in collaboration with the client
Quality production process
Specialized for branding
Cons:
Product selection is relatively limited
6. Scrappy Apparel – Best Clothing Vendors in Chicago for Growing Brands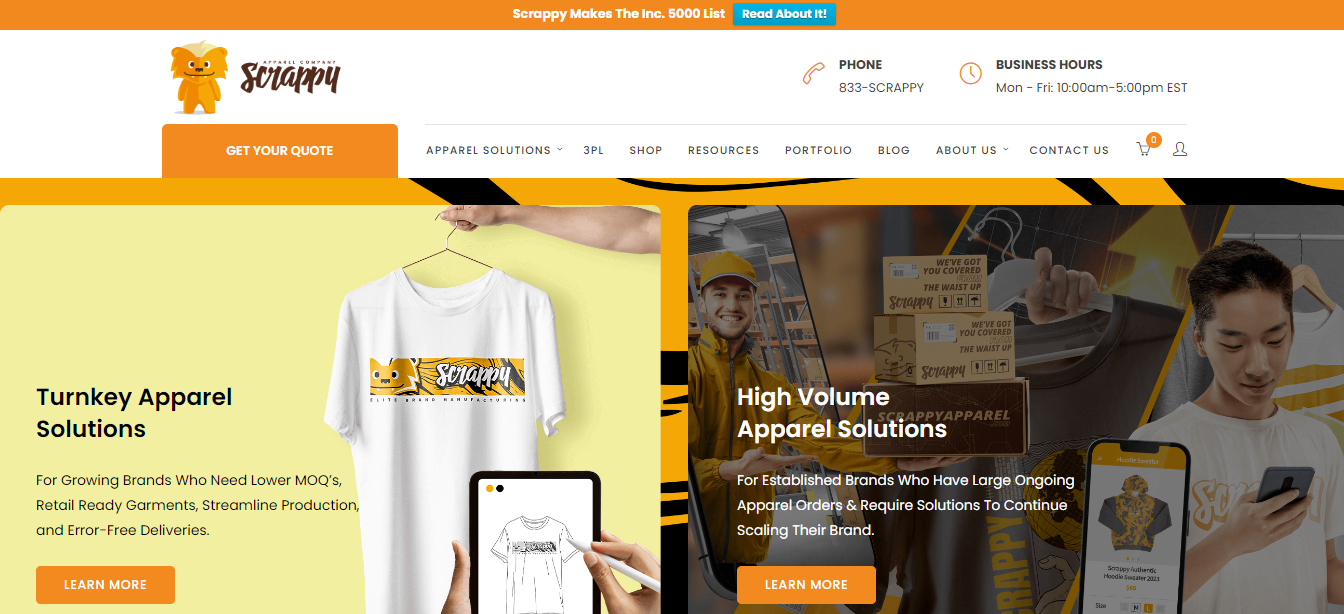 Scrappy Apparel is dedicated primarily to growing brands within the casual/urban clothing niche. This means that the manufacturer mostly produces t-shirts and hoodies, with a limited selection of other apparel. While its product offer may be limited, the upside is that Scrappy Apparel focuses on quality and provides practically unlimited print options.
Customers can start their journey with Scrappy Apparel by submitting a project and getting a quote. The next step is to get in touch with a sales representative who will help the client to work out the details and finalize the order. After that, Scrappy Apparel will design the requested layout and send it to the client for approval.
Once the customer approves the design, the manufacturer will get it into production and the only thing to do will be wait for the delivery. Scrappy Apparel delivers shipments free of charge for all ground shipping. Plus, the manufacturer delivers to any specified address, making the process as straightforward as possible.
Pros:
Ideal for startups and growing businesses
Produces retail-ready clothing
Accepts low MOQs
Cons:
Limited to urban and casual clothing options
7. Sharprint – Best Women's and Men's Clothing Manufacturer for Affordability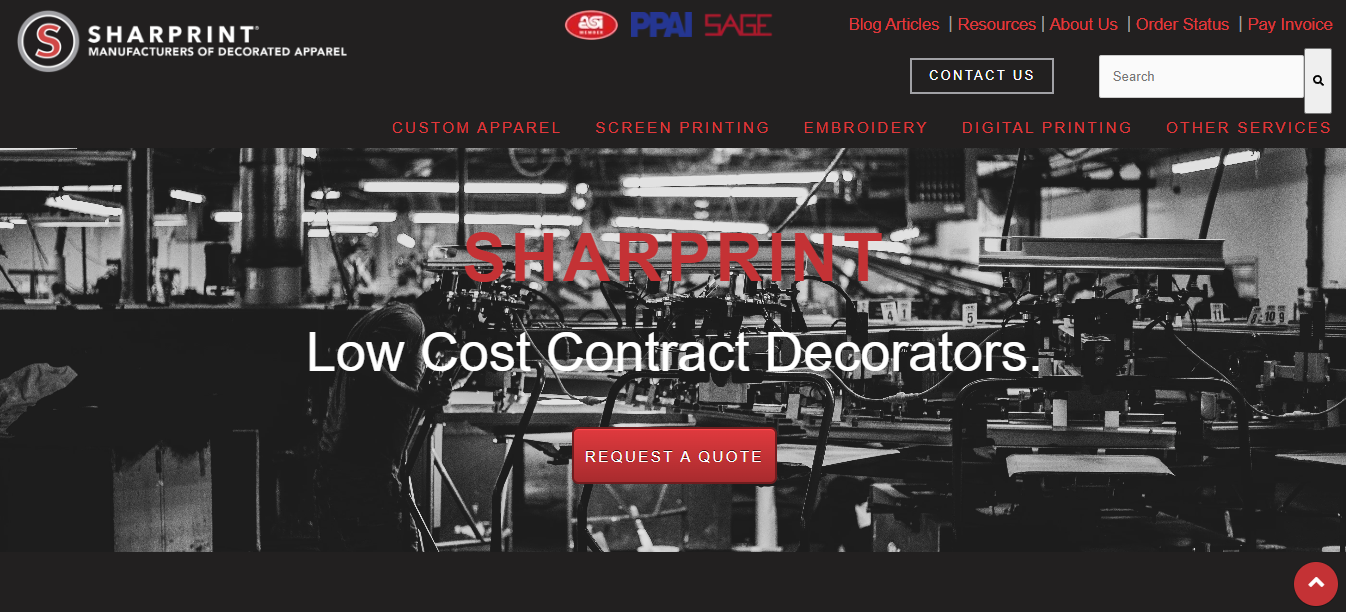 With Sharprint, the primary service is in product customization. The manufacturer offers custom polos, knits, t-shirts, uniforms, outerwear, hats, and accessories. However, when it comes to Sharprint's services, it's more about how the pieces are decorated.
In terms of customization, the company offers three primary services: screen printing, embroidery, and digital printing. The screen printing services include all-over, specialty, and soft-hand printing, while embroidery comes in different stitch and thread types.
Sharprint does all of the decorations on demand, which means they are tailored for each individual customer based on brand, location, and any other particulars. For jerseys, Sharprint also offers vinyl letter and number cutouts.
It's worth mentioning that the manufacturer also offers customization services for products outside the regular range. In other words, Sharprint can customize not only top and bottom clothing items, but also bags, caps, and similar products.
Pros:
Plenty of custom apparel clothing options
Custom embroidery on various products
Customized digital and screen printing
Cons:
No formal clothing choices
8. YS Apparel Factory – Best Clothing Manufacturer in Chicago for Specialized Designs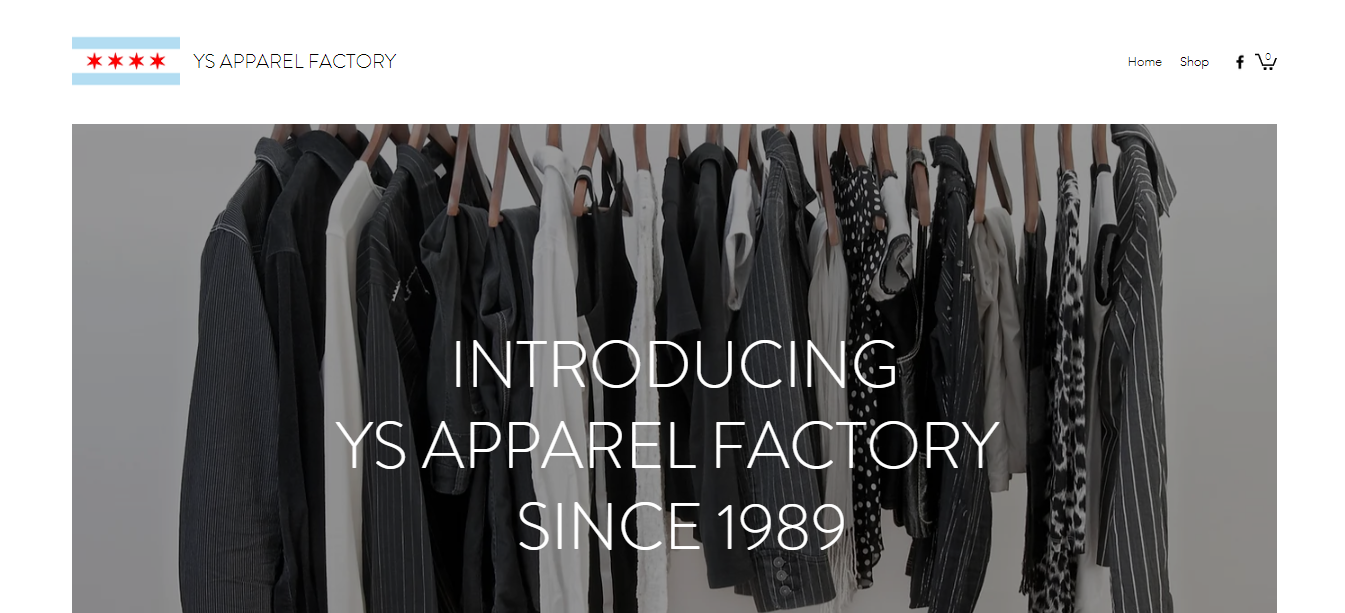 YS Apparel Factory is a Chicago-based manufacturer with a relatively narrow product line. In particular, YS Apparel Factory mainly deals in uniforms and casual clothing, which is a bit of an odd combination of niches. Additionally, the manufacturer has an extensive line of face masks that deserve special attention.
The masks aren't made for medical use. However, they can be washed, ensuring proper sanitation, and reused extensively. These products are manufactured for universal use, fitting both adults and children.
Most interestingly, the masks are far from the standard pieces of one-color cloth. They come in numerous designs and patterns, making them equal parts a fashion statement and a health precaution.
YS Apparel Factory designs casual clothing, including shirts and jeans. The issue is that the manufacturer doesn't have a clear statement regarding the origins or technology behind the materials, leaving their sustainability to interpretation. It's worth mentioning that all products can be made to order, leaving full freedom of choice to the client.
Pros:
Specialized products
Custom uniforms
Cons:
Limited product selection
9. Dearborn Denim – Best Chicago Clothing Manufacturing Companies for Denim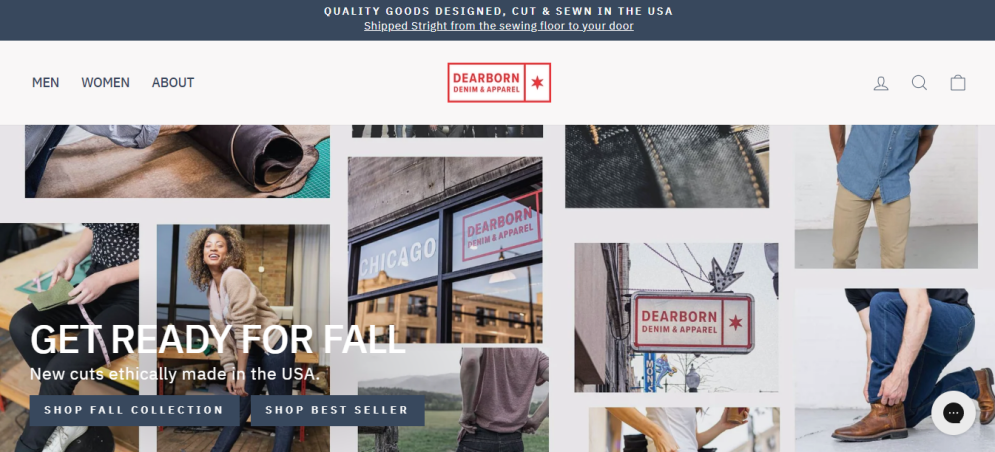 As the name implies, Dearborn Denim is committed to producing quality denim clothing. The manufacturer creates men's and women's products and has a wide variety of options to choose from. The men's selection includes jeans, shorts, and shirts, along with t-shirts, sweatpants, and underwear. For women, Dearborn Denim produces jeans, skirts, dresses, and shirts, as well as t-shirts.
All Dearborn Denim products are produced in the U.S., from designing to cutting and sewing. By keeping production in-country, the manufacturer ensures complete oversight and control over the production process. As a result, Dearborn Denim all but guarantees impeccable products with every order.
Besides denim and select cotton products, the manufacturer also offers premium leather belts. These serve as ideal accessories for the denim look. However, it's unclear whether Dearborn Denim allows any customization when it comes to belts.
Pros:
Great selection of denim products
Additional products available
Guaranteed perfect fit
Cons:
Very few products that are not denim
10. OnPoint Patterns – Best Chicago Clothing Brands for Pattern Design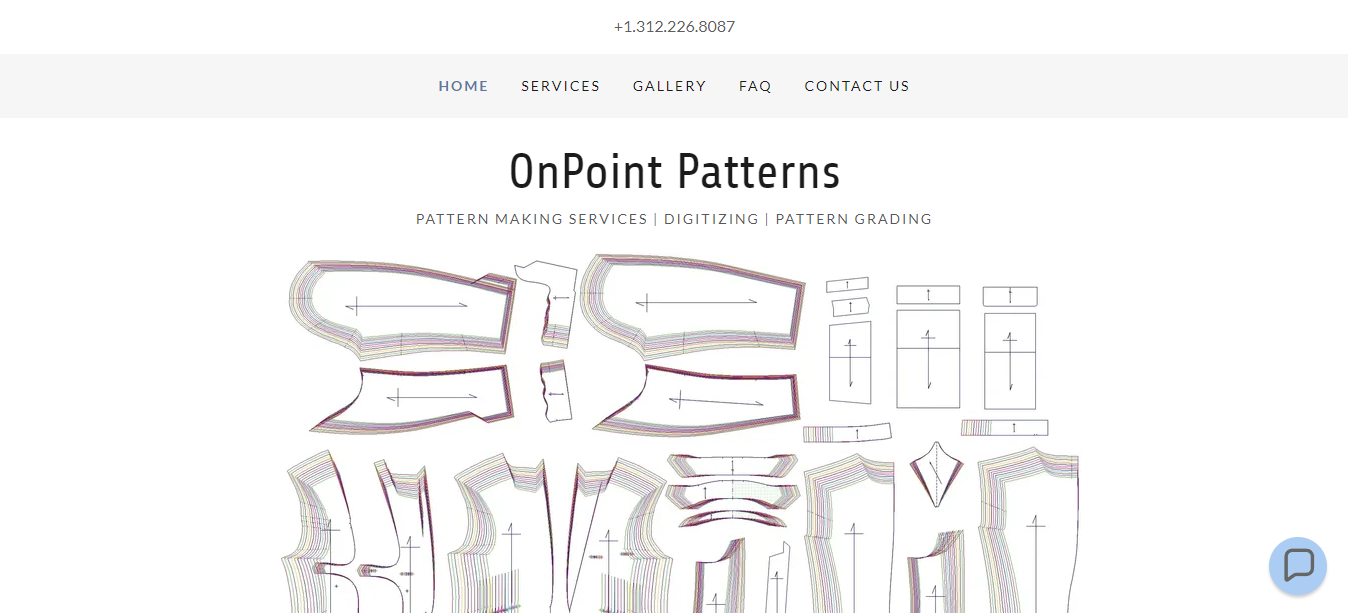 In line with the company's name, OnPoint Patterns places a strong emphasis on pattern designs for sewn products. This includes numerous individual services like digitizing, marker insertion, grading, and more. To ensure quality service, OnPoint Patterns utilizes cutting-edge digital tools. The manufacturer uses the latest tech solutions to transfer clients' designs into digital blueprints, adjust them, and get them cut with utmost ease.
OnPoint Patterns works with a broad selection of products. In fact, the company isn't explicitly dedicated to the clothing industry, having worked on projects like yacht covers. In terms of clothing, OnPoint Patterns creates unique designs on products for women, men, and kids.
Some product categories included in the manufacturer's offer include formalwear, swimwear, athletic clothing, coats, and leather products. Beyond these relatively common items, OnPoint Patterns also works with bridal wear, lingerie, camping gear, and even flight suits and military uniforms. Furthermore, the company creates patterns for upholstery, furnishings, canopies, nautical coverings, and bedding.
Pros:
Wide selection of available products
Expert tools for digital design
Meticulous pattern design
Cons:
Not a dedicated clothing manufacturer
Encountering Difficulties in Locating Trustworthy Clothing Manufacturers in Chicago? Find Your Answers With Appareify!
Finding the right women's and men's clothing manufacturers or clothing wholesalers in Chicago can be a challenge. The market is more than 150 years old and, naturally, has plenty of ins and outs that may be confusing for anyone not familiar with the Chicago setting. Additionally, there's the question of trust.
Unless you're already familiar with the industry, knowing whether a company is right for your needs or not will be almost impossible. The straightforward pros and cons are one thing, but finding a manufacturer that can help your vision come to life is something else entirely.
Even with our list of the 10 best fashion companies based in Chicago, the choice likely won't be easy to make. Luckily, Appareify is here to take away all doubt for any business with fashion headquarters in Chicago.
Appareify is a clothing manufacturer dedicated to sustainable production methods. The materials are sourced and processed in an environmentally friendly fashion, diminishing the adverse impact that the fashion industry can have on nature. Plus, Appareify follows the highest standards in manufacturing to create products of the highest quality.
If you're interested in exploring our offer, don't hesitate to visit Appareify today. You'll find a generous selection of products and extensive customization options that will undoubtedly prove the right choice for your needs.