Asia, a vast continent with a population of 4.5 billion, boasts modern cities, rich cultural heritage, and breathtaking natural landscapes. However, Asia's impressive offerings aren't limited to these aspects. The continent is also a leader in various industries, with high-quality production being one of them.
Among these industries, Asia stands at the forefront of textile and garment manufacturing. The continent employs cutting-edge technologies and streamlined operations, making it on par with Europe's manufacturing standards.
If you're in search of a garment manufacturer in Asia, you're in luck. Scroll down to discover the top clothing manufacturers in the region and learn how to choose the best one for your needs.
Top 10 Asian Clothing Manufacturers
Here are the top 10 Asian clothing manufacturers that can help you elevate your apparel business.
Appareify - Best Overall
The best overall garment manufacturer is Appareify, a leading manufacturer and exporter of high-end attire in China. As a dedicated garment provider, Appareify always works closely with its clients to ensure their deliverables are of premium quality every time.
As a professional Asian garment provider with years of experience in the clothing industry, Appareify has its own skilled R&D team with extensive self-developed capability and an in-house, dedicated production line. They have an impressive production capacity of 400,000 pcs per month, covering various apparel categories including t-shirts, swimwear, leggings, jeans, hoodies, etc.
Staying ahead of the game in such a competitive industry, especially in Asia is a rather hard task. Appareify understands that quality speaks for itself, and customer experience always comes first. With day-to-day practices of production monitoring and optimization under the strict QC management system, Appareify can ensure the consistent delivery of high-quality clothing products that will surely last.
Appareify also managed to maintain optimum quality while keeping the maximum production efficiency. Thanks to their large investments on advanced machinery and technologies, they have a lead time of 10-15 days for global shipment for international orders, making them the perfect punctual, and efficient clothing manufacturer to work with no matter where your business is from.
Pros
Private label and custom designs are available
Large production capacity of 400,000 pcs per month
High-quality results and a quick private label lead time
Responsive customer service
Cons
Based in China, may be hard for on-site factory inspection
Orders overseas may take longer to arrive
Ready to Take Your Clothing Business to the Next Level? Work With Appareify Today!
AEL Apparel - Best Custom Clothing Manufacturer for Sustainable Apparel
AEL Apparel is a fast-growing custom clothing manufacturer based in China that specializes in crafting and producing a wide range of sustainable apparel. This manufacturer boasts of creating premium-quality garments that impress customers.
Moreover, AEL Apparel is a strong advocate of sustainable manufacturing in Asia. Hence, you can rest assured of their highly sustainable wear that is not only ethically sourced but also helps reduce waste and improve the ecosystem.
With AEL Apparel, you can get high-quality custom clothing that meets your needs. So, as long as you think about it, this custom clothing manufacturer can bring it to reality—thanks to its impressive embroidery technology, screen printing, and sublimation techniques.
Pros
Produces sustainable clothing
Impressive technology that supports custom apparel of all sorts
Speedy turnaround time within 7 - 20 days
Cons
May need longer time for large quantities
Upgrade Your Custom Clothing Business With AEL Apparel >>
Atelier Chiang Mai - Best for Hand-Made Textile Clothes & Accessories (Thailand)
Located in northern Thailand, Atelier Chiang Mai is a design and production workshop that offers reliable, flexible, and professional clothing production in Asia.

Atelier Chiang Mai offers a wide range of services to meet all apparel needs, from small-scale production with a minimum order quantity (MOQ) of just 50 pieces to large-scale production for established apparel brands. The team also provides medium-scale production for emerging brands. Whatever your requirements, Atelier Chiang Mai can tailor their services to meet the specific needs of your company.
Pros
Fully integrated service, including technical drawing, pattern making, prototyping, production, and shipment
Various production sizes on offer
Years of professional production experience
Quality control on all production
Cons
Hand-crafted products often cost more than mass-produced products
Let Atelier Chiang Mai Help You Grow Your Clothing Business - Learn More Here!
Almidani - Well-Known for Uniquely Designed Women's Dresses
Situated in Istanbul, Almidani uses its 20 years of industry expertise to help clients bring their apparel and fashion business ideas to life. It provides a variety of services, such as pattern making, design capabilities, and project management expertise to deliver top-notch results.

With their specific design knowledge, this Asian clothing manufacturer is renowned for producing unique women's dresses at competitive prices. Other services offered by Almidani include collection sampling, raw material sourcing, bulk production, sales support, and e-commerce support, among others. From product development to brand exposure, Almidani can assist with all aspects of the production process.
Pros
Two decades of industry experience
Highly-trained designers and unique design abilities
Possibilities to pair marketing and production in one place
Pre-shipment inspection on all apparel
Worldwide shipments
Cons
Almidani's custom design services cost slightly more than other companies
Want to Expand Your Clothing Business? Partner With Almidani for Expert Guidance!
Apparel Empire - Expert at Various Kinds of Men's Polo T-Shirts (Singapore)
Apparel Empire is a dedicated Asian manufacturer that specializes in apparel customization for clients worldwide. Whether you need a logo or something more, Apparel Empire offers garments with your business's signature look for a heightened professional presence.

This clothing manufacturer is renowned for its customization capabilities, particularly with respect to men's polo T-shirts. This makes them an excellent choice for businesses seeking uniforms or team garments that provide a polished, professional appearance. Apparel Empire offers a range of services, including in-house designers, project coordinators, material suppliers, in-house production, and quality checks (available upon request).
Pros
Apparel Empire offers over 5,000 different fabric and color selections
Accessories can be customized (e.g., zips, labels, and buttons)
Clients can access over 20 types of printing and embroidery embellishments
Production has a short lead time, thanks to their self-owned factory
Private label designs and customization services are available
Cons
Apparel Empire are not experts at from-scratch unique design
The company has a strict return policy where customers must pay for shipping and restocking
Customers can't see products before purchasing due to an online-only sales model
Apparel Empire Can Help You Scale Your Clothing Business - Get Started Here!
Lahore Fashions - Specialize in All Kinds of Knitted Clothing
Based in Pakistan, Lahore Fashions is a modern garment manufacturing company focusing on knitted garments. Lahore Fashions has been in the industry since 1995, and they're dedicated to knitwear quality while simultaneously protecting the environment. Unlike woven factories, this team can produce all types of high-quality knitwear.

Lahore Fashions has a global client base that includes customers in the UK, USA, Austria, Slovenia, France, Italy, and Belgium. The company's brand values are centered on providing competitive pricing, fast delivery, and professional quality. With 700 modern stitching machines, Lahore Fashions has a monthly production capacity of 600,000 garments.
Pros
Lots of product availability from over 300 women's products and over 250 men's products
Lahore Fashions works with big named brands, such as Next, Mango, and Sainsbury's
Each garment goes through a quality assurance process
The company has nearly three decades of professional experience
Specialized knitwear services result in higher-than-average quality knit products
Cons
While there are lots of products, they don't take unique requests
Lahore Fashions doesn't specialize in woven garments
Looking to Grow Your Clothing Brand? Let Lahore Fashions Be Your Partner in Success!
Stuff Limited - Best for Garments with 100% Organic Cotton
If you're in search of organic cotton manufacturers, look no further than Stuff Limited. This Bangladesh-based business specializes in producing clothing in organic cotton, as well as general woven fabrics and knitted fabrics, to cater to various styles and needs. Stuff Limited also offers the option to add tags, branding, and packaging materials to your order, ensuring a professional finish.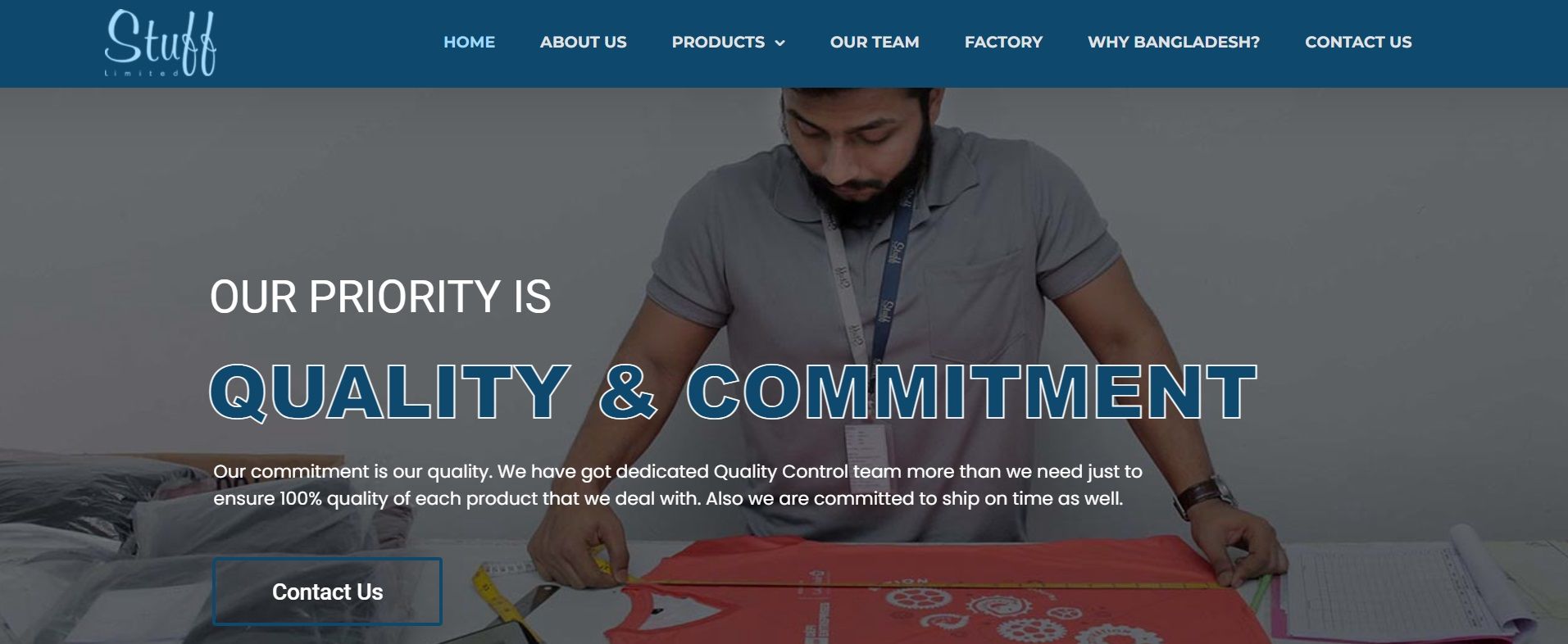 Stuff Limited provides a comprehensive range of essential services, including embellishments, production planning, washing/treatments, cutting, sewing, finishing, quality control, and more. The team also takes care of shipment and tracking, ensuring fast delivery and peace of mind. With its full-service operations, Stuff Limited has all the necessary services covered to meet your apparel manufacturing needs.
Pros
Stuff Limited has a wide product range, including crew necks, shorts, polos, and more
The team works with clients worldwide
Stuff Limited is responsive to any customer inquiries
Embellishments (such as printing or embroidery) are available
Stuff Limited can work with very low MOQ requirements
Cons
As Stuff Limited covers a range of garments, quality may not be as good for specialized orders
Take Your Clothing Business to New Heights With Stuff Limited!
United Fashion Mart - Perfect for Custom-Made Men's Clothing
Men's clothing is a significant market, so it's essential to choose a team that specializes in men's garments if you want your orders to be exceptional. United Fashion Mart experts at producing custom-made merchandising products and corporate uniforms, ensuring that your business has a polished and professional appearance.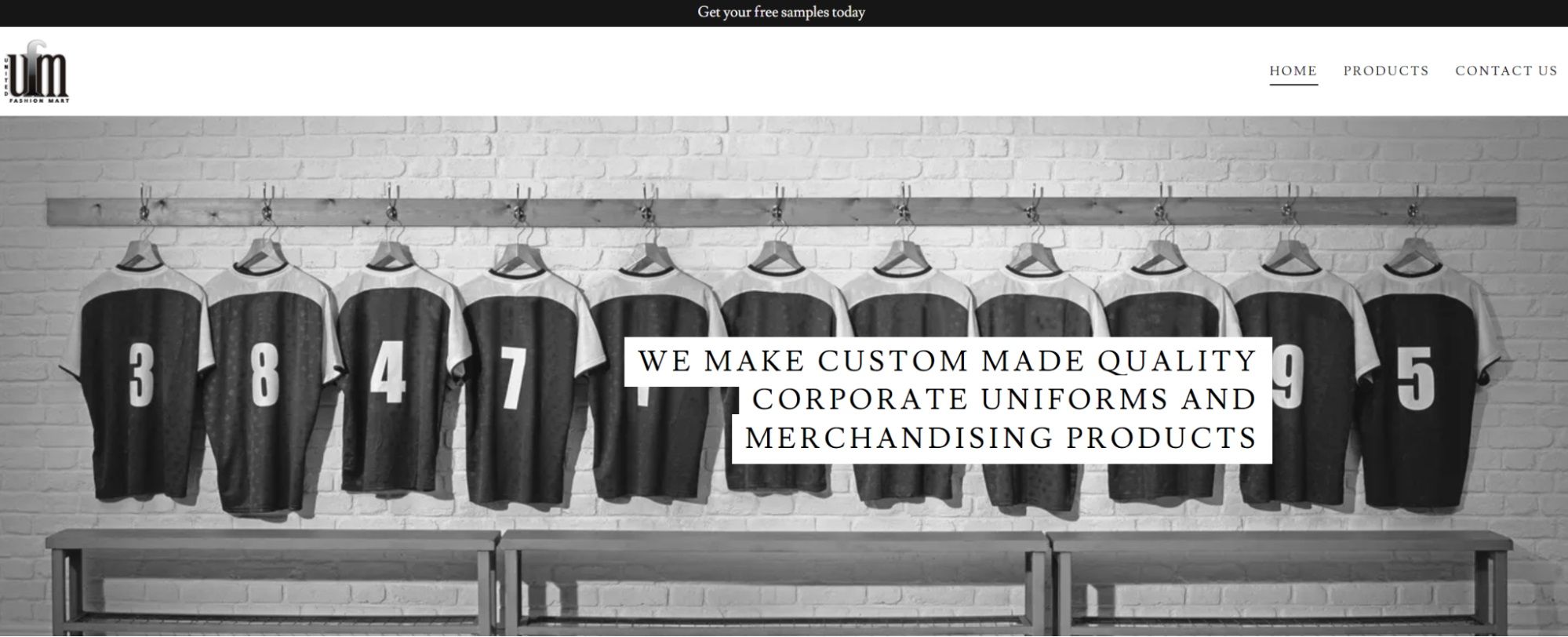 This clothing manufacturer is committed to delivering high-quality products every time. Their services encompass customized garments, screen printing, event merchandising, corporate gifting, and more. Whether your business needs a branded T-shirt or a logo cap, United Fashion Mart can assist with every aspect of your endeavor.
Pros
Lots of options for corporate businesses, events, and uniforms
Ability to screen print on garments
United Fashion Mart can customize hoodies, T-shirts, polos, shirts, and caps
Have worked with big brands worldwide and can ship anywhere in the world
Can add non-apparel items to events orders, such as notebooks, mugs, and pens
Cons
No bespoke design services
Ready to Make Your Mark in the Fashion Industry? Work With!
Deepwear - An Excellent Choice For Sustainable T-Shirts
In 2023, sustainability has become a crucial consideration for many businesses, and partnering with an eco-friendly garment manufacturer is essential. Deepwear is a Thailand-based fashion consultancy that offers services to help you launch your own fashion brand while prioritizing environmental sustainability.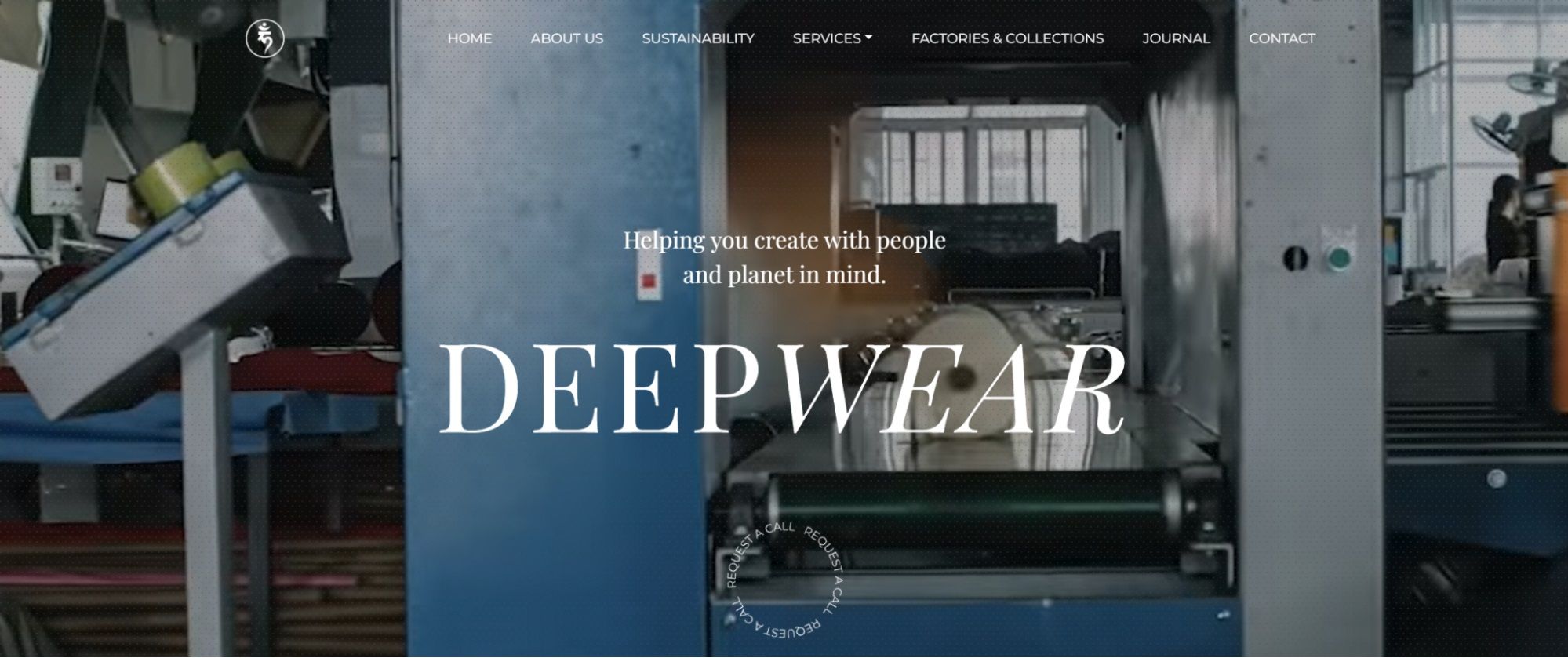 Deepwear can bring your initial garment sketches to life with their expert manufacturing capabilities. They can also create relevant tech packs, alleviating the burden on your in-house team. Deepwear offers a wide range of services, including design consultations, fabric sourcing, factory sourcing, product development assistance, packaging design, and quality assurance.
Pros
Professional assistance for all areas of the apparel process (design to shipping)
It focuses on using a circular system to reduce its impact on the environment
Access to high-quality Thai fabrics and materials
Assistance with fabric and trim sourcing
Deepwear can also provide fashion photographers to capture your garments in the beauty of Thailand
Cons
Sustainable or environmentally friendly services are sometimes more expensive than others
Deepwear Can Help You Achieve Your Clothing Business Goals - Learn More Here!
Strawberry Stripes - All-In-One Solution for Children's Clothing
The market for kid's wear is booming, and many apparel companies are eager to tap into it. With 27 years of expert industry knowledge and specialized processes, Strawberry Stripes is dedicated to meeting all children's clothing manufacturing needs.

Strawberry Stripes don't have MOQ, allowing you to create custom garments or help your business emerge into the market. Each client is matched with an Account Manager to ensure satisfaction throughout the process. This team strives to take the stress of production out of your hands while leaving you in control of the design.
Pros
Strawberry Stripes can take your ideas of garment sketches and make them a reality
The company employs skilled workers and handwork artisans for high-quality results
Their factories are CPSIA-compliant
Can support small and large orders/businesses
Strawberry Stripes protects your Intellectual Property and designs
Cons
Slower delivery time than other kid's clothing manufacturers
Need Help Expand Your Clothing Business? Let Strawberry Stripes Be Your Partner in Success!
Why Are There Many Clothing Manufacturers in Asia?
There are many reasons why there are a lot of clothing manufacturers in Asia. Here are some of the main factors:
Lower labor costs:

Labor is often one of the biggest expenses in the clothing manufacturing process, and Asian countries such as China, Bangladesh, and Vietnam have lower labor costs than many other countries.

Access to raw materials:

Many of the raw materials used in clothing manufacturing, such as cotton and silk, are produced in Asia. Being close to these materials can help reduce transportation costs and lead times.

Favorable trade agreements:

Many Asian countries have trade agreements with other countries, which can make it easier and more cost-effective for clothing manufacturers to export their products.

Government support:

Some Asian governments provide incentives and support to encourage the growth of their clothing manufacturing industries, such as tax breaks or subsidies.

Established manufacturing infrastructure:

Many Asian countries have well-established manufacturing industries and infrastructure that can support large-scale clothing production.
What Are the Benefits of Partnering With Asian Clothing Manufacturers?
When it comes to clothing manufacturing, Asia is considered the leading continent, with top countries including China, Vietnam, Bangladesh, and India. Here are the key benefits you should know when choosing a manufacturing team for your brand.
China Benefits
China is a major economic force in the world, and its growth shows no signs of slowing down. Chinese manufacturers are recognized for their ability to produce garments quickly and with short lead times. Additionally, they often offer competitive rates, enabling businesses around the globe to reduce their operating costs and offer affordable products to their customers.
Vietnam Benefits
Vietnam boasts some of the lowest production costs in Asia, making it an attractive option for businesses seeking to reduce their expenses. Expert seamstresses, designers, and planners offer their services at affordable rates, helping you to minimize your production costs. Additionally, Vietnam benefits from ASEAN agreements, which enable it to engage in economic deals with Southeast Asia.
Bangladesh Benefits
Bangladesh is another popular destination for manufacturing due to its low labor costs, which are comparable to those of other countries mentioned. However, what sets Bangladesh apart is its large and expanding workforce, which ensures shorter lead times for product manufacturing. Additionally, the country's strategic location allows for efficient shipping to destinations worldwide.
India Benefits
India has the second-largest labor force in the world, after China, making it a dependable choice for garment manufacturing. Additionally, India has control over its raw materials, including a variety of metals that can be used to produce metallic merchandise. For businesses seeking local textile sourcing and supply, India presents an attractive option, as many textiles are produced within the country.
How to Choose a Clothing Manufacturer for Your Business?
Without a reputable and competent supplier, delivering high-quality clothing to your customers would be impossible. To ensure that you find a garment manufacturer who can meet your specific requirements and cater to your target audience, consider using the following criteria as a guide.
Price and Quality are essential factors to consider. You want to find a manufacturer that offers high-quality products for a price that aligns with your business' finances.
Turnaround Times (or shipping times) are also crucial. When researching, look for how long your supplier takes to ship and opt for a manufacturer with a fast turnaround time. You should also check whether they ship to your country/worldwide. Overseas shipping may take longer than domestic shipping.
Expertise is the third factor you must consider. You should choose a manufacturer with good reviews from previous customers and years of experience in the industry. This way, you can trust they'll provide quality service and products.
Where Can I Find a Reliable Clothing Manufacturer in Asia?
Finding trustworthy manufacturers can seem daunting, especially if you are new to the industry. However, it's easier than you might think to connect with skilled and reliable manufacturers.
Below are the top methods for finding reliable clothing manufacturers in Asia.
Research online
Connect with trade organizations
Directories
Industry events
Online social media groups
Use this article!
One of the most popular ways to find clothing manufacturers is through online research. To locate manufacturers in your desired location, try searching for "clothing manufacturers + city/country name". As you research potential manufacturers online, be sure to read their websites thoroughly to gain a better understanding of their capabilities and services.
Another popular option is to reach out to trade organizations that specialize in connecting businesses with reliable manufacturers. This can be a great way to obtain guidance and support throughout the sourcing process, and to ensure that you are working with trustworthy partners.
Learn more about how to find the best clothing manufacturer for your business >>