Even though the U.S. fashion industry is worth $343.70 billion, fashion businesses still want to buy the cheapest clothes for their inventory. Many aspects of the clothing manufacturing process can affect costs, including shipping and the styles you order.
Fortunately, there are affordable clothing wholesalers worldwide. Nearly every major city has cheap manufacturers for clothing that can supply high-quality items without charging a lot of money.
Here are the 10 cheapest clothing manufacturers by country and city.
1. Appareify - Cheapest Clothing Manufacturer in China
2. AEL Apparel - Cheapest Custom Clothing Manufacturer in China
3. Pineapple Clothing - Cheapest Clothing Manufacturer in the USA
4. Billoomi Fashion - Cheapest Clothing Manufacturer in India
5. Duc Giang Corporation - Cheapest Clothing Manufacturer in Vietnam
6. Ha-Meem Group - Cheapest Clothing Manufacturer in Bangladesh
7. Interloop - Cheapest Clothing Manufacturer in Pakistan
8. Hawthorn - Cheapest Clothing Manufacturer in London
9. Ferrara Manufacturing - Cheapest Clothing Manufacturer in NYC
10. Bomme Studio - Cheapest Clothing Manufacturer in Los Angeles
1. Appareify - Cheapest Clothing Manufacturer in China
Appareify stands out as a leading clothing manufacturer in China, offering a versatile range of clothing options from loungewear to activewear. Each item is not only cost-effective but also crafted from high-quality, sustainable materials.
Leveraging advanced printing technology, Appareify brings intricate designs to life while adhering to environmentally-friendly practices. In addition, the company caters to startups of all sizes, working within budgets and ensuring fast turnaround times to fulfill their needs.
Furthermore, Appareify features attractive discounts for bulk orders, making it even more appealing for businesses looking to save on costs.
Main products
Pros
Fast turnaround time of 7-20 days
High-quality items
20+ R&D experts
Cons
On-site inspections can be difficult as it's based in China
Contact Appareify to start your custom clothing order.
2. AEL Apparel: Cheapest Custom Clothing Manufacturer in China
If you're looking for the cheapest custom clothing manufacturer in China, AEL Apparel is one to reckon with in the clothing manufacturing industry. Its affordability is particularly attractive for those starting out as clothing wholesale vendors.
Behind the scenes at AEL Apparel, you'll find a team of top clothing experts with an impressive track record in the industry. So, getting professional support for your business is certain.
AEL Apparel has a quick turnaround time of 7 - 20 days and 3 days for special orders.
Main Products
Leggins
Sweatshirts
T-shirts
Loungewear
Hoodies
Kid's Clothing
Swimwear
Activewear
Denim wear
Pros
Free professional support for customers
A wide variety of clothing options is available
Affordable pricing for wholesalers
Speedy turnaround time of 7 - 20 days
Cons
Turnaround times for large orders may be longer
Get the best deals with AEL Apparel today.
3. Pineapple Clothing - Cheapest Clothing Manufacturer in the USA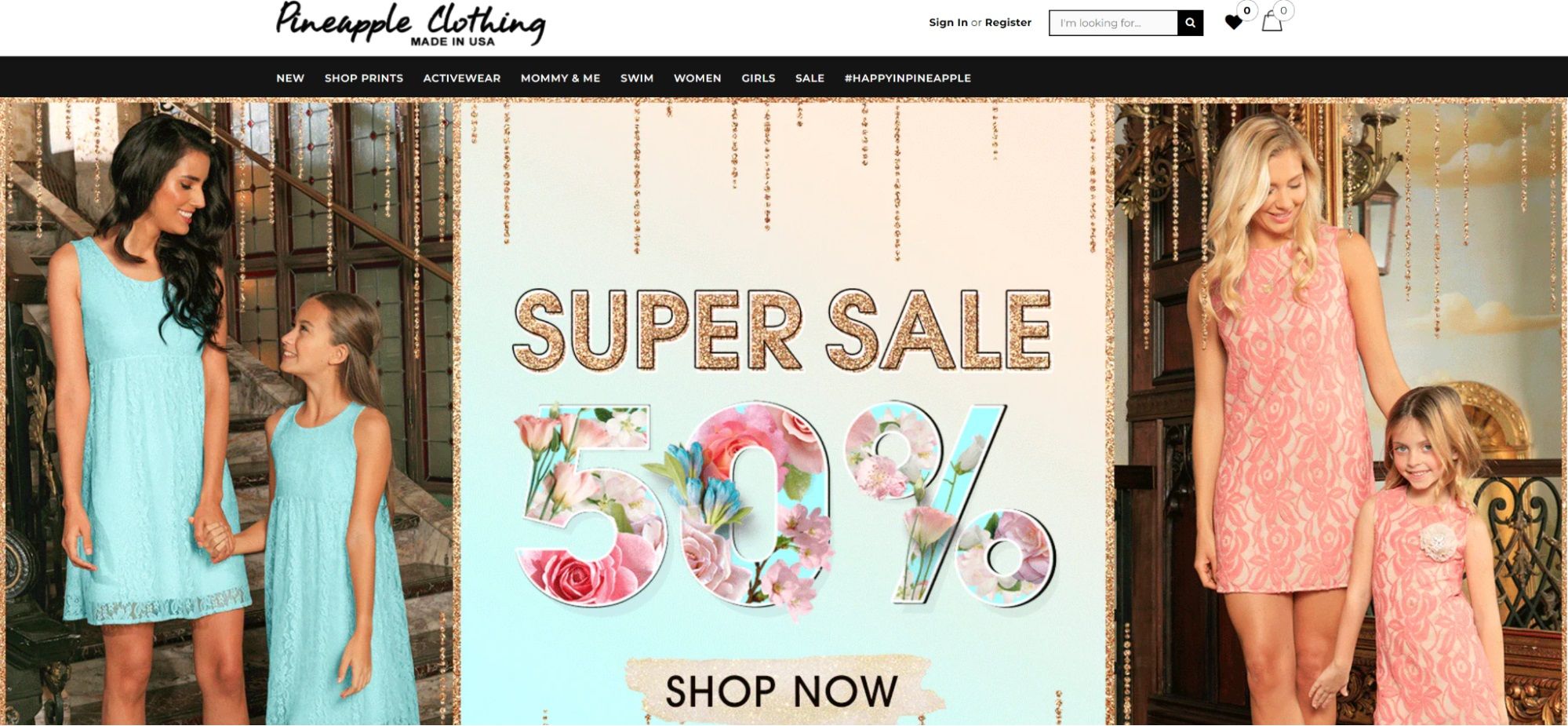 Pineapple Clothing specializes in clothing for women and girls. They host many deals, such as free shipping to U.S. companies, so American women's fashion brands can save money by buying wholesale items here.
Pineapple Clothing offers other ways to save. They offer coupons and discounts so businesses can save money on their orders.
Pineapple Clothing's items are made in the USA, and they offer a wide selection, from dresses to activewear.
Main products
Activewear
Dresses
Tops
Bottoms
Swimwear
Pros
Stylish items
Diverse catalog
Affordable items
Bestselling women's and girl's clothing wholesaler
True to size
Cons
Only sells clothing for women and girls
Shop the amazing deals at Pineapple Clothing.
4. Billoomi Fashion - Cheapest Clothing Manufacturer in India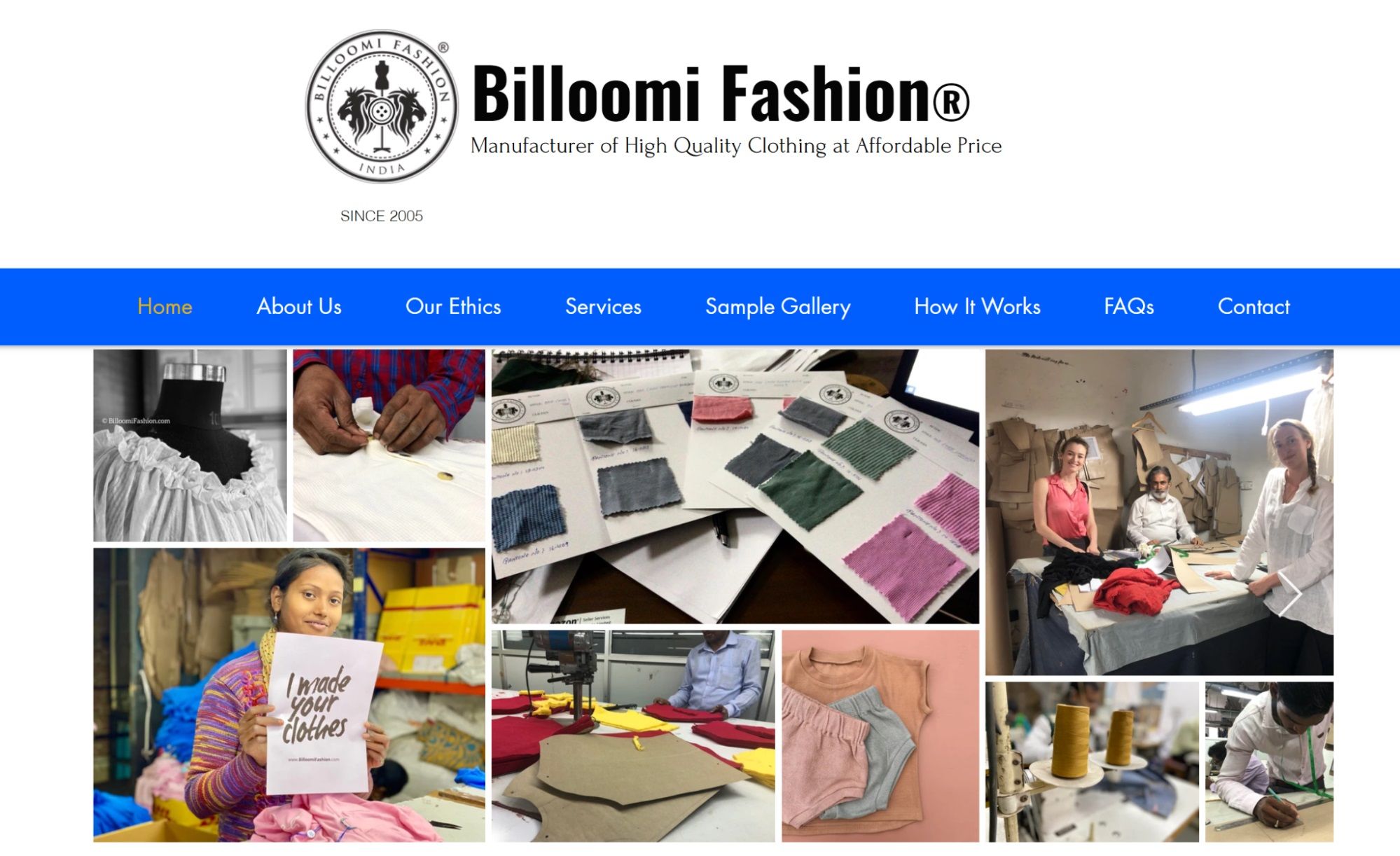 Billoomi Fashion is known as one of the highest-quality clothing manufacturers in India, and they still offer affordable prices. They specialize in helping small and emerging clothing companies.
Founded by a fashion design expert, Billoomi Fashion creates extraordinary garments. They can make custom items and ready-to-sell clothing, all made with the best quality materials.
Billoomi Fashion is a woman-owned company with a full-service garment manufacturing firm based in New Delhi. They have fair working conditions and above-industry wages for employees.
Main Services
Trims
Fabric sourcing
Pattern making and grading
Fabric dyeing
Sampling
Pros
Sources quality fabrics
Eco-friendly and ethical business
Team with 15+ years of experience
Custom services
In-house sampling team
Cons
Contact Billoomi Fashion to start your order!
5. Duc Giang Corporation - Cheapest Clothing Manufacturer in Vietnam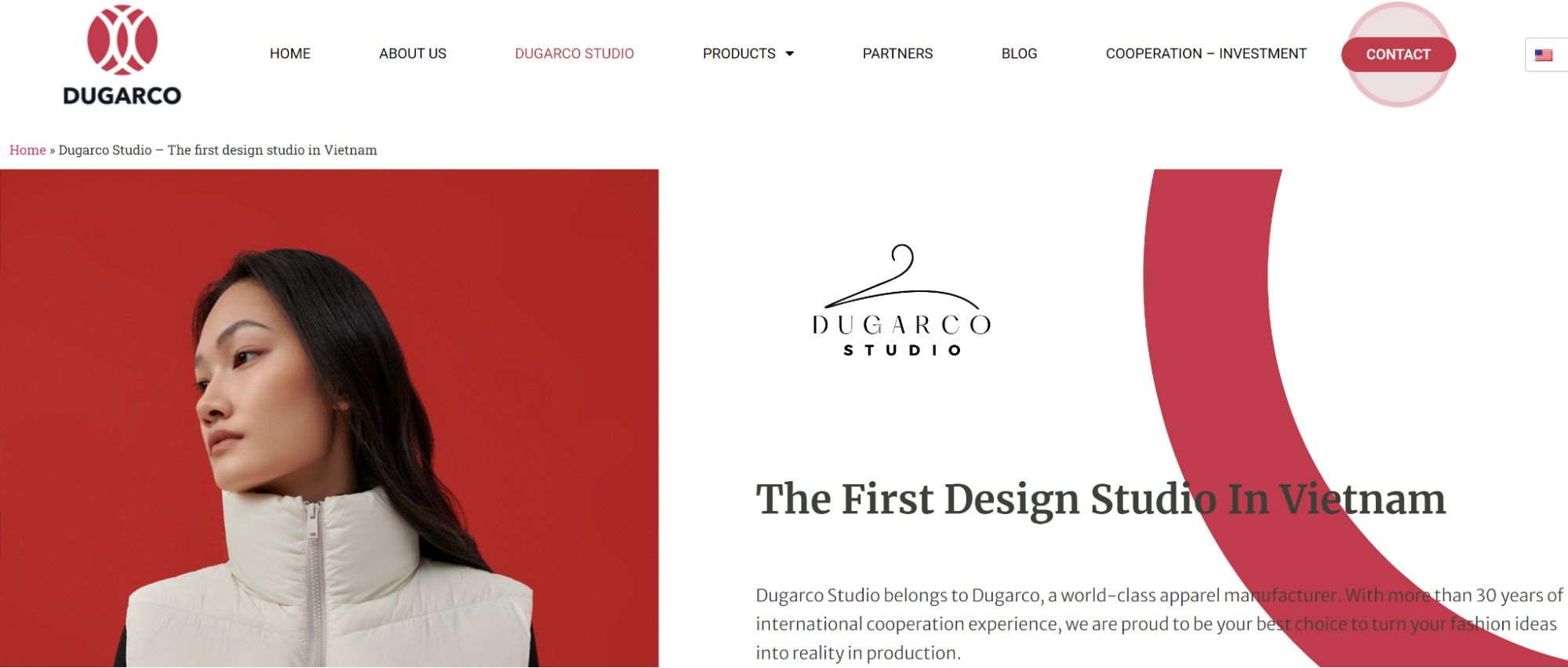 Duc Giang Co. is one of the most competitively priced companies in Vietnam. Their clothing is of exceptional quality, and they have an impressive production capacity–20 million units per year. Clients will always receive their orders on time for domestic and international shipments.
Duc Giang Co. has over 30 years of experience. They boast 165+ production lines, four R&D centers, and 25 factories. Different types of clothing companies can use Duc Giang's services; they offer everything from men's suits to work uniforms.
Main products
Shirts/blouses
Jackets
Suits
Pants
Blazers
Pros
On-time delivery
30+ years of experience
Makes 20 million units a year
Large inventory
Eco-friendly
Cons
Limited customization options
Start your order with Duc Giang Corporation.
6. Ha-Meem Group - Cheapest Clothing Manufacturer in Bangladesh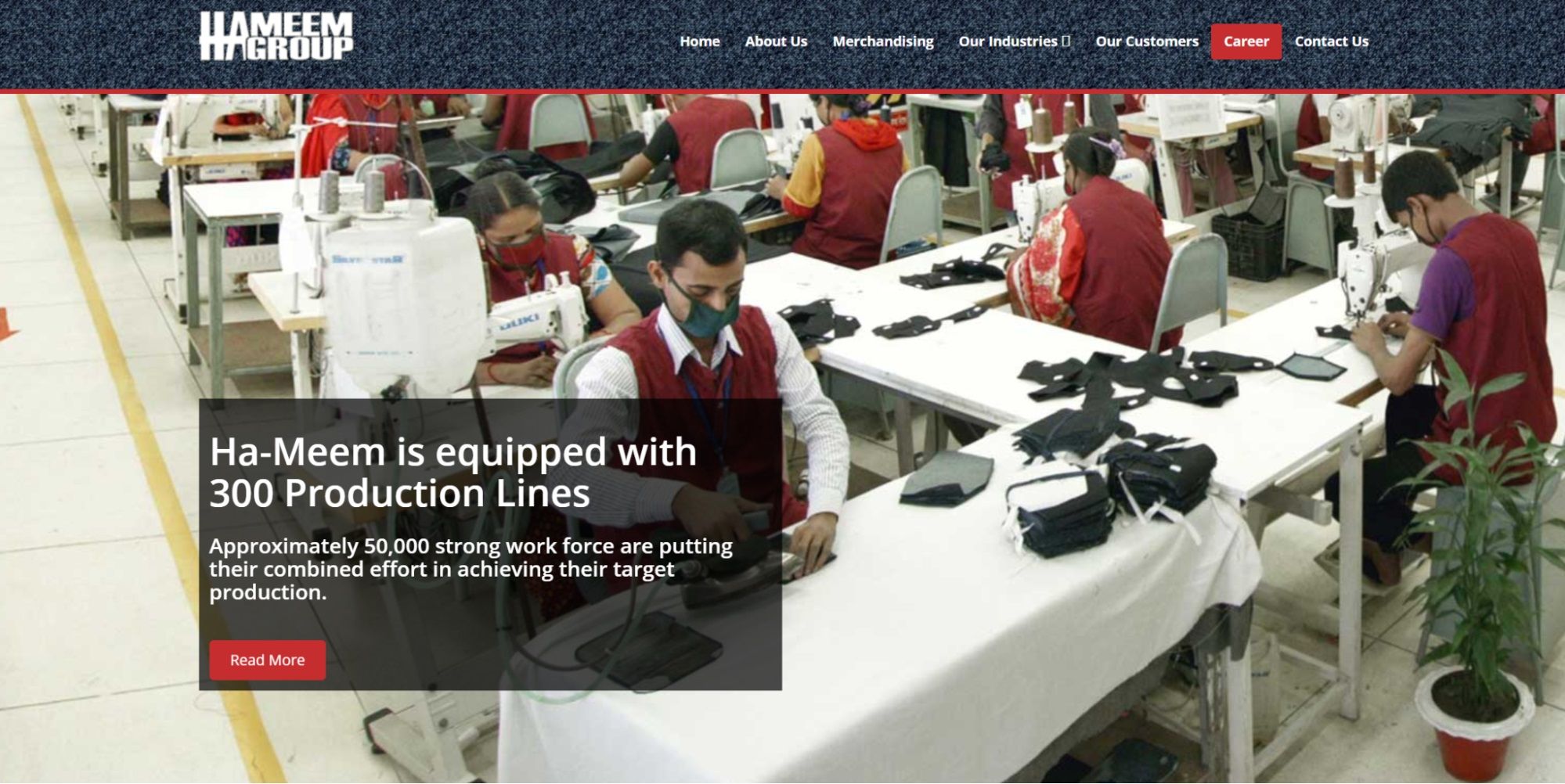 Ha-Meem Group not only offers affordable clothing but is always growing, expanding its product catalog to fit its diverse clientele. They have 26 garment factories, each specializing in certain items such as sweaters and denim.
With 300 production lines, this company averages at 7 million pieces per month in production. It also has facilities for labeling and embroidery, packaging, transport, and sourcing offices in China.
Main products
Sweaters
Woven garments
Denim jeans
Men's shirt
Jackets
Pros
26 garment factories
Diverse catalog
Design team led by experts
Works with massive clients, such as Kohl's
Readymade clothing, can ship 7 million pieces per month
Cons
Better option for larger clothing companies
Contact Ha-Meem Group to get started with your order.
7. Interloop - Cheapest Clothing Manufacturer in Pakistan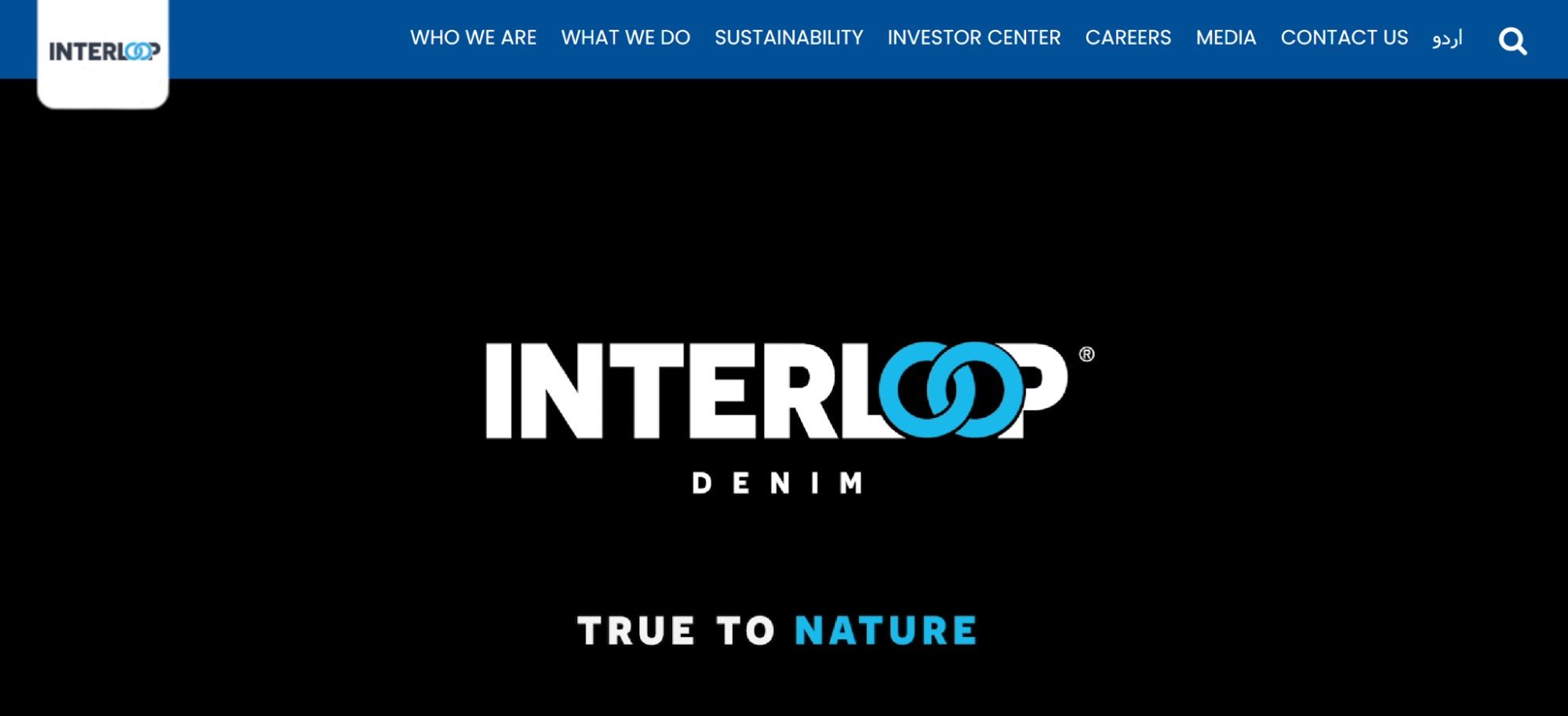 Interloop is becoming one of the most powerful clothing manufacturers in Pakistan. They're an affordable and ethical business offering high-quality clothing to different fashion companies. They're working toward sustainability, using eco-friendly fabrics and clean energy in the production process.
Interloop offers different clothing items and many patented fabrics. Interloop's main plant is in Pakistan, but they have global locations. This includes 3PL plants in major cities such as Los Angeles and an office in China.
Main products
Denim
Hosiery
Activewear
Knitwear
Yarn
Pros
Diverse product catalog
Patented fabrics
Multiple offices and locations worldwide
Sustainable company
Cons
Few options for startups and small businesses
Visit the Interloop website to get started with their services.
8. Hawthorn - Cheapest Clothing Manufacturer in London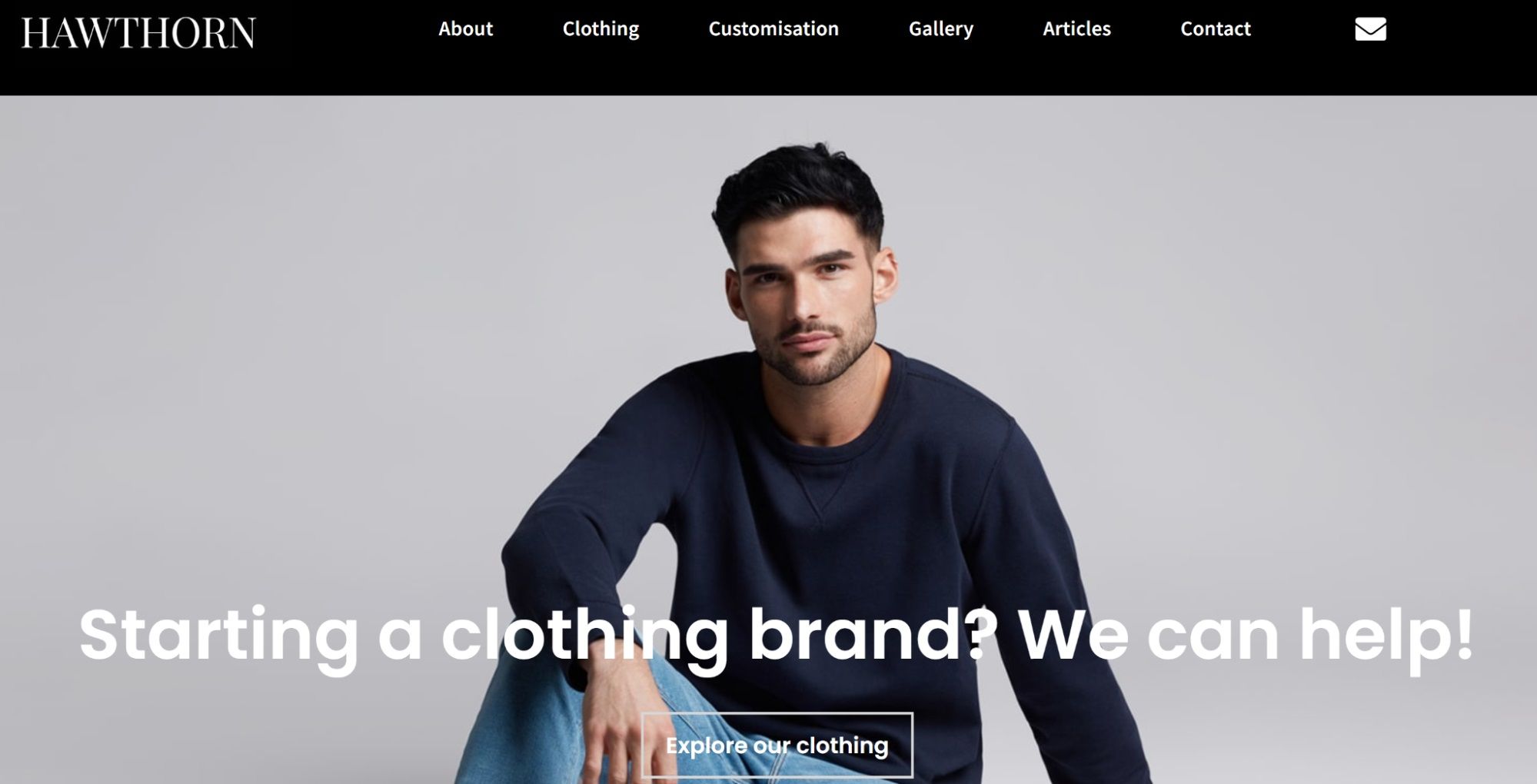 Hawthorn is a competitively priced clothing manufacturer in London that specializes in working with fashion startups and SMBs. They still offer a global supply chain, so you don't have to be based in the UK to partner with this company.
Even though they primarily work with startups, Hawthorn offers high-quality items. All clothes are cut, stitched, and finished by hand. They have a four-stage quality control program to ensure each item is of the highest standard.
Main products
Hoodies/sweatshirts
T-shirts/tops
Tracksuits/twinsets
Jeans/denim
Coats/jackets
Pros
Garments made by hand
Four-stage quality control process
Customization options
Free design samples
Low MOQ–50 pieces per design
Cons
Not extensive enough for fashion corporations
Check out Hawthorn's services for startups and SMBs.
9. Ferrara Manufacturing - Cheapest Clothing Manufacturer in NYC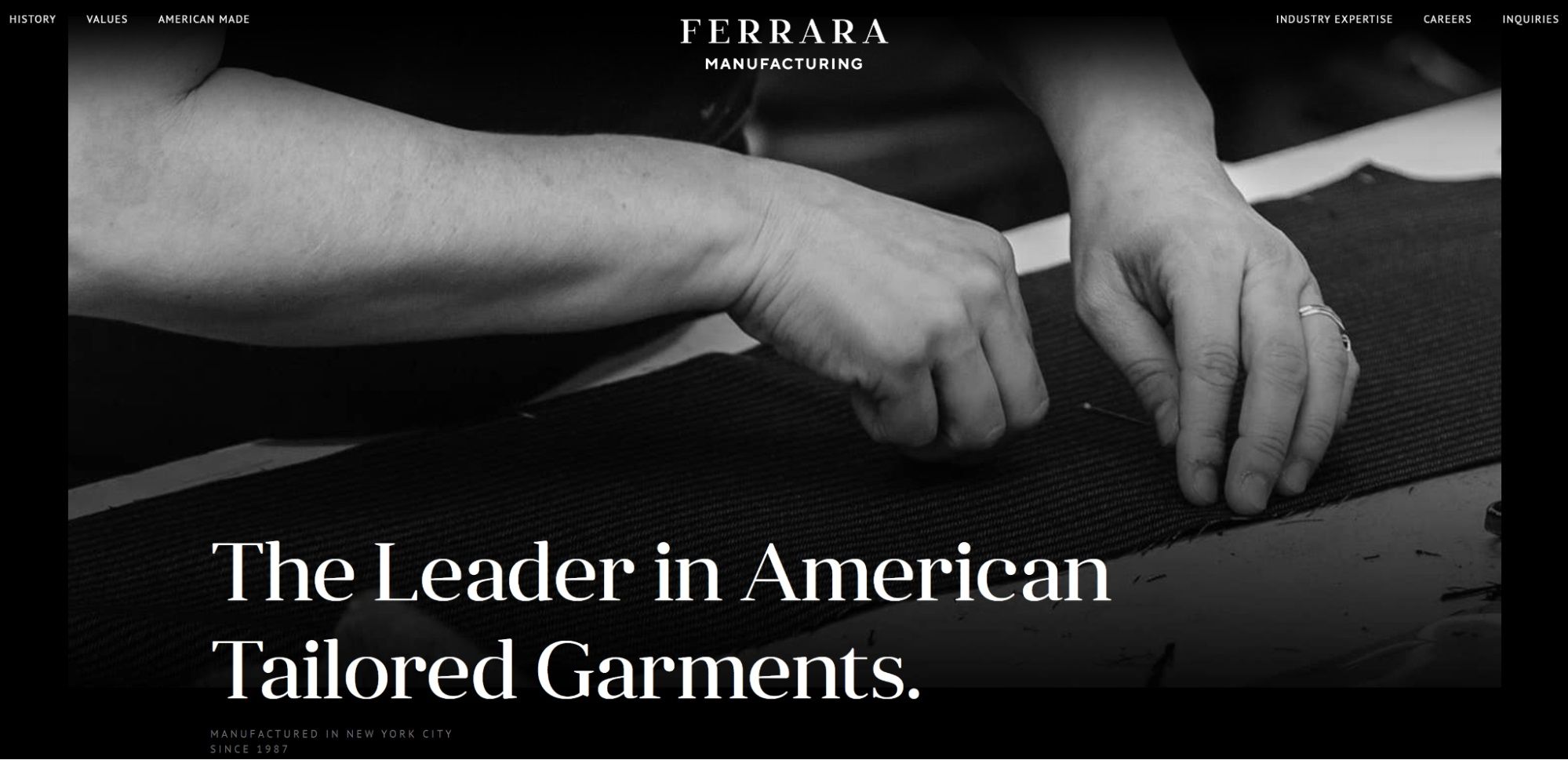 Ferrara Manufacturing is a woman-owned business based in NYC. Everything they produce is American-made, created in their NYC manufacturing factory, which was previously the Finck Building. They specialize in high-end garments but also make sports attire and workwear.
Ferrara Manufacturing has over 30 years of experience. They're family-owned; fashion expert and founder Carolyn Ferrara formed the company with her husband, Joseph, and their oldest daughter, Gabrielle, joined the company as the COO.
Main services
Prototyping
Tailored goods production
Advanced manufacturing technologies
Full-package production
Pros
American made out of their NYC location
Woman and family-owned business
Has a separate PPE division, Ferrara Supply
Inclusive company, offers clothing in all sizes
Uses the latest technology to make high-end items
Cons
Has limited options for businesses wanting casual clothing
Contact Ferrara Manufacturing for high-end fashion manufacturing.
10. Bomme Studio - Cheapest Clothing Manufacturer in Los Angeles

Bomme Studio offers competitive prices for all its high-quality items. They're a sustainable business with fair labor practices in all their global factories. Bomme Studio works with both clothing brands and fashion designers, always offering the latest trending items that you see on the runway.
Bomme Studio works with domestic and international brands. They have production sites in California and Mexico, with an additional location in South Korea for brands in South Korea, Vietnam, and China.
Main products
Swimwear
Activewear
Children's clothing
Pros
Competitive costs
Clothing seen on the runway
Sustainability and fair labor practices
Global production sites
Offer online tools for new fashion brands
Cons
Not fully American-made, sources materials from other countries
Contact Bomme Studio to order the latest fashionable clothing for your company.
Why Are Most Cheap Clothing Manufacturers Located in Asia?
Asia is the production capital in most retail industries, not just for clothing. That's because many Asian countries boast advanced production lines and are able to produce clothing faster and at lower costs without sacrificing quality.
The secret is the advanced production technology that many manufacturers in Asia use. They can produce several units at once, all while saving energy and making overall operations more sustainable.
Clothes manufactured in Asia are also more affordable because the cost of living in those countries is lower than many regions in North America and Europe.
Manufacturing companies in Asia also employ more people, so the production lines are more expedited. Businesses don't need to charge as much per order, and they can still use the same equipment as manufacturers in the West use.
What Should You Consider When Choosing a Clothing Manufacturer?
In addition to price, you should also consider shipping times, item quality, and experience.
Ideally, your clothing manufacturer should offer fast shipping times. This way, you can receive your inventory quickly and sell more products. For most companies, sticking with a domestic manufacturing company will result in the best shipping times. However, some overseas companies may have 3PL plants in your country, so you can still receive your order quickly.
Even though fashion businesses will want to save money on their items, you don't want to sell low-quality clothing or else you'll have unhappy customers.
Ensure the manufacturer offers high-quality products made of fine fabric and meets all product quality standards. Research the company and learn about their quality control program to ensure the clothing meets your standards.
Last but certainly not least, the clothing manufacturer you choose should have plenty of experience. Take a look at the manufacturer's services and learn how much experience and personnel they have in each department. Read reviews and testimonials from other customers to ensure the company is transparent and reliable.
Learn more: How To Find The Best Clothing Manufacturer For Your Business >>
Final Words
All of these clothing manufacturers are not only affordable, but have something different to offer their partners. While most companies may prefer partnering with a domestic company, an international manufacturer may offer the items you're looking for at an affordable price.
These 10 companies are the best in their regional markets, and fashion brands should consider all of these manufacturers.