According to IBISWorld, the global garment manufacturing industry amounts to US $ 886.50 billion in 2023 and it is slated to grow substantially in the coming years. Interestingly, as per reports, there are over 400,000 clothing manufacturers worldwide that churn out garment items day in and day out for large retailers, small brands and fashion labels.
Hence it becomes imperative to find reliable and reputable overseas manufacturers that can fulfill your clothing manufacturing needs and save you time as well money while maintaining a high level of quality. In this article, we'll take a look at the top 10 overseas garment manufacturing companies, highlighting their key strengths and services.
10 Best Clothing Manufacturers in the World
Appareify - A Reliable Manufacturer and Exporter of High-Quality Attire in China
China-based Appareify is a one-stop garments manufacturer for all your garment sourcing needs. The clothing manufacturer handles the entire supply chain process for fashion companies, from design and development to packaging and delivery, in its state-of-the-art factory that has an installed capacity to produce over 400,000 pieces per month.
With expertise in producing a wide range of clothes, including T-shirts, swimwear, hoodies, lingerie, kidswear, activewear, leggings, and underwear, Appareify follows a simple approach - producing what the customer wants while upholding integrity, transparency, and ethical practices in its business model.
Appareify has a quick turnaround time of 7-20 working days for your orders, however, the company also offers the flexibility to speed up the process to 3 days in cases of urgent and time-restricted orders. Whether you prefer CMT, FOB, or ODM, Appareify has got you covered.
Pros
Fast turnaround time
Over 20 years of experience in the overseas clothing business
Offers private label servicing also
Prioritizes sustainable business practices
Cons
Factiory inspection may be a barrier since they are based in China
AEL Apparel - Renowned Custom Clothing Manufacturer with International Reach
AEL Apparel is an internationally-renowned custom high quality clothing manufacturer in China. This clothing manufacturer offers a fully-integrated process, with support at each step from design to production to delivery. AEL Apparel views each of their clients as a partner in the process, keeping them informed and in control while they produce their custom clothing collections.
AEL Apparel employs a team of highly-skilled experts to produce each and every piece of clothing, with a focus on producing items of the best quality that meet their high standards. The production process that they use is also sustainable, with eco-friendly and recycled materials used during production and a focus on more environmentally-friendly processes and technology.
This amazing clothing manufacturer has the ability to produce a wide selection of clothing, from jeans and denim apparel to t-shirts and hoodies to activewear and leggings. AEL Apparel also offers private labeling and OEM servicing options to their customers for more variety when choosing how to best produce their clothing.
Pros
Affordable pricing model
Quick production time
OEM and private labeling options
Eco-friendly and sustainable production processes
Cons
Communications to customers may be delayed due to different time zones
Shenzhou International Group Holdings - Leading Vertically-Integrated Knitwear Garments Manufacturer in China
Shenzhou International Group is a vertical-integrated garment manufacturer having its fabric base in Vietnam, and strategically located garment factories in China as well as Vietnam and Cambodia. The Group boasts a workforce of more than 90,000 people worldwide and has an annual output of over 200,000 tons of high-end knitted fabrics, along with approximately 500 million pieces of knitted garments produced for global fashion brands.
This Chinese manufacturer Group has forged solid partnerships with both domestic and foreign customers, including internationally renowned sports and leisure brands. Leveraging a rigorous whole-process quality control system, efficient management practices, and a diligent workforce, the Group has earned a favorable reputation among internationally renowned customers.
Pros
Suitable for large scale buyers
Has a control on costings with its vertical operations
Cons
Doesn't hold expertise in producing woven garments
May not be workable for small order quantity buyers
Arvind Limited - An Indian Fashion Factory Specializing in Textile Manufacturing
Arvind Limited is a leading textile and garment manufacturer based in India that has over eight decades of experience in the industry. Arvind's state-of-the-art facilities are equipped with cutting-edge technology and machinery, enabling the company to produce a wide range of products including denim, shirting, knits, and woven fabrics, as well as ready-to-wear garments for men, women, and children.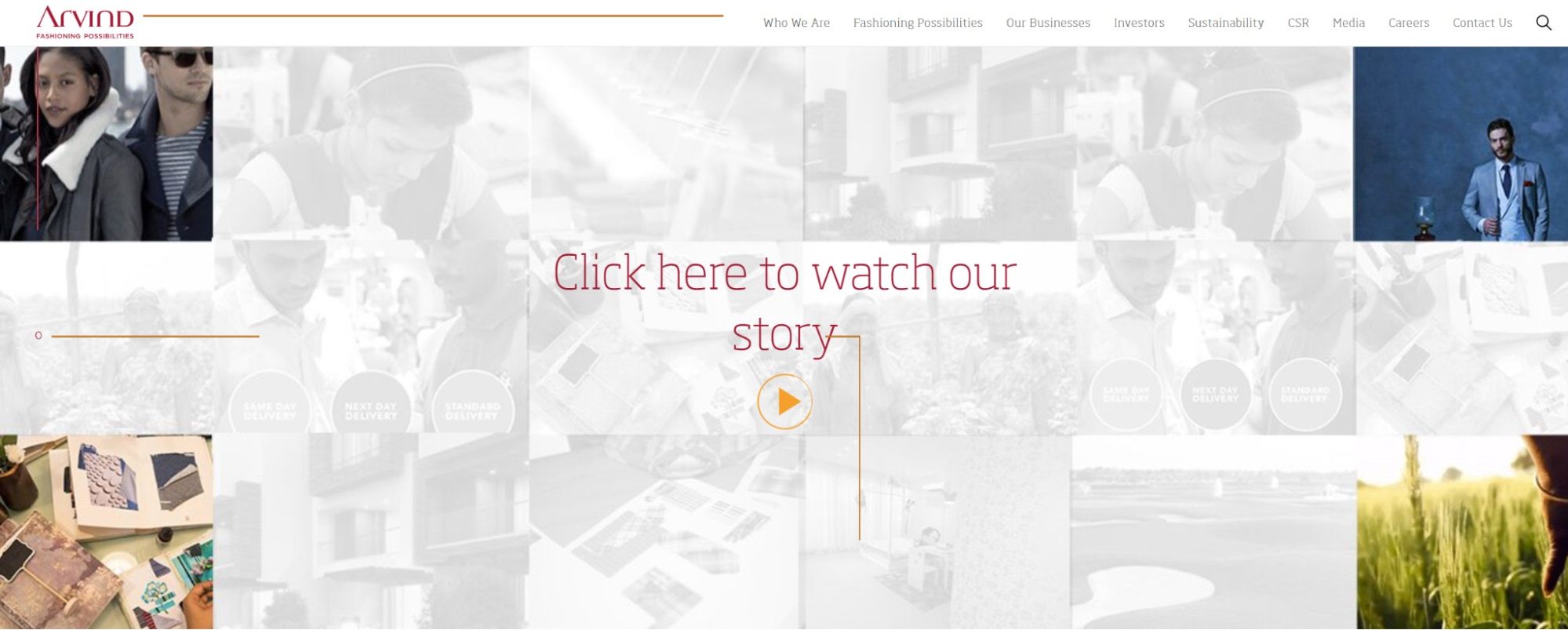 Arvind Limited's commitment to sustainability is reflected in its adoption of eco-friendly manufacturing practices and the use of sustainable raw materials. This overseas clothing manufacturer has also implemented a robust social responsibility program, which focuses on improving the lives of workers and communities in the areas in which it operates.
Pros
Robust infrastructure for denim manufacturing
Control over costings through complete integration
CSR activities enhance its brand image
Cons
Limited global penetration
Lack of duty benefits in the US and EU market
Billoomi Fashion - An Indian Clothes Producer for Ready-To-Wear Woven and Knitted Apparel
India-based Billoomi Fashion is a top-rated private label 'made-to-order' clothing manufacturer that prioritizes the start of production once buyers' concept design (tech pack) is ready. This overseas clothing manufacturer is process-oriented and highly quality-conscious, with a deep understanding of design technicalities, silhouette, color codes, fitment, fall/flow of outfits on different body types, drapery, cut & finish, tailoring, and fabric composition.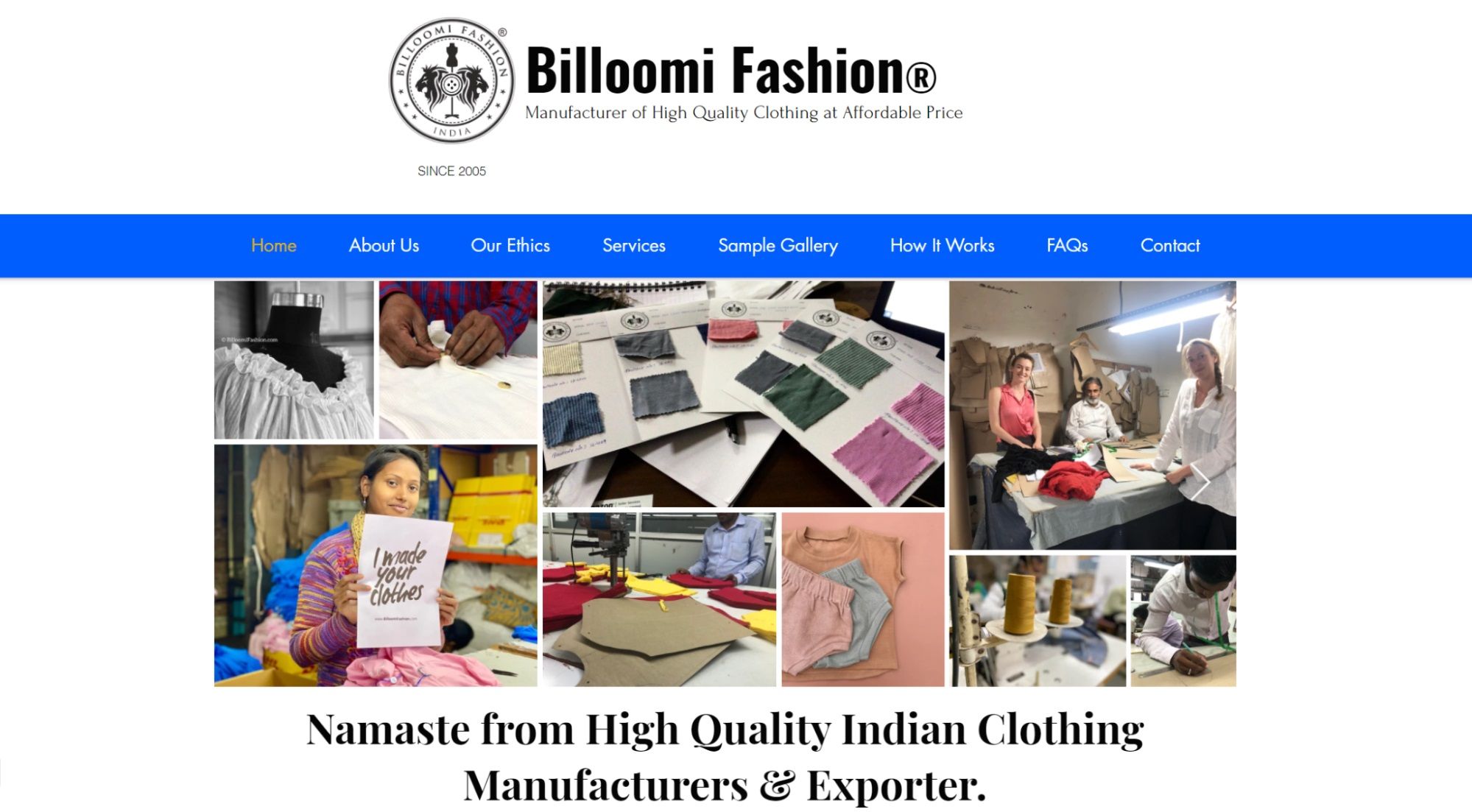 Capable of producing around 60,000 pieces of garments per month, Billoomi's services include design process, pattern making, pattern grading, sourcing of fabrics and trims, custom label and tag development, sampling, embroidery (computer and hand), printing (discharge, pigment, screen, digital, block printing, etc.), smocking, sequins and beadwork, sublimation, and bringing washing effects on denim.
Pros
Suitable for small fashion businesses
Quality-conscious production guaranteed
If needed, it can work on holidays to cater to your needs
Cons
Doesn't ship domestically (India)
Doesn't maintain product catalog
Not suitable for fashion wholesalers
Portland Garment Factory - An Overseas Clothing Manufacturer of Fashion Fabrics and Designs in Poland
Portland Garment Factory (PGF) is a clothing manufacturer overseas that specializes in sustainable and ethical garment manufacturing based in Portland, Oregon with a focus on creating high-quality clothing and textile products using eco-friendly materials and production methods.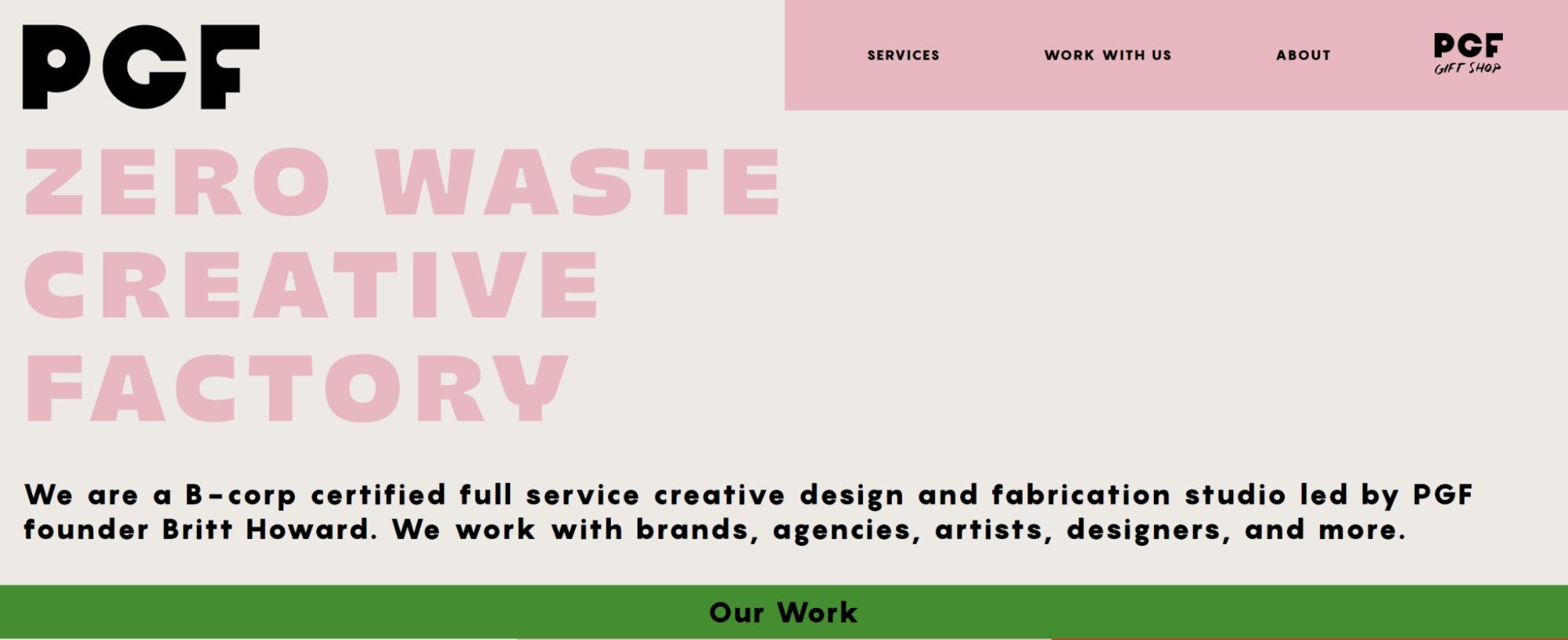 PGF offers a wide range of services, including pattern drafting, sample making, custom sewing, and small-batch production of 20,000 pieces per month. They work with a variety of clients, including independent designers, small businesses, and larger companies, to bring their clothing and textile ideas to life.
In addition to their manufacturing services, this overseas clothing manufacturer boasts a highly innovative fabric and design lab that is used to experiment on fabrics being used in a product line.
Pros
Strong fabric testing lab
Partners with independent designers to innovate designs
Zero material waste production practices
Cons
Not suitable for bulk manufacturing
Costings may be higher than its counterparts
110%ig - A Professional Bespoke Apparel Manufacturing Company in Germany
Hailing from Germany, 110%ig collaborates closely with the private labels and boutique ships to create and refine samples and small production runs. They pride themselves on blending expert know-how, efficient time management, and top-notch quality with a steadfastly honest approach, empowering their partners to achieve carefully crafted results.
With a keen eye for detail and a wealth of experience spanning the full spectrum of textile production – from working as design assistants to selling in high-end retail – this garments manufacturer specializes in crafting one-of-a-kind pieces, prototypes, sample collections, and small to medium-sized batches for men's, women's, and children's apparel, as well as accessories. The fashion labels can count on their support with cutting and processing techniques.
Pros
Suitable for small labels
Go-to place for Europe-based clients
Strong communication from the beginning of project
Cons
Clients need to provide fabrics
Not suitable for large batch production
Prices may not be competitive
Posh Garments - A Value-Added Garments Manufacturer in Bangladesh
Posh Garments is a well-known garment manufacturer based in Bangladesh that has been in operation for over 30 years. This international clothing company is recognized for producing high-quality and fashionable apparel for both men and women.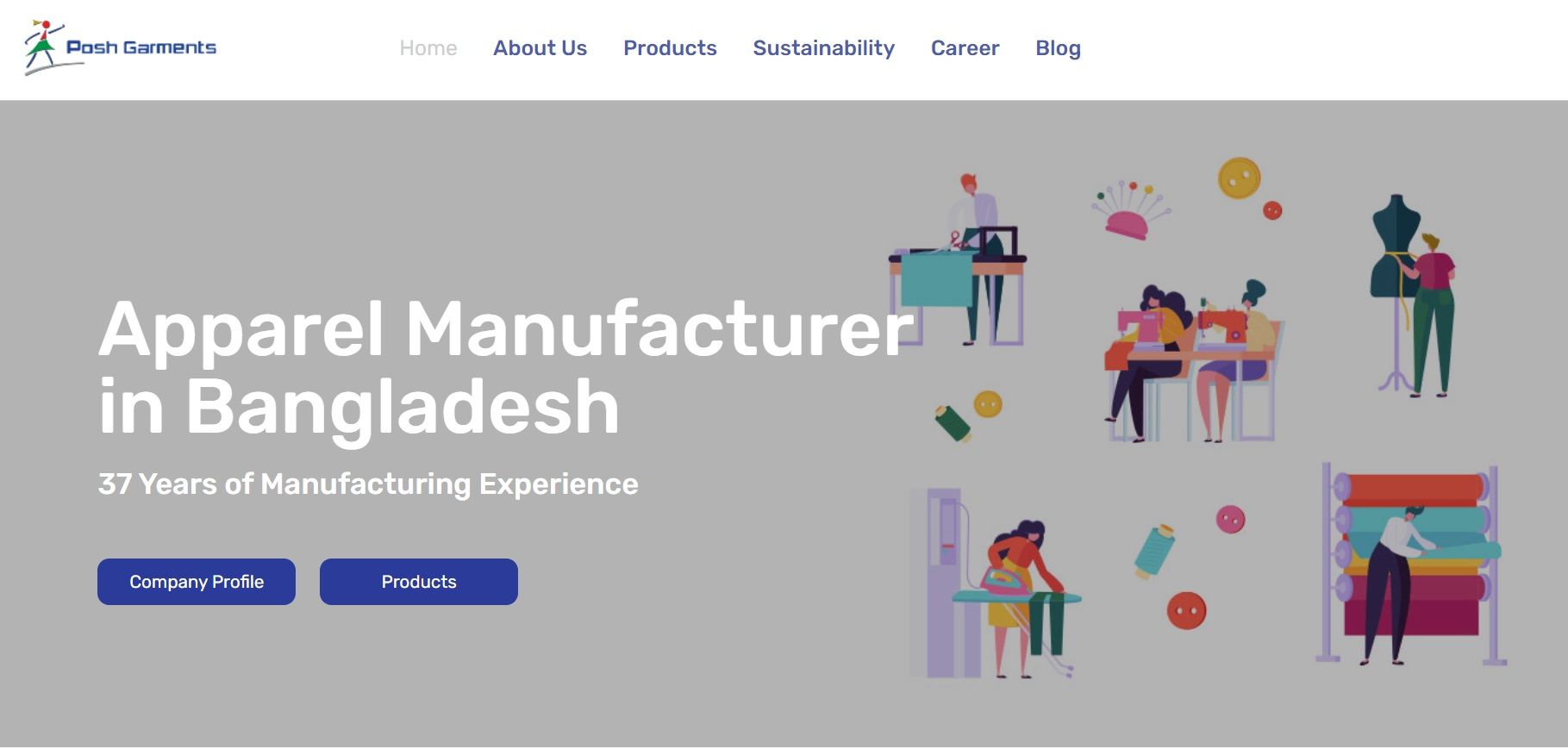 In terms of production capacities, Posh Garments has a state-of-the-art manufacturing facility equipped with modern machinery and technology which can produce over 300,000 pieces per month. This clothes producer is capable of producing a wide range of garments such as tops, blouses, dresses, skirts, and casual wear for men, including shirts and shorts.
The apparel manufacturer company is equipped to handle both small orders and large-scale orders to cater to the needs of its clients. Posh Garments adheres to strict ethical standards and ensures that all of its products are manufactured in compliance with international quality standards.
Pros
Strong in value-addition
On-time delivery rate is over 96%
Expert in hand-work also
Cons
Lead time (120 days) may seem high to quick-to-market fashion labels
FMT (Garments) - A 100% Export-Oriented Pakistan Clothing Vendor and Manufacturer
FMT (Garments) is a Pakistan clothing vendor and manufacturer specializing in the clothing industry, with a focus on manufacturing ready-made garments. Their modern factory boasts over 400 machines, providing a total production capacity of up to 180,000 pieces per month, depending on the item and style.
With a dedicated team of 600 employees, including both production and management staff, FMT (Garments) is committed to helping their clients meet their production goals. FMT (Garments) is fully committed to exporting its woven and knitted garments, including polo shirts, T-shirts, pajama sets, ladies' shirts, gowns, workwear, and uniforms, to customers worldwide. This overseas clothing manufacturer strives to deliver quality products and reliable service to meet the needs of their clients.
Pros
24 years of experience in RMG export sector
Accommodates large order quantities with ease
Well-compliant with all international standards
Cons
Not suitable for small scale brands as lead time is 10-16 weeks
Political instability in the country
Interloop Limited - A Renowned Producer of Hosiery and Denim Headquartered in Pakistan
Interloop is a top overseas clothing manufacturer specializing in producing hosiery, established in 1992 in Faisalabad, Pakistan. With over 32,000 employees across multiple countries on three continents, this apparel manufacturer company produces a diverse range of hosiery products, including socks, leggings, and tights, for men, women, and children. Interloop Pakistan has a state-of-the-art manufacturing facility with over 2,000 knitting machines, ensuring high-quality production and fast delivery.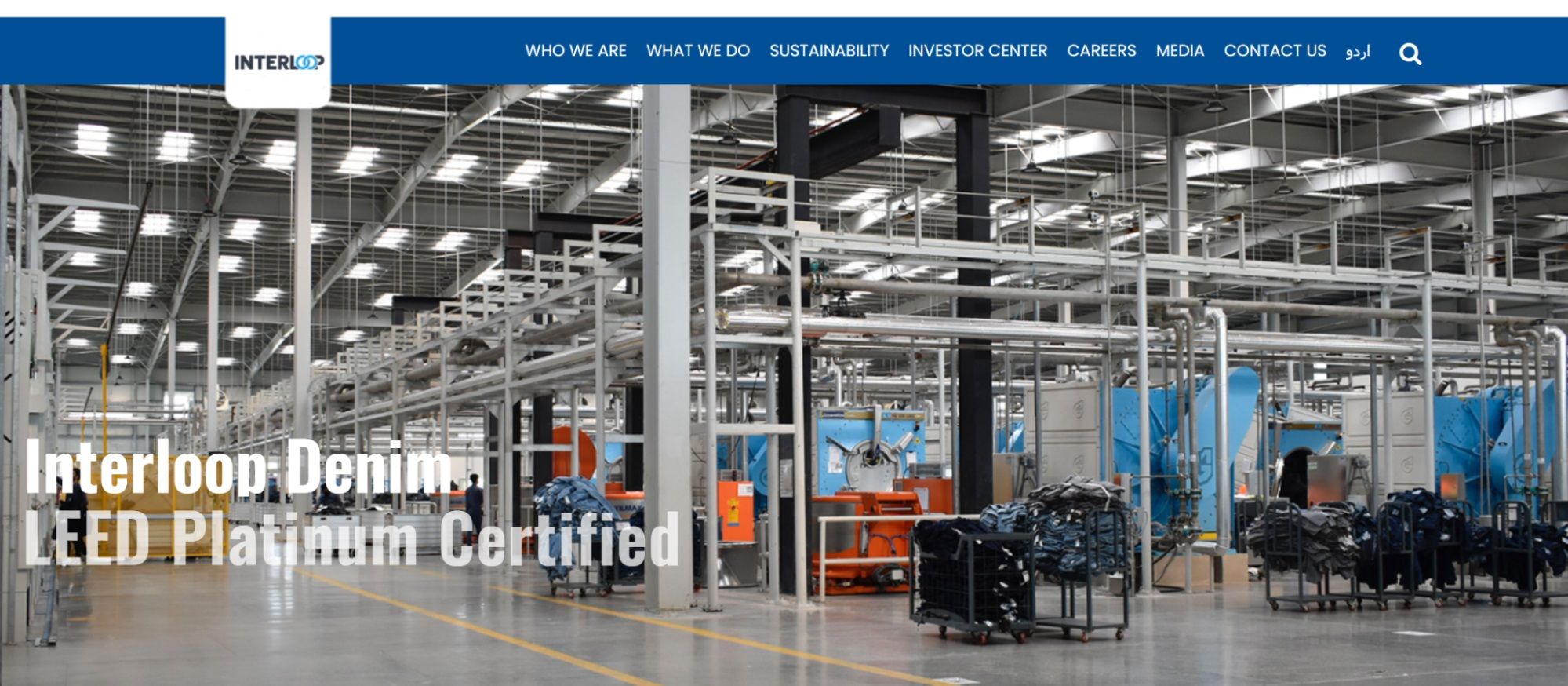 Interloop is able to work with various materials, allowing the garments manufacturer to manufacture an impressive 795 million pairs of socks and tights each year for well-known international brands and retailers. The company has a strong focus on sustainability and has implemented several initiatives to reduce its environmental impact, such as water conservation and renewable energy use.
Pros
Finest place for hosiery products
Full vertical-integrated company hence tight control over prices
Cons
Not fit for small brands
Political instability in Pakistan may hinder long-term collaboration
What Are the Benefits of Working With Overseas Clothing Manufacturers?
Lower Production Costs
Outsourcing manufacturing to countries with lower labor costs such as Bangladesh, Vietnam, and India can lower production costs and increase profit margins by sourcing cheaper materials.
Access to Specialized Expertise
Many countries specialize in certain types of textile manufacturing, such as silk production in China, cotton in India and Pakistan or leather goods in Italy. You can tap into this specialized expertise to improve product quality and productivity in your manufacturing process.
Larger Production Capacity
Overseas clothing manufacturers often have larger production capacities than local manufacturers, which means they can produce more products at a faster rate. This can help you meet increased demand and expand your business more quickly.
International Market Reach
You can get valuable insights into local market trends and consumer preferences, which can help you tailor your products to better suit your target audience.
Streamlined Supply Chain
Many overseas clothing manufacturers have established supply chain networks and partnerships with logistics providers, which can help ensure smooth transportation and delivery of your products.
What Are the Drawbacks of Working With Garments Manufacturers Overseas?
Communication Barriers
Overseas clothing manufacturers may not speak the same language fluently or understand the same cultural norms, leading to misunderstandings that can delay production and impact quality.
Quality Control
Without proper oversight and communication, quality control can be difficult. Production issues and quality concerns may not be addressed in a timely manner, resulting in defective products or costly rework.
Longer Lead Times
Transportation of goods over long distances and through customs can take longer, resulting in extended lead times. This can lead to missed deadlines, delayed product launches, and increased carrying costs.
Legal and Ethical Concerns
Working with clothing manufacturers overseas can raise concerns about compliance with labor laws, environmental regulations, and ethical business practices. In some countries, worker exploitation and other unethical practices may be prevalent, leading to reputational and legal risks for the business.
Cultural Differences
Cultural differences can lead to misunderstandings and conflicts in business practices, expectations, and work ethics. This can lead to delays and other issues in production.