The average business and consumer have sustainability in mind. These ethics extend to all areas of consumerism, including clothing. This is why the sustainable fashion market is expected to increase to 6.1% in 2026 from 3.9% in 2021.
There are many eco-friendly clothing fabrics, and hemp is one of the best examples. Hemp is a carbon-negative material, consumes less water than cotton, requires fewer pesticides, and is a very durable fabric.
Are you interested in selling garments made of hemp? Here are the 10 best hemp clothing wholesalers.
1. Appareify - Best Hemp Clothing Wholesaler Overall
2. AEL Apparel - Best Custom-Made Hemp Clothing Wholesaler
3. Hemp Fortex - Best for Environmental Fibers
4. Pangaia - Best for a Wide Range of Products
5. ONNO - Best for Wholesale Hemp T-Shirts
6. Rawganique - Best for Made in USA
7. Royal Apparel - Best for Viscose Hemp Clothing
8. Hempiness - Best Hemp Clothing Wholesaler in the UK
9. WAMA Underwear - Best for Hemp Underwear
10. Jungmaven - Best Hemp Clothing for Both Men & Women
1. Appareify - Best Hemp Clothing Wholesaler Overall
If you want wholesale hemp products, Appareify is one of the best options. Appareify not only uses sustainable clothing materials, such as hemp, but its ethics extend to its business practices. They use durable hemp in their clothing, and all items are fashionable. All materials are ethically sourced to not harm the environment.
Appareify also has ethical labor practices, employing fair labor standards in their business operations. Appareify offers private labeling, customizations, and OEM services to its partners. With 20+ R&D experts, Appareify always has new and innovative products.
Main products
Pros
Uses eco-friendly fabric such as hemp
Fair labor practices
Affordable
Supports businesses of all sizes
400,000 units/month capacity
Cons
Challenging to perform an on-site inspection as they're located in China.
Take a look at the hemp and eco-friendly clothing by Appareify.
2. AEL Apparel - Best Custom-Made Hemp Clothing Wholesaler
Are you looking for a reliable wholesaler specializing in custom-made hemp clothing? AEL Apparel is the right plug for you! This hemp clothing manufacturer and wholesaler is also great at producing highly sustainable and eco-friendly clothing that meets industry standards.
AEL Apparel has impressive equipment with advanced technology that produces various customization options you're looking for. From embroidery, cut & sew to sublimation printing, this manufacturer has got you covered.
Main Products
T-shirts
Hoodies
Sweatshirts
Leggings
Activewear
Denimwear
Loungewear
Swimwear
Kids' clothing
Pros
Impressive technology for various customization options
Produces highly sustainable clothing
A wide range of products
Cons
Delivery may take a bit longer for overseas countries
Leverage AEL Apparel for custom hemp clothing today!
3. Hemp Fortex - Best for Environmental Fibers

Hemp Fortex puts environmentalism at the forefront with its clothing. In addition to hemp, Hemp Fortex also offers hemp-blended fabric, 100% cotton, recycled nylon, and more. Clothing companies can source sustainable fabric at Hemp Fortex or purchase ready-made garments.
Hemp Fortex has been selling eco-friendly fabric since 1999. Their textiles are luxurious and sustainable, and they release many innovative fabric blends. They have control over their entire production process, and all items are delivered with care.
Main products
Woven fabric
Knit fabric
Wholesale clothing
Pros
Eco-friendly fabric blends
Decades of experience
Vertical supply chain
Fast delivery window
Generous return policy
Cons
Limited customization options
Shop at Hemp Fortex to source their innovative and eco-friendly fabric.
4. Pangaia - Best for a Wide Range of Products

Pangaia doesn't call itself sustainable. They aim to be an industry-wide change and focus on an earth-positive future. They do this by offering innovative and high-performing fabrics in all clothing.
For their denim, Pangaia uses rain-fed hemp in their PANhemp fabric. It's blended with certified-organic cotton and PPRMINT, an antimicrobial and odor-control finish. Pangaia also uses natural indigo dye.
Pangaia uses other fabric blends in their clothing. Whatever fabric you choose, all their items are durable and eco-friendly.
Main products
Jeans
Sweatshirts/hoodies
Shorts
T-shirts/tank tops
Track pants
Pros
Innovative fabric made with a blend of hemp and organic cotton
Earth-forward business
Always has new items
Uses natural dyes
Trending items
Cons
Lack of customization options
Visit the Pangaia website to explore their innovative clothing.
5. ONNO - Best for Wholesale Hemp T-Shirts

If you want to sell hemp t-shirts, ONNO is the best place to choose. They use a blend of hemp and cotton, so all their t-shirts are sustainable.
Their hemp t-shirts are durable, soft, and available in a wide array of colors. Their items are true-to-size and inclusive, offering up to 3XL.
ONNO makes clothing that's "made to move," comfortable enough for all-day wear. While the company is based in Colorado, they have factories in China and India.
Main products
T-shirts
Long-sleeves
Bamboo
Organic cotton
Hemp
Pros
Made of organic fabric
Inclusive sizing
Comfortable and durable fabrics
Many fabric options, from hemp to bamboo
GOTS-certified
Cons
Limited product selection, only offer t-shirts and long-sleeves
Visit the ONNO website and shop for their hemp t-shirts.
6. Rawganique - Best for Made in the USA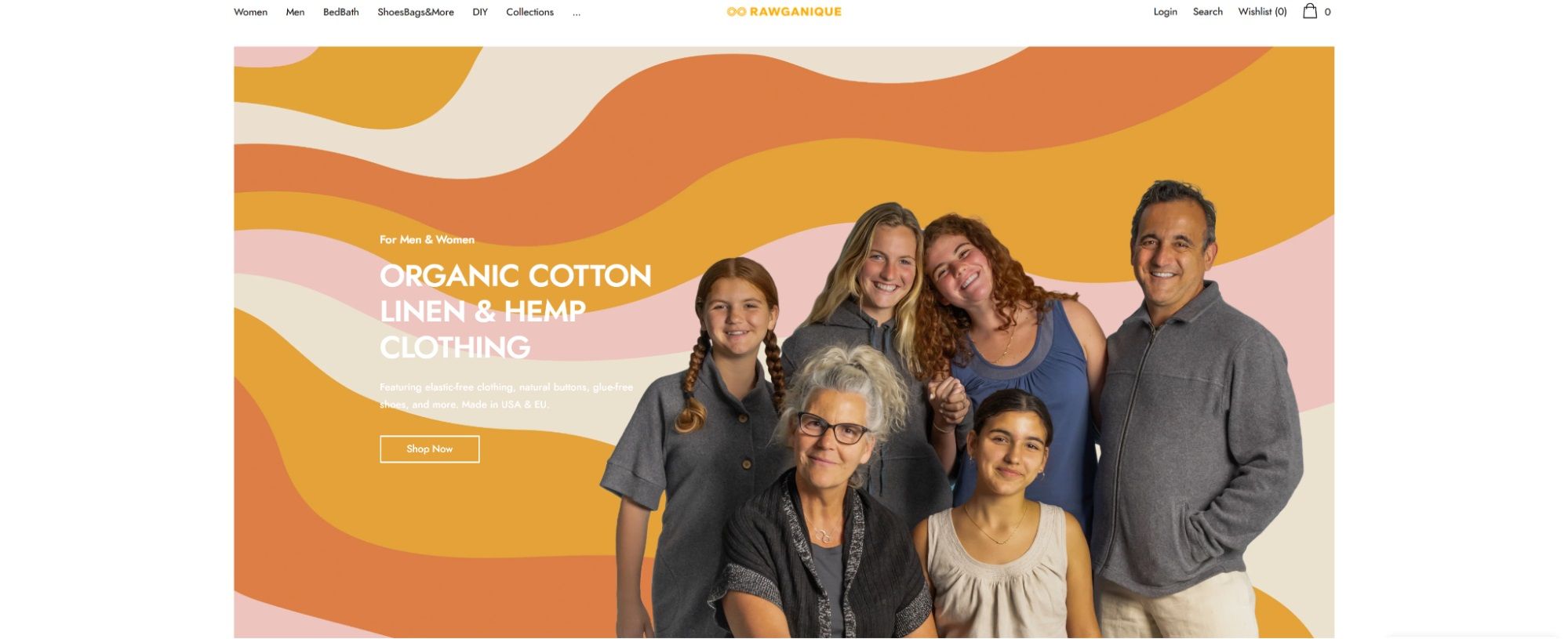 If your business wants to sell clothing made in the U.S. or Europe, you'll love Rawganique. Their items are made of hemp and are elastic-free. This means their clothing is not only sustainable but also long-lasting.
Every step of the Rawganique clothing creation process is natural. They only use natural buttons and don't use glue in their shoes. Rawganique offers several clothing items for men and women, plus accessories and bed and bath products.
Main products
T-shirts
Tank tops
Tunics
Blouses
Leggings
Pros
Wide product selection
Made of organic hemp, cotton, and linen
Stylish clothing
Options for men and women
Made in the U.S. and EU
Cons
If you want to sell organic hemp clothing made in the U.S. and EU, shop at Rawganique.
7. Royal Apparel - Best for Viscose Hemp Clothing

Viscose hemp is more durable than natural hemp, so many businesses may want to choose this variety instead. If this aligns with your needs, you'll want to buy from Royal Apparel. Royal Apparel combines hemp with domestic and imported yarn, so the clothing lasts longer.
In addition to viscose hemp, Royal Apparel also uses organic cotton and viscose bamboo fabrics. Their products are made in the USA and are sustainable. Royal Apparel offers many styles and colors, so you can offer your customers various items.
Main products
T-shirts
Tank tops
Bottoms
Sweatshirts
Activewear
Pros
Items for men, women, and unisex
Various styles
Organic fabric
Durable viscose hemp and bamboo
Affordable
Cons
Viscose is regenerated fabric, not 100% hemp
Visit the Royal Apparel website to shop for their wholesale items.
8. Hempiness - Best Hemp Clothing Wholesaler in the UK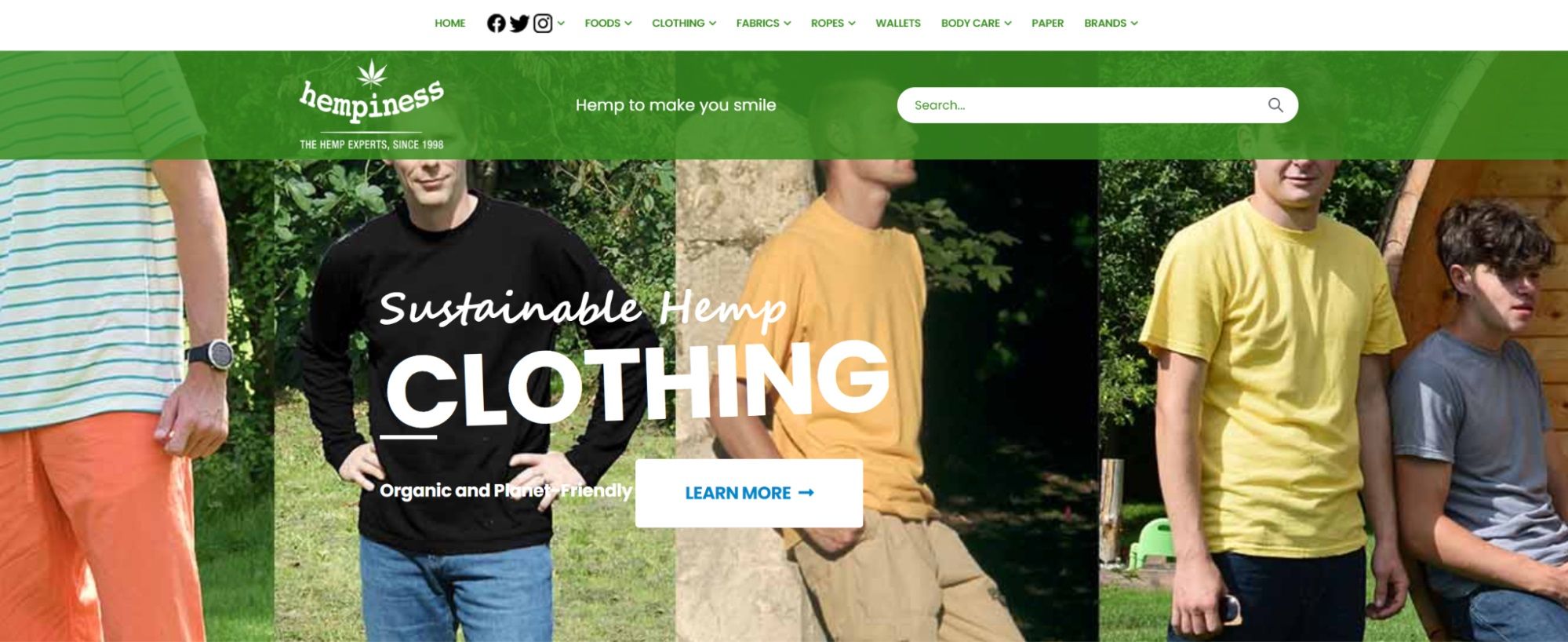 Hempiness sells more than clothing, they're the premier hemp product destination in the UK. They sell hemp seed oil, drinks, ropes, body care, wallets, and paper.
Hempiness is a sustainable brand, and all its items are of the highest quality. Every step of their supply chain–from product production to packaging–is low-impact. The owners have been in the hemp business since 1990, making them one of the most experienced hemp wholesalers in the UK.
Main products
T-shirts
Accessories
Hemp food and beverages
Fabric
Rope
Pros
Uses 100% hemp in their products
Natural fabrics
Durable and high-quality
Wholesale services
Free delivery options in the UK
Cons
Visit the Hempiness website to shop their wholesale products.
9. WAMA Underwear - Best for Hemp Underwear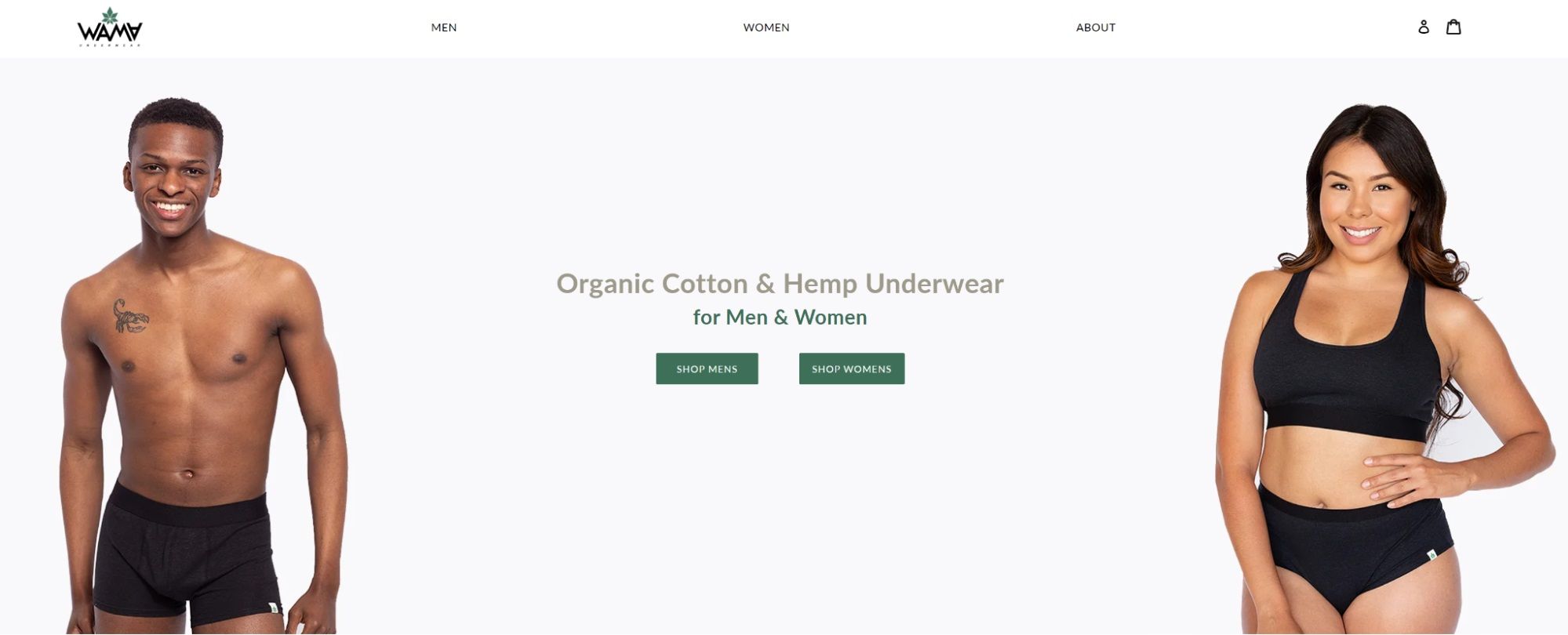 If you own an underwear and lingerie company, you can still offer hemp underwear. WAMA Underwear specializes in hemp underwear for men and women. Hemp is a very comfortable and soft fabric, making it the perfect option for underwear.
Their underwear is available in various styles and colors. The sizing is inclusive, and they make underwear up to 4 XL. WAMA Underwear is very affordable and offers discounts for bulk orders.
Main products
Briefs
Boxers
Boy shorts
Thongs
High-waisted underwear
Pros
Different color and style options
Inclusive sizing
Soft and comfortable hemp fabric
Eco-friendly and organic brand
Vegan and PETA-approved
Cons
Visit the WAMA Underwear website to shop their massive selection of men's and women's hemp underwear.
10. Jungmaven - Best Hemp Clothing for Both Men and Women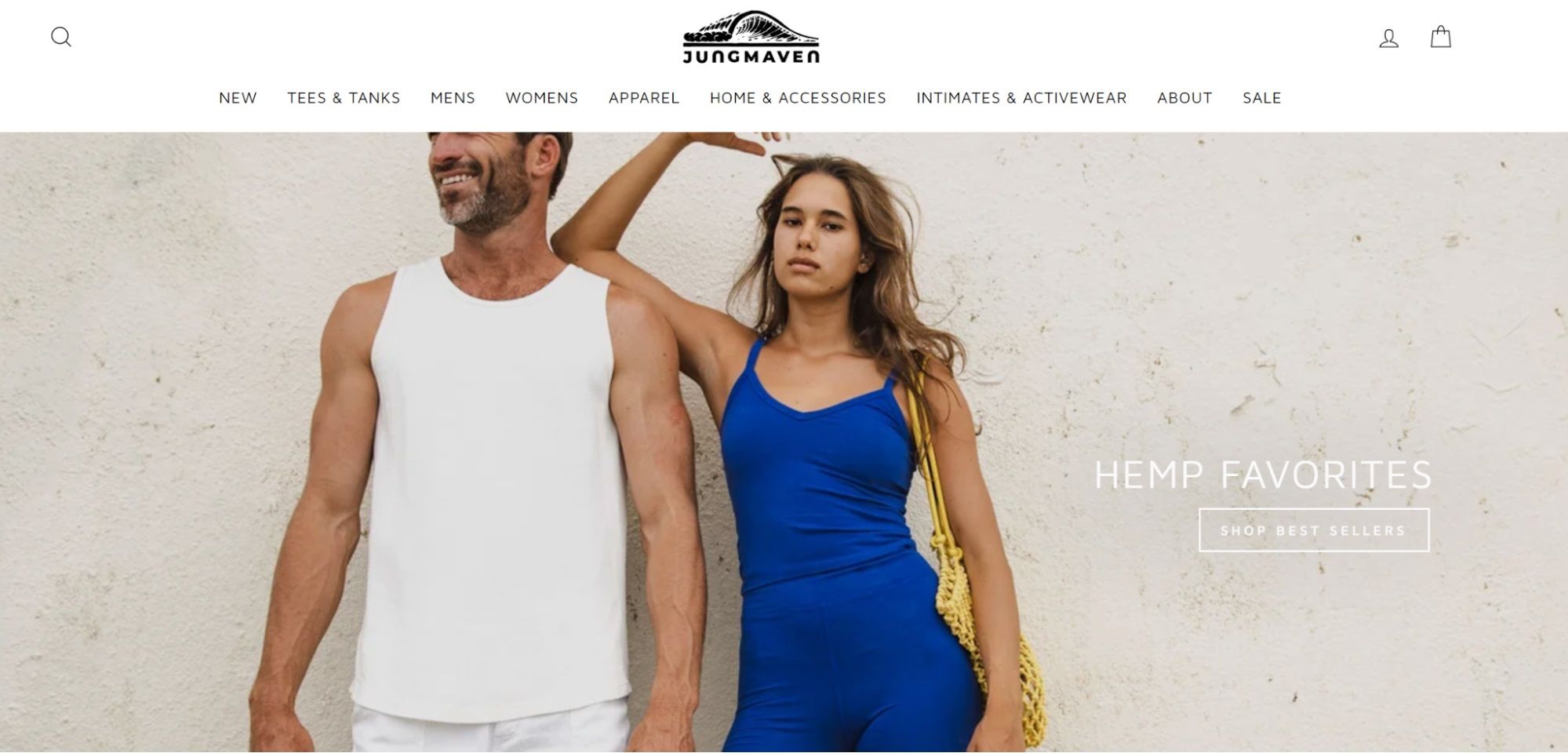 Jungmaven is a hemp clothing wholesaler that offers various styles for men and women. Jungmaven's catalog varies from traditional t-shirts and jeans to eye-catching tie-dye styles. They also offer activewear, intimates, accessories, and even home products.
All their fabrics are natural. Their clothing is comfortable and soft, perfect for those with sensitive skin or who get irritated by conventional fabric easily. Their clothing is made in Los Angeles, with some accessories and home products made in China.
Main products
Tank tops
T-shirts
Sweatshirts
Jackets
Pants
Pros
Various styles
Options for men and women
Natural hemp fabric
Plenty of sales
Free shipping options
Cons
Lack of customization options
Shop Jungmaven's clothing on their website.
What's Good About Hemp Clothing?
Hemp clothing offers many benefits. It's a breathable fabric that's known for getting softer with each wear. Hemp has natural thermoregulating properties, making it a very insulating fabric. It's hypoallergenic, making it one of the best fabric options for sensitive skin.
Hemp is also known to be one of the most durable fabric options, up to eight times that of cotton. It's naturally moisture and odor-resistant, making it the perfect material for activewear. It also has natural antifungal and antibacterial properties and is resistant to mold and mildew.
There are many reasons why hemp is eco-friendly. The plant grows with less water and doesn't need as many pesticides. As a plant-based fabric, hemp clothing is compostable and biodegradable, reducing waste.
Since hemp is moisture and odor-resistant, users don't have to wash their hemp clothing as much, saving water and energy. Even when users wash hemp, it retains its shape and won't shrink.
Hemp T-Shirts
Hemp t-shirts are made from the stalks of Cannabis sativa plants. They're known for their durability, lasting for a long time. They don't require any special care instructions since the fabric doesn't shrink or lose its shape.
Even though this fabric is very strong, it's also soft. Hemp grows softer with each wear and won't irritate sensitive skin. Many fitness enthusiasts love hemp for its sweat-wicking and moisture-resistant properties. It also resists mold and mildew and protects against UV rays.
While consumers can find 100% hemp t-shirts on the market, most varieties blend hemp and another fabric, such as organic cotton.
Hemp Kidswear
Hemp is versatile enough to be used in children's clothing. Most hemp kidswear uses a blend of hemp and cotton to improve its quality and durability.
Parents love dressing their kids in hemp clothing, not only because it's eco-friendly but also because it's absorbent and powerful against a child's messes. It's a very insulating material and is also comfortable enough for a child's sensitive skin.
Hemp becomes softer with each wear, so kids love wearing hemp clothing. The fabric is also lightweight and breathable, keeping children cool even in the hot summer season. It's perfect for kids who love playing outside since it absorbs sweat.
Hemp Hoodies
Because hemp is so soft, it's a popular fabric for hoodies. They're easy to maintain–hemp hoodies won't lose their shape or shrink in the wash. Since they're resistant to moisture, mold, and mildew, users won't need to wash their hoodies as much.
Users can even wear hemp hoodies on warm days. Hemp is a breathable fabric and will keep users comfortable without getting too warm.
Most hemp hoodies on the market are natural, though they're made of a hemp and organic cotton blend. These hoodies will still have the benefits of hemp, such as its UV-protecting properties, with the performance of cotton.
Conclusion
As one of the most environmentally friendly materials, hemp is an ideal choice for businesses and consumers seeking high-quality and sustainable apparel. Our list of the ten best hemp clothing wholesalers offers an opportunity for businesses to explore a wide range of hemp-based products while supporting responsible manufacturing practices.
By choosing to invest in hemp garments, businesses can participate in the movement towards a more sustainable and conscious global fashion industry.