Retailers selling children's clothing need reliable manufacturers to supply them. Your products must be of the highest quality to guarantee customer loyalty. The options are vast. In fact, the global children's apparel industry will likely increase to $82.54 billion by 2027 — meaning the demand for quality suppliers has never been higher.
With this in mind, you may ask what are some of the top wholesale suppliers in the USA and worldwide.
Top 10 Children's Clothing Wholesale Suppliers (USA & Global)
Here's a list of some of the best children's clothes manufacturers:
Appareify – Versatile Supplier for Best Children's Clothing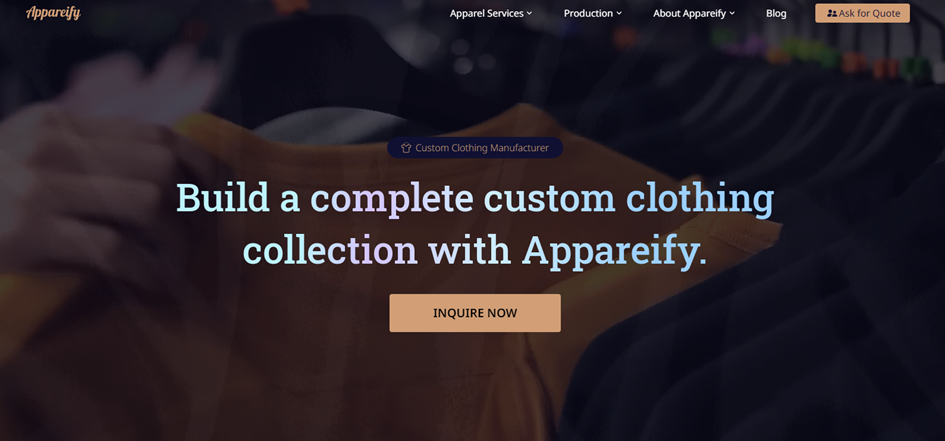 Appareify is a manufacturing company that produces various types of clothing. They make everything from T-shirts and swimwear to hoodies, lingerie, kidswear, activewear, leggings and underwear. The company produces an astounding 400,000 clothing pieces per month.
This broad selection makes it apparent that Appareify doesn't exclusively manufacture children's clothes, but that isn't to say their track record in children's clothing manufacturing is lacking. They design and produce clothing for toddlers, children, and teenagers, with an extensive selection of materials for any occasion.
Appareify has different cooperation models, such as CMT (cut, make, and trim), FOB (free on board), and ODM (original design manufacturer). These flexible partnerships mean the company can accommodate special requirements that a business or brand may require.
Moreover, Appareify is also a sustainable manufacturer, making sure its processes do as little harm to the environment as possible. So, whatever type of garment you're looking for, be assured that you'll get quality products without sacrificing ethics.
If you'd like to explore the possibility of teaming up with Appareify, sign up for membership to access a wide selection of products.
Pros:
Offers a wide range of clothing types
Flexible cooperation models to suit different businesses
Follows sustainable and ethical practices
Cons:
Potentially longer order delivery time
Not solely focused on children's apparel
AEL Apparel – – Eco-Conscious Supplier for Custom Children's Clothing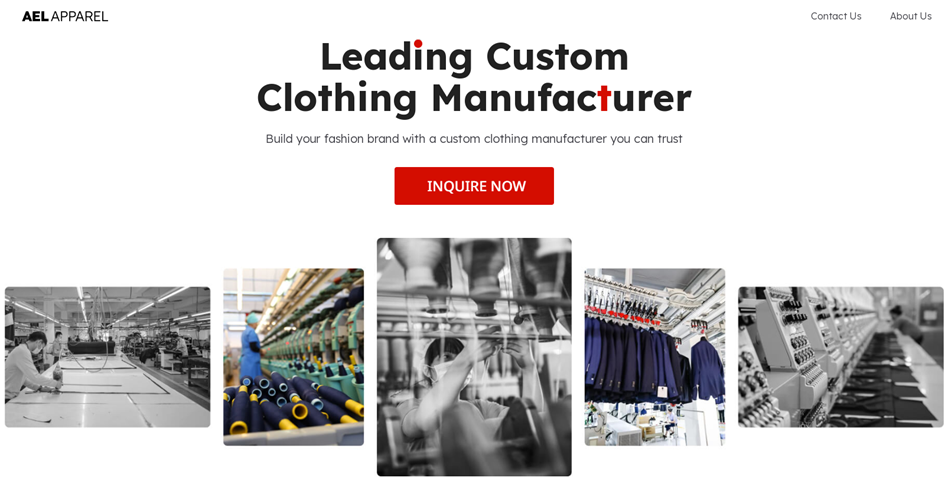 AEL Apparel is another reliable source of custom-made clothing with a flexible selection. Similarly to Appareify, they produce items for both children and adults.
AEL Apparel is a responsible company producing sustainable products that minimize their environmental impact and reduce waste across the supply chain. Furthermore, they have fairly competitive turnaround times and low MOQs (Minimum Order Quantities). Consequently, smaller businesses can use them to make a fashion mark with less effort.
This manufacturer is well-equipped to provide a wide range of clothing manufacturing services. Some of them are cut and sew, OEM (original equipment manufacturing), and private label. They can help you design and create any type of apparel, from newborns to adults. Furthermore, their fashion team can work with you on developing and realizing custom designs if you wish to create a distinct collection.
Pros:
Focus on sustainability and reducing environmental impact
Low MOQs are suitable for clothing businesses of all sizes
Offers many kinds of custom-made clothing
Cons:
No ready-made stock
Factory inspection may be hard for clothing brands overseas
Penguin Kids Wear – Children's Clothing Supplier and Customer-Centric Veteran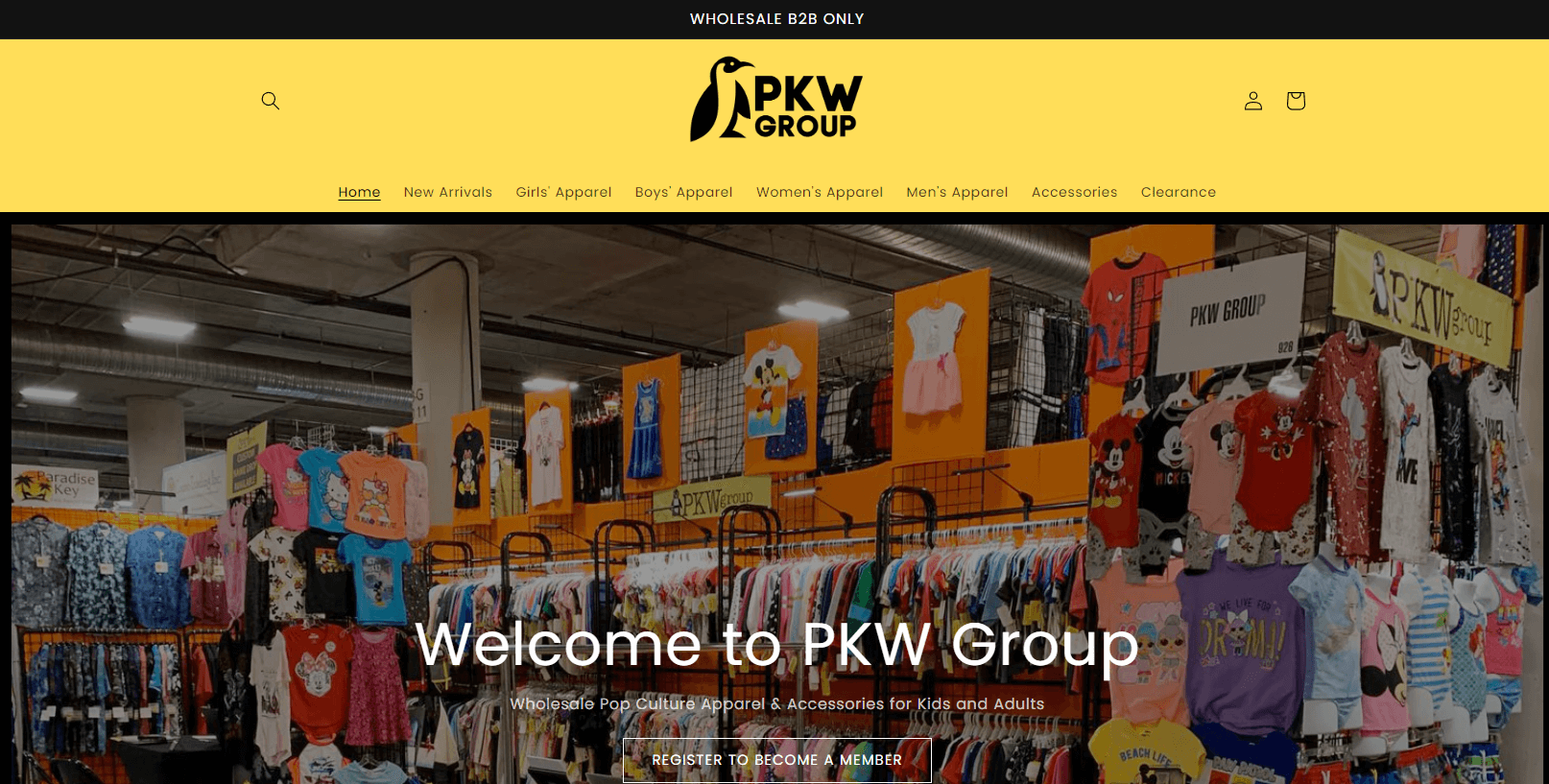 PKW Group (or Penguin Kids Wear) has been around since the 1990s and still produces high-quality children's clothing and accessories for retailers all over the world. According to their customers, they have excellent customer service that makes building a relationship between supplier and retailer and accessing their catalog easy.
An experienced wholesale supplier with a long track record, PKW Group specializes in children's apparel and accessories rather than manufacturing for all ages. Within this age group, they have an exceptional range of products. These products include everyday items such as T-shirts and jeans and special occasion outfits like dresses and suits.
Joining the PKW Group is the best way to get access to their product line, but their customer service makes this stress-free.
Pros:
Over two decades of experience in children's clothing
Solid customer service team
Membership gives users access to an extensive product catalog
Cons:
Membership is required for full benefits
Limited information on sustainability practices
Kiddies World – – U.K.'s Best Children's Clothing Supplier for Comfort and Quality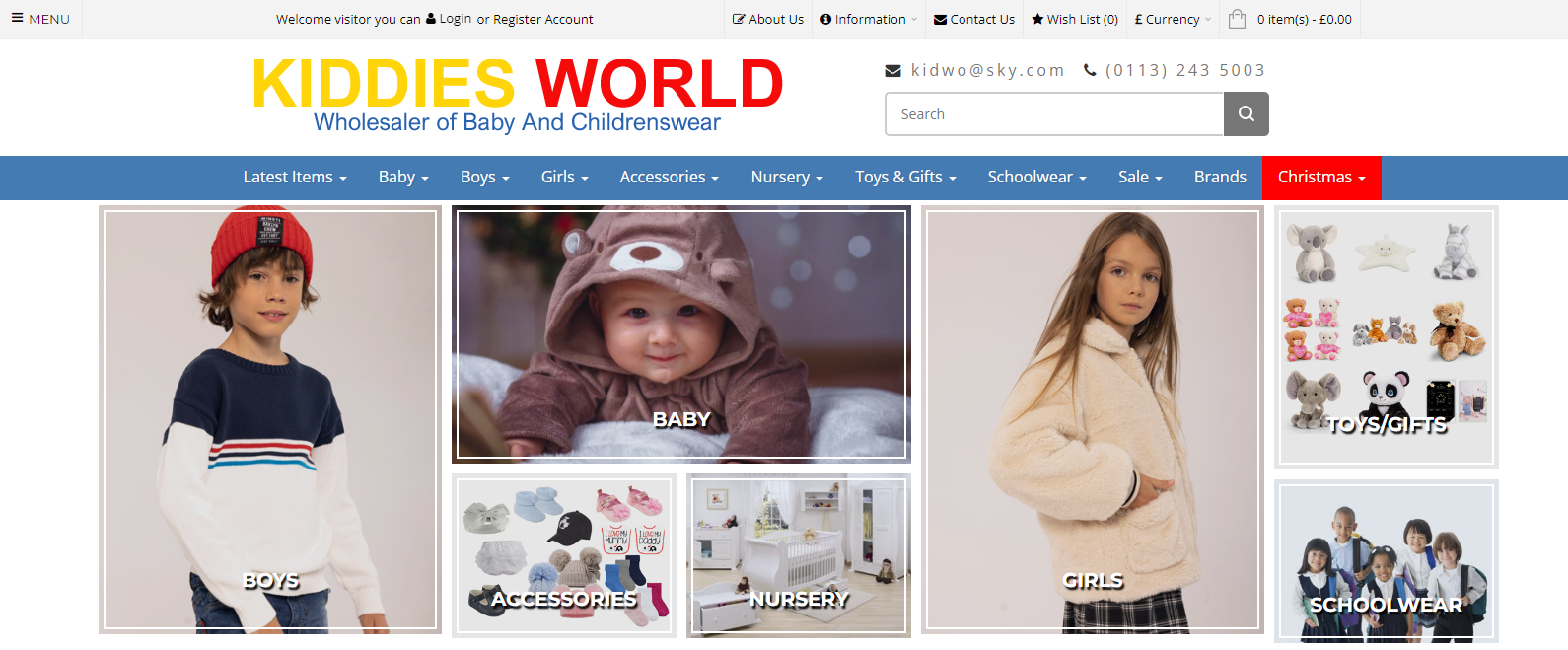 Kiddies World is a distinguished children's wear supplier from the United Kingdom. They have been in the industry since 1992 and supply a wide range of well-known children's clothing brands. The fabrics they choose are soft and comfortable, and the designs demonstrate an eye for detail. Therefore, they're a solid choice for retailers that wish to sell children's clothing with personality. Their designers can also work with your business to create custom designs.
Kiddies World is a professional supplier of baby and young children's garments, but they offer a few other items, such as socks and shawls for different age groups. Their service system has a reputation for being high quality, efficient, and comprehensive.
Pros:
Several decades of experience in the industry
Focus on fabric quality and comfort
Comprehensive service system for global distribution
Cons:
Limited to very young children's clothing
No explicit mention of sustainability efforts
Kelli's Gift – Trendsetting Fashion Wholesale Supplier of Children's Clothing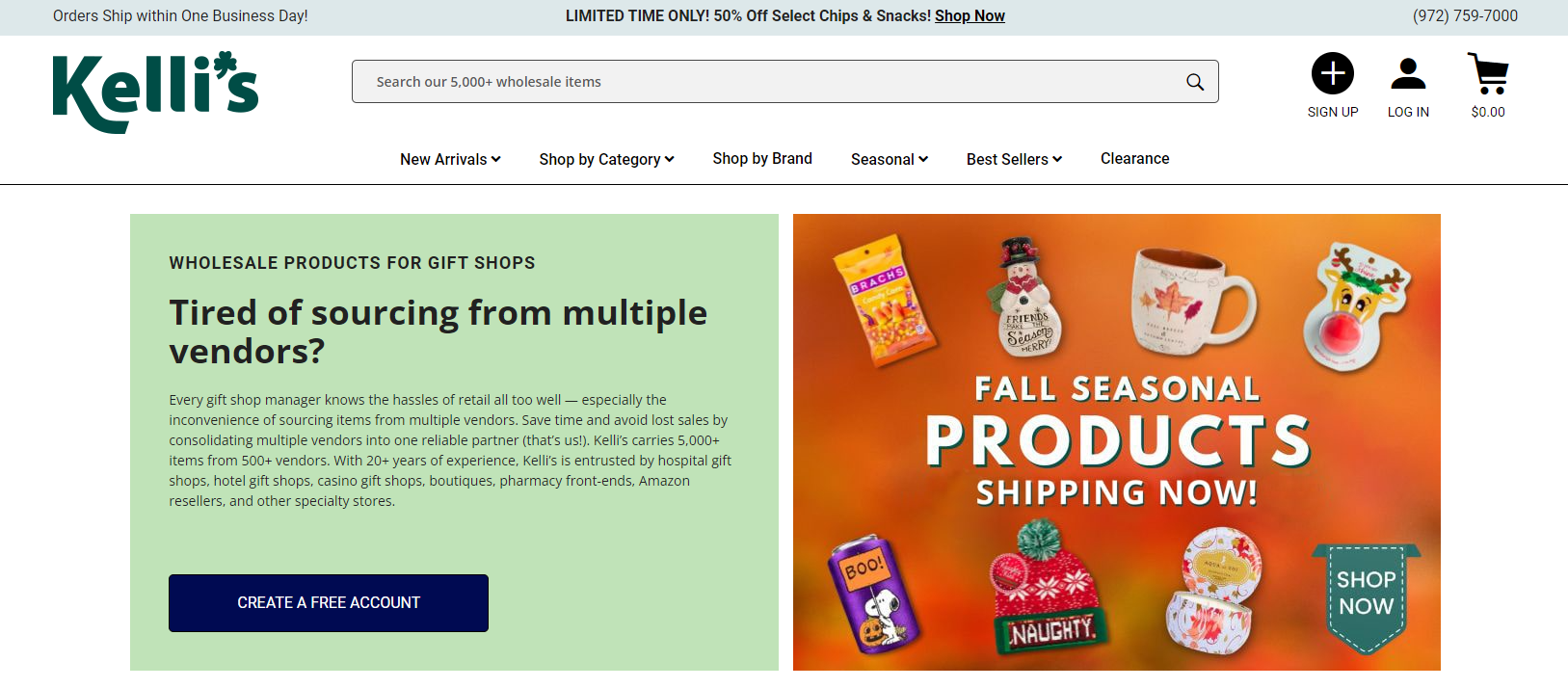 Kelli's Gift is one of the leading suppliers of children's clothing worldwide. One of their standout features is the continuously updated selection that gives customers access to a diverse variety of creative and fashionable products. The supplier also manufactures items for children's gifts.
They offer an extensive range of clothes for kids, including sleepsuits, rompers, and other dresses for kids of different ages. It's also worth noting that suppliers like Kelli's often release special campaigns at certain times throughout the year, giving you an extra chance to save money on items for events or occasions.
This supplier provides bulk purchase options with discounts and promotions but they also sell in smaller quantities to accommodate smaller-size clothing brands.
Pros:
Continuously updated selection
Bulk purchases with discounts
Wide variety of clothes for kids and babies
Cons:
Limited information on manufacturing practices
No mention of sustainability efforts
HoneyDew – Best Budget-Friendly, Quick-Ship Children's Clothing Wholesaler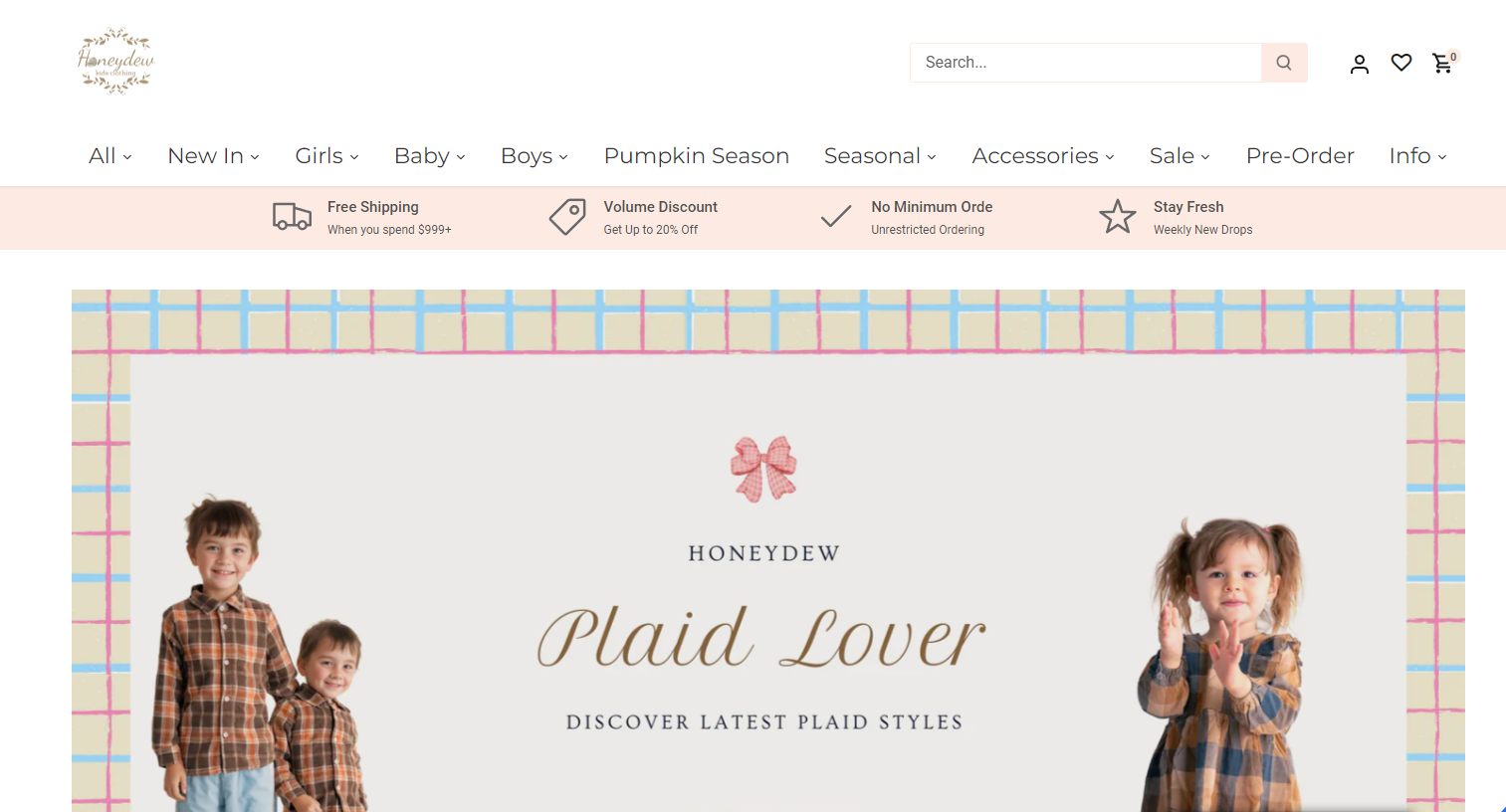 HoneyDew is a reputable clothing wholesaler in the United States, focusing on creating children's fashion of varying styles. Some of the items they offer include dresses, sleepwear, and Halloween costumes.
They have a reputation for offering excellent quality kids' clothes at reasonable prices, so they're appealing to smaller retailers that may not have an extensive budget.
Another benefit of this company is a quick, same-day shipment system for orders placed before a specific time — unless it's a bulk order, which may take up to two days to process. Honeydew also has a great selection of rompers, bubble sets, and Jonjon sets available on their website.
Pros:
A quick delivery system for orders placed before a specific time
Focus on quality and reasonable pricing
Wide selection of specific children's clothing items like rompers and bubble sets
Cons:
Bulk orders may take up to two days to process
Limited information on international shipping
Faire – Rapidly Ascending American All-Purpose Wholesaler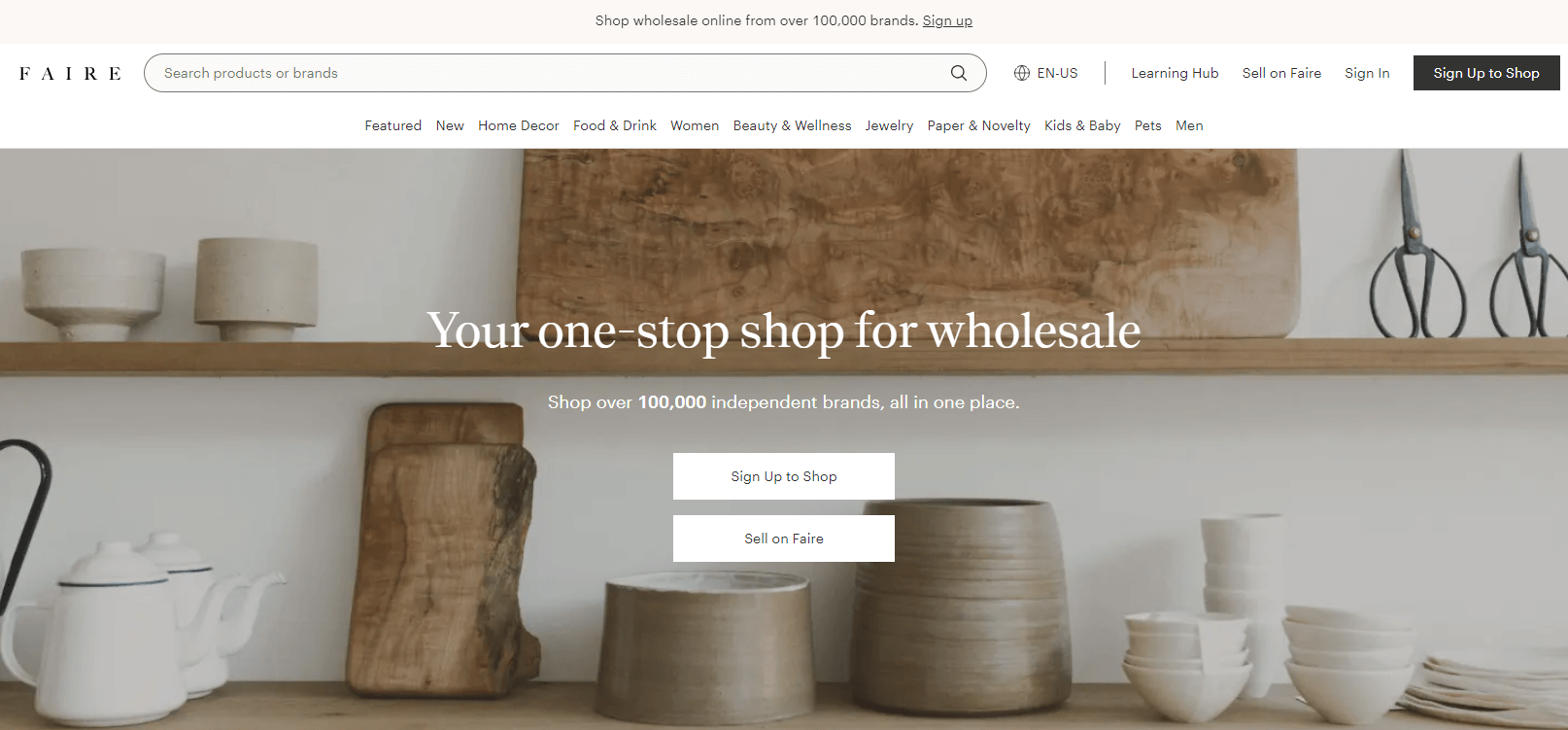 Faire is a popular and very flexible American wholesaler that works with children's clothing with branded labels. They also offer children and baby products such as toys, bedding, and many other household items (candles, blankets, jewelry, and more). This broad product range doesn't spread them thin, though. Founded in 2017, the company has grown tremendously by forging partnerships with international brands.
Their marketing strategies may have helped them earn high acclaim as they are quite knowledgeable and experienced in this field. Besides providing top-notch service to clients, Faire also gives their customers a rather competitive value for money, which is convenient for small retailers. In other words, they offer decent and varied wholesale products at reasonable prices.
Pros:
Good reputation, partnerships with international brands
Has shown rapid growth and success in a short period
Focus on providing reasonable value for money
Cons:
Relatively new in the market compared to other suppliers
Limited information on sustainability
Little One – Trend-Conscious Californian Supplier of Children's Clothing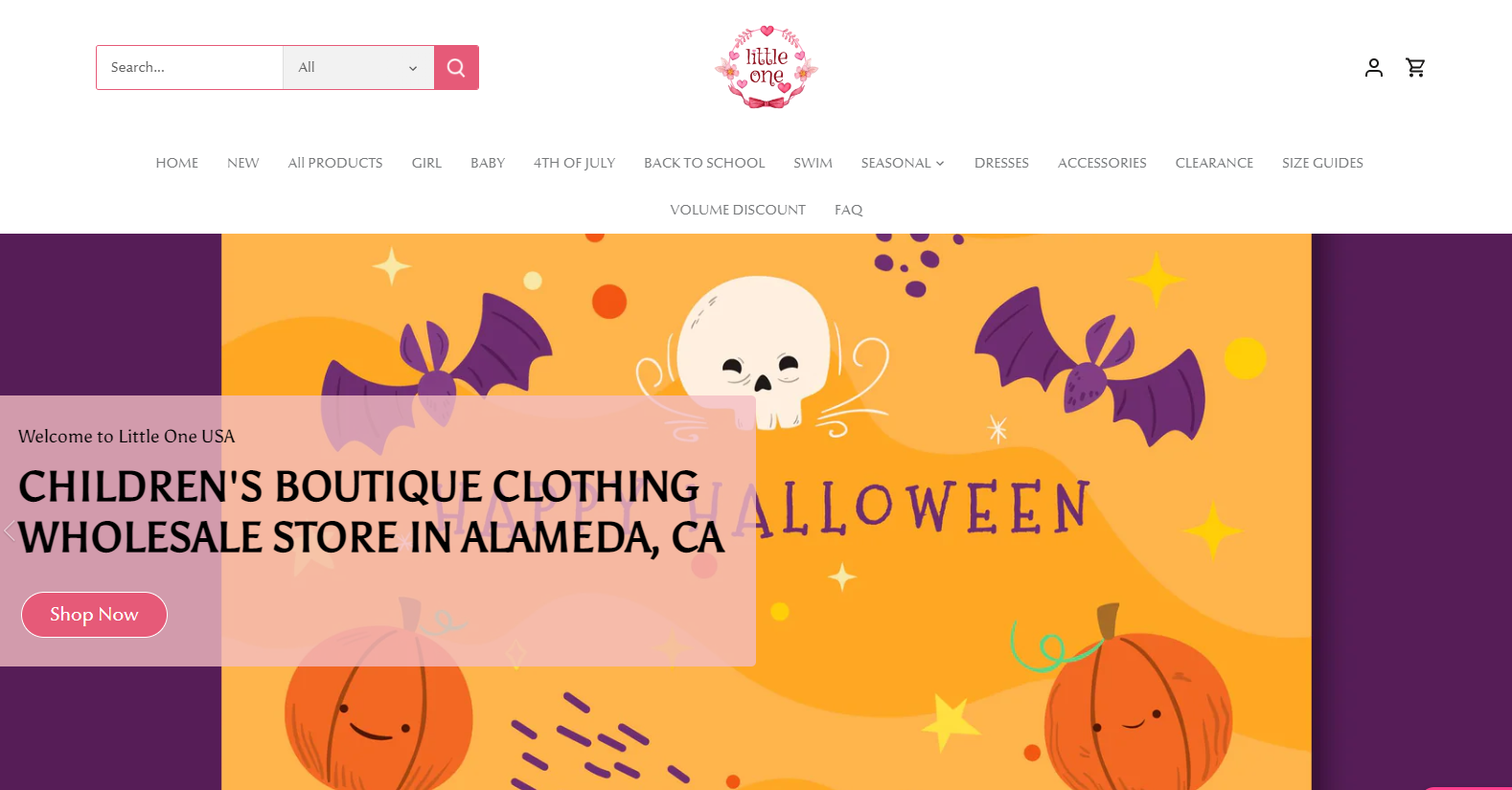 Little One is a children's clothing wholesaler based in California. They have varied clothing collections for boys, girls, toddlers, and babies. This supplier has widely diverse theme collections, such as the 4th of July, Back-to-School, and Halloween.
It's also noteworthy that Little One offers excellent customer service and makes an effort to keep its products up-to-date with the latest trends. This practice helps resellers stay ahead of the competition.
Pros:
Offers a wide range of collections for boys, girls, toddlers, and babies
Focus on customer experience and service
Up-to-date with the latest trends
Cons:
Limited information on manufacturing practices
No mention of sustainability efforts
Kidswholesale.co.uk – Comprehensive U.K. Wholesale Supplier of Children's Clothing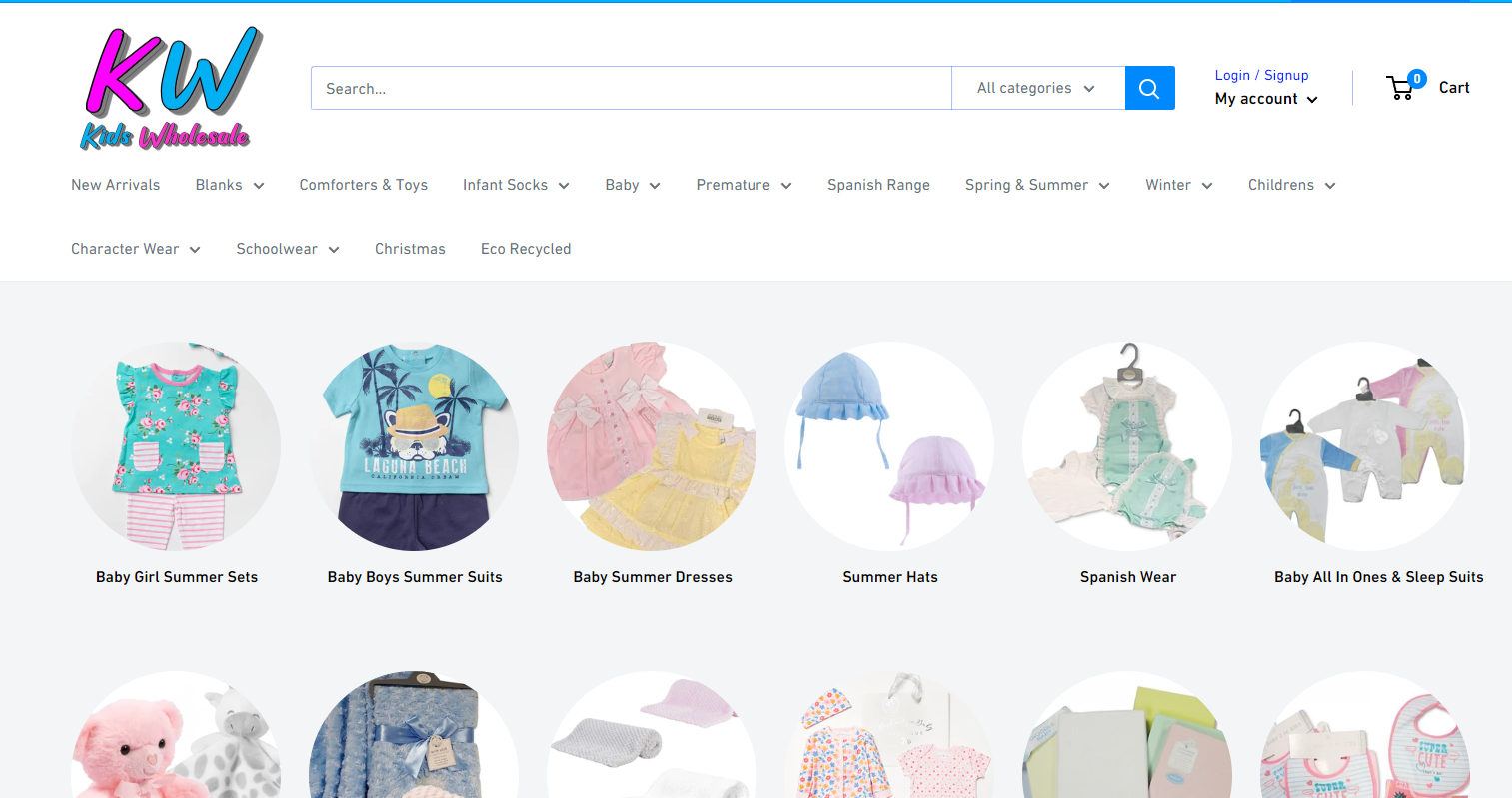 Kidswholesale.co.uk is a well-renowned babywear and schoolwear wholesaler. As the name suggests, they provide an extensive collection of clothing and accessories for babies and kids. Their range consists of, among other items, fashionable summer sets, winter dresses, and Spanish wear. Along with clothes, they also sell other items for children, such as blankets, wraps, and gift sets.
Moreover, the company deals with high-quality products and strives to provide these products to leading brands of babywear worldwide. Kidswholesale.co.uk offers quick delivery services coupled with detailed tracking and reliable transportation options.
Last but not least, they respond quickly to inquiries (within 24 hours) and provide secure SSL Certified Payment Methods for their customers' convenience. Furthermore, they offer free shipping for orders above £500.
Pros:
U.K.-based but offers global shipping
Wide range of clothing and accessories
Quick delivery services and secure payment options
Cons:
Limited information on sustainability
Wholesale7 – Global Chinese Fashion Hub for Best Children's Clothing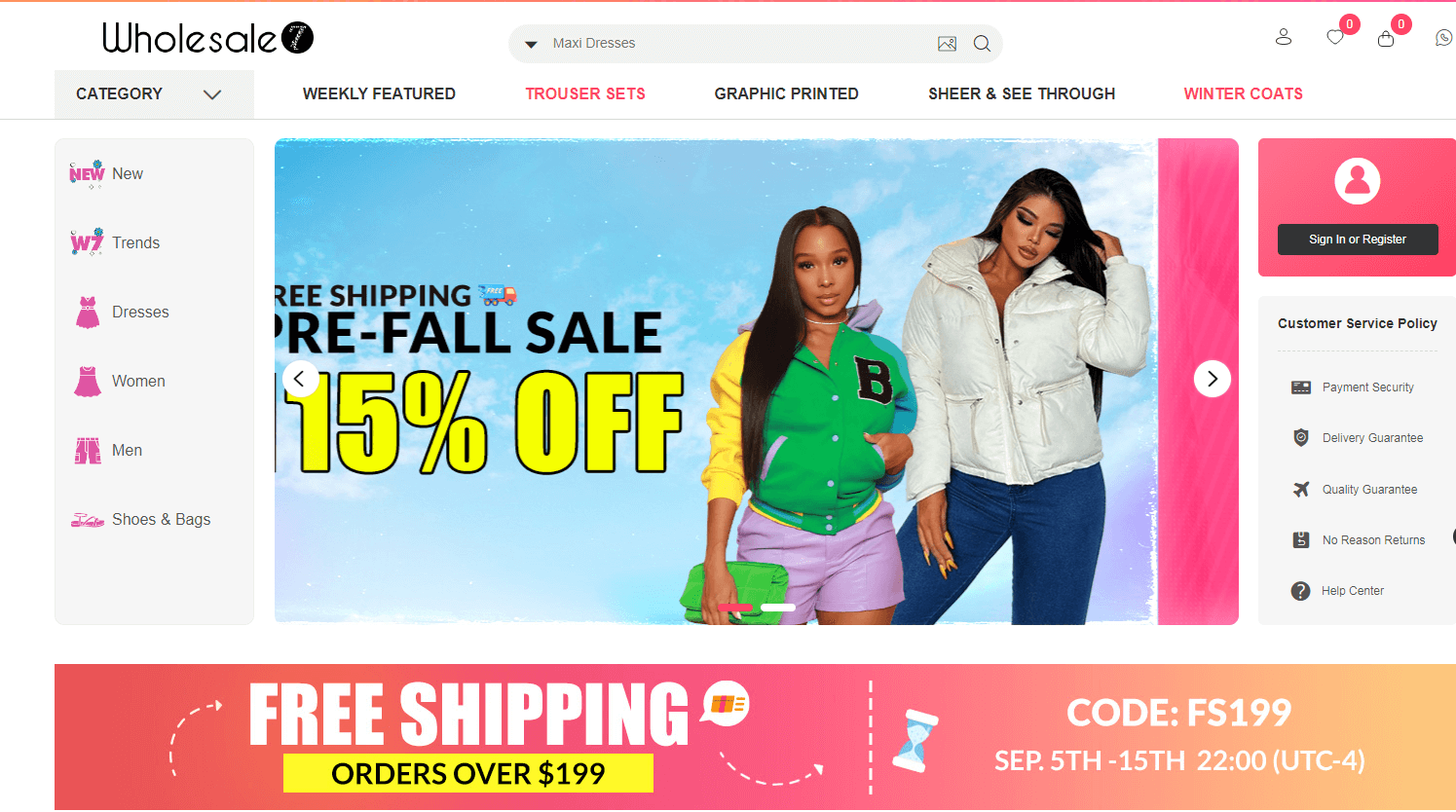 Wholesale7 is a China-based wholesale clothing vendor in business since 2013. It is another versatile wholesaler that offers clothes for both children and adults. They serve over 20,000 clients worldwide, including wholesalers, retailers, and distributors.
Their inventory provides all types of fashion apparel for men, women, and children. This includes dresses, skirts, tops, bottoms, two-piece outfits, rompers, leggings and jewelry. Wholesale7 also offers accessories.
They have an ever-changing selection of new products being added daily but still employ quality control with every item they stock. Furthermore, they prioritize fast shipping and reliable customer service so buyers can get their stock quickly and conveniently, although perhaps not as fast as with a local wholesaler.
Pros:
Extensive inventory covering men, women, and children
Serves a large client base worldwide
Focus on quality control
Cons:
Based in China, which may involve longer shipping times for international orders
No specific focus on children's clothing
How to Select a Reliable Children's Clothing Supplier?
Finding a reliable wholesaler of children's clothing may seem challenging with such a broad selection. There are several factors to consider when making this decision.
Research the supplier's reputation in the industry and read customer reviews and testimonials online, as these will indicate the quality of products and services.
Check out the range of items they have on offer. Do they offer designs, fabrics, or colors that match your requirements? The styles and clothing themes they provide may also sway you.
The best wholesaler will also depend on the nature of your business. The supplies you need will differ depending on whether you sell kids' clothes exclusively or dabble into other products. A large variety of products is definitely something that can set your business apart.
Successful partnership is inextricable from great customer service. Clothing suppliers with good customer service means they have a rapid response time and are capable of solving issues promptly and effectively.
Why Choose a Manufacturer Like Appareify?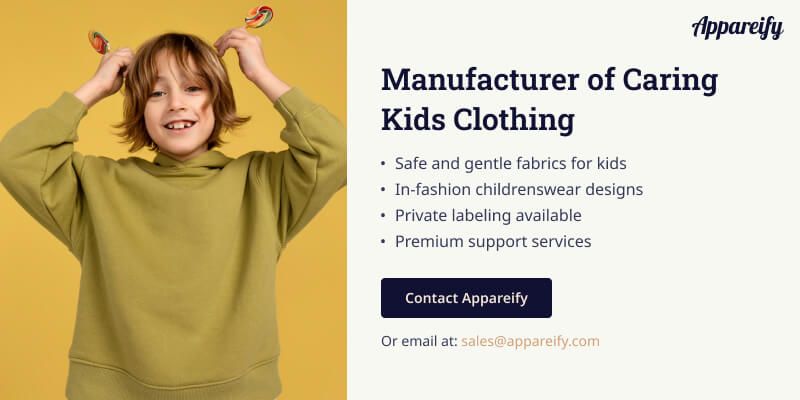 Appareify has been in the industry for many years. That might already tell you that we have plenty of experience and know-how to provide top-notch and fashionable products. Customers have placed their trust in us over the years, and we are humbled to have received such a strong reputation and consistent presence in the market. These qualities indicate a trustworthy wholesale vendor that can be a long-term business partner.
A broad selection, from day-to-day wear to special occasion outfits, is another indication of a great children's clothes wholesaler. With Appareify, you won't need to go elsewhere for different products, thus avoiding extra expenses and paperwork.
Moreover, an excellent wholesaler also lets you reach out through various support channels, always confident that they'll be there to help. And this is exactly what you can expect when you entrust your designs to us.