Owning an e-commerce or brick-and-mortar clothing store is an exciting business that opens up professional opportunities and allows you to make a living doing what you love. But before you enjoy the benefits of owning a clothing store, you'll need to buy clothes in bulk. Otherwise, you'll have no clothing to sell.
When ready to take the first step toward professional success, you must learn about how to buy bulk clothing, including product sourcing, retailing, marketing, and working with suppliers. These factors form the foundation of any business, and you can't own a thriving store without them.
Today, we're looking at where you can buy clothes in bulk for resale, how to start sourcing, and the best tips for reselling. Start reading now to find valuable tips and tricks.
How to Start the Business of Buying Wholesale Clothing for Resale?
If you're ready to start buying wholesale clothing, make sure you take note of these tips. Use this advice to form a checklist before you start selling, and you won't miss any crucial points.
Have Your Legal Requirements in Place
Starting a business can be overwhelming, and many are tempted to rush into the marketing and sourcing processes. However, the first thing any new business owner should do is set up the legal aspects of the clothing business. This includes any applicable registrations, permits, and licenses.
If these aspects are missed, you could face fines or repercussions in the long term. Stop and ensure legal requirements are in place before selling to avoid this. Ensure you check your country's business guidelines, as general requirements differ from country to country.
Identify a Niche Market and Create a Detailed Customer Avatar
The next crucial step is identifying a target market and creating a customer avatar specific to your products. Creating a precise customer analysis and profile lets your team focus on a particular market area. This way, your marketing, products, and sales strategy can be aligned to one focused goal. Businesses not taking this step tend to have fewer conversions due to less effective or diffused marketing.
The best way to make a customer avatar/profile is to analyze your competitors. Establish how they appeal to your niche and use this information to develop your strategy. You should also look for gaps in the market, as you can use these to your advantage.
Remember that creating a customer avatar and niche plan needs experimentation. A/B test products and marketing to see which ones your demographic responds to best.
Select a Suitable Wholesaler Supplier for Your Business
Once you have a legal business with a clear customer avatar, it's time to source clothing and research suppliers.
Today there are many options available for clothing businesses, so completing thorough research is vital. Examine what type of products you want, where you want to manufacture, whether you want wholesale products or labels, and what price you want to pay. These parameters will help you find a supplier that aligns with your goals.
Develop Strong and Lasting Relationships With Your Suppliers
Positive business relationships are everything, and you should aim for a long-term relationship that's efficient and beneficial to both parties. Bulk wholesale clothing suppliers prefer long-term relationships, but you should read each review to see whether their process works for your business. When in doubt, contact a supplier for a quote.
Establish a Robust Purchasing Strategy
Your purchasing strategy will determine whether your business makes a profit or is left with deadstock. Buying too much and being left with clothing no one wants results in a loss of profits, and you should avoid this at all costs.
It's recommended to buy what you need when you need it. This is especially important when starting your business, as you will need to know your customers' purchasing habits. Try to buy small amounts of stock and only re-buy once it sells out.
As your business grows, you can experiment with buying strategies. But don't do this from day one.
Determine Your Prices to Optimize Your Profits
Finally, the last step you need to take is determining your profits. This can only be done once you've created a purchasing strategy.
Finding a balance between charging a lot and a little is key. Formulate your prices by weighing up these aspects:
Overhead costs
Wholesale clothing prices
Your target customer/avatar's budget
Competitor pricing
Understanding these factors will enable you to choose a price point that customers want to pay, making you money. Do the math when setting optimized price points — don't rush this step.
Where Can I Buy Clothes in Bulk to Sell?
Working with a trusted provider is vital when it's time to source bulk clothes. See the best clothing providers online below.
Appareify
Appareify is a custom clothing manufacturer and bulk clothes supplier that goes above and beyond for customers. We specialize in affordable, high-quality garments in China to help you elevate and grow your business.
Our professional team encompasses artisans, skilled designers, and R&D professionals to ensure you receive the best apparel possible. We also utilize the finest materials and fabrics from well-known suppliers to provide clothing that feels great and lasts the test of time. Whether you want to buy bulk clothes in classic or trendy styles, we can cater to all aesthetics and needs.
Fashinza
Fashinza is a wholesale clothing store that helps independent businesses supply clothing to their clients. From design to delivery, Fashinza strives to make the sourcing process as stress-free as possible.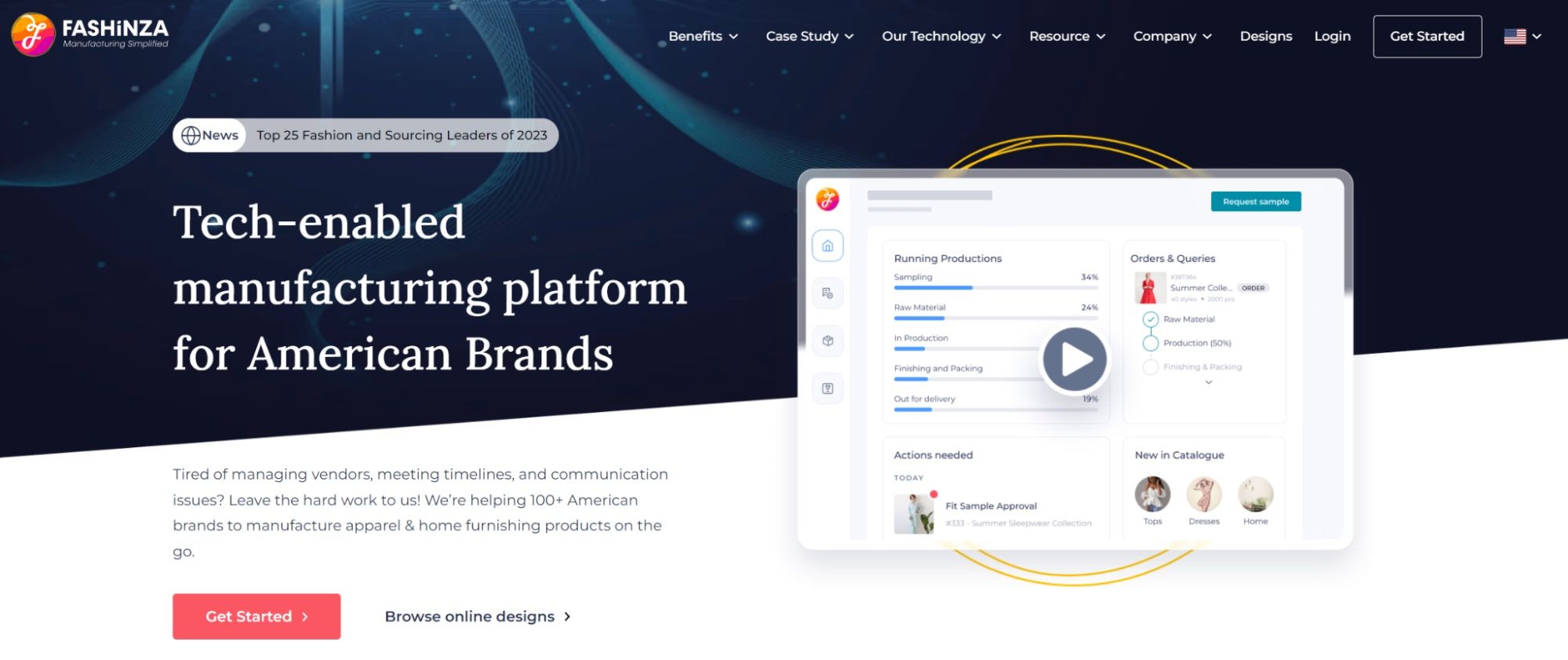 This online clothing supplier offers over 7000 custom clothing items, allowing you to opt for a generic style or personalized design. Alongside many garment options, Fashinza provides dedicated customer support to ensure clients can access assistance whenever needed.
Wholesale7
Wholesale7 is a well-known wholesale website allowing customers to buy clothes in bulk. On this website, you can find men's, women's, and kid's clothing — ideal if you require a wide variety of options. You can also find sportswear, accessories, and footwear.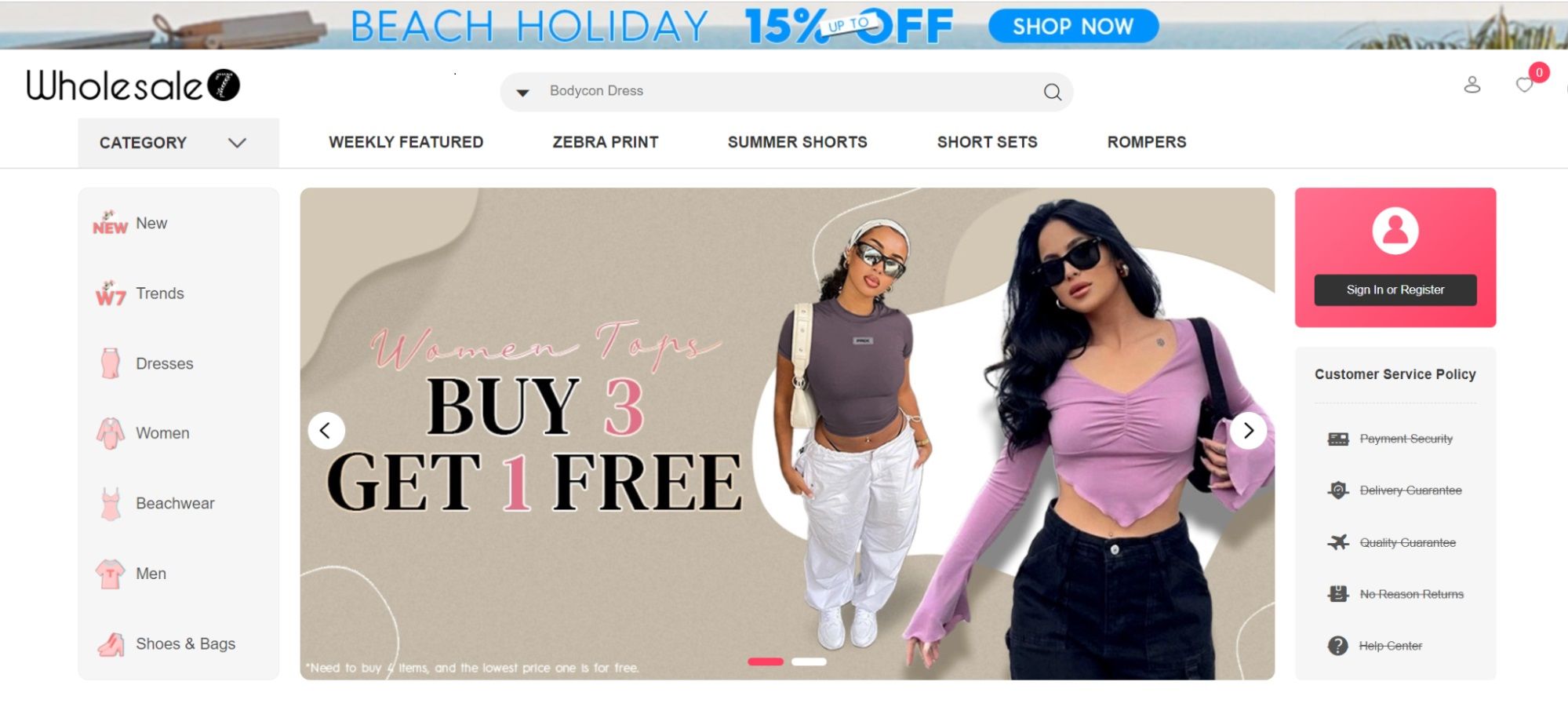 This online fashion wholesale also specializes in on-trend or fashion-forward clothing for women. Wholesale7 can help you keep up with the fast-moving industry if you're looking to buy wholesale clothing in the latest fashion styles.
Sugarlips Wholesale
Another fashion-forward wholesaler, Sugarlips Wholesale caters to the latest trends and styles. On this company's website, you can scroll through best sellers, must-have designs, and seasonal releases. This is an apt wholesaler to investigate if you want to buy clothes in bulk for cheap and cement your brand as a women's fashion retailer.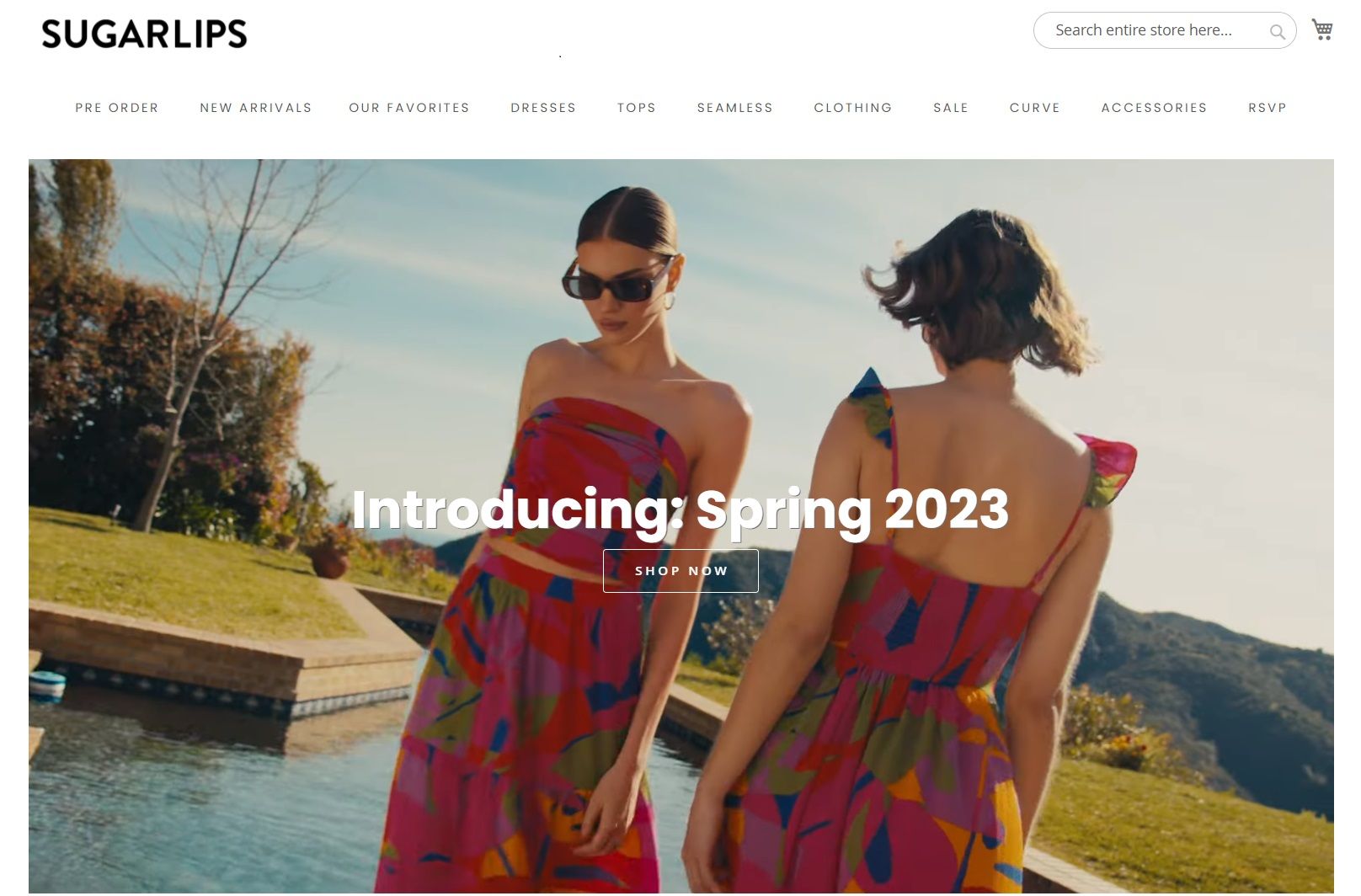 In addition to high-quality women's clothing, Sugarlips Wholesale also provides an extensive catalog of accessories to complement their clothing. Plus, the company pairs clothing with accessories to create outfit suggestions, saving you time and giving you on-trend ready purchase looks for your audience.
How to Make Money Through Wholesale Clothing Resale
Buying clothes in bulk for resale is a popular business model. However, business owners need to know industry tips and tricks to generate profit and growth. Here are some suggestions for entrepreneurs starting a wholesale clothing resale business.
Only work with reliable bulk wholesale clothing suppliers.

Research, read reviews, and network with other entrepreneurs to ensure you're working with a genuine supplier. You can find like-minded entrepreneurs in Facebook groups for genuine advice and suggestions.

Select a profitable target market.

Some niches tend to be more lucrative than others, and focusing on a specific niche is often the most effective way to generate profits. For instance, niches such as children's clothing, women's fashion trends, and sportswear have proven to be profitable. Once you have chosen a niche, make a concerted effort to establish yourself as an authority in that area.

Remember customer service.

While it's important to be passionate about your products, it's equally crucial to prioritize customer service. In fact, providing exceptional customer service can boost customer loyalty and satisfaction. This involves offering hassle-free returns, responding promptly to inquiries, and maintaining a professional demeanor at all times.

Offer competitive pricing.

Though setting your prices high is tempting, opt for competitive prices to attract more customers and stand out within your chosen niche. Always consider the cost of shipping, sourcing, and other overheads to ensure you make a profit while providing affordable products.

Build a robust online presence.

In addition to delivering quality products and excellent customer service, it's essential to establish a strong online brand and identity. This enables you to connect with your target audience by conveying a message or aesthetic that aligns with their preferences and values. By building a distinctive online presence, you can effectively engage with your audience and foster a loyal customer base.
Conclusion
Embarking on wholesale clothing for resale business can be an exhilarating endeavor. From curating a selection of garments that meet your customers' preferences to negotiating deals with suppliers, there are several crucial steps involved in launching your business. The information provided above aims to assist you in developing a comprehensive reselling business plan.