Wholesale clothing vendors and suppliers provide various services where style and premium quality meet affordability. So, whether you're seeking the hottest trends or expanding your inventory, finding the right wholesale vendor for clothes can be the key to unlocking your business's success.
With countless options available, we've curated a list of the ten best wholesale clothing vendors and suppliers that will elevate your sourcing game.
1. Appareify - Best Wholesale Clothing Vendor Overall
2. AEL Apparel - Best Luxurious Wholesale Clothing Supplier
3. Lefty Production Co. - Best Wholesale Clothing Vendor in the USA
4. Catwalk Wholesale - Best Wholesale Clothing Vendor in the UK
5. NYC Factory - Best Wholesale Clothing Vendor in NYC
6. Magnolia Fashion Wholesale - Best Wholesale Women's Clothing Vendor in Miami
7. Gym Clothes - Best Wholesale Gym Clothes Vendor
8. Tyche - Best for Vibrant Colors & Unique Designs
9. Sernes - Best for Men's Urban & Hip Hop Clothing
10. Pineapple Clothing - Best for Women's & Children's Clothing
1. Appareify - Best Wholesale Clothing Vendor Overall
Appareify stands out as the best wholesale clothing vendor due to its exceptional services. They specialize in manufacturing various items like t-shirts, jeans, activewear, etc., while maintaining the highest quality at affordable prices.
In addition to being sustainable, Appareify uses the best modern equipment that can create even the most complicated details on clothes. So, if you can imagine it, Appareify will bring it to reality, cementing them as the best wholesale clothing vendor overall.
Main Products
T-shirt
Leggings
Activewear
Jeans
Hoodies
Pros
They use only biodegradable materials and fabrics, ensuring their company stays eco-friendly.
You can also enjoy private labeling services with Appareify.
Appareify's experts are always available to support you through all processes.
Cons
Difficult to conduct an on-site inspection as they're based in China.
Get the best quality and design with Appareify >>
2. AEL Apparel - Best Luxurious Wholesale Clothing Supplier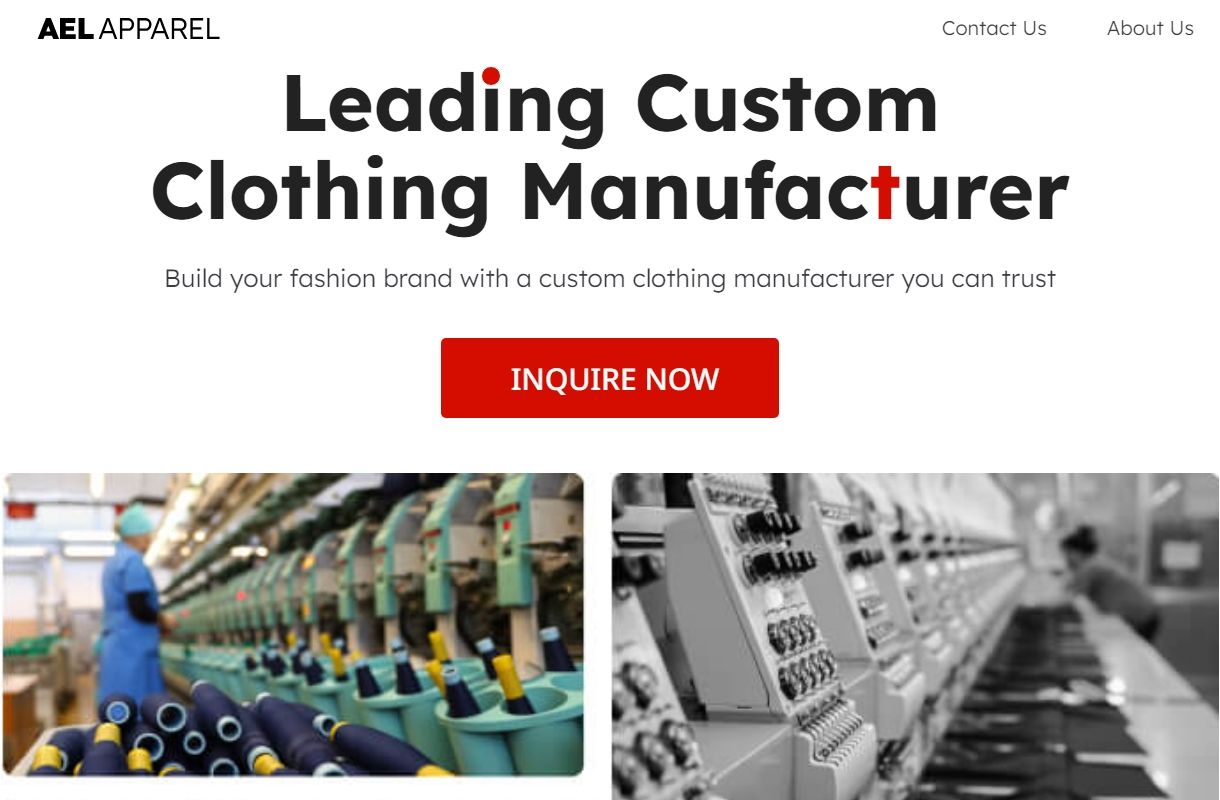 AEL Apparel is a reputable wholesale clothing supplier that puts a lot of thought and quality into producing luxury apparel. This wholesale clothing manufacturer is worth considering for wholesalers keen on sustainability as they ethically source eco-friendly materials and work hard to reduce waste in the supply chain.
Regarding their turnaround time, AEL Apparel delivers promptly in 7 - 20 days (overseas clients inclusive). And they can even deliver in three days for urgent orders. Further, their professional support team puts customers in charge of the process with consistent updates on the production progress.
Main Products
Loungewear
Tees
Swimwear
Kids' clothing
Hoodies/sweatshirts
Activewear
Denim
Leggings
Pros
Luxury quality clothing
Strict ethical production process
Impressive turnaround time
Professional customer support team
Competitive prices
Cons
The factory may be difficult for foreigners to visit
Renew Your Wholesale Clothing Inventory With AEL Apparel Today >>
3. Lefty Production Co. - Best Wholesale Clothing Vendor in the USA

Lefty Production Co. is your one-stop shop for everything apparel. The Los Angeles-based clothing company can handle everything from sketching and design to production and packing for start-up businesses.
Their dedication to quality service and beautiful products makes Lefty Production Co. one of USA's best wholesale clothing vendors. And they have a library-worth of patterns, which you can shop to add unique customizations to your order.
Main Products
Menswear
Womenswear
Children's wear
Swimwear & bikini
Athletic wear
Pros
Left Production Co. creates small and large batch orders at low minimum quantities.
They offer services to get you prepared for production.
The company dedicates all its resources to making your visions a reality.
They are a well-known manufacturer in the USA with several fashion feats.
Cons
Products may have sizing and fitting issues.
Partner with Lefty Production Co. today for an upgraded lineup >>
4. Catwalk Wholesale - Best Wholesale Clothing Vendor in the UK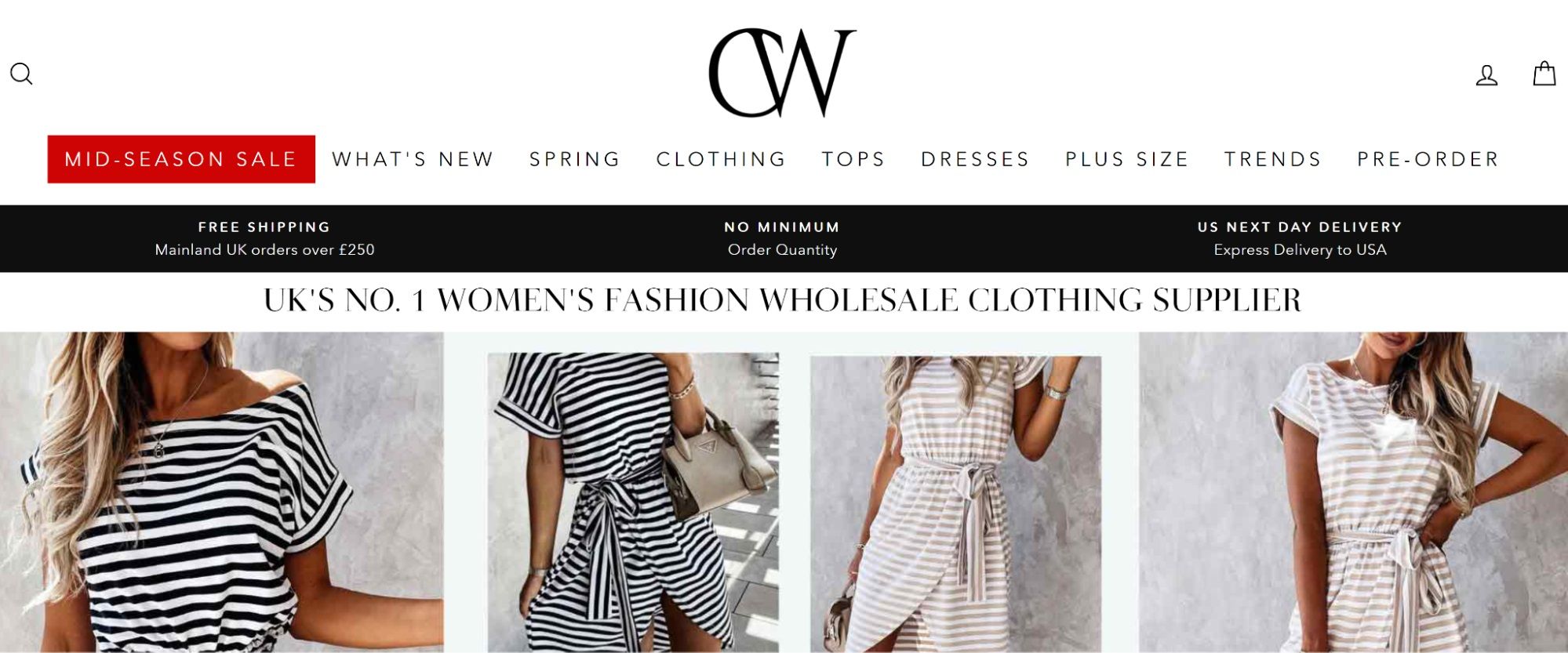 Nothing beats a wholesale vendor who keeps up-to-date with the latest trends, and Catwalk Wholesale excels at this.
You don't have to worry about keeping up with upcoming trends with this UK based wholesale clothing vendor. The company does all that for you.
So, UK and even USA fashion retailers, both established and startup businesses, can rely on Catwalk Wholesalers for trendy and premium quality clothing.
Main Products
Tops
Dresses
Knitwear
Jackets
Skirts
Pros
Catwalk Wholesale has no MOQ, allowing you to order as many or as few as you want.
They offer speedy delivery in the UK and the USA. You can get your order the same day in these regions or wait 3-5 days for global shipping.
The company also offers garments at competitive prices.
You'll get free high-quality product images.
Cons
There may be slight quality issues.
Leverage Catwalk Wholesale's services to grow your business now >>
5. NYC Factory - Best Wholesale Clothing Vendor in NYC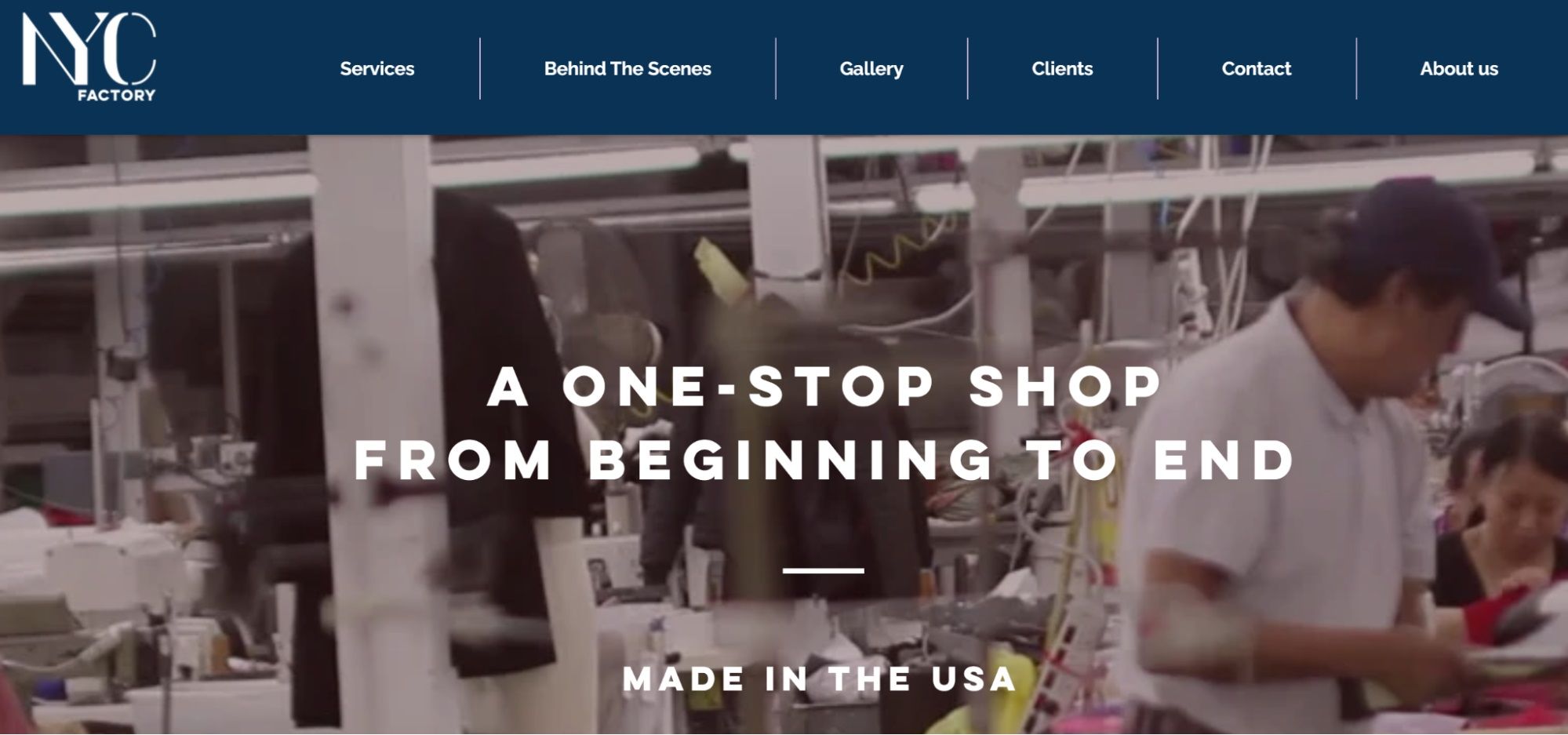 The approach that NYC Factory takes to clothing manufacturing distinguishes them as one of the best vendors New York City has to offer. They blend traditional construction methods with new technology to develop and produce unique apparel.
The wholesale clothing manufacturer is American-made, sourcing all their materials and fabric locally for the most outstanding quality.
Main Services
Embroidery
Laser cutting
Printing
Pattern Making
Production
Pros
NYC Factory's team has the qualifications to satisfy high-quality standards.
High commitment to quality.
The company has been in the fashion industry since 2008.
They strive for a strong client relationship.
Cons
Products are not listed on their website.
Fulfill your apparel dreams with NYC Factory >>
6. Magnolia Fashion Wholesale - Best Wholesale Women's Clothing Vendor in Miami

Based in the heart of Miami, Magnolia Fashion Wholesale has been serving the best trendy styles and celebrity-inspired looks for four years.
But that's not all. They handpick their styles carefully and aim for exceptional customer satisfaction, proving why Magnolia Fashion is Miami's best wholesale women's clothing vendor.
Retailers within the Florida area will love this wholesaler because they promise 1-day delivery.
Main Products
Dresses
Jumpsuits
Rompers
Bottoms
Swimwear
Pros
Magnolia Fashion Wholesale offers fast 1-day shipping within Florida, 3-4 days for general shipping, and 3-7 days for international shipping.
Straight-forward sizing.
High-quality and trendy women's clothing
Top-notch business support.
Cons
Magnolia Fashion Wholesale only issues store credit for refunded purchases.
Specialized in only women's wear.
Enjoy more sales today with Magnolia Fashion Wholesale >>
7. Gym Clothes - Best Wholesale Gym Clothes Vendor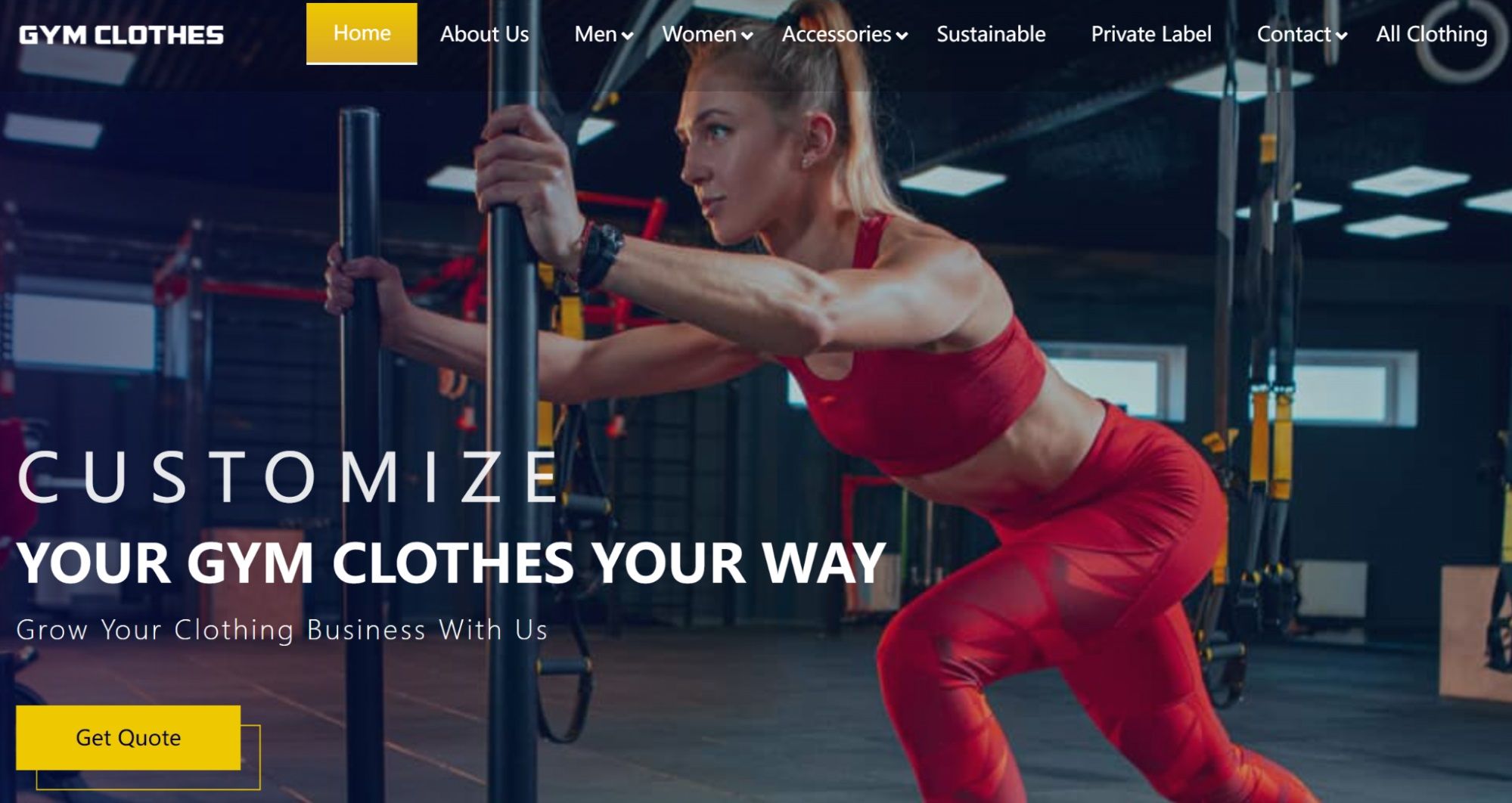 The name says it all. The wholesale activewear manufacturer, Gym Clothes, excels at what they do: producing high-quality and organic workout clothing.
They also ensure their fitness wear designs follow safe and ethical production processes. In addition, Gym Clothes offers performance-packed wholesale activewear designed with various features, like moisture-wicking properties and high breathability.
Whatever workout clothing you desire, Gym Clothes can ship it to you at affordable prices.
Main Products
Long sleeve tees
Custom tracksuits
Tank tops
Shorts
Sports bra
Pros
Gym Clothes offers high-quality workout clothing for men and women.
They also offer sustainable and organic activewear.
The company currently ships to 55 countries.
They have a large network of offices in seven countries and factories in nine.
Cons
Small-batch orders may not enjoy discounts.
Add energy to your activewear inventory with Gym Clothes >>
8. Tyche - Best for Vibrant Colors & Unique Designs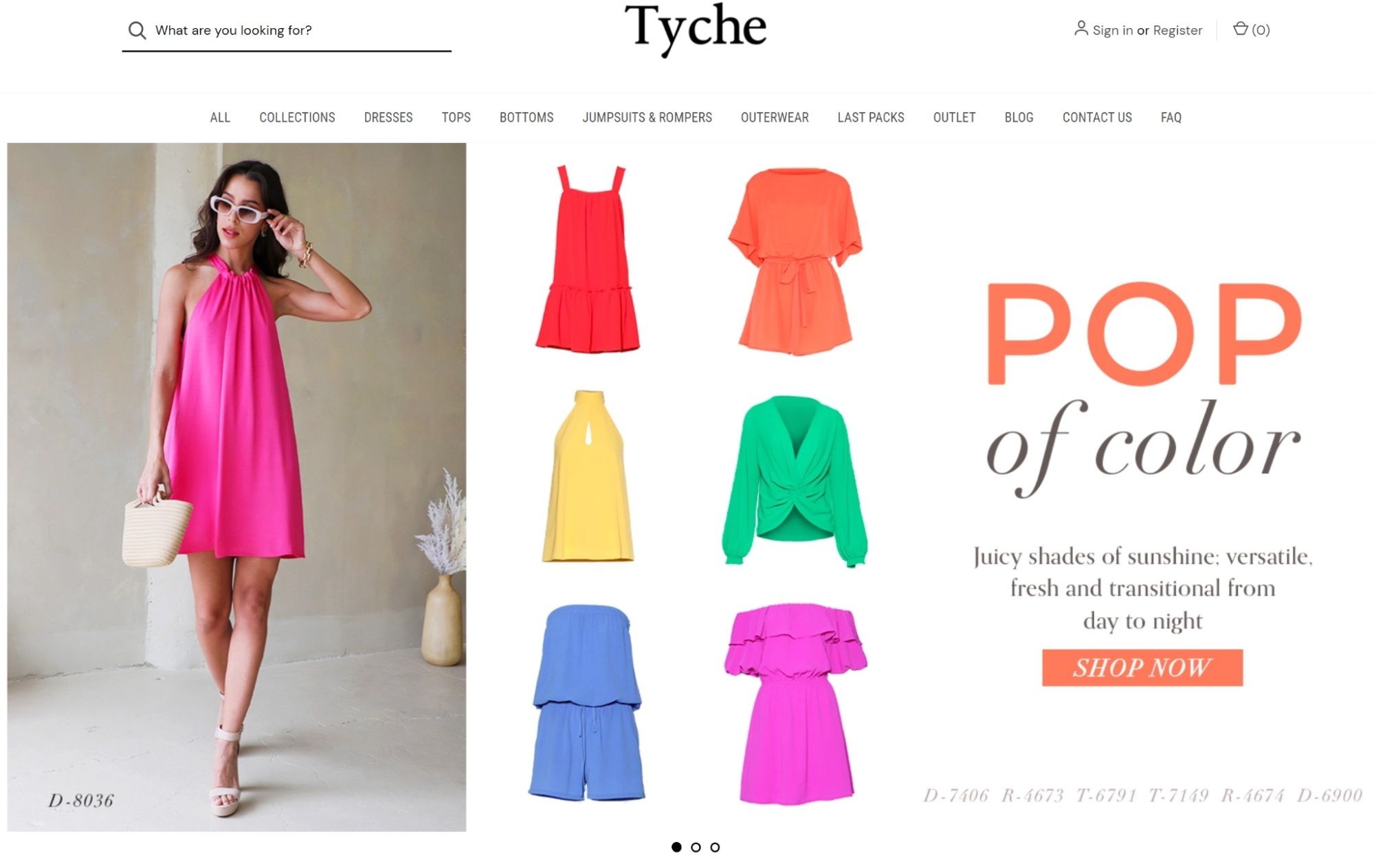 Tyche graced this world to fix one of the fashion industry's biggest problems: a lack of color and fun. Undoubtedly, the company succeeded by providing businesses with eye-catching and contemporary women's clothing at affordable prices.
The wholesaler's vibrant color palette, bold prints & patterns, and handpicked fabrics define their style and approach to women's clothing.
Main Products
Dresses
Tops
Bottoms
Jumpsuits & rompers
Outerwear
Pros
Dedicated to providing women with unique and colorful designs
They also supply high-quality apparel at low prices.
Tyche ships globally.
All their products are proudly USA-made.
Cons
Tyche only focuses on women's apparel.
Make your collections pop with Tyche >>
9. Series - Best for Men's Urban & Hip Hop Clothing

With over 10+ years of experience, Sernes aims to provide clothing that does more than keep consumers covered.
For this reason, they offer a wide range of comfortable and stylish men's urban & hip-hop clothing, helping them tap into their inner rockstar.
The company's expert team works non-stop to create unique clothing for rebellious, free-spirited, trailblazing customers.
Main Products
T-shirts
Hoodies
Jackets
Jeans
Joggers
Pros
Sernes provides high-quality streetwear.
The company takes a unique approach by moving away from the ordinary and embracing bold expressions.
They also offer free shipping on orders above $100.
Sernes offers secure payment options via Shopify, PayPal, etc.
Cons
Not everyone likes bold and rebellious styles.
Unlock your clothing potential with Sernes today >>
10. Pineapple Clothing - Best for Women's & Children's Clothing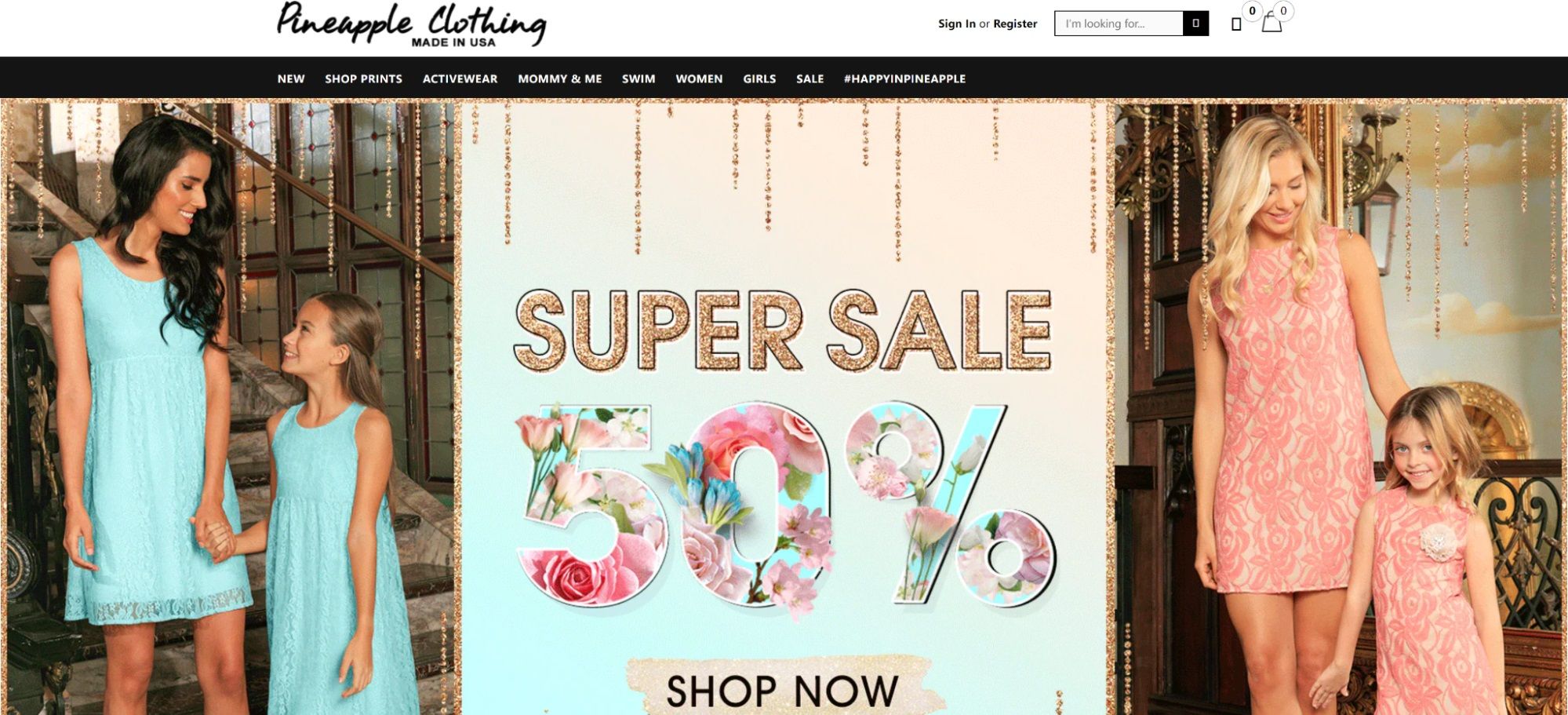 Pineapple Clothing takes women's clothing manufacturing to a whole new level. They have something for ladies of all ages, shapes, and sizes. Their products cater to every female's fashion needs, from the cutest baby girl to the most vibrant woman.
The company ensures every product they ship provides the ultimate comfort, allowing your customers to look fantastic for any occasion.
Main Products
Activewear
Matching sets
Swimwear
Dresses
Tops
Pros
Provides beautiful, quality clothing for women and girls.
They reflect their brand's feminine essence in unique prints and bold designs.
Pineapple Clothing uses luxe fabrics to achieve premium quality.
Fast shipping on all orders.
Cons
Customer service may be less than optimal.
Pineapple Clothing has an inflexible return policy.
Attract more customers with Pineapple Clothing's collections >>
What Are the Benefits of Working with Wholesale Clothing Vendors?
Working with wholesale clothing vendors offers several benefits, including:
Cost-effectiveness:

Wholesale vendors offer bulk pricing, allowing you to purchase clothing at lower prices compared to retail.

Quality Assurance:

Reputable wholesale vendors maintain strict quality control processes, ensuring you only receive well-made and durable clothing items.

Customization Options:

Some wholesale vendors offer customization services. So, you can add your branding or tailor items to your specific needs.

Variety and Selection:

Wholesale vendors often provide a wide range of clothing options, styles, and sizes, providing ample choices for your business.

Establishing relationships:

Building partnerships with wholesale vendors can lead to long-term collaborations, a reliable supply chain, and access to exclusive deals.

Profit Margin Potential:

Lower purchasing costs from wholesale vendors can increase your profit margins when selling at retail prices.

Faster Inventory Turnover:

With larger quantities available, you can quickly restock your inventory and meet customer demand without delays.
What Factors Should You Consider When Selecting a Wholesale Clothing Vendor?
Choosing a wholesale clothing vendor requires making several considerations. Here are some key factors:
Reliability and Reputation:

Look for vendors with a solid track record of reliability, positive reviews, and excellent customer service.

Product Quality:

Assess the vendor's clothing item quality by requesting samples or reviewing their product catalog. Ensure they meet your standards and your customers' expectations.

Pricing and Discounts:

Evaluate their pricing structure, including bulk discounts and additional charges. Then, compare them with your other options to ensure you're getting competitive rates.

Minimum Order Requirements:

Check if the vendor has a MOQ that aligns with your business needs. Also, consider if you can meet the MOQ and if your budget allows it.

Shipping and Delivery:

Ask about the vendor's shipping policies, delivery times, and associated costs. Ensure they can deliver your products reliably and within your required timeframe.

Return and Exchange Policies:

Examine the vendor's return, exchanges, and defective product policies. Fair policies are necessary for solving any possible problems.

Customer Support:

Consider the vendor's level of customer support. Prompt and helpful communication is essential, especially if you have questions, concerns, or need assistance with your orders.
Learn more: How to Find The Best Clothing Manufacturer For Your Business >>
What Are the Top Fashion Trends to Know About When Sourcing from Wholesale Clothing Vendors?
Fashion trends are constantly changing, but here are some notable ones to consider when sourcing from wholesale clothing vendors:
Sustainable and Ethical Fashion:

Consumers are increasingly conscious of environmental and ethical concerns. So, the ideal vendor should offer sustainable and ethically produced clothing options, like organic materials, recycled fabrics, or fair trade practices.

Athleisure:

Combining athletic and leisurewear continues to be a popular trend. You can look for comfortable and stylish activewear pieces, like leggings, joggers, sports bras, and athleisure-inspired streetwear.

Oversized and Relaxed Clothing:

Loose-fitting and oversized clothing remain on-trend, reflecting a desire for comfort and effortless style. Some of the best items under this trend include oversized tops, dresses, and relaxed-fit bottoms.

Pastel Colors:

Soft, pastel hues are popular in fashion, offering gentle and calming aesthetics. Some top picks are clothing in pastel shades like lavender, mint green, blush pink, and baby blue.

Prints and Patterns:

Bold and vibrant prints keep making statements in recent fashion. Popular choices include animal prints, floral patterns, geometric designs, and tie-dye.
The Bottom Line
Searching for wholesale clothing vendors and suppliers presents many options to cater to your business's unique needs. From Appareify, the overall best vendor, to Tyche, each vendor discussed in this article brings its distinctive touch to the fashion landscape.
So, whether you're a small boutique owner or a growing online retailer, these ten best wholesale clothing vendors will provide you with the tools, products, and styles for success.