More and more companies are catching up on the importance of making high-quality underwear. With an estimated value of around $28 billion, the market for these garments is at an all-time high.
While this means many world-class providers can support your fashion brand, you can also come across subpar options. You need to separate the wheat from the chaff to maximize efficiency and customer satisfaction.
This article will help you do just that. We'll review the 10 best underwear companies globally and recommend the best underwear manufacturer.
World's 10 Best Underwear Manufacturers
If you're looking for a reliable underwear factory, your search ends now. Let's take a closer look at the 10 highest-rated underwear manufacturers in USA and the rest of the planet.
Appareify – Best Underwear Manufacturers Overall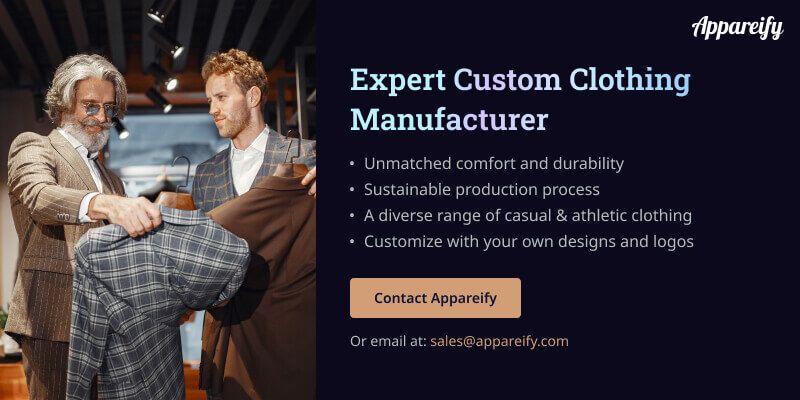 Widely regarded as the best underwear maker worldwide, Appareify has all the expertise, experience and commitment to deliver the good stuff. With years of experience and state-of-the-art equipment, their team pays meticulous attention to detail to create the finest quality underwear.
Sustainability is another strong suit of Appareify. They actively take steps to reduce their carbon footprint throughout the entire production process, from sourcing materials to production. Additionally, they offer the option of making underwear using organic fabrics such as organic cotton or hemp, allowing you to enhance your brand's reputation and cater to eco-conscious customers.
In addition to its sustainability efforts, Appareify stands out for its well-designed underwear in a variety of styles. Whether you need seamless underwear, sports underwear, rubber underwear, or standard underwear, Appareify offers a wide range of options. Their products are suitable for all genders and age groups, ensuring that you will find the perfect fit for your target audience.
Additionally, Appareify offers a full range of customization options for underwear production. Whether you need cutting and sewing techniques, embroidery, private labeling services, or more, Appareify offers the flexibility to make your underwear unique and tailored to your specific needs.
Pros
Works with the most trusted underwear material suppliers.
The combination of quality and sustainability is unparalleled.
There are private label options.
Takes just 7-20 days to deliver the final product.
Fast shipping lets you break into a market faster.
Cons
You may have a hard time inspecting the factories in person since they're based in China.
Level up your underwear offerings with Appareify's top-tier underwear manufacturing services!
AEL Apparel – Great Pick for Custom Underwear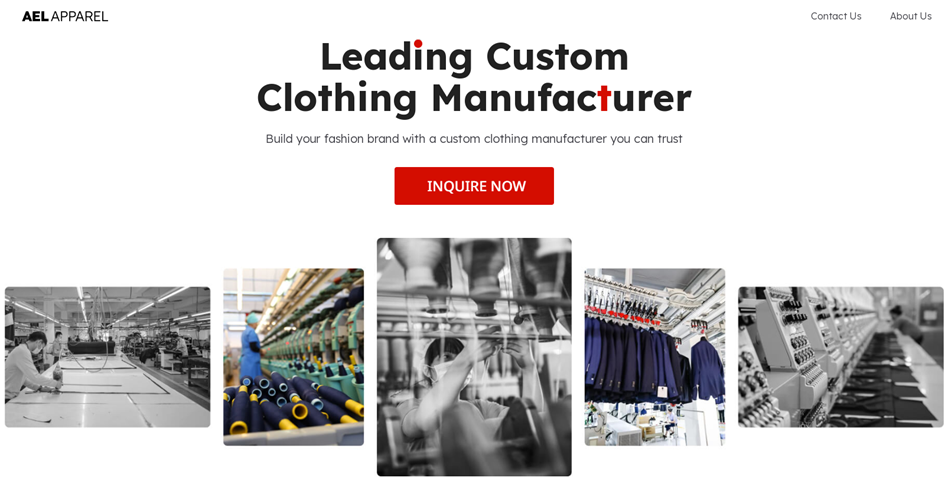 The runner-up on our list of the best women's and men's underwear manufacturers is AEL Apparel. Like Appareify, this brand has a lot to offer, especially if you place a large emphasis on customized garments.
A number of customization methods are available. For example, the maker can employ embroidery technology to give your fabrics the "oomph!" effect. They also offer screen printing to add a new dimension to your fashion line while ensuring high quality.
What's also great about this underwear factory is its sustainability-first approach. They source their materials from eco-friendly sources and go above and beyond to lower pollution caused by sourcing, production, and transportation.
Furthermore, there's no denying their prowess when it comes to garment consulting. If you're not sure how to design underwear, you can always reach out to them for assistance. They'll recommend the right color, patterns, materials, and other critical aspects.
Pros
Customizing your underwear is effortless.
They're a highly sustainable brand.
You get low lead times.
Cons
Turnaround times tend to suffer with large orders.
Thunderpants USA – Exceptional Producer of Underwear in All Sizes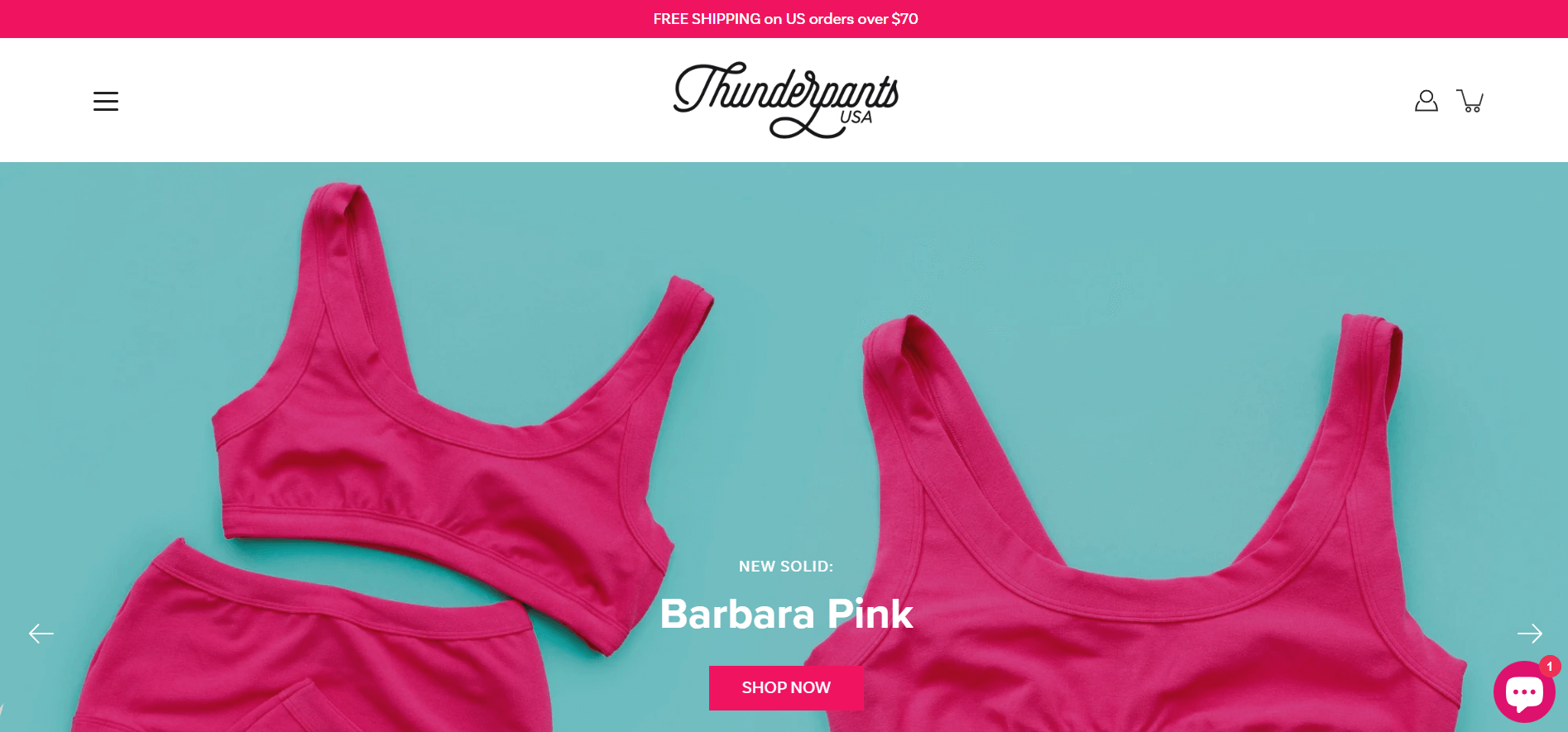 When teaming up with an underwear manufacturer, the last thing you want is to learn they only make garments in one or two sizes. You won't have this problem with Thunderpants USA.
Versatility is one of the biggest selling points of this underwear manufacturer. USA and businesses from other countries can commission them for ultra-slim or plus-sized garments. They have the technology and skills to pull it off. All sizes are available, which is reassuring when launching your underwear brand.
Moreover, this is one of the best underwear manufacturers in USA sustainability-wise. Unlike some other underwear manufacturers USA is known for, they source their fabrics from eco-friendly sources. Their Australian supplier is particularly notable. They abide by the Global Organic Textile Standard (GOTS), meaning your clothing is free from pesticides, fertilizers, and other harmful substances.
Finally, Thunderpants USA is known for its remarkable limited-edition garments. Panel Pants and Hand Dye Thundies are their staple products that can be customized to meet your audience's needs.
Pros
They make undies in all sizes.
The company prioritizes sustainability.
You can choose from limited-edition models.
Cons
Shipping is often slow.
Customer service could be more responsive.
Winga Apparel Group Limited – Broad Network for a Better Experience
Experience matters in the realm of underwear companies. The more experienced a company is, the more likely they are to deliver high-quality products. That's precisely what Winga Apparel Group Limited brings to the table. Established in 1982, they've been in the business for more than four decades. During this period, they've learned how to keep most of their customers happy, thanks to reliable sources and powerful stitching machines.
Many underwear brands choose Winga due to its vast network. They have dozens of factories throughout Asia and over 6,000 workers to speed up production.
Plus, one of their headquarters is in New York. This gives you access to English-speaking customer service, which can help you design better garments.
Undie versatility is another admirable quality of this manufacturer. Whether you need boy shorts, hipster underwear, briefs, or high-cut underwear, they'll deliver the requested product.
Pros
They're a seasoned garment maker.
A vast network of facilities helps breeze through the design and manufacturing process.
Garment flexibility is highly valuable.
Cons
Unethical work conditions are a concern in their Bangladesh facility.
Huge quantities can take months to ship.
Comet Undies – Supplying Africa With Stunning Underwear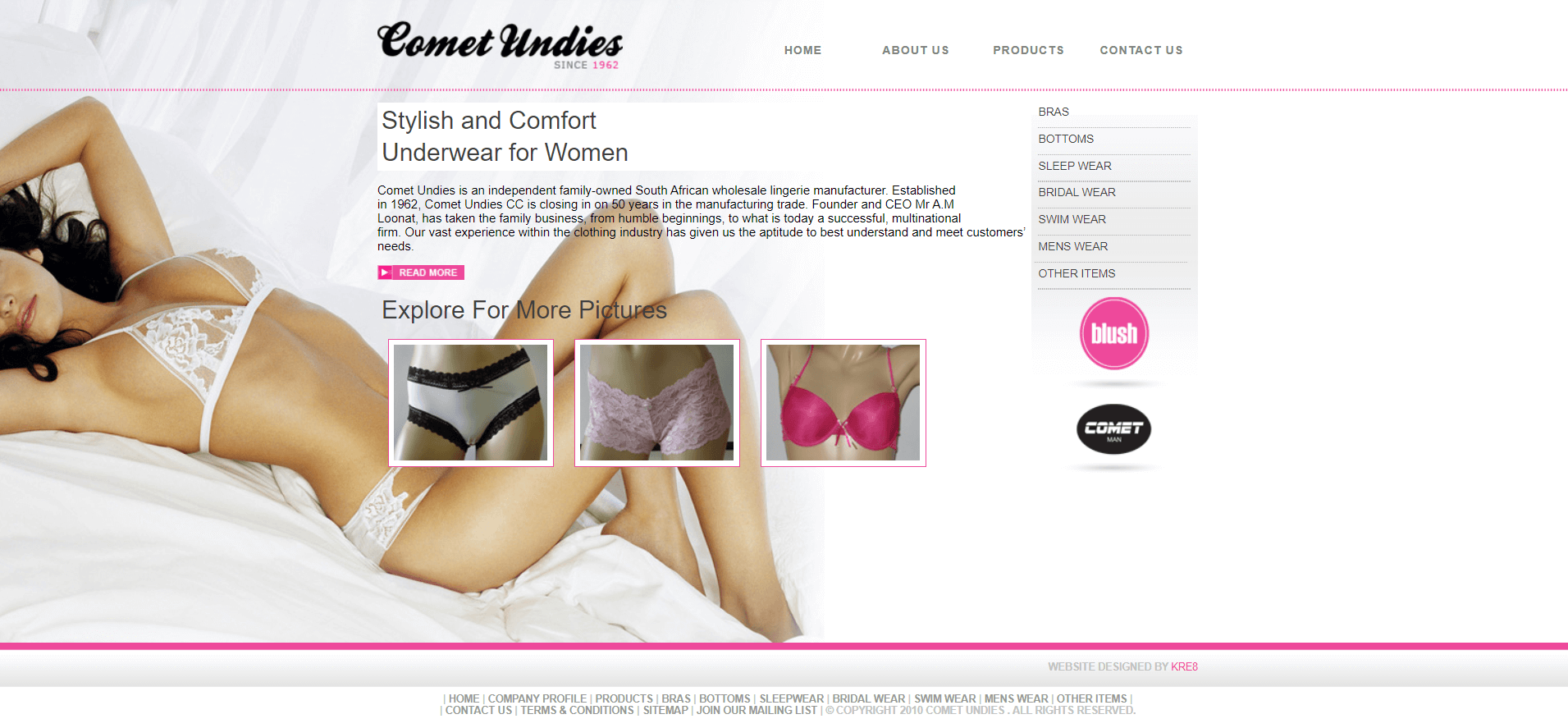 As previously mentioned, experience plays a pivotal role when considering custom underwear manufacturers. And few companies have as much mileage as Comet Undies. This South Africa-based giant has operated for over six decades, and they've mastered the craft of producing high-quality lingerie over the years.
Speaking of lingerie, it's one of the most attractive parts of their collection. It appeals to ladies of different sizes, enabling you to target different groups. You can also choose from a whole host of nighties, sleepwear, bridal sets, swimwear, and men's underwear and pajamas.
If you're in Africa, you can expect your batches to arrive in under a month. The lead time is even lower if you're in the southern part of the continent.
Pros
Comet Undies has ample experience in the underwear industry.
The company makes all sorts of garments.
There's a low lead time for African nations.
Cons
Men's underwear tends to be more inconsistent than women's lingerie.
Shipping to non-African countries is sluggish and sometimes unavailable altogether.
Billoomi Fashion – Terrific All-Around Underwear Maker From India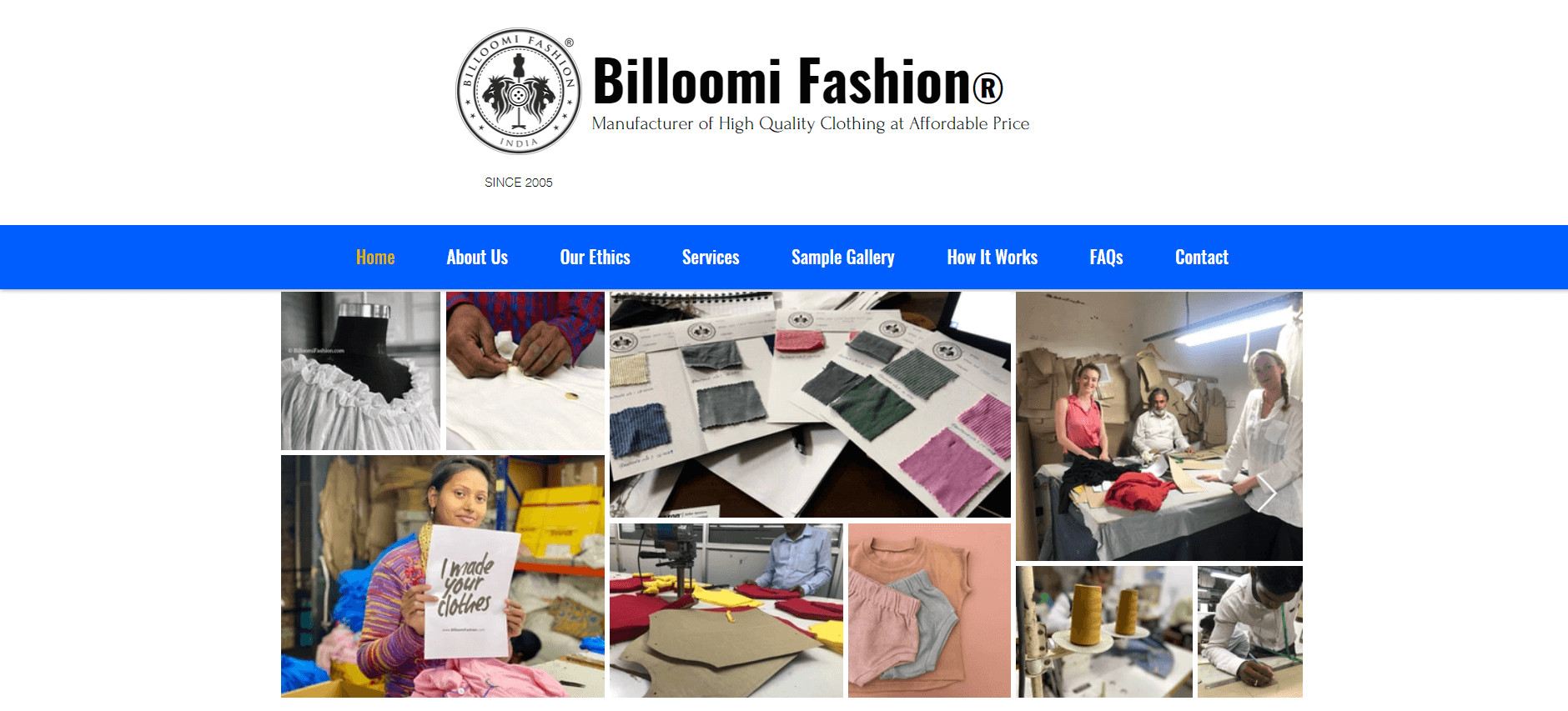 Billoomi Fashion continues our rundown of the top 10 underwear companies. They specialize in an array of garments, such as T-shirts, jeans, sweatshirts, and jackets, but underwear is also in their portfolio. Each piece is accompanied by stringent quality checks to reduce the risk of defective products and returns.
Customization is another major selling point of Billoomi Fashion. Whether you're looking for unique embroidery or screen printing, you can rest assured knowing the company will fulfill your wish.
Sustainability is also a common thread of this manufacturer. Their practices help decrease pollution associated with making all garments, including underwear. And unlike many other Indian providers, they're not known for worker exploitation. Their employees are generally compensated fairly and work in optimal conditions.
Pros
They check every underwear collection thoroughly.
The organization offers customization options.
This manufacturer doesn't have sustainability issues and unethical practices.
Cons
Biloomi Fashion tends to charge top dollar for samples.
You may need to pay upfront to get a sample or get in touch with their design team.
Glora Underwear – Expert in Women's Underwear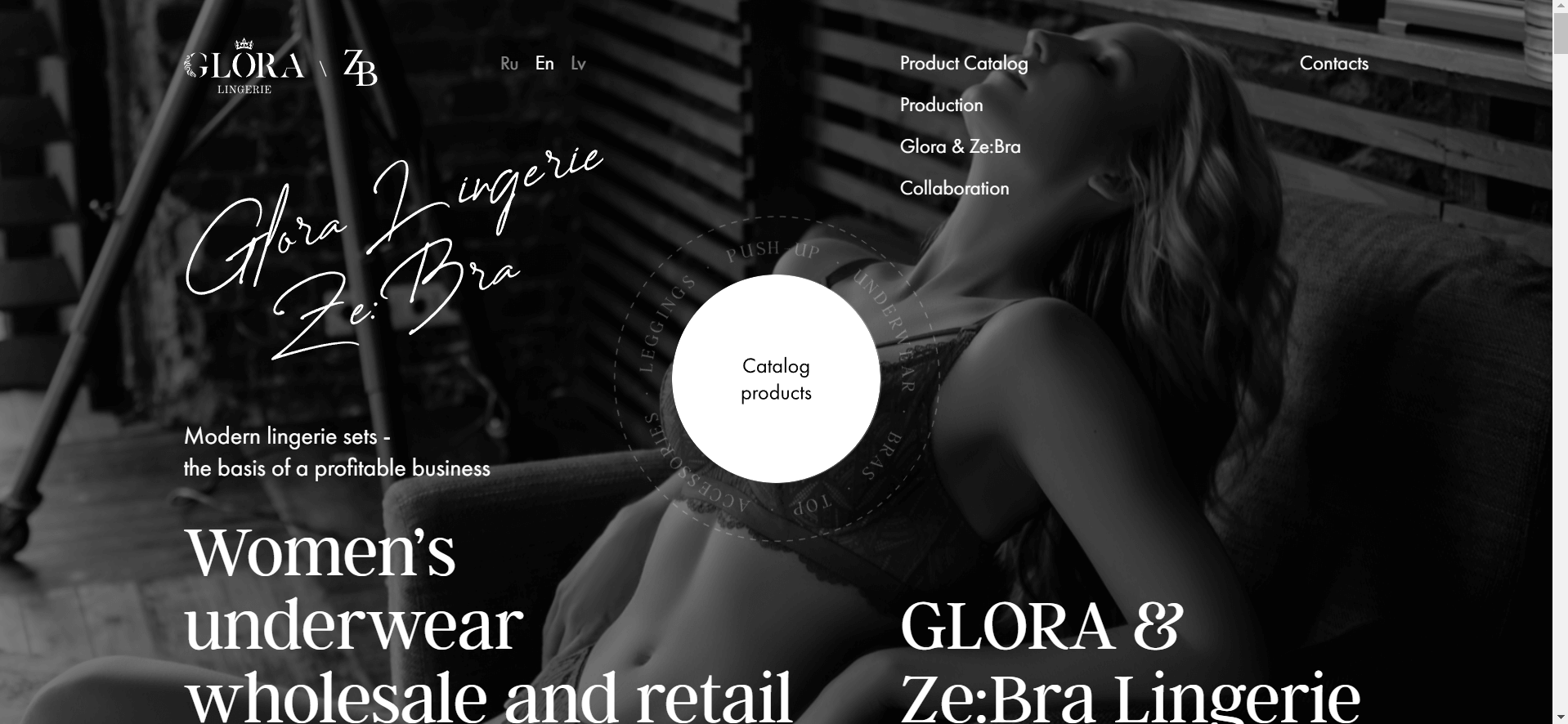 When selecting your underwear manufacturer, you may want a company that specializes in women's lingerie only. Glora Underwear is one such enterprise. For 25 years, they've made top-quality lingerie for ladies of various tastes and styles.
For instance, classic underwear isn't the only option you can find in their collection. There are also specialized garments, such as shapewear and bras for nursing mothers. As a result, if you want to narrow down your niche, Glora might be a solid pick.
In addition, Glora sources its materials from reputable European partners known for sustainable and non-toxic practices. This allows you to market your products freely, knowing they're less likely to trigger allergic reactions and other problems.
Finally, private label manufacturing is readily available with this underwear maker. Just keep in mind that the minimum amount you must order is 100 units.
Pros
The brand makes a variety of lingerie and underwear for women.
Glora partners with environmentally conscious and health-oriented sourcing companies.
You can arrange private label production.
Cons
Shipping to Asia and Australia takes much longer than transportation to European countries.
You can't work with this provider if you want to make garments for both men and women.
Intimate Apparel Samples – Complete Package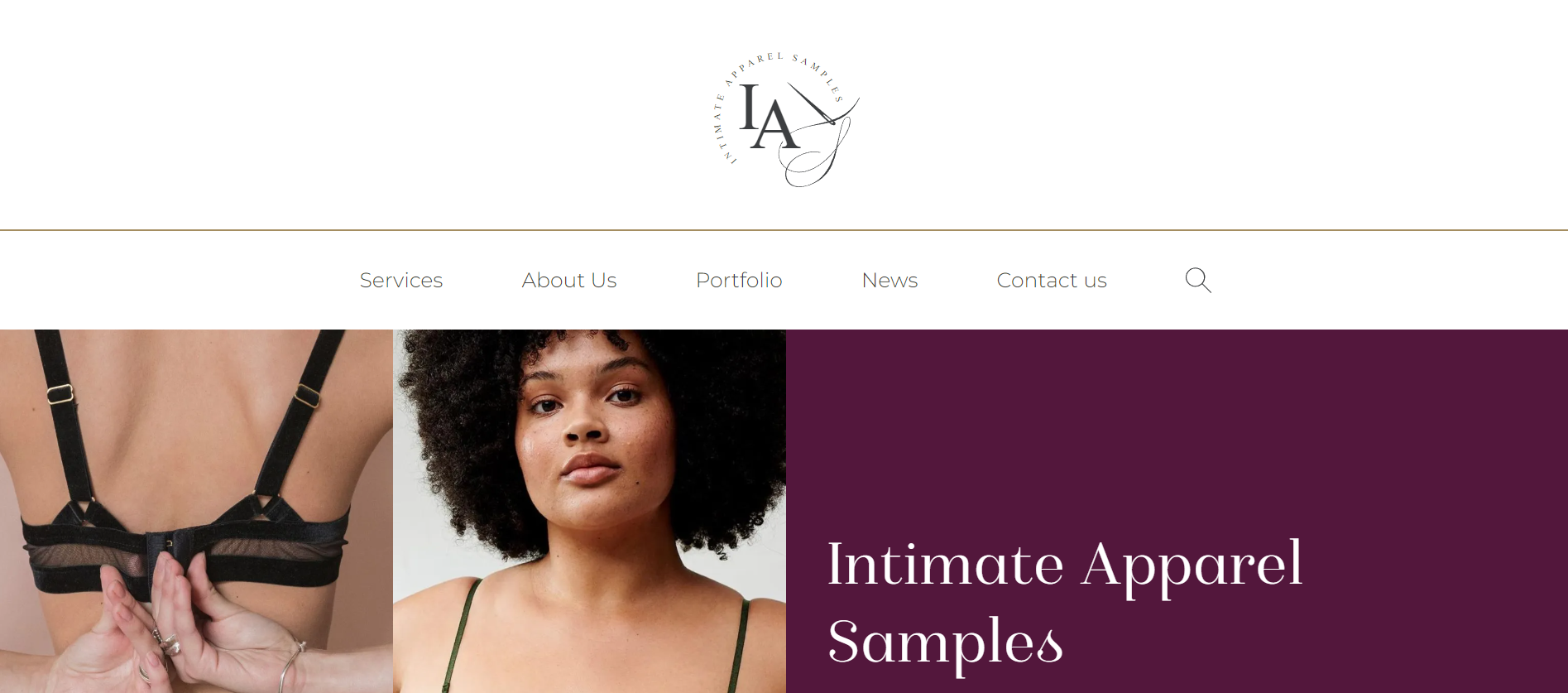 Many underwear manufacturers require you to send tech packs or at least some of the design elements you want to pull off. This puts you in the driver's seat but can also be a setback if you've put your creative spirit on hold.
Intimate Apparel Samples addresses this concern by providing a comprehensive service. In addition to making your underwear, they can also design your tech packs so you don't have to do it yourself. This can accelerate manufacturing and help you sell products faster.
In terms of manufacturing quality, it's consistently high. The organization sources top-grade materials and utilizes reliable stitching practices to ensure durability.
Pros
Tech pack designing is available.
They have high-quality products.
The company doesn't have minimum order quantities.
Cons
The price for making tech packs is often through the roof.
Customer service sometimes takes hours to respond.
Union Source – Verifiably Reputable Maker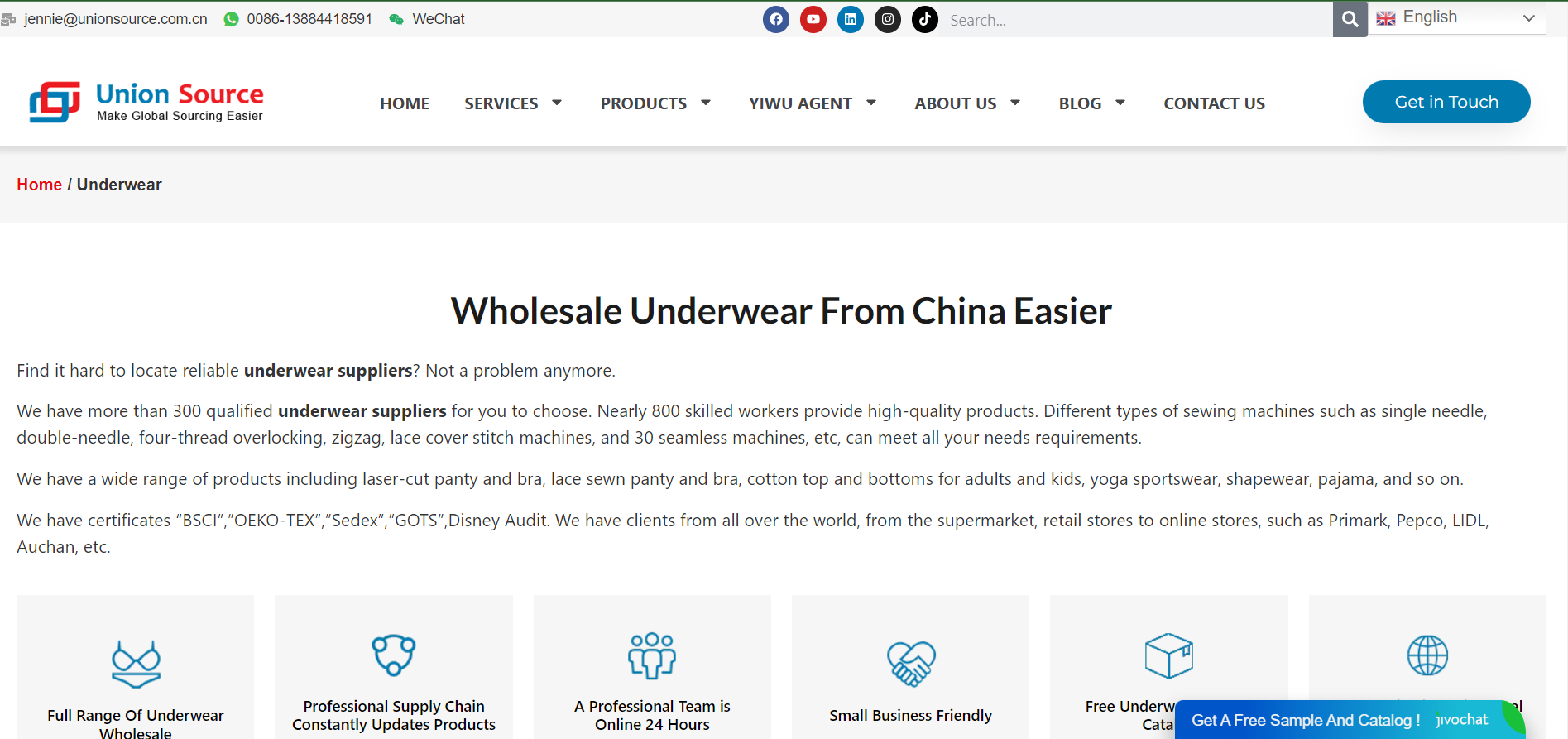 If you're looking for a Chinese underwear factory, Union Source may be a decent option. Their biggest highlight is the variety of machines available for use in the production process. Single-needle, double-needle, lace-cover, and seamless machines are just a few options.
In addition, Union Source prioritizes sustainability and ethical practices, which is reflected in their array of certifications. In addition to their GOTS certification, they also hold accreditations such as OEKO-TEX, BSCI and SEDEX, further ensuring their commitment to environmental responsibility and ethical standards.
Pros
They use countless stitching methods.
A bunch of products are available.
It's a certified company.
Cons
They only have 800 workers.
It takes them weeks to send samples.
Steve Apparel – Making Comfortable Men's Underwear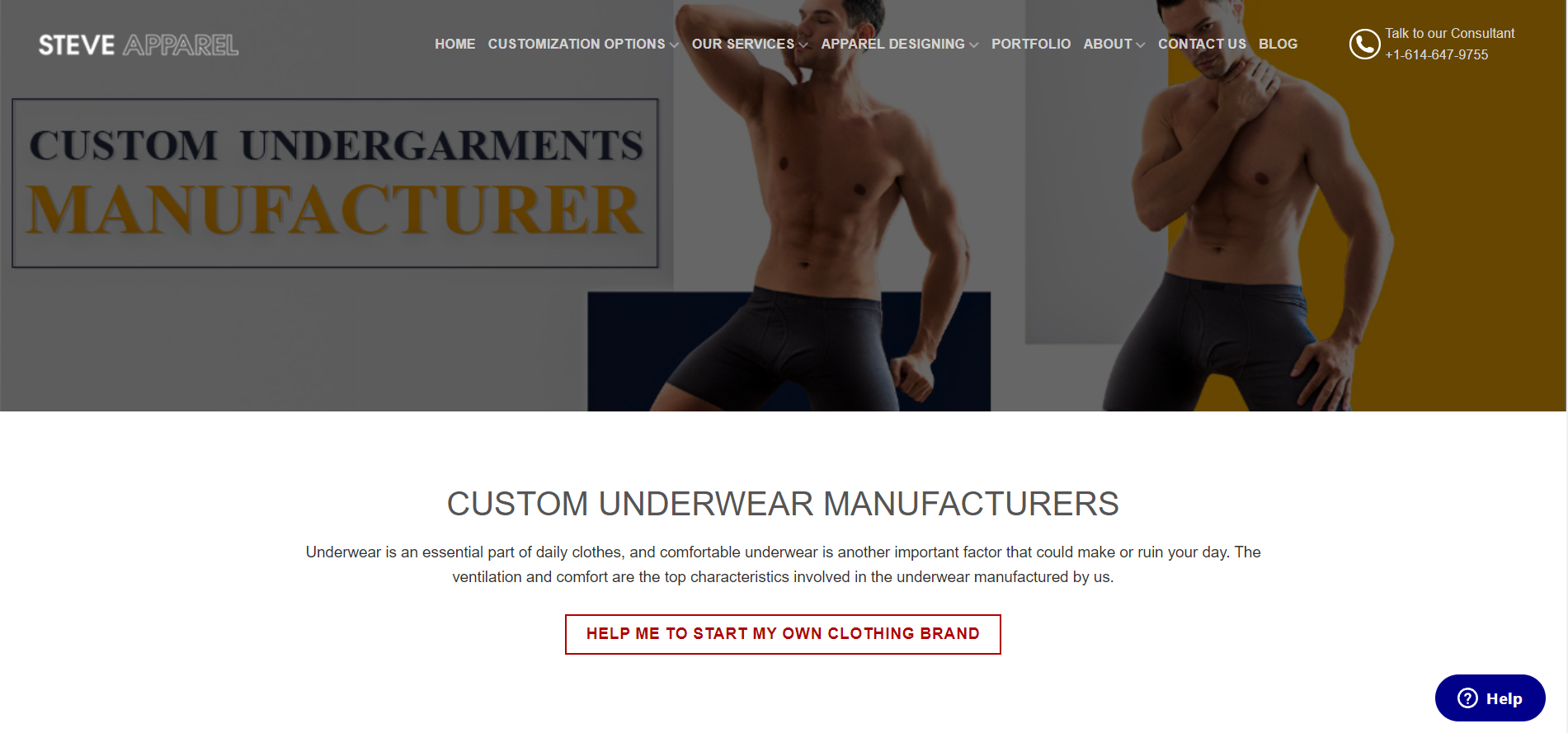 Sometimes, reliability is all you look for in men's underwear manufacturers. If that's the case, you can't go wrong with Steve Apparel. They produce a multitude of garments for gentlemen, including standard undies and boxers. The quality is excellent, too.
Additionally, you can contact this men's underwear manufacturer if you need help designing your underwear. They have seasoned fashion experts with relevant insights.
Also, they regularly pack garments in premium boxes to prevent damage during transportation.
Pros
They're well-versed in men's underwear.
The company offers experienced designers.
Shipping boxes are durable.
Cons
There are no options for women's underwear.
They have a poor lead time when shipping to Asia.
Who Stands Alone?
There are many first-class underwear companies to choose from, but Appareify stands head and shoulders above the rest. The extraordinary blend of unparalleled quality, sustainability, and customizability is a real ace up your sleeve. Also, you get industry-leading lead times to help you start your business in a jiffy.
Success is pretty much guaranteed with such a robust partner by your side.