Whether you're picking for comfort or fashion, underwear has no shortage of options. From stylish undies made with lingerie fabric to more modest underwear fabric, there's always underwear for any occasion.
But what about the materials used to make the fabric? That's where things get a little tricky. Do you want to prioritize comfort or style? Are you looking for a durable, long-lasting pair? Figuring out the best underwear material can be tough, but don't worry; we at Appareify got you covered. Which fabric is the best material for underwear? Read on to find out more.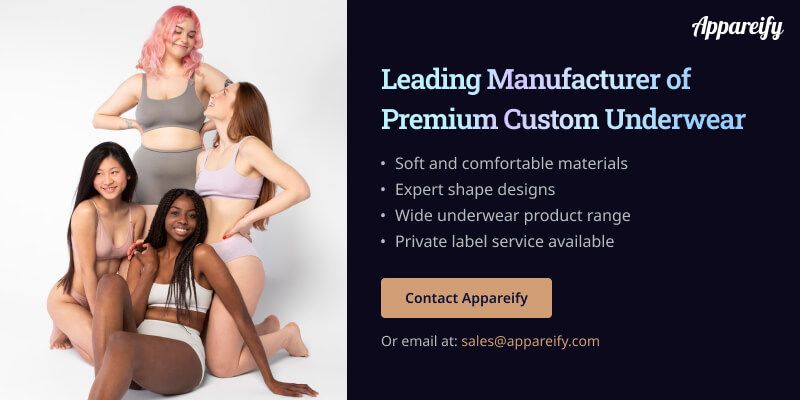 Fabric for Underwear
These days, underwear is made out of a variety of materials, but we can break them down into two main categories: natural fabrics and synthetic fabrics. These are based on the source of the fibers used in the fabric. Some fabric types can also be made using a variety of fibers, which we've classified under the "other fabrics" section. These fabrics are used often in lingerie.
Natural Fabrics
Cotton Fabric
Known as the most common and popular fabric in the world, cotton is used in a wide variety of clothing and garments. Its breathability, flexibility, and softness make it incredibly versatile, which is why they're so commonly used in underwear. Due to its natural source, cotton fabric also doesn't irritate the skin.
Hemp Fabric
Hemp fabric comes from the Cannabis sativa plant, where it is turned into hemp fibers before becoming a fabric. Hemp fabric is incredibly durable, making it useful for everyday underwear, especially if you live an active lifestyle. Its lack of softness may deter some from using it, though.
Silk Fabric
Made by silkworms, silk fabric is a prized material that's used in underwear. It's extremely soft and comfortable to wear, and its moisture-wicking property allows it to dry fairly quickly. While silk has become more accessible over the years, it's still an expensive type of fabric.
Bamboo Viscose Fabric
Bamboo can also be used to make underwear. Like the plant that it originates from, bamboo viscose fabric is very lightweight, and its comfortable texture makes it a reasonable alternative to cotton.
Merino Wool Fabric
Merino wool fabric is made from the Merino sheep, a breed of sheep hailing from Spain and Morocco. Its durability makes it a useful everyday fabric, especially for underwear. While wool is generally a reliable material for underwear and other garments, it's also relatively expensive and sensitive to chemicals, requiring a bit more care than the average pair of undies.
Synthetic Fabrics
Organza Fabric
Organza is a lightweight and see-through fabric that makes for surprisingly comfortable underwear. Its lightweight nature makes it easy to wear, and its soft and smooth texture means you won't even notice it throughout the day. Its transparency may pose a bit of a problem depending on what you're wearing for the day, however.
Florence Net Fabric
Florence Net fabric is a type of fabric that is somewhat similar to organza in some regards. It's lightweight and while not as see-through as organza, also sports a semi-transparent appearance. Its stretchy nature makes it great for use as an underwear fabric, too.
Nylon Fabric
Nylon is a fabric made from crude oil that features great elasticity and resistance to abrasion. It's durable and resilient, and some may even appreciate its smooth texture over that of cotton. Unfortunately, not all nylon fabrics are very breathable, and their acid-dyed nature may result in problems due to bleaching or fading.
Spandex Fabric
Spandex is mostly known for its incredible elasticity, but the fabric is also fairly durable, making it ideal for regular use. The material is also lightweight compared to other fabrics and resistant to sweat. Unfortunately, it doesn't give breathing room for your skin, to the point where it may even stick to your body at times.
Polyester Fabric
Polyester is a synthetic fabric that's fairly inexpensive and strong thanks to it being made out of PET plastic. Its stretchiness also makes it a solid candidate for use as a panty material. Its main disadvantage is that, unlike other fabrics, polyester is somewhat limited when it comes to dye and color choice.
Other Fabrics
Satin Fabric
Satin fabric is made using the satin weave, a type of weave that results in shiny and soft fabrics. Often confused as a type of material, satin can actually be made using a variety of fabrics, usually synthetic ones such as rayon and polyester. Satin is quite thick, which limits breathability.
Lace Fabric
When one pictures an image of lingerie, they're probably thinking of one made out of lace fabric. A staple in the lingerie scene, lace fabric adorns the nightwear in motifs and patterns using synthetic materials such as nylon. It's not exactly the most comfortable of fabrics, but it's nothing if not visually stunning.
Jersey Fabric
Jersey fabric is a type of fabric that's been around for centuries. Originally made out of wool, jersey fabric is now also available in cotton and other materials. Its stretchy nature makes it useful for lingerie, especially if you're buying it at a size that you know won't fit you perfectly.
Mesh Fabric
Mesh fabrics are fabrics that feature spaces between the fibers. This, of course, results in an extremely breathable fabric that's great for nightwear. The spaces also reveal the skin underneath, giving it a unique overall look. Despite its looks, mesh fabric can be surprisingly durable depending on how it is produced.
Microfiber Fabric
Microfiber fabric is a type of synthetic fabric used in lingerie for its especially smooth and silky texture. It's used in towels, eyeglass cleaners, and other types of clothing, and works surprisingly well for lingerie. While its silky texture does make it alluring, it also varies quite heavily in thickness and breathability.
Nylon vs Cotton Underwear, Which Is Better?
When it comes to nylon vs cotton underwear, the best underwear fabric will likely end up being cotton for the majority of people. Cotton offers a soft and breathable fabric that you'll want for those hot and humid days, whereas nylon will instead make you feel uncomfortable due to its lack of airflow.
That doesn't mean cotton is always the ideal pick, though; cotton absorbs moisture very easily, and if you're doing any sort of physical activity, sweat will build up fairly quickly. If you'd rather not feel soaked after working out or prefer the smoother texture of nylon, then you're better off with synthetic fabric over cotton instead.
What Are the Best Underwear Material for Women
Cotton is our fabric of choice as the best underwear material for women. As mentioned earlier, it's soft and breathable. Cotton panties are also fairly lightweight, so you won't really notice them while you wear them throughout the day. Finally, cotton panties are easy to clean, which is why cotton is one of the go-to panty materials for many women. If you're not 100% sure which fabric suits you best, cotton's various advantages over other fabrics make it a safe pick for any occasion.
What Are the Best Underwear Material for Men
It's a similar story for men when it comes to the best underwear fabric. Cotton is the ideal choice for a variety of occasions, due to its breathable and lightweight nature. Cotton's softness is also a much-appreciated benefit when it comes to men's nether regions. It's such a common material that you'll find plenty of cotton underwear at your local department store, giving you more options compared to other fabrics. You can find one that's tailored to your size, style, and weight.
What Underwear Fabric Does Appareify Use to Make Underwear?
As a top underwear manufacturer, Appareify uses comfortable and sustainable fabrics to manufacture underwear, including cotton, modal, bamboo, and more. We also offer private label services that can make underwear according to the needs of our customers, including the type of material or fabric used.
If you would like to realize your own lingerie design in a specific underwear fabric, we can also make it for you. With decades of experience in cutting and sewing, we guarantee to provide you with underwear of the highest quality standards.