The swimwear industry represents a bustling market that's, according to Mordor Intelligence, currently worth nearly $13 billion. The same source states that, in the following five years, this market could reach nearly $15 billion globally. If you're launching a clothing store or a new clothing line, putting swimwear into your portfolio is the right track.
However, the hunt for the best swimwear manufacturers in the world can lead you to countless brands. At that point, it may get increasingly difficult to pinpoint the right swimwear factory for your purposes. Luckily, this article will help you in that search. We'll look at the 10 best swimwear manufacturers specializing in particular aspects of swimwear. Here's a brief overview of our list entries:
Top Swimwear Manufacturers
The selection of the best swimwear manufacturers is pretty wide, which is why we selected our top 10 picks to cover pretty much any niche. From bikini manufacturers to more generalized design choices, here are the best manufacturing companies for swimwear.
Appareify – Best Swimwear Manufacturer Overall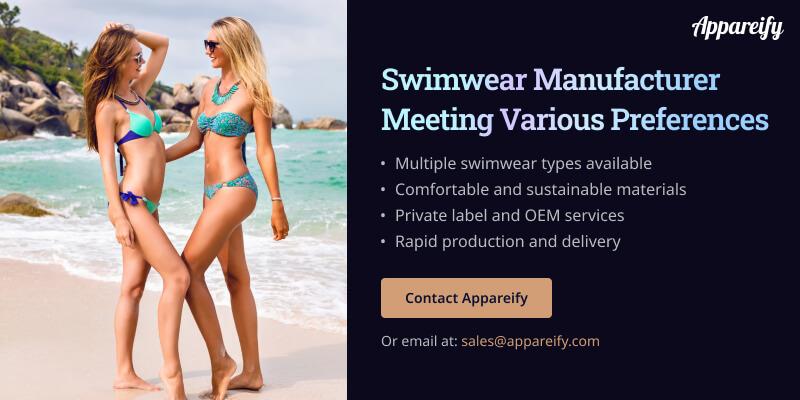 As a leader in the clothing manufacturing industry, Appareify offers numerous swimwear designs with detailed customization options. Better yet, the manufacturer can supply women's, men's, and kid's swimwear across styles.
While offering standard swimwear solutions, Appareify also designs bikinis, matching couple swimsuits, and long-sleeve models. Besides these specific designs, it's worth mentioning that the company creates swimwear to match every size, including plus-sized variants.
The choice of material is always crucial for clothing, but can be even more pivotal for swimwear. To that end, Appareify pays special attention to its suppliers and whether they meet strict standards. In particular, sustainability and ethical production are among the most important aspects, since Appareify follows those principles in its manufacturing process.
Appareify offers fast design development, production, and shipment. Through maintaining high industry standards, the manufacturer ensures a leading position in the market.
Pros:
Fully bespoke solutions
Sustainable practices
High-end manufacturing process
Competitive priced
Quick turnaround time, within 3 weeks
Also makes other types of garments for men, women and children
Cons:
Visiting their factories can be challenging for some due to their overseas location
AEL Apparel – Best Custom Swimwear Manufacturer in China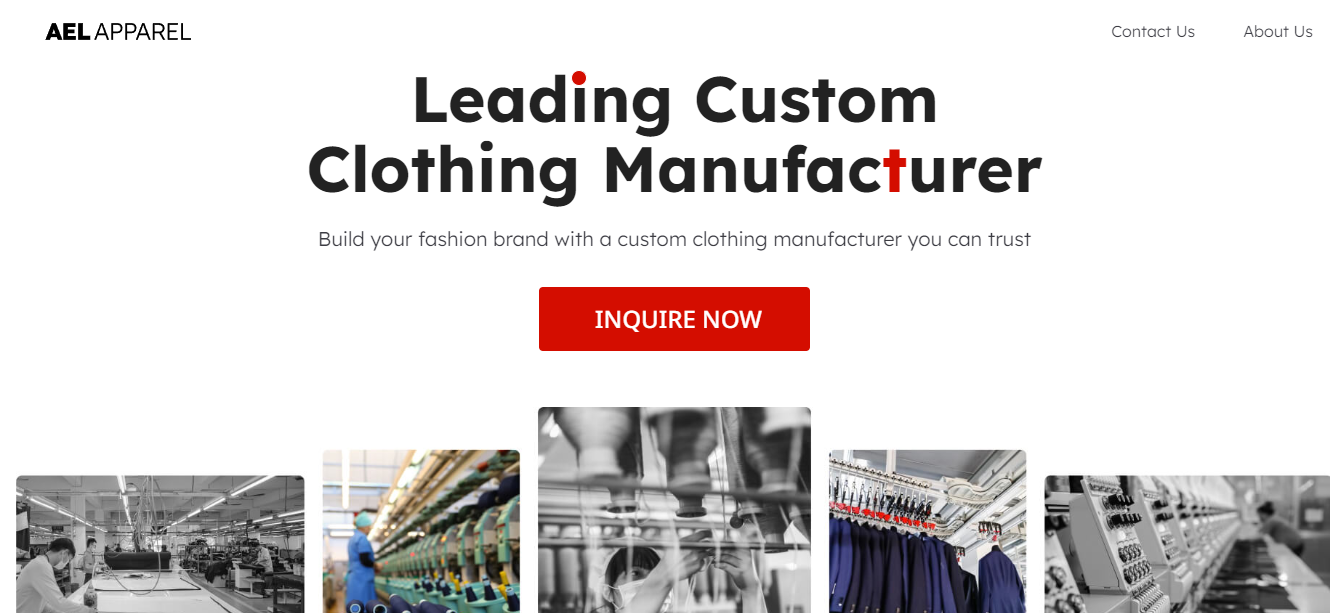 As a dedicated custom clothing manufacturing company, AEL Apparel focuses on high-quality apparel tailored to customer's demands. The manufacturer has an extensive offering that includes various types of clothing, including swimwear.
The company has versatile designs of swimsuits both for men and women. Additionally, the designs can be customized according to the customer's requirements, and the same applies to the material selection and sizes. The products can come with white label, or with the customer's own label.
Like all genuine leading manufacturers, AEL Apparel is dedicated to sustainable production. This is apparent in the manufacturer's commitment to waste reduction and ethical material sourcing. The manufacturer also prides itself in rapid turnaround, being able to deliver orders as early as within the first two weeks.
Pros:
Versatile custom designs
Sustainable products
Streamlined 6-step process
Cons:
May be hard to inspect their China-based factories in person
Bali Swim – Indonesia's Most Eco-Friendly Swimwear Manufacturer

When launching a swimwear brand, Bali Swim gives you two options – begin with their Ready Designs or create a swimwear line from scratch. The first option lets you focus on building your business rather than investing time in design development. But the second option allows you to fully customize your swimwear.
This swimwear manufacturer stands out for its commitment to sustainability throughout the manufacturing process. Most notably, the materials primarily used for swimwear are ECONYL and REPREVE, two well-known sustainable fabric choices made from recycled materials. Even the ink used for fabric prints is an eco-friendly product (OEKO-TEX).
Pros:
No minimum order quantity (MOQ) for samples
The factory is open for visits
The majority of production is done in-house
Cons:
Low-volume orders have a surcharge
Lengthy production time
Arcus Apparel Group – Best Swimwear Manufacturer for Small-Batch Production in the U.S.
Though Arcus Apparel Group caters to businesses of all sizes, the company primarily focuses on small-batch manufacturing. That's why its minimum order quantity is only 50 pieces, one of the lowest MOQs in the industry.
The low MOQ allows this swimsuit manufacturer to keep the focus on quality, ensuring each piece is crafted with precision and attention to detail. It also allows for fast turnaround times, ensuring the client can swiftly bring their designs to market.
Pros:
An extensive fabric inventory
A wide variety of bathing suit and bikini styles
Smooth ordering process
Cons:
Unsuitable for bulk production
Lefty Production Co. – Best Swimwear Manufacturer for New Business Owners in the U.S.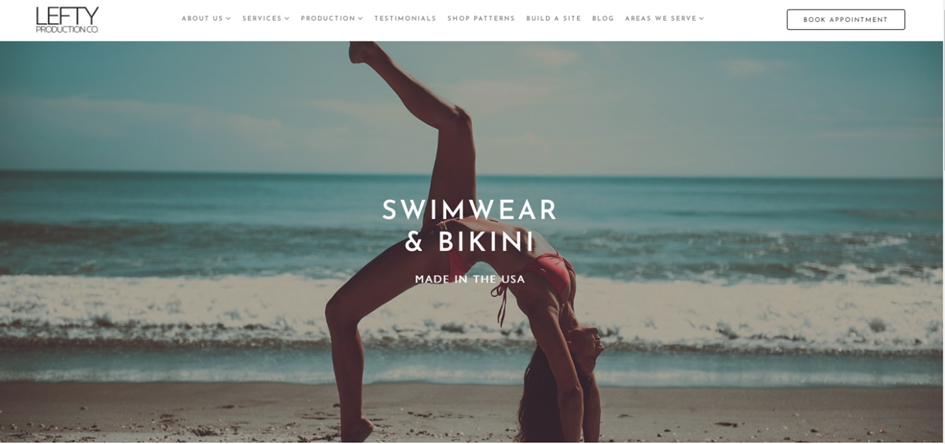 Lefty Production Co. is a Los Angeles clothing manufacturer that specializes in swimsuit and bikini manufacturing. It works with clients of all sizes, offering relatively low minimum order quantities.
Since the company's swimwear factory is located in Los Angeles, Lefty Production Co. can closely monitor every step of the manufacturing process, ensuring that the products meet the highest quality standards. Plus, its convenient location allows for quicker lead times and easier communication for clients, guaranteeing a seamless production process.
What sets Lefty Production Co. apart is that this swimwear manufacturer can help businesses even post-production. Namely, the company also offers website-building services for its clients.
Pros:
A wide variety of styles
Excellent production capabilities
Fast shipping times
Consulting and web dev services available
Cons:
Swimwear Bali – Indonesia's Swimwear Manufacturer With Higher Markup Possibilities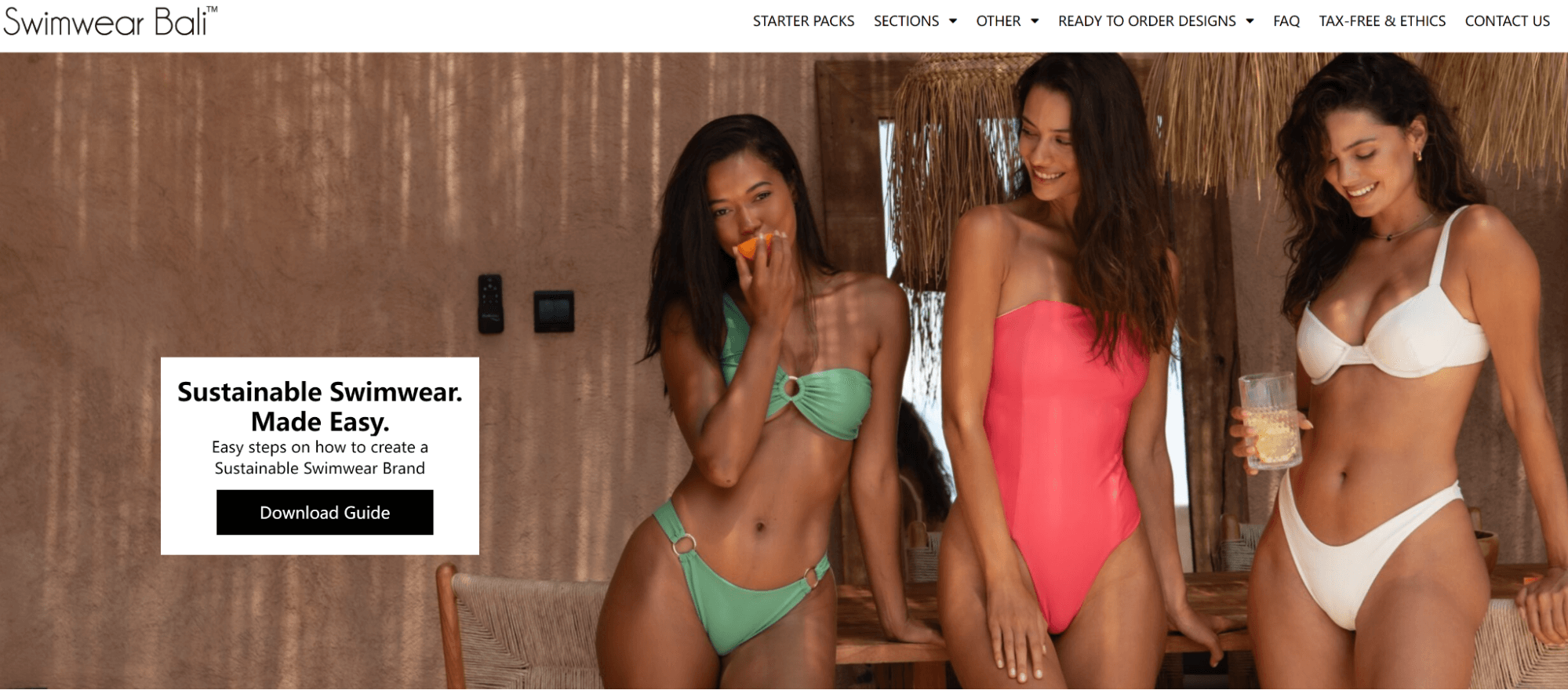 Swimwear Bali is another one of Bali swimwear manufacturers that offers both ready-to-order and custom designs. The latter option allows you to create a fully customized swimwear line, choosing every detail from the material to the print.
Speaking of prints, Swimwear Bali outsources this activity to ensure the highest possible quality. As for the production process, it undergoes three levels of quality control before the swimwear products are deemed ready for distribution.
Swimwear Bali also prides itself on lower prices through unique tax-free import for needed materials and export of finished pieces, allowing for a higher resale markup.
Opting for swimwear manufacturing using Swimwear Bali's stock colors leads to incredibly fast turnaround times and eliminates minimum order quantities.
Pros:
A wide range of swimwear styles and related items
Quick turnaround times
Independent quality control is possible
Cons:
Costly samples
The ordering process is somewhat complex
Steve Apparel – Most Inclusive Swimwear Manufacturer in the U.S.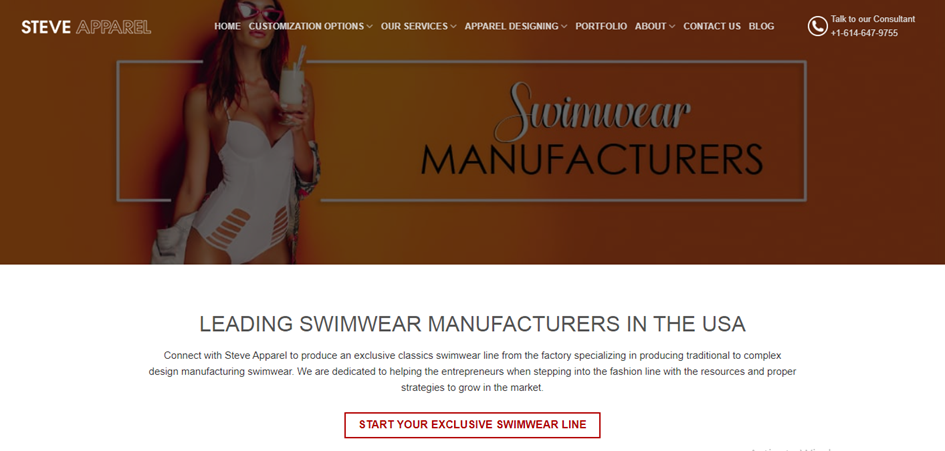 Steve Apparel is a U.S.-based swimwear manufacturer whose manufacturing facility is located in Pakistan. Though relatively new to the market, this manufacturer has quickly gained a reputation for delivering quality products to businesses of all sizes.
The products in question can be traditional swimsuits or bikinis with more complex designs (or anywhere in between). This swimwear manufacturer offers a generous range of styles, including asymmetric and high-waist swimsuits. What sets Steve Apparel apart is its commitment to inclusivity. The company's products will be a perfect fit, regardless of the wearer's age or body type.
Pros:
High-quality sourced fabrics
Relatively low MOQs
Private labeling is also possible
Cons:
Fewer customization options
In-person quality inspections are challenging
TACK – Best Swimwear Manufacturer for Rush Ordering in the U.S.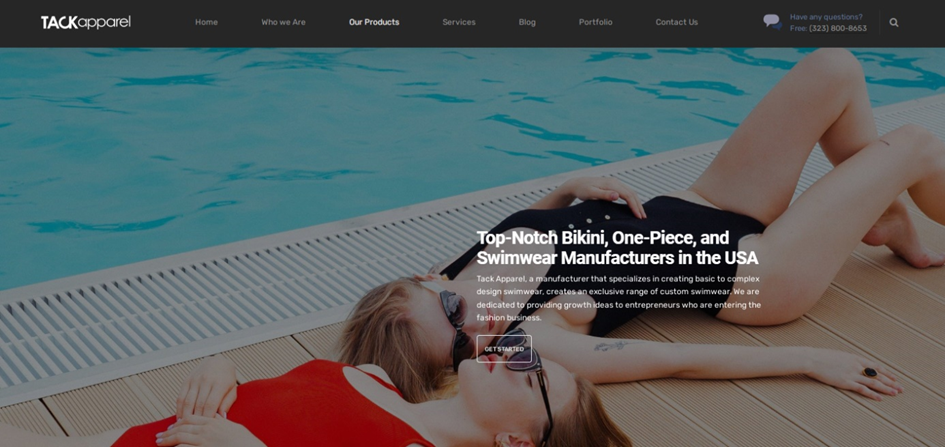 TACK is an American manufacturer that specializes in custom-making a number of garments, including swimwear. The company offers a huge selection of styles and personalization options, ensuring the end product meets the unique preferences and needs of each customer.
Though TACK's production facilities are located overseas, this swimwear manufacturer offers a relatively fast turnaround time. Even better, it can do rush orders if you provide enough information and details when submitting the order. This makes TACK one of the best swimwear manufacturers for clients in need of speedy swimwear production.
Pros:
Numerous customization possibilities
Excellent customer service
Private labeling is possible
Cons:
In-person quality inspections are almost impossible
Blue Sky Swimwear – Most Flexible Swimwear Manufacturer in the U.S.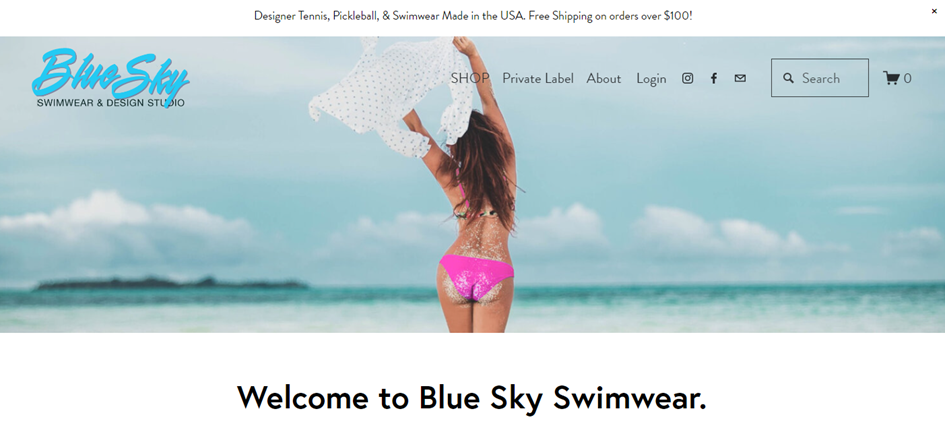 Blue Sky Swimwear is a woman-owned business based in the U.S. The company's skilled team can help customers launch their swimwear line, whether they already have an entire collection in mind or need help every step of the way.
This swimwear manufacturer is pretty flexible with the production process. For instance, it allows customers to submit their own fabrics, trims, patterns, and elastics. So, even highly specific preferences can be accommodated when working with Blue Sky Swimwear. The manufacturer also has generous MOQs with only 72 swimsuits across at least three styles.
Pros:
Low minimum order quantities
Valuable support every step of the way
Fast turnaround times
Cons:
Costly samples
Not inclusive
Mukara Swimwear – Best Swimwear Manufacturer With Technical Fabrics in the U.S.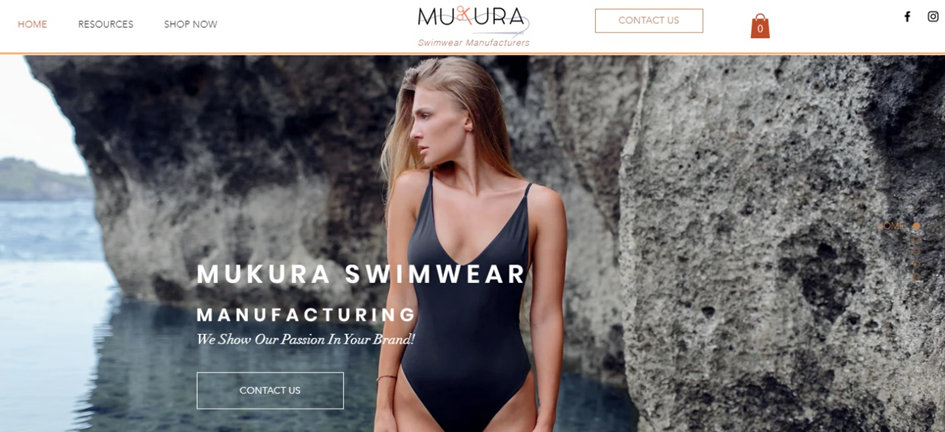 Mukara Swimwear is a U.S.-based swimwear manufacturer with production facilities in Columbia. Being the owner of the said facilities, the company directly manages and supervises the entire production process.
The company offers a wide variety of styles to fit different body shapes. There's even a guide on its website suggesting which swimwear style works best for which body type.
When producing its swimwear, Mukara Swimwear uses only technical fabrics. These fabrics are moisture-wicking, stretchy, and UV-resistant, making them an excellent choice for swimwear.
Pros:
Made-to-order designs are also possible
Fast turnaround times
Strict quality control
Cons:
High minimum order quantities
How to Choose a Reliable Swimwear Manufacturer?
When picking swim manufacturers, you should look for specific traits that match your business goals. The first thing to find out is whether the bathing suit manufacturer has in-house materials or if they order from a third party. This will make a significant difference regarding customization.
Next, make sure to understand the manufacturer's minimum order quantity. More importantly, it's crucial to respect that quantity when ordering. If the manufacturer has a too high minimum, you might need to opt for a different company to cut down initial costs.
Of course, offering samples will be another massive plus for swimming suit manufacturers. In fact, if you encounter a manufacturer that doesn't provide samples of its work, it would be best to stay away. By the time you get to check the product, it might be too late.
Finally, it's worth checking whether the swimwear manufacturer (USA or otherwise) is ethical and sustainable. The modern industry pays much heed to fair work conditions and sustainable, eco-friendly practices. If you're entering this ecosystem, it's recommendable to start on the right side immediately.
What Products Do Swimwear Manufacturers Offer?
Swimwear comes in various designs. When building your collection, it's worthwhile knowing which products are commonly available in terms of materials and key traits.
In particular, a well-crafted swimsuit should be made of stretchy fabric. It should also be resilient in terms of endurance and how long it can maintain its shape. Materials of lesser quality will make for unsatisfactory products which will more likely deter new customers than attract them.
Some of the common materials that meet these standards include nylon, polyester, elastane, and PBT. Sustainable options include cotton, hemp, eco-nylon, and Repreve fabric, which is recycled from PET packaging.
Find the Best Swimwear Manufacturer
Even with our guide, your quest for the ideal swimsuit manufacturer may be challenging. As apparent from the list, every manufacturer has its pros and cons, and weighing your options can take a considerable amount of time and effort.
To that end, you can cut the search short by opting for the company that offers the best overall products – Appareify. If you want to see the best that bathing suit manufacturers have to offer, visit Appareify today and find out more about the ultimate designs and products in the market.