The swimsuit industry is a booming business. By the end of 2031, it should be worth a staggering $34.2 billion. So, if you've been looking for a lucrative business opportunity, consider launching a swimwear line or adding swimwear to your existing product lineup.
There will be many things you must consider to successfully pull off this endeavor. But for now, let's focus on the basics. What material should your swimsuits be made of?
There's more than one correct answer, so dive into our list of the best fabrics for making swimsuits and find your perfect match.
The 7 Best Fabrics for Making Swimsuits
For most garments, the fabric requirements are relatively simple. Let's say you want to purchase a dress. The dress in question should be comfortable and suitable for the occasion and the time of the year. Every other aspect is up to personal preferences.
With swimwear, however, things get a bit more complicated.
You need a fabric that isn't too heavy. It should also be flexible and stretchy enough to let you move freely in the water while providing adequate support. When you're out of the water, you won't want to be wet for long, so we can add "fast-drying" to the list. And let's not forget – you'll want your swimsuit to resist harmful chemicals like chlorine and UV rays well and maintain its color despite frequent use.
Sounds like a lot, doesn't it?
Throw sustainability and ease of maintenance into the mix, and this nearly seems like an impossible task. Of course, the key word is "nearly."
Some fabrics can rise to the challenge, and we've listed seven that do it the best below.
1. Polyester
Polyester has dominated the swimwear industry for years and for a good reason. This fabric is composed of resilient fibers that hold their own against chlorine and UV rays. A polyester swimsuit will also hold its shape well (despite frequent use) and feel snug and comfortable each time.
This comfortable feeling persists out of the water as well, as this fabric is water-repellent and, thus, quick-drying.
From a business perspective, polyester is rather cost-efficient, making it an excellent choice for new business owners. Plus, it excels at absorbing dye, opening a world of possibilities regarding swimsuit design.
2. Polybutylene Terephthalate (PBT)
Though the name of this fabric might throw you off initially, PBT is just another member of the polyester family of plastics. This plastic yarn fiber offers natural stretch that can rival Lycra, making it one of the best fabrics for making swimwear.
Besides being stretchy, this fabric is lightweight, chlorine-resistant, and fast-drying, all desirable characteristics for swimwear. It's also resistant to snagging and pilling. If you're unsure what this means, it's when your swimsuit fabric develops pulls or small fiber balls on the surface.
This goes beyond an aesthetic issue since snagging and pilling can also decrease comfort and durability.
3. Nylon
If we were to single out a fabric that has reigned supreme in the swimwear industry (besides polyester), it would undoubtedly be nylon. Looking at its characteristics, it's easy to conclude why.
Nylon is extremely lightweight and provides a smooth and comfortable fit. In addition, it's fast-drying, abrasion-resistant, and easy to maintain. And let's not forget how affordable it is for business owners.
The only thing to note is that nylon isn't as colorfast as polyester. This means that nylon swimwear might experience some color fading when exposed to sunlight and chlorine. Plus, nylon and prints don't go together. Trying to do prints on nylon swimwear will lead to blurry results and bleeding color.
4. Neoprene
Do you want to produce a thicker style of swimwear? If so, neoprene is the way to go. This fabric (or, technically, rubber) provides excellent insulation, making it ideal for cold-water sports.
These insulating properties are also why neoprene is most commonly used for wetsuits. Depending on your business plan, this fabric can help you carve out a niche in the market, catering to divers and surfers.
5. Scuba
Scuba and neoprene are often mentioned together. In fact, many people confuse these two fabrics, which speaks volumes about their similarity. Though they look and feel the same overall, there's one crucial difference. Scuba lacks the inner layer of insulating foam. Therefore, cold-water sports are out of the question.
So, why is scuba on the list of the best fabrics for making swimsuits?
The answer is simple – this fabric offers unparalleled structure, resilience, and opacity, making it perfect for modest swimwear.
6. REPREVE
Though the best fabrics for making swimsuits we've mentioned so far have earned their spot on the list fair and square, most of them struggle with one important aspect – sustainability.
As the world becomes more conscious of alarming environmental issues, eco-friendly fabrics are taking center stage. And REPREVE is leading the pack.
REPREVE is made from recycled waste (primarily plastic bottles), thus helping reduce plastic pollution and pursue the "zero waste-to-landfill" sustainability goal.
Besides being eco-friendly, swimwear made from REPREVE also resists water and UV rays, offers a four-way stretch, and responds well to solution dyes. In other words, it checks all the boxes for an excellent swimsuit fabric!
7. ECONYL
ECONYL is another sustainable solution on our list of the best fabrics for making swimsuits. But this time, it's recycled nylon.
ECONYL is made from pre and post-consumer nylon found in various places, from industrial waste to (sadly) the ocean. Once extracted, the nylon is purified to its original form and then processed into fibers for swimwear (and other clothing products). Essentially, the same material can be used over and over again, thanks to this innovative process.
Swimsuits made with ECONYL are soft, flexible, breathable, and quick-drying, bringing much more to the table than simply being eco-friendly.
Get Your Swimsuits Orders Made With Top Fabrics
So, now you know what the best fabrics for making swimsuits are. All that's left is to find a swimsuit manufacturer that can help you bring your vision to life using these top fabric choices. That's where Appareify comes into play.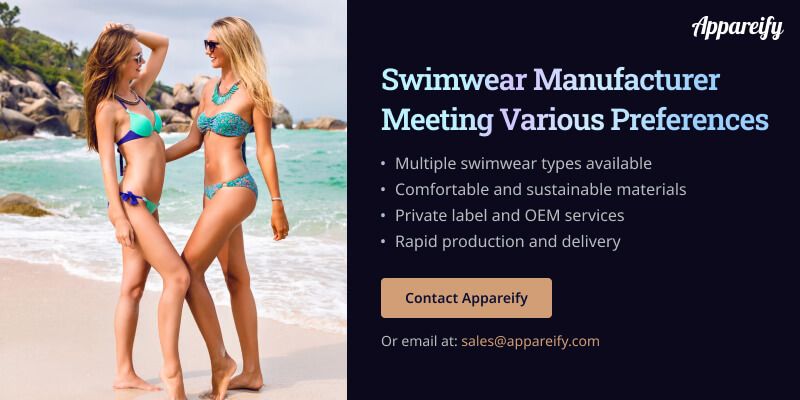 As an experienced swimwear manufacturer, Appareify only uses fabrics of the highest quality. The company carefully chooses these fabrics and sources them from suppliers who share the same commitment to sustainable and ethical production practices.
No matter what you want your swimwear line to look like, Appareify can make it happen while guaranteeing exceptional quality and sustainability for every piece.
Reach out to Apparefiy's representatives today and start building a lucrative business.