The swimwear market is burgeoning. It may even reach a valuation of $28.7 billion by 2025. Bali, Indonesia, is an emerging player in this sector, slowly but surely making its name known. This article will familiarize you with the top 10 Bali swimwear manufacturers. Some of them are Bali locals, while others are international businesses that operate in Bali.
Bali Swim – Eco-Friendly Bali Swimwear Manufacturer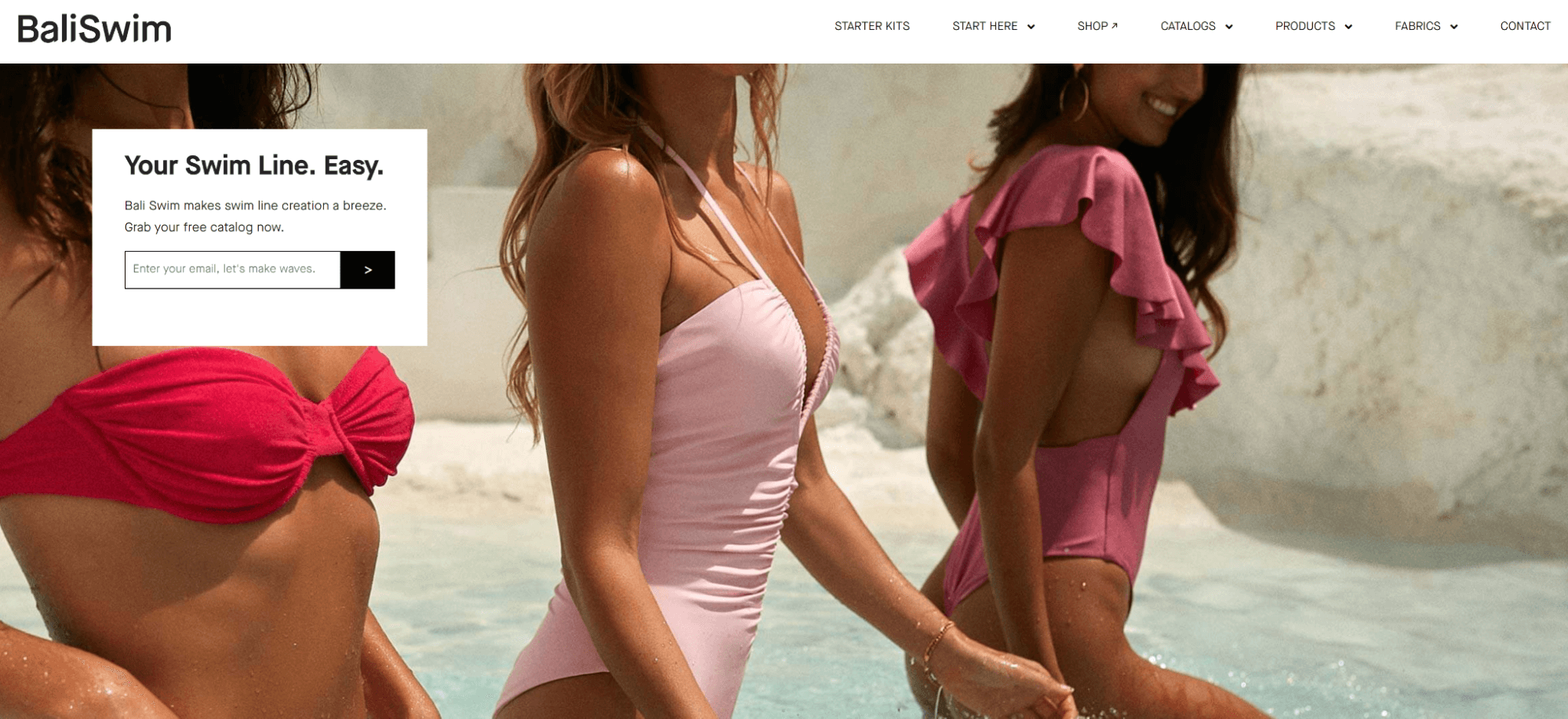 Bali Swim is a local swimwear manufacturer from Bali, Indonesia. It has carved a niche for itself that endorses sustainability and low minimum order quantities. This company operates from Bali's most eco-conscious, solar-powered factory. It uses imported recycled fabrics like Carvico, ECONYL, and REPREVE. They primarily produce women's swimwear and extend their product offerings to beach bags, kaftans, and cover-ups.
Bali Swim states that it believes in making a positive impact on the community and the environment. For every bikini they manufacture, the company donates 10 cents towards ocean conservation and local women's business education.
The company has some of the lowest minimum orders that can ship worldwide. The MOQs start at just 100 pieces for bulk orders. They also have a rather fast sample turnaround time, starting at three days. Bali Swim has a hand-picked Ready Design collection featuring pre-designed, customized pieces.
Pros:
Sustainability and community upliftment
Extremely low MOQs
Bali local
Cons:
Limited to women's swimwear and related products
Active Qstom – Bali's Tailored Swimwear Excellence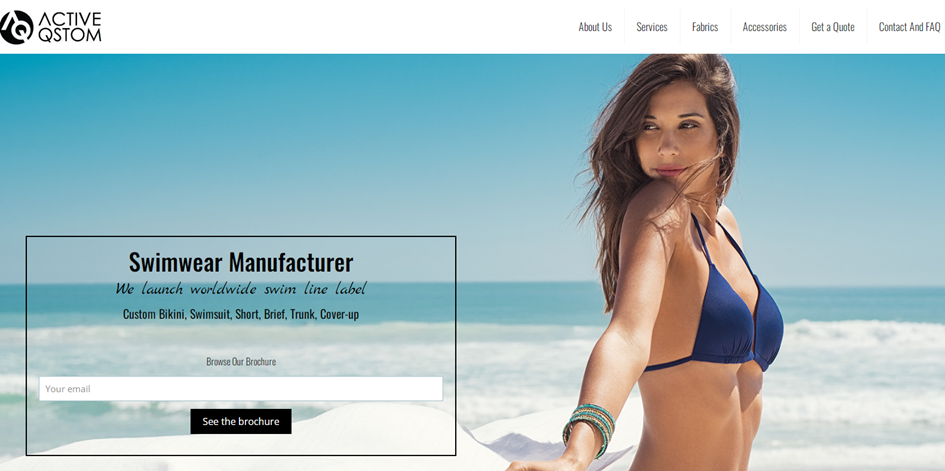 Active Qstom is a prominent swimwear manufacturer from Bali, Indonesia. They offer several services to retailers, like custom bikinis, swimsuits, and men's swimwear. Their stated unique selling proposition lies in turning mere sketches or digital images into tangible swimwear you can touch and feel.
They can do custom pattern-making and labeling for any retailer in the country and also provide private labeling services so a brand can represent its ideas through Active Qstom's work. This company is an ethical manufacturer that cares about its impact on the environment and social impacts and therefore emphasizes fair wages and proper work-life balance for their employees. To support their claim to fame, they have a decade-long experience behind them.
Pros:
Ethical and sustainable production, fair compensation, and balanced work hours for tailors
Private labeling
Positive customer reviews
Cons:
Potential lead times for custom orders not specified
Ethical sourcing could increase production costs
Bali Swimwear Manufacturer – Crafting Quality Swimwear in Bali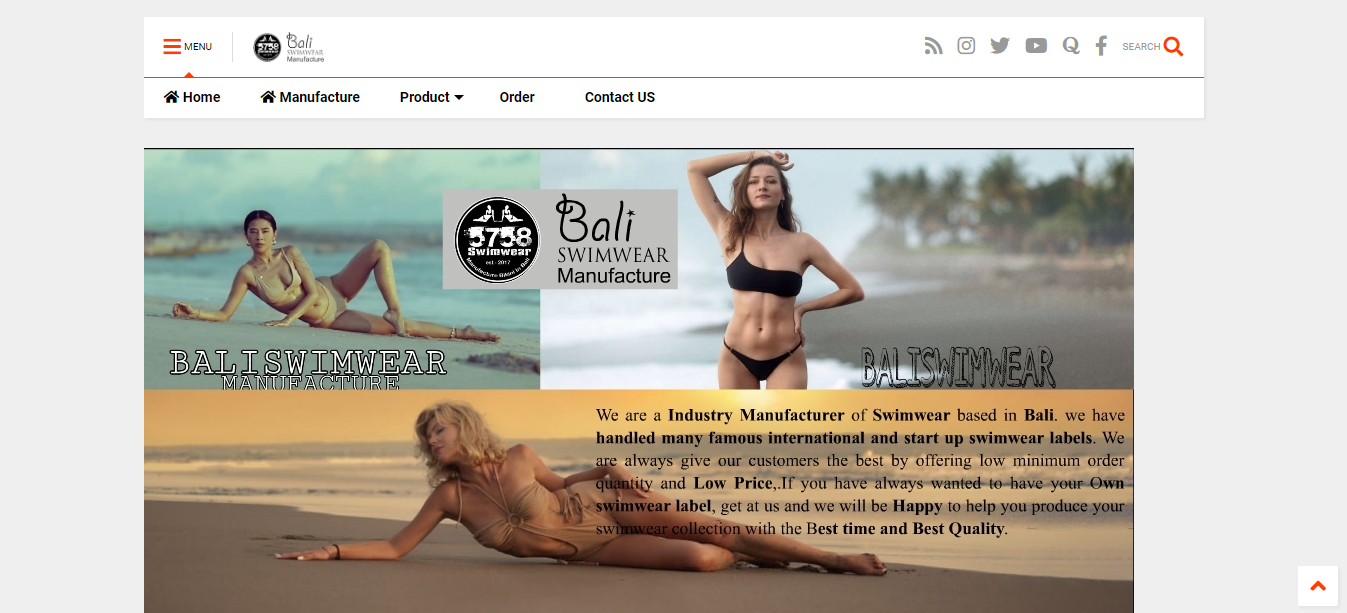 Bali Swimwear Manufacturer is a Bali-based company that exclusively manufactures swimwear, bikinis, and swimsuits. It caters to both startups and globally renowned brands. They take pride in delivering top-notch products that are 100% made in Bali.
This manufacturer has also successfully collaborated with numerous international labels through private labeling services that cater to diverse tastes and swimwear markets. If you have a unique design in mind, they can make it real. Or they can help you in creating one in tandem with their expert team.
Pros:
Specializing in swimwear, bikinis, and swimsuits
Collaborates with many international labels
Supplies products for various audiences
Cons:
Only limited to swimwear
Might not cater to very small individual orders
Bellakini Swimwear Factory – A Family-Owned Swimwear Business in Bali With a Personal Approach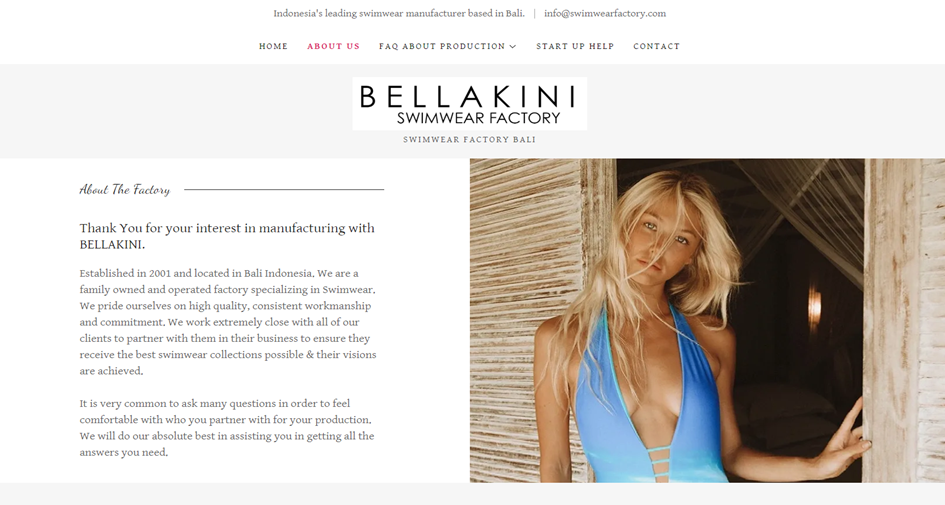 Bellakini Swimwear Factory came into the world in 2001. It's a family-owned and operated swimwear manufacturing facility in Bali, Indonesia. The factory produces high-quality swimwear and takes pride in its consistent craft excellence. They like getting personal with clients and working together to create exactly what they desire.
The factory is open to communication. They answer any and all questions potential clients may have so they can feel comfortable before entering into a production partnership. They also offer customized quotes depending on styles and budgets.
Pros:
Being a family-owned business means a more personal, hands-on approach to manufacturing
The factory has many years of experience in the swimwear industry
Highly customizable
Cons:
It may be overwhelming for businesses not looking for customization
The website doesn't give much information on ethical practices
Thaikila – Sustainable Swimwear Manufacturer From Paris to Bali, Indonesia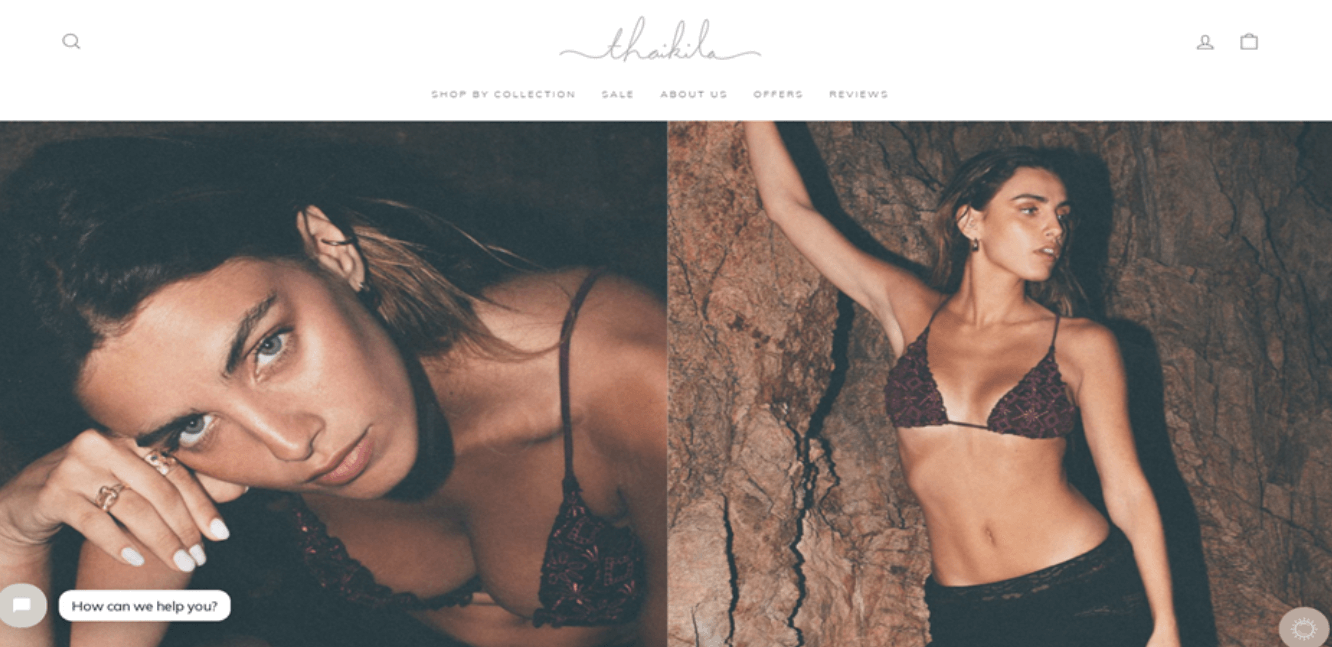 Thaikila is a swimwear brand with an interesting history. It was originally founded in Paris in 1989 by Marie Laure Becquelin. The brand later moved across the world to Bali in 2002. Thaikila emphasizes innovation and sustainability. The company is not a sole operator but rather operates under a group of international companies in Bali. It has a global presence, retailing in over 105 countries and owning 20 franchise stores under the brand name THAIKILA.
The brand is vertically integrated. That means everything they do is done in-house in their self-owned factory that spans over 50,000 square feet. Therefore, they have stringent quality control and flexibility in production. Their factory is divided into several units, including a creative loft for design, a factory floor for production, and a marketing agency and studio for campaigns.
Pros:
The in-house production allows for quick adaptations to market trends
A wide reach and access to global tastes
Sustainable production, including the use of recycled materials
Cons:
The in-house production could mean higher retail prices
May not be easily accessible for in-person shopping in many regions
May be somewhat niche
Prototype – All-Rounder Bali Local Swimwear Manufacturer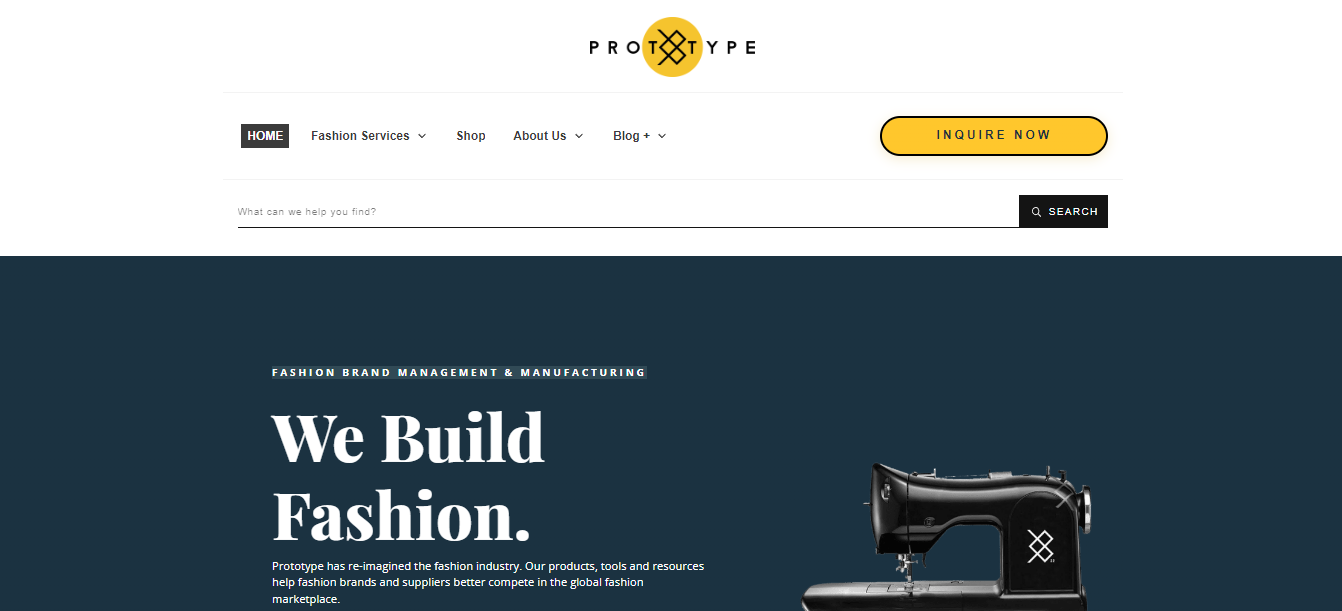 Prototype is a swimwear manufacturer that offers white-label, black-label, and private-label swimwear. This company is local to Bali, Indonesia. It follows ethical and sustainable practices. Prototype is especially known for its quality, even when working with small orders.
White labeling is the best way for online marketers to sell high-quality products without the hassle of designing them. Black labeling is for those who want completely custom swimwear, either of their own design or using one of Prototype's models. Private labeling allows for edits to white label designs to make them unique.
Prototype manufactures high-quality swimwear that withstands the test of time. They do it by adhering to the "Reduce" principle of the "3 R's" of sustainability. They aim to reduce waste by creating products that last but remain in style.
Pros:
Various swimwear types and optional customization
Strong focus on sustainability
Bali local
Cons:
May have higher costs due to ethical and sustainable practices
Swimwear Bali – Tax-Free Sustainable Swimwear Manufacturer in Bali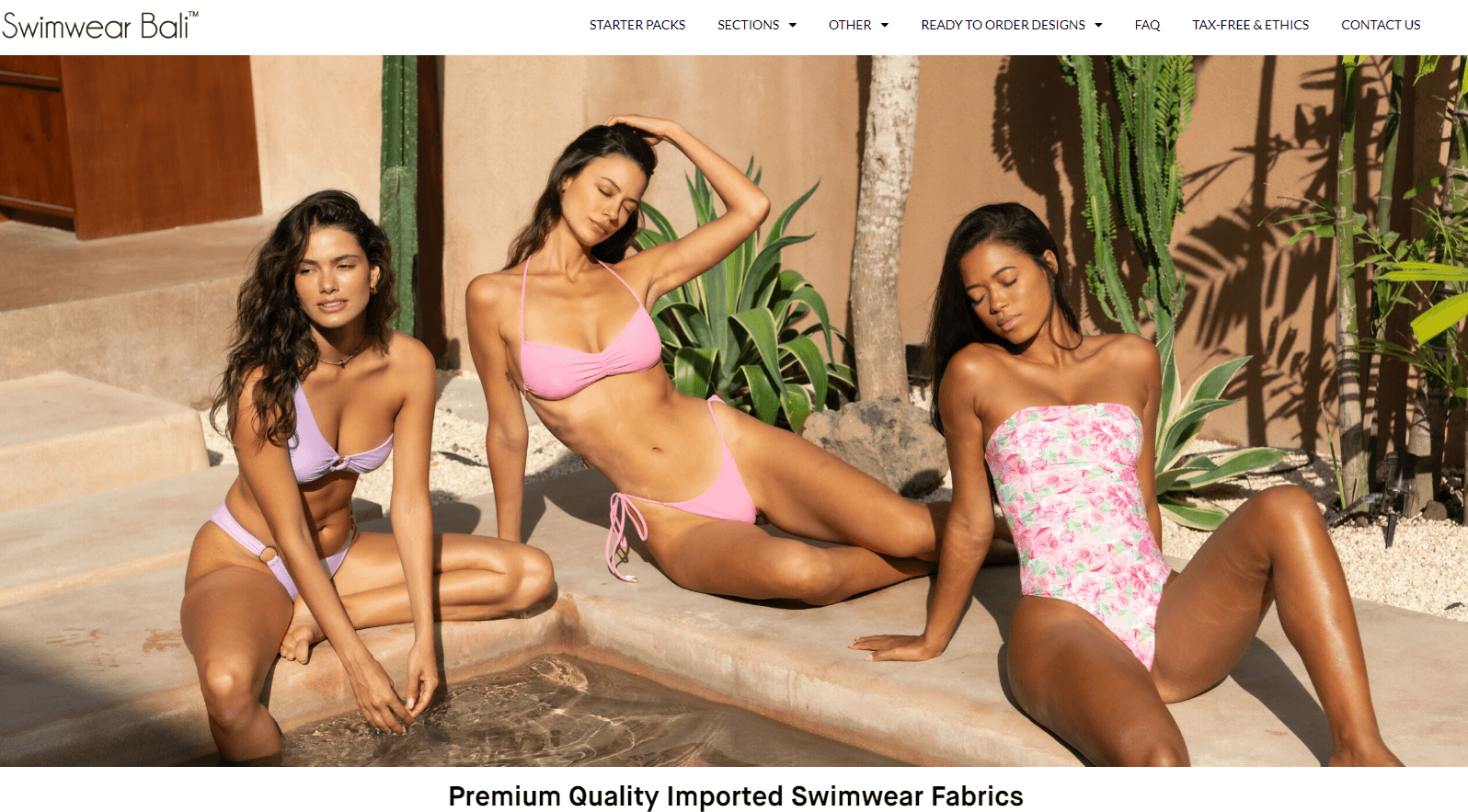 Swimwear Bali is a Bali swimwear manufacturer that's been around for over 30 years. The company is sustainable and ethical, using recycled fabrics from Carvico and ECONYL in Italy and REPREVE in the U.S., along with their own blends. By doing so, they claim to reduce their carbon footprint by an astonishing 80%.
Swimwear Bali states that it's the only bonded tax-free company in Bali. That way, they save 35% in production costs when importing fabrics and can keep their prices down.
The company uses recycled fabrics from salvaged fishing nets and plastic ocean waste. Their dyes are OEKO-Tex certified, and they pack orders in cassava starch bags that degrade in 24 hours when in contact with water. They also make monthly donations to Bali Street Mums, a charitable organization that shelters mothers and children who scavenge their living from garbage dumps.
Swimwear Bali makes custom and ready-to-order designs. They have a low minimum order quantity (MOQ) of 300 pieces per bulk order. Their prices are solid, especially considering they use imported recycled fabrics.
Pros:
Sustainable company
Competitive prices thanks to tax-free status
Cons:
MOQ of 300 pieces might be too much for smaller businesses
Love Anchor Canggu – Bali Swimwear Manufacturer That Also Produces Other Types of Garments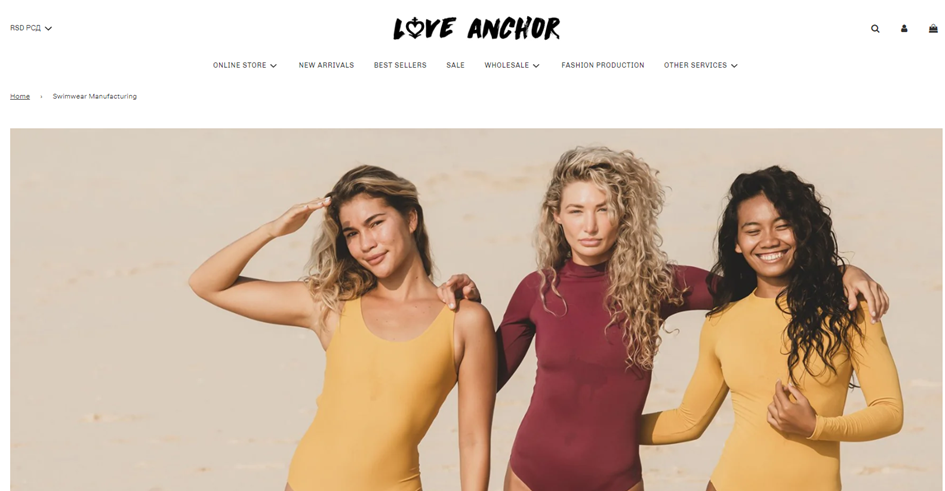 Love Anchor Canggu is a Bali swimwear and bikini manufacturing company with more than 30 years of collective experience in the industry. They claim to be one of Bali's most professional swimwear manufacturers. The company gives its clients extensive advice and insight into swimsuit manufacturing and the dos and don'ts of swimwear manufacturing in Bali.
They are open to inquiries through various channels, including WhatsApp. And they also dabble in other types of garments and white-label orders. This way, the company stays relevant for many different B2B clients.
Pros:
A wealth of expertise
Focus on ethical and sustainable fabrics
Cons:
Not much info on certificates on the website
For more specific queries or custom services, one has to reach out to them
Yogi & Boo – Bali's Duty-Free Fabric Importer for High-Quality Swimwear Manufacturing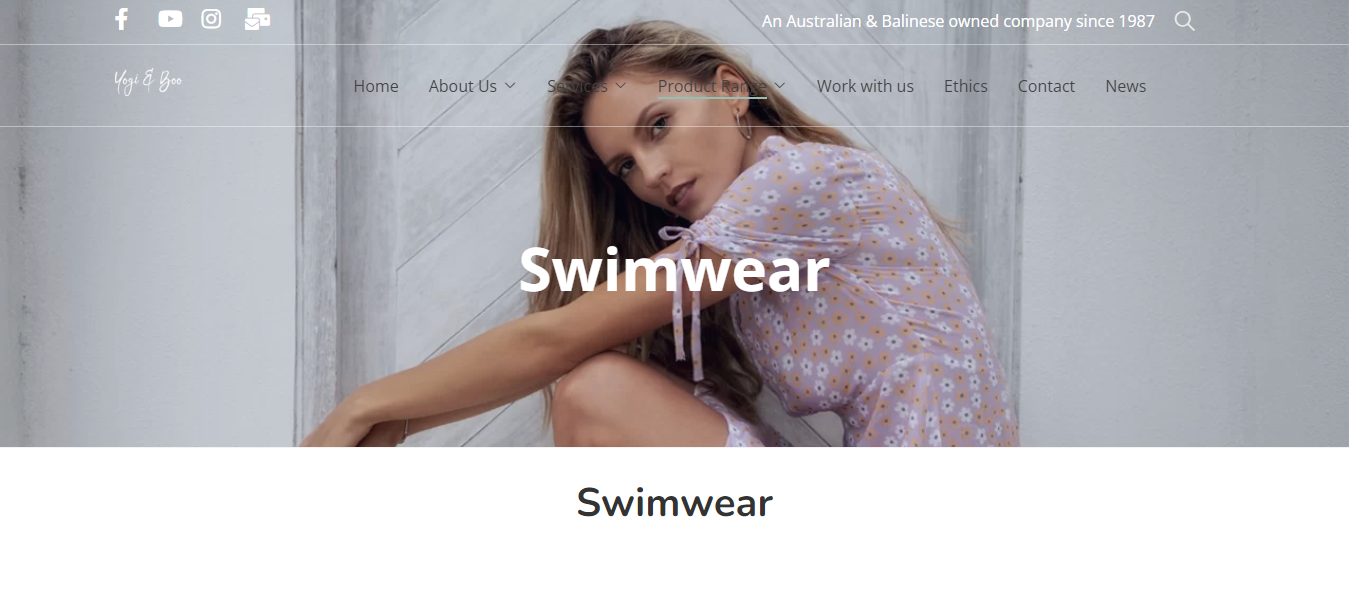 Yogi & Boo is one of only two factories in Bali with an importing and exporting license, a significant advantage for clients that want to source high-quality swimwear fabric. This license lets them import fabrics like Carvico and Jersey Lomellina from Italy or SPF 50+ fabric from the United States without import tax and customs duties.
The cost-saving is directly passed on to the clients. They also use locally sourced fabrics from suppliers like Bintang Harapan and Paramatex. Additionally, they import A-grade hardware from overseas manufacturers who supply high-end swimwear brands.
Pros:
Tax-free and duty-free fabric importation
A wide range of high quality fabrics
A-grade hardware sourcing
Cons:
Limited information on sustainability practices
The focus on high-quality materials and hardware could make their services more expensive
Bali Summer – Ethical Swimwear in the Heart of Indonesia That Has Flexible MOQ
Bali Summer is a swimwear manufacturer in Bali that leans into ethical and sustainable production. They have a range of products and services like swimwear, activewear, resortwear, and loungewear. Bali Summer is particularly flexible regarding MOQ, starting from 200 pieces or $3,000, whichever is greater. This can encourage startups and new businesses to dip their toes in the fashion industry.
One of their main goals is to assist and educate clients throughout every step of manufacturing. Bali Summer also embraces ethical business practices, including proper insurance and fair wages.
Pros:
Ethical and sustainable manufacturing
Flexible MOQ to accommodate startups
Comprehensive range of products
Strong focus on long-term client relationships
Cons:
Limited information about the materials used in products
MOQ might still be high for very small startups
Assessing the Manufacturer's Ethical Standards
For a long time, cost has repeatedly come up as an argument against fully sustainable and ethical production, be it in apparel or other manufacturing branches. However, it is becoming increasingly clear that more and more shoppers are willing to pay extra for clothes with a socially conscious background. Therefore, retailers have a strong incentive to assess the ethical standards of a swimwear manufacturer before entering into a partnership with them.
If you have the chance, visit the factory to see the working conditions and environmental quality first-hand.
Find out if they have certifications like Fair Trade, ISO 9001, or WRAP. The manufacturer may state it on their website, or you may need to ask about it.
Manufacturers should be willing to disclose their supply chain and keep no secrets regarding their sources.
Understanding MOQ (Minimum Order Quantity)
MOQ can impact your inventory costs far more than you might imagine. And if your business is small, the effect of this will be vast, essentially reverse-scaling the growth of your store. A high MOQ may force you to overstock, while a low MOQ might not be a good value.
Try to negotiate the MOQ terms if the supplier seems open.
Begin with a smaller (pilot) batch to test the market and expand slowly.
Compare MOQs of different manufacturers to find the one that's most reasonable for you.
Retailers Need Trustworthy Manufacturers
When you sell swimwear, you are giving customers something fashionable and light, but that's unimaginable without a degree of durability. So, you need manufacturers that provide you with variety, scalability, freedom, and sustainability. Appareify gets this.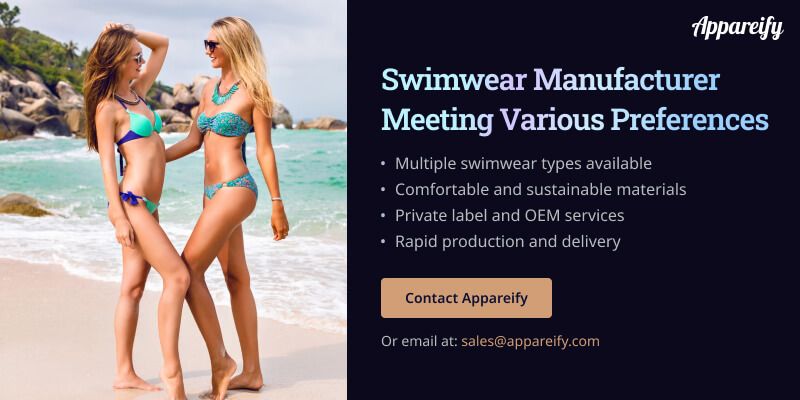 Swimwear manufacturers in Bali could be a hit-or-miss at times. Quality, sustainability, and scalability aren't always the easiest to come by, especially when combined. Appareify is different. We believe in reliable quality swimwear, sourcing the best fabrics, and producing swimwear ethically and sustainably. As a result, Appareify's swimwear looks good and stands the test of time.
There is a fine balance to strike when creating a swimsuit that lasts in real scenarios. We put our hearts and minds into producing swimwear that hits this sweet spot effortlessly. If you choose us, you'll get to see for yourself that we can deliver excellent results in express time.