The fashion industry is one of the largest polluters in the world. It may come as a surprise, but it's responsible for more than 5% of global carbon emissions. However, buyers, increasingly more aware of the environmental impact of their choices, demand more sustainable and eco-friendly clothing. And that's especially true when it comes to swimwear.
If you plan to start or take your swimwear business to a higher level, sustainability is the way to go. Here is a list of the ten best eco-friendly and sustainable swimwear manufacturers in the apparel industry that can support eco-conscious retailers:
Appareify – Premier Eco-Friendly Swimwear Manufacturer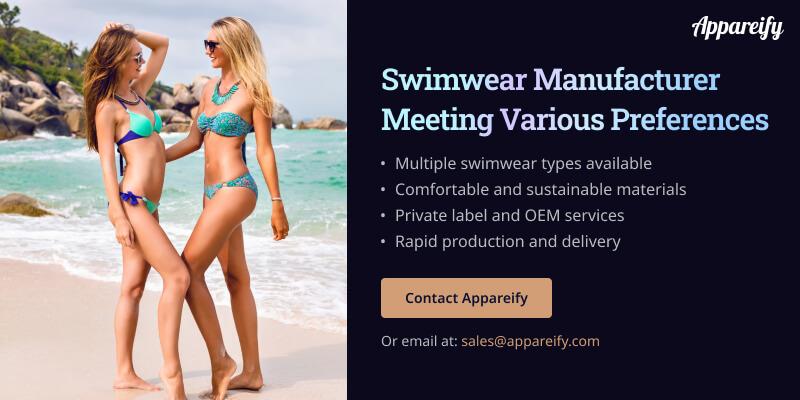 Appareify stands at the forefront of the clothing manufacturing industry, leading the path in eco-conscious swimwear production. Offering an extensive range of swimwear designs for women, men, and children, Appareify's detailed customization embraces diversity in style and size, including plus sizes.
Besides being well-known for their standard swimwear, the company brilliantly merges aesthetics with environmental mindfulness in other specific products such as bikinis, matching couple swimsuits, and long-sleeve models. An exemplary attention to detail is clear in the choice of materials, where sustainability and ethically-sourced fabrics play a paramount role, underscoring Appareify's commitment to Earth-friendly principles.
Appareify excels in turning around concept-to-product quickly, marking its territory as a leader in eco-friendly swimwear manufacturing while ensuring affordability.
Pros:
High-quality, custom-tailored designs
Emphasis on sustainable practices
Premium manufacturing process
Competitive pricing
Quick turnaround time, within 3 weeks
Diverse garment offerings for all genders and ages
Cons:
Visiting the factories might pose challenges due to their overseas location
AEL Apparel – Top-Rated Custom Sustainable Swimwear Manufacturer in China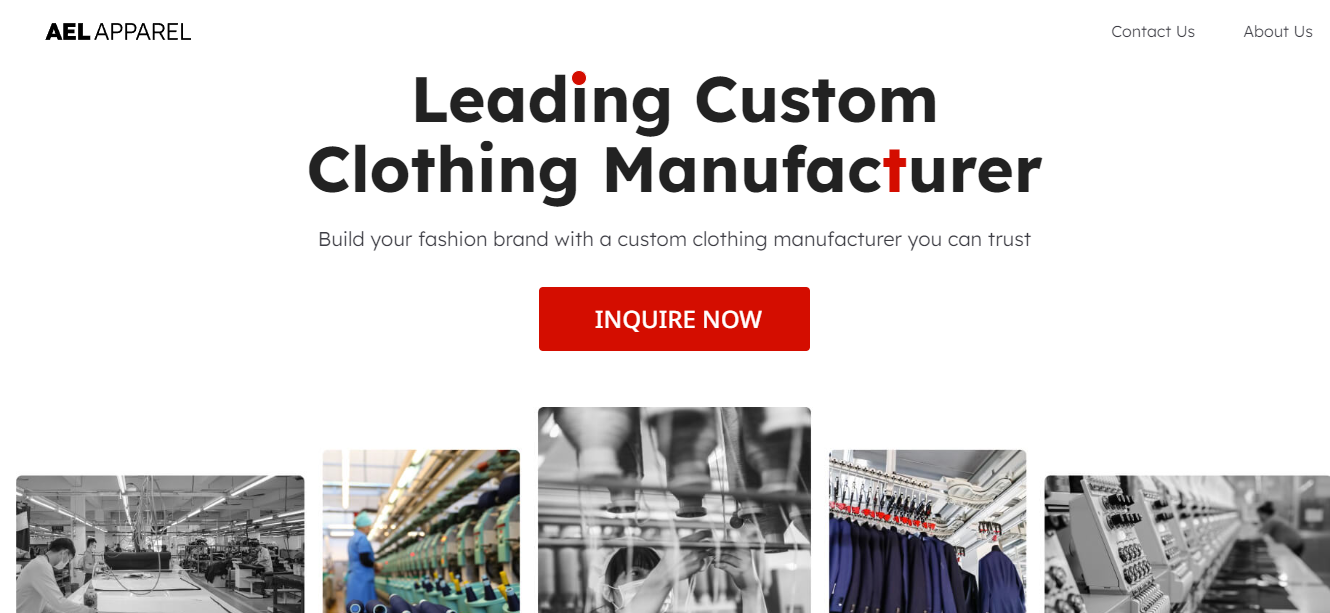 AEL Apparel is a dedicated clothing manufacturer that conspicuously emphasizes eco-friendliness and sustainability. With a broad range of clothing, including swimwear, the bespoke designs focus on versatility for both male and female styles and sizes.
Each design and material choice is crafted with customers' desires in mind, ensuring customization possibilities with both white labels or personal ones. AEL Apparel echoes its sustainability commitment through a dedicated waste reduction protocol and ethical sourcing of all materials.
AEL Apparel shines in swift order processing and delivery, boasting a turnaround time as early as within the first two weeks. Making it a leading eco-conscious custom apparel maker in today's market.
Pros:
Wide array of custom eco-friendly designs
Emphasizes sustainable products
Efficient 6-step process
Cons:
Inspecting China-based factories in person may pose challenges
Bali Swim – Foremost Manufacturer of Eco-conscious Swimwear in Bali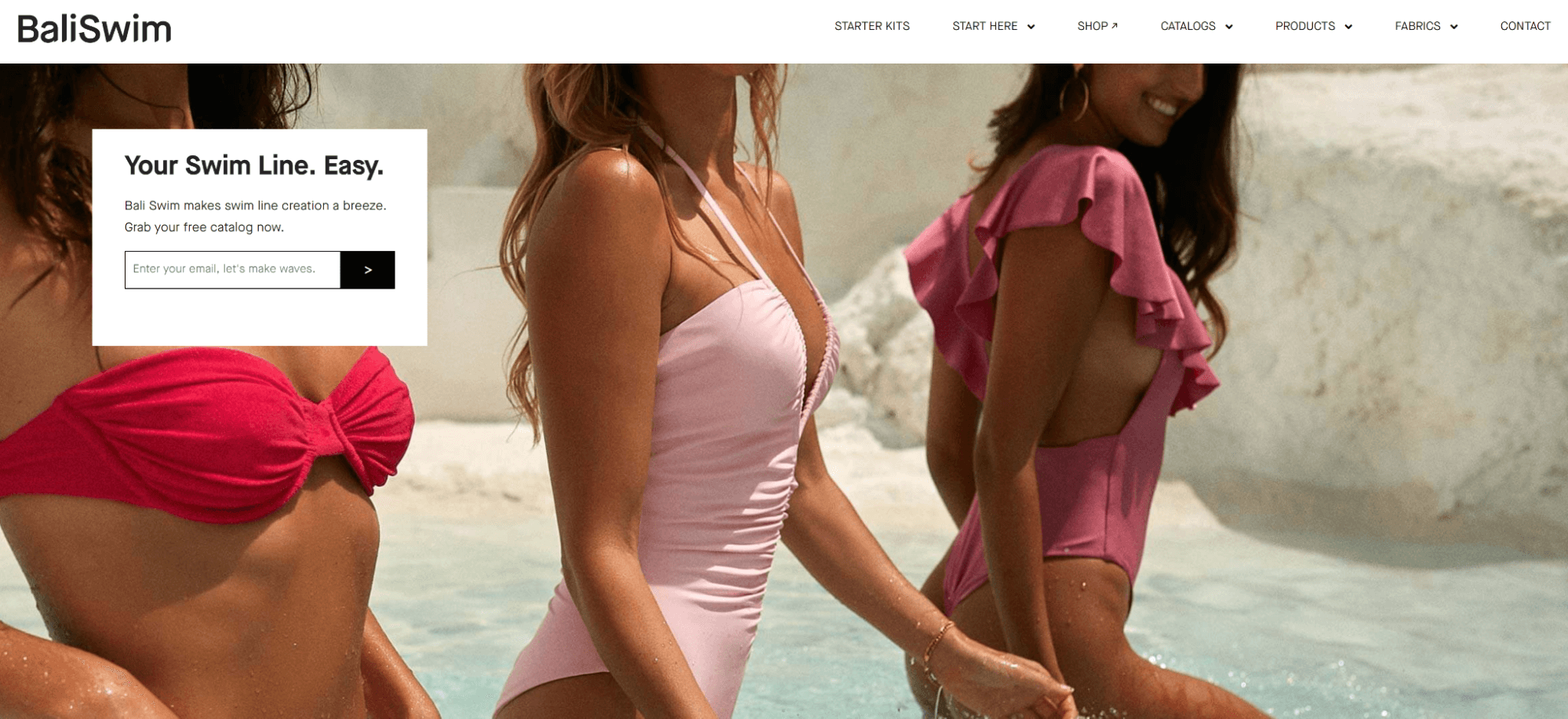 Located in Bali, Indonesia, Bali Swim has successfully carved out a distinct place for itself as an environmentally responsible swimwear manufacturer. The company champions sustainability and encourages low minimum order quantities (MOQs), setting itself apart in the industry.
Bali Swim operates from one of Bali's leading solar-powered factories, demonstrating its commitment to the environment. This eco-conscious perspective extends to its reliance on imported, recycled materials such as Carvico, ECONYL, and REPREVE.
The company goes beyond manufacturing and displays true corporate social responsibility. For every bikini it produces, Bali Swim makes a 10-cent donation to support ocean conservation efforts and the enhancement of business education for local women.
Though women's swimwear is its main focus, Bali Swim also offers a range of eco-friendly products like beach bags, kaftans, and cover-ups. Impressively, Bali Swim ensures product accessibility through its remarkably low MOQs, starting at just 100 pieces for bulk orders.
Adding to its operational efficiency, the company features a swift sample turnaround time of three days. It also boasts a unique Ready Design Collection, showcasing pre-designed, customized pieces that further set it apart in the market.
Pros:
Strong commitment to environmental sustainability and community development
Exceptionally low MOQs
Cons:
Product offerings mainly centered around women's swimwear and related accessories
Hongyu Apparel – Crafting Swimwear With a Conscience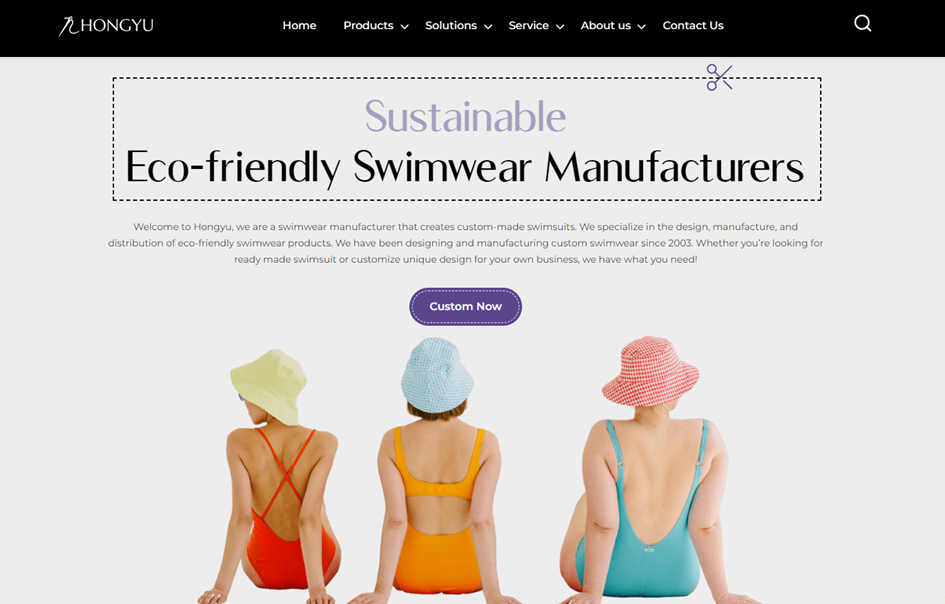 Hongyu Apparel is another one of the ethical swimwear brands with an explicitly eco-friendly approach. They use sustainable materials like recycled polyester and nylon to create swimwear that's stylish and kind to the planet and your body.
Their production process minimizes waste, ensuring that every piece is crafted with care and precision. Therefore, small mistakes don't become big problems once they reach the soil and oceans. Beyond just swimwear, Hongyu Apparel offers a range of clothing, all echoing the same sustainable ethos. They're also transparent and share details about their sourcing and manufacturing practices, so customers know they're making a responsible choice.
Pros:
Uses recycled materials for swimwear and other clothing pieces
Transparent about sourcing and manufacturing
Offers a diverse range of sustainable clothing
Cons:
Limited information on partnerships or collaborations with environmental organizations
Bellakini Swimwear Factory - A Sustainable Swimwear Manufacturer in Bali Championing A Personal Touch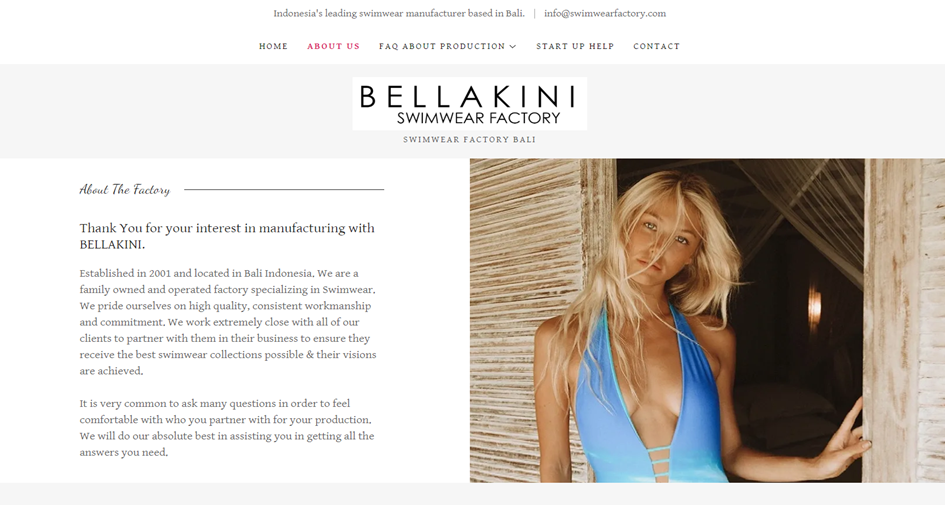 Present since 2001, Bellakini Swimwear Factory isn't just an ordinary swimwear manufacturing hub. It's a family-grown, conscious swimwear business situated in the heart of Bali, Indonesia. This facility produces top-tier swimwear, placing a high value on consistent craftsmanship and sustainable practices, showcasing their commitment to the environment. They believe in fostering personal relationships with clients, collaborating closely to tailor-make swimwear that caters to their exact specifications.
Bellakini Swimwear Factory is a place where communication grows naturally. They extend warm welcome to potential client inquiries, aiming to make them feel reassured and ready before embarking on a mutually beneficial production alliance. Tailoring their services to individual needs, they're able to offer custom-based quotations depending on styles and budget preferences.
Pros:
Boasts years of experience in the eco-friendly swimwear sector, aligning production methods with sustainable practices.
Exceptionally customizable
Humanistic, hands-on approach to sustainable manufacturing
Cons:
Lacks extensive detail regarding ethical and sustainable practices on the website
Swimwear Manufacturers – Premier UK Eco-friendly Swimwear Manufacturer for Ready-Design Private Labeling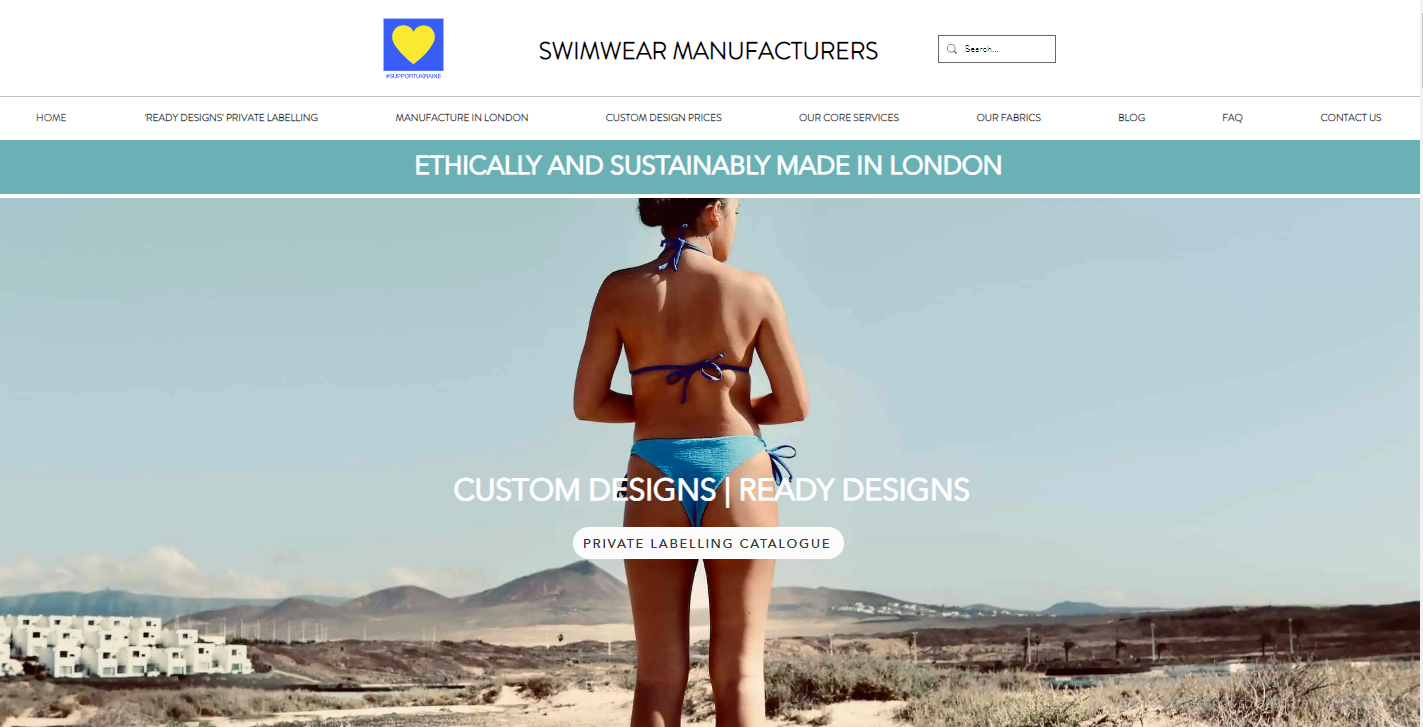 As indicated by its brand name, Swimwear Manufacturers prides itself in manufacturing high-quality swimwear. However, the company has diversified its services and now offers ready-design private labeling. This recent addition allows clients to establish their own swimwear line, albeit with a caveat - the design selection is limited.
In more straightforward terms, clients have the freedom to pick styles from a predefined catalog and subsequently brand them as their unique products. This process permits clients to enjoy a fusion of wholesale and private-label swimwear benefits, without needing complete control over the design.
Perks of partnering with Swimwear Manufacturers include their dedication towards eco-friendly manufacturing practices and their affordability. The company also extends its services globally, ensuring international shipping.
Nevertheless, clients should be mindful of a stipulation tied to ordering - a relatively higher minimum order quantity is required.
Pros:
Eco-friendly and sustainable practices
More affordable than the competition
International shipping
Cons:
Relatively high MOQs are less friendly to startups
Movement MFG - Sustainable Approach for Perfectly-Designed, Small Batch Swimwear Manufacturing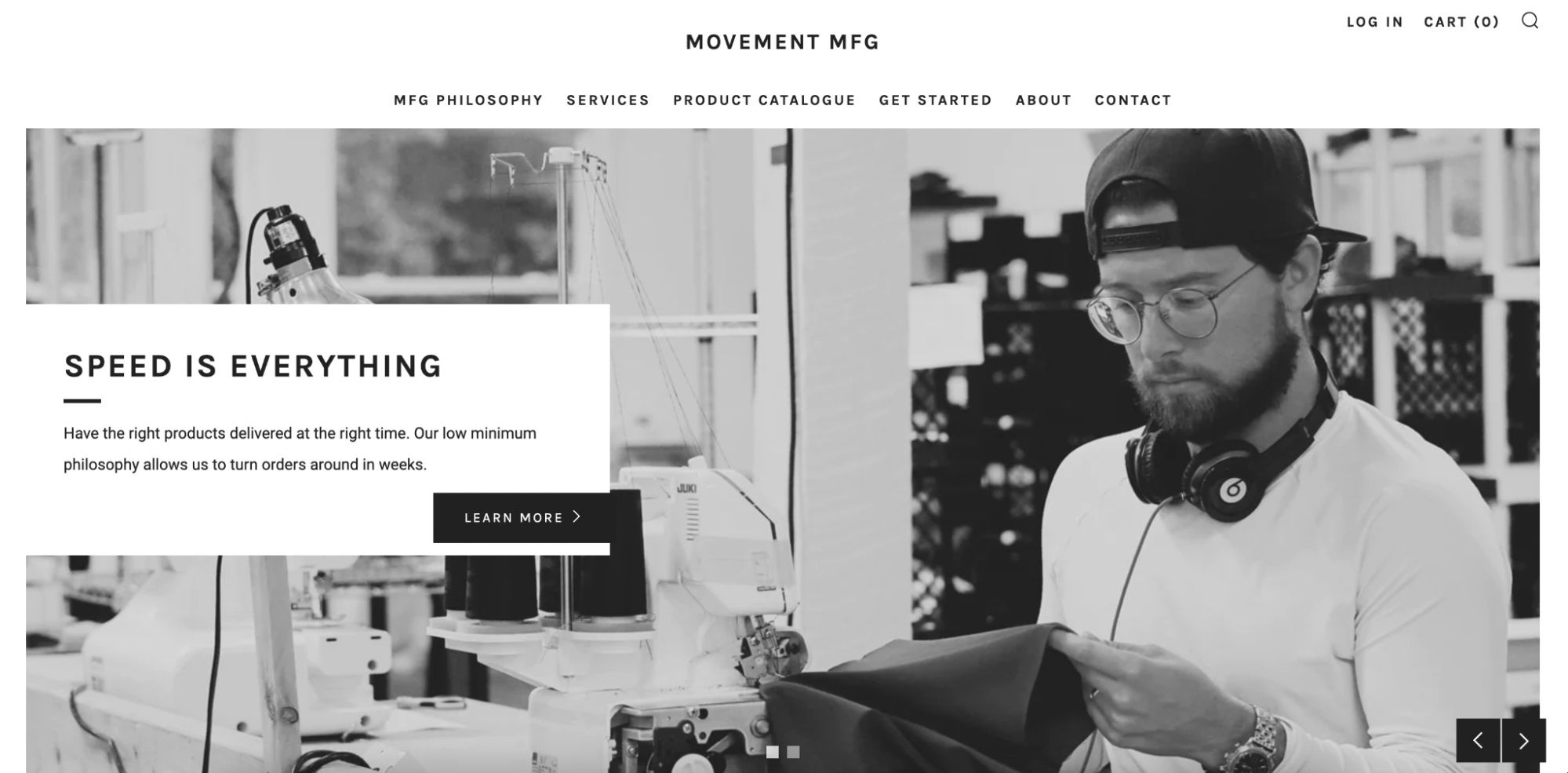 Choose Movement MFG as your reliable partner for responsibly and sustainably creating bespoke swimwear collections. With an impressive track record in cut and sew manufacturing, they cater to small minimum order quantities and promise prompt production turnaround times. Prioritizing long-term client relationships, Movement MFG is an excellent match for emerging fashion brands.
Beyond their primary specialization in swimwear, they have ventured into activewear production. Therefore, they offer an expanded platform for constructing a diverse and custom-designed cut and sew clothing line in minimal time.
Pros
Expertise in swimwear design, ensuring high-quality production
Swift turnaround times
Accommodating low quantity orders for personalized service
Cons
Limited style diversification due to the brand's focused speciality in swimwear production, potentially unable to meet broader design requirements
Prototype - Bali-based Swimwear Manufacturer with a Sustainable, All-round Approach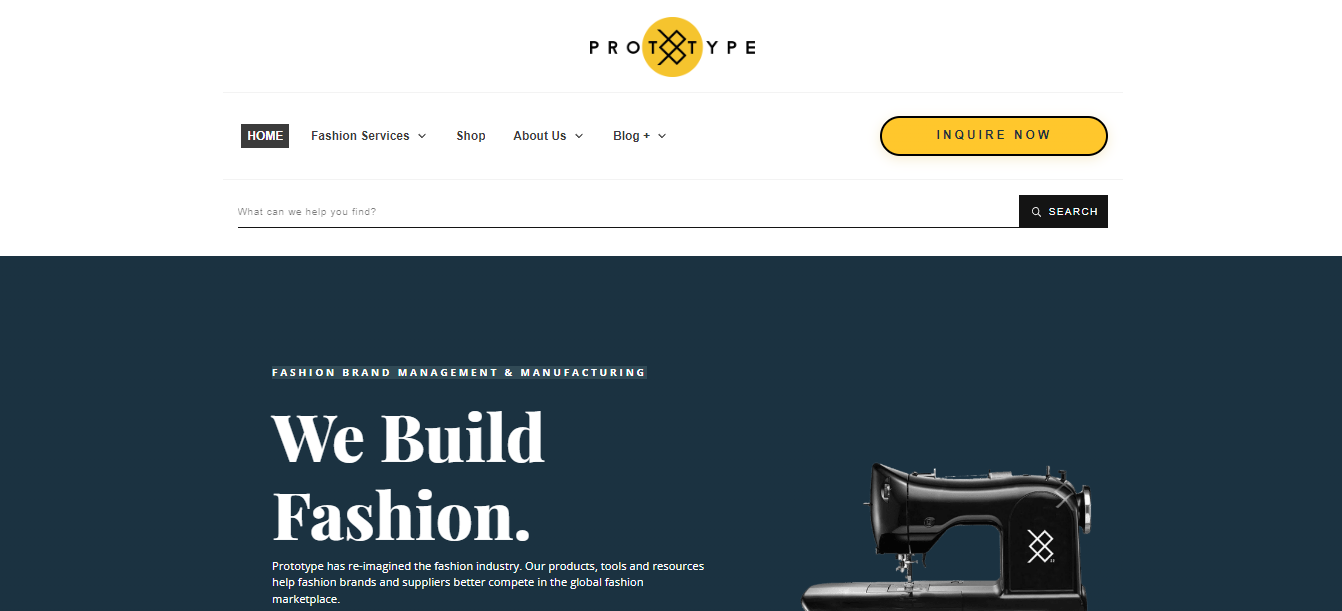 Prototype is a Bali swimwear manufacturer offering a myriad of services, from white-label and black-label to private-label swimwear. They adhere to ethical and sustainable practices, showcasing a commitment towards local and global sustainability. Known for maintaining quality even with small orders, Prototype offers an array of customizable swimwear options for every need.
Their hallmark is a strong adherence to the 'Reduce' aspect of the '3 R's' of environmental sustainability. Prototype aims to curb waste by producing high-quality, enduring swimwear that remains on-trend.
Pros:
Adaptable swimwear options with customizable features
Strong sustainability ethos
Cons:
Possible higher costs due to adherence to ethical and sustainable manufacturing practices
Steve Apparel - A Celebrator of Diversity in the U.S. Swimwear Manufacturing Industry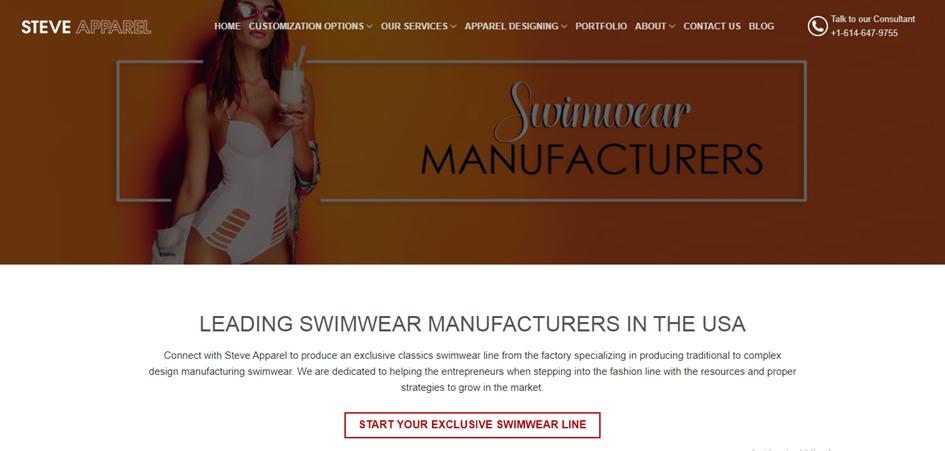 Emerging as a dynamic game-changer in the U.S. swimwear manufacturing market, Steve Apparel, though relatively new, has quickly established a strong reputation thanks to the unrivaled quality it delivers to businesses across a spectrum of sizes. Their manufacturing prowess, housed at their Pakistan-based facility, spans a diverse range of swimwear styles, be it traditional conservative swimsuits or intricate, contemporary bikinis.
Their unique selling proposition lies in their solid commitment to inclusivity. They tirelessly work towards fabricating swimwear that celebrates all body types and ages, ensuring that whether on a beach in Miami or by a pool in a secluded resort, everyone can find a perfectly fitting swimsuit.
Pros:
Utilizes high-quality fabrics
Accommodates relatively low MOQs
Offers private labeling options
Cons:
Limited customization options
Distant factory location presents challenges for in-person quality inspections
Arcus Apparel Group - The Go-to for Small Batch Swimwear Production in the U.S.
Arcus Apparel Group, despite being equipped to serve a vast range of business sizes, specializes in catering to the niche of small-batch manufacturers. The definitive advantage offered by them is their extremely reasonable minimum order quantity of merely 50 pieces. This operator-friendly MOQ ensures meticulous focus on quality, precision in craftsmanship, and speedy turnaround times, facilitating swift journey of your designs from the workshop to the market.
In essence, each order, however small, receives the same degree of high attention to detail and commitment, ensuring that even the smallest of orders doesn't miss out on quality or efficiency.
Pros:
Vast selection of fabric inventory
Wide variety of swimsuit and bikini styles
Seamless ordering process
Cons:
Not suitable for large scale bulk production
Certifications in Sustainable Manufacturing
Certifications can reliably indicate how well a company does in ethical and eco-friendly practices. Certifications like GOTS (Global Organic Textile Standard), Fair Trade, and OEKO-TEX are globally recognized. Manufacturers with these certificates must meet certain environmental and social standards. For example, certified companies can reduce water usage by up to 50% and energy consumption by 40%.
Consumer Choices and Sustainable Manufacturing
No matter how eco-friendly and socially conscious a company decides to be, it has little power without the backing of consumer demand. It is a powerful driver for sustainability in the fashion industry. The more people opt for eco-friendly products, the more manufacturers are compelled to adopt more sustainable means of production. This is where the emphasis on giving up fast fashion comes into play.
Being fashionable and sustainable are not mutually exclusive. If you're a retailer in the textile industry interested in sustainable swimwear brands, you may notice that your customers are also realizing this fact. This idea is the backbone of every sustainable manufacturer, and at Appareify, they take it very seriously. By striking a partnership with Appareify, you can see exactly what that looks like.