Designing a custom hoodie is a useful and creative process. And a great design you create allows your buyers to express their personal style and make a statement with your clothing.
Whether you're looking to create hoodie designs to sell for seasons, special events, or as one-offs, following a few simple steps can bring your vision to life.
In this step-by-step guide, we'll take you through designing a custom hoodie, from choosing the right fabric and style, selecting colors and adding a personal touch for buyers, to preparing your hoodie or sweatshirt design for production and finding the right clothing manufacturer.
Let's start with how to design a hoodie that is ideal for your customers!
Step 1: Plan Your Custom Hoodie Design
The first step in designing a hoodie is to determine its purpose. Is it for customers to use privately or for specific occasions? This will help you decide on the overall look and feel.
Next, choose a color scheme that matches the desired aesthetic of your brand and customers. Also consider the mood and tone you want and whether you'll require a bold or subtle color palette.
You may also want to incorporate your brand's colors or logo. Once you have a clear idea, you can select the fabrics you'll need for nice hoodie designs.
Step 2: Choose the Material for Your Hoodies
When choosing suitable materials, there are a variety of fabrics and thicknesses, depending on the level of warmth and durability you're looking for.
Cotton and polyester blends are popular for hoodie designs, as they are soft, comfortable, and easy to care for. Fleece is another common material that provides added warmth and insulation.
Material thickness can impact the weight and comfort of the hoodie. Lighter fabrics are great for layering, while thicker materials are better for colder climates or outdoor activities.
Once you have chosen your material, you can look at the style.
Step 3: Create the Design Elements for Your Hoodies
Now that you have a clear idea of the purpose, color scheme, and materials for your custom designs for hoodies or sweatshirts, it's time to develop the design elements. This step is where you can really show off your brand's creativity.
Start by creating a logo or graphic that represents the purpose of your hoodie. For a personalized hoodie, you could choose an image or pattern that reflects the interests and preferences of your target market.
Next, consider the text and font you want to include in your design. This could be a slogan, tagline, or other messaging that complements your graphic or logo. Choose a font that is easy to read and complements the overall style of your design.
Finally, determine the placement of your design elements. The front and back of the hoodie are common areas to include graphics and text. But you could also consider incorporating them on the sleeves, hood, or pockets. Play around with different placement options to see what looks best.
Once you have all of your design elements in place, it's time to move on to the preparation process. This is where you'll make important final adjustments.
Step 4: Prepare Your Hoodie Design for Production
Before sending your custom hoodie design into production, you'll need to prepare it correctly to ensure that the final product meets your expectations. This step involves converting your design into the correct file format and consulting with a professional designer if you need to.
If you have a graphic or logo, make sure the image file is in a high-resolution format, such as vector or PNG, that can be easily scaled to the size you need. If you include text, ensure it's legible and fits within the designated design space.
If you need more confidence in your design skills, consider consulting a professional designer to ensure your design is print-ready. They can help with color adjustments, font selection, and overall layout to create a cohesive and professional-looking design.
Once your design is finalized, it's time to choose a reputable custom clothing manufacturer to produce your hoodies. Look for a company with experience in hoodie manufacturing and a track record of producing high-quality products.
If you're searching for a reliable B2B hoodie manufacturer, we recommend you take a look at Appareify. We offer a range of customization options and use high-quality materials. And you can expect competitive prices and fast turnaround times.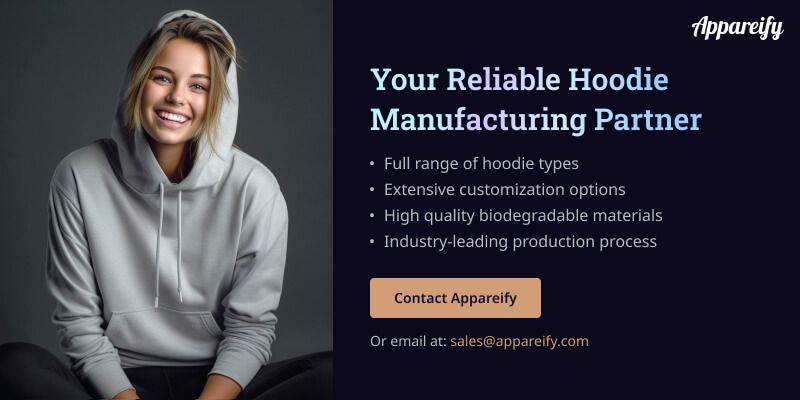 When your hoodie design is finalized and everything is in place, you can submit your design.
Step 5: Submit Your Hoodie/Sweatshirt Design to the Manufacturer and Finalize the Order
Before submitting your design, double-check that all files are in the correct format and that you've provided all necessary specifications, such as color, size, and placement of design elements.
Some manufacturers offer a digital mockup of your hoodie before production begins so that you can review and approve the final design before printing.
Once you've approved the design, it's time to finalize the order. This will involve confirming the quantity, delivery date, and payment method. Be sure to ask any questions and clarify any details to ensure no surprises down the line.
After finalizing the order, wait for your custom hoodies to be produced and delivered. Depending on the manufacturer and quantity ordered, production times can vary.
When you receive your custom hoodies, inspect them carefully to ensure they meet your expectations. Check for any defects or errors in the printing, and ensure that the size and color are correct. If there are any issues, contact the manufacturer as soon as possible to resolve them.
Finally, enjoy selling your custom hoodies and satisfying your customers!
Tips for a Successful Custom Hoodie Design
Here are some tips to keep in mind for successful hoodie or sweatshirt designs:
Know your audience and purpose:

Consider who will be wearing your hoodies with designs and what message you want to convey. This will help ensure that your hoodie resonates with its intended audience.
Keep it focused:

Less is often more with custom hoodie or sweatshirt designs. Keep your design succinct and focused on the main message or image. This will make your hoodie more visually appealing.
Choose high-quality materials:

The quality of your hoodie is just as important as the design. Opt for high-quality fabrics. Additionally, consider using high-quality printing methods to ensure your design looks crisp and vibrant.

Consider the placement of design elements:

When designing your hoodie, carefully consider the placement of your design elements. Make sure that your graphics and text are easy to read. This will make your hoodie more attractive.

Use color effectively:

Consider using color to complement your design. Be careful not to use too many colors, which can make your design look cluttered and confusing.
By keeping these tips in mind, you can create an effective custom hoodie design.
Conclusion
Making a custom hoodie is a rewarding process when done well, as creating hoodies with excellent designs is a great way to appeal to customers. By following the steps outlined in this guide and keeping some key tips in mind, you can create a high-quality custom hoodie that is both stylish and functional for your customers.