Hoodies are a wardrobe staple for many. And if you want to create your own line of hoodies or sweatshirts, you need a reliable custom clothing manufacturer to produce the hoodie personalized for your business. In this article, we've compiled a list of the 10 best hoodie manufacturers in the world, each offering affordable and reasonable options to suit your target audience.
1. Appareify - Best Hoodie Manufacturer Overall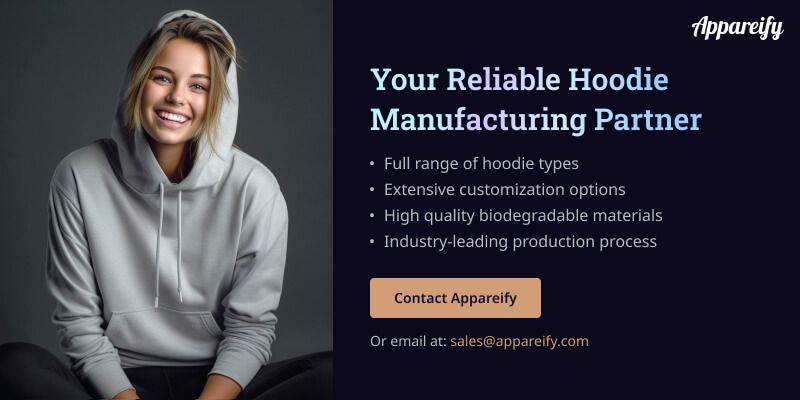 Appareify is the best overall hoodie manufacturer among all the hoodie vendors listed. We have a wide range of hoodies and produce made-to-measure hoodies using high-quality fabrics. Our excellent customer service and prompt delivery place us ahead of our competition in every aspect of manufacturing hoodies.
Here at Appareify, we offer a comprehensive selection of hoodies that capture the current trends in the hoodie industry. A list of our key products is given below, and more can be found on our website. We also give you peace of mind by providing businesses with prototype designs to examine before agreeing to production.
Key Products:
Cut And Sew Hoodies
Pullover Hoodies
Private Label Hoodies
Velvet Hoodies
Mesh Hoodies
Oversized Hoodies
Embossed Hoodies
Sports Hoodies
Grid Hoodies
Pros:
Extensive customization options
Fast and secure delivery
Competitive pricing
Cons:
Custom hoodie production may have a slightly longer lead time
Check out our hoodie manufacturing services >>
2. AEL Apparel - Affordable Custom Hoodie Manufacturer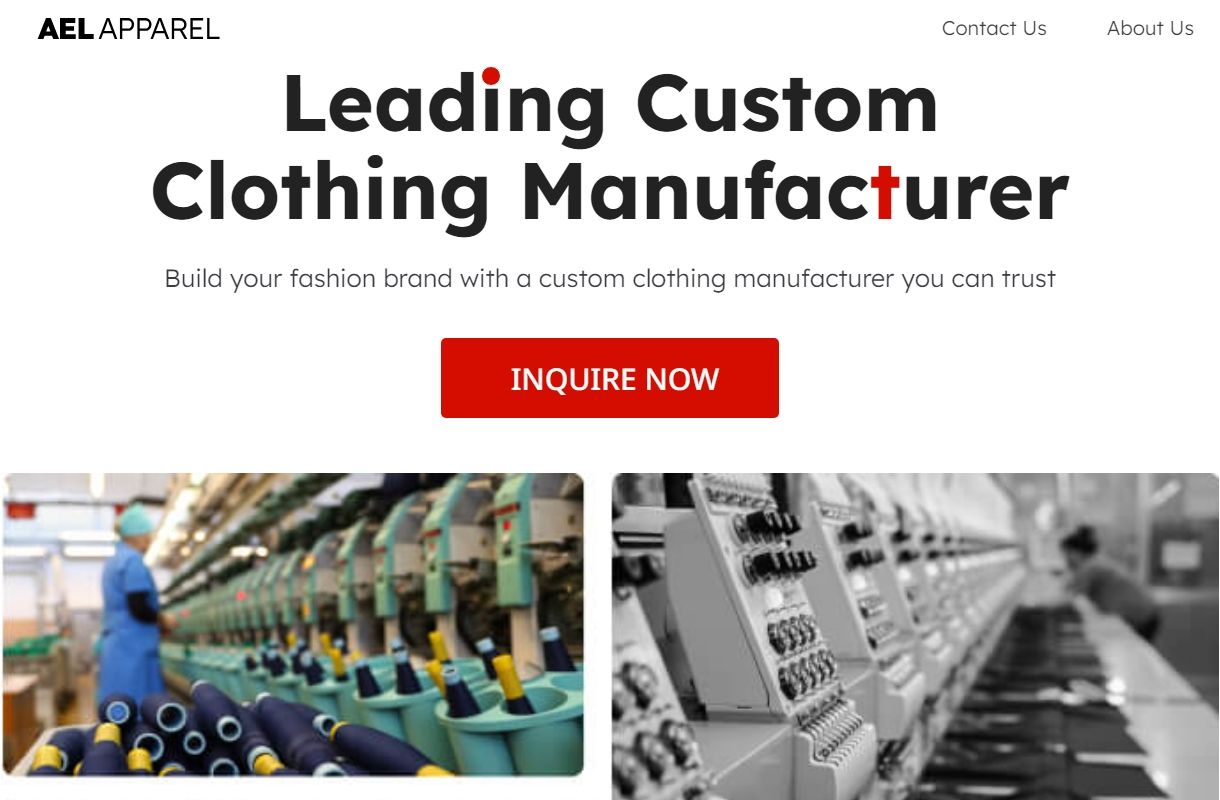 AEL Apparel offers expert custom clothing manufacturing process, which is often valuable to businesses looking for makers who bring their custom designs to life. As one of the leading custom hoodie suppliers in China, they offer a wide range of competitively priced hoodies that can be suitable for businesses' needs.
They also sell to over 50 countries and can produce about 400,000 pieces monthly. This shows their capacity to satisfy clients consistently in various markets. AEL Apparel also has a decent quality control system as part of its manufacturing process, which gives buyers confidence in their work.
Key Products:
Custom Hoodies
T-shirts
Swimwear
Jeans
Pros:
Affordable prices
Large production capacity
Wide range of styles available
Cons:
Factory inspection may be hard for businesses outside China
Visit the AEL Apparel website to know more about their hoodies >>
3. Hoodie Manufacturers - Leading Wholesale Hoodie Manufacturer in the US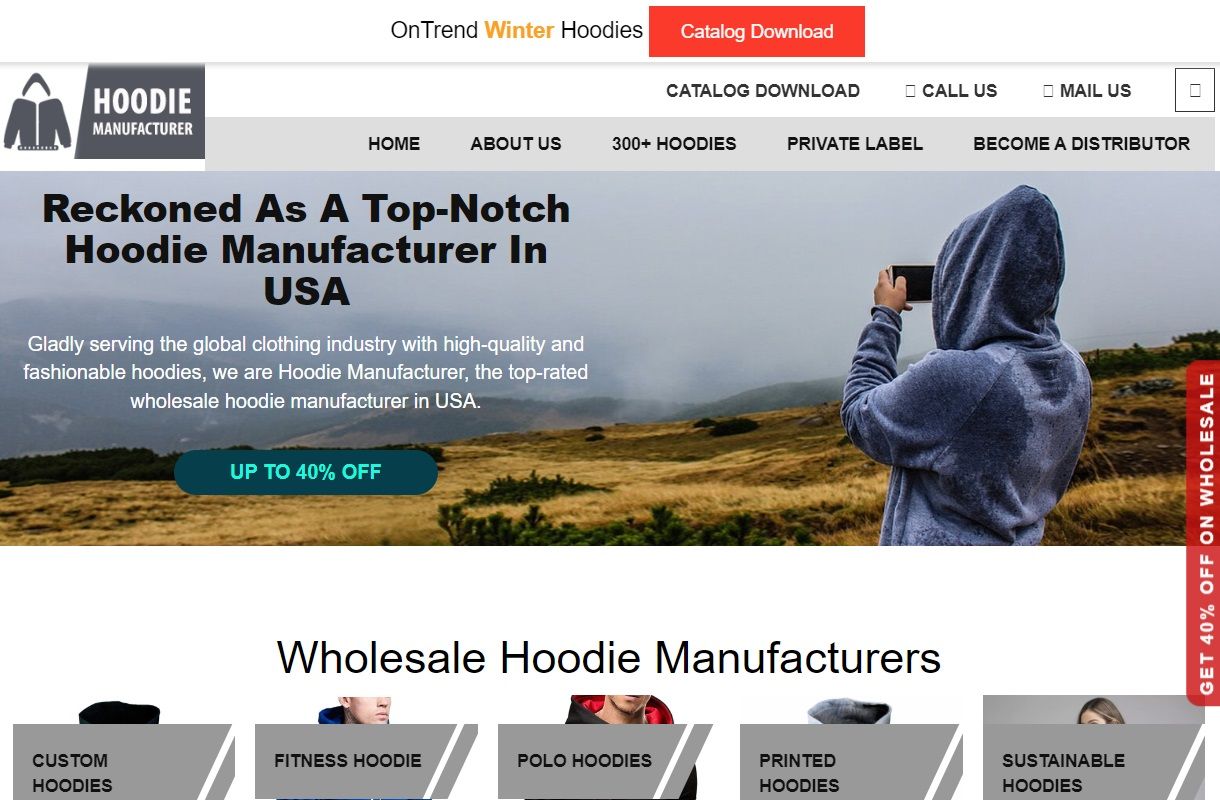 Hoodie Manufacturers is a hoodie supplier based in the USA, serving the global market with a selection of hoodie designs. Their hoodie factory handles a range of innovative designs, including those of the Mexican Baja variety. This makes them one of the best hoodie companies for this niche.
With more than 300 hoodies available, they will have your business covered if you're aiming for variety. If you want something more specific, they have the ability to design custom hoodies and manufacture them based on your needs.
Key Products:
Mexican Baja Hoodies
Zip Up Hoodies
Polo Hoodies
Sustainable Hoodies
Printed Hoodies
Fitness Hoodies
Custom Hoodies
Pros:
Good discounts available
Unique hoodie collections
Ideal for fitness enthusiasts
Cons:
Limited information about their production process
Unclear design submission process
Visit their website to explore their hoodie collection >>
4. SDF Clothing - White Label Hoodie Manufacturer in Bangladesh
SDF Clothing is based in Bangladesh and is a hoodie factory claiming to serve clients like Adidas, Nike, and Levi. They produce an impressive selection of hard-to-find hoodies, such as those in the blanket and bearskin styles. These hoodies serve niche audiences that businesses can target.
SDF Clothing has manufactured hoodies for over 15 years, demonstrating its credibility. The company can produce 300 hoodies in 3-4 weeks, including using the client's logo, label, and tag on the hoodies. This provides great value for money especially when you're looking for a reliable white label hoodie manufacturer.
Key Products:
Oversized Hoodies
Bearskin Hoodies
Graphic Hoodies
Blanket Hoodies
Comfy Hoodies
Zip Up Hoodies
Pros:
Fast white labeling services
Uncommon hoodie types available
Notable clients served
Cons:
A limited selection of hoodies
Find out more about their hoodie range >>
5. Raja Sri Exports - Large pullover hoodie manufacturer in India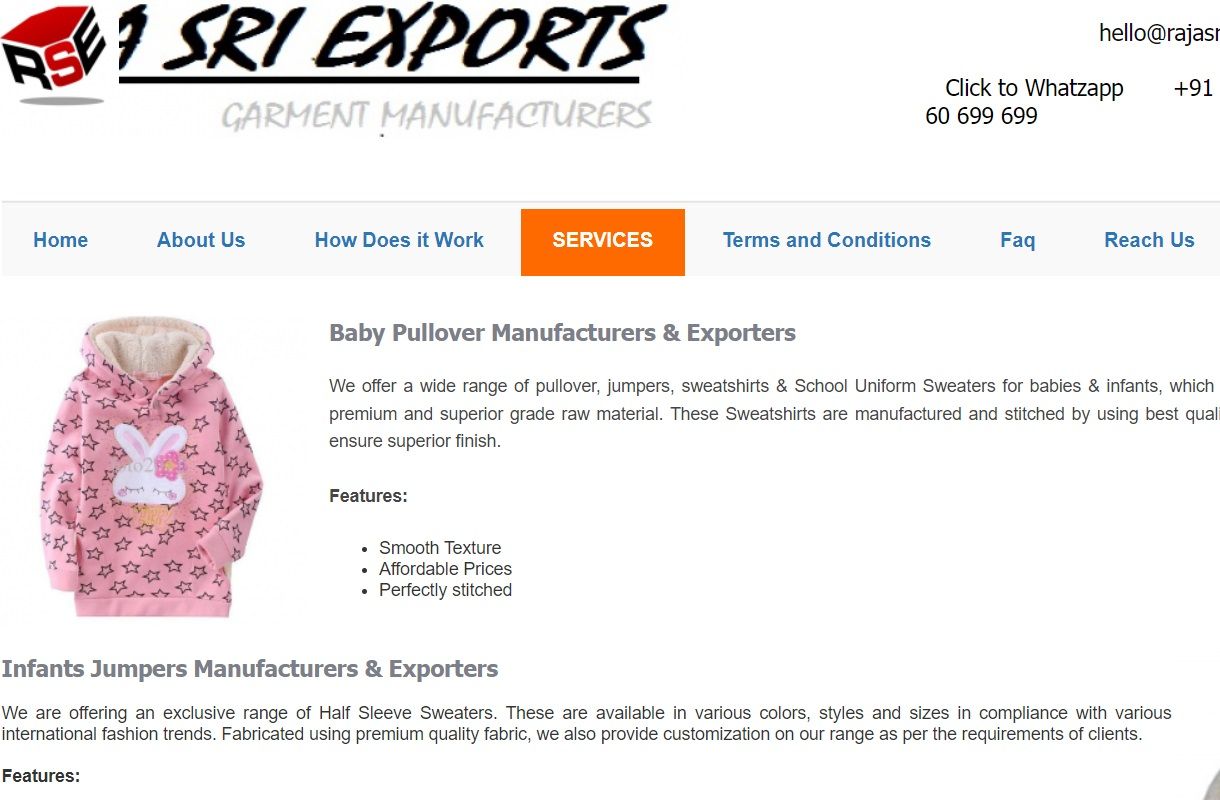 Raja Sri Exports has a fair range of hoodie products on its website. One of their main offerings is the large pullover hoodie, making it an ideal choice if this type of hoodie suits your target market. Less common hoodie types include hoodies for babies and hi-neck hoodies.
Using an Indian company like Raja Sri Exports is a great way to outsource hoodie production while keeping costs down, especially as they have a minimum order quantity of only 100. The yarns they use in the hoodies are also from certified spinning mills, adding peace of mind to every order you place with them.
Key Products:
Baby Pullover Hoodies
Full Sleeve Pullover Hoodies
Embroidered Hoodies
Zip Up Hoodies
Hi-Neck Hoodies
Pros:
Meets the needs of all ages and sexes
Plenty of customizability
Affordable hoodie manufacturer
Cons:
Lack of clarity regarding product pricing
Limited information about manufacturing stages

Check out the Raja Sri Exports website >>
6. Personalised Hoodies UK - Custom Hoodie Manufacturer in the UK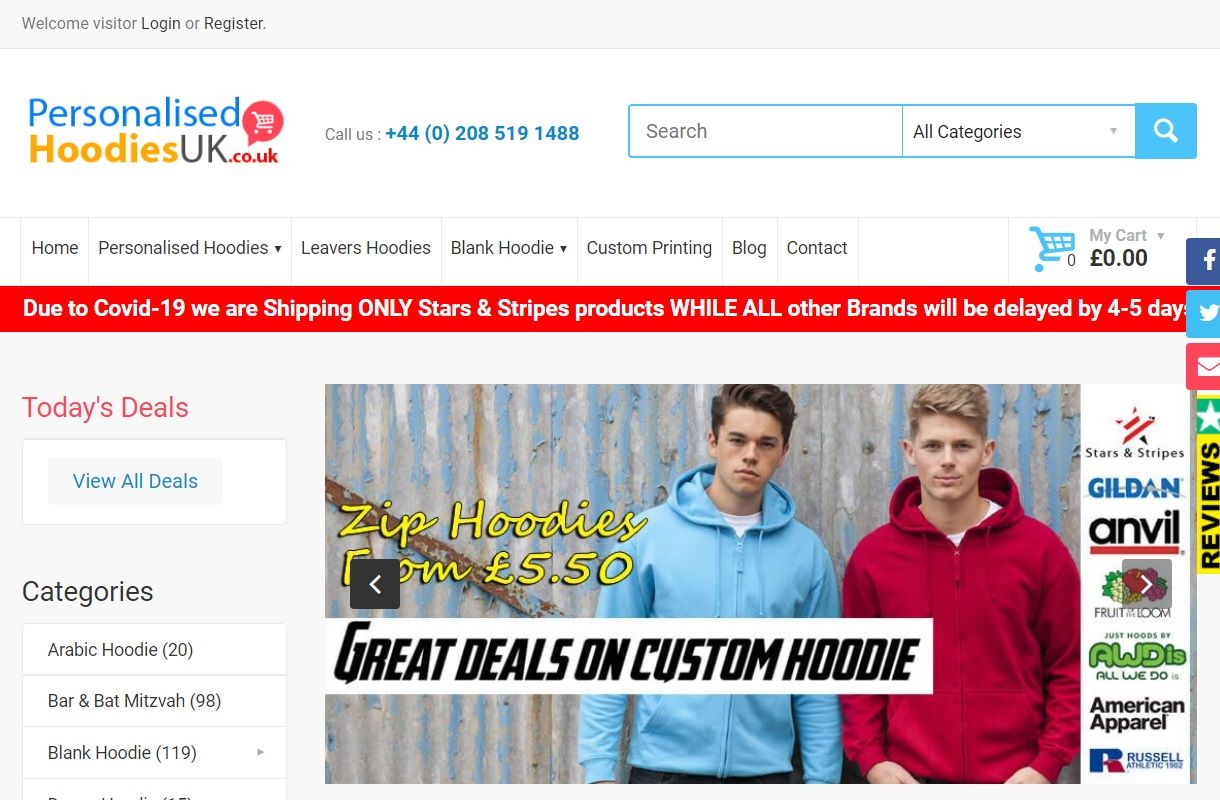 Personalised Hoodies UK has a substantial range of hoodies available on its website. They also make custom hoodies tailored to individual business requirements. This means they can create unique hoodies suited to your brand and audience.
The company specializes in manufacturing hoodies for niches and occasions suited to a UK target audience. This is ideal if your market is based in the UK, but wherever they're located, the customization will enable you to get hoodies to suit your needs.
Key Products:
Leavers Hoodies
Dance Hoodies
Personalised Hoodies
School Trip Hoodies
Arabic Hoodies
Zip Up Hoodies
Blank Hoodies
Pros:
Low prices on all hoodies
Positive customer feedback
Plenty of hoodie categories
Cons:
Longer shipping times than other manufacturers
Go to the Personalised Hoodies UK website >>
7. UberPrints - No Minimum Custom Hoodie Manufacturer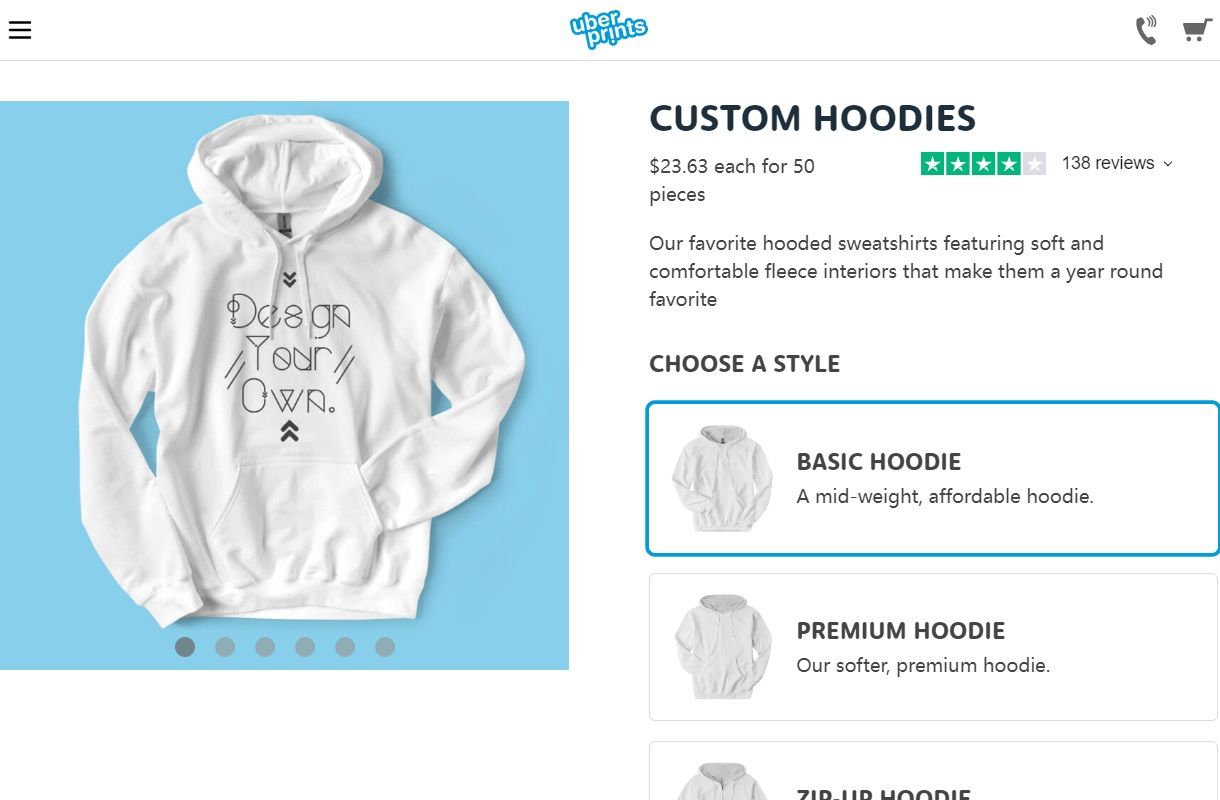 UberPrints is a high-quality hoodie manufacturer specializing in custom-made hoodies for all buyers with no minimum order quantity. This means you can use them even if you only need to order a few hoodies at a time. UberPrints has a virtual studio to create the exact designs you need.
When you use this process, you can get a quote produced by the company before you place your order. This is a handy feature for getting cost estimates based on your designs. You can also check out customer reviews on their TrustPilot page. They have a 4.6/5 average rating from over 10,000 reviews.
Key Products:
Zip Up Hoodies
Customized Hoodies
Premium Hoodies
Soft Hoodies
Pullover Hoodies
Pros:
Simple website layout
Dedicated custom design
No minimum order quantities
Cons:
Their clothing quality is not always good according to some reviews
Check out the UberPrints website for more details >>
8. Seam Apparel - Emerging Private Label Hoodie Manufacturer
Among the hoodie vendors we've listed, Seam Apparel has a significant focus on private-label hoodies and is looking to grow its market share in this area. Customization is possible through various methods, including embroidery and sublimation printing.
This means you'll have a robust array of production and manufacturing options if you choose Seam Apparel for your private-label hoodies. Their portfolio section on their website is worth examining, as they cover the level of workmanship that goes into their products. This way, you can make a reasonable judgment about their services.
Key Products:
Embroidered Hoodies
Cut and Sew Hoodies
Customized Hoodies
Private-Label Hoodies
Pros:
A focus on premium hoodies
A decent portfolio demonstrating past work
Cons:
Less experience in the market than their competitors
Read more about private-label hoodies on the Seam Apparel website >>
9. Hongyu Apparel - Reputed Oversized Hoodie Manufacturer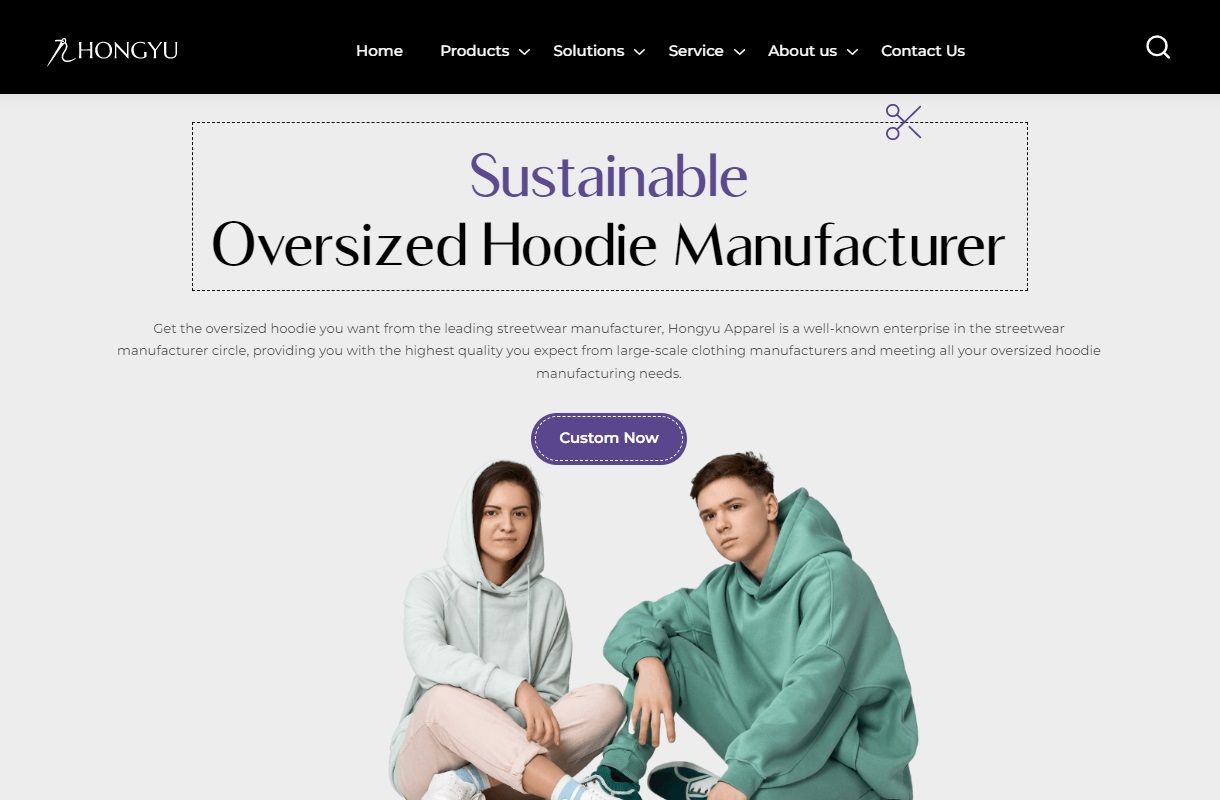 If you're looking for oversized hoodies, then Hongyu Apparel is the place to go. They are a full zip hoodie manufacturer offering a complete service all under one roof. This means by working with them your business only needs to design and market the hoodies you order. This saves time and increases efficiency.
The minimum order at Hongyu Apparel is 50, considerably less than the standard 300 that most custom hoodie manufacturers require. And they offer customization options like OEM and private labeling, and emphasize sustainability in their manufacturing.
Key Products:
Oversized Hoodies
Drop Shoulder Hoodies
Double Zip Up Hoodies
Basic Unisex Hoodies
Pros:
Simple offers for buyers
Handle all the technical details
Specialize in oversized hoodies
Cons:
Difficult to compare their different manufacturing processes
Visit the Hongyu Apparel website and see all about their hoodies >>
10. Royal Apparel - Top Zip Up Hoodie Manufacturer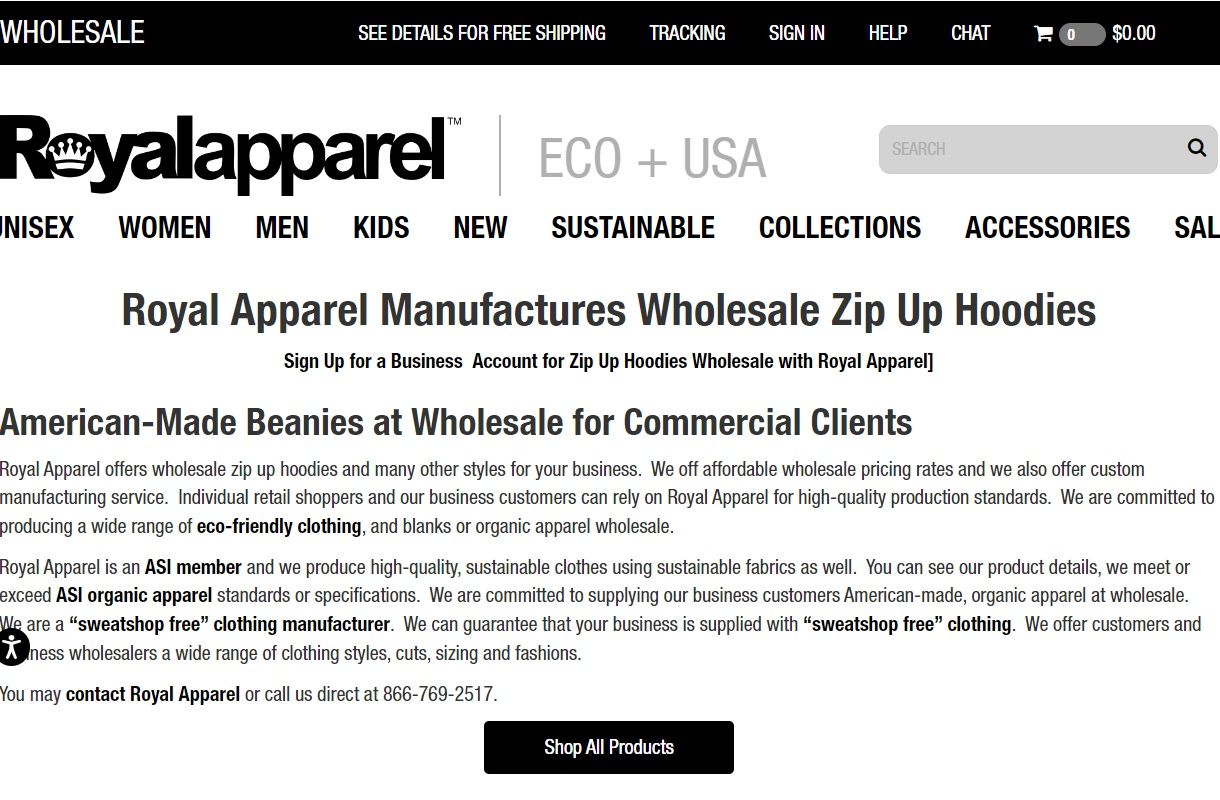 Royal Apparel provides a narrow range of hoodies but is ideal if you're looking for the particular types of hoodies they offer. Their principal offering is zip-up hoodies, but they also offer quality hoodies for children if they are a part of your target market.
Most of their hoodies available are standardized and customization is limited. Business accounts with the company can order 7 samples per calendar year. The company also offers weekly deals, which can be an incentive depending on when orders are placed and what hoodie types are involved.
Key Products:
Zip Up Hoodies
Pullover Hoodies
Kids Hoodies
Pros:
Plenty of color options for hoodies
High quality fabrics used
Cons:
Not as many hoodie types available as other competitors
Explore the Royal Apparel website to see their hoodie products >>
Our Criteria for Selecting These Hoodie/Sweatshirt Manufacturers
Selecting these top 10 hoodie manufacturers involved thoroughly assessing various factors, including quality, sustainability, customization, and customer service.
Quality was a top consideration when identifying companies that produce high-quality hoodies or sweatshirts built to last. The manufacturers were evaluated based on the quality of the fabrics used and the overall durability of the hoodies.
Sustainability was also an important criterion for selection. We looked for companies prioritizing sustainable and ethical practices in their production processes, including using eco-friendly materials and responsible waste management.
Customization options were also considered, as many businesses and organizations seek custom hoodies to represent their brand or identity. The manufacturers were evaluated based on their ability to offer customization options, including fabric choices and the ability to create unique designs.
Finally, customer service was essential, and we looked for manufacturers that were helpful and prompt in addressing customer inquiries.
How to Choose The Right Manufacturer for Custom Hoodies or Sweatshirts?
Choosing the right manufacturer for custom hoodies or sweatshirts involves careful consideration of several factors:
The manufacturer's expertise in creating custom hoodies and their ability to meet your specific design requirements. And whether they can offer a wide range of customization options, including fabric choices, design options, and printing or embroidery services.
Their production capacity, delivery time, and pricing.
Whether they have the ability to provide samples or prototypes before placing a large order.
Their reputation and customer reviews.
By considering these factors, you can find the right manufacturer for your custom hoodie needs.
Is It a Good Idea to Choose a Manufacturer in China?
Choosing a manufacturer in China is a good idea for several reasons. Chinese manufacturers are known for competitive pricing, large production capacity, and advanced technology. Additionally, many Chinese manufacturers have experience working with international clients, making shipping easier.
Appareify, as a leading hoodie manufacturer in China with state-of-the-art production capability, can produce high-quality custom hoodies. We oversee production to ensure that the best standards are met, and they have the capability to deliver all client orders successfully.
By working with Appareify, businesses can benefit from the cost savings and production capabilities of Chinese manufacturers without sacrificing quality.
Conclusion
Choosing the right hoodie manufacturer is crucial for businesses looking to create custom hoodies that meet their needs. By considering the factors outlined here and working with reputable manufacturers such as Appareify, businesses can ensure they receive high-quality hoodies representing their brand or identity.