There are thousands of experienced T-shirt manufacturers in the world. From China to the USA, companies worldwide offer high-quality textile apparel, detailed craftsmanship, and great service.
As a T-shirt business owner, the quality of your stock needs to impress your customers. Knowing which custom clothing manufacturer is best for you can feel overwhelming at first, but with expert knowledge connecting with a reliable supplier is easier than you think.
Keep reading if you're starting a business or looking for T-shirt manufacturing in the world. Below you'll find the top clothing manufacturers in the world and learn how to choose the right one for your business.
Top 10 Best T-Shirt Manufacturers in The USA & Worldwide
Here are the top T-shirt manufacturing companies to help you elevate your apparel business.
Appareify - Best Overall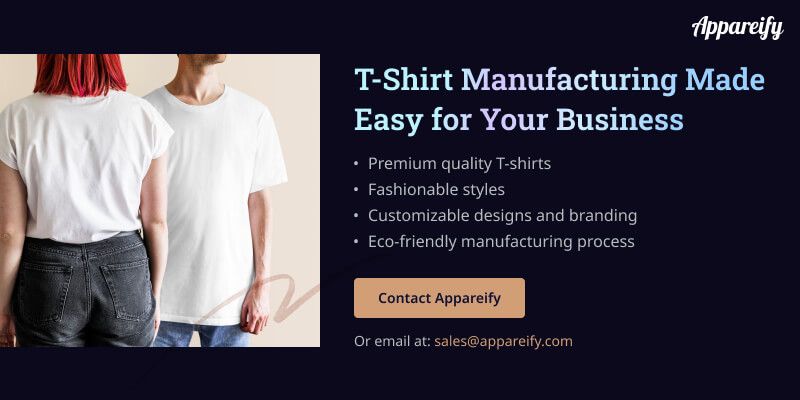 Do you want to build a bespoke clothing T-shirt brand that can rival other top T-shirt brands in the US & globally in terms of quality and versatility? Then, consider Appareify as your T-shirt manufacturing partner because they have state-of-the-art technology and a professional team to help your brand from the ground up.
This custom clothing manufacturer deals with biodegradable fabrics for crafting garments and packaging to boost an eco-friendly cycle. Additionally, Appareify produces only superior T-shirts that can stand the test of time, which is vital for building a reputable brand.
Regardless of your specifications in terms of crafts or intricate designs, this leading clothing manufacturer has a team of craftsmen, apparel R&D experts, and skilled designers who ensure they exceed your expectations.
With Appareify, your brand stands the chance to get one of the best private labeling services in the industry. This equally means that your logo/brand name will be neatly printed on your T-shirts—making your brand unique and setting you apart from competitors. They also offer OEM services that can meet your bespoke order—based on your exact requirements for functionality, color, style, etc.
Also, the efficiency extends to their delivery with a turnaround time of 7 - 20 working days or 3 days for urgent orders.
Key Products
Private label T-shirts
Custom printing T-shirts
Oversized T-shirts
Long sleeve T-shirts
Fitness T-shirts
Baseball T-shirts
Polo T-shirts
Blank T-shirts
Bamboo T-shirts
Organic cotton T-shirts
Neon T-shirts
Hemp T-shirts
Pros
Custom and private label designs are available
Responsive customer service
Prototype approval before garments are completed
400,00 pcs per month production capacity
High-quality results and quick turnaround
Cons
Overseas businesses may find it difficult to inspect the factories
Get exceptional T-shirt manufacturing services from Appareify today >>
AEL Apparel - Well-Known T-Shirt Manufacturer in China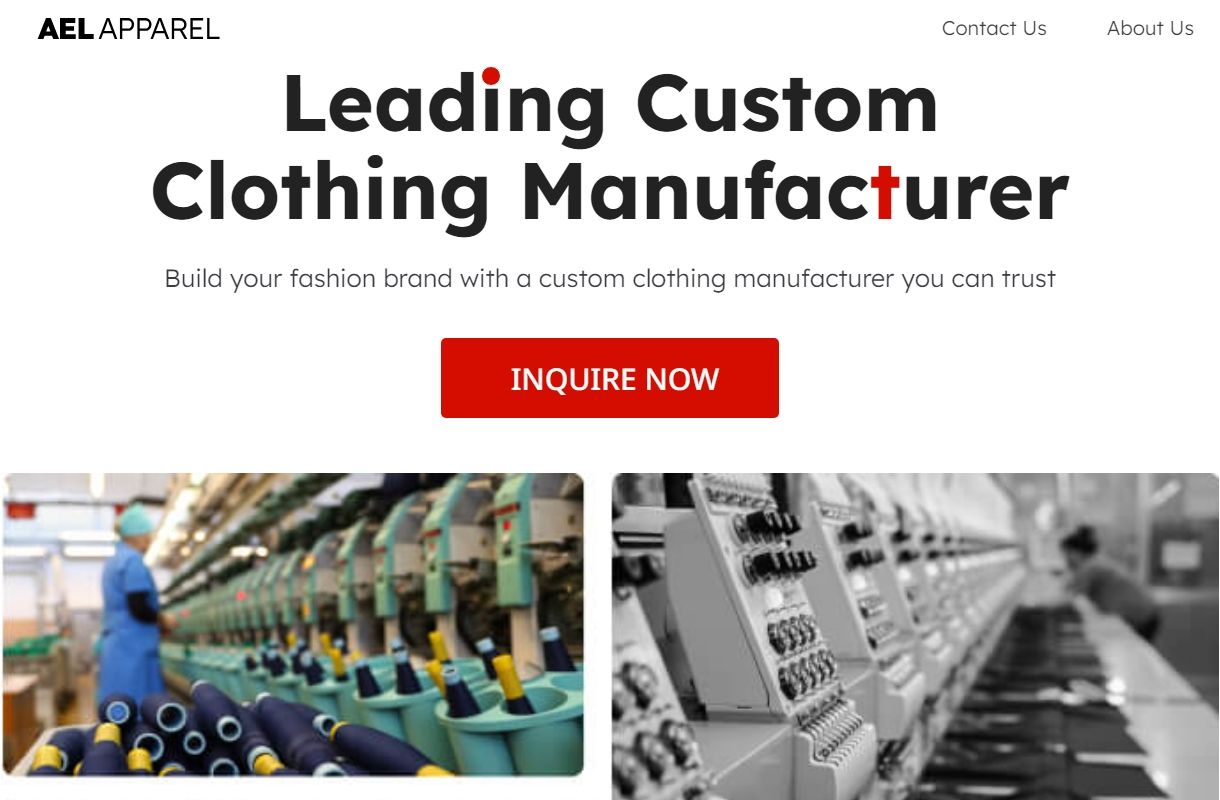 AEL Apparel is a leading Chinese custom T-shirt manufacturer that focuses on providing businesses with high-quality apparel. They have the skill set to produce T-shirts, hoodies, jeans, and more.
AEL Apparel has a factory with advanced machinery and sewing operations and 400,000/month production capacity. Alongside standard production services, the team offers private label and OEM manufacturing, which bring your ideas or designs to life with ease.
Key Products
T-shirts
Hoodies and sweatshirts
Loungewear
Swimwear
Jeans
Pros
Wide range of products beyond T-shirts
Customization and private label options
Sustainable production and fabrics available
Cons
It's a bit difficult for businesses in other countries to inspect their factory
Discover more about AEL Apparel's T-shirt making services >>
Only Teez - Best Wholesale T-Shirt Manufacturer in the USA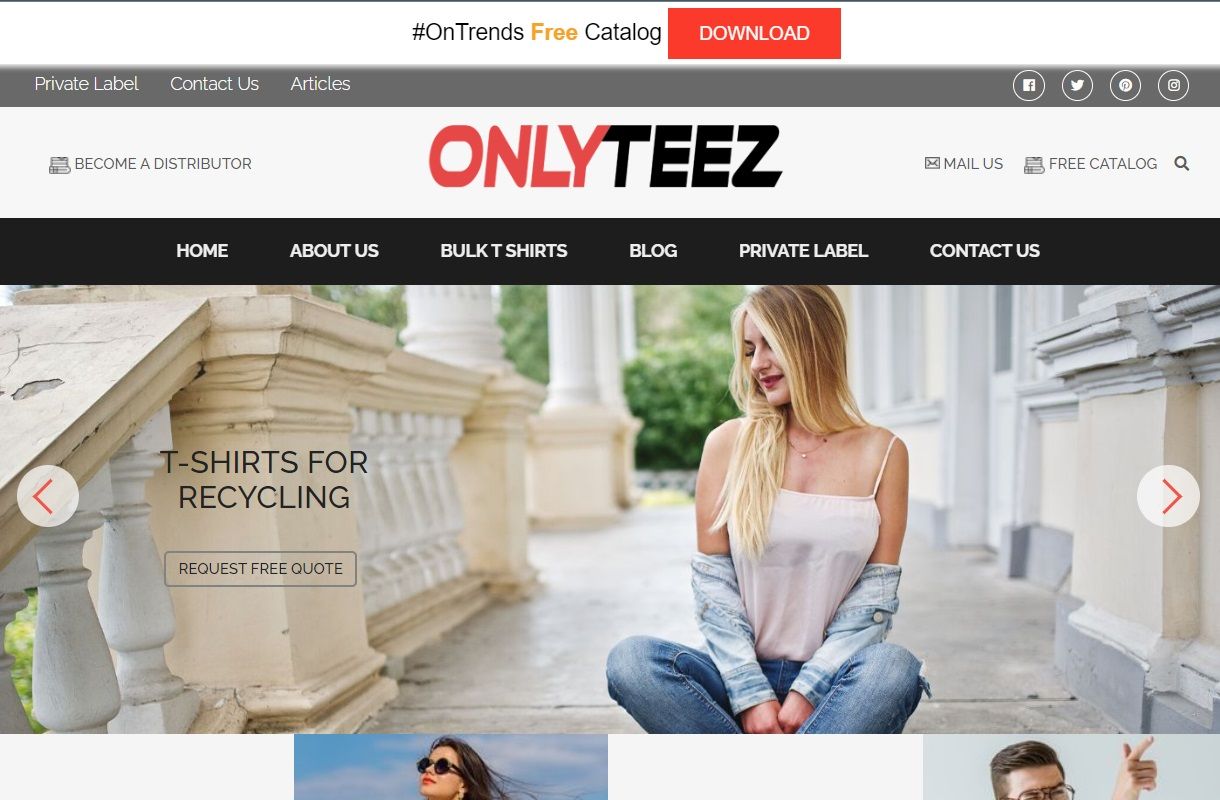 Only Teez is a wholesale T-shirt manufacturer that works with clients worldwide to develop custom T-shirts and unique designs that impress all customers. This manufacturer focuses on wholesale and bulk manufacturing. If you require a large order, this experienced company can help you easily navigate the production process.
From graphic shirts to dry-fit T-shirts, Only Teez has experience in various models to meet all client needs. They also offer private label T-shirt manufacturers, allowing you to develop your brand with assistance from a reliable production process.
Key Products
Crop T-shirts
Graphic T-shirts
Custom T-shirts
Baseball T-shirts
Dry fit T-shirts
Polo T-shirts
Running T-shirts
Pros
A large variety of product models
Capacity for large/bulk orders
Private label and custom T-shirt capabilities
Experience as a manufacturer, distributor, and exporter
Replies to inquiries within one business day
Cons
Only Teez focuses on bulk orders, and small-batch jobs may not be accepted
Visit Only Teez website for more about their services >>
Printful - Best Print-On-Demand T-Shirt Manufacturer in the USA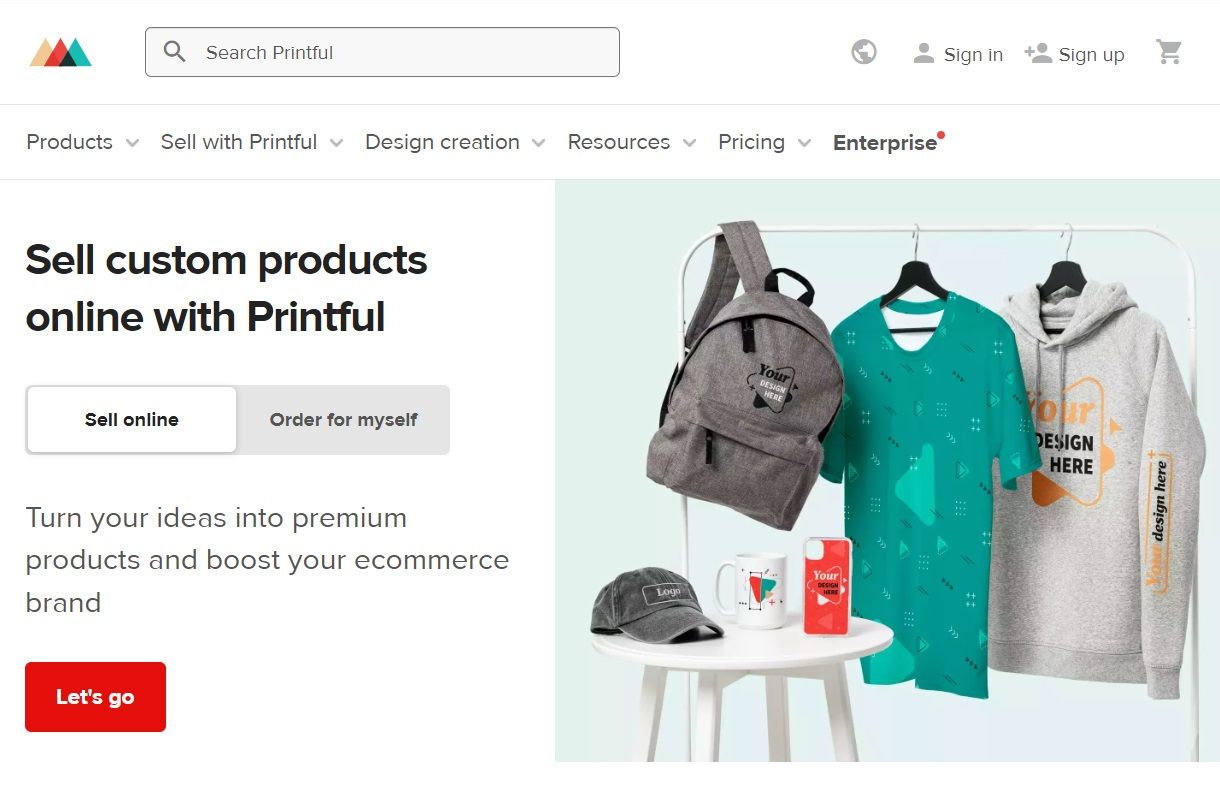 As an on-demand T-shirt printing company, Printful is an expert at helping clients create unique designs for their customers. Whether you're creating your debut collection or creating a gift for a friend, Printful has services for all requests and 330 products available to customize.
Printful fulfills over 1 million garment designs each month, proving their large capacity and consistent delivery. Alongside timely delivery, Printful offers 24/7 customer support and easy-to-use design services to ensure their platform is accessible to all clients. This allows you to create designs when needed, taking the pressure away from apparel production.
Key Products
Unisex T-shirt
Men's classic T-shirt
Tri-Blend T-shirt
Relaxed T-shirt
Women's basic T-shirt
T-shirt Dress
Pros
Large product range, including T-shirts, accessories, and more
Use of the latest technology to ensure crisp print designs
No upfront costs; clients only pay for T-shirts that are ordered
Integration with top e-commerce platforms, including Etsy and Shopify
Cons
T-shirts have longer shipping times due to the print-on-demand model
See the Printful website here >>
Oasis Shirts - T-Shirt Manufacturer With Wide-Ranging Design and Pattern Options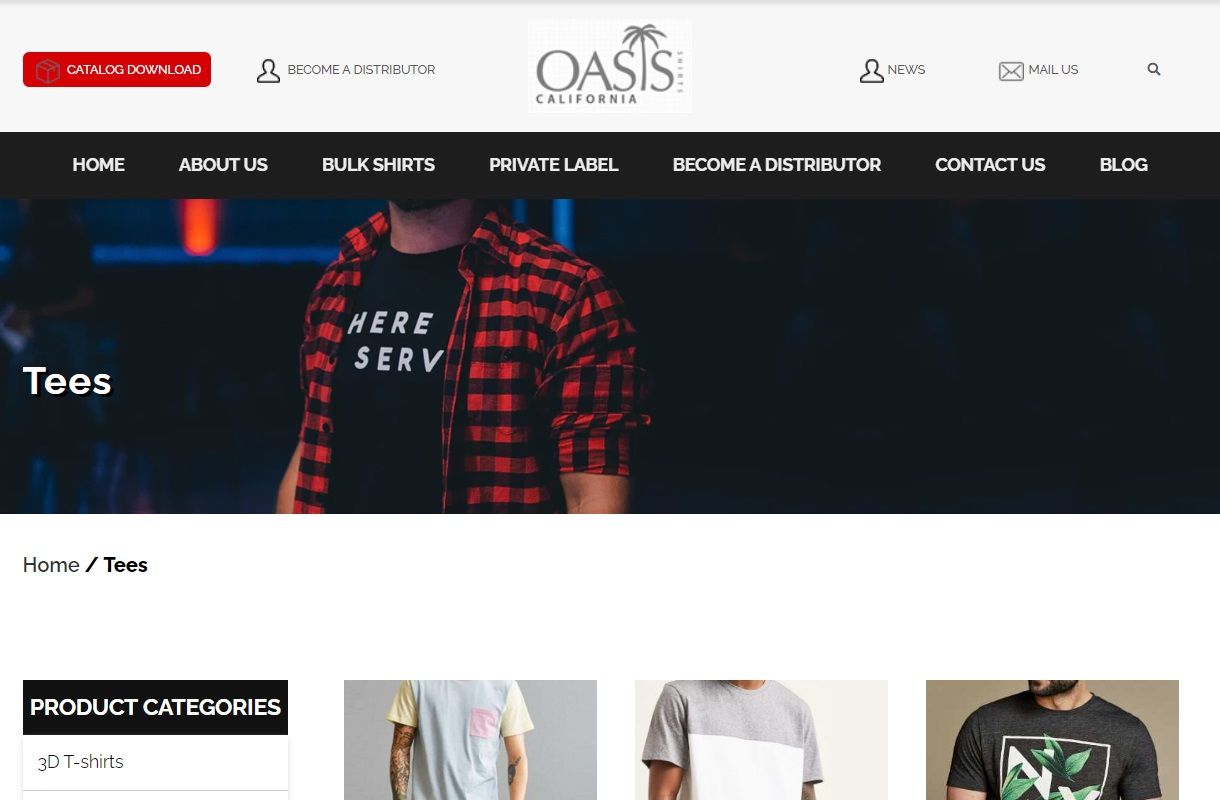 Oasis Shirts provides services for brands who want colorful and printed T-shirt options. From floral prints to striped designs, options are the aim of the game here — ideal if you're looking for unique or eye-catching apparel options. Private label options are also available to those creating their own brand.
When you work with Oasis Shirts, options are available for both genders and in high-quality materials, allowing you to attract all demographics. Also, Oasis Shirts has worked with multiple business owners and retail stores, so they have the experience of serving businesses in various sizes.
Key Products
Uniform T-shirts
Custom T-shirts
Printed T-shirts
Polo T-shirts
Fashion shirts
Denim shirts
Pros
Oasis Shirts have options for men, women, and children
Private label and custom designs are available
Apparel production for wholesale and businesses
Quick turnaround times
Affordable wholesale pricing
Cons
Oasis Shirts has a large MOQ, which doesn't allow one-off orders
Find out more about Oasis Shirts T-shirts services >>
Zega Apparel - Best T-Shirt Manufacturer for Customization Services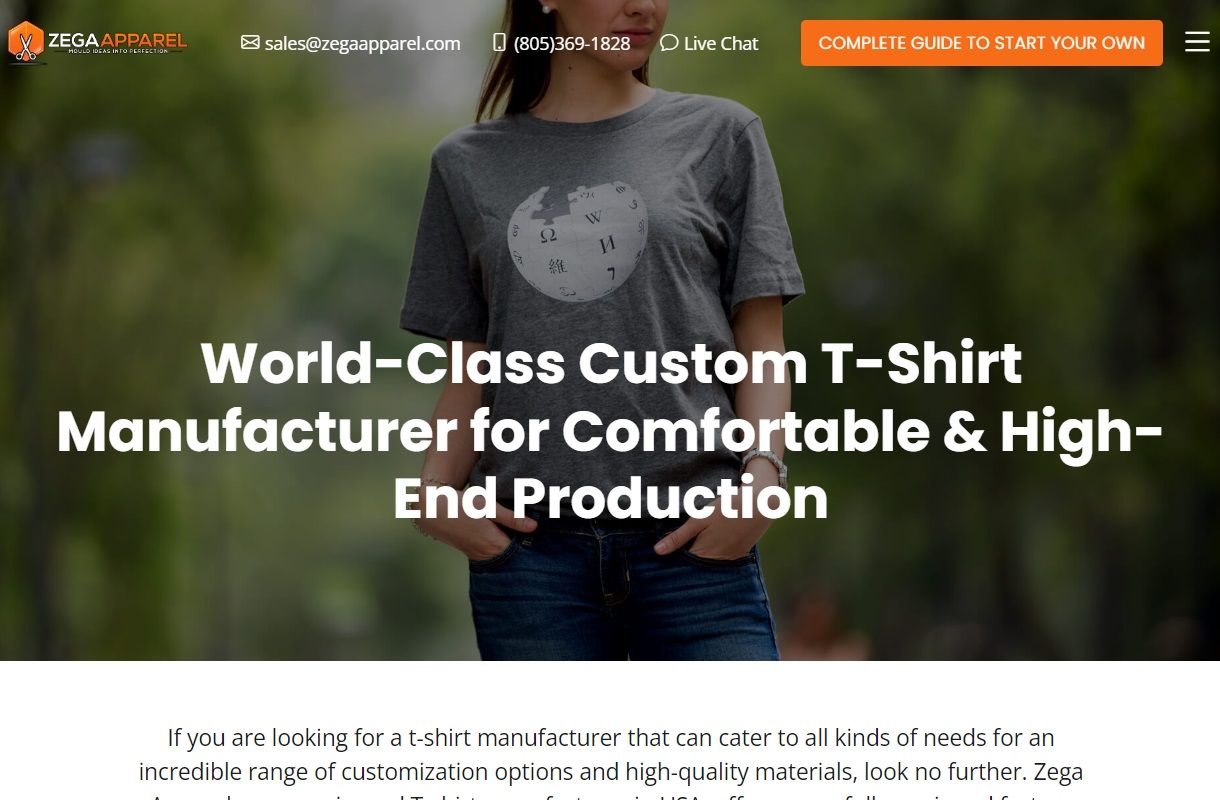 Zega Apparel is a well-experienced T-shirt manufacturer that's worked with over 3,000 reputable brands. This manufacturer is proud to be "sweatshop-free," allowing you to create your own clothing line with ethical production techniques.
Here you can access promotional apparel to give your brand a sleek, professional look. You can also explore cut and sew manufacturing, which aims to bring your designs from sketch to real-life. Zega Apparel focuses on services for small businesses, and the MOQ here is 50 pcs per color and design.
Key Products
T-Shirts
Polo T-shirts
Button-up polo T-shirts
Hoodies
Pros
Zega Apparel has the tools to help you start a small apparel business
Experience working with thousands of reputable brands
Sublimation printing, screen printing, and custom embroidery services
Cut and sew manufacturing
Options for uniform and sports apparel orders
Cons
MOQ of 50 pcs limits small-batch orders
See the Zega Apparel T-shirt manufacturing service >>
Apliiq - Best T-Shirt Manufacturer for Private Labeling and Branding Services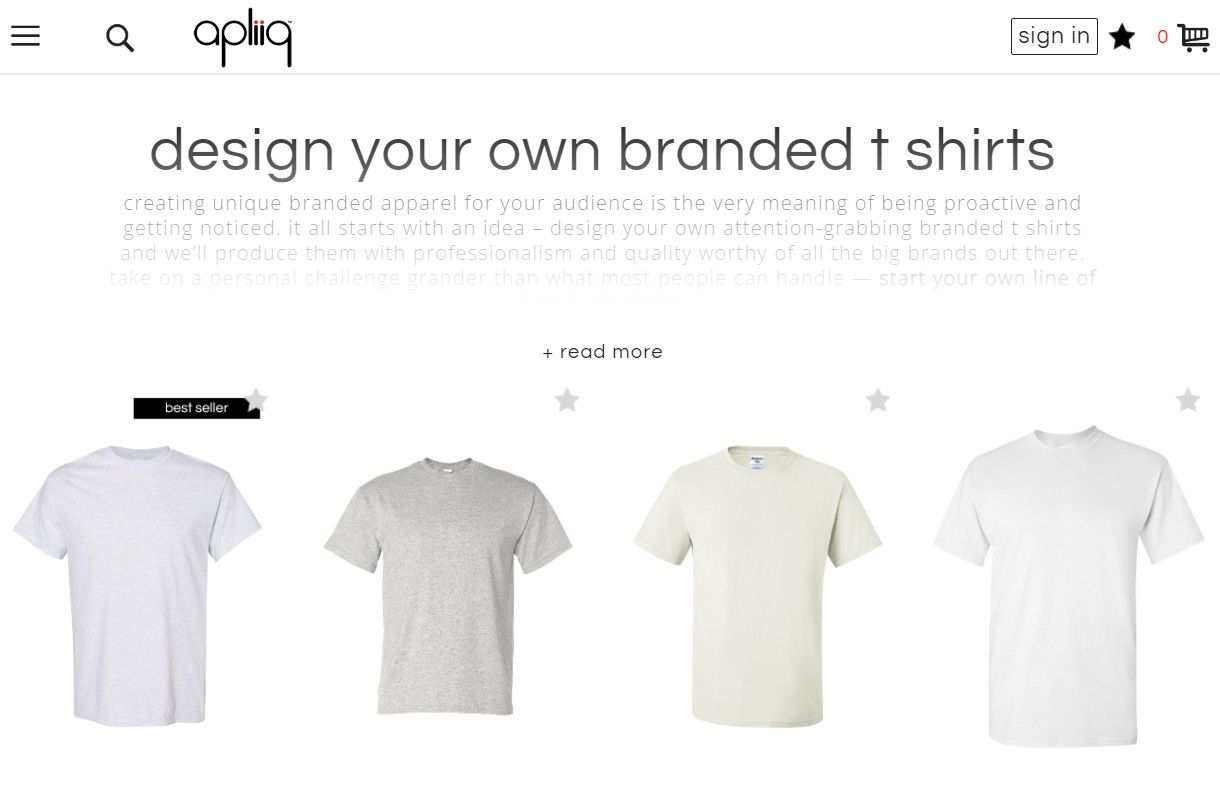 When providing a professional business experience, a sleek branded uniform always gains customers' trust. Apliiq is a T-shirt manufacturer focusing on professionally branded apparel and private labeling. Whether you need a streamlined collection or a coherent brand presence, Apliiq has the experience and services to assist your brand.
Described as "the next evolution of print on demand," Apliiq offers private-label clothing, woven labels, patch embroidery, and neck printing to leave your apparel with an elevated finish. Apliiq also offers up to a 55% discount for bulk orders, helping you save on overheads when ordering for the future.
Key Products
Short sleeve T-shirt
Long sleeve T-shirt
V-neck T-shirt
Polo T-shirts
Pros
Wide variety of T-shirt designs
Production services include cut and sew, stitching, printing, branding, labeling, and more
Branding services are available
No minimums on any designs
Discounts available for bulk orders
Cons
Apliiq's prices are higher than competitors
Find Apliiq's T-shirt services online here >>
RK T-Shirts - Best T-Shirt Manufacturer for Low Minimums and Affordable Prices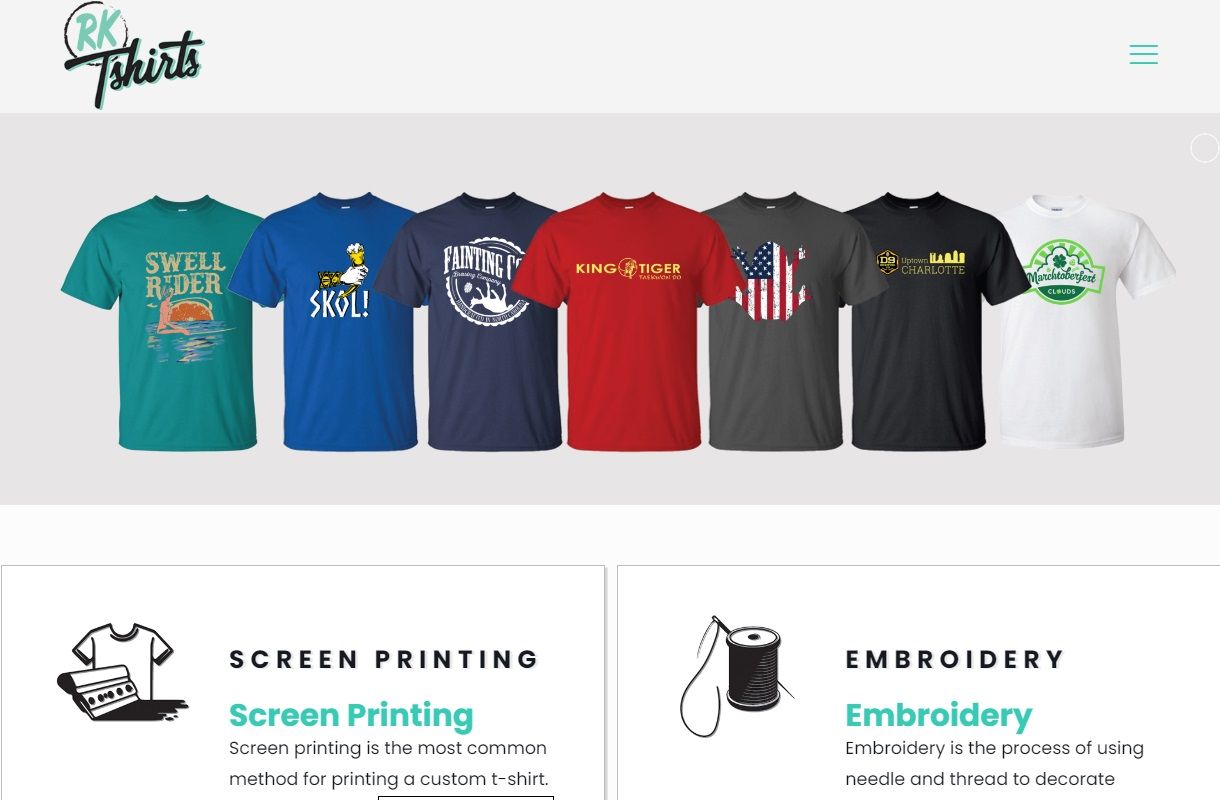 Finding a manufacturer whose costs align with your business needs is imperative, especially in a competitive marketplace. RK T-Shirts is a manufacturer that ensures affordable production costs and low minimums for all clients, allowing you to provide top quality and reasonable prices for your customers.
RK T-Shirts boasts a 15-shirt minimum and the ability to mix and match colors and styles. Clients can also access low-cost shopping, quick turnarounds, and no screen or setup fees (when you meet their MOQ).
Key Products
Unisex T-shirts
Unisex long sleeve T-shirts
Fleece hoodies
Pros
RK T-Shirts offers a low MOQ (15 pcs)
Prices are cheaper here than with other retailers
There aren't any setup/screen fees if you meet the MOQ
Clients can approve artwork before it's printed to ensure quality
Cons
Pantone color matching incurs additional fees
Garment selection is limited to three unisex options
Visit the RK T-Shirt website here >>
Royal Apparel - Leading Eco-Friendly T-Shirt Manufacturer in the USA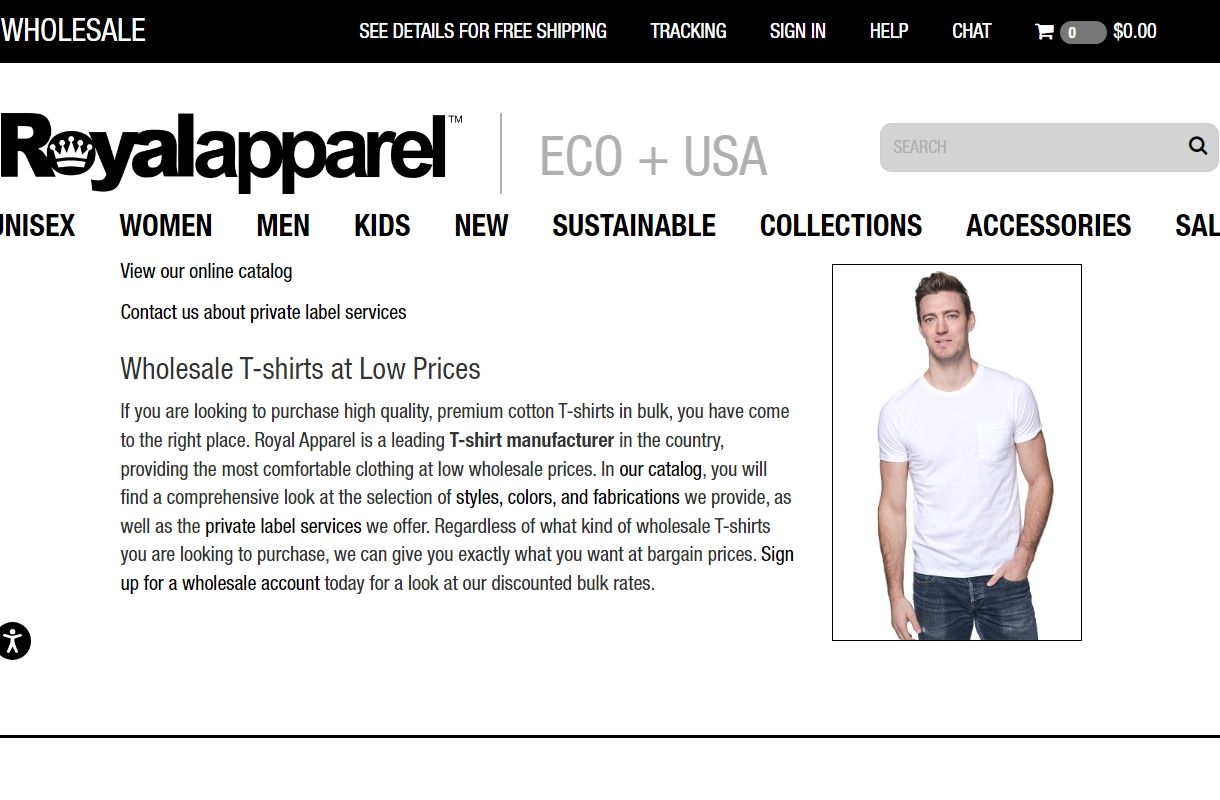 Royal Apparel is one of the leading US-based clothing manufacturers. They have been in the business since the early 90s. With over thirty years of experience, this team has experience in all production areas and can help all types of brands start their own clothing line. Royal Apparel can tick all T-shirt manufacturing boxes, from knitwear to cut and sew manufacture.
Royal Apparel also provides low minimums, private label services, and dedicated production runs for your style. Clients can even access eco collections and apparel, which is perfect for anyone focusing on sustainability and ethical production.
Key Products
Unisex T-shirts
V-neck T-shirts
Pocket T-shirts
Baseball/Raglan T-shirts
Tri-Blend T-shirts
Pros
Wide range of products beyond T-shirts
Customization and private label options
Sustainable production and fabrics available
Accessories available, such as beanies, scarves, masks, and pet wear
Cons
You need an approved account to receive an order quote
Find more information about Royal Apparel T-shirt services online >>
Gag Wears - Reputable T-Shirt Manufacturer in India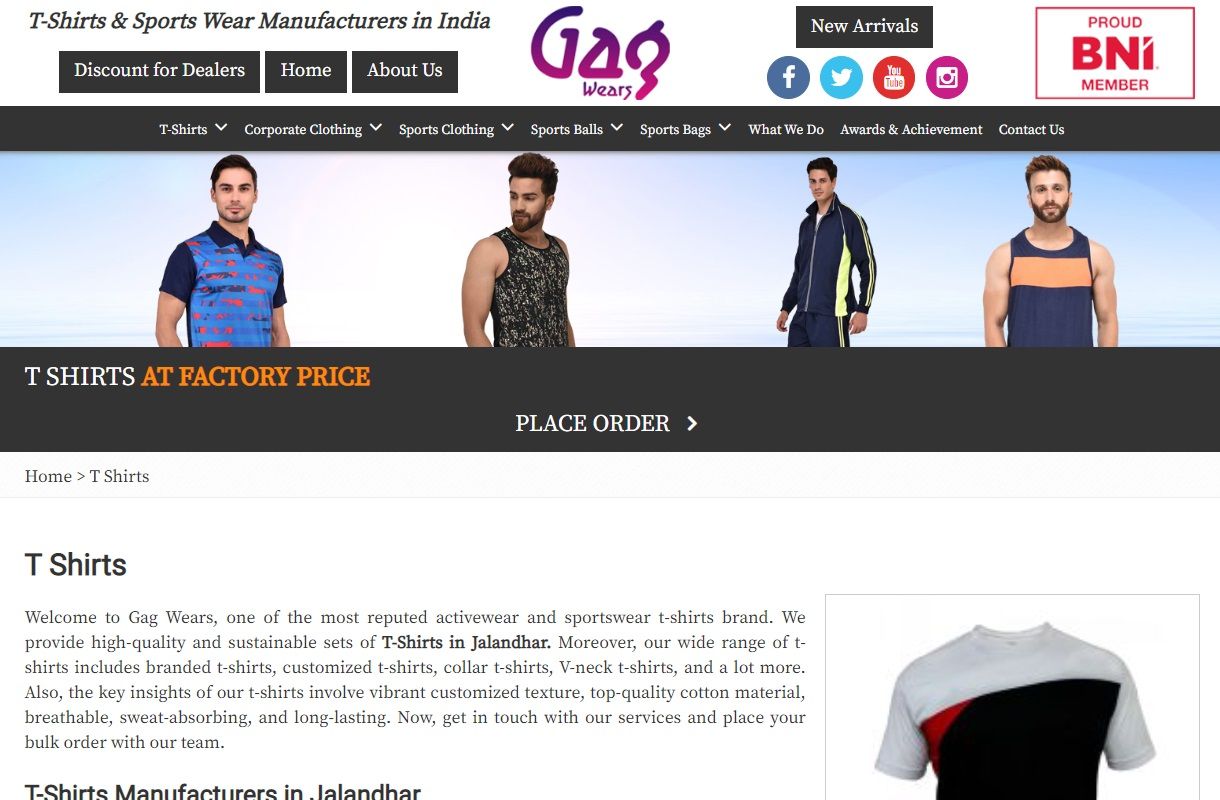 If you're looking for an India-based T-shirt manufacturer, explore Gag Wears. This Indian T-shirt manufacturer guarantees satisfaction and high-quality apparel at a competitive price. Their garment options include casual tees, sports T-shirts, polos, and many others — perfect if you're building up a range of garments for your store.
Services at Gag Wears include embellishment processes, such as screen printing, sublimation, applique, and embroidery. These allow you to customize your orders with logos, patterns, and graphic prints. Cut and sew services are also available for garment production.
Key Products
Sports T-shirts
Casual T-shirts
Polo T-shirts
Graphic T-shirts
Personalized T-shirts
Pros
Gag Wears offers affordable and competitive pricing
The range of T-shirt designs and patterns is varied
Sports options are available
Lots of embellishment options are available
Cons
Women's clothing isn't available here
See the Gag Wears T-shirt manufacturing services here >>
Where Can I Find The Right T-Shirt Manufacturer Near Me for My Business?
Finding the right T-shirt manufacturer for your business is an important step that you shouldn't rush. The quality of your garments can affect your customer retention and sales. However, finding high-quality manufacturers is easier than you think. You just need to know where to look.
Here are some top methods for finding skilled T-shirt manufacturers.
Online research
Manufacturer directories
Industry/trade events
Connecting online with trade organizations
Social media groups
The information from this article!
There's no one right way to find the perfect supplier for you. Take your time to carefully read all the information to ensure the manufacturers you're researching are legitimate and can satisfy your requirements.
What Should I Consider When I Am Choosing a T-Shirt Manufacturer?
When selecting a T-shirt manufacturer, you must look for a competent and reputable company that delivers consistent quality. This ensures satisfaction for your customers, and it will help to build your reputation.
Therefore, consider your target audience and specific requirements. Knowing your aims will help you find a manufacturer that aligns with your business model.
You should also consider the price, quality, turnaround times, and expertise. These metrics are central to producing high-quality T-shirts that arrive on time and are within your customer's budget. Look for manufacturers with good reviews, years of experience, worldwide shipping, and prices that your business can afford.
Conclusion
Though it may initially seem challenging, searching for high-quality t-shirt manufacturers is an essential step for your clothing business. This unlocks the ability to produce unique clothing that benefits your customers and builds your reputation as a high-quality apparel brand. Hopefully, this article has inspired you to get started today.