If you're interested in building a personal clothing brand or starting a wholesale clothing business, it can be difficult to determine where to start. Between sourcing fabric, creating designs, and finding reliable clothing manufacturers, it can be very overwhelming.
Private label manufacturing takes the hassle out of this process, with start-to-finish support from experienced manufacturers and suppliers. You simply choose your favorite styles, customize them to your heart's desire, and let the private label clothing manufacturers do the rest.
From research to design to production, private label clothing manufacturers will handle each step of the process, with you overseeing it. Before you know it, you'll be well on your way to owning your dream custom clothing or wholesale private label clothing business.
To assist you in creating your dream private label apparel business, we have researched and compiled a comprehensive list of the top 10 private label clothing manufacturers and suppliers, who can provide you with high-quality products and exceptional services.
Top 10 Private Label Manufacturers & Suppliers
Appareify - Best Private Label Clothing Manufacturer Overall
China-based custom clothing manufacturer Appareify stands out for its private label clothing service. It offers ideal solutions for those who want to realize their apparel ideas, establish their brand and succeed in the fashion industry.
Their extensive production of more than 100 garments, including comprehensive collections for men and women, offers unlimited possibilities for creating private label clothing that perfectly represents your brand. Appareify takes care of all your custom label design needs, whether they are woven or plastic labels.
Appareify supports you throughout the process and makes it easy for you to create your own private label clothing line. With Appareify, you can be confident that every piece you produce is of the highest quality and tailored to your unique specifications.
It is worth noting that Appareify is a clothing manufacturer that prioritizes sustainability, from ethically sourcing materials and transforming waste into slow fashion apparel to all aspects of their business.
Pros
Wide selection of materials
Multiple choice for labels
Eco-friendly options
Custom printing capabilities
Flexible minimum order quantity
Cons
Shipping costs may be higher compared to manufacturers based in the local area
Turn your fashion ideas into reality with Appareify!
AEL Apparel - Great Choice for Premium Trendy Private Label Apparel
Ideal for the customer who is looking for trendier options with a premium feel, AEL Apparel offers a great selection of styles that are carefully crafted with the highest attention to quality.
Specializing in both private label and white label apparel, they can help any private label fashion brands create the perfect on-trend clothing to add to their collections. They offer a full range of fashion-forward private label luxury clothing that are created using premium materials.
With AEL Apparel, you can rest assured that your private labeling clothing will be of the highest quality, on-trend, and perfectly tailored to your specifications.
Pros
Great selection of trendy styles
Eco-friendly materials
Flexible MOQs
Affordable price point
Custom printing option
Cons
Responses may be prolonged due to international time zone differences
Shop with AEL Apparel for 100+ trendy private label clothing.
BaliSwim - Best for High-Quality Private Label Swimwear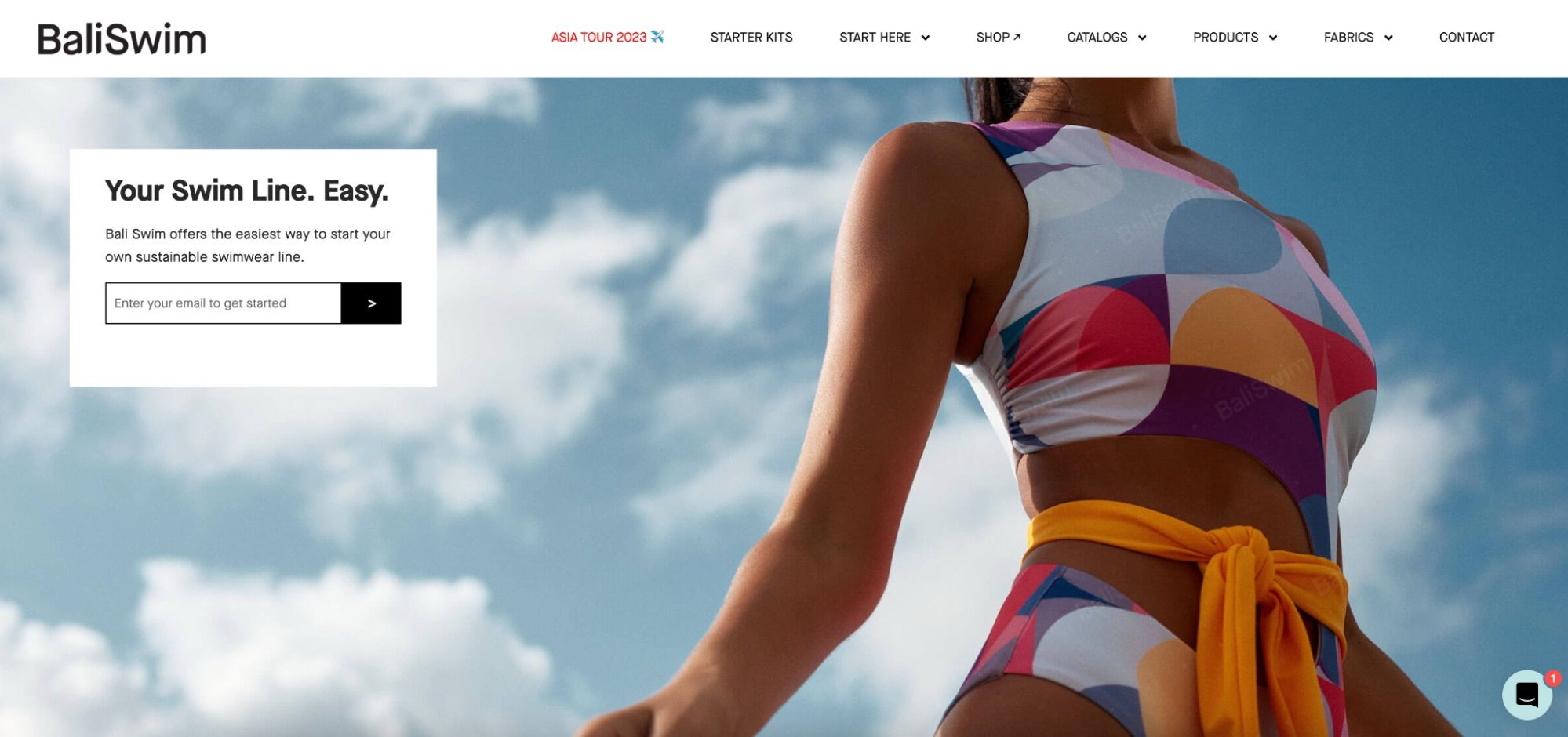 If you're looking to launch a sustainable swimwear line, BaliSwim is the perfect choice for you. They specialize in producing high-quality private label swimwear, with up to 100 styles to choose from and comprehensive support, including a Starter Kit, to help you get started quickly.
In addition to their swimwear line, BaliSwim also offers a range of men's and women's private label clothing, all conveniently available on their easy-to-use storefront. They have recently launched an activewear collection, further expanding their offerings to meet the evolving needs of their customers.
Pros
Specialization in swimwear category
Options for both men and women
Starter Kit for new customers
Cons
Only provides swimwear, activewear, resort wear and loungewear
Shop with BaliSwim for premium private label swimwear.
Apliiq - Perfect Private Label Clothing Manufacturer USA for Comfortable Hoodies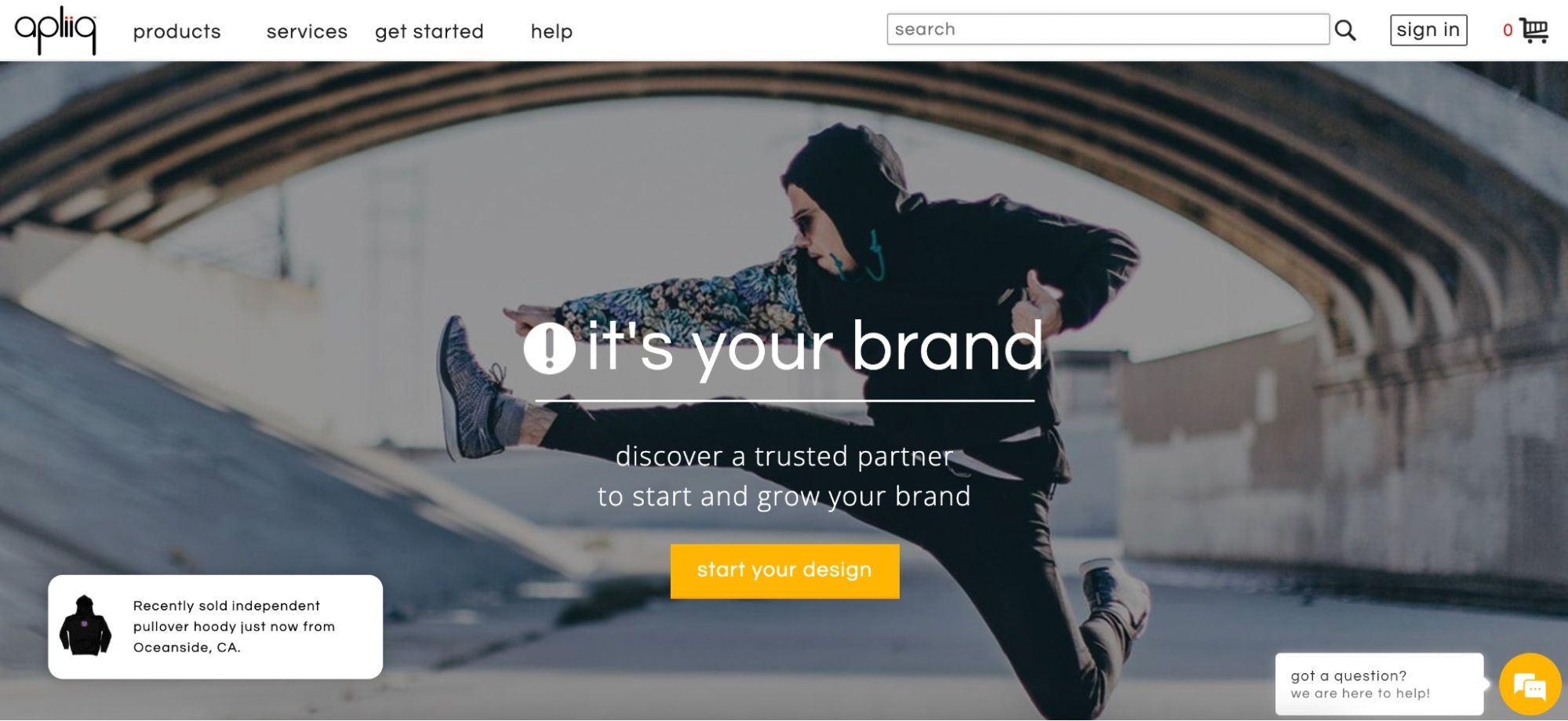 For anyone seeking to create a private label loungewear collection that combines both comfort and style, Apliiq is the perfect choice. They offer an extensive selection of hoodies, sweatshirts, and t-shirts, with a wide range of styles to choose from.
In addition to providing the latest fashion trends, Apliiq is committed to eco-friendly practices, ensuring that your private label clothing collection is produced sustainably.
Pros
Specialization in loungewear niche
Great selection of casual styles
Eco-friendly practices
Cons
Limited style options due to loungewear focus of private label clothing
Focused on casual wear only
Shop with Apliiq for comfortable and stylish private label hoodies.
NG Apparels - Top Choice of Durable Private Label Sportswear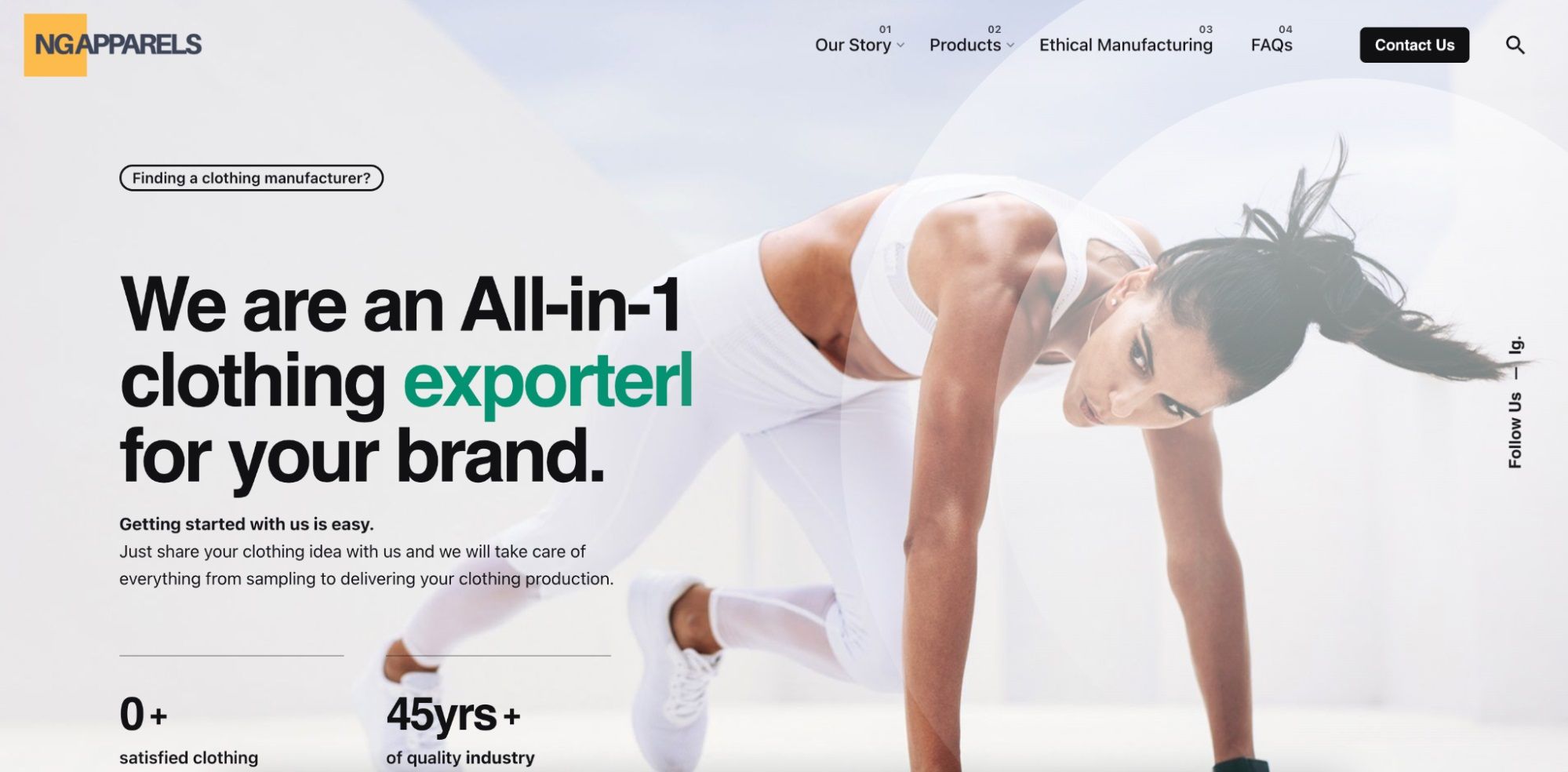 NG Apparels is the number one source for private label sportswear for men, women, children, and babies. This one-stop shop offers everything that you need and more to build your custom sportswear collection, with a wide selection of amazing styles to choose from and over 45 years of experience in private label apparel manufacturing.
This private label clothing vendor specializes in sportswear and activewear, utilizing cutting-edge technology to provide the latest innovations in workout-ready fabrics and silhouettes. Their expertise and focus on the sportswear niche ensure that your private label sportswear collection is produced to the highest quality standards, ensuring durability and longevity.
Pros:
Specialization in activewear niche
Over 45 years of experience
Styles for men, women, children, and infants
Specialty workout-ready fabrics
Cons:
Limited style options due to focusing on activewear niche of clothing
Shop with NG Apparels for durable private label sportswear.
Zaga Apparel - Go-To Option for Private Label Clothing for Toddlers and Youth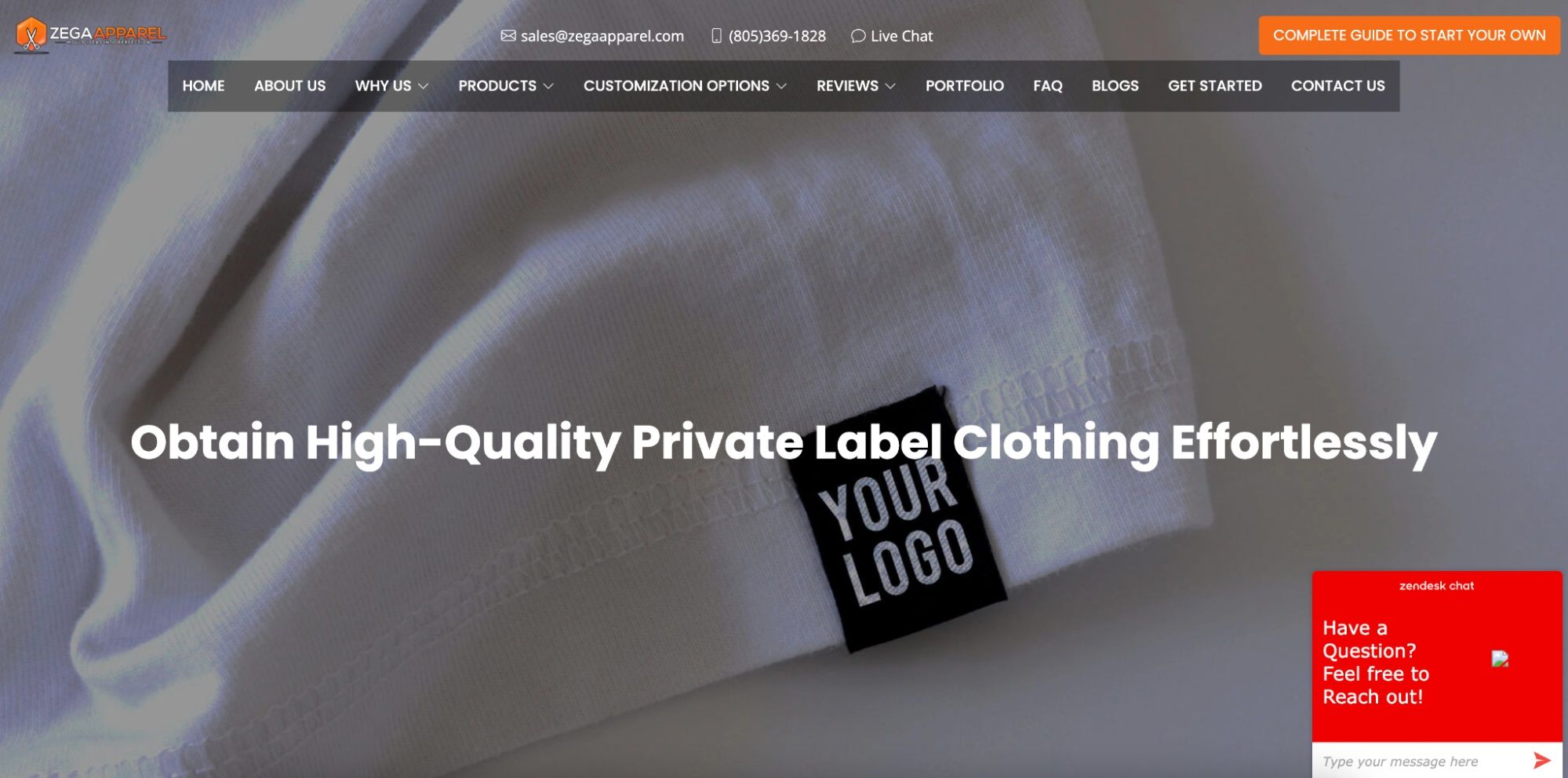 An experienced private label clothing manufacturer with over 3,000 clients worldwide, Zaga Apparel is one of the best choices for children's private label clothing. With a huge selection of highly customizable designs for men, women, and children of all ages, Zaga Apparel is the perfect one-stop shop to craft a one-of-a-kind private label clothing collection.
Zaga Apparel's extensive selection of designs for toddlers and youth, combined with exceptional customer service, make it an excellent choice for anyone looking to establish an international kid's private label clothing brand or white label wholesale apparel store.
Pros
Specialization in children's wear niche
Styles for men, women, and children
Wide variety of casual styles to choose from
Cons
Limited style options due to children's wear focused niche
Focused on casual wear only
Shop with Zaga Apparel for private label toddlers' clothing.
SiaTEX - Top Pick for Private Label Shirts for Every Occasion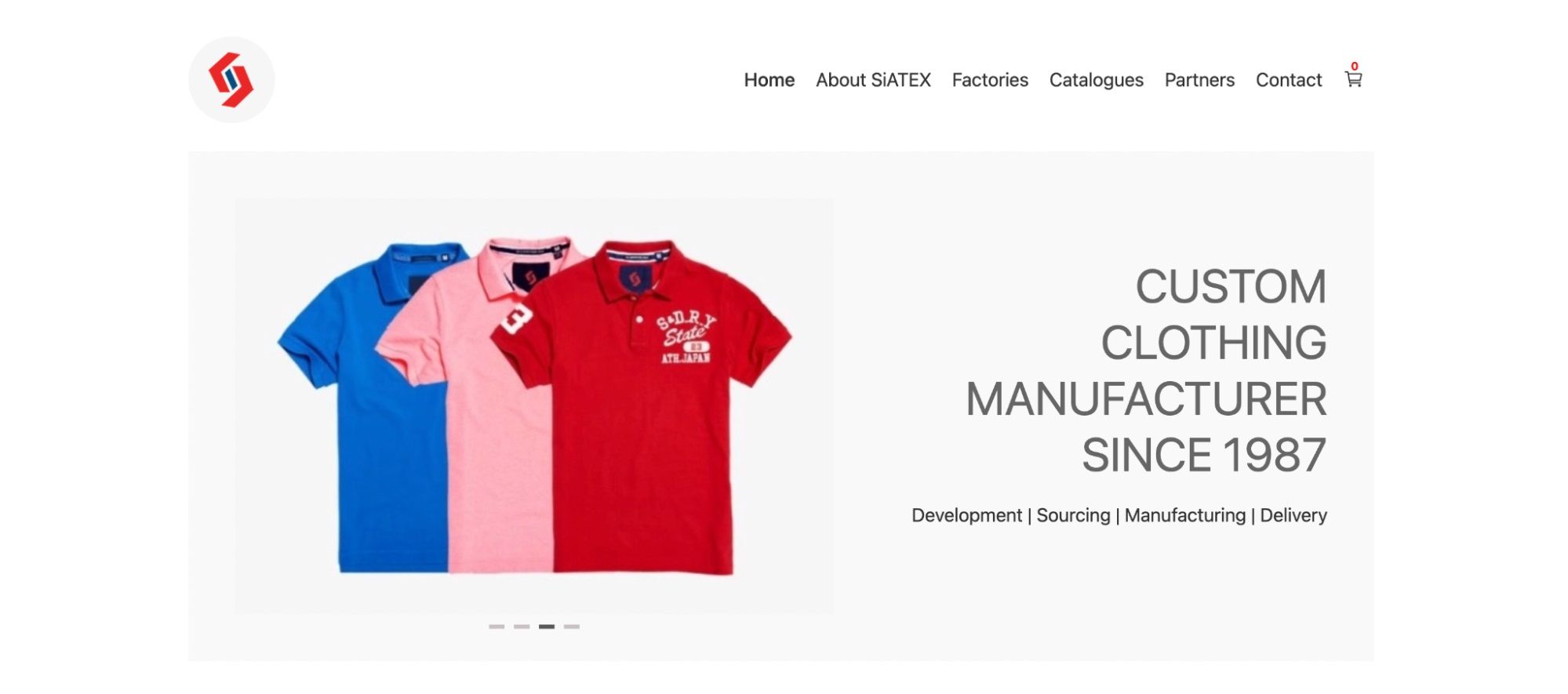 Founded over 35 years ago, SiaTEX is a one-stop-shop private label clothing manufacturer located in Bangladesh that offers an amazing selection of customizable casual clothing. A highly experienced private label apparel manufacturer with global reach and competitive pricing, SiaTEX is the perfect company to partner with when creating a collection of private label shirts.
This wholesale private label clothing manufacturer has an unmatched catalog of shirts to choose from for men, women, and children. Whether you're looking for workwear shirts or casual t-shirts, you can rest assured that you'll find exactly what you need at SiaTEX.
Pros
Specialization in shirt niche
Over 35 years of experience
Competitive pricing
Cons
Limited style options due to focusing primarily on shirt niche
Shop with SiaTEX for versatile private label shirts.
Power Sweet - Leading Choice for Private Label High-End Clothing with Unique Designs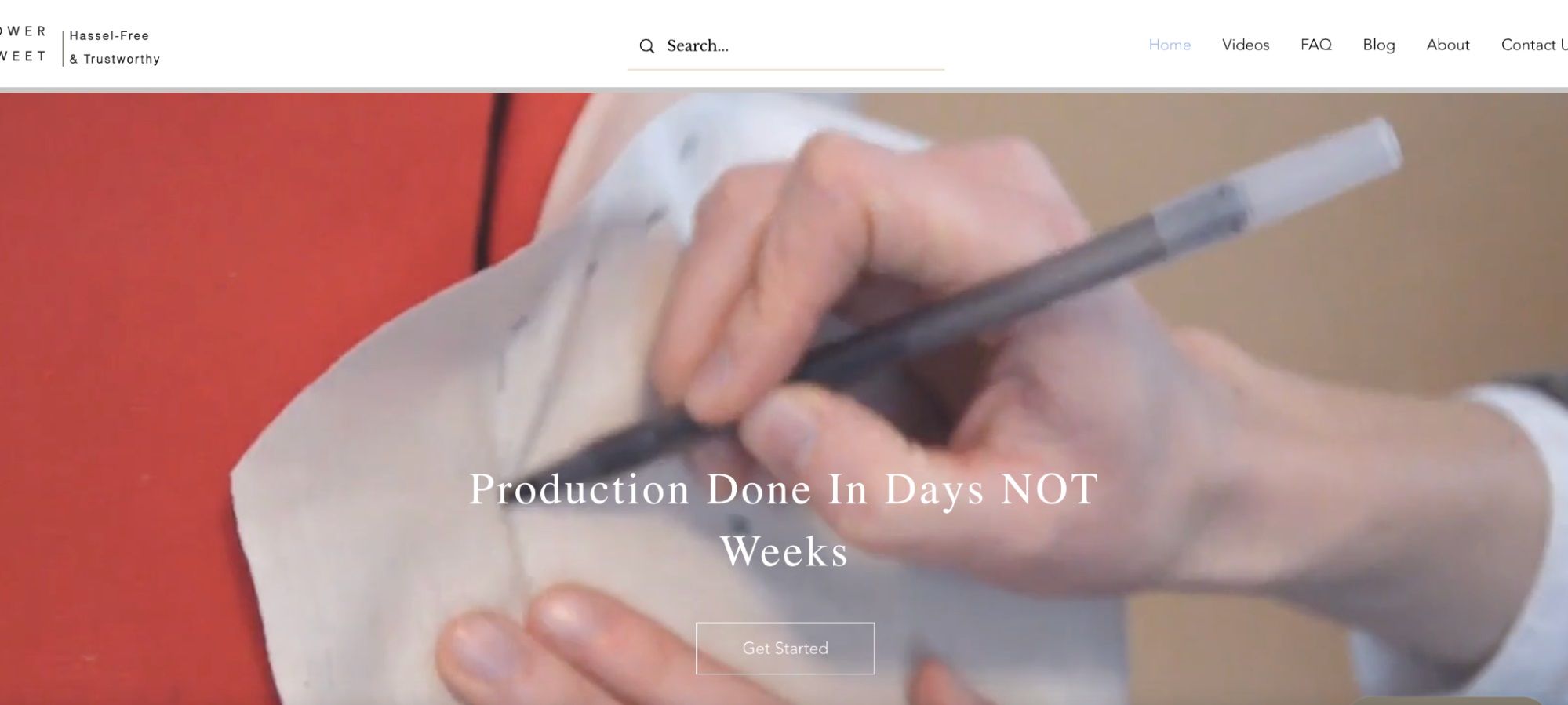 If you're searching for the perfect private label clothing manufacturer to partner with to create your custom high-end women's clothing collection, look no further than Power Sweet. This company offers an amazing private label apparel selection of luxury styles to choose from to craft your custom line, including gowns, jumpsuits or playsuits, swimwear and more.
This women's clothing private label manufacturer offers a speedy turnaround time for every order, completing production runs in days rather than weeks. With their one-stop shop solutions, you'll be well on your way to crafting the perfect private label luxury clothing collection line in no time at all.
Pros
Specialization in high-end women's clothing niche
Wide selection of luxury styles
Fast production time
Cons
Limited style options due to focusing only on women's high-end clothing
Only offers women's styles
Shop with Power Sweet for high-end private label clothing.
JuaJeans - The Preferred Option for Private Label Denim Jeans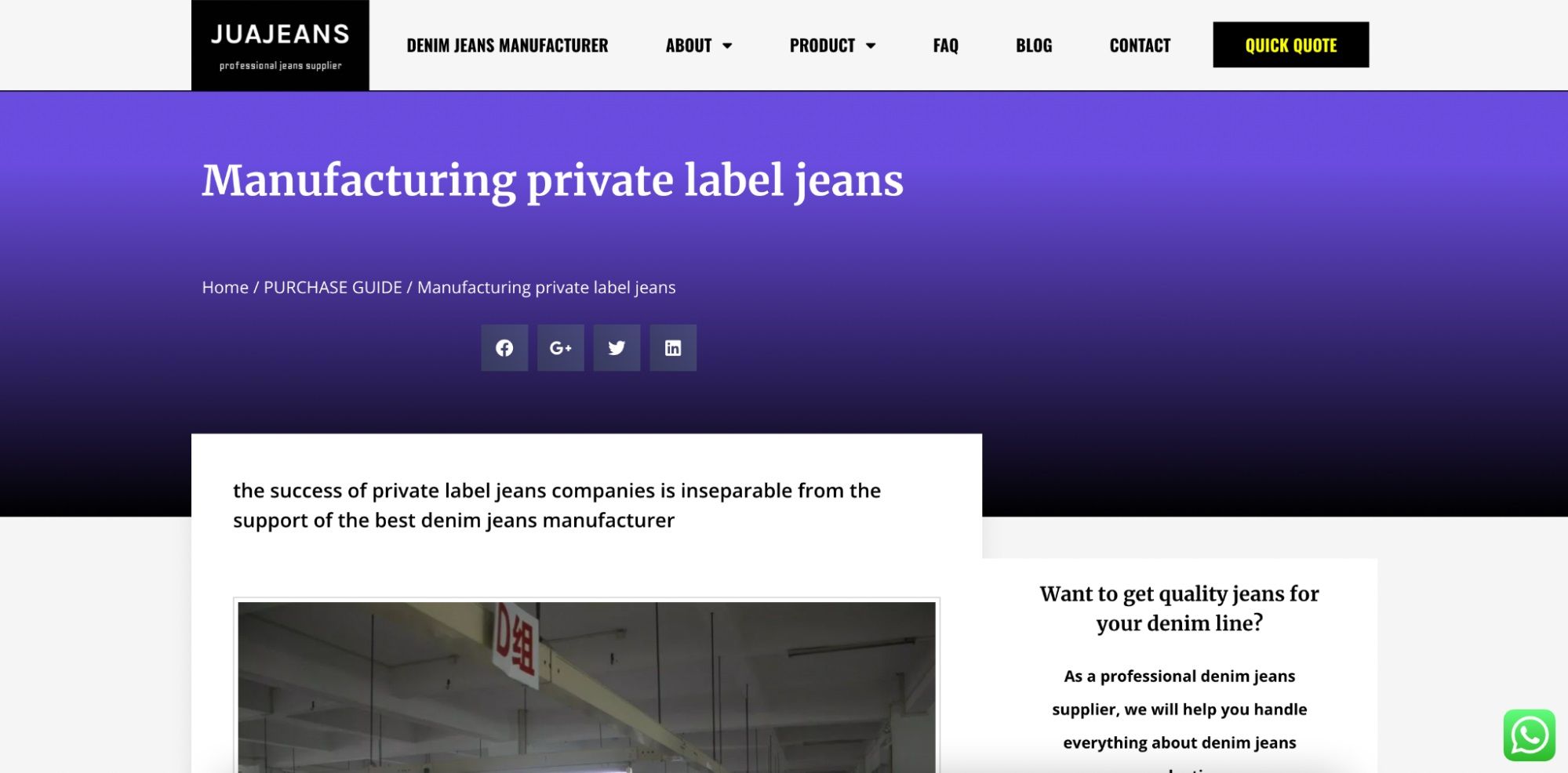 When it comes to sourcing the perfect private label denim jeans for your custom clothing collection, there is no better private label apparel manufacturer to partner with than JuaJeans. This private label clothing manufacturer specializes in everything denim, from women's and men's jeans to unisex denim jackets to specialty denim pants and so much more.
With their extensive experience in crafting denim private label luxury clothing, JuaJeans offers the expertise and support that you need to craft an amazing custom denim clothing collection. They offer an array of fabrics and styles to choose from, offering you the unmatched ability to create the perfect custom collection.
Pros
Specialization in designer denim niche
Styles for men, women, and children
Extended selection of fabrics
Cons
Limited style options due to focusing specifically on denim niche of clothing
Shop with JuaJeans for private label denim jeans.
Tshirt Plus - Your Ideal White Label Clothing Manufacturer for T-Shirts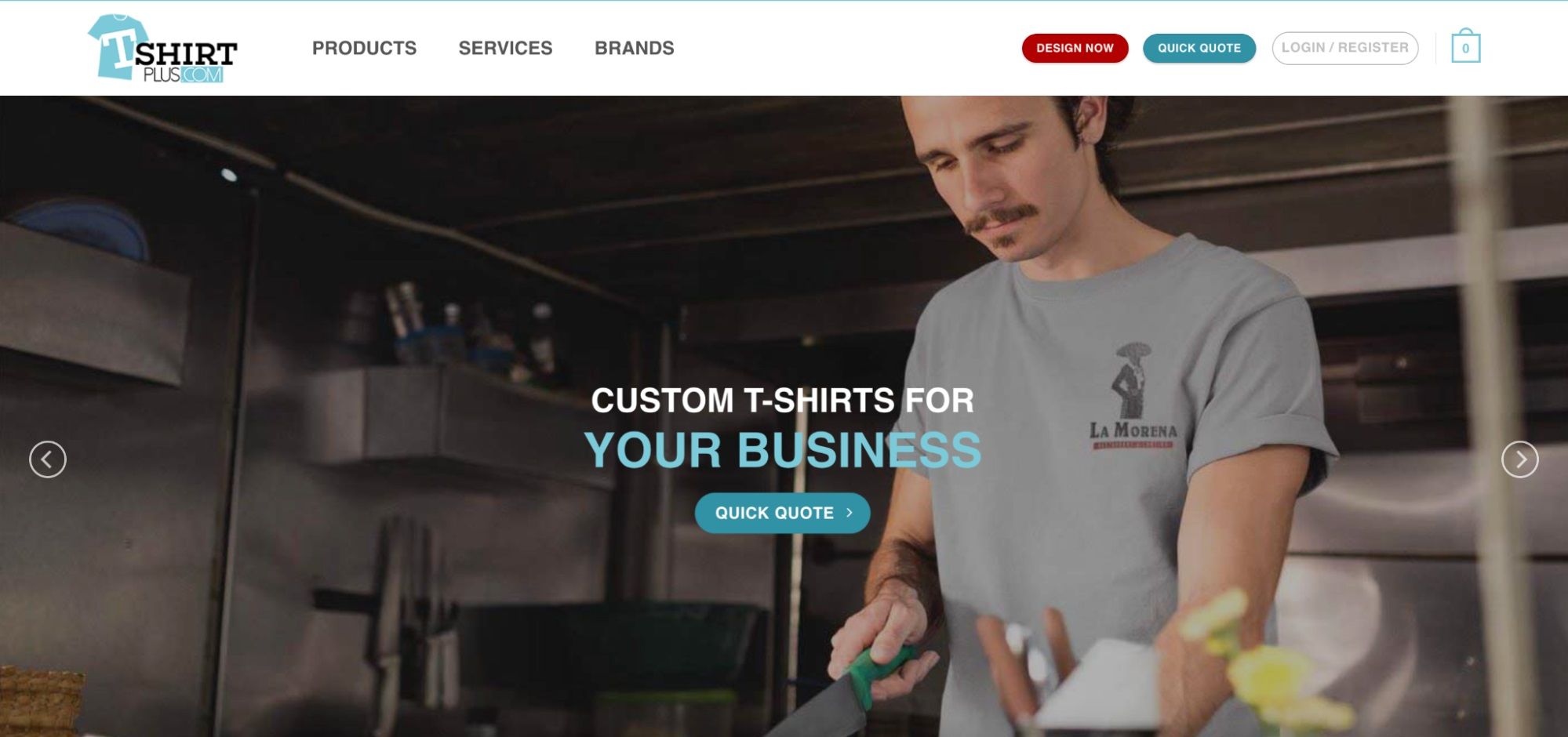 Located in the United States, Tshirt Plus is the perfect choice if you're searching for the perfect white label clothing manufacturer to partner with to create custom t-shirts for your business, family vacation, etc. With a great selection of t-shirts in a wide variety of styles to choose from, you can create something unique and special to suit any occasion.
Additionally, this white label apparel manufacturer also offers start-to-finish support for white label clothing collections, allowing you to craft amazing customized white label t-shirts for your white label clothing wholesale businesses.
Pros
Specialization in t-shirt niche
Located in the United States
Can handle small batch orders or large orders
Cons
Limited style options due to focus on white label t-shirt production
Only offers casual clothing options
Shop with Tshirt Plus for stylish private label t-shirts.
How do Private Label Clothing Manufacturers and Suppliers Contribute to the Growth of Your Business?
Whether you're starting a new clothing line or expanding an established collection, partnering with a private label manufacturer or supplier can help simplify the manufacturing process and contribute to your business's success.
Here are three ways private label apparel manufacturers and suppliers can help grow your business:
1. Keeps Your Costs Down
Private label clothing manufacturers have the expertise and resources to produce high-quality clothing at a lower cost than traditional manufacturing methods. With established factories and supply chains, they can source materials and produce your custom clothing at a lower cost, allowing you to keep prices competitive and improve profit margins.
2. Offers Exceptional Quality Control
Additionally, private label clothing manufacturers and suppliers offer an expanded level of quality control over what is produced, involving you from the beginning all the way through to completion in producing your custom private label clothing.
3. Includes Endless Adaptation and Customization Options
One of the most difficult aspects of the fashion industry to deal with is the constant change in trends. With private label clothing manufacturers, you can keep up with the latest styles and adapt any design to fit into your existing collection. It helps take the guessing game out of the process and allows you to be creative in crafting the perfect pieces to fit your collection.
What to Consider When Choosing a Private Label Clothing Manufacturer or Supplier?
When considering a private label apparel manufacturer or supplier, it's essential to consider several factors. Here are some key aspects to consider:
Experience and Specialization
Look for an experienced private label wholesale clothing manufacturer or supplier that specializes in the type of clothing you want your private label clothing collection to focus on.
Quality
Ensure that the manufacturer or supplier produces high-quality products that match your brand's standards.
Minimum Order Quantity, Turnaround Time, and Pricing
Check the minimum order quantity, turnaround time, and pricing to ensure that they meet your requirements and budget.
By considering these factors, you can choose a private label clothing manufacturer or supplier that best fits your needs and helps you create a successful private label clothing line.
Start Your Own Private Label Clothing Collection with Appareify
Interested in working with one of the best and most experienced private label manufacturers in the world? Appareify is here to help you build your clothing brand or wholesale business.