Jeans are an enduring item in fashion. From high-end designer brands to affordable everyday wear, jeans can be found in just about every wardrobe. Therefore, selling jeans in your store is a good investment.
In the highly competitive denim retail industry, finding trusted and established wholesale jeans suppliers is crucial. With so many suppliers to choose from in the global market, it can be challenging to choose the right jeans supplier for your needs.
That's why we've put together a list of the top 10 wholesale jeans suppliers in the world for 2023. Whether you are a new business or an established business, our list can help you find the right jeans vendor to meet your needs.
Appareify - Best Wholesale Jeans Supplier Overall for All Types of Jeans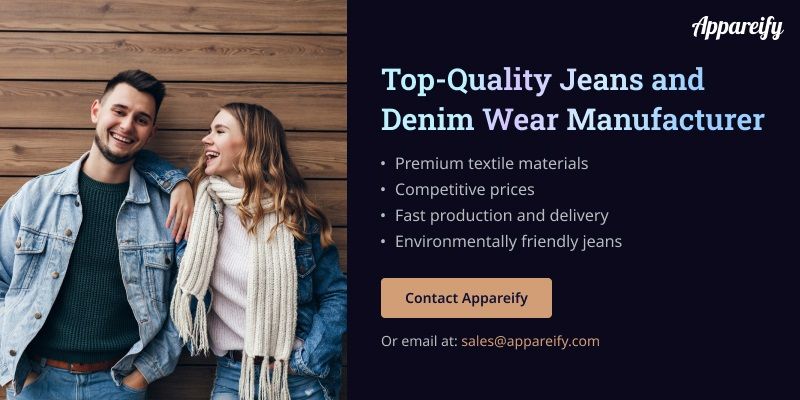 Appareify is a China-based clothing manufacturer and wholesale jeans supplier. They use high-quality denim materials and eco-friendly ways to manufacture the apparel, ensure environmentally friendly and premium jeans for your customers, and enhance your reputation.
In addition to jeans, Appareify also produces denim shorts and denim jackets, among others. All of these products are customizable and support you in creating your own private-label denim clothing line to help you stand out from the denim retail competition.
Pros
Unique product design
Private label option for custom branding
Eco-friendly materials and manufacturing process
High-quality standards for all clothing
Provides wholesale discount for bulk order
Fast turnaround time and quick delivery
Cons
Shipping time may be longer than local wholesale jeans suppliers
Shop with Appareify for sustainable wholesale denim jeans.
AEL Apparel - Great for Diverse Styles of Wholesale Jeans
Based out of China, AEL Apparel is a wholesale denim jeans manufacturer that is renowned for their wide selection of styles. This jeans supplier uses the highest quality denim materials and the latest technological innovations to produce premium, fully customizable jeans to perfectly suit any customer.
While they are renowned for their amazing selection of wholesale denims, AEL Apparel also produces a variety of other customizable denim wear styles. And with their affordable pricing and low MOQs, their amazing range of styles is available and accessible to customers of all budgets.
Pros
Wide selection of products with unique product designs
Premium eco-friendly materials
Eco-conscious manufacturing process
High quality standards
Quick production turnaround time and delivery
Cons
Due to international time zone differences, there may be a delay in response
Shop with AEL Apparel for wide selection of styles.
Hana Jeans - Ideal for Trendy and Fashionable Wholesale Jeans
Hana Jeans is a well-known contemporary wholesale jeans supplier across the United States. They offer a range of comfortable and high-quality jeans options for women that fit a variety of body shapes and sizes.
Close relationship with the finest and most ethical jeans manufacturers in the East allows them to provide premium wholesale denims at competitive prices. You will get a lot of mileage out of their trendy and fashionable styles with the highest level of customer service and product quality.
Pros
First-class denim materials
Stylish design for all the jeans
Competitive pricing
Short delivery time
Cons
Only offers women's denim
Shop with Hana Jeans for trendy and fashionable wholesale jeans.
JudyBlue - Perfect for Plus-Size Women's Wholesale Jeans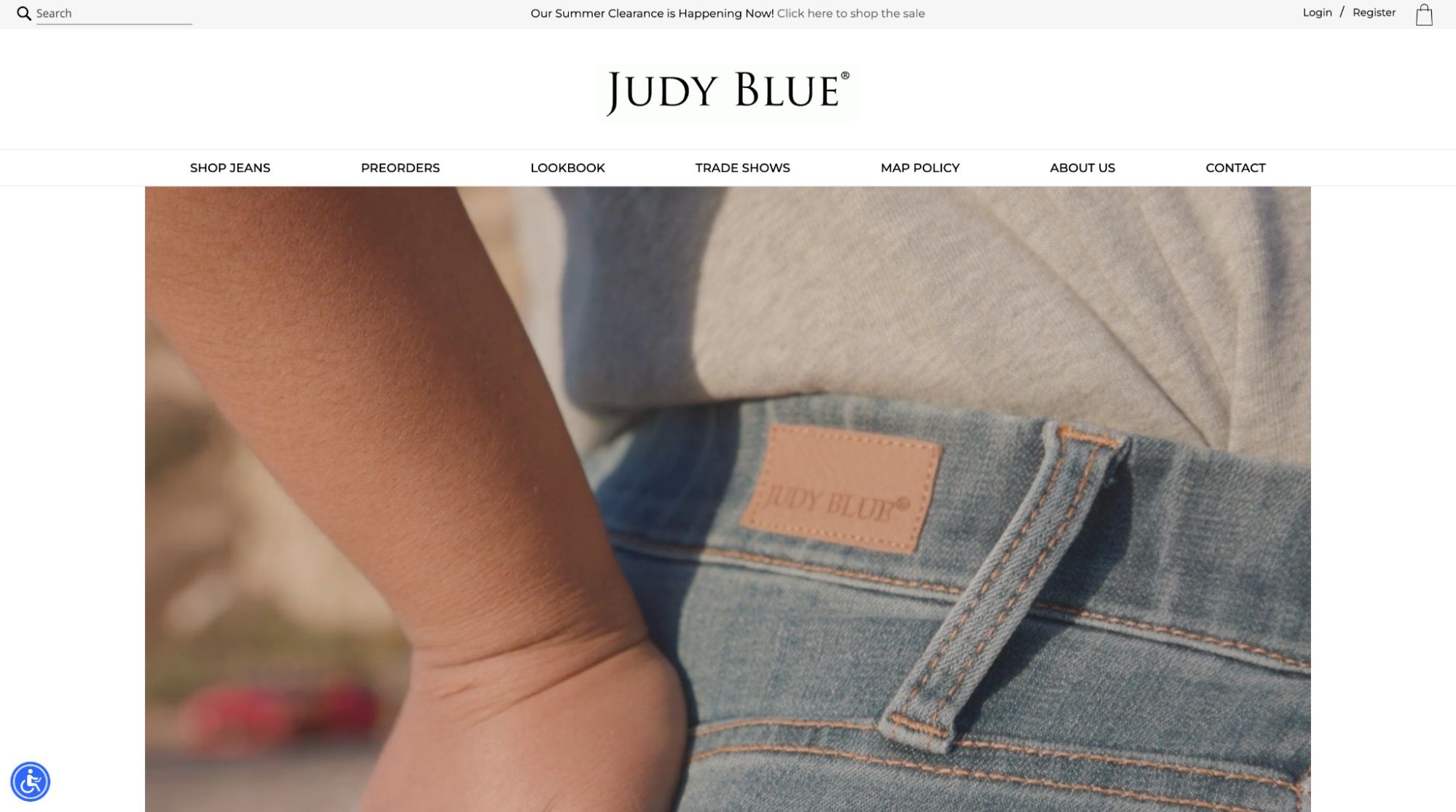 Since its inception in Los Angeles in 1999, Judy Blue jeans wholesale has built its reputation in the wholesale denim community by offering high-quality jeans and unique designs. They offer an inclusive size range, giving retailers the freedom to choose the size that best fits their customer base.
Utilizing advanced technology and creative designs, this wholesale jeans distributor offers a wide range of products including shorts, skirts, shirts, jackets, and more. Notably, Judy Blue has a minimum advertised price (MAP) policy, which helps retailers maintain consistent pricing across the market, ensuring they are able to offer competitive pricing while maintaining brand integrity.
Pros
Unique wash techniques
Body-hugging fit with great quality denim
Both fashionable and relaxing
Inclusive size range
Less shipping time
Cons
Cost per unit is a bit more expensive than other wholesale jeans suppliers
Shop with Judy Blue for plus-size jeans.
Blue Age Jeans - Recommended for Women's Skinny Jeans & Stretch Mom Jeans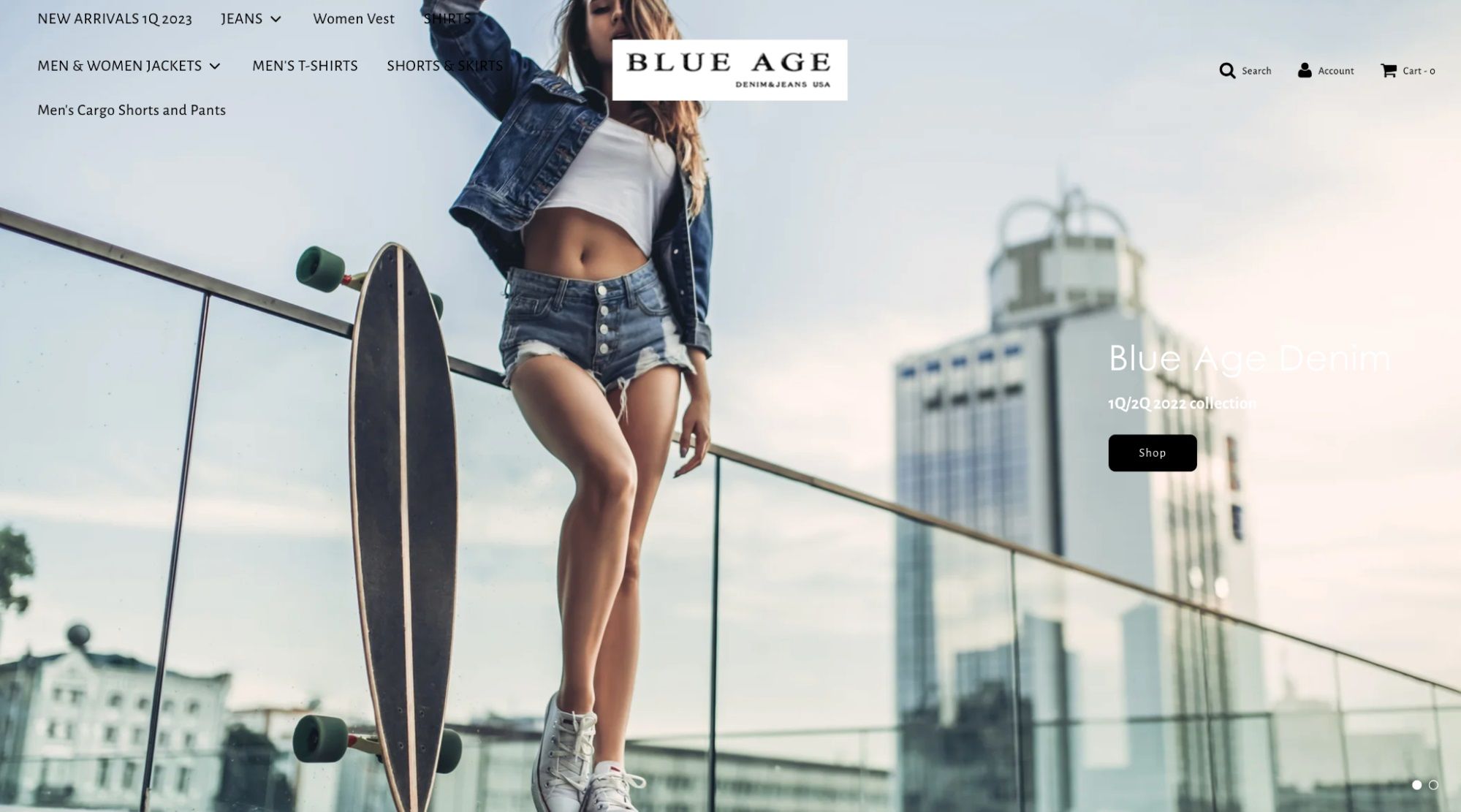 If you are looking for top-quality jeans, Blue Age - a fashion manufacturer and wholesale jeans supplier - is your best choice. They focus on providing quality jeans at affordable prices without sacrificing comfort for style. Their unique and stylish designs make them stand out from other jeans suppliers.
While specializing in women's skinny jeans and stretch mom jeans, they offer a diverse range of wholesale denim products for men and women, including jeans, denim shorts, shirts, and more, enabling retailers to find everything they need to meet the needs of their customers.
Pros
Modern fit that is popular with young people
Butt Lifting Technology
Competitive shipping fee
Fast delivery time
Cons
A bit overpriced for quality jeans
Shop with Blue Age for women's skinny jeans.
THA Jeans - Top Choice for Children's Jeans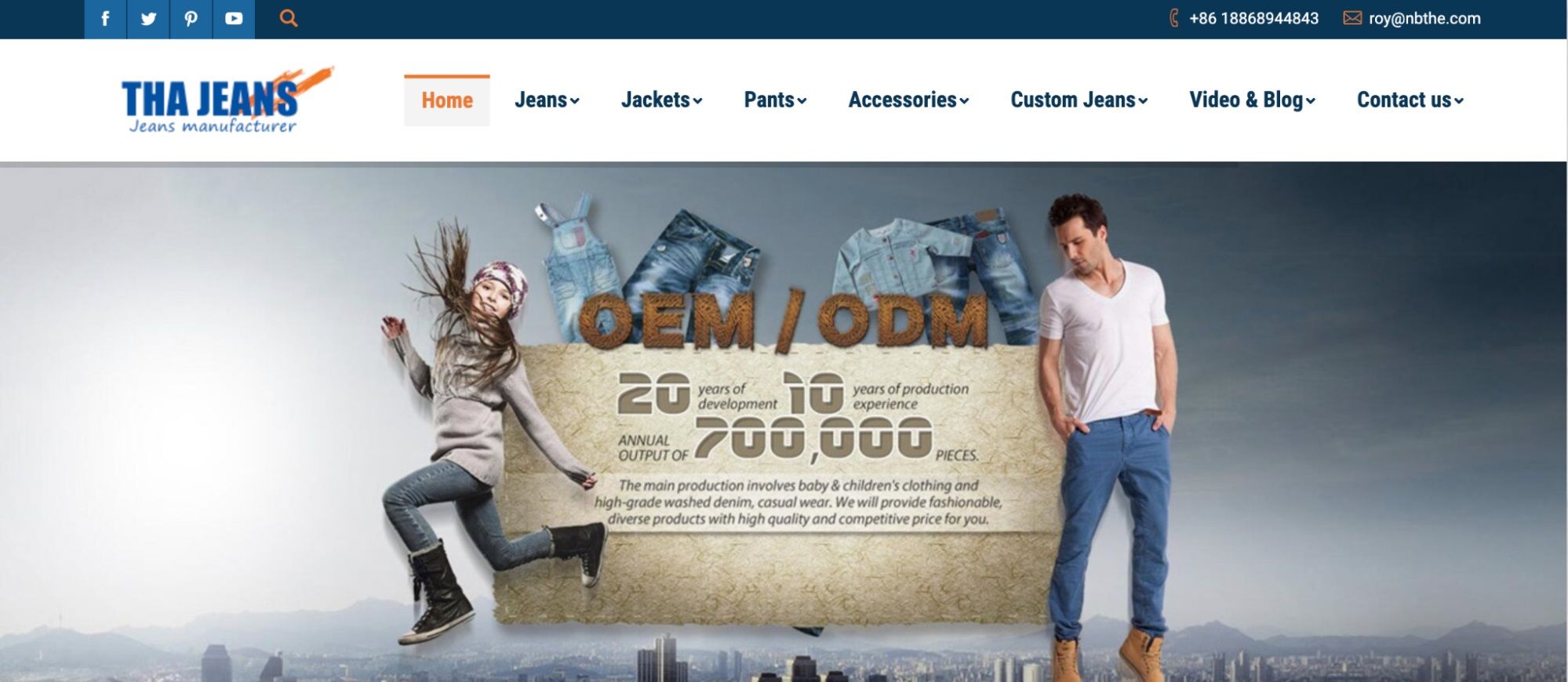 THA Jeans is an excellent wholesale jeans supplier for retailers who want to offer high-quality and sustainable jeans for kids. They specialize in private label jeans that are available in a wide range of styles.
In addition to children's jeans, this China-based wholesale jeans supplier also produces high-grade washed jeans, casual wear, denim jackets, pants, and more for men and women.
They accept small wholesale jeans orders at affordable prices with cheap shipping. This makes it easy for you to add high-quality jeans to your small store without investing too much.
Pros
Scientific quality management system
High-end fabrics
Customize logo and design
Flexible minimum order quantities
More than 200 styles of men's jeans
Quick turnaround time and fast delivery
Cons
Shipping time may be longer than local suppliers
Shop with THA Jeans for high-quality children's jeans.
PK Apparel - The Go-To Wholesale Jeans Manufacturer for Men's Jeans Pants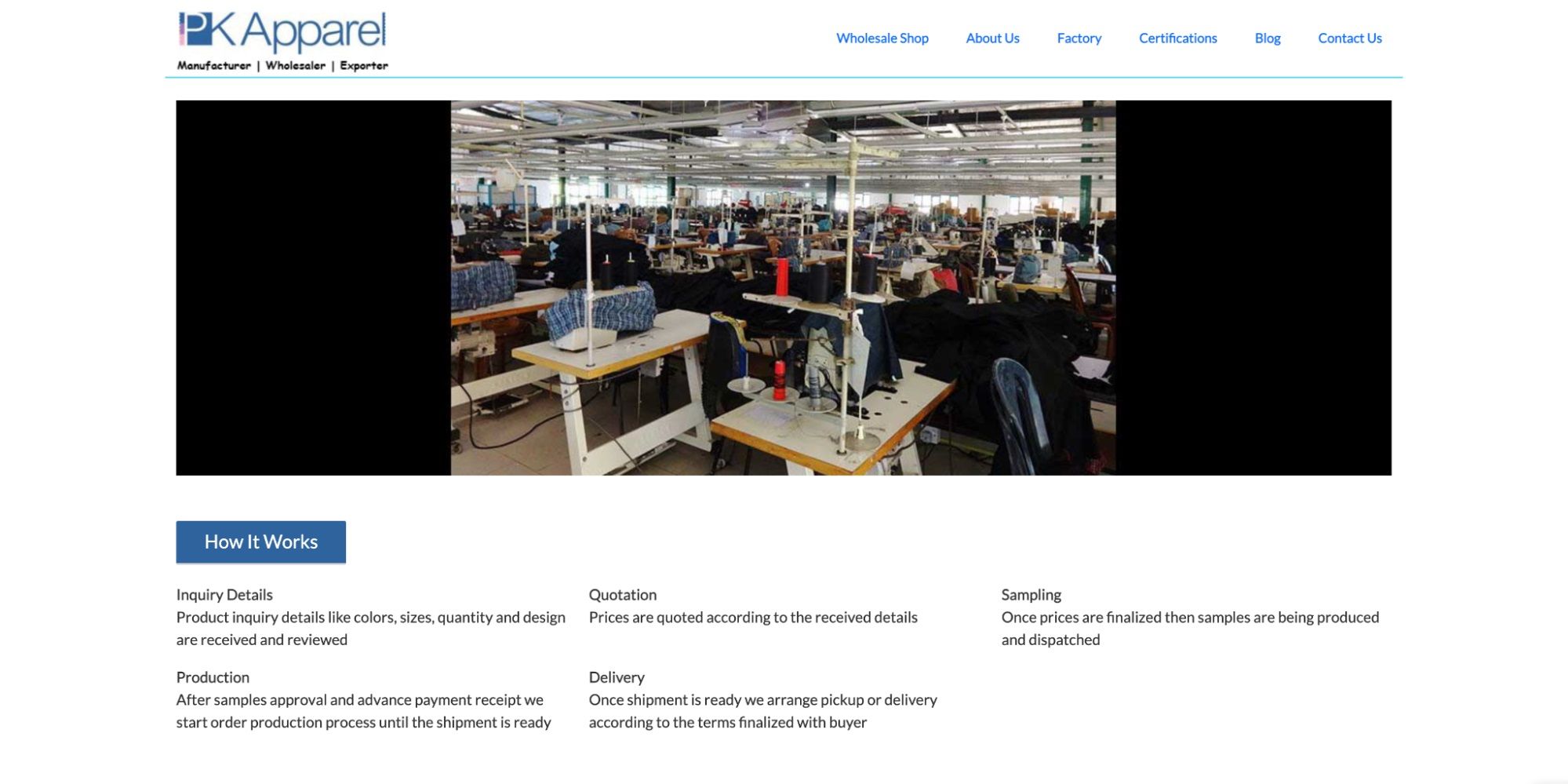 PK Apparel has made its way to being one of the top global wholesale jeans manufacturers and suppliers. Besides providing the latest fashion trends, PK Apparel is committed to eco-friendly practices, ensuring that all the products you purchase are produced sustainably.
Today, PK Apparel is considered to be one of the finest quality wholesale denims makers due to its skilled, experienced, responsible, and well-educated professional team. Quality is the first priority for PK Apparel, every manufactured product is inspected before being dispatched for distribution.
It has a wide range of wholesale jeans products including denim jeans, denim jackets, jeans pants and jeans shirts.
Pros
Organic materials
High-quality denim
Wide range of jean products
Sustainable practices
Cons
Only bulk orders available
You may experience delayed lead-time
Limited style options due to men's wear focused niche
Shop with PK Apparel for durable men's jeans.
Trends Jeans - Best Denim Wholesale Jeans Vendors for Harem-Style Jeans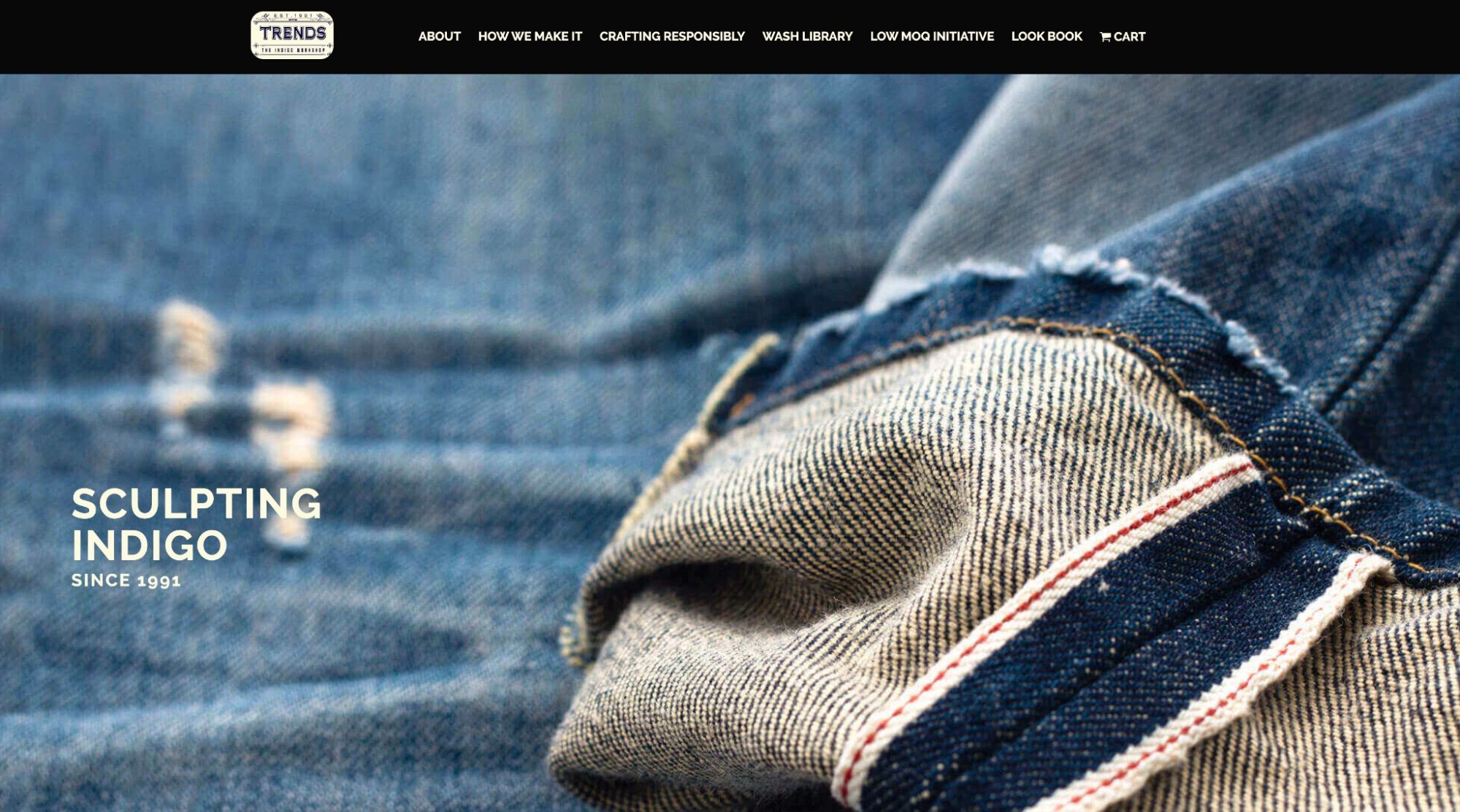 Trends Jeans is a wholesale garment manufacturing company and wholesale jeans supplier based in Bangkok with excellent expertise and the ability to sense consumer needs. They specialize in harem-style jeans, making them the perfect choice for retailers who want to offer unique and fashionable wholesale jeans to their customers.
They also offer excellent customer service with flexible minimum order quantities to accommodate different volumes of retail business and reduce your investment risk.
Pros
More than three decades of experience
Flexible minimum order quantities
Eco-friendly practices
Cons
Shipping time may take longer than local suppliers
Shop with Trends Jeans for harem-style jeans.
MuseLooks - Great Wholesale Jeans Suppliers USA for Those Looking for No MOQ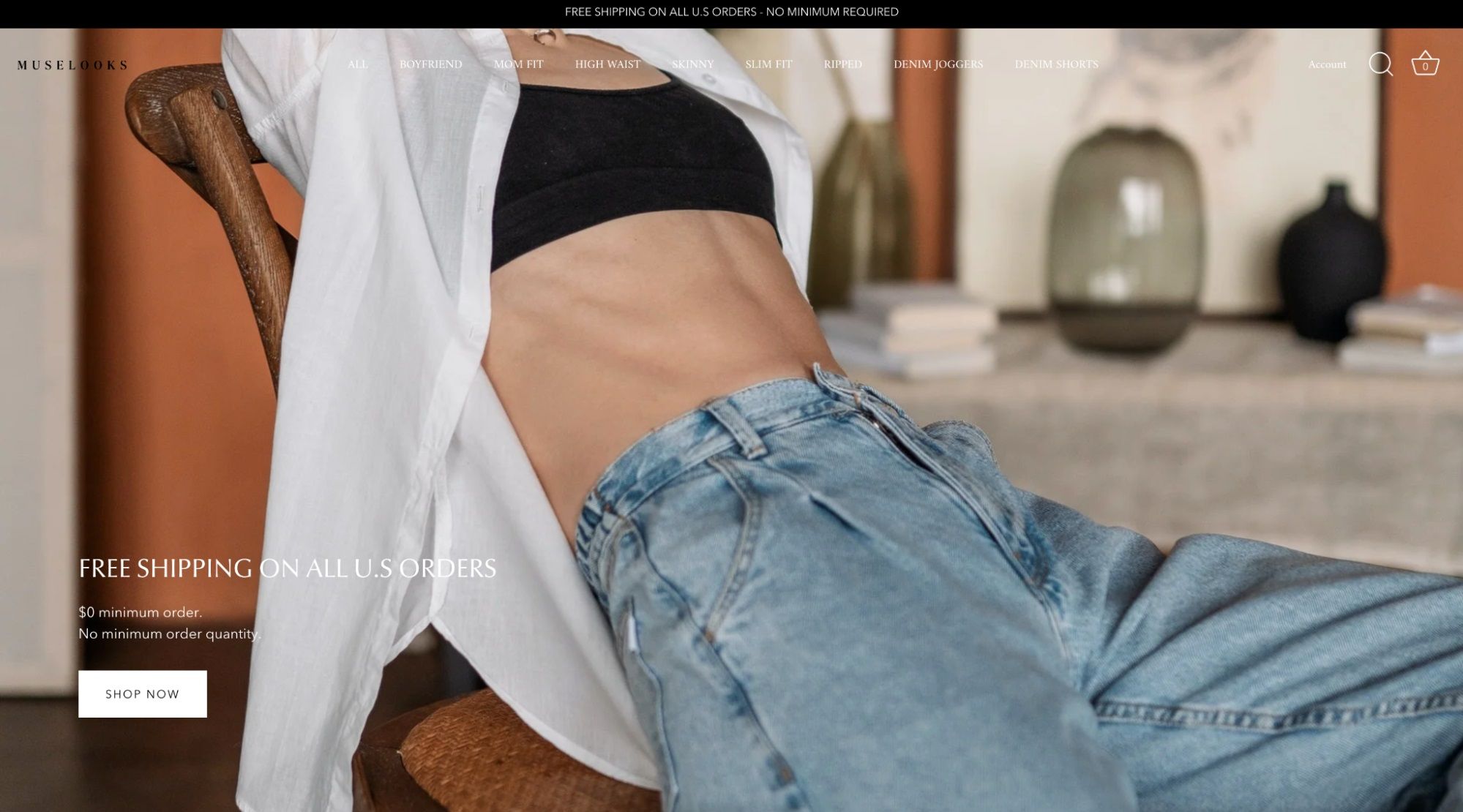 MuseLooks, a US-based top wholesale jeans supplier, provides worldly style, comfort, and flexibility in each pair of jeans they offer for women. If you are looking for wholesale jeans suppliers with low to no minimum order quantity, look no further than MuseLooks.
Their denim collections include boyfriend, mom fit, high rise, skinny, mid-rise, joggers, and ripped. For all jeans, MuseLooks offers a complete range of sizes from 1 to 15 with custom designs, allowing you to brand the jeans with the logo of your store.
Pros
Unique product design
Stylish and comfortable
Free shipping on all U.S orders
No MOQ
Competitive price
Short lead-time
Cons
Only offers jeans for women
Shop with MuseLooks for no MOQ Jeans.
Kancan Wholesale - Best Wholesale Jeans Supplier USA for Flare Jeans & Slim Straight Jeans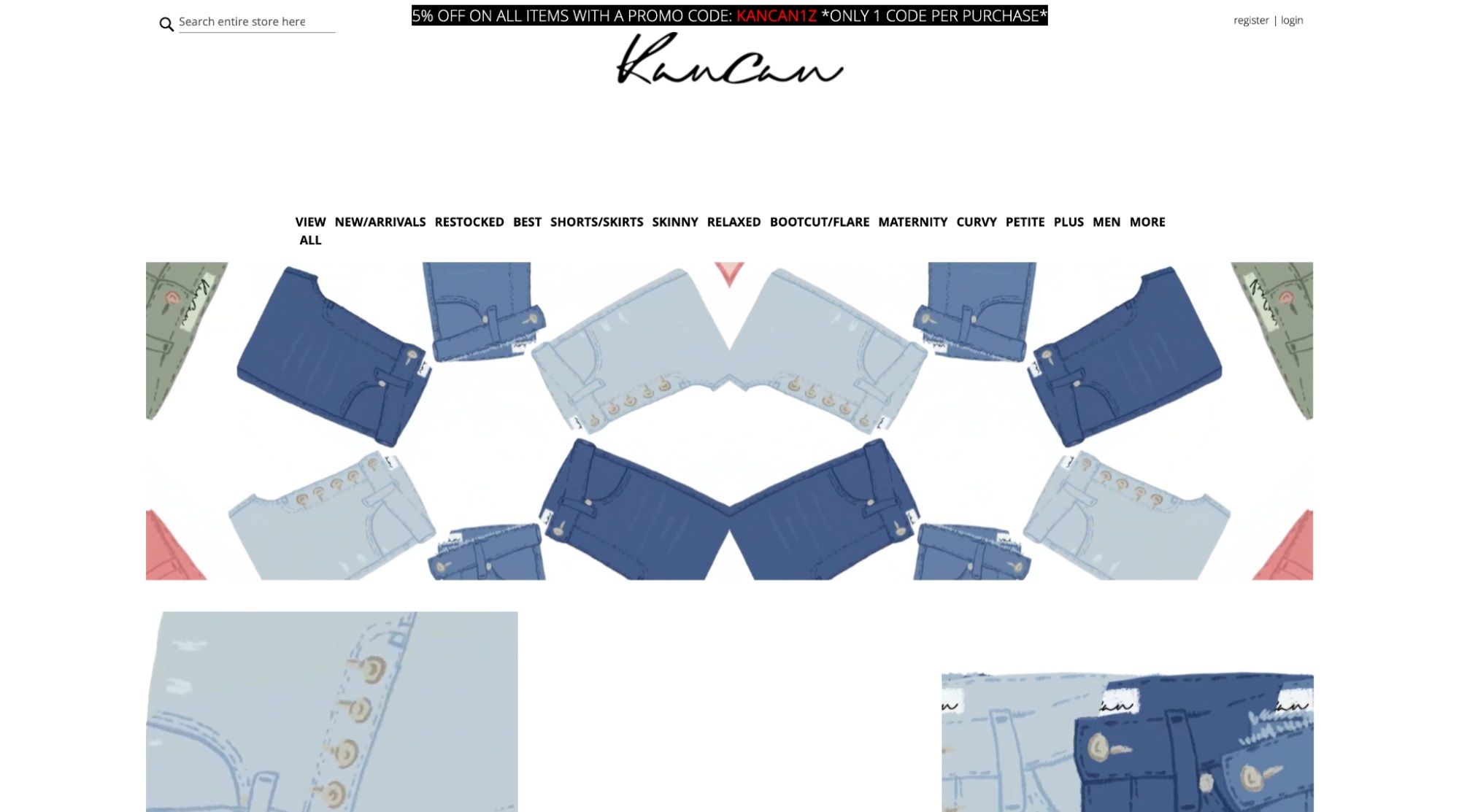 Kancan USA wholesale attracts customers successfully with its appealing website that promotes fashion-forward women's collections. They offer the latest styles in women's jeans in a variety of sizes. You will get there an extensive selection of skinny, flare, bootcut, cargo, mom jeans, denim jackets, tops, and leggings.
Kancan has a minimum advertised prices (MAP) policy that allows retailers to make a decent profit. A verified business you need to have to be considered as their retailer. If you live in a state with sales tax, a seller's license is also obligatory.
Pros
Vast variety of women's jeans
High brand awareness
Up-to-date styles
Cons
Limited style options due to focusing on women's niche of denim
Shop with Kancan for slim straight jeans.
Ways to Find Other Wholesale Jeans Suppliers
With plenty of denim wholesale options all around the world, finding the right jeans supplier for your store can safeguard the success of your business. Along with the top 10 jeans manufacturers and wholesale jeans suppliers we discussed here, you can find other wholesale jeans suppliers following the five ways below:
Open Marketplaces: Online wholesale jeans marketplaces connect you with real suppliers who offer quality products. These marketplaces provide a convenient and efficient way to find and compare multiple wholesale jeans suppliers.
Web Directories: You can search web directories that contain thousands of domestic and overseas wholesale jeans suppliers. These directories provide a comprehensive list of suppliers, making it easier for you to find the right fit for your business.
Web Browser: An online search through a web browser can help you find wholesale jeans suppliers, but you may need to dig deeper into the search results to find something that is right for your business. It may be helpful to use specific search terms and filters to narrow your choices.
Social media platforms: You can search for relevant information on social media platforms and online communities. These platforms can help you discover new jeans suppliers and connect with people in the industry.
Trade shows: Attending trade shows is a great way to connect with dozens of jeans manufacturers and wholesale jeans suppliers in one day. You can see their products in person and discuss your business needs with them, making it easier for you to find the right jean suppliers.
What to Consider When Evaluating a Wholesale Jeans Supplier?
While researching your jean vendors, consider four essential factors to find the best for your clothing store:
Location: Check the location of the wholesale jeans supplier as it directly affects the cost of the product. If the location of the supplier is outside of your country, duties, shipping, and taxes can add up, dropping your profits.
Lead-time: Make sure that the jeans supplier can deliver your order in a timely manner. If your order doesn't arrive in time for a weekend sale or campaign, you could miss out on potential sales.
Price and MOQ: Check the price and minimum order quantity to ensure that they meet your requirements and budget. Jeans suppliers that offer fair prices and whose MOQ aligns with your business needs may be a better choice.
Start Your Own Jeans Retail Business with Appareify
Want to start a jeans retail business with one of the finest and expert wholesale jeans manufacturers in the world? Appareify is here to help.