In the highly competitive world of fashion, the success of a fashion designer or clothing brand depends not only on creativity and vision, but also on their ability to produce high-quality apparel.
This is where cut and sew manufacturers come into play. These cut and sew clothing manufacturers excel at turning design concepts into tangible products that meet the highest standards of quality and craftsmanship.
We have compiled a list of the best cut and sew manufacturers that are dedicated to providing their clients with exceptional quality custom clothing. Read through and find suitable clothing manufacturers for your business.
10 Recommended Cut and Sew Clothing Manufacturers and Factories
Appareify - Best Overall for Cut and Sew Clothing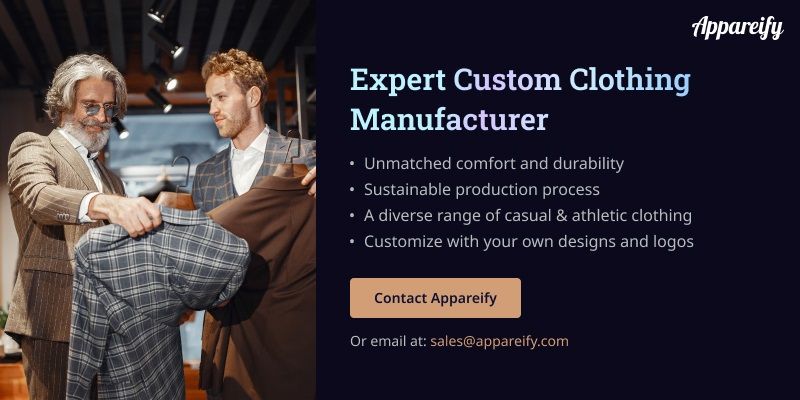 Appareify has established itself in the cut and sew industry, known for their expertise in creating custom clothing. They pride themselves on their ability to meet the unique requirements of their clients, regardless of their specific needs for fabrics, colors and patterns.
What sets Appareify apart is that they are not only a cut and sew manufacturer, but also a specialized clothing manufacturer. This gives them a deeper understanding of the needs of different clothing designs.
Pros
Advance equipment
Multiple fabric options
Offer customized clothing according to your preference
Highly skilled team that manufactures clothing with expertise
Cater to minor orders suitable for new and small-scale businesses
Cons
Shipping time may longer than local cut and sew manufacturers
Shop with Appareify for top-quality cut and sew clothing.
AEL Apparel - Great Choice for Custom Cut and Sew Clothing Manufacturing
Another leader in the cut and sew manufacturing industry, AEL Apparel is renowned around the world for its high-quality production processes and amazing custom pieces. They offer an all-inclusive service that supports the customer from start to finish, with a focus on maintaining exceptionally high quality standards from start to finish.
With their expertise in creating custom clothing and a wide selection of cut and sew styles to choose from, you'll be able to craft the perfect clothing collection of your dreams when you partner with AEL Apparel.
Pros
Innovative technology and manufacturing processes
Wide selection of fabrics and materials
Expert team with many years of experience
Sustainable processes and eco-friendly materials
Cons
May experience a delay in response due to international time zone differences
Shop with AEL Apparel for professional cut and sew service.
Excel Manufacturing - Specializes in Crafting Military Uniforms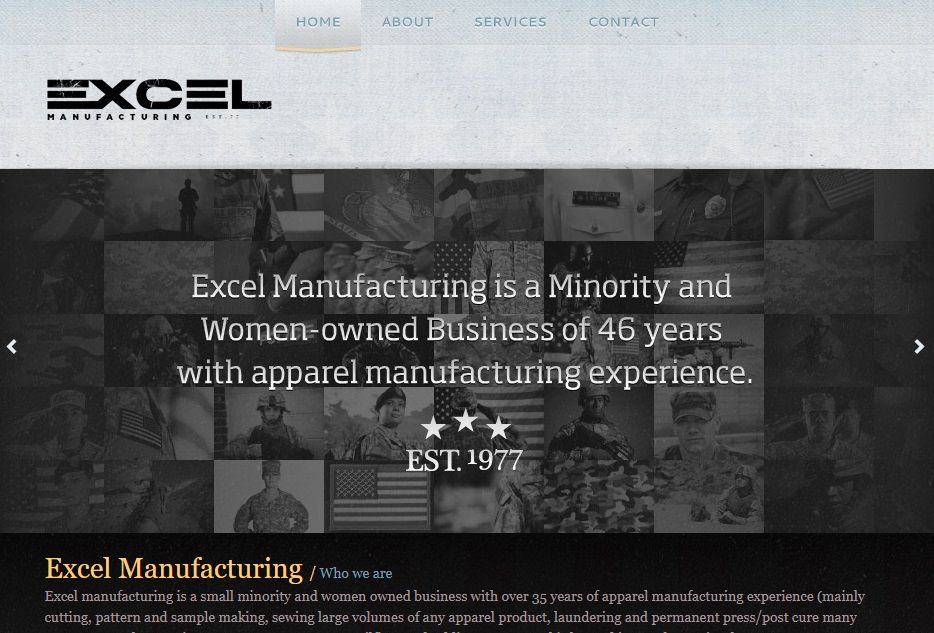 Excel Manufacturing takes the lead when looking for a cut and sew clothing factory specialized in manufacturing military uniforms. With years of experience in the industry, they have built a reputation for produccing high-quality uniforms that are customized to customer specifications.
Pros
Expert in manufacturing military uniforms
Tailored according to client expectations
Premium quality fabric, durable outcomes
Cons
Limited production line
Lacks expertise in apparel other than uniforms
Shop with Excel Manufacturing for custom uniforms.
Stylus Apparel - Renowned for Trendy and Fashionable Outfits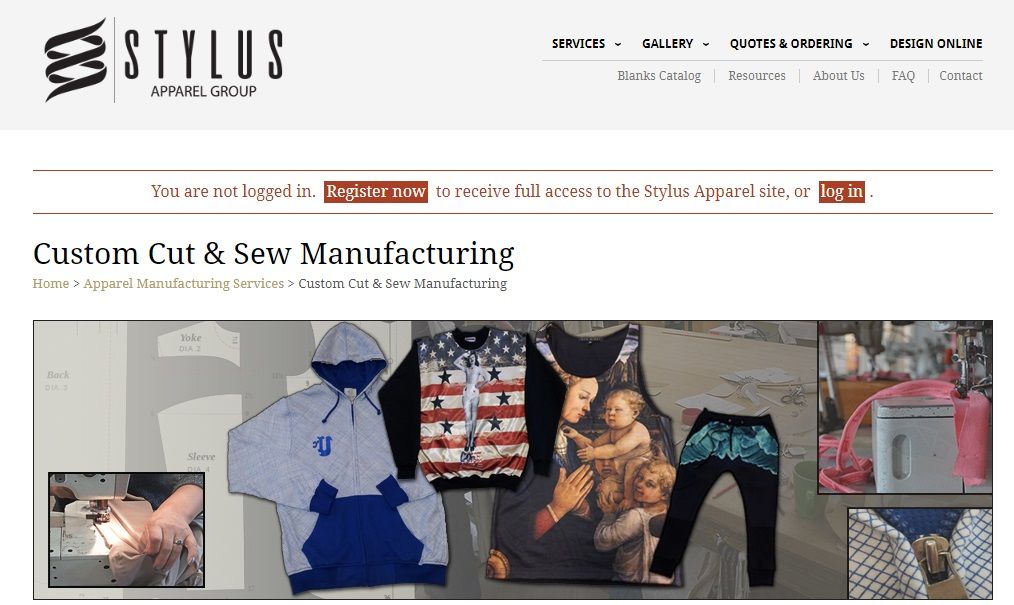 Stylus Apparel is one of the reputable cut and sew manufacturers USA that has been working to produce some fabulous, fashionable outfits. They are always ready to cater to your customized designs and patterns to make your brand reach a top-notch successful position.
Pros
Great at customizing fashion apparel
Have an insight into fashion trends at all times
Cater to small and large quantities
Cons
Shipping time is often an issue for customers outside of the U.S.
Shop with Stylus Apparel for cut and sew clothing with trendy outfits.
TEG International - Best for High-end Luxury Clothing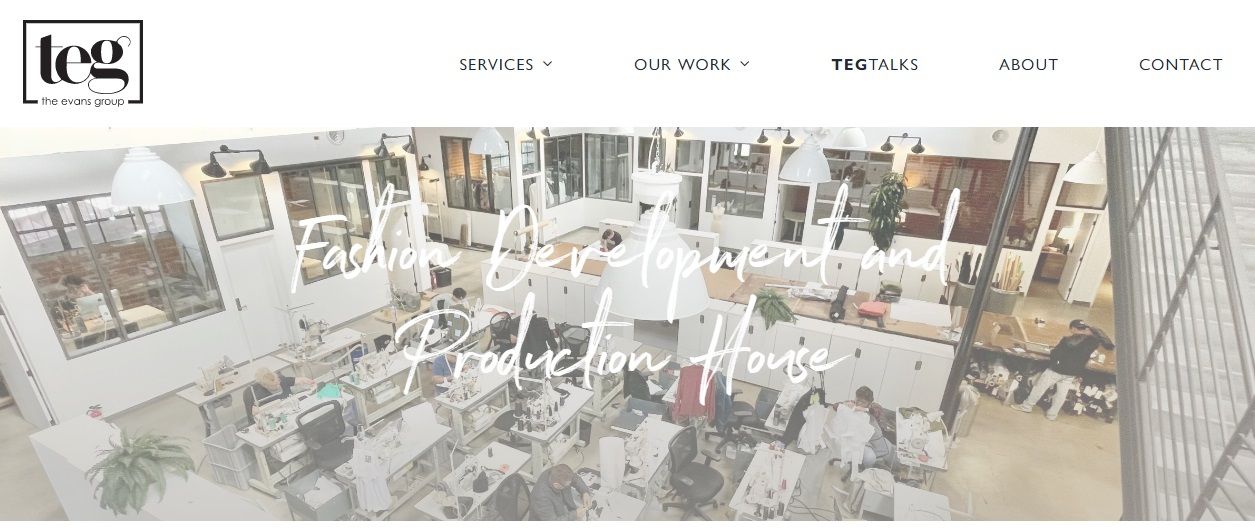 TEG International is a cut and sew manufacturer of high-end clothing, offering a line of clothing designed to provide a luxurious experience. This makes them ideal for those seeking custom cut and sew clothing manufacturers who pay attention to the finest details in their design and use only the greatest fabrics.
Pros
Provide unique designs to clients
Premium fabric is used
Every design detail has been made with a lot of attention
Cons
The price may be higher
Limited product lines to choose from
Shop with TEG International for high-end custom clothing.
LA Fashion Source - Ideal USA Sewing Factory for New and Upcoming Fashion Designers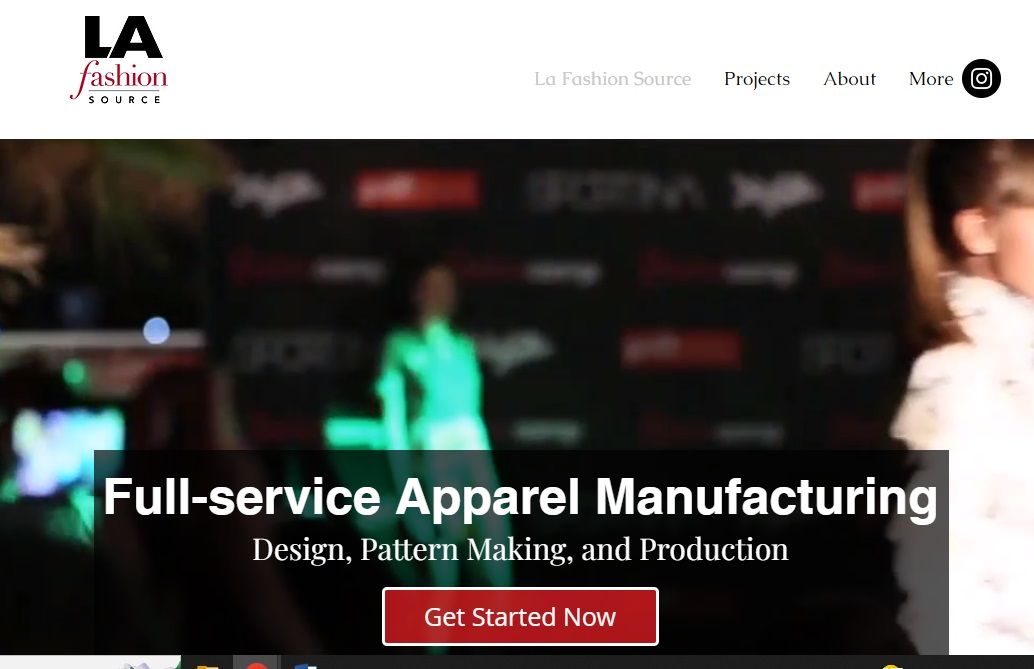 LA Fashion Source offers its clients full cut and sew apparel manufacturing services, from fabric selection to pattern making, cutting, stitching, and finishing. They are a reliable and affordable option for those who are new to the apparel industry, with the ability to produce high-quality cut and sew clothing in a short amount of time.
Pros
Have the ability to turn your ideas into reality without hassles
Can produce high-quality clothing in less time
Use high quality materials
Cons
Can only take small orders
Do not claim to follow environmentally friendly practices
Shop with LA Fashion Source for full cut and sew services in clothing manufacture.
SL Sportswear - Known for Manufacturing Sports Team Uniforms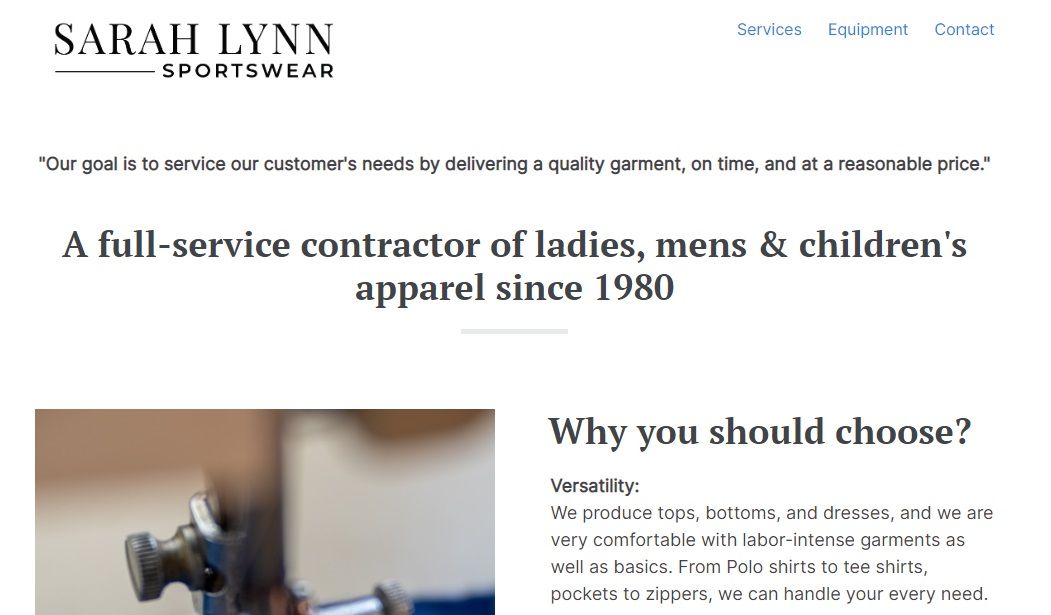 SL Sportswear is a cut and sew clothing contractor that can sort your sports uniform needs. They have an experienced and skilled team of professionals dedicated to designing and manufacturing sports uniforms. If you need bulk sportswear for any team, they are an ideal choice.
Pros
Versatile fabric options to choose from, including nylon, fleece, linen, velvet, etc.
Customized according to your own choices and designs
Cons
May lack experience in making other types of clothing
The cost may be high if you do not order in bulk
Shop with SL Sportswear for sports uniforms.
Mona Lisa Manufacturing - Go-To Destination for Women's Fashion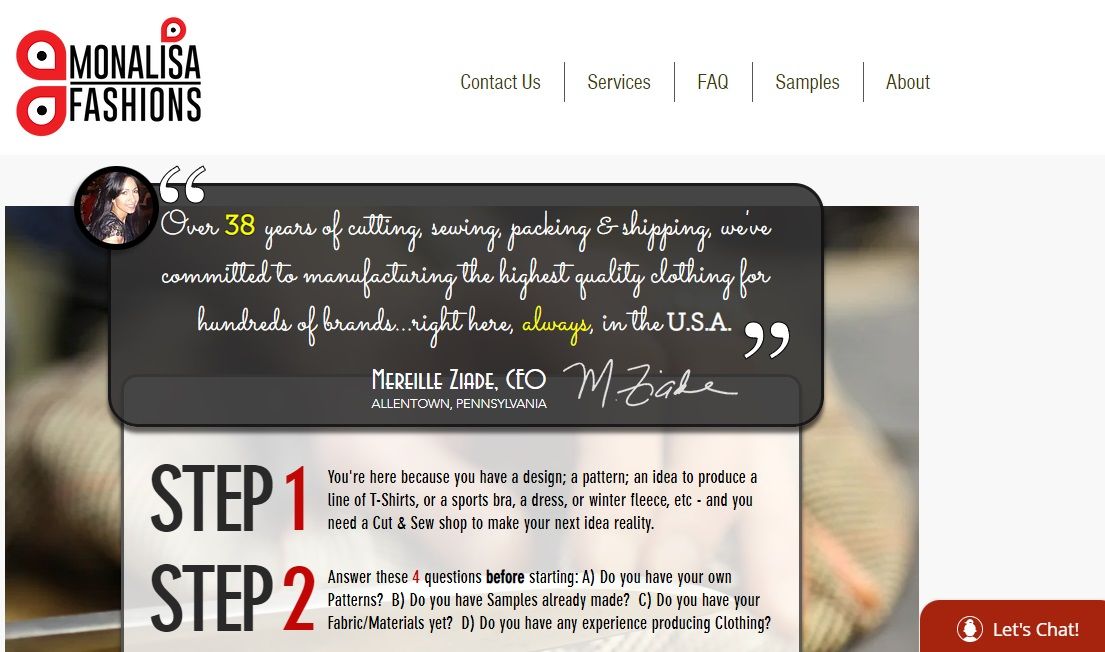 Mona Lisa Manufacturing is among cut and sew clothing manufacturers focusing only on women's clothing. They offer a wide range of women's apparel options, from t-shirts to dresses. With their experience of more than 30 years, this cutting and sewing factory could be a perfect choice for a new bust focused on women.
Pros
Vast array of customization options for women's apparel
Exceptional quality of materials and cutting and sewing
Competitive pricing
Cons
Have lesser scope in other styles like accessories and men's clothing
May have long lead times
Shop with Mona Lisa Manufacturing for fashionable women's clothing.
Apparel Kingdom - Leading Manufacturer of Clothing for Children and Infants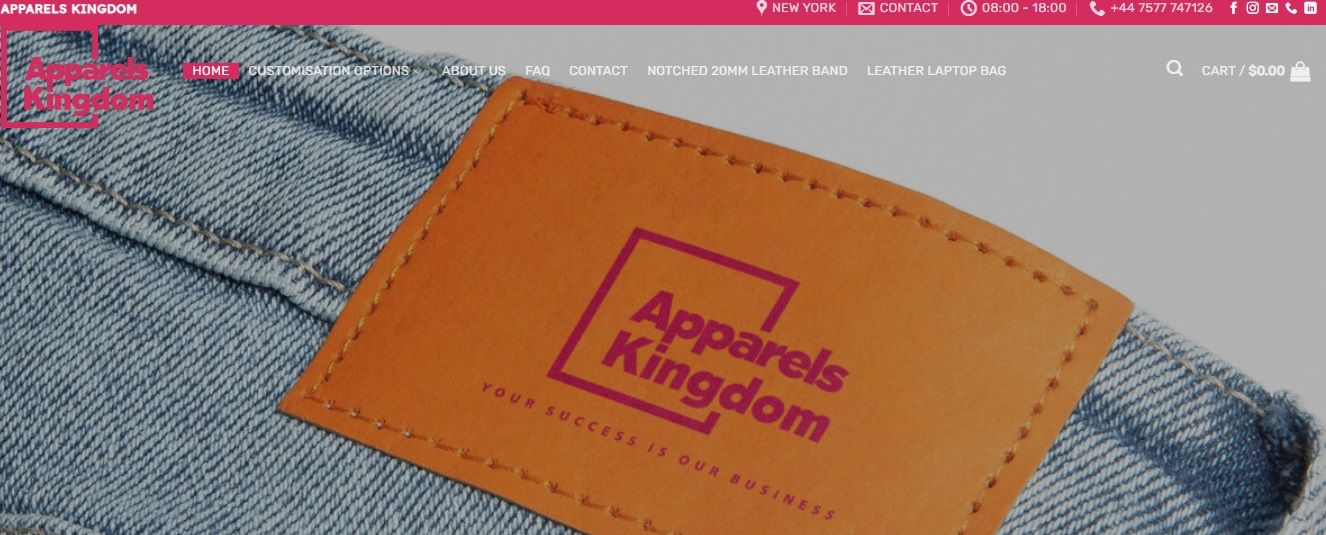 Apparel Kingdom is a popular cut and sew apparel manufacturing company that manufactures clothing for multiple brands featuring many forms and focuses on children and infants. It has been in this field for the past 12 years and, with time, has grown significantly. It has around 17 units of manufacturing and is able to deliver a huge volume of production every month.
Pros
Specialize in children's clothing
Bulk orders can be delivered quickly
10+ years of experience
Cons
May experience longer shipping times
Shop with Apparel Kingdom for children's clothing with good design.
Made Apparel Services - The Preferred Option for Leather, Canvas, and Vinyl Garments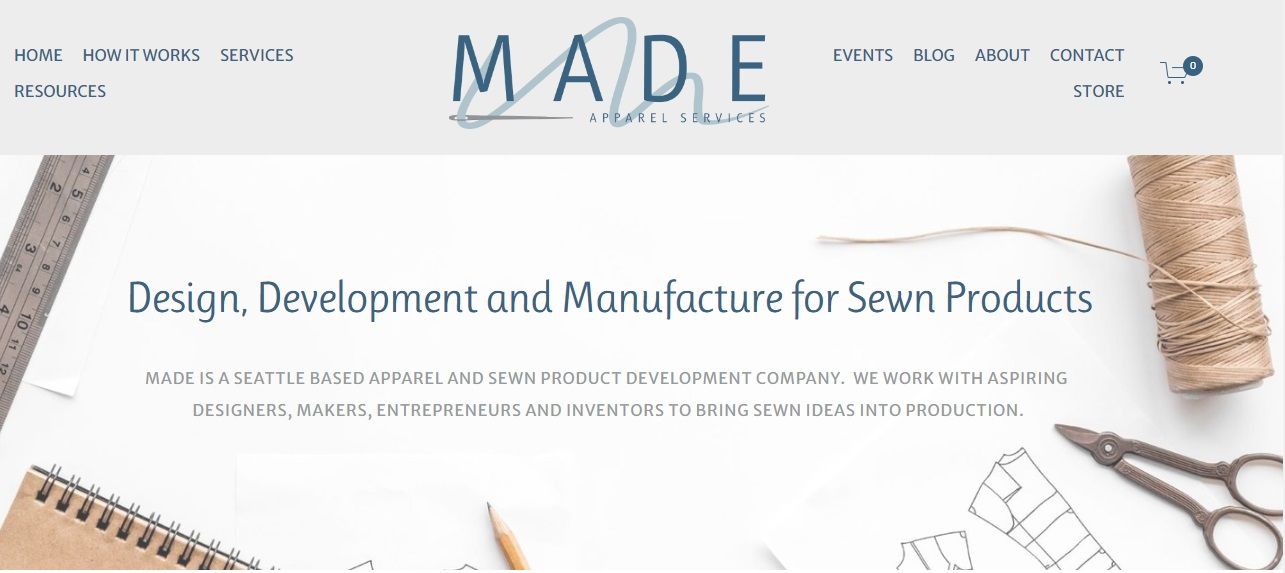 Made Apparel Services is known to be a versatile sewing factory offering exceptional custom cut and sew services. They hold a significant position for multiple brands as leading cut and sew manufacturers and have a very organized process.
Pros
Offer exceptional clothing based on high-quality materials and designs
Particularly skilled at producing leather, vinyl, and canvas apparel due to their expertise
Quick turnaround time
Cons
Slightly higher prices compared to other clothing manufacturers
Shop with Made Apparel Services for highly-skilled sewn products.
Pros and Cons of Partnering with Cut and Sew Manufacturers
Partnering with cut and sew clothing manufacturers has its pros and cons, some of which are discussed below:
Pros of Partnering with Cut and Sew Manufacturers
The control remains with you; you are the one to decide which fabric you need, the pattern and design you need, and how the cut and sew clothing should be stitched; although the manufacturer does the job, it is based on your instructions.
Uniqueness in the cut and sew clothing is maintained; since you get your design manufactured by customization, you can rest assured that no other brand would have that design, and your product will stand out in the market.
Manufacturing a unique and innovative piece of cut and sew clothing means gaining more profits because people are willing to pay a higher price for unique and customized clothing than those commonly sold without innovation.
Cons of Partnering with Cut and Sew Manufacturers
Cutting and sewing take time; everything is done from scratch, requiring a lot of patience. So if you need it done right away, it is impossible.
It is a complex and detailed process; hence, from other options, this is costly and will prove expensive.
Due to the added cost of the process, the cost may be pretty high.
What to Consider Before Partnering with Custom Cut and Sew Clothing Manufacturers?
There are some important factors that you must consider when choosing cut and sew manufacturers; some of these are discussed below:
Location: Going for domestic and local cut and sew manufacturers is always a better idea because this reduces your costs in terms of raw material and shipping and leads to a quick delivery process; shipping internationally takes a lot of time.
Quality: What you give to your customers will determine your success. Therefore, it is critical to evaluate the quality offered by a custom cut and sew clothing manufacturer before working with them. Look for a cutting and sewing factory that offers a quality product to ensure that your business grows and your customers remain satisfied.
Experience: Consider working with a custom cut and sew manufacturer that has long experience in the industry. Experienced manufacturers have the knowledge and skills to produce high-quality garments that can become masterpieces for your brand.
Choose Appareify as Your Custom Cut and Sew Manufacturer
Have no idea which cut & sew manufacturer to partner with? Look at Appareify as you get custom-made outfits with quality and experience.