Athletic apparel is one of the biggest markets in the fashion industry. Ever since 2022, the activewear market has been growing at a rate of 5.8%.
If you own a fashion business, tapping into the workout clothes market is profitable now and in the future. But fashion brands must choose the best athletic apparel wholesalers. Here are our picks for the 10 best wholesalers for workout clothes based on factors such as budget, location, and more.
1.Appareify - Best Wholesale Athletic Apparel Vendor Overall
Appareify has proved itself as one of the best wholesale athletic wear vendors. They offer a range of services for clients, from product design all the way to production.
Appareify was founded in 2017 by experts with years' worth of experience in the fashion industry. They have a production capability of 400,000 pieces per month and can create specific items in the wholesale athletic clothing category.
Aside from creating high-quality activewear, Appareify produces many other types of garments for men, women, and kids. This is an added advantage for clothing wholesale businesses looking for a one-stop shop clothing manufacturer that creates other clothing aside from workout clothes.
Primary products
Pros
High-quality clothing items
Wide selection of clothing pieces
Can produce 400,000 pieces a month
Cons
On-site inspection might be challenging as it is based in China.
Contact Appareify to receive a quote for your activewear order.
2. AEL Apparel - Best for Wholesale Workout Clothes in China
If you're looking for a sustainable clothing manufacturer that produces high-grade athletic and workout apparel for your wholesale business, consider working with AEL Apparel. They are a China-based manufacturer expert in designing and creating activewear apparel made with top-quality, durable materials.
AEL Apparel stands out with its athletic/activewear because of the antibacterial features that prevent wearers from having disease-causing bacteria after engaging in high-intensity workouts. Also, all AEL's athletic apparel has a high moisture-wicking ability that comes in handy during outdoor activities, enabling the user's body to cool down, especially during the warmer months.
Primary products
Activewear
T-shirts
Hoodies
Sweatshirts
Denim wear
Kids' clothing
Swimwear
Pros
Moisture-wicking and anti-bacterial activewear
Source high-quality and sustainable materials
One-stop shop for wholesalers
Cons
On-site inspection difficult for overseas clients
Visit AEL Apparel For Your High-quality Activewear Now!
3.S&G Apparel - Best Activewear Vendor in Los Angeles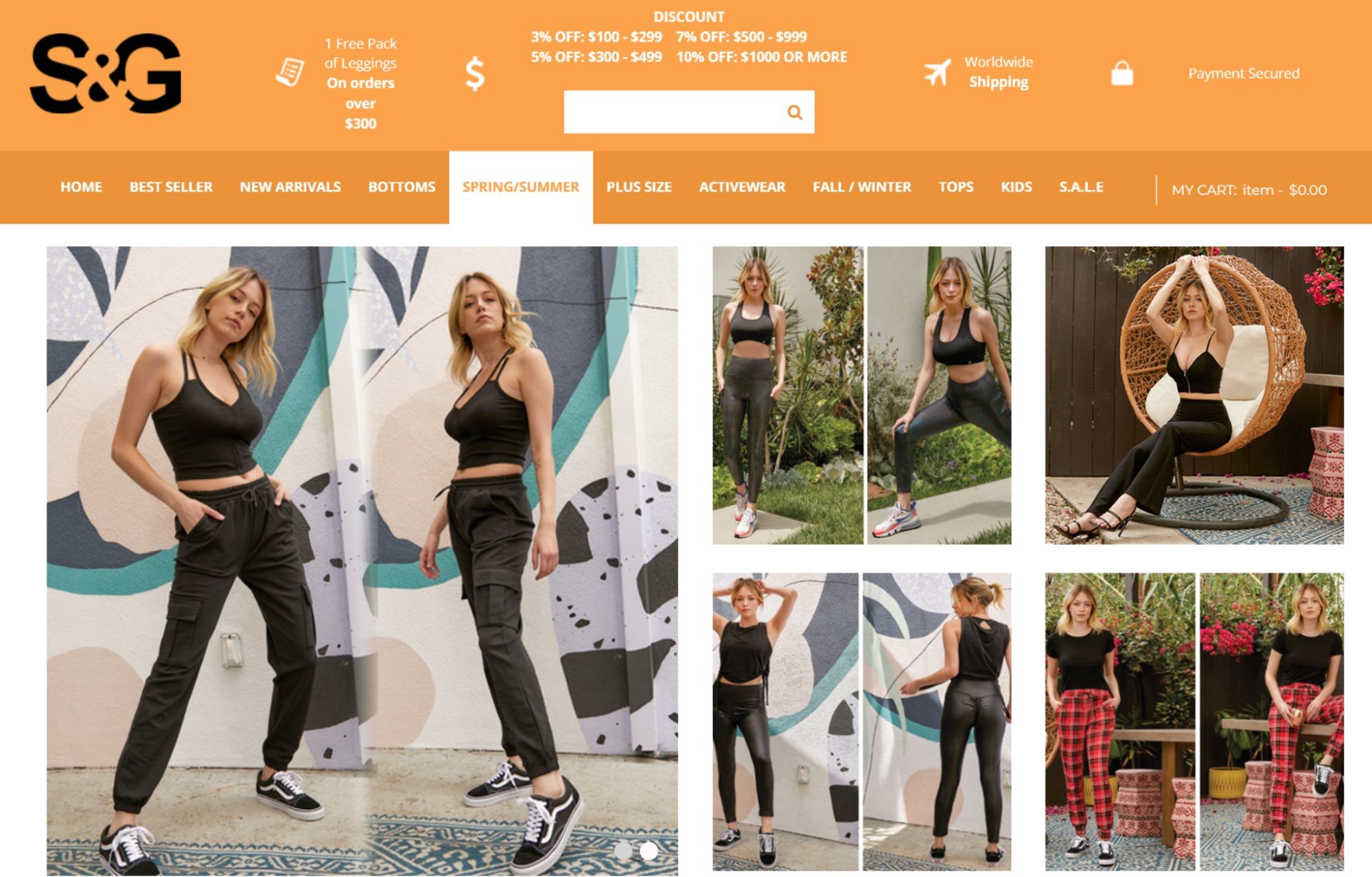 If your business is based in LA, it can be difficult to find a local and affordable vendor. S&G Apparel is the solution to your problems. They offer deals, such as a free pack of leggings with orders over $300. This makes S&G Apparel one of the most profitable options for new and growing fashion businesses.
Primary products
Leggings
Joggers and sweatpants
Activewear sets
Shorts
Pros
Follows fitness fashion trends
Can make activewear items in all sizes
Affordable
Based in Los Angeles
Worldwide shipping
Cons
Contact S&G Apparel if you're looking for an affordable activewear wholesaler based in LA.
4.Stay in Warm Style - Best Workout Clothes Supplier for Low Prices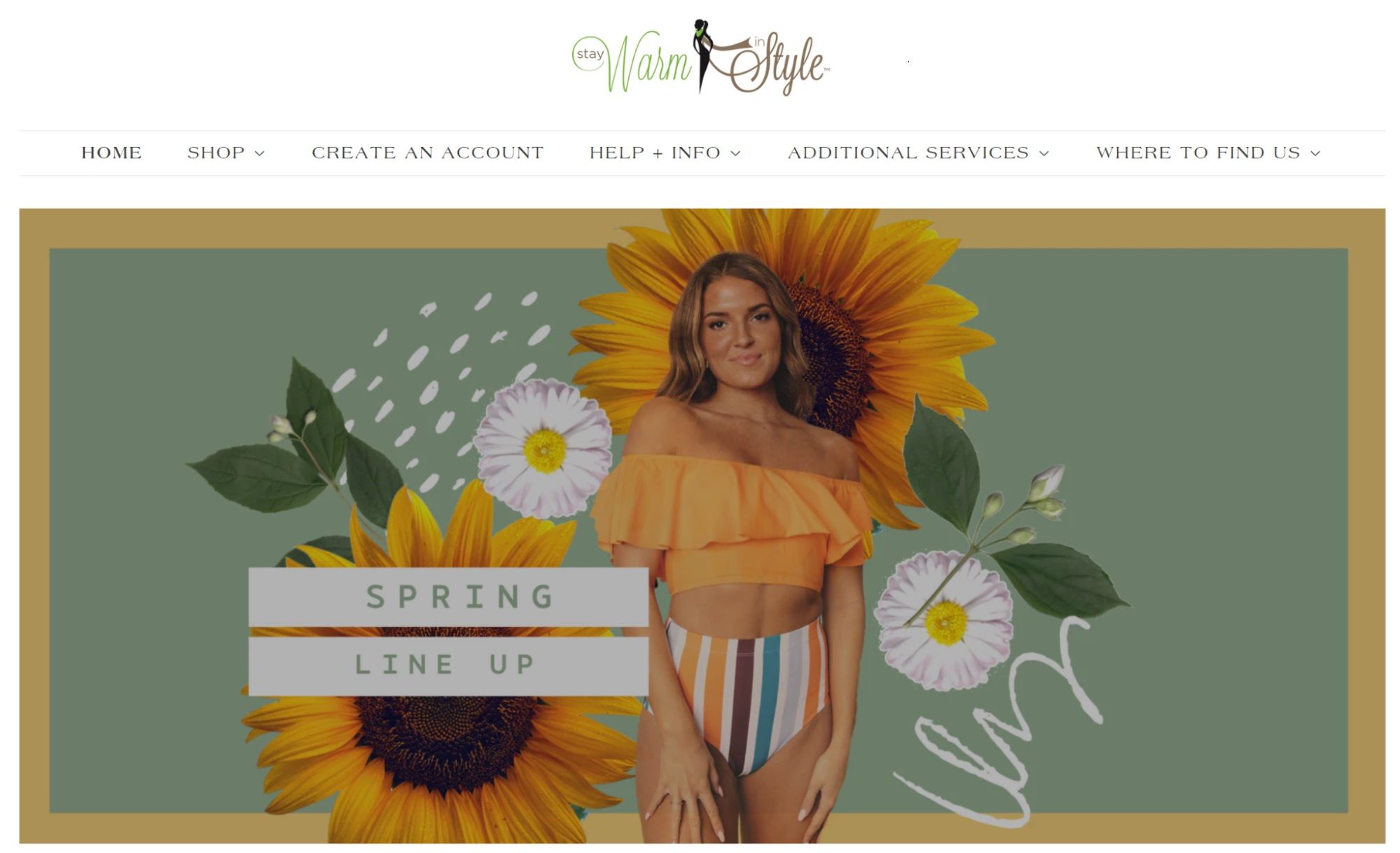 Stay in Warm Style not only offers low prices on their items but many of the products they sell are made in the USA. This wholesaler is the best option for new and small fashion businesses since they offer different discounts. They offer activewear in all sizes, including plus size.
Primary products
Leggings
Yoga shorts
Activewear sets
Pros
Stylish activewear
Dropshipping option
Risk-free guarantee
Affordable
Free shipping for one year
Cons
Can only see prices if you're a member
Elevate your fashion business with Stay in Warm Style.
5.Augusta Sportswear - Best Wholesale Sportswear for Customizable Options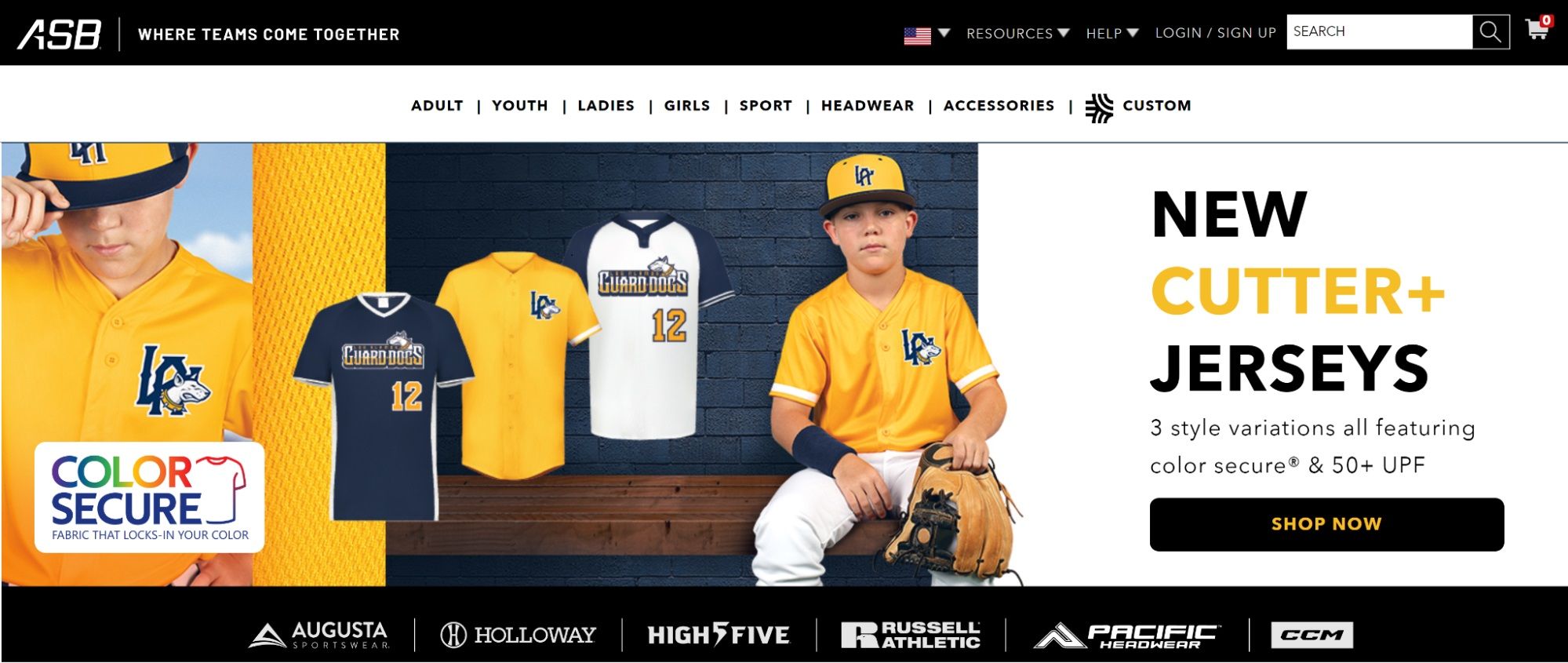 If you need wholesale sports apparel for a team, customizations are integral. Fortunately, Augusta Sportswear offers an easy way to customize your team's uniforms. They have a massive catalog of wholesale fitness clothing with different style variations for each item. Teams can choose the fabric, colors, and more.
Augusta Sportswear sells customizable clothing for youths and adults, and they sell clothing for men and women. Its items are perfect for all sports, and teams can filter clothing by sport on the website.
Primary products
Jerseys
Polos
Fleece
Pullovers
Sports bras
Pros
Massive product catalog
Customizable items
Sells items for all sports
Youth and adult clothing
Sells sports accessories
Cons
Visit the Augusta Sportswear website to start the customization process.
6.Tasha Apparel - Best Fitness Clothing Dropshipping Vendor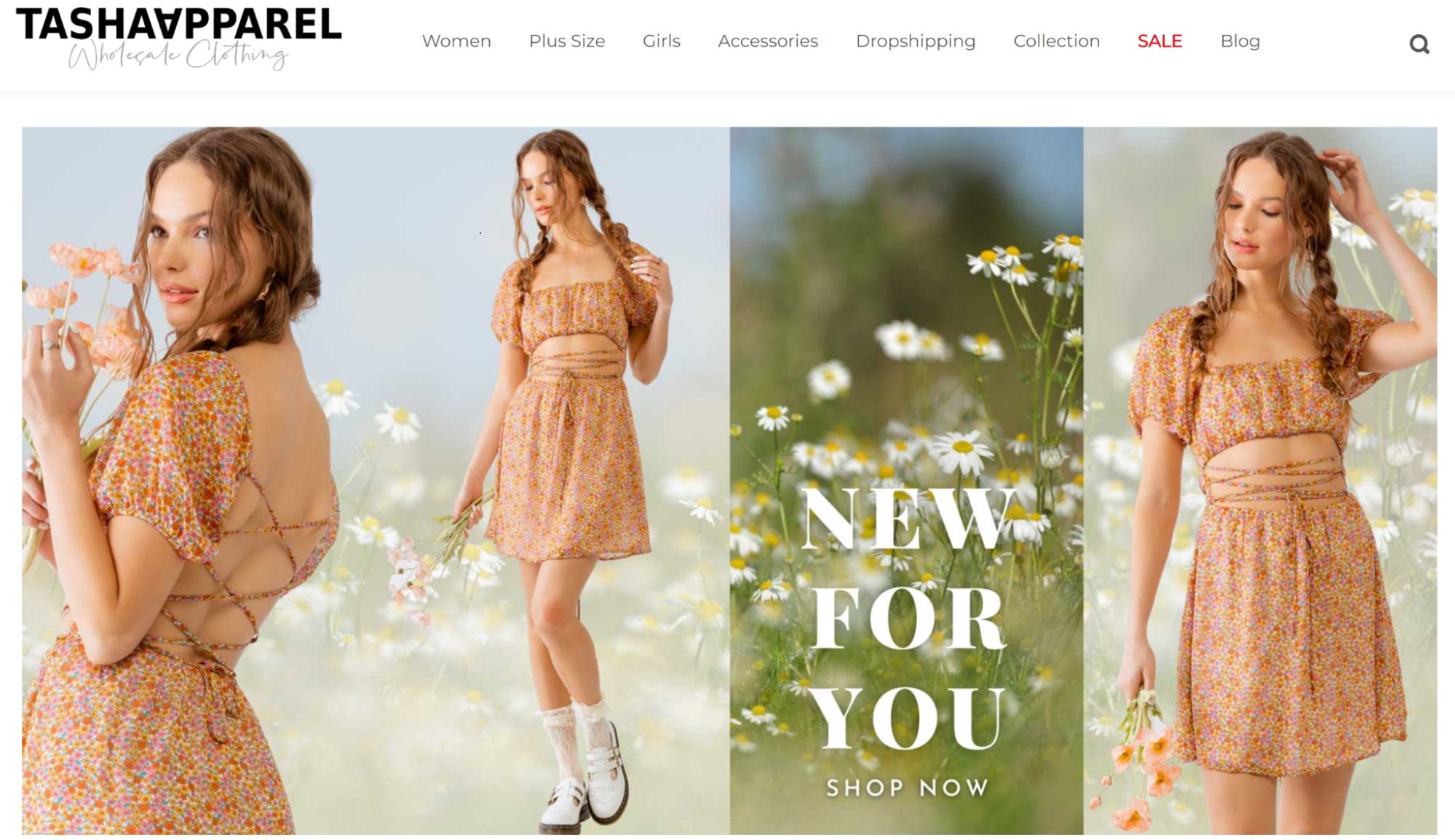 If you own a dropshipping clothing business, Tasha Apparel is the best pick. They make the dropshipping process extremely easy–all you have to do is create an account and choose the clothes you want to sell. Tasha Apparel has a massive selection of women's clothing to sell via its dropshipping service, including stylish activewear items.
Primary products
Dresses
Tops
Rompers and jumpers
Matching sets
Bottoms
Pros
Easy dropshipping signup
Affordable items
Fast turnaround times
Based in the USA
No order minimums
Cons
Dropshipping is only available to stores in the USA
Limited activewear selection
To start dropshipping with Tasha Apparel, register for an account on their website.
7.Gym Clothes - Best Wholesale Gym Clothes for Both Men and Women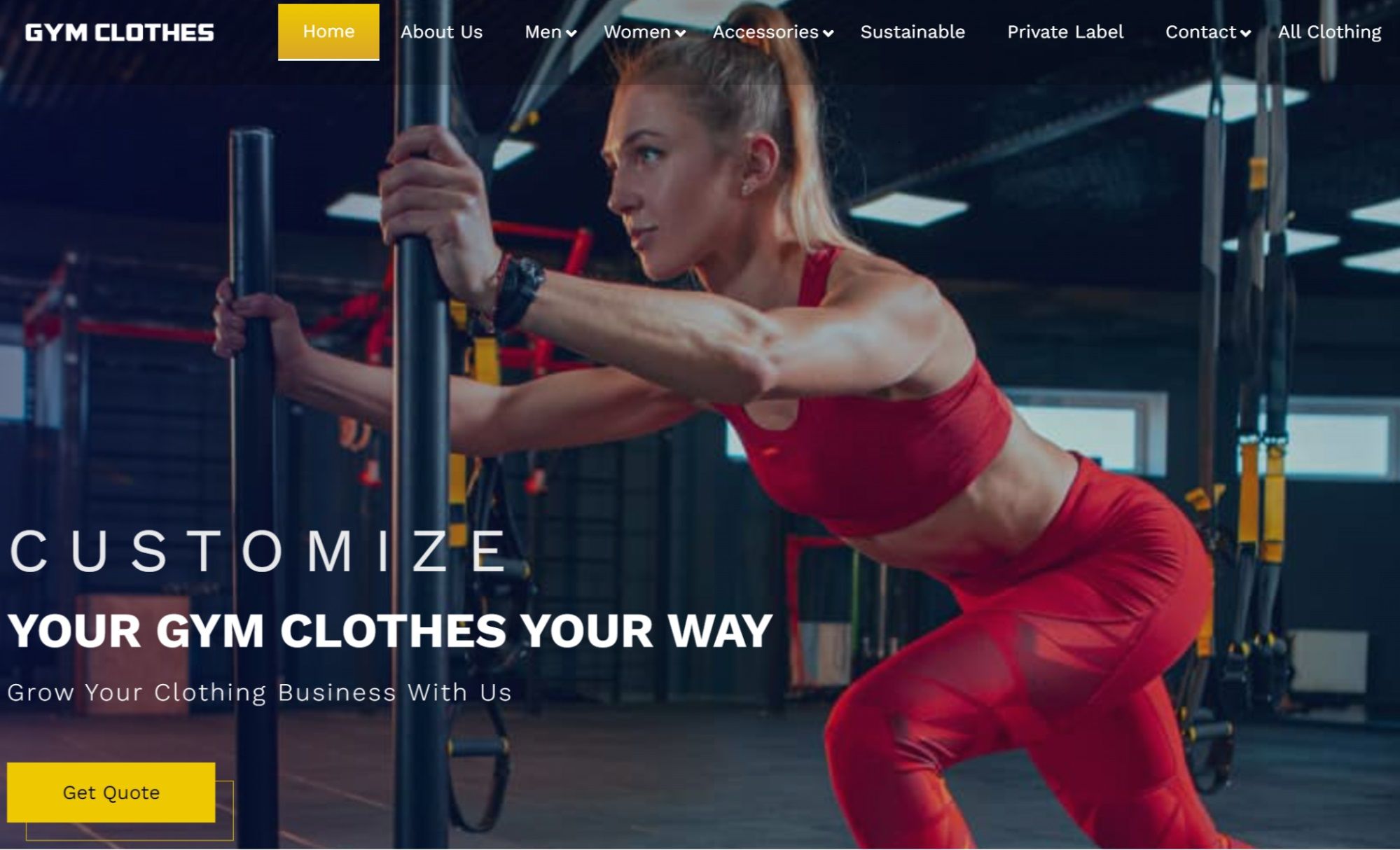 If your store targets serious athletes, you'll want to choose Gym Clothes as your wholesale provider.
They sell items made with dry-fit materials that your customers will need for their sweaty workout sessions. Gym Clothes sells items for men and women and includes various items for both. Stores have the option to customize all items.
Primary products
Tank tops
Tracksuits
Pants
T-shirts
Shorts
Pros
Fitness clothing for men and women
Also makes gym accessories
Sustainable
Private label services
Worldwide shipping
Cons
Only 10,000+ items in their inventory
Contact Gym Clothes if you're interested in using their wholesale services.
8.S&S Activewear - Best Activewear Vendor for Large Distribution Centers
If your business sells a lot of inventory, you need an activewear wholesaler that can produce lots of products at once. If so, S&S Activewear should be your pick. S&S Activewear partners with some of the biggest brands, such as Adidas. They offer one and two-day delivery times.
Primary products
Sweatshirts
T-shirts
Long-sleeves
Tank tops
Sports bras
Pros
Partner with some of the biggest brands
USA made
Eco-friendly business
Additional services, such as custom website creation
1-2 day delivery
Cons
Prices can change without notice
Contact S&S Activewear if you want to place an order.
9.Blue Associates Sportswear - Best Wholesale Sportswear for Sustainability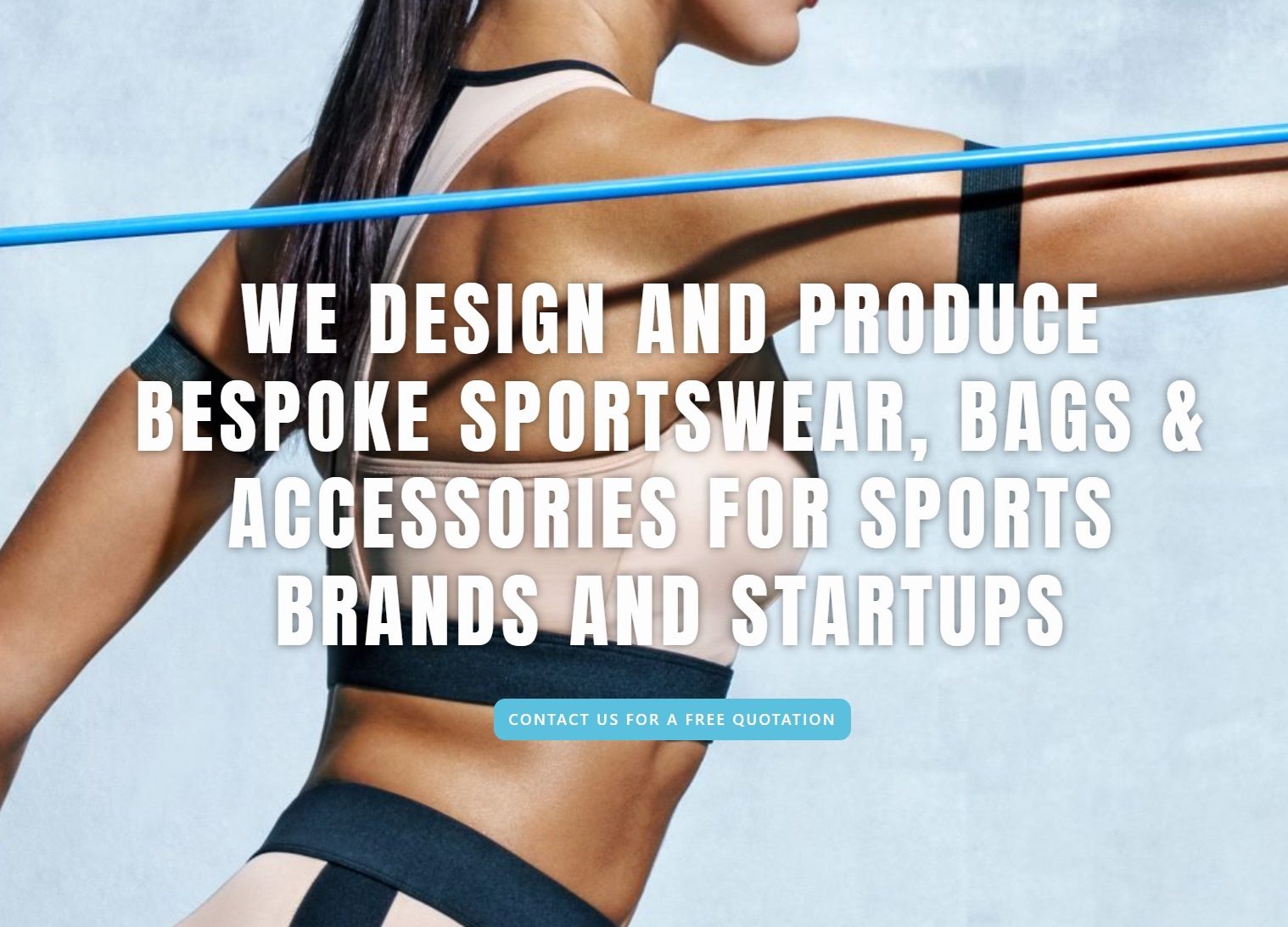 If sustainability is a big priority for your business, you'll need a wholesale sports clothing partner with the same ethics. If this concerns you, you'll want to choose Blue Associates Sportswear as your wholesaler. They offer sustainable fabrics, and all their products are made in England, where they produce and recycle all items.
Primary products
Gloves
Hats and caps
Tops
Shorts
Jackets
Pros
Sustainable fabrics
Solutions for startups
Also works with established brands
A huge network of fabric mills
Fairly priced
Cons
Production time can take weeks
Contact Blue Associates Sportswear if you're looking for a sustainable sportswear company.
10.Hingto - Best Wholesale Activewear Vendor for High Repeat Order Rate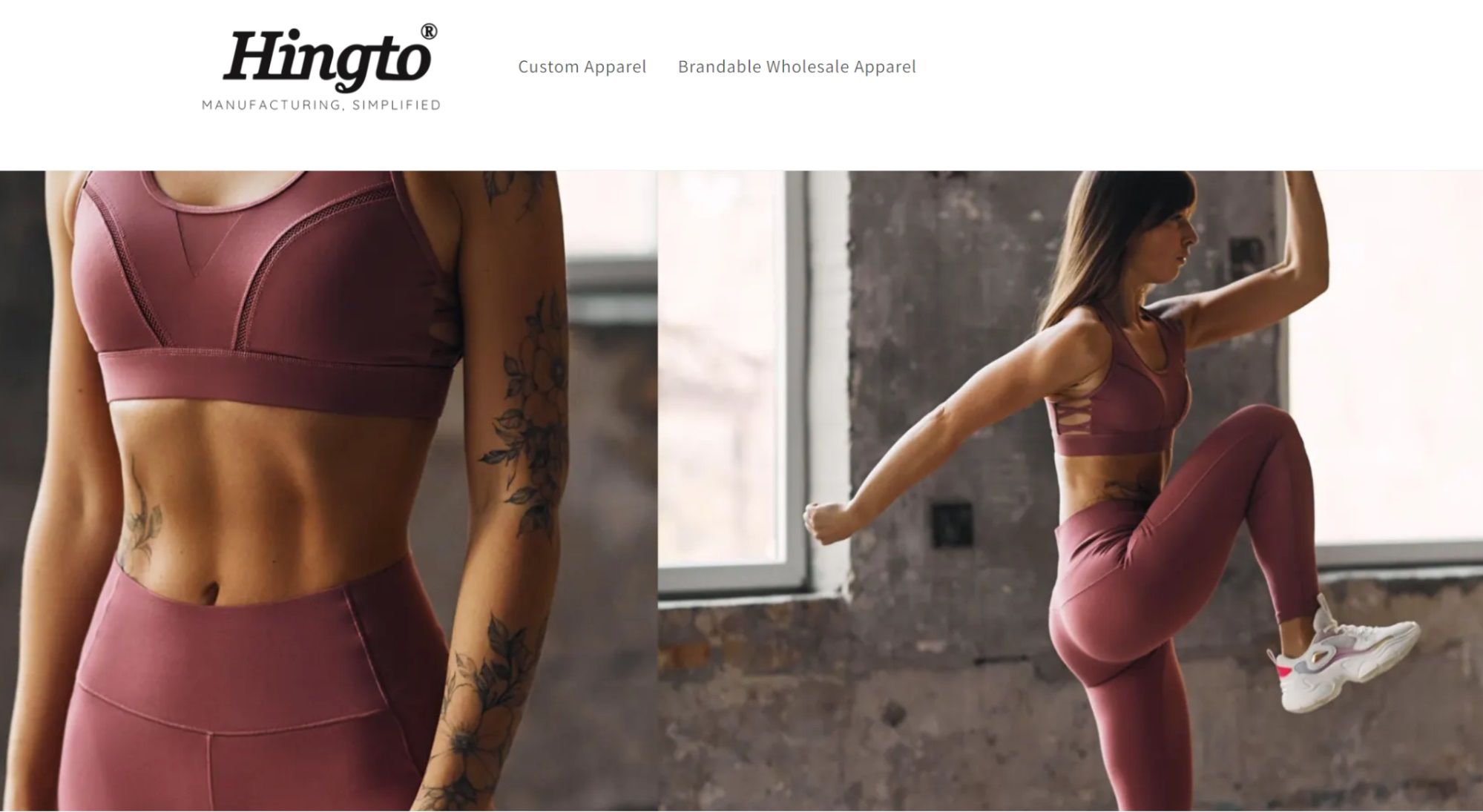 Ideally, your business will want to stick with the first vendor you choose, especially if you expect to order thousands of items monthly. If this sounds like you, you'll want to choose Hingto. They make over 100,000 pieces monthly and boast a 92% repeat order rate, which is why they have worked with major brands such as Adidas and Speedo.
Primary products
Sports bras
T-shirts
Tank tops
Leggings
Capris
Pros
Sells apparel for all fitness types
Worked with some of the biggest fitness brands
Can produce 100,000 pieces/month
Brandable and custom options
Based in Sydney and China
Cons
Can't view the catalog unless you sign up
Get Hingto's high-quality activewear for your business today.
How Do I Start a Fitness Clothing Line?
While all fitness clothing lines differ, most entrepreneurs follow the same steps to create and establish their brands. These include:
1. Research the market and choose a niche - you'll also want to know what's available and what isn't in your market.
2. Choose which products to sell - all fitness activities have different apparel needs. Whether catering to jogging or yoga enthusiasts, you'll want to sell the right clothing and accessories that your consumers demand. These can include sweat-wicking fabrics and flexible, stretchy clothing.
3. Create a business strategy - this plan outlines all aspects of running a fitness clothing company. These points can include product fulfillment, shipping, and your customer service strategy. You'll also want to include financial information, such as startup costs and an investing strategy.
4. Develop your brand - your brand includes all the aspects that make your business unique, such as your name, visual aesthetics, and tone when writing website content or speaking to customers.
5. Select a marketplace to sell on - there are many e-commerce platforms, and you should research these options before choosing one. You'll also want to know where your target market shops; for example, will they buy from your online store or Amazon? You should also decide if your business will be fully online or if you should also open a brick-and-mortar store.
6. Create a marketing strategy - your marketing strategy should include advertising, organic tactics, social media, and the marketing tools you'll use.
7. Collect data - you should collect data on third parties influencing your business, such as athletes, influencers, clothing manufacturers, and competitors.
How Do I Choose the Right Wholesale Activewear Vendor for My Business?
If you recently started your activewear business, you're probably overwhelmed by all your wholesale options.
To choose the right vendor, you'll first want to consider the cost. You'll want to choose a wholesaler with reasonable prices that will work with your budget.
Next, you'll want to consider the items and if they're stylish. Bonus points if the vendor follows the latest fashion trends!
Experience is also a major consideration. You'll want to enter a long-term partnership with your vendor, so choosing a company with lots of experience and a positive repeat order rate is crucial.
You'll also want to consider other ethics, such as sustainability. This means the company sourced its materials according to environmental standards, and every step of the production process is sustainable.
Learn more: How to Find The Best Clothing Manufacturer For Your Business >>
How Can I Negotiate the Best Pricing and Terms With Athletic Apparel Suppliers?
Even if you find a solid company, you may not fully agree with their pricing or other terms. Before signing any contracts, try to negotiate. First, be clear about your priorities. Wholesalers love working with transparent and organized businesses, so be honest about your needs.
If you're a startup, inform them you're under budget constraints, but prove that you're still worth the investment. You can prove this with crowdfunding, pre-orders, and any marketing wins (such as high website traffic and lots of social media engagement) that can prove credibility.
As with all negotiations, always be courteous. Remember that your wholesaler also has a business to run, and they may disagree with your terms. If this happens, think if they're worth the partnership or if you need to work with a more flexible wholesaler.
What Are the Typical Lead Times for Wholesale Activewear Orders?
This depends on the company. Some wholesalers can complete orders in one month, while others may need several months. There are also wholesalers who work faster than this. For example, Appareify can fulfill orders in 7-20 days.
How Do I Ensure Quality Control When Working With Wholesale Sportswear Vendors?
While all of these manufacturers offer the highest quality services and fitness clothing, there are best practices that clothing brands should take when choosing a vendor.
Establish your clothing standards immediately

- this can include material, fit, durability, and performance.

Create a tech pack

- a tech pack is documentation that details your ideal designs and usually includes reference materials and drawings.

Test your design samples

- request samples from vendors and run tests on them, such as seam, fit, and stretch tests.

Create documentation and quality management systems

- keep track of all remarks, comments, and amendments between you and the vendor.

Be aware of potential issues

- list common issues when working with vendors, and create a plan to solve them.
Conclusion
The athletic apparel industry is only becoming more profitable, making it a great market for fashion companies. But before selling fitness clothing, you must choose the best sportswear wholesale company. All these vendors offer different solutions for various stores, but they all offer high-quality items and have reputable names.