The streetwear market is growing bigger and more valuable with every passing year, with estimates suggesting it could exceed $230 billion by 2028. Understandably, a lot of brands want their piece of the pie, and it seems that there are more street clothes brands than ever before!
This gives shoppers a whole lot of options, and with 62% of shoppers agreeing that streetwear will never go out of style, the demand for the best streetwear clothing brands isn't going to go away anytime soon, and many designers are eager to launch their own brands and team up with trusted manufacturers to help them get started.
But, with so many streetwear clothing manufacturers out there, finding the best streetwear manufacturers can feel like a challenge. This guide is here to help with that. Below, we'll look at 10 of the best streetwear names in the business.
Appareify: The Best Custom Streetwear Manufacturer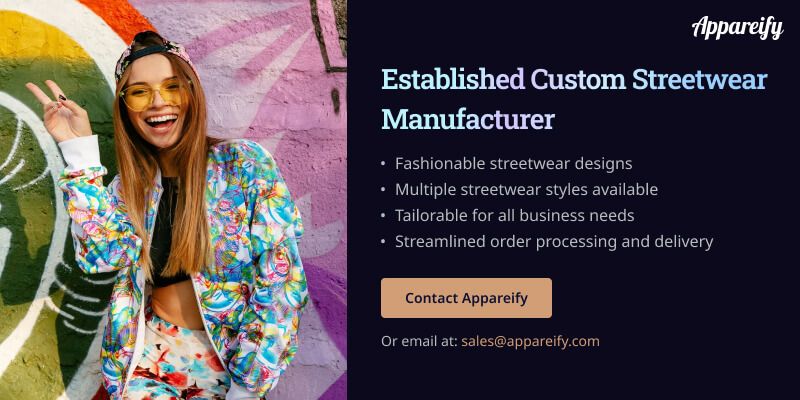 Appareify kicks off our list of the best quality clothing manufacturers. This custom clothing manufacturer has years of experience in the industry and a proven track record of success in creating top-quality, stylish, durable clothes for every occasion, including some of the finest urban attire on the market.
Part of what has made Appareify a leader in the streetwear space is its versatility and wide range of designs. From skate-style urban attire to hip-hop-inspired streetwear, this streetwear manufacturer knows how to create custom street clothes for all tastes and personalities.
Not only is Appareify capable of crafting any kind of streetwear, but it also makes use of high-quality materials, sourced from trusted, reputable suppliers. By working with such good fabric suppliers, Appareify can guarantee durable, long-lasting tops, bottoms, and other clothing items that won't simply fade with the first wash or fall apart.
Pros:
Cons:
Based in China, which makes on-site visits to the factory a bit difficult
Enhance your collections with Appareify's top-notch streetwear.
AEL Apparel: A Trusted and Sustainable Streetwear Brand

AEL Apparel is another of the many leading streetwear wholesale manufacturers for shoppers to test out. Ranking as one of the best clothing manufacturers in China, this brand has global appeal. It has sold products to over 50 countries, boasting years of experience and exceptionally fast production times of new clothing items.
Sustainability is also a big part of the AEL Apparel appeal. Fully committed to sustainable clothing manufacture, this brand has made great strides to minimize the level of waste in its production processes. It also makes use of ethically sourced, renewable materials wherever possible to protect the planet.
Aside from speedy production times and impressive eco credentials, AEL Apparel also has other advantages, like its budget-friendly price. This allows small and startup brands to start their journeys without the need for heavy initial investment. Plus, with AEL Apparel's professional, helpful support, picking streetwear is really simple with this brand.
Pros
Sustainable materials
Fast production times
Experienced R&D team
Cons
You have to pay extra for customization
Hongyu: A Leading Streetwear Manufacturer from China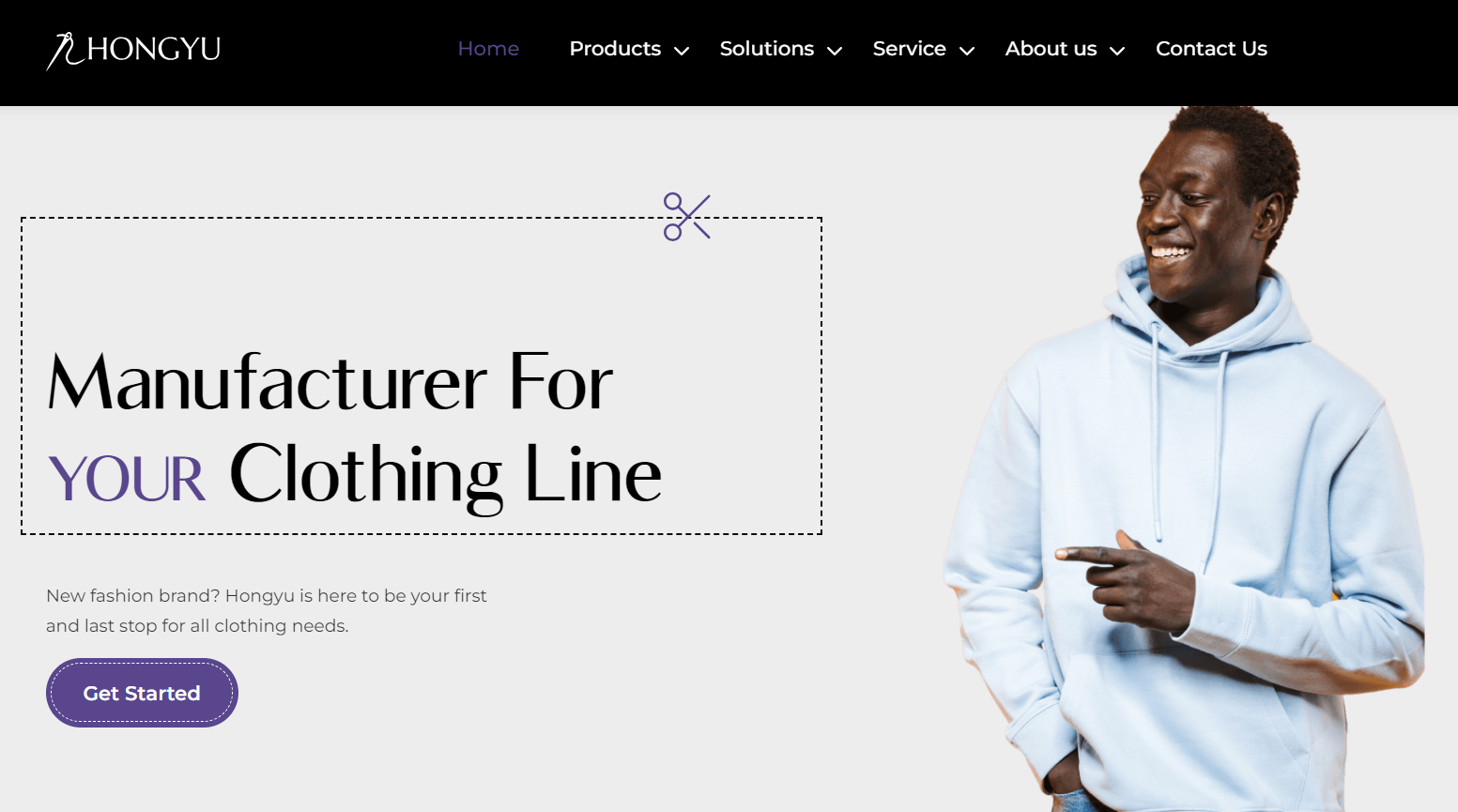 China tends to churn out many of the best clothing manufacturers for streetwear, with Hongyu Apparel ranking alongside the likes of Appareify and AEL Apparel as one of the most beloved brands. Founded back in 2003 and based in Guangdong, China, this company has come to the aid of many young designers and start-up clothing brands
Whether buyers need T-shirts, hoodies, or even urban accessories, Hongyu Apparel is a company they can trust. It has a very broad selection of products in many different colors, cuts, and styles, and it tends to use top quality materials with each item.
Hongyu Apparel also excels when it comes to the range of services it provides. From pattern-making to grading and even limited, small-batch productions, this company can handle it all. It's regarded as a very versatile clothing manufacturer to partner with, especially for newer brands on the block.
Pros:
A proven, experienced brand
Lots of customization services
Versatile and easy to work with
Cons:
Tailored Industry: A Top Streetwear USA Brand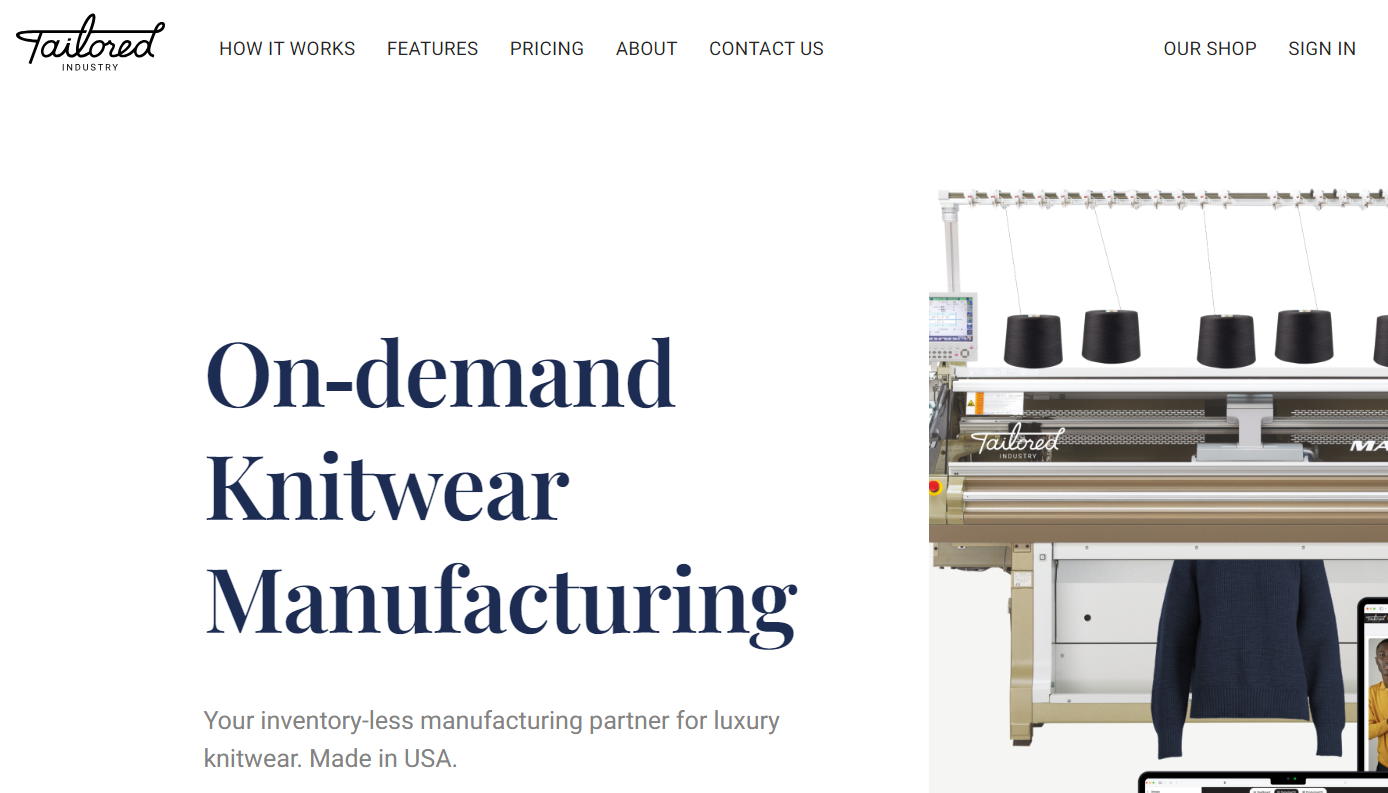 Tailored Industry is a leading streetwear manufacturer from the USA. Specifically, this company is based out of the famous city of New York. It takes the form of an on-demand clothing manufacturer, meaning that it can make streetwear and urban attire according to the demands and needs of the buyer.
With a particularly impressive selection of streetwear items and urban clothes, Tailored Industry offers a veritable wardrobe of delights for buyers to choose from. This includes the likes of hoodies, sweatshirts, sweatpants, and jackets, all in various colors and sizes, ready to be produced and customized to meet your needs.
Tailored Industry has no MOQs for its on-demand services, which can be seen as a big benefit for those who are just starting out in the fashion world. It also offers a 7-day free trial for new users to see what this service has to offer before committing.
Pros:
Useful free trial
No MOQs
A wide range of clothing options
Cons:
Axen Apparel: The No. 1 Name in Pakistan Streetwear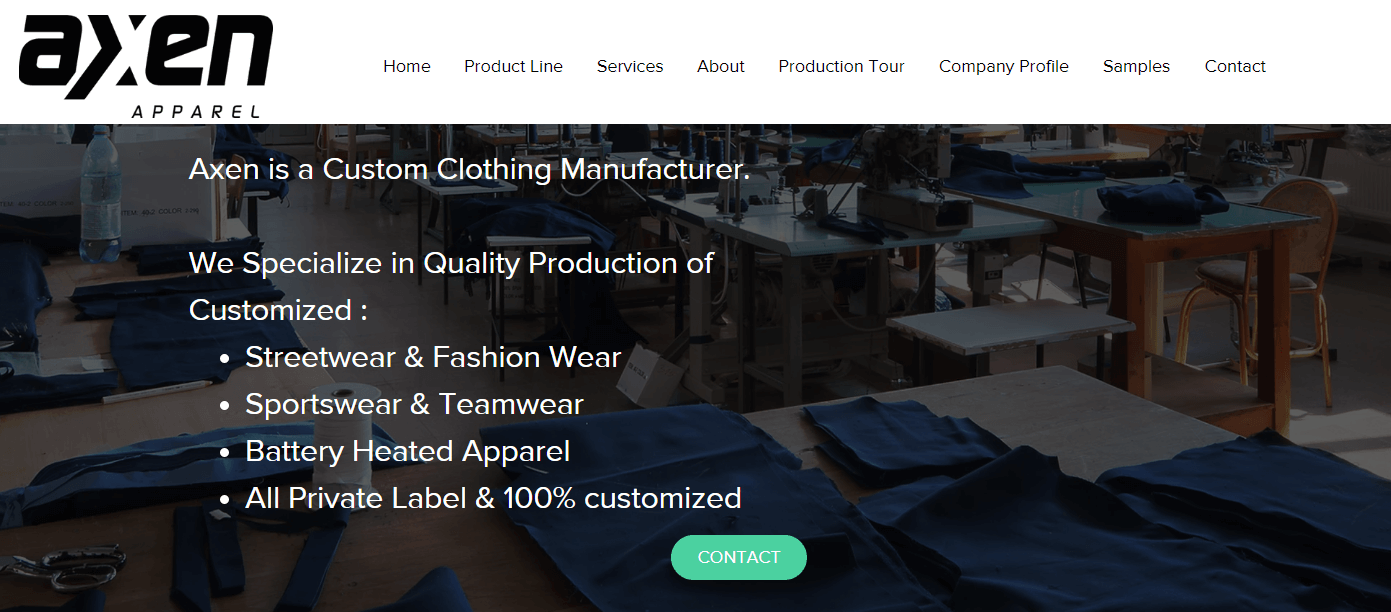 Axen Apparel is a custom clothing brand that does most of its work in Pakistan, but also has offices in Germany. In other words, it's an international streetwear manufacturer and has worked with companies from many different countries around the globe since it was founded back in 2006.
Specializing in streetwear, sportswear, and urban wear, this company boasts an extensive and impressive streetwear catalog. Items offered by Axen Apparel include zipped hoodies, logo sweatshirts, classic sweatpants, tracksuits, jackets, coats, shorts, and more, all made from good quality materials and designed according to strong sustainable practices.
Axen Apparel has also developed a reputation for being a very reliable provider, committed to solving problems, providing solutions, and helping small and big brands alike provide the best quality products for their customers.
Pros:
A trusted provider with a good track record
Lots of clothing items to choose from
Many years of experience
Cons:
FUSH: Serbia's Best Streetwear Manufacturer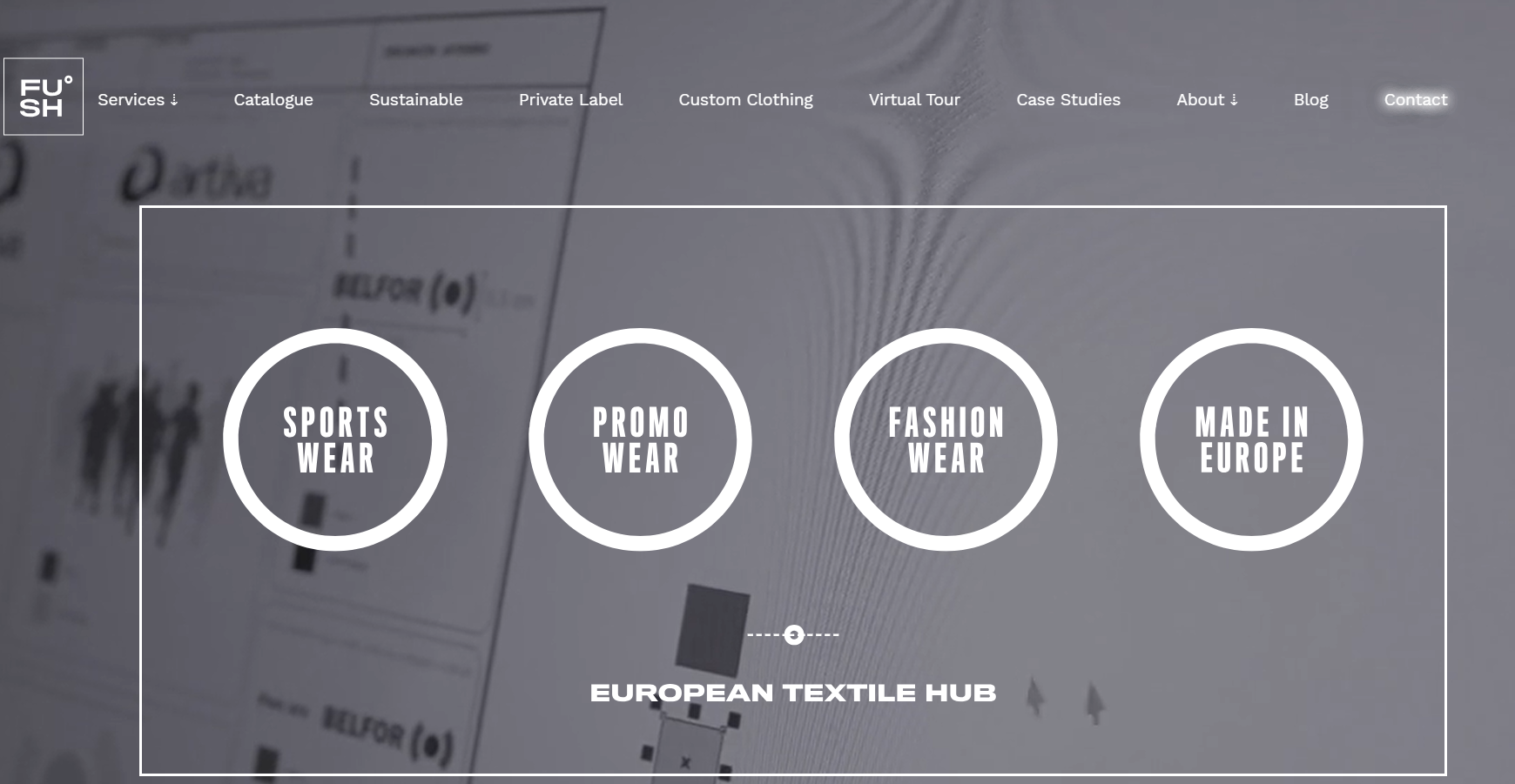 FUSH is the name of one of the top streetwear brands to be based in Europe. This company is situated in Serbia, and it's been around since 2005. It's a family-owned business that puts a lot of care into its products and takes great pride in providing buyers with good quality items to share with their customers.
FUSH's streetwear catalog is filled to the brim with stylish, comfortable items of clothing. This brand gives off a very relaxed and streamlined vibe in its designs, and many of its products are perfectly suitable for use as leisure or activewear.
Whether you're in the market for T-shirts, hoodies, shorts, sweatpants, or some other streetwear essential, you can count on FUSH to deliver the goods. This brand also offers lots of customization potential, giving buyers the opportunity to add and adjust logos, colors, and more.
Pros:
Lots of customization potential
A family-owned company
A big catalog with many products
Cons:
Customer response times can be quite slow
Bella+Canvas: A Leading Name in USA Streetwear
When it comes to high end streetwear brands, the US is one of the top countries in the industry, with a long list of successful manufacturers. Bella+Canvas is one of the best-known names on that list, having been established back in 1988 and consistently proven itself as a trusted and reliable streetwear partner.
A leading name in the LA wholesale streetwear clothing scene, Bella+Canvas stands out from other brands, due to its focus on high-end, premium-level products. It uses some of the finest materials to make hoodies, tees, and more that can be sold for high prices.
Bella+Canvas also has a very balanced selection of products for both men and women. So, whether you're setting up a men's streetwear brand or looking to sell women's urban attire, this can be an interesting company to work with. It offers high standards of customization options in aspects like stitching, fabric, and patterns, as well as boasting huge production plants for rapid turnaround times.
Pros:
Good for high-end clothing
Top quality materials
Many options for men and women alike
Cons:
More expensive than most other brands
Quality Blank: One of the Best US Streetwear Brands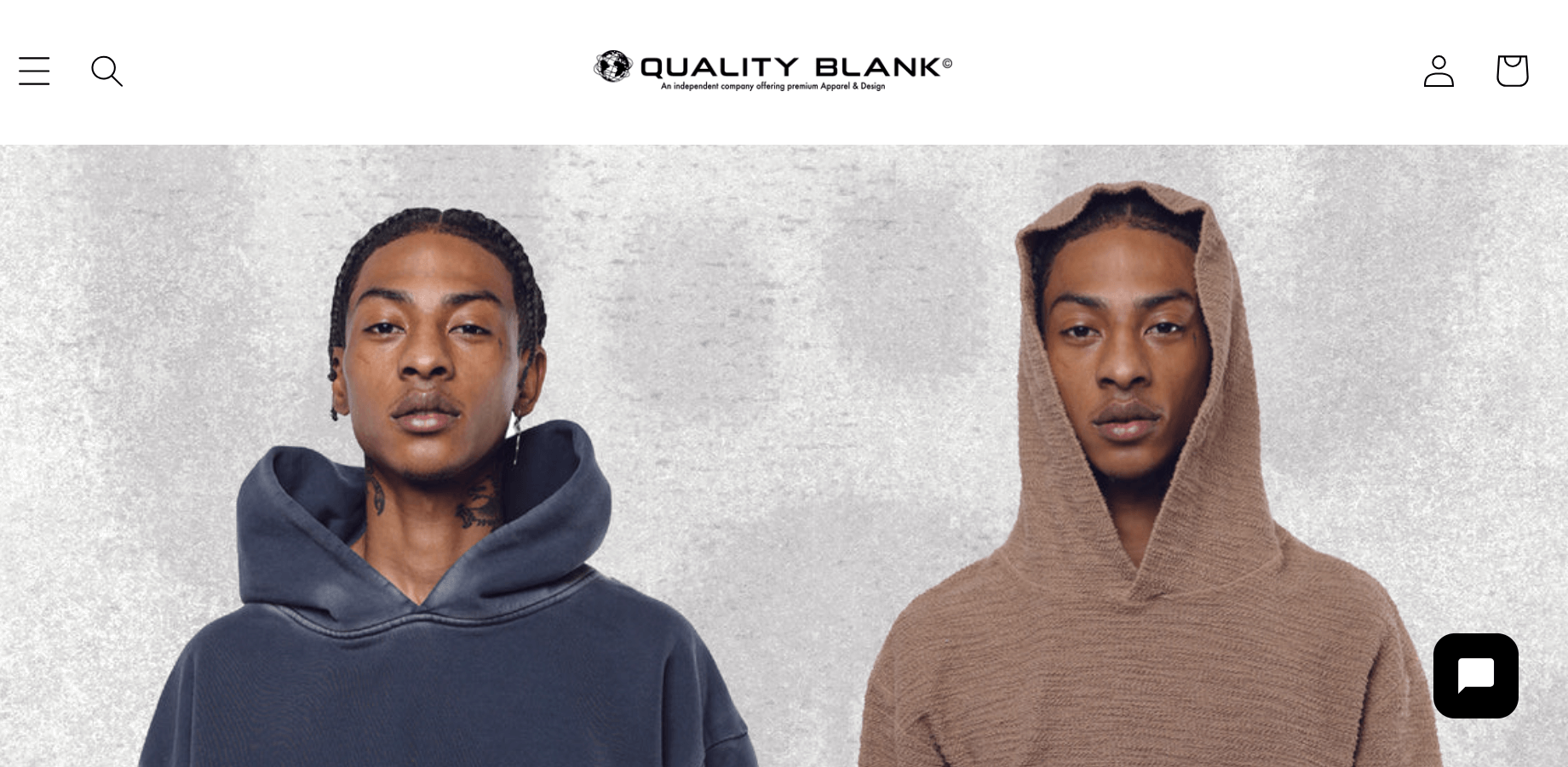 Quality Blank continues America's trend of high end clothing manufacturers. This independent company produces premium apparel, with top quality designs that are sure to impress even the most discerning streetwear fans, and a wide range of products, from hoodies to sweatpants, tees to shorts.
Quality Blank does a good job of capturing the essence of modern street style in many of its designs, with cropped hoodies, baggy pants, and other styles that are very popular with the younger demographic. What's more, all of its items are made from high-end luxury cotton, made sustainably and produced without any needless chemicals or excessive waste.
Based out of LA, Quality Blank offers shipping all over the world and has a growing track record of providing premium urban attire for brands and start-ups around the globe.
Pros:
A trusted US brand
Very stylish, trendy items
Quality materials
Cons:
Limited selection of products
DUGARCO: Top of the Table in Vietnam Streetwear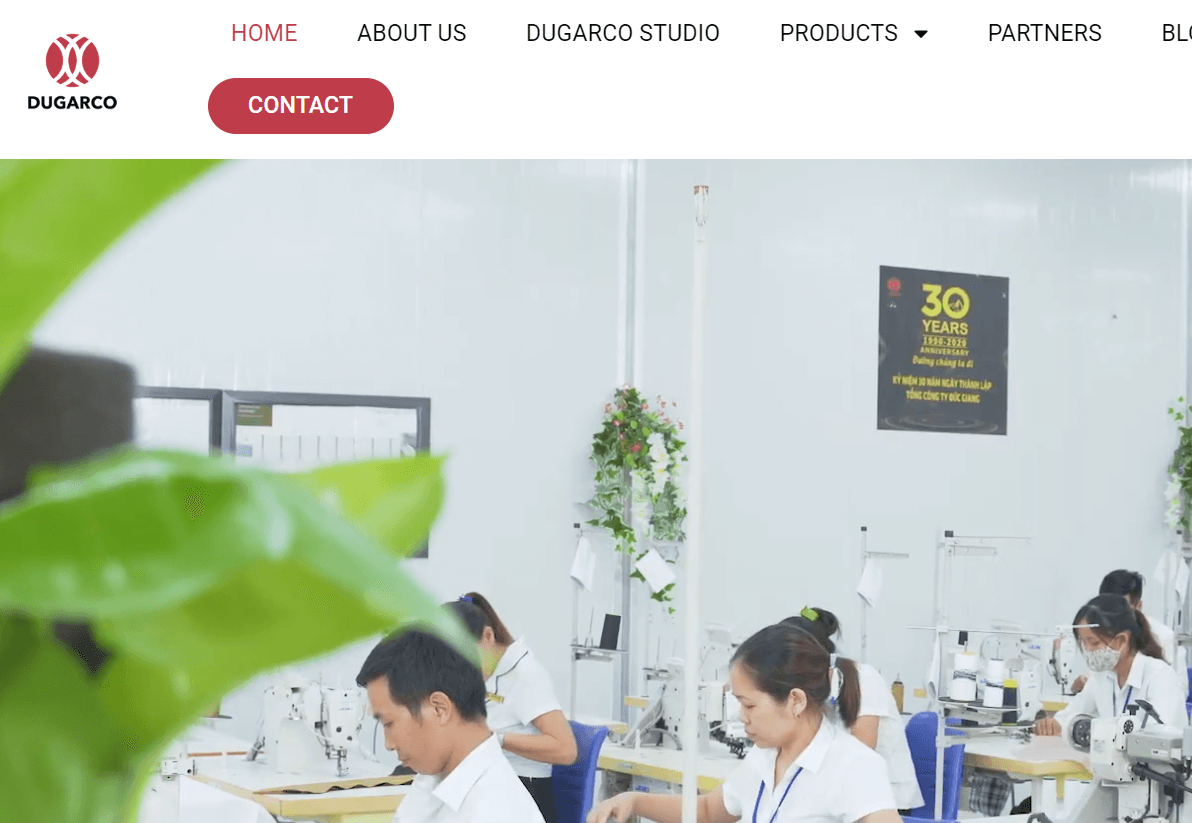 When it comes to wholesale streetwear, Vietnam is another country that often stands out as one of the leading providers, alongside the likes of China and Pakistan. And in the world of Vietnamese wholesale streetwear manufacture, DUGARCO, also known as Duc Giant Corporation, is one of the leading names.
It has 25 factories, many years of experience, and over 8,000 qualified, trained employees working day in and day out to produce top quality fabrics and clothing items for markets around the world.
Many big fashion brands have trusted DUGARCO with their projects in the past, and lots of new startups are attracted by this company's pedigree. Since 1990, it has consistently created varied, distinctive streetwear items in many styles and designs, moving with the times and adapting to new trends as they emerge.
Pros:
A very experienced provider
Super fast production times
Trusted by major brands
Cons:
Royal Apparel: Best Streetwear Wholesale in New York

The final entry on the list of the best streetwear brands is Royal Apparel. This is another American company, based out of New York. It stands out for two key aspects: sustainability and value for money.
While certain other streetwear brands focus on using the cheapest and simplest production methods, regardless of environmental impact, Royal Apparel attempts to follow eco-friendly practices when making its wholesale streetwear.
Since it was founded in the 1990s, this company has led the way in sustainable private label streetwear, proving that clothes can be made in large quantities without needless waste. It also has very low prices across many of its products for men, women, and kids, making quality streetwear more accessible and affordable for buyers.
Pros:
Great sustainability credentials
Good value for money
Decades of experience
Cons:
A very big, overwhelming catalog
How We Chose the Best Manufacturers for Streetwear Clothing
Picking the best manufacturers for clothing out of the hundreds of available options isn't easy. To assemble this list, we focused on a range of key factors that are considered essential for any good streetwear manufacturer:
Stylish Designs: The best men's streetwear brands and women's companies need to offer stylish designs that fit the classic streetwear style. They need to be able to capture the unique qualities that make urban attire so popular and versatile.
Quality of Materials: Leading streetwear vendors should also make use of good quality materials, rather than flimsy and cheap alternatives which are hard to look after and wear away after just a few users.
Range of Options: The top streetwear brands should also be able to provide a broad range of products to suit varying tastes and needs. This can include, but is not limited to, the likes of T-shirts, hoodies, jeans, sweatpants, sweatshirts, tracksuits, and jackets.
Value for Money: Last, but not least, the best street wear should offer decent value. Even high end streetwear should be fairly priced, as this type of clothing is designed to be worn by everyday people with various budgets and backgrounds.
How to Pick the Best Streetwear Clothing
The list above includes some of the top clothing manufacturers in the world. However, if you're still not sure which brand is right for you or how to choose the kind of streetwear that suits your brand best, here are a few tips:
Consider Your Audience: First and foremost, it's important to think about your own target audience and their sense of style. It's important to provide streetwear clothes of the right style to attract buyers and build a successful brand.
Don't Limit Yourself: Don't restrict yourself to just one brand or US streetwear company. Shop around. Go global. Look at many streetwear manufacturers from across the world to find your favorites.
Find a Brand that Fits Your Budget: As well as finding the best streetwear brand that fits your audience's sense of style, you also need to identify one that matches your budget. Shop around and compare costs to discover the right manufacturer for your price range.
Find the Best Streetwear Shirts, Hoodies, Jeans and More
Whether you're setting up a brand new streetwear company or looking for a trusted wholesale manufacturer to team up with for a new product line, this guide has shown 10 top urban fashion brands you can consider. Remember to compare options and check out at least a few brands to find one that matches your taste and budget just right.