The global lingerie market is estimated to be worth over $80 billion. Sure, this is already an impressive figure, but it's expected to rise to a staggering $121 billion by 2028. So, if you've ever dreamed of starting your own lingerie brand or branching out your apparel, these figures should be more than a compelling incentive.
But to enter this lucrative industry with a bang, you need a reliable lingerie manufacturer as your partner. Check out this list of the 10 best lingerie manufacturers and find one that can rise to the challenge.
The 10 Best Lingerie Companies
Here's a quick rundown of the 10 best lingerie manufacturers worldwide. Take a look, and then let's dive into the specifics.
Appareify (China) – The Best Lingerie Manufacturer Overall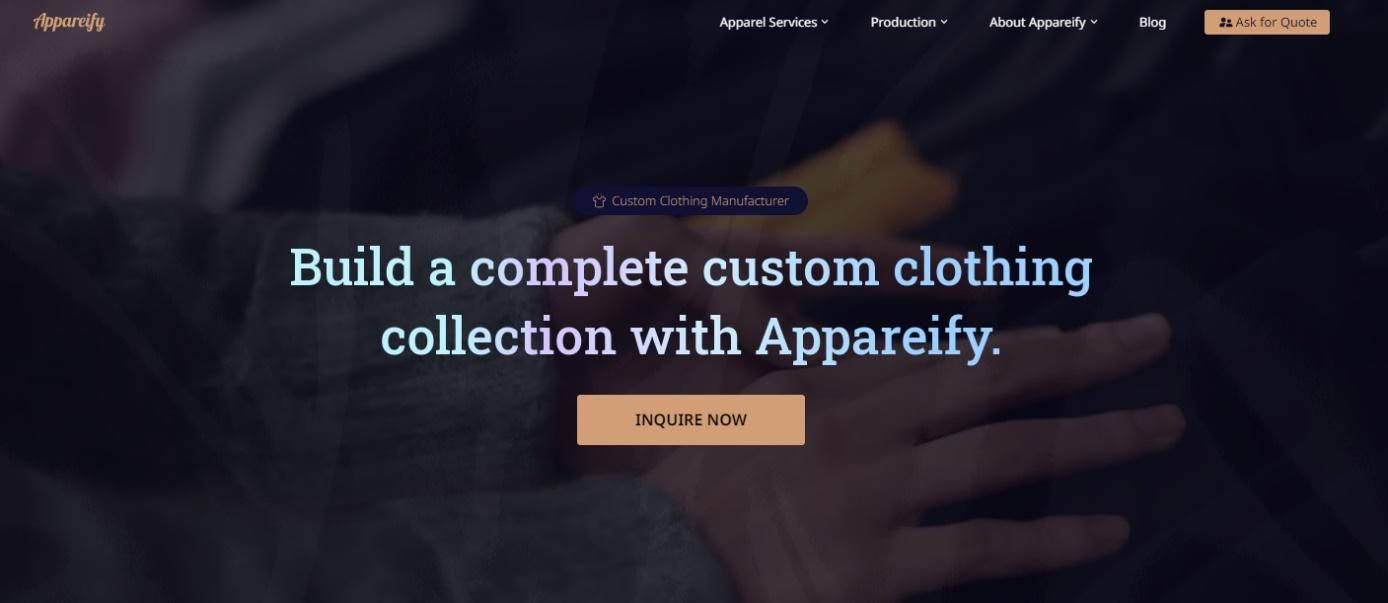 Appareify is one of the leading lingerie manufacturers worldwide and for a good reason. This China-based company is highly committed to quality, sustainability, and individuality. Let's look at these three principles in more detail.
When it comes to standards, Appareify offers high-quality materials that prioritize comfort and almost feel like a second skin.
As for sustainability, this lingerie manufacturer strives to minimize waste and reduce its carbon footprint at every production stage, from design to shipping. Of course, this includes working with quality biodegradable fabrics ideal for brand owners who want to start a green brand.
Individuality is what sets Appareify apart. You want a lingerie manufacturer that can curate unique product designs and tailor products specifically to your brand's vision. And that's precisely what Appareify does, thanks to numerous customization options.
Whether you want to manufacture private-label underwear or white-label lingerie, contact Appareify and leverage the company's expertise to create standout products.
Pros:
An inclusive lingerie range
Fully customizable products
Low minimum order quantities
Fast turnaround times (7-20 days)
Seamless communication
Cons:
A low possibility of in-person quality inspections
Contact Appareify right now to customize your lingerie. >>>
Gelmart International (U.S.) – The Most Sustainable Lingerie Manufacturer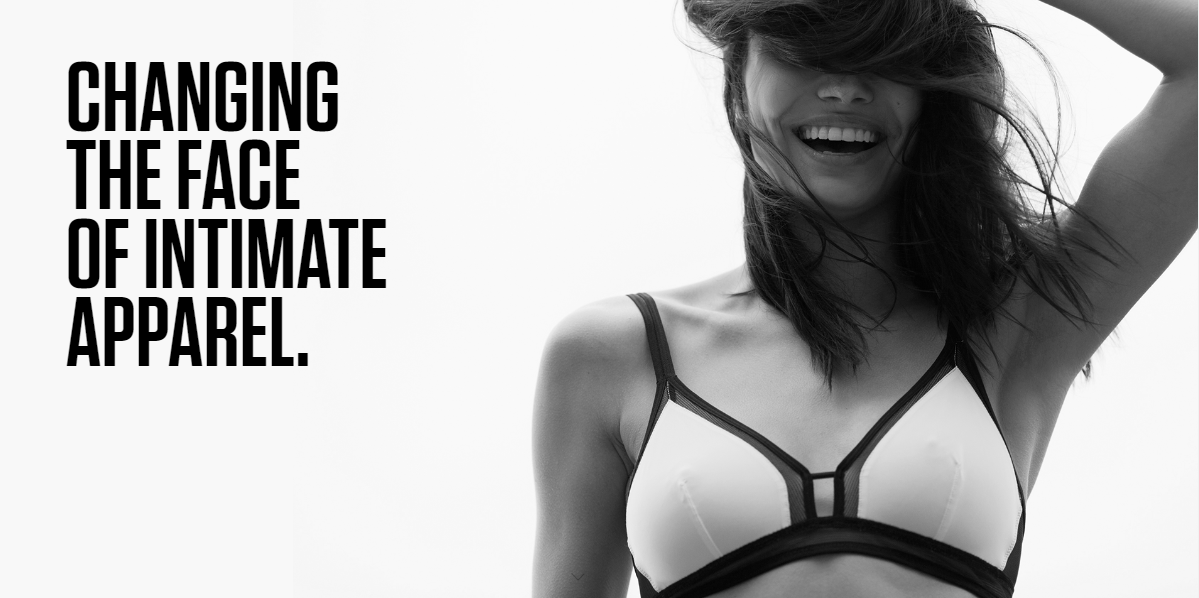 Gelmart International is a U.S.-based lingerie manufacturer that made headlines after devising a sustainable line of intimate apparel containing the world's first plant-based bra cup made from sugarcane. So, it goes without saying that this company is committed to sustainability.
Besides sustainability, Gelmart International invests heavily in its supply chain. This lingerie company has recently opened production facilities in China and the Philippines and an overseas office in China. Through these connections, Gelmart International fosters direct relationships with raw material suppliers, allowing it to streamline production processes and maintain strict quality control.
Gelmart International also highly values its design team, so designing and developing a custom, fashion-forward lingerie line should be a seamless process.
Pros:
Led by industry veterans
Extensive experience in the lingerie industry
A robust research and development department
Cons:
Can pay more attention to bigger clients and their own ventures
In-person quality inspections aren't possible
Teri Lingerie (U.S.) – The Best Lingerie Manufacturer for Small Businesses

Teri Lingerie is a U.S.-based lingerie company that has been operating for over 40 years. During these years, the company has supplied U.S. and global retailers with lingerie of excellent quality, flattering fit, and impressive durability. Plus, this lingerie manufacturer operates on a smaller scale, so each of its partners gets personalized attention and tailored solutions.
Partner with Teri Lingerie, and you'll be able to choose between a wide range of lingerie fabrics, from classic nylon to mesh. This allows you to create a diverse and appealing lingerie line for your brand.
When it comes to actually designing and manufacturing that line, you'll work with Teri Lingerie's in-house team every step of the way. The company can manufacture private-label underwear or act as a wholesale lingerie supplier, depending on your needs.
Pros:
An inclusive range of sizes
Working only with ethical vendors
Personalized customer service
Cons:
A limited selection of styles
Lower production capabilities
Shemax International (Pakistan) – The Most Straightforward Lingerie Manufacturer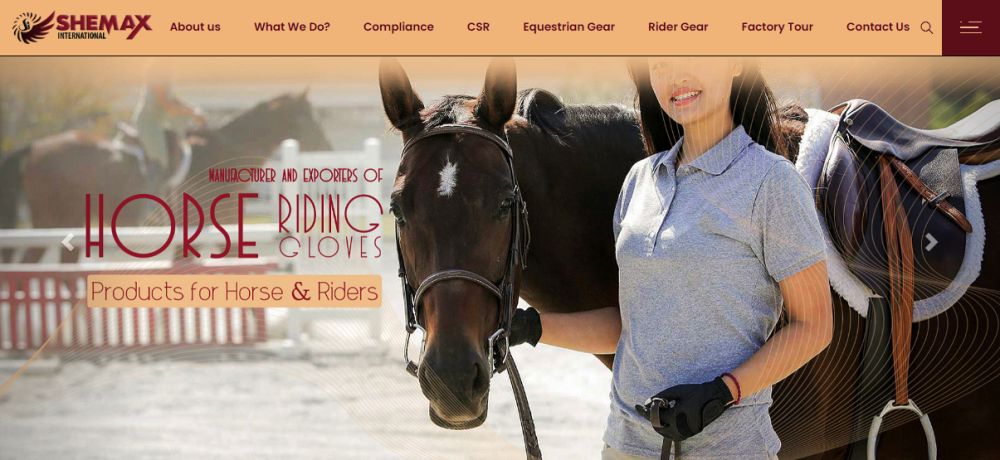 Shemax International is one of the leading apparel manufacturers in Pakistan. Interestingly, the company primarily advertises its equestrian and rider gear. So, if you were to research, you probably wouldn't even consider them for your lingerie brand.
But this company indeed caters to different parts of the garment manufacturing industry, one of them being lingerie manufacturing. It employs over 150 individuals across all units and departments to ensure meticulous attention to detail, quality, and precision.
Shemax International particularly values its marketing team. This team flies globally to keep up with all the latest fashion trends. So, the product lines this lingerie manufacturer makes should reflect contemporary fashion trends accurately.
Pros:
A commitment to sustainability
A streamlined design and manufacturing process
100% transparency every step of the way
Cons:
Not enough lingerie-specific experience
Longer lead times
Delta Connex (U.K.) – The Lingerie Manufacturer With the Fastest Delivery
Delta Connex is a U.K.-based company that specializes in lingerie and swimwear. The company is open to partnering with both small and large brands. So, whether you're just starting out or simply wanting to expand an established brand, Delta Connex has the expertise and flexibility to help you out.
This lingerie manufacturer operates under the "Design. Develop. Deliver." philosophy. To achieve this, Delta Connex partners with a vast network of factories in Europe and Asia, which adhere to fair trade practices. This wide network is also why Delta Connex can boast short turnaround times.
But these times don't come at the cost of quality. Delta Connex holds a BSCI (Business Social Compliance Initiative) certificate, guaranteeing ethical practices in the supply chain and manufacturing. It's also a member of Sedex (Supplier Ethical Data Exchange), solidifying its commitment to ethical business practices.
Pros:
A versatile range of products and styles
Competitive pricing
Ultra-fast delivery
Cons:
Quality inspections are impossible due to a broad network of lingerie factories
Higher minimum order quantities
Leonisa (Columbia) – The Best Wholesale Lingerie Supplier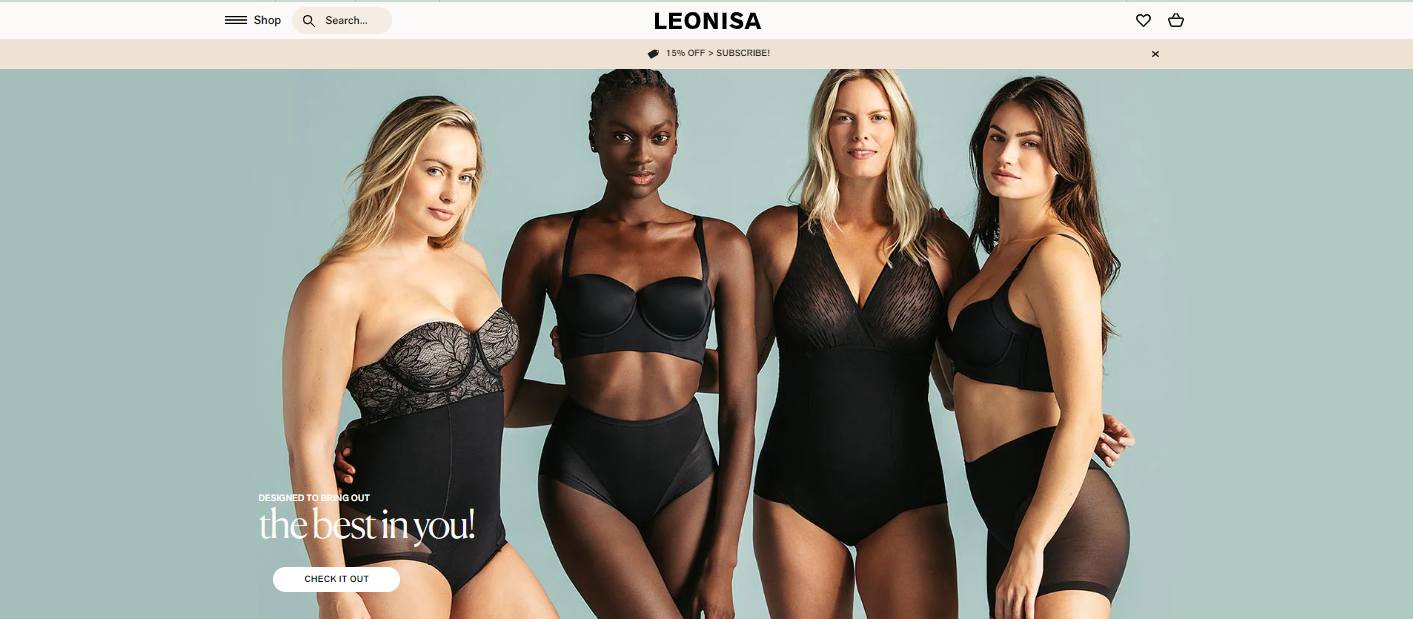 Leonisa is one of the leading lingerie wholesale suppliers worldwide, with multiple distribution centers across 10 countries (Europe and South America). Though this company doesn't offer the same level of personalization and customization as others on this list, it's worth considering if you want to add lingerie to your product offering.
The products from Leonisa are of high quality, benefitting from cutting-edge European and Japanese machinery. Even established lingerie brands like Victoria's Secret sell these products, which is another testament to their quality.
Thanks to 10,000 direct and indirect employees worldwide, Leonisa maintains a solid global presence, allowing seamless collaboration.
Pros:
Eco-friendly manufacturing practices
Exceptional quality
Seamless communication
Cons:
No customization options
No possibility of private-label underwear
Regina Miracle (China) – The Best Bra Manufacturer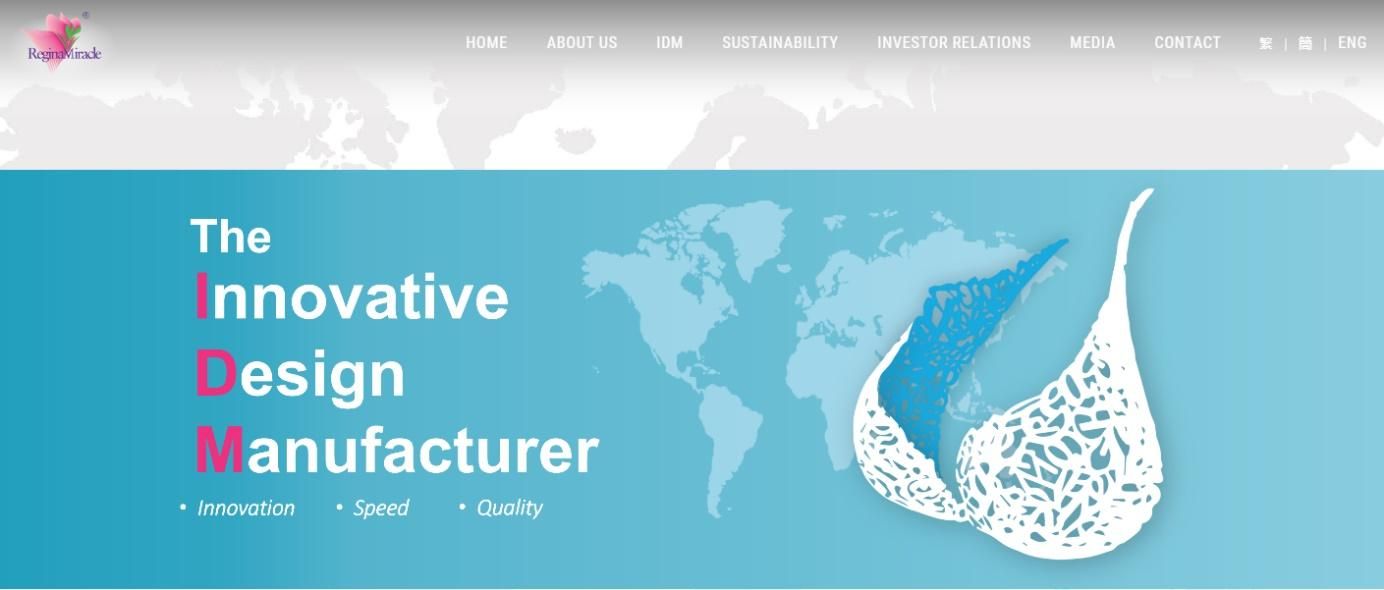 Regina Miracle was founded in Hong Kong, China but launched its current business as a lingerie manufacturer in Shenzhen, China. As it specializes solely in intimate garments, the company offers a wide range of styles that appeal to diverse tastes and preferences.
Though Regina Miracle offers the full range of lingerie items, it excels at bra production, earning it the title of one of the best bra manufacturers in China and beyond. It produces all kinds of bras of great quality, from one-piece to push-up bras.
The lingerie company has robust research and development centers and manufacturing facilities across China. Thanks to the former, Regina Miracle has produced innovative products targeting people suffering from back pain. This makes them a great collaborator for brand owners who have a niche audience in mind when launching their brand.
Pros:
Innovative design
Excellent logistic solutions for shipping
Robust manufacturing capabilities
Cons:
Primarily focused on bra production
In-person quality inspections are nearly impossible
French Female Apparel Development (Vietnam) – The Best Lingerie Manufacturer for High-Production Demands
Contrary to what its name suggests, French Female Apparel Development is a reputable lingerie manufacturer from Vietnam. From its very beginning (2001), the company has specialized in women's intimate garments. This has allowed it to develop a deep understanding of women's lingerie needs, making it a reliable partner for quality lingerie production.
French Female Apparel Development employs over 1,000 workers and owns almost 30,000 square yards of production space, allowing it to produce a high number of garments relatively quickly (over 4.5 million products yearly). In other words, its turnaround times should be satisfactory.
However, the fast turnaround times don't come at the cost of quality and ethical manufacturing practices. French Female Apparel Development is certified by BSCI, guaranteeing ethical business practices. It also holds an OEKO-TEX Standard 100 certification, awarded to companies that prioritize environmentally friendly and safe manufacturing practices.
Pros:
Impressive manufacturing capabilities
Advanced manufacturing technology
A great choice of styles, designs, and materials
Cons:
Not many past reputable partners
In-person factory inspections are nearly impossible
Anil Lingerie and Homewear (Turkey) – The Best Lingerie Manufacturer for Contemporary Designs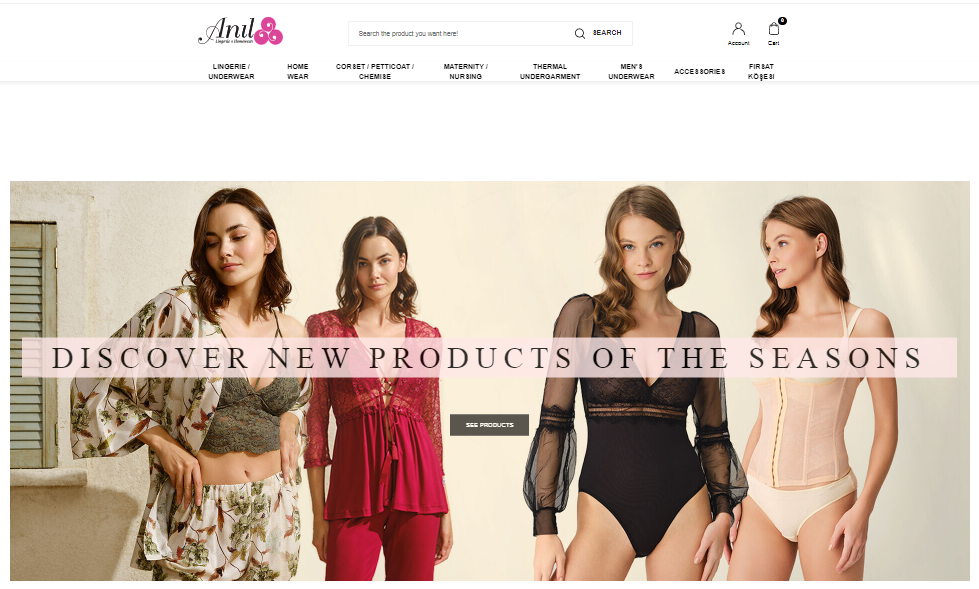 Anil Lingerie and Homewear is another lingerie wholesale distributor you can consider for your business. It's based in Turkey but has an excellent logistic network that delivers its products to countries worldwide.
This lingerie company might've started as a small garment workshop but now owns three factories with a total area of 12,000 square yards. Naturally, this allows Anil Lingerie and Homewear to produce an impressive number of garments daily (the current capacity is 15,000 pieces).
The company's design team consists of 10 people who carefully craft a diverse range of lingerie, catering to various customer preferences. So, no wonder many well-known brands outsource their products to Anil Lingerie and Homewear.
Pros:
Diverse products of high quality
Excellent underwear options beyond lingerie
Cons:
No private-label option
No opportunities for customization and personalization
Lingerie Mart (U.S.) – The Best Manufacturer for Inclusive Lingerie

With more than 25 years of experience, Lingerie Mart has become one of the leading lingerie distributors in the U.S. The company doesn't manufacture lingerie directly. Instead, it works with hundreds of lingerie factories and manufacturers worldwide (primarily in Asia and South America) to curate high-quality lingerie and intimate apparel. Then, it acts like a wholesale superstore and supplies brands with lingerie.
Though the company doesn't manufacture the lingerie directly, it manages to offer quite competitive prices. How? By purchasing products in huge volumes and establishing long-term relationships with lingerie manufacturers.
Lingerie Mart is open to collaborating with businesses of all sizes, making it an excellent option for new business owners. In a rare feat for our list, business owners can also visit the company's warehouse in the Atlanta metro area to inspect the products firsthand and discuss a potential partnership in person.
Pros:
An impressive range of styles
Competitive prices
Fast delivery
Cons:
Can't manufacture private-label underwear
No customization options
How to Find a Lingerie Manufacturer
Finding the right lingerie supplier is no easy task. After all, this company must understand the nuances of lingerie design and fit to ensure maximum customer satisfaction. Plus, your chosen lingerie factory must have strict quality control standards to ensure such delicate items are crafted to perfection.
But how can you go about finding such a reliable lingerie maker? First things first, don't limit yourself solely to your country or state. Such an endeavor calls for exploring lingerie suppliers overseas. Here's how to look for them:
Visit trade fairs in major cities
Explore your options online (website directories and direct websites of lingerie manufacturers).
Hire a manufacturing agent to look for you
What to Consider When Selecting a Lingerie Manufacturer
Now that you know where to look, you should also learn what to look for. Here's what you should consider when selecting the perfect lingerie company for your brand.
Lead times. Different lingerie factories have different lead times. Since lead times can significantly impact your ability to meet customer demand (and market trends), aligning them with your production schedule is crucial.
Factory location. Choosing a lingerie factory closer to your home gives you more control.
Fabric options. You'll want to work with an intimate apparel manufacturer that offers a wide range of fabrics, including some eco-friendly options.
Pricing. Consider your budget and evaluate the pricing structure of the lingerie company you're interested in to ensure it aligns with your financial goals.
Is It a Good Idea to Cooperate With a Chinese Manufacturer?
Chinese manufacturers have become dominant players in various industries worldwide, and lingerie manufacturing is no different.
What makes Chinese manufacturers such a popular choice in the fashion world is how quickly they can produce and ship items of excellent quality. Naturally, their competitive rates are also a significant factor, making them especially appealing to new brand owners. Throw high production capabilities and well-organized shipping networks into the mix, and it becomes clear that partnering with a Chinese manufacturer is an excellent idea.
Of course, you shouldn't consider just any Chinese lingerie supplier. There are many that don't meet the quality, ethical, and sustainability standards you require. Also, some impose high minimum order quantities and offer lengthy lead times, affecting your ability to respond to market demands quickly.
Appareify does no such thing.
This top lingerie company checks off all the boxes for a stellar China-based partner. With Appareify as your lingerie manufacturer, you'll maintain the standards your brand deserves.
Top Lingerie Companies Are the Only Choice
There are a million things to consider when starting a successful lingerie brand. But your top priority should be choosing a reliable lingerie manufacturer. Why? Well, no amount of marketing and branding can compensate for products of poor quality.
You can "fool" your customers at first, but don't expect them to come back. So, investing in high-quality products and marketing them will be a breeze.
Do some research, and you should have no issues finding lingerie manufacturers that align with your vision and quality standards. If you want to skip the research part, we've got you covered – simply contact Appareify.
One look at this company's policies, past collaborations, and scope of services and it becomes clear that Appareify is the ideal partner for your private-label lingerie line.