There's a lot of demand for embroidery services all over the world, with both individuals and businesses seeking out the embroidery services of the very best embroidery companies in the business.
Perhaps you're looking for embroidery shops to personalize some gifts or apparel you plan to buy. Or maybe you're a business owner searching for a trusted, reliable embroidery service to partner with for future product lines.
Either way, this guide is here to help. Below, we'll provide a deep dive into 10 of the very best embroidery manufacturers you can work with today.
Appareify: The Best Embroidery Manufacturer Overall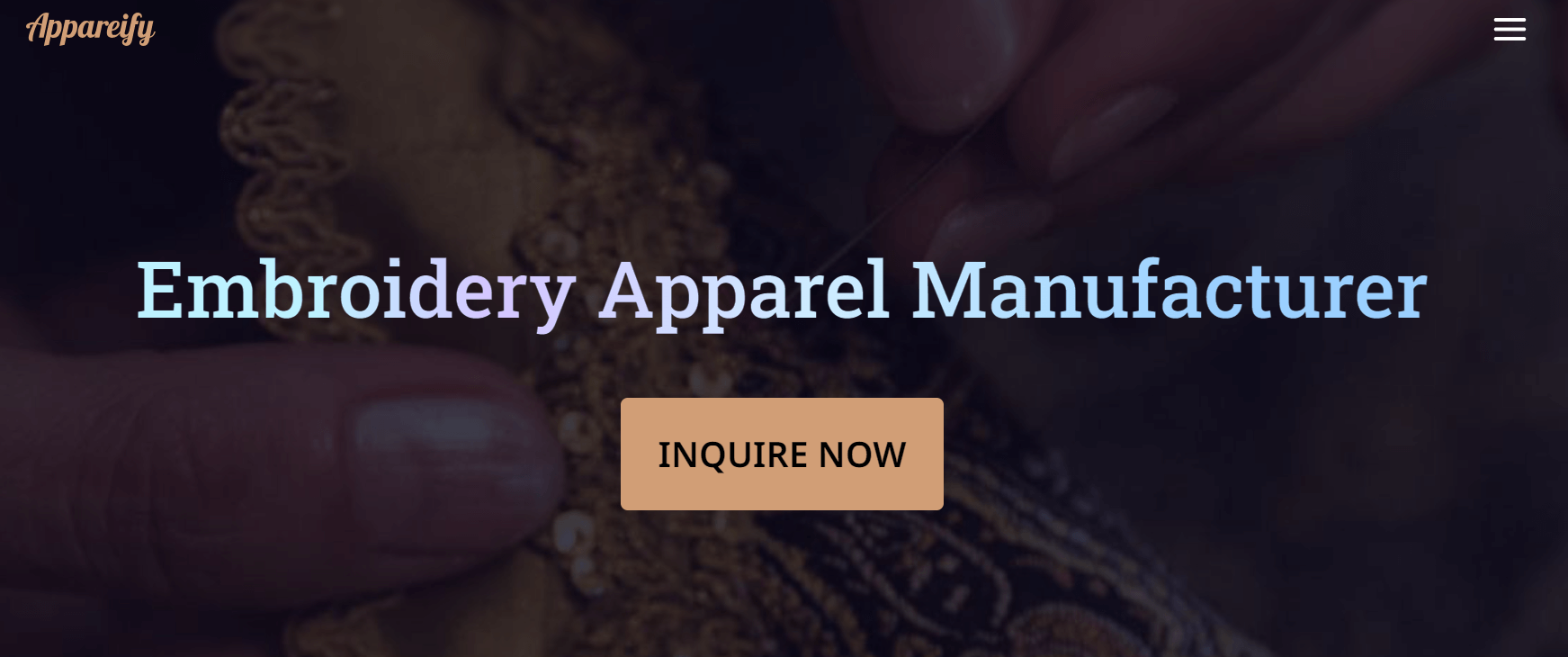 Kicking off our list of the best embroidery places, we have Appareify. Founded back in 2017 and based in China, this brand has rapidly risen to the top of the rankings among embroidery service companies, trusted by leading fashion and apparel companies, like ASOS.
Using the most advanced machinery and boasting the most experienced, expert team of designers and embroiders, Appareify stands out from the pack of other embroidery service providers.
This company offers a range of apparel services, from custom clothing designs to detailed embroidery. Indeed, attention to detail is a big selling point of Appareify over other companies, as this firm puts a lot of effort and care into making sure that each product fulfills the needs and desires of the customer.
Whether you're seeking an embroidery company to help with embroidered T-shirts, swimwear, activewear, leggings, underwear, pants, lingerie, hoodies, streetwear, or something else, Appareify can make it happen. It offers fast processing times and affordable pricing to stand out from the competition.
Pros:
Cons:
Based in China, can make it difficult to visit the factory
Enhance your collections with Appareify's detailed custom embroidery services.
AEL Apparel: A Trusted Online Embroidery Provider in China

AEL Apparel is another of the best places that do embroidery. Just like Appareify, it's based in China, but has global appeal, selling its products to individuals and businesses in dozens of countries all over the world.
With years of experience and super-fast production times, AEL Apparel stands out as a trusted and premium provider of apparel embroidery services. It's well-suited to new apparel businesses that want to make their mark on the fashion industry with attractive embroidered garments.
Plus, quite a broad selection of clothing items are covered at AEL Apparel, including the likes of loungewear, streetwear, swimwear, activewear, and even kids' clothing. What's more, AEL Apparel offers immense customization, giving customers the chance to pick the precise designs they want.
Pros
Fast production times
Experienced R&D team
Excellent levels of customization
Cons
Additional fees for customization services
Embroidery Your Way: A Leading American Online Embroidery Store
If you're seeking companies that embroider clothing in the US, Embroidery Your Way might be one to consider. Based out of Rockland in Idaho, this small-town company has made a big name for itself online, offering a simple embroidery service that both individuals and business owners should be able to understand.
With Embroidery Your Way, customers can simply pick out the products they want, upload their own texts and logos, and then dispatch the order to the company. It's a quick three-step process, which is a lot simpler than a lot of other embroidery vendors out there.
Hat embroidery, shirt embroidery, and logo embroidery are just some of the services provided by Embroidery Your Way. And, as the name suggests, customization and customer control are big parts of the process when shopping with this firm. So, those who want to have total control over their embroidered designs may want to consider partnering with EYW.
Pros:
Lots of customization services
Very easy to work with
Affordable pricing across a range of products
Cons:
Website is quite outdated and doesn't always work
You have to supply your own art and logos
Fully Promoted: A Top USA Brand for Embroidery Services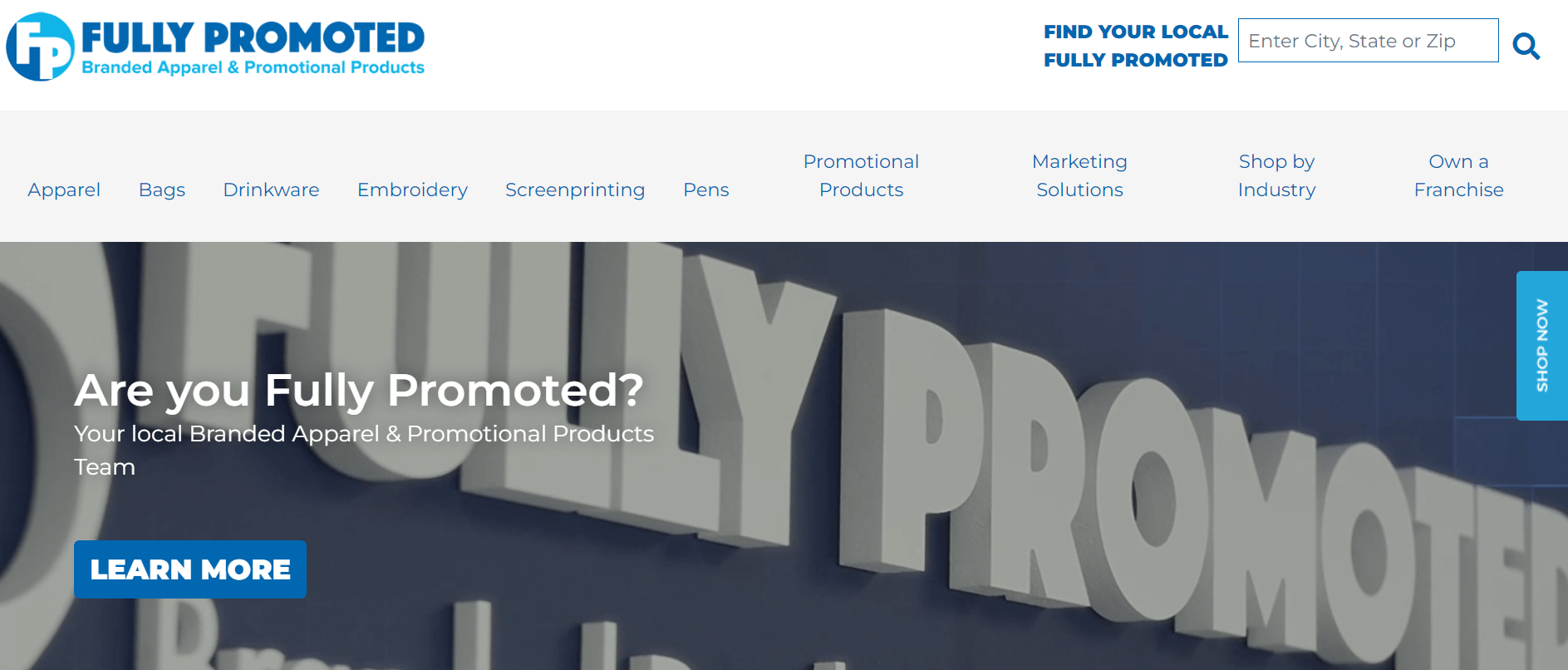 Formerly known as Embroid Me, Fully Promoted is a top custom embroidery and screen printing franchise based in the US. It has history dating back to 2000, when the brand was founded and the very first Embroid Me Store opened its doors.
Based in West Palm Beach in Florida, Fully Promoted offers a broad selection of custom embroidery services, including embroidery for the likes of sport uniforms, business outfits, promotional products, and so on. Buyers can pick from hats, jackets, T-shirts, bags, and more.
With hundreds of locations all across the US, Fully Promoted is clearly a successful name in the world of embroidery brands. It's often favored by business customers due to its speedy processing times and high standards of customer care.
Pros:
A trusted, experienced brand
Lots of locations US-wide
A wide range of clothing options
Cons:
Ricamour Embroideries: The No. 1 Name in Embroidery in India

Ricamour Embroideries is a leading embroidery brand based in Mumbai, India. Aimed mainly at the luxury market, this company uses traditional hand-embroidery and embellishment techniques, employing a team of highly experienced and skilled embroiders to fulfill customer orders to the highest standards of quality.
Custom embroidery services are the main focus of Ricamour, but this brand offers quite a wide range of services, including fabric sourcing, trimming, and designing. It uses both hand and machine methods to embroider items like dresses, shoes, bags, and veils.
Apparel businesses wanting to offer custom embroidered dresses and other high-end, luxurious items will find a lot to like about Ricamour Embroideries. And, despite being based in India, this firm offers speedy production and turnaround times for clients all over the world.
Pros:
A trusted provider in luxury embroidery
A team of embroidery experts
Fast turnaround times on orders
Cons:
Based in India, making it difficult to visit the factory
Relatively high prices
LA Embroidery: The Best Embroidery Company in California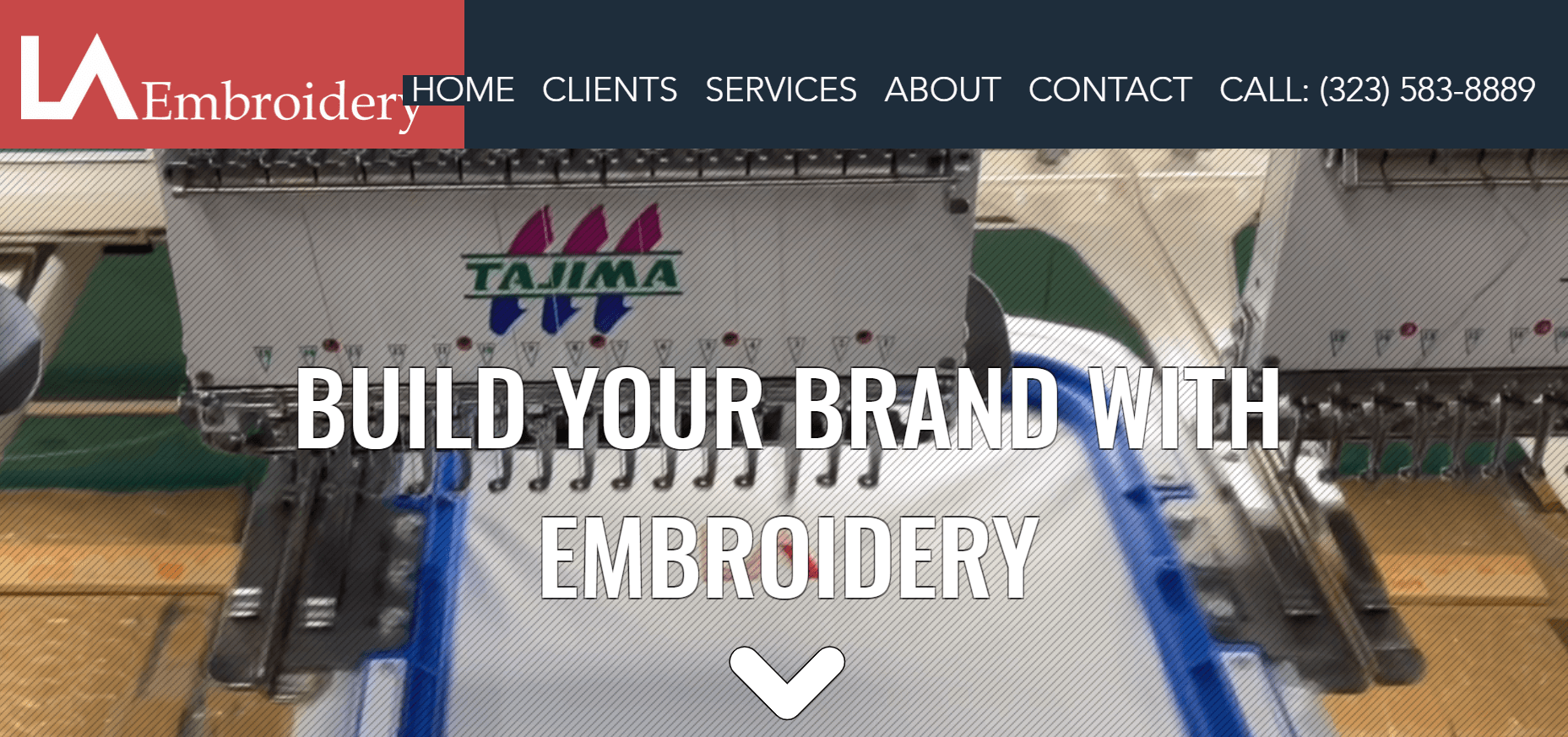 As the name suggests, LA Embroidery is based in the famous California city of Los Angeles, a major hub of fashion and style. And, as well as being the top custom embroidery company in the city, LA Embroidery is also a leading name in embroidery services across the US and beyond.
It's also one of the most experienced names in the industry, having been founded way back in 1992. The company actually started out in the home of its founder, Calvin D., but later expanded to a large headquarters location in Downtown LA, supplying embroidered clothing and accessories to stores, designers, and businesses worldwide.
Part of what makes LA Embroidery a major player in the embroidery scene is its versatility and varied range of products. It offers options to suit a wide array of tastes and styles, from urban streetwear to more sophisticated attire.
Pros:
A very experienced brand
A big catalog with many products
Produces many samples to ensure customer satisfaction
Cons:
Customer response times can be quite slow
Stitch America: Custom Embroidery Online from Texas

Stitch America is yet another US-based online custom embroidery company. This one is based in Carrollton, Texas, and was founded back in 1999, giving it over two decades of custom embroidery service experience.
One of the big selling points of Stitch America is its wide range of products. Whether you're looking for accessories like bags and hats or apparel items like shirts, polos, jackets, T-shirts, sweatshirts, or working attire, this company can meet your needs.
Stitch America also stands out for its top quality materials and high-end equipment, which helps to ensure that the final products are of a high standard. It also has a great team of designers who are ready and able to work closely with customers on creating their ideal designs.
Pros:
Fast turnaround times
Great customer service
A satisfaction guarantee
Cons:
More expensive than most other brands
Corporate Casuals: A Leading US Custom Embroidery Brand for Casual and Working Attire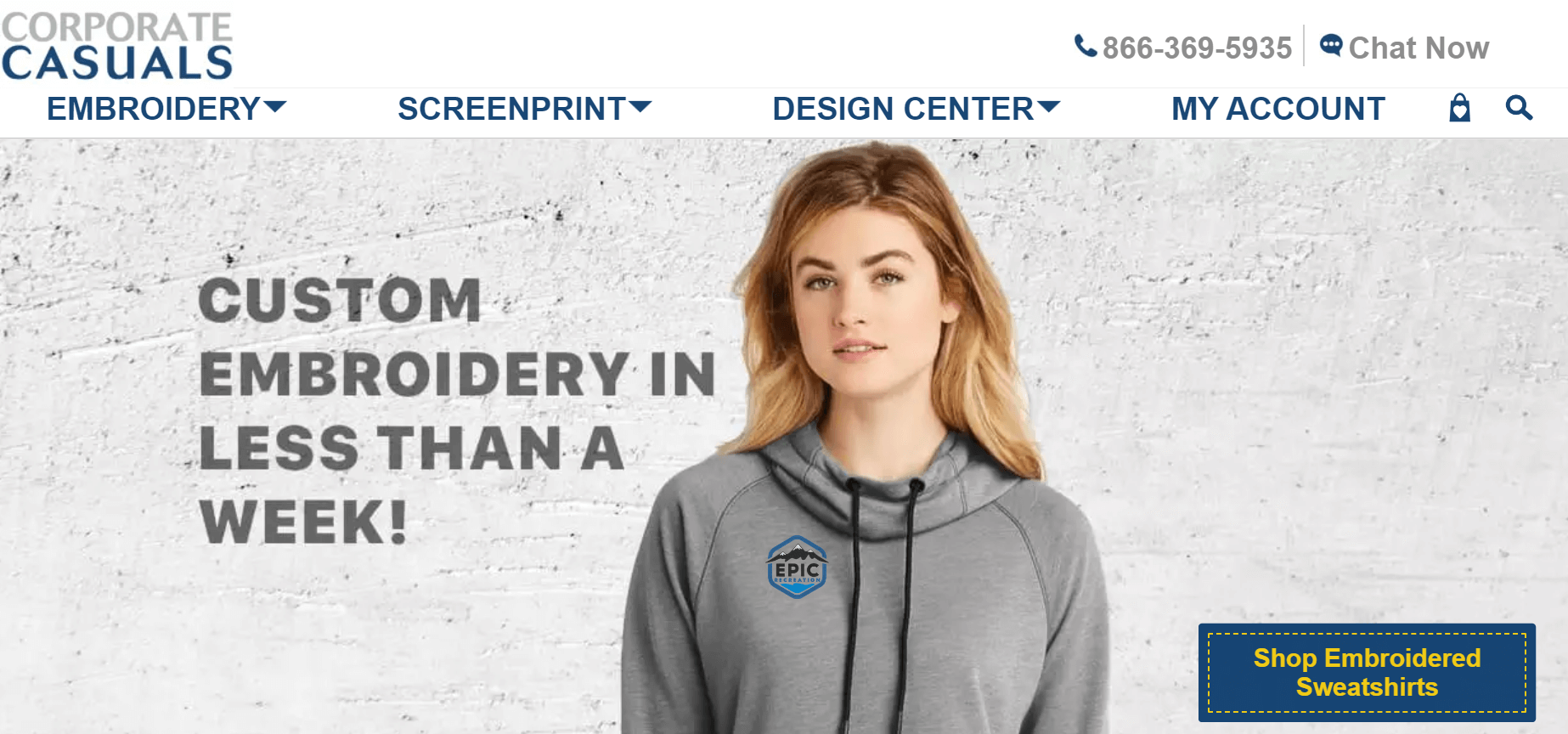 Corporate Casuals is another popular US provider of custom embroidery services.The history of this brand goes all the way back to 1980, with the founding of Callenstitch. In 1999, Corporate Casuals formed as an off-shoot of the Callenstitch brand and now employs more than 30 people, including excellent designers and embroiders.
A big selling point of Corporate Casuals is its speedy service. While other brands may take weeks to process and produce orders, Corporate Casuals can offer custom embroidery services in a matter of days or even under a week for certain orders.
This brand also offers a diverse selection of custom embroidery solutions and services to suit a range of budgets. It also uses the latest and most innovative embroidery techniques and technologies, providing fine levels of craftsmanship across its product catalog.
Pros:
A trusted US brand
Various options to suit all budgets
High standards of quality and innovation
Cons:
Zega Apparel: A Leading Luxury Embroidery Manufacturer in the US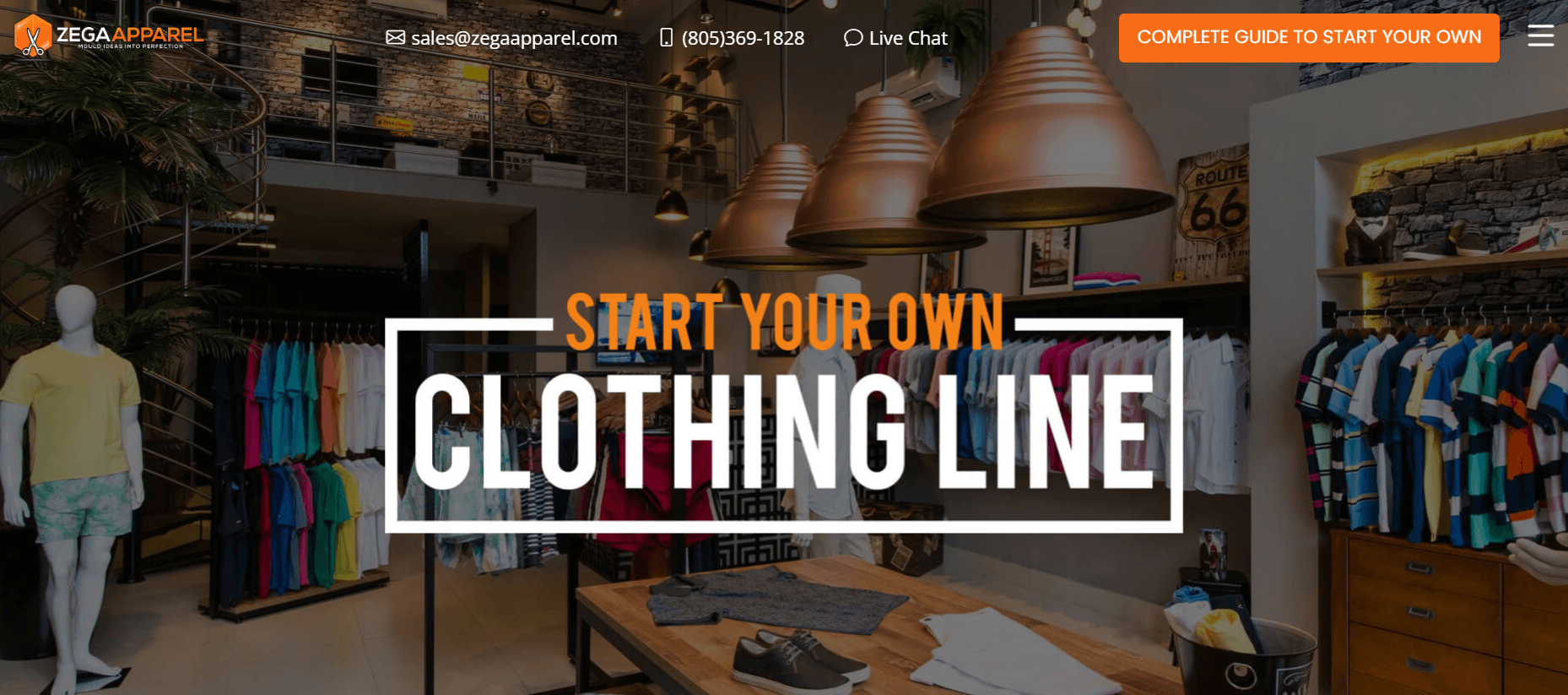 Zega Apparel is a leading custom clothing brand aimed at the luxury or upscale market. It started off as a small brand with a team of just four people, rapidly evolving into a much bigger company and attracting the attention of big name clients around the world.
Appealing to both emerging creators and established brands alike, Zega Apparel offers detailed, intricate embroidery services. It puts a lot of effort and attention into each project, ensuring that the highest standards of detail are met.
Each and every stitch is placed with care. This means that Zega Apparel's prices tend to be a little higher than many of its competitors, but it also ensures that customers can count on this firm to deliver top quality products that look great and can elevate small brands to a higher level.
Pros:
Exceptional attention to detail
Luxury-grade items
Good customer service
Cons:
RushOrderTees: Speedy Embroidery Service for Casual Attire in Pennsylvania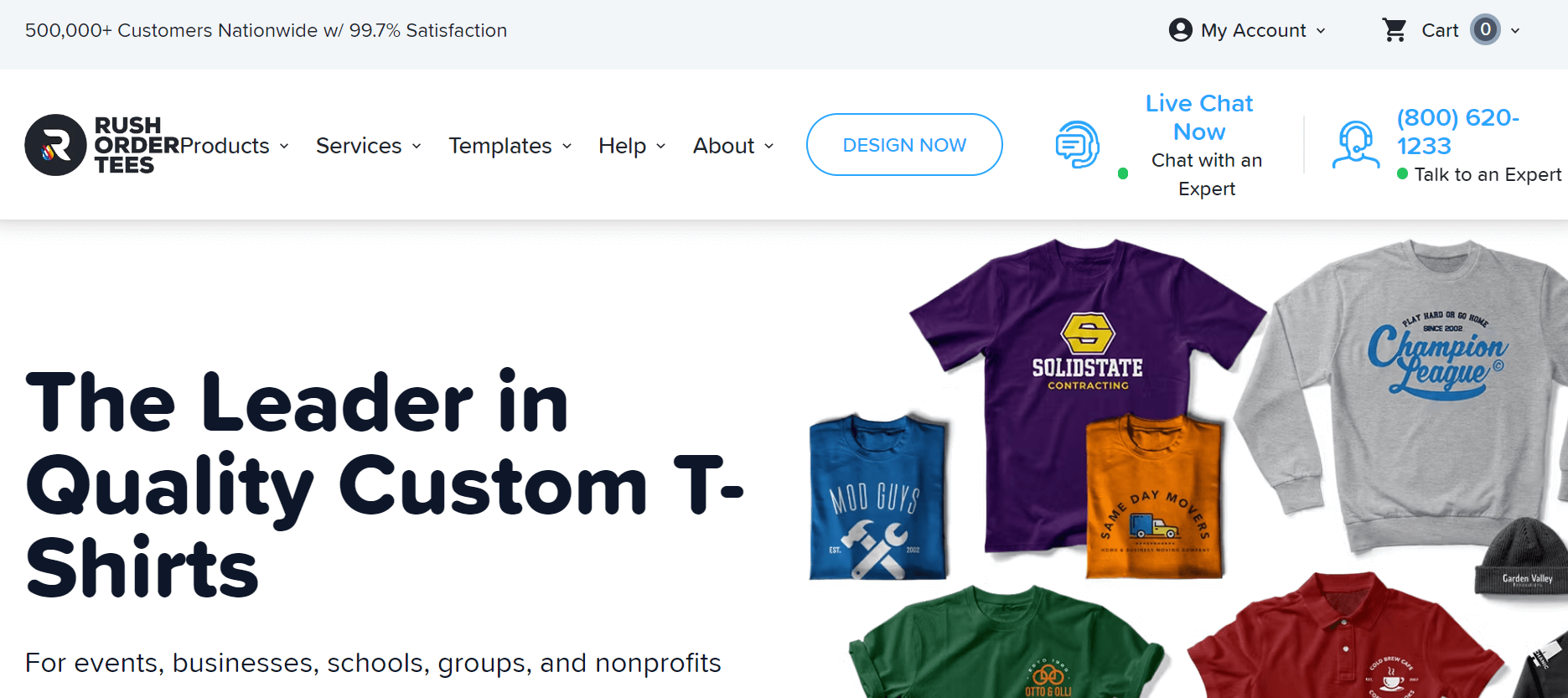 The final entry on the list of the best online embroidery stores is RushOrderTees. As the name suggests, this brand is mainly focused on embroidery and design services for casual items of clothing, like T-shirts. It also offers sweatshirts, hoodies, caps, and activewear, but also provides services for team uniforms and business apparel, too.
Speed is of the essence with this brand, too. It aims to provide very quick turnaround times for its orders, so that customers won't have to wait too long to get the clothing they need. This can be important if you're planning on custom embroidery before a big event or special occasion, for instance.
RushOrderTees also offers quite a broad range of high quality brand-name apparel to customize, including names like Under Armor, Nike, and The North Face. This ensures that products purchased from RushOrderTees are durable and long-lasting.
Pros:
Super speedy turnaround times
Great for casual clothing
Relatively low prices
Cons:
Not the biggest range of products
How We Chose the Best Embroidery Online Stores
There are so many embroidery providers out there, but they're not all made equal. In order to pick the best possible options for inclusion on this list, we focused on a range of key factors:
Quality of Materials and Methods: The very best embroidery manufacturers use the finest base materials, along with trusted and proven embroidery techniques to provide the very best final products.
Reputation and User Reviews: Many of the top embroidery brands have worked hard to establish themselves over the years and have great reputations, with lots of positive customer reviews.
Range of Options: The top embroidery companies also offer quite a broad range of clothing items and accessories. They let you customize everything from T-shirts and sweatshirts to business clothes and sports uniforms.
Value for Money: Last, but not least, we also looked at value for money and affordability when selecting the embroidery brands for this list, focusing on options that appeal to both high and low budgets alike.
How to Pick the Best Professional Embroiders
The list above includes 10 of the finest professional embroidery service providers in the world. But which one should you choose? To decide, here are a few quick tips to keep in mind:
Think About Budget: First, it's important to ensure you find a provider who can match your budget. Check prices and compare options to find an embroidery firm that won't cause you to overspend.
Check the Catalog: Need to embroider casual clothes, like tees and jeans? Or something more elegant and luxurious, like a wedding dress? Find a brand with a product catalog to suit your needs.
Don't Limit Yourself: Don't feel that you need to stick to only one embroidery firm. Try a few different options and put your trust in companies from different countries to find your favorites.
Find the Best Embroidery Services Online
Whether you're setting up a brand new clothing company or looking for a trusted embroidery partner to help launch a new product line, this guide has introduced 10 of the best brands you can use. Remember to compare your options and try a few providers to find one that matches your budget and provides the high quality services you're looking for.