Whenever you talk about San Francisco, the first thing that probably comes to mind is the Golden Gate Bridge. Chinatown and other buzzing neighborhoods may also be your initial thought, but did you know that the City by the Bay is also a clothes-making giant?
That's right – with over 600 apparel manufacturers, San Francisco dominates California's textile industry. Known for its vibrant fashion scene, the city's influence reverberates worldwide. San Francisco is a force in textiles, blending traditional craftsmanship and cutting-edge technology to fuel innovation. The garments produced here reflect the diverse aesthetic sensibilities that the city is renowned for.
Since you're on the hunt for the ideal clothing producer for your brand, this place might seem like an excellent choice. We'll tell you if that's really the case.
Let's check out the 10 best clothing manufacturers in San Francisco.
Top 10 Clothing Manufacturers in San Francisco
Whether you're looking for a men's or women's clothing manufacturer, San Francisco may be a solid location pick. It's home to many high-quality local clothing manufacturers, including the following 10 companies:
1. Designing a Difference Sewing House – Best Clothing Manufacturer in San Francisco of Streetwear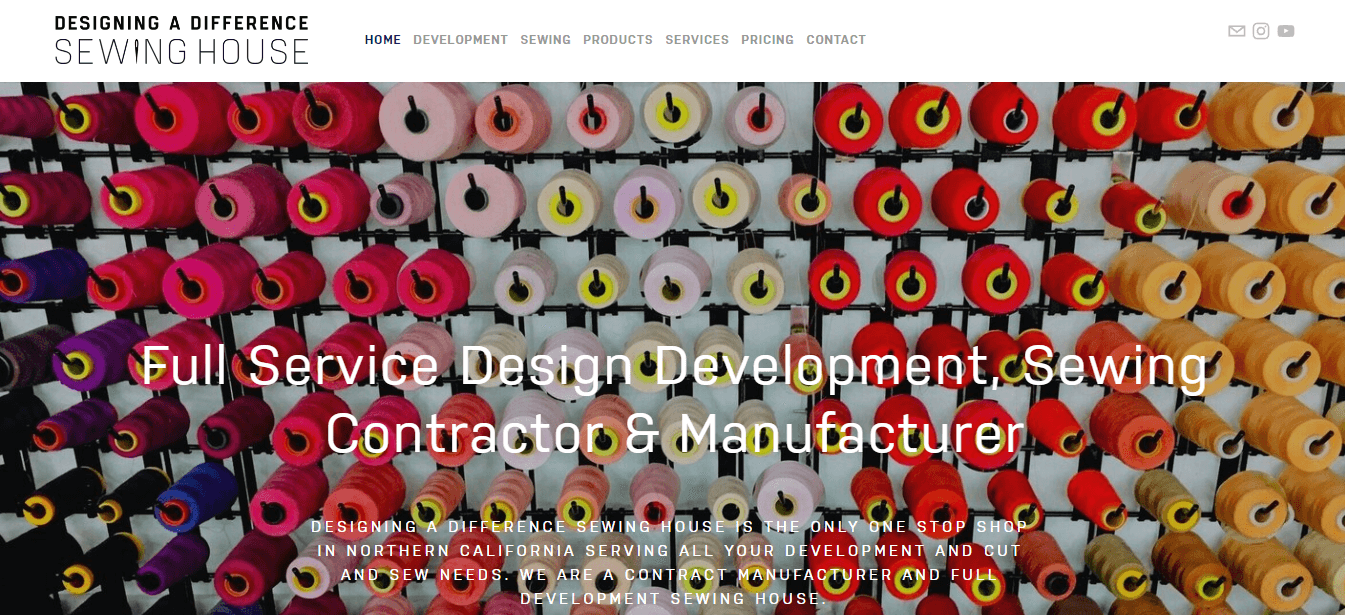 If you need a professional streetwear producer in San Francisco, Designing a Difference Sewing House can be an excellent choice. The company specializes in all types of streetwear outfits, including hoodies, jeans, tracksuits, and T-shirts.
Most of their apparel is casual, but there are also corporate options. Their Corporate Swag production focuses on your customers who don't have strict dress codes at work. Instead, they want to wear comfortable garments. Designing a Difference Sewing House does just that.
The company can also be a decent pick if you're looking for a wide range of clothing-related services, not just garment production. For instance, suppose you've hit a brick wall in the design stage. Simply contact their in-house team, and they'll provide a few creative ideas. The organization also offers pattern making, fabric sourcing, grading, markers, and sample sewing.
Pros:
Great for streetwear
Casual corporate garments available
A wide array of clothing manufacturing services
Can provide packaging for charity events, job fairs, and other occasions
Cons:
Unreliable customer support
2. Harvest & Mill – Best Clothing Manufacturer in San Francisco of Organic Garments
Today's textile industry requires you to prioritize sustainability. And the only way to get a green fashion line is to choose an eco-friendly producer. There are a few clothing manufacturers in San Francisco that meet your criteria, but Harvest & Mill stands out.
The company is all about sustainability. They lower their carbon footprint by reducing the environmental impact caused by the manufacturing process. In particular, they claim their factory emits 70% less greenhouse gasses and consumes 53% less energy than some other SF streetwear brands.
Furthermore, Harvest & Mill can be a good option if you prefer organic cotton clothes. Their cotton is 100% organic, eliminating the risk of allergic reactions. This allows you to target populations with sensitive skin.
Finally, this is a versatile garment manufacturer. Men's and women's pants, shorts, socks, and shirts are just some of the clothes they make.
Pros:
Highly sustainable
100% organic cotton clothes
Producer of various garments
Vegan attire
Cons:
Slow shipping to non-U.S. countries
On the expensive side
3. Synergy Apparel – Best Clothing Manufacturer in San Francisco of Affordable Outfits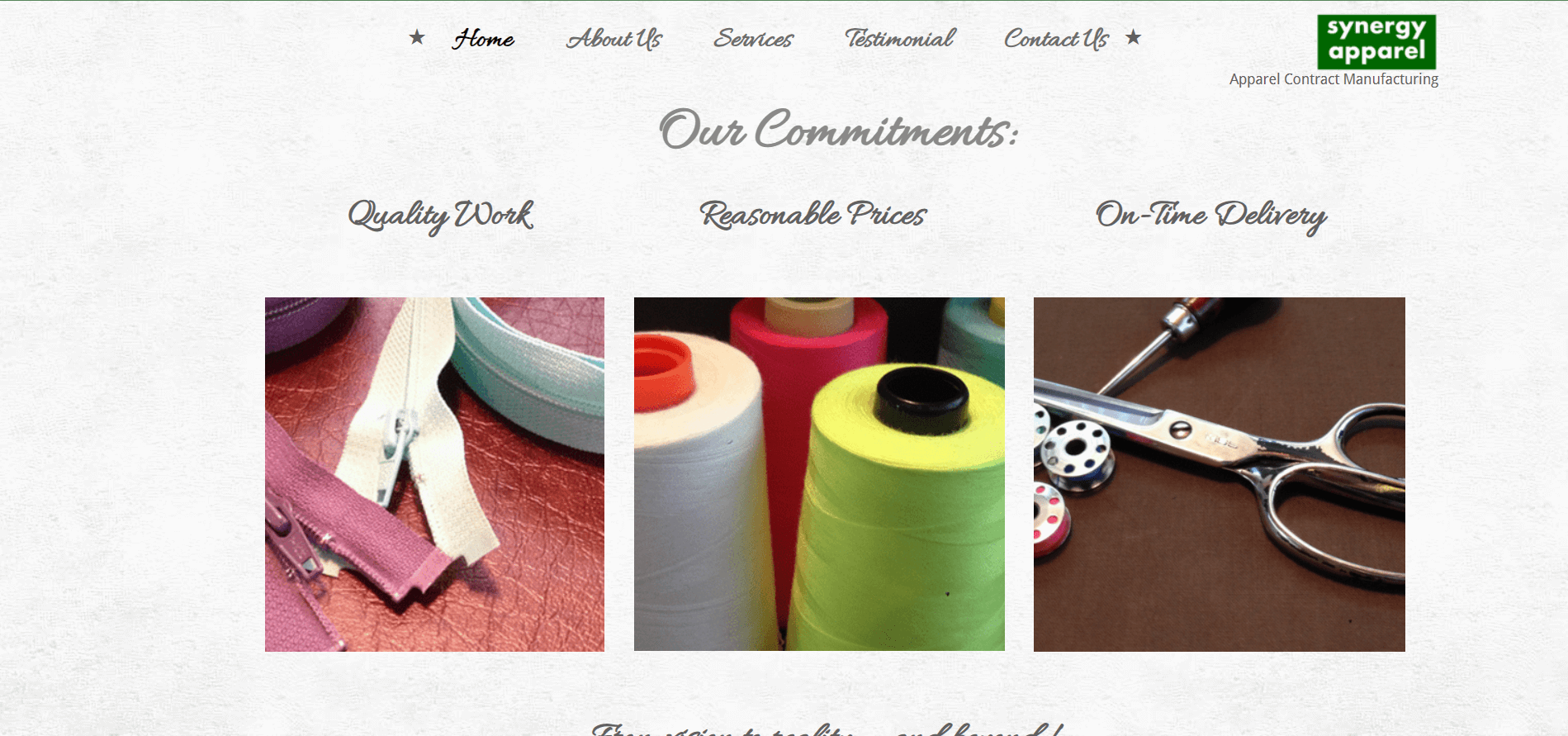 Quality and low lead times aren't the only factors you should consider when looking for the best streetwear manufacturers. The price is also critical, as you don't want to burn a hole in your pocket to make your apparel.
Affordable providers, such as Synergy Apparel, can save the day. This is a reasonably priced provider that works according to your budget. Once you describe the ideal garment, you can get a sample for just $50.
Another reason Synergy Apparel is on our list is their experience. With more than three decades in the business, they have the skills to pull off the most complex patterns and textures. They also utilize cutting-edge sewing machines to improve consistency and expedite production.
Lastly, the brand offers many other clothing production services, like grading, pattern making, and embroidery.
Pros:
Affordable alternative
Experienced garment-producing provider
Additional services available
Makes clothes of different styles
Cons:
Lack of timely technical support
Inconsistent batches
4. Curator SF – Best Clothing Manufacturer in San Francisco of Women's Apparel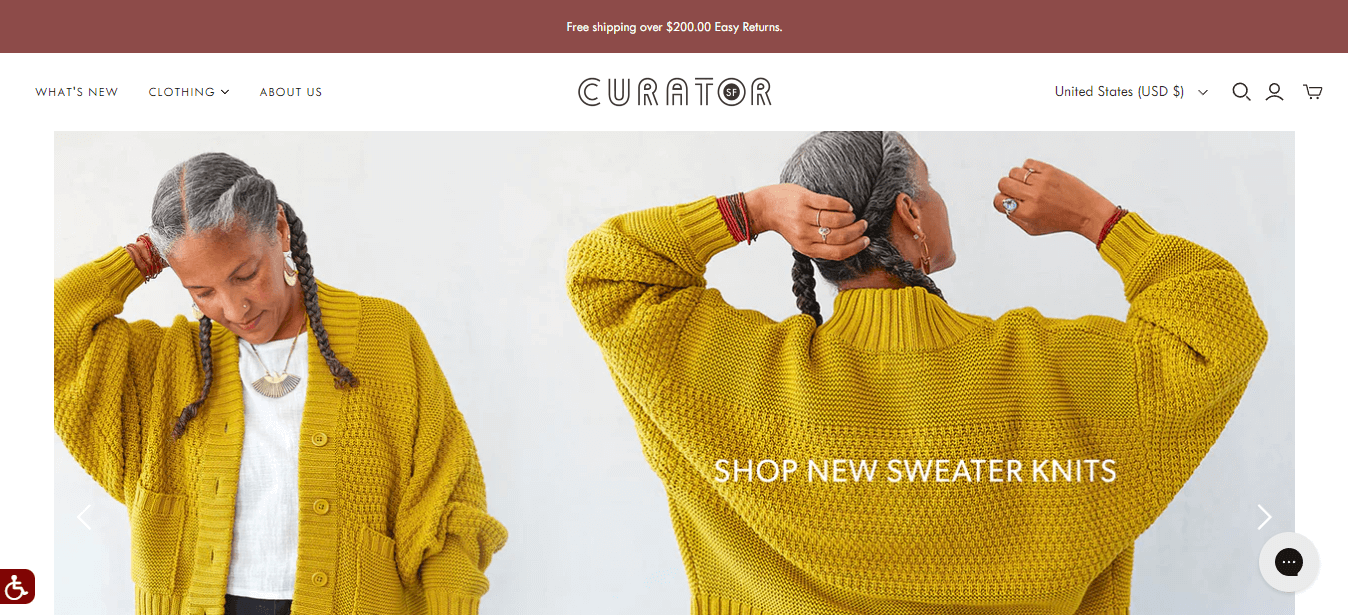 Women might be your target group. If that's the case, you should find a clothesmaker that specializes in women's garments. That's precisely what Curator SF is.
Their entire production is geared toward ladies. As a result, you can commission them for a wide variety of women's clothes, ranging from sweaters and jackets to pants and accessories.
Color quality is especially commendable. Various reviews suggest that the colors look pretty much the same on website images and live. This means the company uses reliable production techniques and dyes, which can increase customer satisfaction.
Another reason this is one of the best clothing manufacturers in San Francisco is its fit guides. These allow you to visualize your product and determine if your target audience will look good in your garments.
Pros:
Adept at women's clothing
Top-rated color designs
Provide comprehensive fitting guides
Superb stitching
Cons:
Does not offer men's garments
Sustainability is questionable
5. The Sewing Mills – Best Clothing Manufacturer in San Francisco of Tote Bags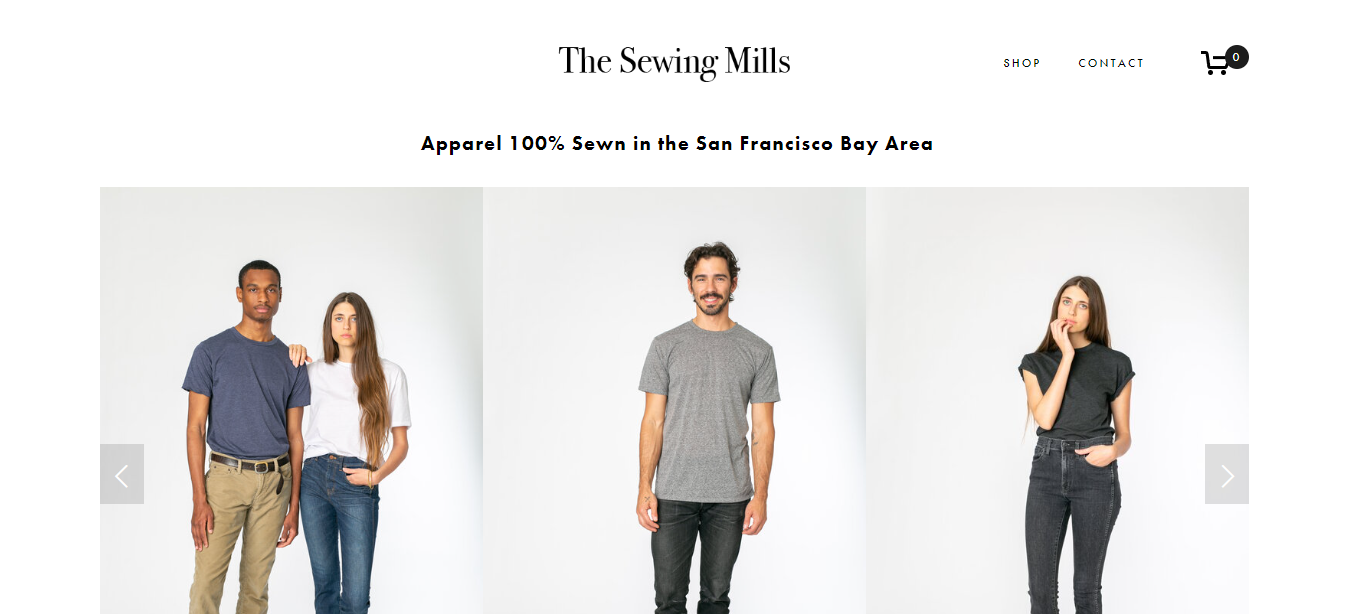 The Sewing Mills makes all their clothes in San Francisco, Oakland, and Berkeley. As a result, you don't have to worry about third-party factories. The enterprise doesn't outsource its manufacturing to remote regions notorious for worker exploitation.
The Sewing Mills can be a solid partner if you're starting a tote bag brand. They make all kinds of totes for women of all ages.
The company also puts a significant emphasis on T-shirts. Whether men's or women's T-shirts are your priority, the manufacturer can make it happen.
Finally, private label printing is an option. The Sewing Mills help you stand out by adding a label to your garments.
Pros:
No employee exploitation
High-quality totes and T-shirts
Private label printing
Fast shipping in North America
Cons:
Poor lead time for Asian and European orders
Sampling often takes a longer period of time
6. LjoSew – Best Clothing Manufacturer in San Francisco of Different Types of Clothes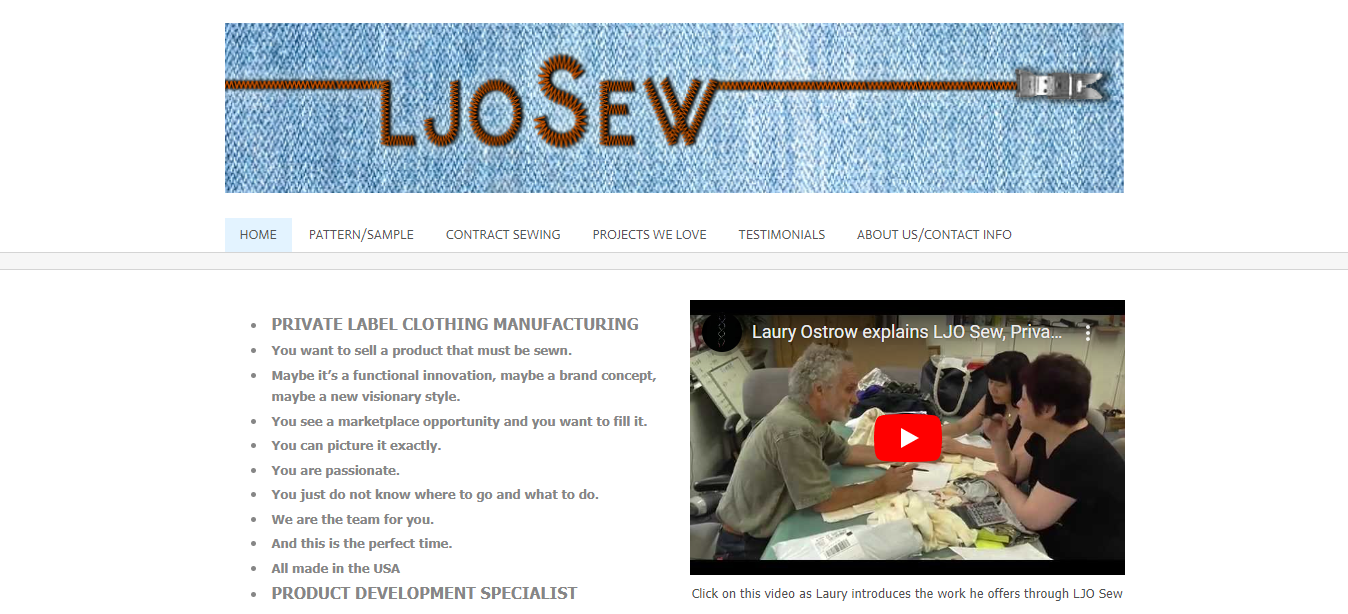 When searching for the best manufacturers for streetwear clothing, choose one that can multitask. You want a flexible brand skilled at different garments and materials.
That's where LjoSew comes in. They make all sorts of products, including jeans, button-down shirts, pants, shorts, and activewear. You can even commission them for swimwear, bikinis, and underwear.
On top of that, the enterprise is well-versed in a whole host of materials. Suppose you're interested in woven garments. They can make your clothes using denim, canvas, and twill. Other options include jersey, rib, polyester, and organic cotton.
Lastly, you can rely on LjoSew for a variety of non-production services. This includes design assistance, grading, pattern making, and cutting.
Pros:
Makes all kinds of clothes
Numerous materials available
Extensive design assistance
Baby and infant clothing is available
Cons:
7. Amour Vert – Best Clothing Manufacturer in San Francisco of Women's Elegant Garments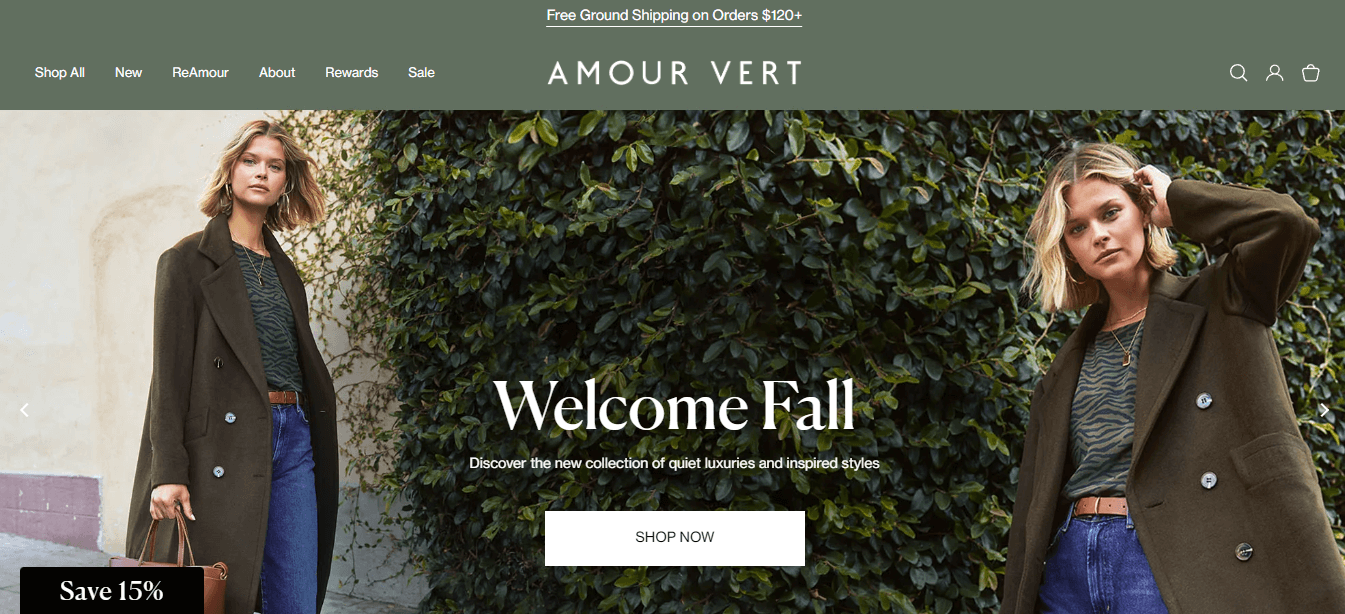 If your female customers aren't looking for casual clothing, you need to rise to the occasion. Elegance might be their priority, and Amour Vert may have what you're after.
All their garments are elegant and sophisticated. From jeans and blouses to coats and belts, each product looks fantastic. The moment they see the outfits, your customers will fall head over heels for them.
Amour Vert is one of the best local clothing manufacturers due to their high-quality materials. For example, their washable silk is much more durable than standard materials. As such, it's perfect for selling long-lasting clothes.
Additionally, the producer is big on sustainability. They source eco-friendly fabrics and reduce energy consumption during manufacturing.
Pros:
Makes elegant clothes for women
Robust materials
Sustainable brand
Good return policies
Cons:
No men's garments
Poor lead time
8. Bay Thread – Best Clothing Manufacturer in San Francisco of Hassle-Free Clothing
Designing tech packs is difficult. Wouldn't it be great if manufacturing companies for clothing did the work for you?
That's exactly what Bay Thread offers. Just describe your vision, target group, and other key aspects, and the company will develop exceptional tech packs. This allows you to focus on other business factors, such as marketing your products when they're finally ready.
You can work with Bay Thread if you need a variety of garments. Men's and women's casual and elegant wear are readily available.
Lastly, the organization provides free quotes, which can make a difference, especially if you're on a budget.
Pros:
Tech pack designs
Makes clothes for men and women
Free quotes
Pattern making available
Cons:
Getting in touch takes a while
Unreliable phone support
9. Marine Layer – Best Clothing Manufacturer in San Francisco of Soft Apparel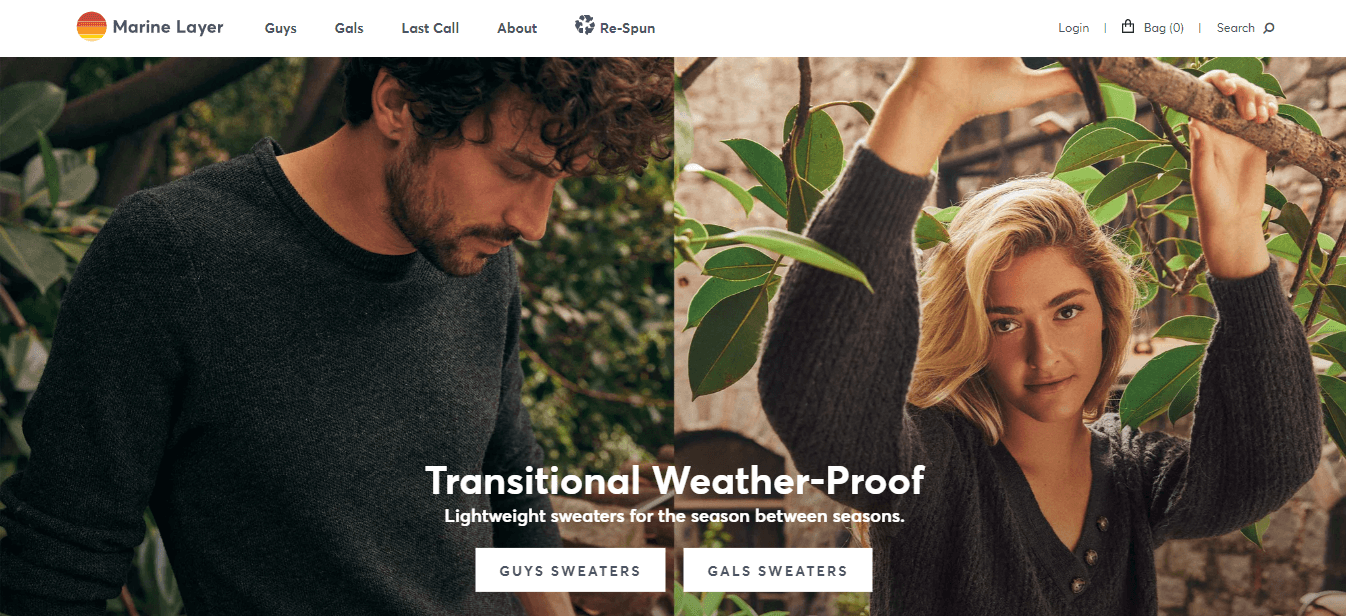 Looks aren't everything when it comes to clothes. If they don't feel amazing, your customers will be dissatisfied.
Marine Layer, one of the leading San Francisco clothing companies, addresses this issue. They're known for their soft garments, which go easy on the skin.
They're quite versatile, too. Whether you're targeting men or women, you'll have plenty of clothes to choose from. Sweaters, T-shirts, dresses, pants, and hoodies are just some options.
It's also worth noting that they have a dedicated recycling program called Re-Spun. It's all about repurposing used textiles to keep them from ending up in landfills.
Pros:
A full soft clothes lineup
Flexible manufacturer
Sustainable provider
Shipment tracking
Cons:
Questionable garment durability
Does not provide fit guides
10. Gap Inc. – Best Clothing Manufacturer in San Francisco of Safe Outfits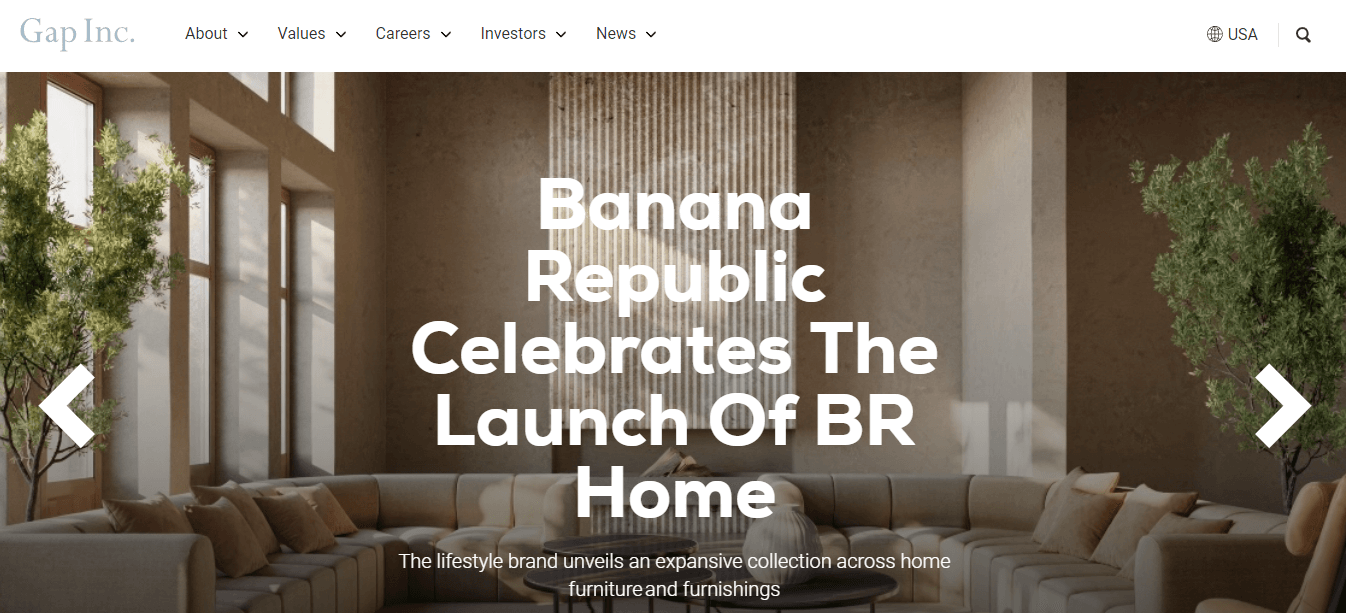 Gap is a household name in the textile industry. This manufacturing giant is known for exceptional clothes for everyday wear. If you team up with them, they can make clothes for all genders and ages, giving you much-needed versatility.
The company goes to great lengths to increase sustainability. They reduce greenhouse emissions and environmental impact.
Furthermore, this fashion brand sourced natural fibers. This includes hemp, linen, animal fibers, and cotton. None is toxic or known for triggering allergic reactions.
Finally, Gap has reliable customer support. They're responsive and helpful in most cases, enabling you to sign up for sampling and final batches with ease.
Pros:
Making clothes for all people
Sustainable and non-toxic garments
Dependable technical support
Doesn't make high-carbon cellulose products
Cons:
Slow shipping
Limited design assistance
Having Trouble Identifying Reliable Apparel Manufacturers in San Francisco? Get Dependable Solutions with Appareify!
In some cases, teaming up with clothing manufacturers in San Francisco can be a good decision. That's especially true if you're from the U.S. They ship fast to the rest of the country and may even offer some discounts.
However, you should be aware of a few caveats before partnering with clothes makers from the Bay Area. Here are the biggest downsides of outsourcing your garment production to these companies:
Sluggish shipment to the rest of the world – Although shipments to the U.S. are relatively fast, the same can't be said for those to remote parts of the world. San Francisco's clothing manufacturers often take months to send samples and finished orders. Providing final batches may take even longer if you're in China, Japan, Australia, or other distant nations.
Quality problems – Some San Francisco clothing brands train employees to produce higher-quality items. Others don't. They cut corners and pay their staff minimum wages. In return, the workers aren't motivated to deliver top-tier garments, which results in quality inconsistencies. The last thing you want is to keep your customers waiting due to supplier issues.
Exploitation problems – Possibly the biggest problem with fashion companies in San Francisco is that some of them outsource their production to other countries. Their headquarters is in S.F., but nations like Bangladesh, India, and Pakistan make their attire – all known for worker exploitation and unfair employee treatment. Being associated with such manufacturers can tarnish your reputation.
Hit and miss is the best phrase to describe Bay Area clothing manufacturers. San Francisco has some decent providers, but the risks are overwhelming. You want to reduce the uncertainty of starting a clothing business, and the only way to do so is to find a reputable clothesmaker.
This is why you should consider another strong contender in the garment production industry: Appareify.
What sets Appareify apart from clothing manufacturers in San Francisco is a comprehensive approach to fashion that doesn't leave anything to chance. The company pays equal attention to all aspects of production, making sure to achieve both quantity and quality. Utilizing state-of-the-art machines, Appareify produces large batches of attire quickly with unrivaled consistency.
Another great thing about Appareify is the low turnaround time. Working closely with logistics partners all around the world, Appareify can deliver your packages in seven to 20 days worldwide on average, allowing your products to hit the shelves before your competitors' garments. In some cases, we can even dispatch clothes in three days if it's urgent.
Bring Your Business to a Whole New Level With A Reliable Garment Producer
With so many clothing manufacturers in San Francisco, the quest for the right provider may take a while. But what if you don't team up with any streetwear manufacturer? Do you call it quits and abandon your fashion dreams?
Not by a long shot.
Even if you need extra time to team up with a dependable organization, it'll be well worth it. After all, you don't want to choose your producer randomly. They must be efficient, consistent, sustainable, and responsive. If a manufacturer that seems great initially doesn't check those boxes, keep looking.
Launching your fashion brand will be smooth sailing once you finally join forces with a trustworthy manufacturer. You'll receive world-class garments steadily, which allows you to meet the most demanding production needs.